Top 8 Warehouse Management Software for Ecommerce in 2023
The Most Popular Extension Builder for

Magento 2
With a big catalog of 224+ extensions for your online store
Today, e-commerce businesses face high consumer expectations, driven by giants like Amazon and Zappos. Even small retailers must enhance their e-commerce logistics to meet these standards.
The demand for warehouse space is on a steady rise, with online orders projected to make up 26% of all retail orders by 2025. To adapt to this shift in consumer behavior, the United States will need to add 330 million square feet of new warehousing and distribution facilities. In 2022, there was an impressive surge in warehouse construction activity, resulting in the creation of 546.1 million square feet of fresh warehousing and distribution space. The implementation of an ecommerce warehouse management software enables businesses to expand their fulfillment operations and process more orders at a faster pace, all while maintaining high delivery speed and order accuracy standards.
This guide outlines the advantages of utilizing a warehouse management system (WMS), provides guidance on selecting the right one, and presents eight viable options to consider.
Table of Contents
What is warehouse management software?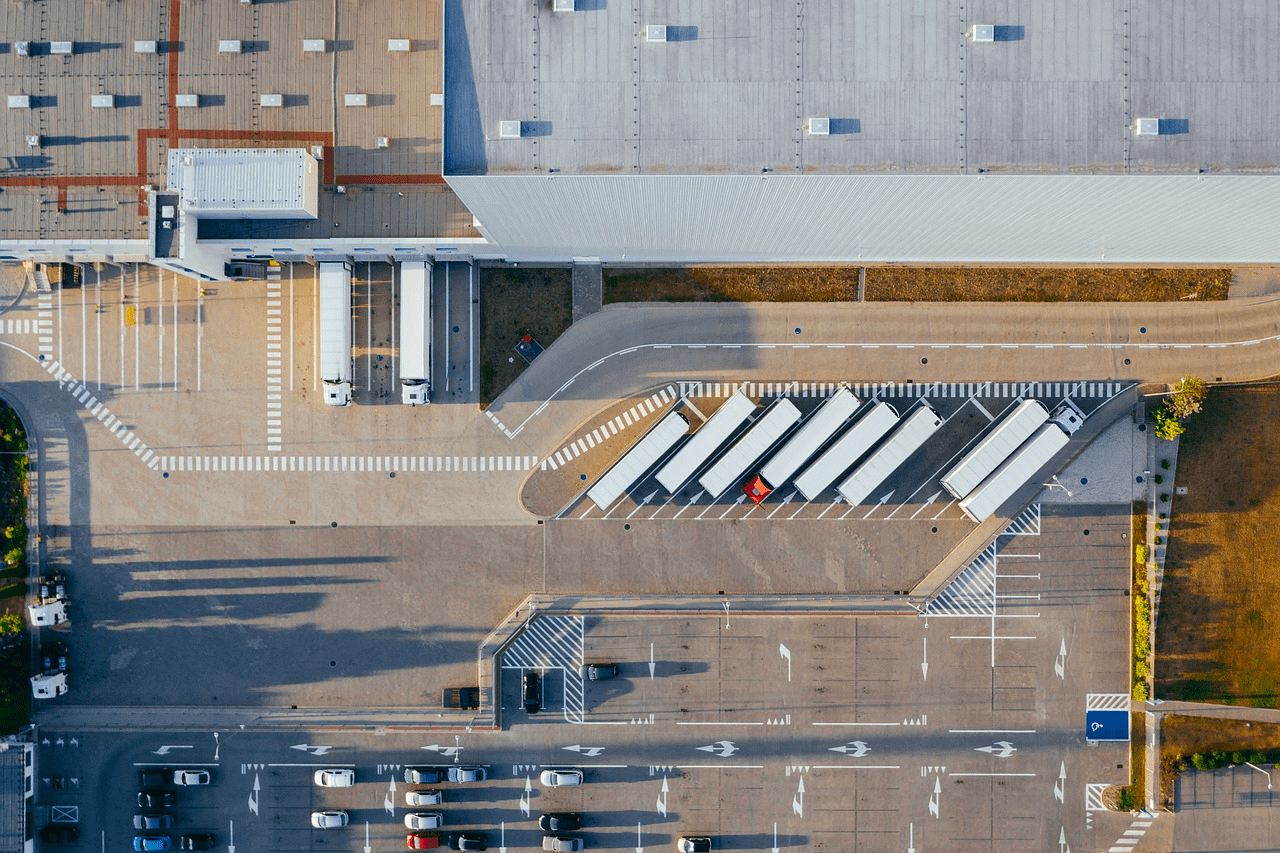 An ecommerce warehouse management software is a solution designed to enhance and streamline warehouse and distribution operations. It's a valuable tool for retailers, aiding in the efficient planning, organization, staffing, and control of resources throughout the supply chain.
Whether you're a pure ecommerce retailer or a brick-and-mortar store with an online presence, having a WMS is essential for effectively managing your fulfillment operations. With a WMS in place, you can efficiently handle:
Returns
Transform what can often be a logistical nightmare into a streamlined, mostly automated process. Determine which items are damaged, require relabeling, or are ready to be restocked. All this valuable data will be readily available within your ecommerce warehouse management software.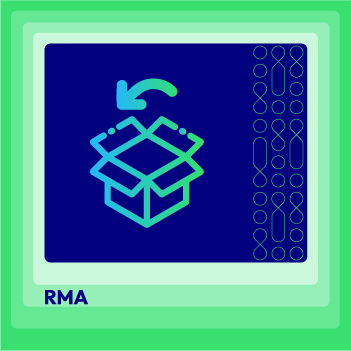 Make return procedure becomes transparent, simple and satisfacting for both customers and store owners
Check it out!
Warehouse logistics
Replace manual, memory-dependent processes with predetermined workflows inside your WMS. This ensures consistency in warehouse operations and reduces the risk of errors.
Integrations
Most WMS platforms seamlessly integrate with your existing tools, such as shipping solutions and your ecommerce website. This eliminates the need for manual data transfer, minimizing inaccuracies and enhancing efficiency.
Reporting and forecasting
Get insights on critical questions like when stock will expire or which bestsellers require a constant flow of inventory. Your WMS provides visibility into these aspects, ensuring you never turn away potential customers due to out-of-stock messages.
A WMS software serves as a centralized hub for your warehouse or distribution center's operational processes. It offers comprehensive visibility into inventory levels, storage, staff productivity, demand forecasting, and retail fulfillment, all aimed at improving your return on investment.
Benefits of warehouse management software
Improve inventory accuracy Managing inventory can be a complex task for retail operations. Striking the right balance is crucial—having too much stock can lead to items expiring, while insufficient stock results in disappointed customers encountering "product unavailable" messages.
Inventory shrinkage, where the actual stock falls short of what the accounting records indicate, is a significant challenge. The National Retail Federation reports that inventory shrinkage costs businesses approximately $94.5 billion annually.
Ecommerce warehouse management software addresses these issues by providing real-time insights into inventory levels. It enables you to scan barcodes for new inventory and each unit picked in an order, effectively reducing the risk of inventory shrinkage.
Moreover, WMS systems offer advanced order analytics, allowing you to:
Identify the primary states to which you ship products.
Monitor undelivered orders.
Track current inventory levels.
Access historical stock data at any given time.
Determine the number of days until a specific SKU runs out of stock.
Manage order replenishment based on stock availability.
Allocate orders to international warehouses or distributors efficiently.
Gain insights into average cart values and shipping costs.
Identify opportunities to optimize shipping expenses.
With these capabilities, WMS software empowers retailers to make informed decisions, reduce losses due to inventory shrinkage, and enhance overall inventory management efficiency.
Streamlined logistics
The days of five-day shipping are long gone, thanks in part to the dominance of Amazon. Today, customers expect swift delivery of their orders.
But what does "fast" mean in this context? The majority of consumers (97%) consider same-day shipping to be fast, while 95% view next-day shipping as speedy. Regardless of the exact timeline, one thing is clear: for an order to meet the gold standard, it needs to arrive at the customer's doorstep within 24 hours.
If you're aiming to offer two-day shipping or even faster, an ecommerce warehouse management software can help determine shipping times with precision. This means customers receive accurate shipping estimates for their specific home addresses, eliminating the need for awkward emails stating, "Your order is delayed because you're farther away than usual."
Additionally, most WMS providers have established relationships with third-party logistics providers. This enables you to leverage their high order volumes, assuring customers of fast and free delivery to virtually any location. In today's competitive ecommerce landscape, efficient and rapid order fulfillment is essential to meet customer expectations.
Improve order efficiency
An ecommerce warehouse management software integrates with your ecommerce platform so you can keep your stock updated. No worrying about customers placing an order for out-of-stock items. Fewer errors around inventory equals faster fulfillment times and greater accuracy.
This has a domino effect on inventory costs, too. Reducing stockouts and overstocks can lower inventory costs by as much as 10%.
Other WMS software use cases to improve order efficiency and accuracy include:
Assign pickers optimized routes
Open additional fulfillment centers to cut down on shipping times
Improve packing processes
Lower labor costs
While ecommerce warehouse management software may come with a significant price tag, the productivity gains they deliver more than offset the cost.
Reduced Labor Costs: A WMS reduces labor costs associated with tasks like recounting inventory or repackaging products. The mostly automated system frees up valuable staff time, allowing them to focus on more strategic and value-added activities.
Efficient Warehouse Operations: With a WMS in place, the warehouse operates more efficiently. Accurate order counts and effective packing and shipping processes minimize the risk of returns, which can eat into revenue. Higher order accuracy also enhances customer satisfaction.
Cost-Effective Solution: In the long run, a WMS is often more cost-effective than relying solely on labor management. The improved efficiency, accuracy, and reduced operational costs make it a valuable investment for businesses looking to optimize their warehouse operations.
Types of warehouse management systems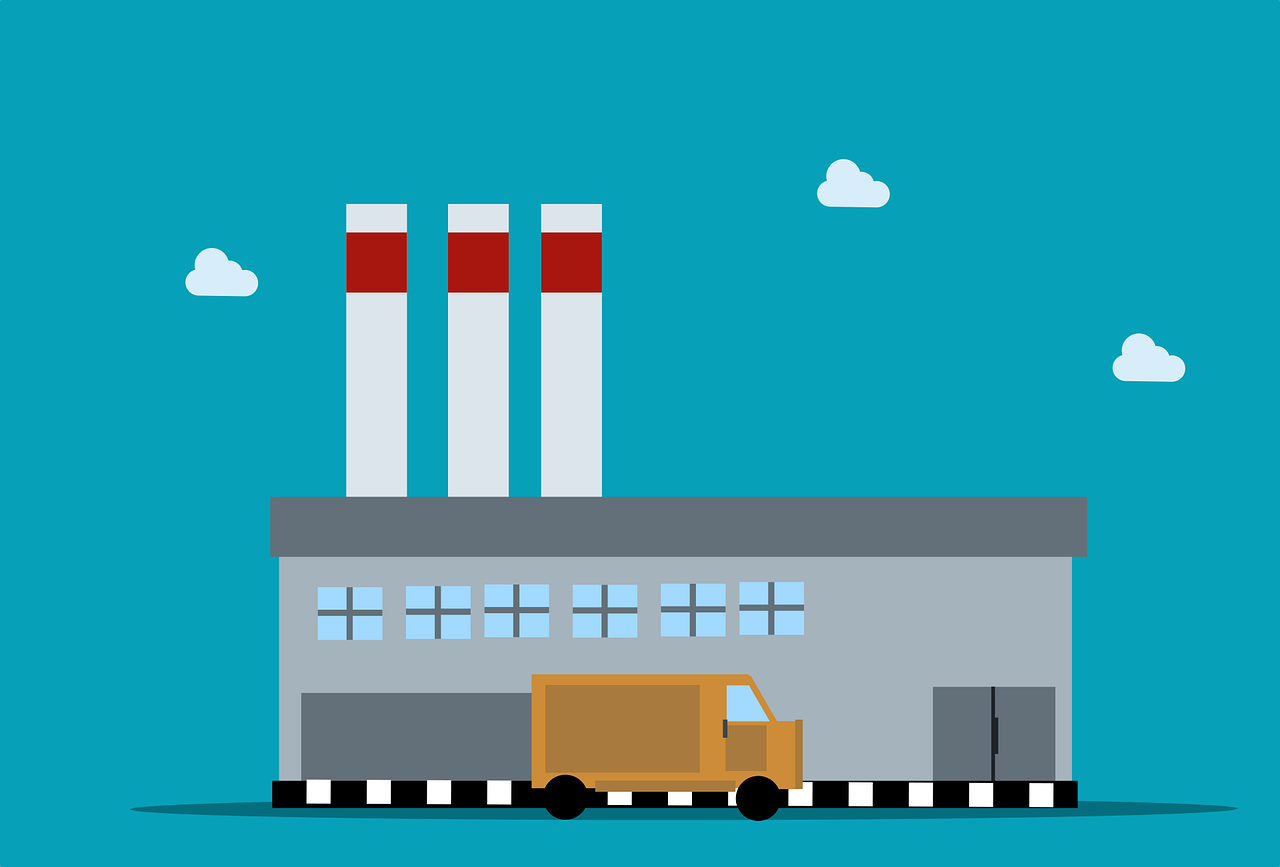 Standalone WMS
Standalone ecommerce warehouse management software solutions are typically on-premises systems deployed within an organization's native network, primarily focusing on warehouse management features. Although they are the most cost-effective option among WMS types, they often lack the comprehensive functionalities found in integrated software solutions.
These standalone systems can be integrated with existing solutions, but they are frequently sold as standalone products without incorporating additional supply chain functions.
Key functionalities of standalone WMS typically encompass:
Barcode scanning
Cycle counting
Slotting
Putaway
Tracking expiration dates
Order picking
Packing
Receiving
Shipping
Cross-docking
The primary advantage of using a standalone WMS lies in the degree of control it provides over inventory management.
However, it's important to note that standalone WMS systems do not encompass other facets of supply chain operations. Alternative systems offer transportation management capabilities, including integration with leading carrier shipment tracking systems.
As a fundamental ecommerce warehouse management software, standalone warehouse management solution proves to be a viable choice for small businesses or those operating with limited software budgets. It can also serve as an inventory management solution for small and medium-sized enterprises (SMBs).
Integrated with ERP
Integrating your WMS with other tools significantly enhances ecommerce logistics. This is especially beneficial for businesses aiming to scale up, as it can lead to a competitive edge and better ROI.
Enterprise Resource Planning (ERP) software is a comprehensive solution for managing an organization's various functions, including HR, sales, finance, inventory, and CRM. Some ERP providers, like SAP and Oracle, offer built-in WMS modules.
While ERP software may be more expensive, it has the advantage of replacing existing software systems and centralizing logistics within a single interface. If you're looking to streamline your software setup, ERP software can achieve that.
An ERP-integrated WMS provides a broader range of capabilities compared to a standalone WMS. The choice between the two depends on factors such as your business's specific needs, size, objectives, and existing technology infrastructure.
Supply chain management modules
Supply Chain Management (SCM) software goes beyond integrated or standalone systems. It offers a comprehensive approach, including warehouse management, to oversee various supply chain aspects in one place.
Like standalone ecommerce warehouse management software, SCM provides a warehouse overview. However, SCM distinguishes itself by managing the entire supply chain within a single tool. The goal is to automate inventory management, product cycles, material sourcing, and other warehousing tasks. It also handles risk assessment and vendor relationship management.
With its advanced features and scalability, SCM can be costly. Consider installation, maintenance, and integration with existing systems for SaaS solutions. To implement SCM as a WMS system, your business will need to invest in and integrate new software.
Best warehouse management software
1. Easyship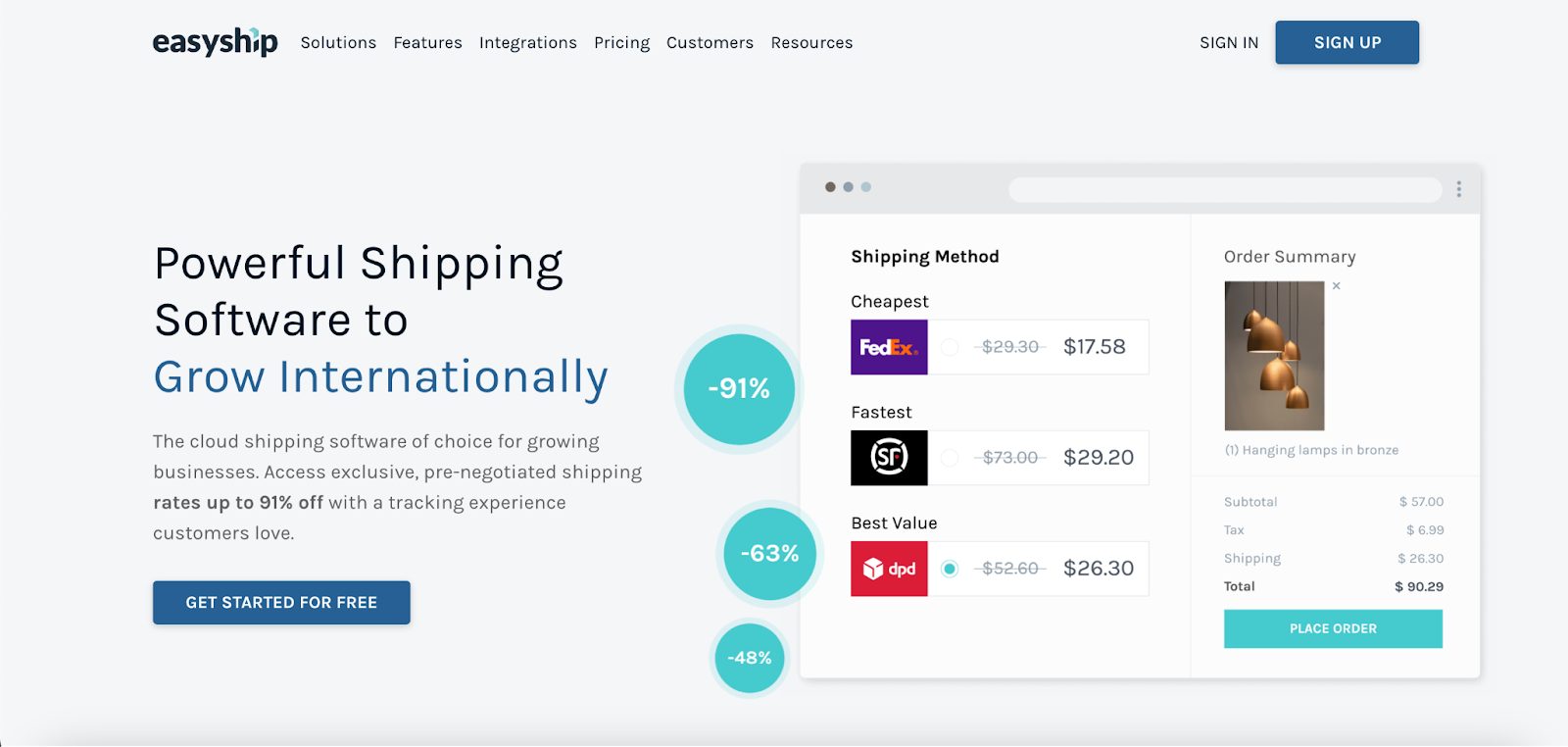 Easyship is a shipping vendor that offers integrated warehouse management tools within its software. This platform provides merchants with discounted shipping rates from over 50 global carriers, including major names like DHL and UPS. This feature ensures customers receive real-time and precise shipping costs during the checkout process, effectively reducing cart abandonment rates.
Additionally, Easyship boasts a global network of warehouses and distribution centers. Merchants can store their inventory in these facilities and conveniently monitor inventory stock levels directly through their Shopify dashboard.
Pricing: Free tier for businesses with under 100 shipments per month.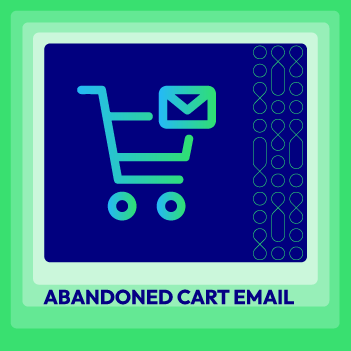 Abandoned Cart Email for Magento 2
Solutions to abandoned carts issue, helping online businesses boost sales and enhance conversion rates
Check it out!
2. ShipHero
If you have a multichannel retail strategy, ShipHero can be a valuable tool for you. Whether you're selling products in pop-up shops, through your ecommerce website, or in a permanent brick-and-mortar store, ShipHero offers the capability to track warehouse inventory across all selling channels.
Incoming orders are thoroughly validated before they are shipped from a ShipHero distribution center. The platform also enables you to set up automation to further enhance efficiency and cost savings, such as prioritizing shipments for international orders.
ShipHero optimizes fulfillment routes using a combination of national, regional, and local carriers, reducing the risk of delays and inefficiencies. Additionally, their new PostHero feature allows you to track packages across carriers, enabling you to analyze shipment performance even after they have left the facility.
Pricing: $499/month for Basic plan; $1,850/month for Standard plan.
3. Veeqo Inventory and Fulfillment
Veeqo is an order fulfillment platform designed to streamline inventory management across various platforms. This includes integrating your Shopify ecommerce site with marketplaces like Amazon and Etsy.
By providing a centralized inventory view, Veeqo becomes your go-to source for answering questions like "How much stock do we have left for this SKU?" The platform can efficiently handle returns, automatically updating stock levels accordingly. Additionally, Veeqo allows for task automation, such as warehouse stock routing, shipping rules, and order status management.
Veeqo offers a comprehensive set of reporting tools, simplifying your forecasting efforts and making them more precise. It aids in predicting supply challenges, identifying items at risk of running out of stock, and gaining better insights into demand during sales periods.
Pricing: $255/month for 500 orders with High-Growth plan
4. Blue Yonder Warehouse Management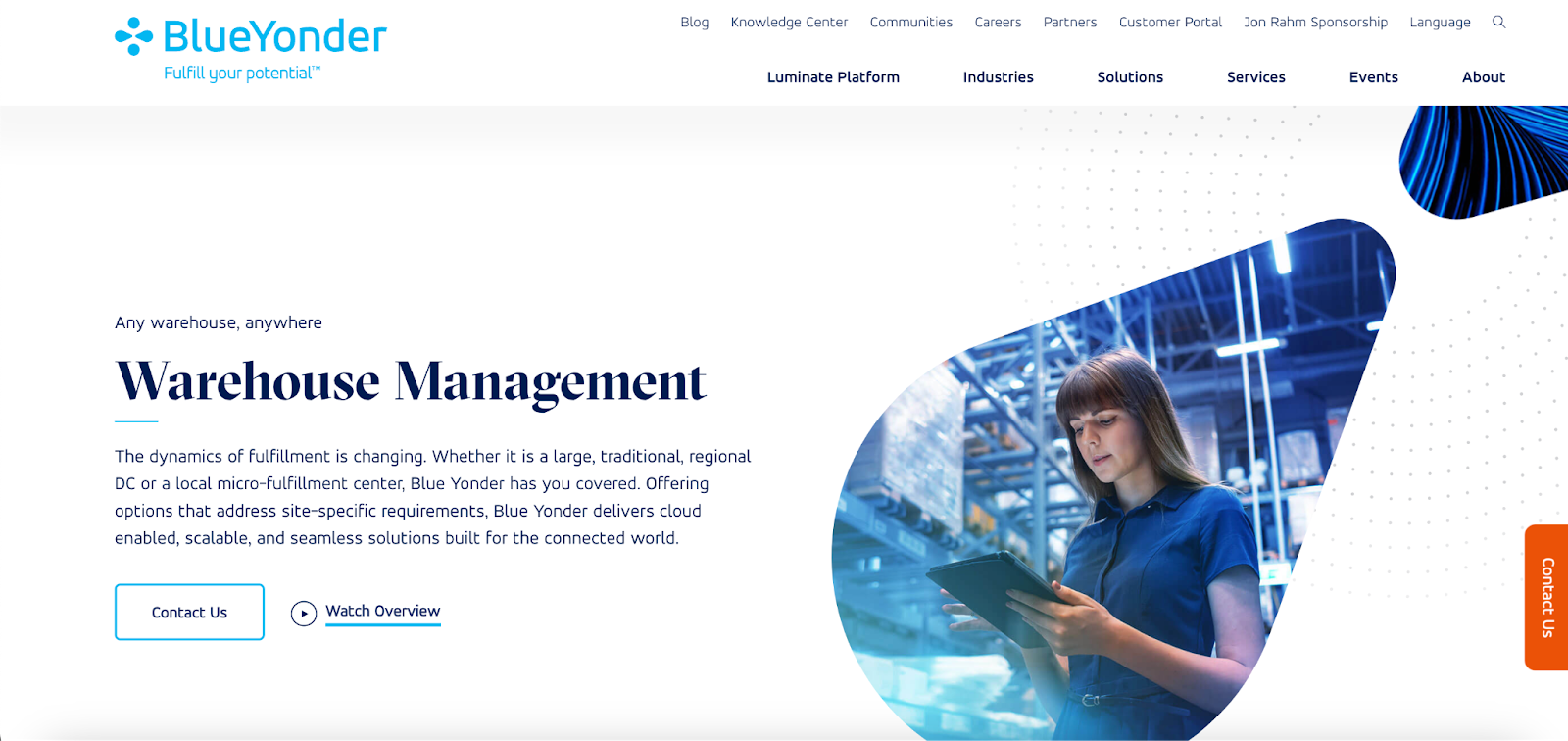 BlueYonder is an enterprise-level Warehouse Management System (WMS) designed for large-scale operations like retail grocery, high-tech, and hardline retail. It offers a wide array of management and optimization tools tailored for national-scale warehouse logistics.
In addition to standard WMS services like ecommerce fulfillment, shipping, and inventory management, BlueYonder provides advanced features. These include unified yard management (overseeing equipment, dock doors, and personnel) and resource orchestration (managing labor tasks, scheduling, and automation). The emphasis is on optimizing order throughput for overall operational gains.
Pricing: Available upon request.
5. Oracle Warehouse Management
Oracle Warehouse Management is a flexible solution designed for warehouses dealing with diverse materials and products. It supports inventory management across multiple distribution centers and yards, enabling omnichannel fulfillment for customers.
This cloud-based system seamlessly integrates with Oracle's supply chain management suite, catering to enterprises with complex logistics needs. However, it's also adaptable to businesses of all sizes, including warehouses, distribution centers, storefronts, kiosks, and more. Oracle WMS can handle direct-to-consumer (DTC) orders, making it a versatile option for a range of brands.
Pricing: Available upon request.
6. Körber
Körber is an enterprise-focused, cloud-based ecommerce warehouse management software known for its high degree of customization. Its capabilities encompass receiving, putaway/flow-through, inventory management, order processing, replenishment, pick/pack, and loading and shipping.
For brands operating multiple warehouses, this software offers advantages such as enhanced efficiency, lowered labor expenses, and improved merchandise flow. It seamlessly complements the extensive range of warehouse management services offered by the company.
Pricing: Available upon request.
7. SAP Extended Warehouse Management
SAP Extended Warehouse Management is a ecommerce warehouse management software that can be implemented either on-site or in the cloud. It provides direct oversight of warehouse automation equipment, extensive analytics, and numerous integration options.
Designed for high-volume brands seeking to maximize warehouse throughput and streamline workflows, SAP Extended Warehouse Management offers standard order management features coupled with robust technology integration capabilities tailored for busy operations. If your supply chain logistics are complex, this tool can serve as a comprehensive solution to consolidate everything into a single system.
Pricing: $4,047/month for 5,000 items
8. Mecalux Easy WMS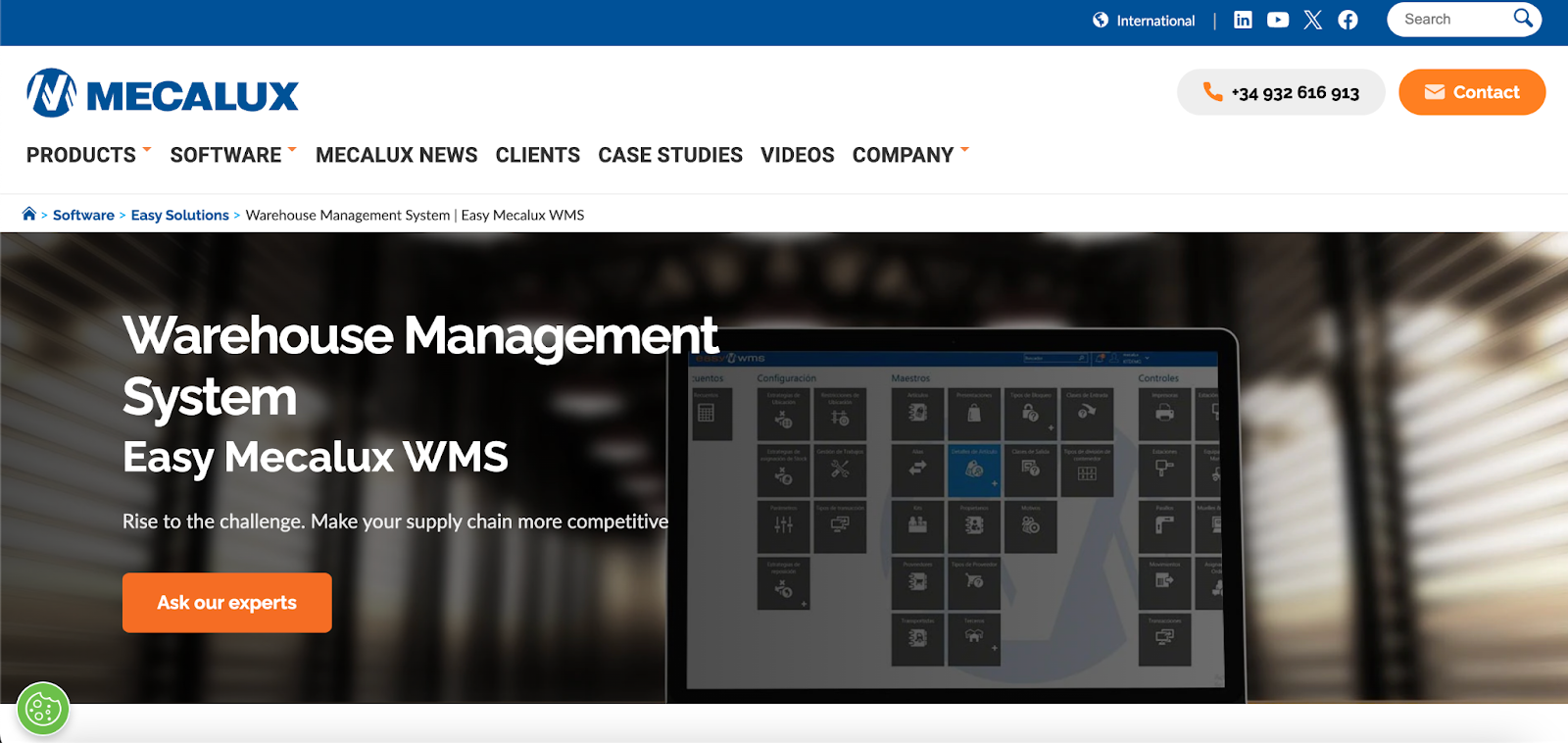 Mecalux Easy WMS is an adaptable ecommerce warehouse management software suitable for warehouses of all sizes. The company provides a wide range of expertise in physical warehouse and storage design, and the software can seamlessly complement these offerings.
This WMS can prove valuable when you require tailored solutions for your warehouse operations, especially if you have highly specific material handling needs. Whether you opt for cloud-based or local deployment, customized software could be the optimal choice in such scenarios.
Pricing: Available upon request.
Components of a good warehouse management software
An ecommerce warehouse management software comes equipped with a range of key features, such as:
Warehouse Design Systems: Facilitates the setup of efficient workflows within your warehouse.
Integration with Inventory Devices: Seamlessly integrates with technologies like RFID and barcoding for inventory management.
Back-Office Integration: Integrates with order entry, inventory control, and purchase order modules for comprehensive management.
Real-Time Inventory Tracking: Provides up-to-the-minute tracking of inventory movements.
Workforce Management: Helps in labor allocation and performance monitoring.
Support for Picking and Packing Methods: Accommodates various picking and packing methods and offers overviews of picking zones.
Compliance Labeling and Advanced Shipping Notices (ASNs): Manages new inventory arrivals and ensures compliance with relevant regulations.
Yard and Dock Management: Assists delivery partners in locating the right loading and unloading areas.
In terms of usability, a warehouse management software may also offer:
Integration with ERP Systems: Scales to integrate with your Enterprise Resource Planning (ERP) system, especially for medium and large enterprises requiring comprehensive integration.
Advanced Reporting Capabilities: Provides detailed analytics and reporting for sharing insights across the organization.
Mobile-Friendly Design: Enables mobility, allowing users to access and utilize the system from various devices, not just desktop computers. WMS options can vary in terms of features and scalability, offering different choices to cater to specific business needs.
Steps for choosing a warehouse management system
1. Evaluate your current system
To address warehouse issues, first, assess your current system. Identify what's working and what isn't, and consider how inaccuracies affect your organization. Engage your team to pinpoint frustrations, redundancies, and inefficiencies.
For example, if picking processes are ineffective, you're wasting time and money. An ecommerce warehouse management software can help by introducing automated retrieval, optimized pick routes, and streamlined inventory management. Additionally, for tasks like processing returns, a WMS with RFID tags can significantly speed up operations.
2. Collect team needs
After auditing your system, involve each team member in creating a list of essential functions they believe the warehouse management software should have. This may include back-office integration with order entry and inventory control modules, as well as automations for compliance labeling and Advanced Shipping Notices (ASNs).
Encourage team members to distinguish between their must-have and nice-to-have features. This prioritization will help you narrow down the options and select a WMS that aligns with both your team's and your business's requirements.
Start by asking these questions:
What functionalities are essential for accurate order picking, packing, and shipping?
Which existing workflows could benefit from automation?
What does your current ERP system entail?
What information is crucial for making informed warehousing decisions?
How quickly does warehouse data need to synchronize across the entire enterprise?
3. Find and evaluate vendors
Understanding your must-have features for a new WMS system provides a checklist for assessing vendors. However, the effort required for implementation is also crucial when selecting a WMS.
When evaluating potential vendors, ensure they possess expertise in supply chain operations, covering warehouse and inventory management, order management, accounting, and EDI integration.
Once you have a shortlist of vendors meeting these criteria, seek a solution that enhances inventory control and staff productivity. Verify that your warehouse staff can seamlessly integrate the new system with their tools and equipment, including RFID, communication devices, shipping systems, pallets, lift trucks, and forklifts.
Furthermore, all data collected through this equipment should be accessible throughout your organization, particularly in accounting and inventory management.
Select a vendor committed to serving the evolving needs of the warehousing and logistics industry and dedicated to ongoing product improvements.
Consider costs carefully. Investing in a new WMS software should yield a return on investment. Understand the operating costs by asking questions such as:
What are the estimated license costs for implementation?
What are the expected expenses for customizing the system to your needs?
What is the implementation timeline and associated costs?
What should you budget for annual support and maintenance?
What are the anticipated costs for staff training?
Additionally, inquire whether the WMS vendor has case studies of similar-sized companies or industries that have successfully used their software. Look for data on metrics like time saved per hour, improvements in order accuracy, error reduction percentages, cost savings, and increases in order processing speed or throughput.
4. Choose
At this stage, you've narrowed down your WMS vendor shortlist, and it's time to make the exciting decision of which one to implement in your warehouse.
There's no one-size-fits-all approach. To summarize, the right WMS for your business should align with your budget, boast proven case studies illustrating how it has addressed challenges for other companies, and seamlessly integrate with your existing tools and technologies.
The ideal WMS should encompass the essential features your team identified, along with some nice-to-have capabilities. Furthermore, an added benefit is a WMS vendor that provides training materials to empower your warehouse staff in using the software effectively.
Once you've made your selection, embark on the process of integrating the chosen WMS with your current setup. Here are some valuable tips:
Implement a logical labeling system for your bin locations, incorporating zone, row, rack, shelf, and tote identifiers.
Avoid grouping all products from one brand in a single location. This reduces the risk of errors, such as picking the wrong color or size, or a slightly different product.
Place your best-selling items closest to the packing benches to minimize the distance pickers need to walk when processing orders.
Utilize barcode scanners for multiple quality assurance checks to ensure accurate picking and packing, reducing errors in the process.
Conclusion
Utilizing a reliable ecommerce warehouse management software is essential for the success of an ecommerce business. The WMS options mentioned above have undergone testing, demonstrated their effectiveness, and are among the best available in the market. Therefore, it's important to select the one that aligns with the specific needs of your business.

Marketing Manager of Mageplaza. Summer is attracted by new things. She loves writing, travelling and photography. Perceives herself as a part-time gymmer and a full-time dream chaser.
Website Support
& Maintenance Services
Make sure your store is not only in good shape but also thriving with a professional team yet at an affordable price.
Get Started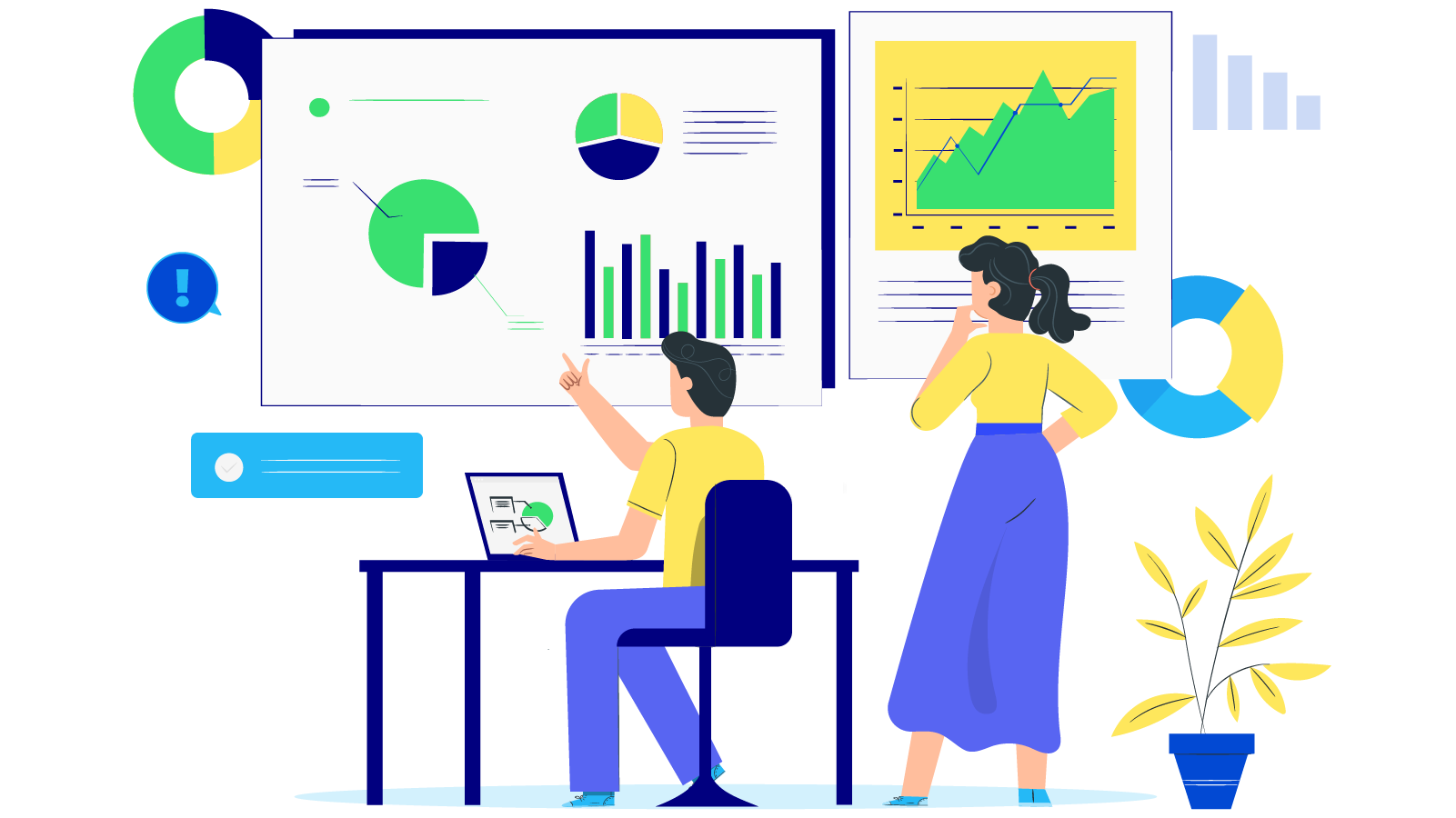 New Posts



Subscribe
Stay in the know
Get special offers on the latest news from Mageplaza.
Earn $10 in reward now!