Top 8 Ecommerce Search Software for B2B Businesses in 2023
The Most Popular Extension Builder for

Magento 2
With a big catalog of 224+ extensions for your online store
Every ecommerce website owner aims to boost both their website traffic and sales. Achieving this goal hinges on ensuring that users can effortlessly locate the products they are interested in. Conversely, if your ecommerce store lacks an effective ecommerce search software, you risk losing potential sales and visitors, as no one enjoys spending an excessive amount of time searching for items.
Surprisingly, a significant 61% of ecommerce companies neglect to optimize their website search functionality, resulting in various challenges, such as difficulties in searching across all website pages or comprehending user queries.
In this article, we will explore the top ecommerce search software for ecommerce websites, delve into their advantages and features, with the aim of enhancing your understanding of the critical role site search plays in ecommerce success.
Table of Contents
What is an ecommerce site search?
An ecommerce search software constitutes a platform or software that arrives with pre-designed code for seamless integration into your website, empowering it with an advanced and feature-rich search engine. This enhancement is designed to assist customers in pinpointing precise products in accordance with their preferences, as opposed to delivering uninteresting or, in the case of typographical errors, no search results at all.
By aiding users in locating their desired items, you contribute to elevated customer experiences, motivating them to make more purchases from your platform, thus resulting in the continual growth of your conversion rates and return on investment (ROI).
This solution boasts an array of features, including search result refinement through filters, personalization grounded in a buyer's past interactions, robust analytical capabilities, resilience in the face of errors for uninterrupted performance, options for tailoring to your specific requirements, an intuitive user interface for efficient catalog management, support for multiple languages, and an assortment of additional functionalities.
Why it's important to choose the right ecommerce search engine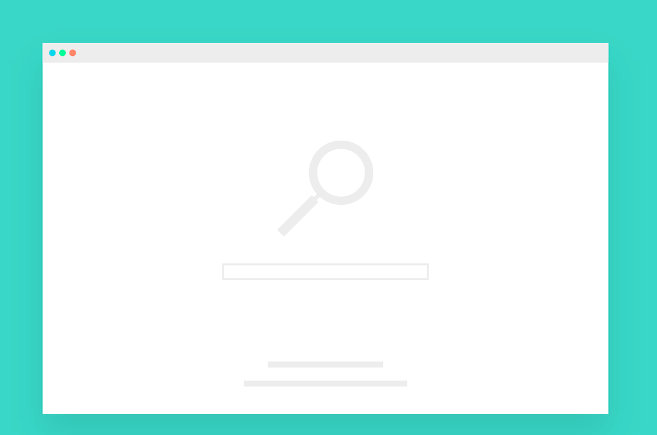 Site search plays a pivotal role in the ecommerce landscape, with 43% of customers relying on it as a crucial tool to navigate online stores effectively. This statistic underscores the significance of having a robust and user-friendly search functionality integrated into your website. It goes beyond mere convenience; visitors who utilize site search are statistically 2 to 4 times more likely to convert into paying customers. This demonstrates that a well-implemented site search can directly impact your bottom line by increasing sales and revenue.
Furthermore, the contribution of web browsers cannot be understated, as they bring in a substantial 45% of your total revenue. This emphasizes the importance of optimizing your website's compatibility with various browsers to ensure a seamless shopping experience for a significant portion of your customer base.
Ultimately, the quality of the user experience hinges on the effectiveness of site search. A staggering 94% of users consider the ability to swiftly find products within the first 120 seconds of landing on a website as the most critical feature a store can offer. This underscores the need for ecommerce businesses to prioritize and invest in a well-designed and intuitive site search feature that not only satisfies customer expectations but also drives sales and overall success in the online marketplace.
Benefits of having a good site search
1. It improves customer satisfaction
Website visitors tend to be impatient, with a notable 73% indicating that they will exit a website in under two minutes if they cannot find what they are looking for. This underscores the importance of ensuring that your website is user-friendly and easy to navigate. Additionally, it highlights the crucial need for your on-site search function to provide relevant results to shoppers promptly.
Ecommerce search software creates customized shopping encounters for customers by offering them product outcomes that are specifically suited to their needs. This interactive process enhances customer appreciation and elevates overall customer contentment.
2. It doubles your conversion rate
While the average conversion rate rests at 2.77%, those who actively engage with the search function experience a significantly higher conversion rate of 4.63%, nearly double the standard rate. Amazon, the world's largest online marketplace, achieves a remarkable 15% conversion rate through search. However, it's worth noting that this impressive figure is backed by a substantial workforce of 2,000 employees dedicated to enhancing their search functionality.
3. It increased sales
By establishing an easily navigable pathway for customers to discover your products, it enhances the convenience of product exploration. In fact, a substantial 69% of customers exhibit a higher likelihood of making supplementary purchases when presented with favorable search encounters. By delivering pertinent search outcomes, you have the capacity to prompt your customers to complete their purchases more swiftly, consequently amplifying both conversion rates and overall sales.
4. It uncovers shoppers' intentions
Sophisticated ecommerce search software provides shop owners with an analytics feature, enabling them to gauge the impact of implementing a new search box. This analytics functionality allows for the examination of customer search queries, click-through behavior, and identifies missing search results. Armed with these site search insights, store owners can make informed decisions, with some clients opting to expand their product offerings after recognizing customer demand through search queries.
What are the best practices when integrating an onsite ecommerce site search?
1. Choose a proper location for your search bar
As per research conducted by Dawn Shaikh and Keisi Lenz, the ideal location for an ecommerce search box is the upper right corner. Notably, 17% of individuals instinctively direct their attention there before shifting their gaze to the top-left. It's advisable not to confound your visitors with an unconventional search bar placement.
2. Use a magnifying glass icon, or a search button
Positioning the search box in this manner serves the purpose of clearly signaling to shoppers that it is, indeed, the designated search function and not another element on the page. Another effective practice is to enable users to initiate a search by pressing the "enter" button, providing them with a familiar and user-friendly option.
3. Integrate it on every page
After a visitor enters their query and presses "enter," it should be effortless for them to make modifications without the need to backtrack to the previous page in search of the search box. Requiring users to navigate back is counterintuitive and detracts from the overall user experience. However, it's important to note an exception: on the cart page, it's advisable not to place the search box, as doing so may distract visitors from completing their purchase.
4. Make it long enough
According to Nielsen Norman, the optimal length for a search box is 27 characters. This length is typically sufficient for accommodating the majority of queries that your shoppers may input.
5. Optimize search for mobile
Statista's findings from 2021 revealed that 60% of searches in the United States originated from mobile phones. Surprisingly, a significant 84% of individuals encountered challenges when trying to finalize online transactions on their mobile devices. Additional data points out that smartphones contributed to 65% of website traffic and accounted for 53% of sales. It's crucial to closely monitor the performance of your site's search feature on smaller screens to ensure a seamless user experience.
Considerations in choosing ecommerce search software
1. Functionality
Seek an ecommerce search software that boasts a range of features, including search filters, autocomplete suggestions, product image search, merchandising capabilities, and more. It should possess the ability to comprehend customer intent and deliver results that align with their queries, facilitating easy product discovery.
2. Speed
Ensure that your chosen ecommerce search software operates at lightning speed. Customers should swiftly locate their desired products. Slow website experiences, which encompass factors like site search and page load speed, contribute to around 60% of customer cart abandonment instances. For instance, Sparq Search can deliver results in less than 26 milliseconds.
3. Customization
Confirm that ecommerce search software can be tailored to match your website's branding and design. This ensures a cohesive and consistent user experience throughout your entire website.
4. Analytics
Assess whether the ecommerce search software solution provides valuable insights into customer behavior, including browsing and purchase history, search trends, and more. This data empowers you to optimize your website for enhanced search functionality and tailor customer experiences accordingly.
5. Integrations
Verify that the search engine seamlessly integrates with popular ecommerce platforms such as Shopify, WooCommerce, and others. Conduct thorough testing to ensure the integration doesn't introduce any technical glitches that could disrupt the overall functionality of your online store.
Top ecommerce search software in 2023
1. Mageplaza's Magento 2 Search Extension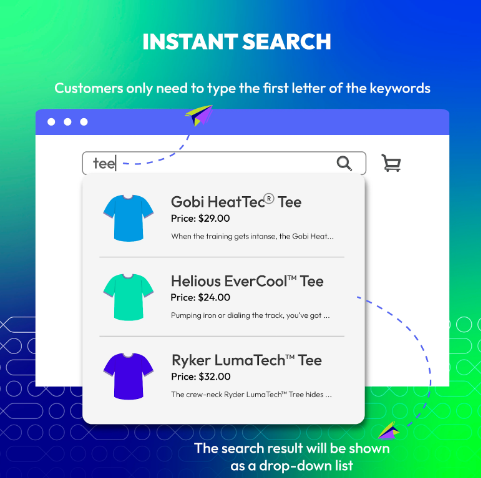 Magento 2 Search extension enhances your search functionality by displaying instant auto-complete search results as soon as customers begin typing in the search box. Utilizing AJAX technology, it delivers lightning-fast and pertinent search outcomes within a user-friendly interface, making it easier for customers to swiftly discover the products they need. This improves the overall shopping experience and, in turn, drives sales. Furthermore, it reduces server load times and offers customizable settings, addressing any issues you may encounter when building a robust internal search engine, executing successful promotional campaigns, and ensuring a seamless shopping journey.
Key Features:
Instant Search Autocomplete: Mageplaza's Magento 2 Search extension provides instant search results with just one letter typed, featuring product details in a dropdown list. This accelerates product discovery, leading to a significant boost in conversion rates.

Ajax Search supports up to 10,000 SKUs: The Magento 2 Ajax Search extension by Mageplaza now includes SKU search functionality, accommodating up to 10,000 SKUs. For larger Magento stores with a substantial product inventory, Mageplaza Advanced Search is the ideal solution. You can select from three options for reindexing the search database: After Product Save (for fewer than 3,000 SKUs), Cronjob (for more than 3,000 SKUs), or Manual updates (for on-demand updates after each change).

Flexible Search configuration options: Magento 2 Search extension lets admins control the display of product images and prices in search results. Unlike default Magento 2, where customers need to visit product pages for details, this extension provides essential information directly in search results, enabling quicker and more informed shopping decisions.
2. Searchspring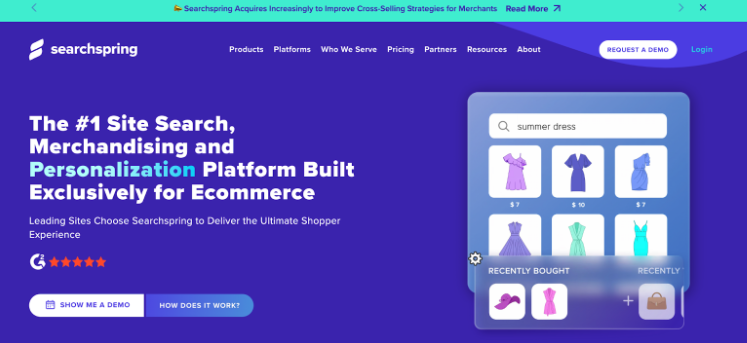 Searchspring stands out as a premier platform catering to ecommerce websites, offering top-notch capabilities in search, personalization, and merchandising. This platform empowers you to establish a stellar search system on your website, thereby elevating the shopping experience.
With Searchspring, you can facilitate seamless product discovery for shoppers, motivating increased purchases and store visits. It provides you with enhanced control over your website, enabling you to expand your shopping cart, boost conversion rates, and retain customers through search merchandising and personalization.
Key Features:
Simplicity and High Performance: Experience a high-performing yet simplified website solution designed to drive sales effectively.

Recommendations and Personalization: Deliver precise, relevant product recommendations and personalization that make customers feel like your website is tailored to their specific needs. It leverages real behaviors to influence interactions along the shopper's journey, rather than relying on random rules.

Product Merchandising: Take charge of your website like a pro, dictating what shoppers see. You have the ability to modify product displays, arrange items intuitively, and create campaigns geared toward boosting conversions.

Reporting and Insights: Searchspring serves as a personalized data interpreter for your ecommerce site, providing valuable insights into shopper behavior. These insights empower you to make informed decisions, ultimately enhancing your conversion rates.
Pros:
Rapid and user-friendly site search with features like redirects and synonyms.
Intuitive and effortless merchandising, notably the visual tool.
Favorable impressions of product recommendations.
Cons:
Not able to copy/paste the merchandising
Long time of getting set up
3. Algolia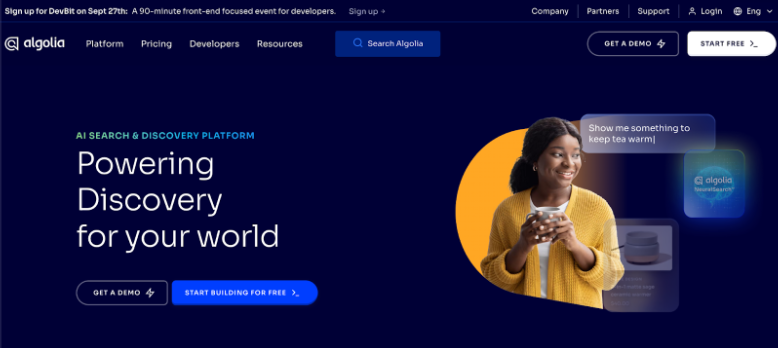 Algolia presents itself as a premier choice for enterprise-level ecommerce search software. Their search algorithm leverages artificial intelligence (AI) technology. It's important to note that their pricing model is based on the number of monthly search requests, which can result in a substantial cost.
Key features:
Natural Language Processing: This functionality enables users to perform searches using words and phrases from spoken language, enhancing search accuracy and relevance.

Geo-awareness: Algolia offers geo-awareness capabilities, allowing website visitors to narrow their searches based on their location or specific geographic areas.

Multiple Sorting Options: Users can conveniently sort search results on the product page using various criteria, such as product rating or price, optimizing the shopping experience.

Personalization: Algolia's solution includes personalization features that enable businesses to tailor offers and recommendations to individual customers based on their browsing and shopping behavior.
Pros:
Exceptionally smooth search process with precise results.
Utilizes AI-driven personalization technology.
User-friendly and straightforward.
Cons:
Requires manual setup and configuration, not a straightforward plug-and-play solution.
Comes at a premium cost.
Offers limited customer support.
4. Yext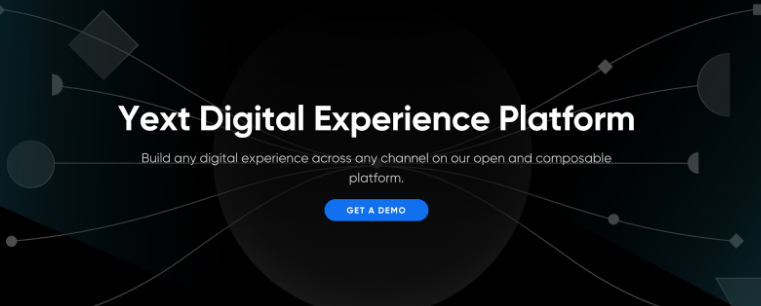 Yext is an ecommerce search software with a primary emphasis on natural language processing. They assert that their offerings go beyond enhancing your search functionality and extend to improving various aspects of your business, including customer support quality, employee comfort, and even marketing strategies.
Key features:
Contextual Search: Yext enables customers to conduct searches within the context of their prior interactions and actions on your website, enhancing the relevance of search results.

Search Terms AI: Yext's solution includes AI-powered capabilities to analyze visitor search queries and detect behavioral patterns, which can inform decision-making and optimization efforts.

Simple Interface: Yext offers a user-friendly interface with drag-and-drop functionality, making it straightforward to visualize and implement changes to your search experience.

Natural Language Processing: Yext's search functionality is designed to understand and process search queries in a manner that aligns with natural, conversational language, simplifying the search process for users.
Pros:
Offers a straightforward and user-friendly interface.
Enhances search outcomes through AI-based ranking and natural language processing.
Tailors shopping experiences to individual preferences.
Employs AI-driven merchandising techniques.
Provides intelligent insights to boost revenue.
Cons:
Lacks a free basic plan.
Requires a substantial development period.
5. Coveo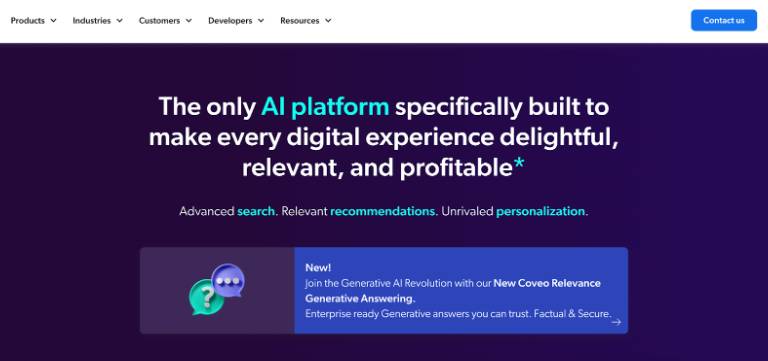 Coveo is an ecommerce search software rooted in machine learning technology.
Key features:
Robust Document Indexing: Coveo excels in indexing business documents effectively, ensuring that a wide range of content is readily accessible to users.

AI-Powered Search Suggestions: Users receive real-time search suggestions that dynamically appear as they type, enhancing the search experience by providing instant guidance.

Spell-check on-the-fly: Coveo's solution includes a spell-check feature that automatically corrects errors as users type, ensuring that search queries are accurate and yield relevant results.

Deep Personalization: Coveo goes beyond standard personalization by deeply integrating your product catalog with visitors' past interactions and behaviors. This results in highly tailored recommendations and search results that align closely with individual preferences and history.
Pros:
AI-powered ecommerce search software for accuracy.
Fast and precise search results.
Advanced tools for excellent ecommerce experiences.
Intelligent analytics.
Cons:
Geared towards enterprises.
Steep learning curve.
6. Bloomreach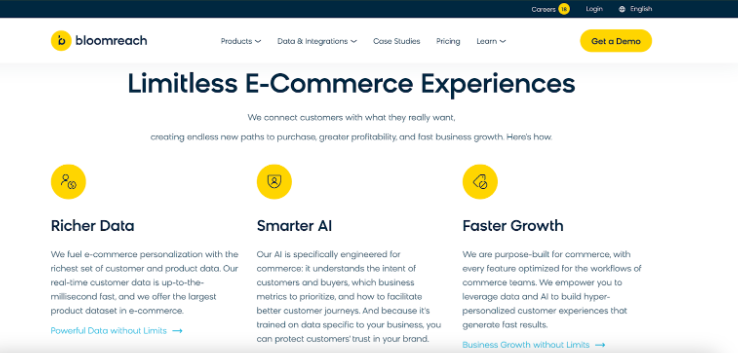 Bloomreach is another search software that revolves around machine learning technology.
Key features:
AI-driven website search paired with product recommendations and merchandising.
Natural Language Processing capabilities.
Automatic spell-check functionality.
Personalization based on visitor segments.
Pros:
High search precision.
Personalization based on user segments.
Effective customer support team.
Cons:
Lacks a free basic version.
Requires a significant learning curve.
7. Swiftype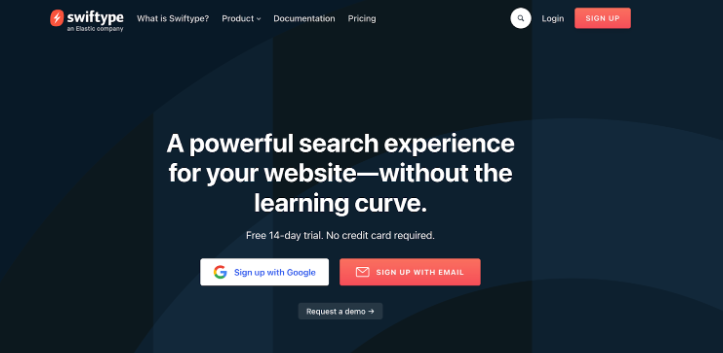 Swiftype is an additional ecommerce search software designed to empower businesses in delivering exceptional search experiences. It harnesses top-tier search algorithms and an advanced content ingestion framework to provide customers with relevant product suggestions.
Key Features:
Advanced search algorithm
User-friendly search customization options
Robust content ingestion featuring automated syncing
Real-time search analytics for insights and optimization.
Pros:
Provides intuitive search experiences for customers.
Offers a free trial for testing.
Requires no coding skills.
Easy to implement.
Cons:
Does not offer a freemium plan.
Lacks live chat support.
8. Prefixbox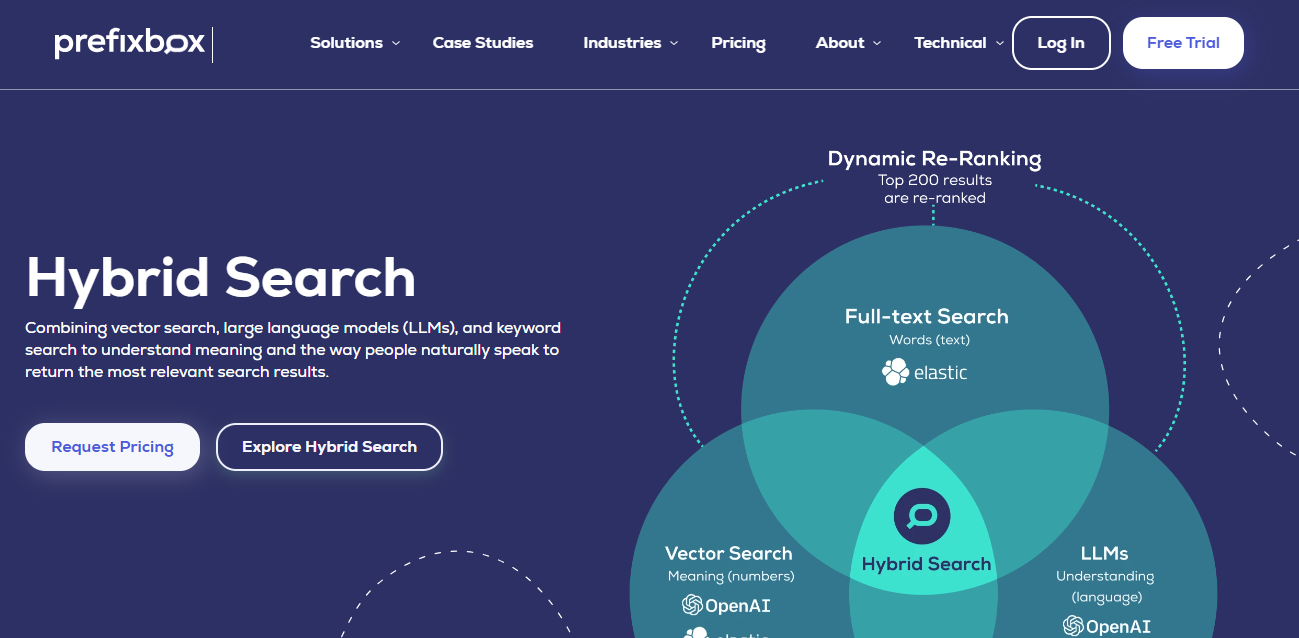 Prefixbox rounds out the list of the top 7 ecommerce search software for online stores. It enhances the shopping experience by providing advanced search capabilities, intelligent product recommendations, and more.
Key Features:
Intelligent search results and related search suggestions.
Semantic search engine for more accurate results.
Product recommendations to enhance product discovery.
Search results preview for quick browsing.
Advanced customer data insights to inform decision-making.
Pros:
Delivers fast and precise results.
Features an intuitive search engine.
Employs AI and NLP-powered product rankings.
Offers a free trial for testing.
Cons:
Lacks a freemium plan.
Best suited for enterprise-level use.
A word on enterprise ecommerce search solutions
There are three primary search engines that serve as the foundation for search software. To comprehend their distinctions, let's provide a concise overview of each. Alternatively, if you prefer to proceed directly to the final section, you may do so.
Elasticsearch
Elasticsearch offers real-time search capabilities and boasts exceptional scalability. This scalability feature allows you to seamlessly adapt and expand your system as your business grows by incorporating additional nodes. Moreover, Elasticsearch is renowned for its remarkable speed, and notably, it is an open-source solution, which means you can freely download and utilize it.
Apache Solr
Apache Solr excels in full-text search functionality and real-time indexing, making it a robust choice for search applications. It distinguishes itself by providing extensive customization opportunities, enabling businesses to tailor their search solutions to precise requirements. Similar to Elasticsearch, Apache Solr is also an open-source search engine, specifically tailored for enterprise-level applications.
Sphinx
While less widely recognized than the preceding two engines, Sphinx has garnered a dedicated user base, with Craigslist among its admirers. This search engine offers straightforward integration, delivering rapid search performance and maintaining a high level of search quality. Furthermore, Sphinx is characterized by its ease of customization, allowing users to tailor it to their specific needs.
Closing thoughts
An ecommerce search software streamlines the process of product discovery for your customers, reducing the steps they need to take to make a purchase. We trust that this compilation of the top 7 search software has assisted you in identifying the most suitable search engine for your ecommerce store. Invest in the one that aligns with your specific needs to enhance customer experiences, increase sales, and foster greater customer loyalty.

Marketing Manager of Mageplaza. Summer is attracted by new things. She loves writing, travelling and photography. Perceives herself as a part-time gymmer and a full-time dream chaser.
Website Support
& Maintenance Services
Make sure your store is not only in good shape but also thriving with a professional team yet at an affordable price.
Get Started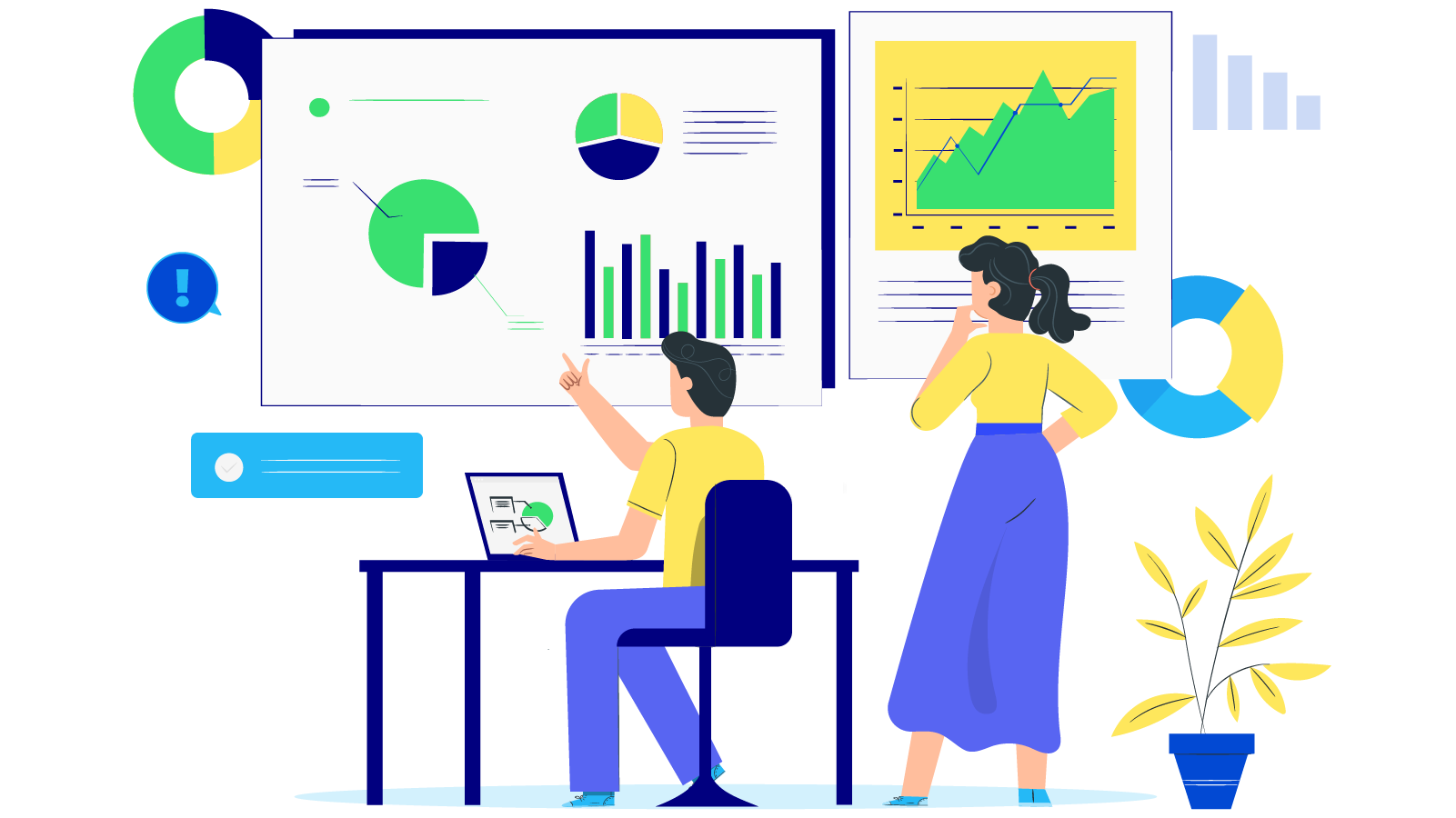 New Posts



Subscribe
Stay in the know
Get special offers on the latest news from Mageplaza.
Earn $10 in reward now!