How to drive sales sharply by Magento 2 Sales Pop extension?
The Most Popular Extension Builder for

Magento 2
With a big catalog of 224+ extensions for your online store
Have you ever seen the message like "3 people have just bought this bag" while rolling in a website to look for your favored items? I am sure that it is much popolar used than you think. Why?
In this blog, I am going to explain what is Sales Pop messages in Magento 2 and how it benefits your websites in conversion improvement. An ultimate tool performing this function from Mageplaza will be featured at the last few parts of the blog.
Table of Contents
What is Sales Pop?
Different from Newsletter Popup or Deals Popup, Sales Popop illustrates the real sales transactions reported from the whole stores and present to any visitor who is finding items in your websites.
Sales Pop can be classified in some types; typically, are recent sales, total order number, or checkout total. Depending on the page customers are currently on, Magento 2 admins can put the suitable sales pop accordingly.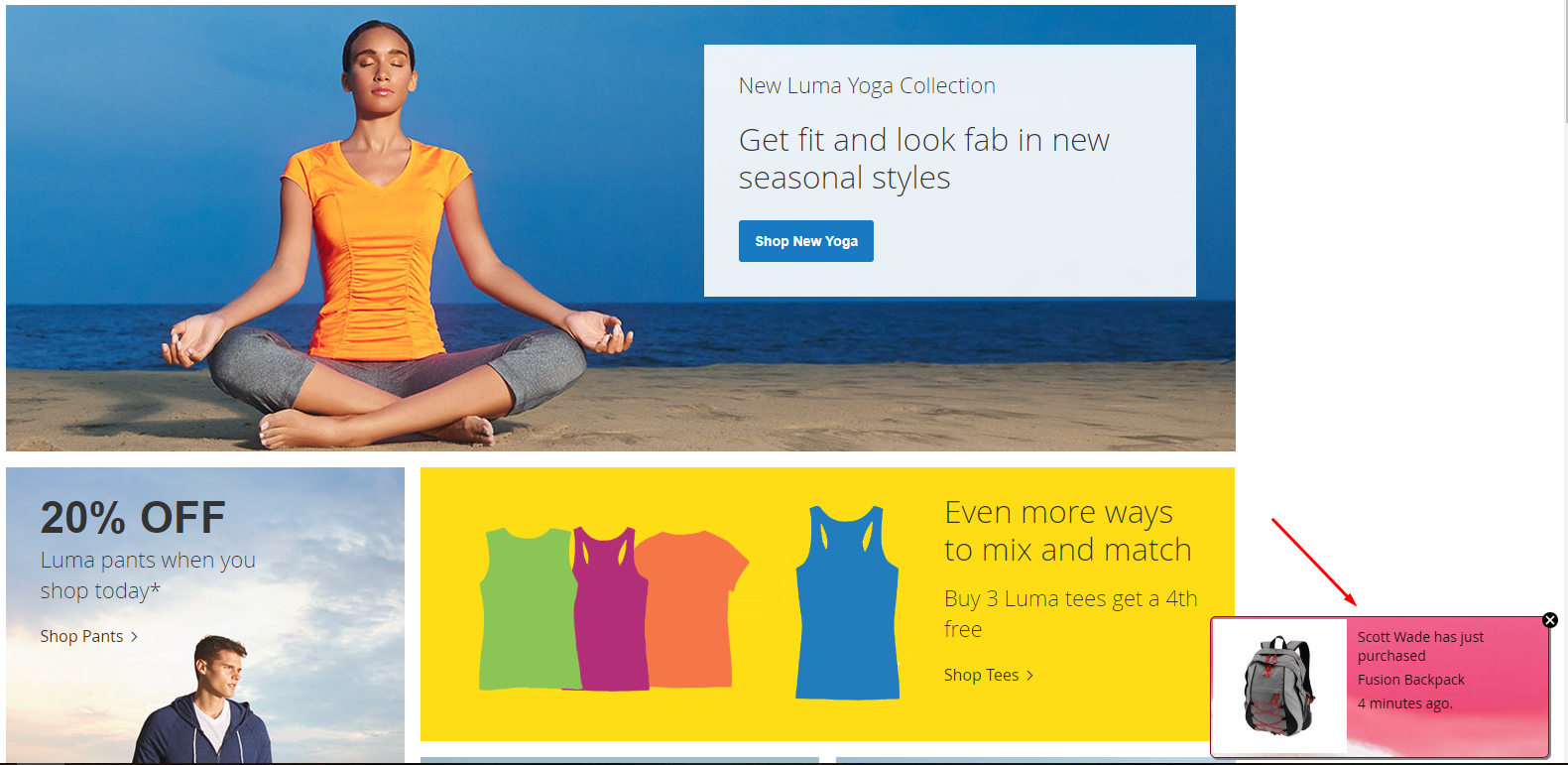 For example, at the product detail page of "Sprite Yoga Companion Kit", buyers can see a sales pop with the content as "2 customers have just purchased this Yoga Kit for 1 hour". Customers' minds may pop out an idea like "wow, it seems to be a good item to buy, which is proved by other purchases". This thought will definitely clear up their minds and help them make an instant purchase. Even if they could not buy at that moment, they still have a great feeling for your products and may come back later when they are ready.
Another popup can be appear at the checkout step where customers are going to complete the purchase with you. However, shipping cost and other additional fees can be the barrier for them to go ahead. Sale pop shown at this moment like "A customers from England has just checked out for this Juno Jacket", will convince customers that the item is a worthy investment. At the same time, they are made to forget the extra amount of money paid, naturally.
How Sales Pop extension benefits Magento 2 stores?
Highly motivate customers shopping process
Before making purchase decisions, almost all customers need to consider various choices. So how online stores can make customers stick to your website with your products at a decisive moment?
I am pretty sure that you have heard about the "crowd effect" and even have been on it before. So did I. Seeing people continuously buy products from your stores make current visitors be motivated to make the purchase similarly and quickly.
Build credibility by real orders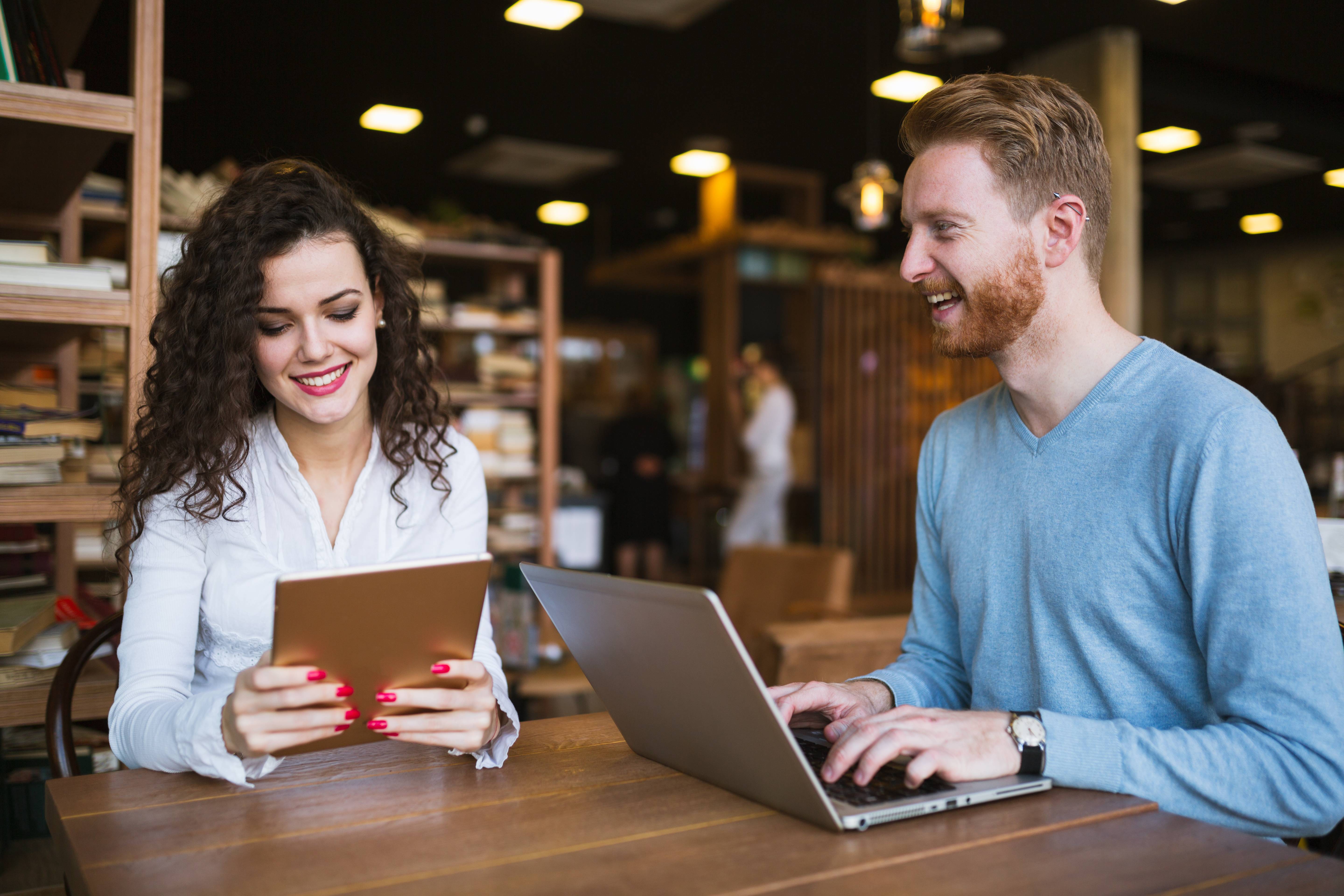 Magento 2 Sales Popup shows recent sales in your online store during a certain time period. These sales data are real statistics since it is got from the stores' transaction history. Hence, online stores can convince customers that their websites have high credibility with a huge number of buyers every day.
This is considered an effective way for dispelling customers' doubts about your store. The more trust you gain, the more chance shoppers will make purchases with you, especially in this online market. Trust is the key success of any business.
Save cost for marketing products
There are many marketing tools you can use in each touchpoint of customers' journey. Sales popup undoubtedly lies in the point where customers already know about your name and they are considering things offered by you.
Showing recent items ordered and the total number of product bought from other customers will be the best way to market your stores, earn more trust and convert more sales significantly.
Outstanding functions of Magento 2 Sales Pop extension
3 sales popup types
Understanding customers' behaviors, Mageplaza Sales Pop extension supports 3 kinds of popups that promise to draw most customers' attention.
Recent order notifications: Notify visitors of currently purchased items when they are shopping on sites. For example, "One customer in New York just bought Push It Messenger Bag 2 hours ago"
Checkout popups: Inform of the total number of orders in stores in a specific time period. For instance, "22 customers completed checking out in the last 24 hours!"
Upsell popups: Notify the sales of accompanying products. Such as: "12 Customers have bought Artemis Running Short together with Breathe-Easy Tank"
Shoppers can view these popup alternatively and naturally, which motivate them to choose their favored items quickly as well as build more credibility from online shops.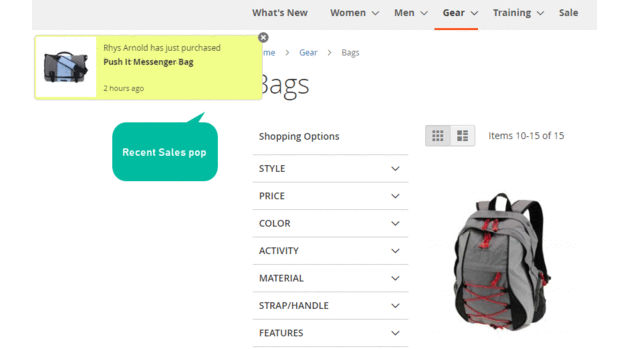 Set conditions for recent sales popup
Sales Pop allows store admins to set condition for showing recent sales popups. Some typical conditions are:
Cart price rules: Cart attributes, Product attributes, etc. For example, show notifications of the recent orders from the UK.
Limit the number of recent orders to show (applied along with recent orders type)
Set the schedule to check recent orders automatically (applied with recent orders type)
Recent sales popup will show the information of sales based on the backend configuration of those conditions. Thanks to that, the admin can choose to show the popup purposely and effectively.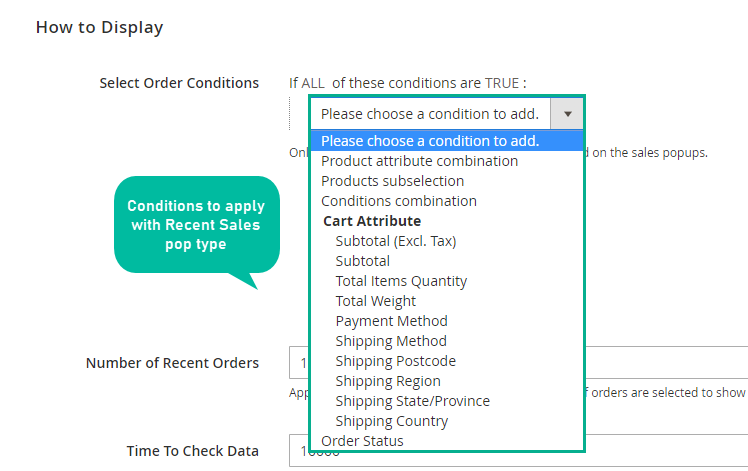 Multiple places for sales popups
Admin can flexibly place sales pop at many pages as the followings:
CMS pages: Home Page, About us, Customer service, etc
Category pages
Product pages
Shopping Cart Page
Checkout Page
Showing sales is a strategy that each store should consider and plan it based on customers' insight as well as behaviors. Putting a total number of sales on the Home page for new visitors and showing one up-sell popup at the products page seems to be a great strategy to follow.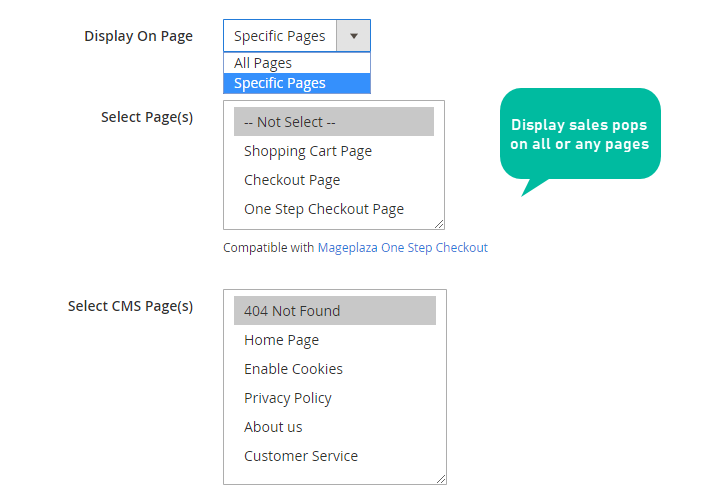 Customizable sales pop content and design
For Sale pops content, admin can use HTML to customize the variables such as customer name, address, time, product name and price, etc. Modifying popup content is now easier for admin to match any wanted message.
Regarding the design of popups, online stores do not need to worry about the incompatibility of stores' themes since it allows them to modify the outlook of popups. It can be customized in background images, border color, text color, link color and hover link color.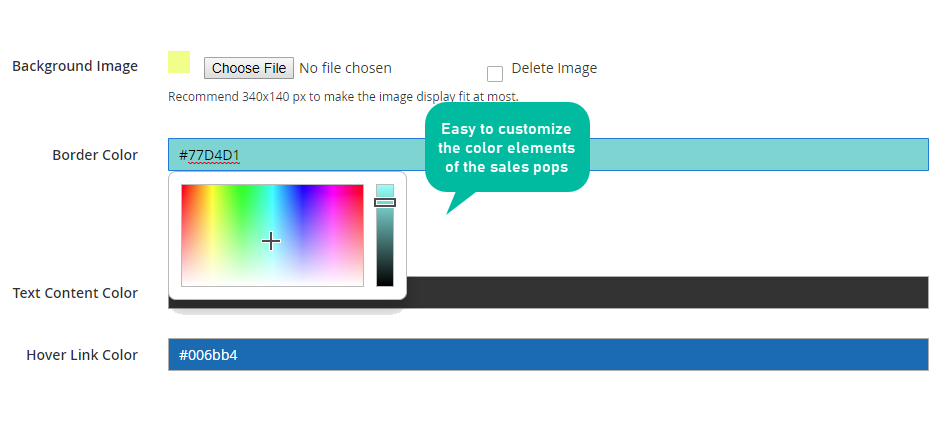 A/B testing for more effectiveness
For every sales popup (parent ones), admin can duplicate it and make changes to create the child sales pop, called A/B Testing function. A/B Testing button can be found at any original sales pop created.
Admin can always check the effectiveness in reality by running two sales pops with some differences. For instance, changing background color, text font or time showing to see the difference in response of customers. By this, admin can measure the results and keep better sales pops.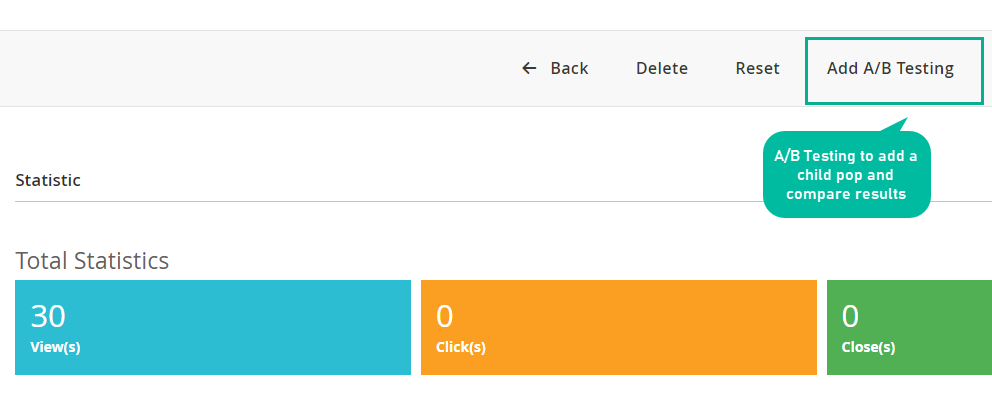 Advanced Sales pop report
Reports of sales popups assist stores to have a comprehensive result of all popups run in the frontend, which helps them know where to adjust and what to maintain further. The module supports some typical statistics such as the number of views, clicks, and closes of a sales pop clearly.
Combine with A/B testing cases, store admins can compare two versions through:
Parent pop's statistic: views, clicks, closes
Child pop's statistic: views, clicks, closes
A/B comparison chart for each criterion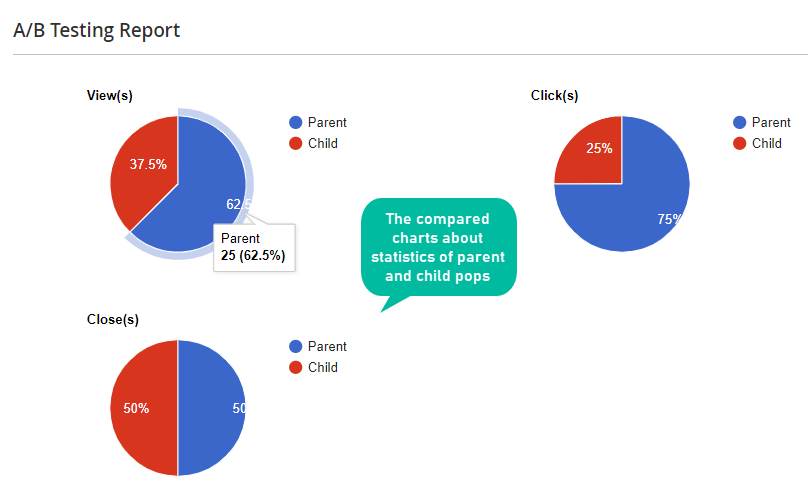 Full Features List of Magento 2 Sales Pop extension
General configuration
Turn on/off the extension
Hide/ Show close button
Configure time for popup showing
Set popups break time
Choose animation effect for popup
Allow/Disallow popup sound
Display a popup
Be able to create, view, edit all popups at a management grid
Enter name, status, priority for a new popup
Choose store view, customer group for applying popup
Choose displaying devices: Mobile and/or Desktop
Select popup position on a page: Top Left, Top Right, Bottom Left, Bottom Right
Choose to show popup at Shopping Cart Page, Checkout Page, CMS Pages, Category Pages, Product Pages
Popup content Set up conditions for showing orders (For recent orders pop type)
Limit the order numbers shown on popup (For recent orders pop type)
Set the schedule to check orders (For recent orders pop type)
Write popups content in three real types (support variables)
Popup design
Choose the background image for popup
Select the border color for popup
Select the color for content text
Select the hover link color
Add A/B Testing
Generate a child pop by modifying elements of the parent pop
Popup report
See the statistics get from a popup: Views, Clicks, Closes
Compare statistics of the parent popup and child popup by A/B testing
Compare each statistic of two versions by charts
Final Thoughts
Sales Pop will show the recent sales, checkouts and purchasers on the store site in popups. Sales Pop is the effective indirect marketing method to motivate customers to increase conversion rate and make purchase decision much more easily and quickly.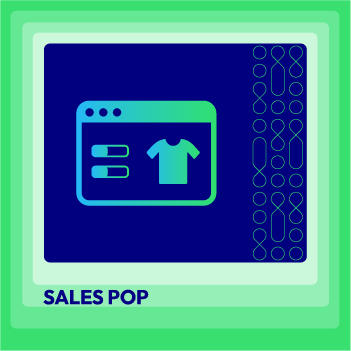 Recent Sales Notification for M2
Effective indirect marketing methods to get customer attention and motivate faster purchases
Check it out!

Sam is the CEO and Founder of Mageplaza, pursuing a simple and healthy lifestyle. He is a friend, a husband, and a father to two children. As a trainer and an aspiring influencer, he is also a big fan of sports and travel. Sam is exceptionally knowledgeable about e-commerce, especially Magento and Shopify, with 10 years of experience in the field.
Website Support
& Maintenance Services
Make sure your store is not only in good shape but also thriving with a professional team yet at an affordable price.
Get Started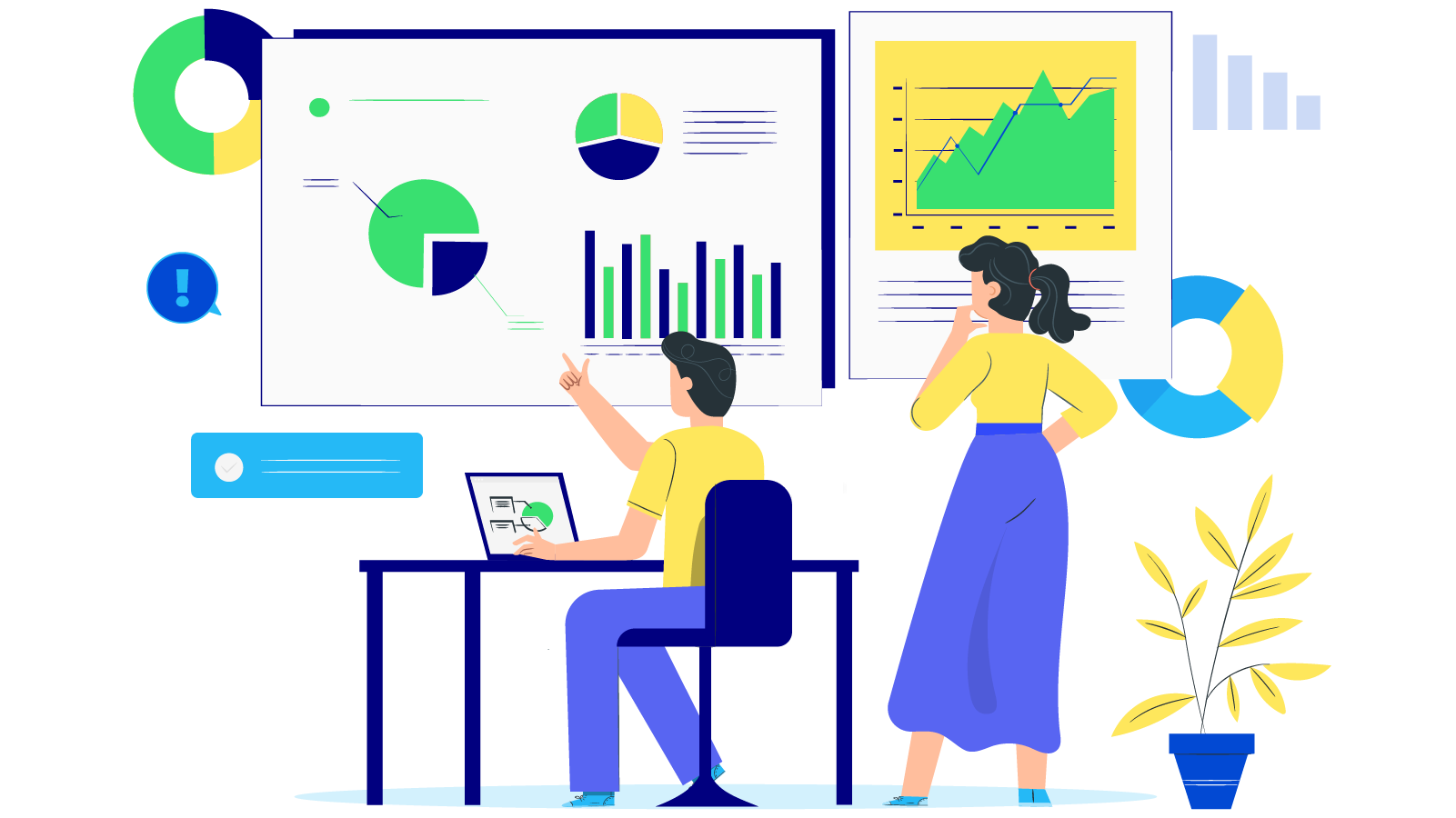 New Posts



Subscribe
Stay in the know
Get special offers on the latest news from Mageplaza.
Earn $10 in reward now!