How to customize design for Magento 2 Quick Order Page
The Most Popular Extension Builder for

Magento 2
With a big catalog of 224+ extensions for your online store
Wholesales customers are considered as a crucial factor of online stores, especially for B2B business. Instead of spending time going shopping in a brick and mortar shop in a traditional way, customers can stay at home and click to buy their preferred products online. Clients can encounter some issue in purchasing in bulk. They must use multiple steps during their shopping journey to complete their purchase, such as searching, selecting, and adding to cart. This process causes time-consuming and mistakes for customers because they need to deal with a massive quantity of products. Mageplaza Quick Order extension appears as an effective solution. This extension allows wholesales customers can add products in bulk with several clicks. The improved process keeps clients on a single page to hinder their abandonment.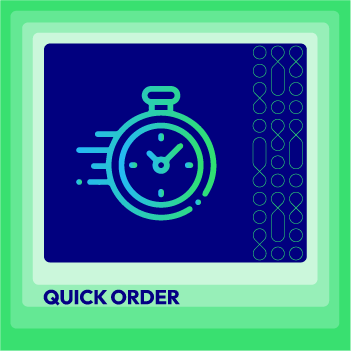 Simplify and fasten your ordering process to grow your business
Check it out!
Table of contents
How Quick Order function is an effective solution.
Quick Order extension makes customers satisfied by helping them reduce time to order in bulk and limit making mistakes during their shopping trip. By this way, store owners can increase the conversion rate and decrease the abandonment. Let's see how this extension can bring magnifique effects to both customers and store owners.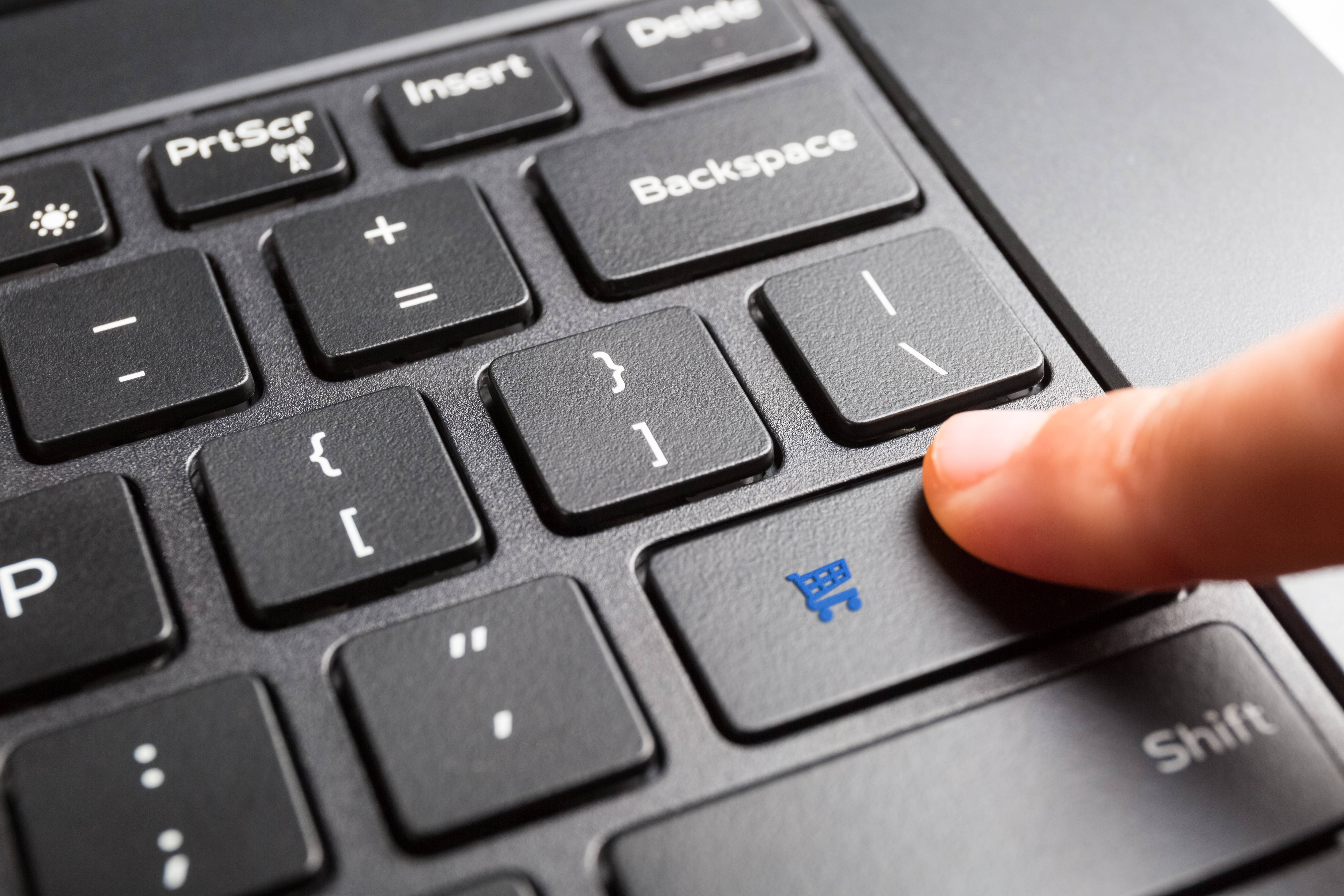 Reduce time to order in bulk
Instant search box keeps an essential position in placing an order quickly. If you want to know more about the function of the Instant search box, you can refer to this blog (link to Instant search for products to quick order in Magento 2). Customers can type one or more words of the product's name. A list of suggested products appears with full name, picture, SKU. They can choose an item easily via one click. By fulfilling all the attributes of products like size, color, quantity, clients can add to cart or go to the checkout process instantly.
Another option for wholesales customers is searching by SKU. The SKU is the abbreviation of the stock keeping unit, which can be known as an identified code made for specific products. The benefit of this tool is used in stores and warehouses to keep track product stock to improve inventory management.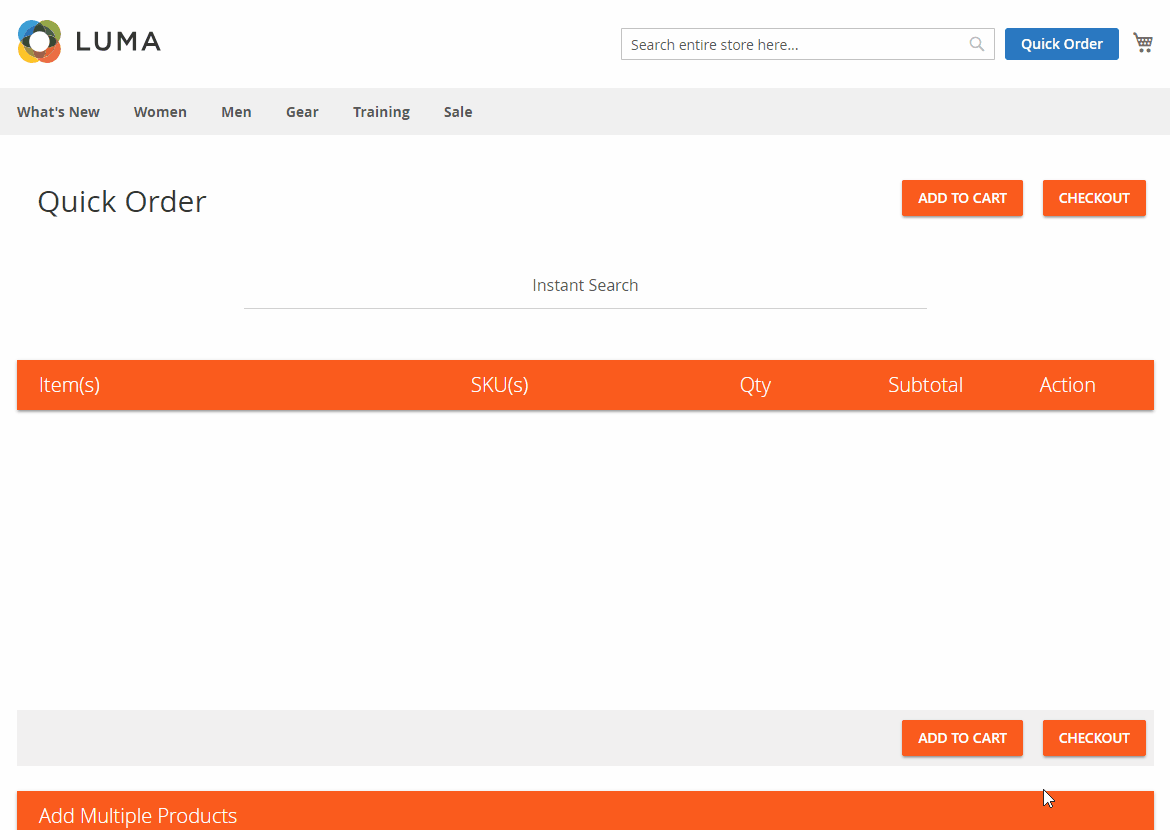 Quick Order tool keeps customers stay on one page during their shopping trip. They don't have to navigate to other pages to select product attributes. The Magento 2 Default can bring advantages to retailers as they only purchase in small quantity. They often spend 10-20 minutes making orders in bulk. It wastes much of the time for online shoppers. With the fast order page, wholesales buyers can easily find the instant search box and other functional buttons. They can add the number of quantity of items that you want to cart with some simple clicks. The Search-Select-Add function supports bulk buyer to choose the number of products that they wish to by entering precisely the amount instead of clicking the plus (+) and minus (-) button. Moreover, when customers need to buy the same products with different attributes like size, color, they can duplicate one product and easily choose the variants.
Avoid making mistakes in purchasing
Wholesales shoppers have to purchase frequently a certain amount of products in each order. Searching every single product to add to the cart can make mistakes easily. With the help of add to cart in bulk feature, buyers can quickly create an order by choosing "Upload a CSV file - Bulk add", "Enter multi-SKUs - Bulk add". By uploading a CSV file with full detail of products, customers purchase in a short time. Clients who have already bought the same products several times can apply this way. Entering multi-SKUs is another way. The advantage of this function is allowing buyers who have prepared SKUs list for bulk purchase. So it takes only 2 steps for them to make an order instead of searching and selecting each type of product.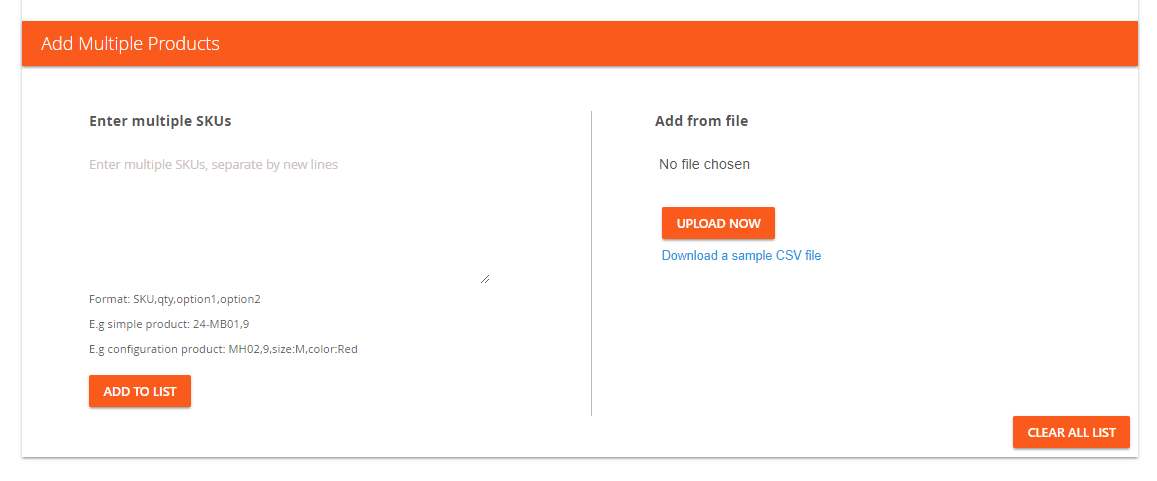 Why do we need to match the Quick Order page with the store's theme?
The function of Fast Order page is indispensable. But making it look professional is vital for store owners. Online merchants have selected their themes, which is suitable for their slogan or their trend of business when they set up their shop. They often spend time designing their site with primary color, pictures to make it look more lively and professional. Nowadays, a million websites were born with up to date fashion. If you don't concentrate on building your website with a beautiful image, it will become old fashioned compared to other newly born websites. Quick Order page belongs to your site. So shop admins need to make the consistency between this Fast Order page with other parts of your website. Mageplaza knows the necessity of highly customizable design, so we develop this function in the backend to help store users make it easier.
How to customize design for Quick Order Page
Backend
You can login Magento admin, then go to Store > Setting > Configuration > Mageplaza > Quick Order.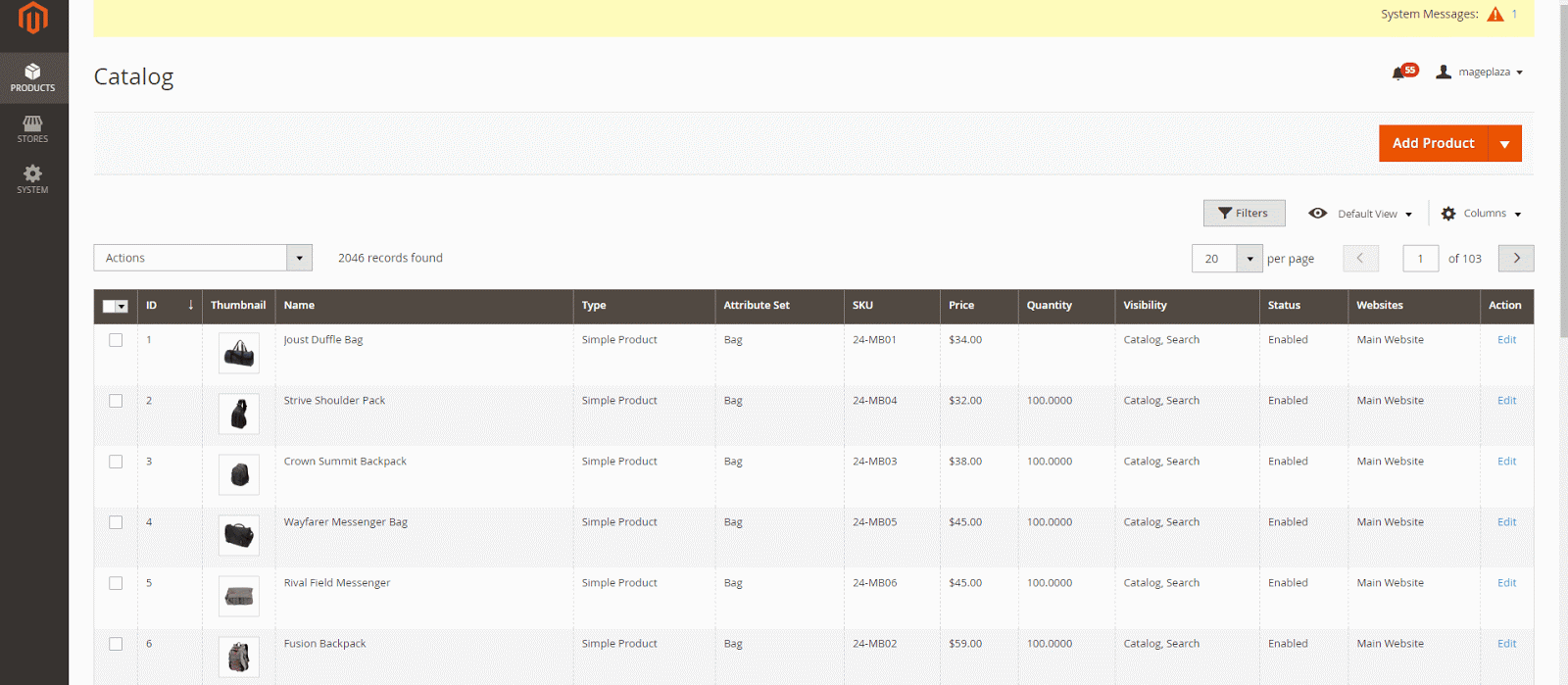 In the General Configuration part, you choose "Yes" to enable this module in "Enable" row.
In the Design part, you and freely choose the background color, text color, and background button to match with your store's theme.
Heading Background Color specifies the color of the Heading.
Heading Text Color is used to change the color of the heading text
Heading Background Button supports to modify the color of buttons appearing in Quick Order page in frontend.
After choosing all the required fields, you need to select "Save Config" to finish your design. Quick Order page in frontend will be changed accordingly.

Frontend
Quick Order page at frontend will be displayed according to the changes that you made in the backend. It will match with other parts of your website, which makes your store have a professional image in customers' eyes.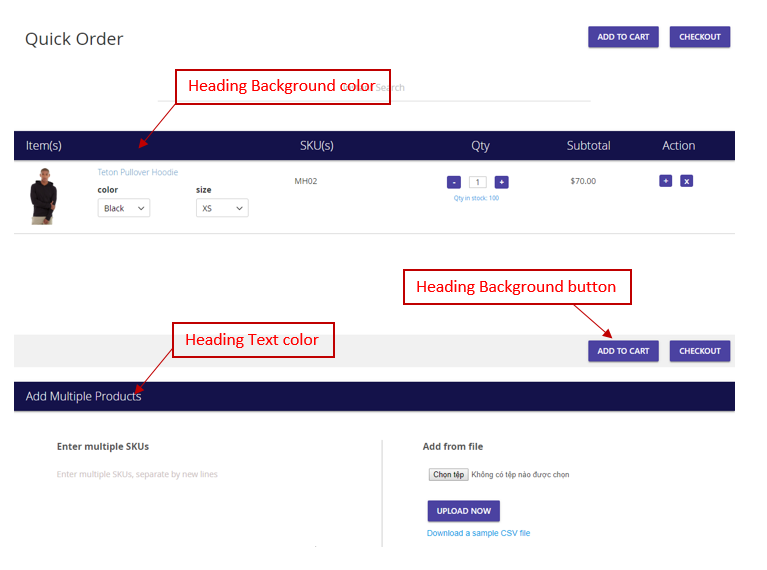 Final Words
In conclusion, Quick Order extension is a useful tool which concentrates the convenience and efficiency of making orders for wholesale customers. Building a Fast Order page compatible with other parts makes your website consistently. This extension gradually becomes an indispensable tool for ecommerce stores, specializing in wholesale.

Sam is the CEO and Founder of Mageplaza, pursuing a simple and healthy lifestyle. He is a friend, a husband, and a father to two children. As a trainer and an aspiring influencer, he is also a big fan of sports and travel. Sam is exceptionally knowledgeable about e-commerce, especially Magento and Shopify, with 10 years of experience in the field.
Website Support
& Maintenance Services
Make sure your store is not only in good shape but also thriving with a professional team yet at an affordable price.
Get Started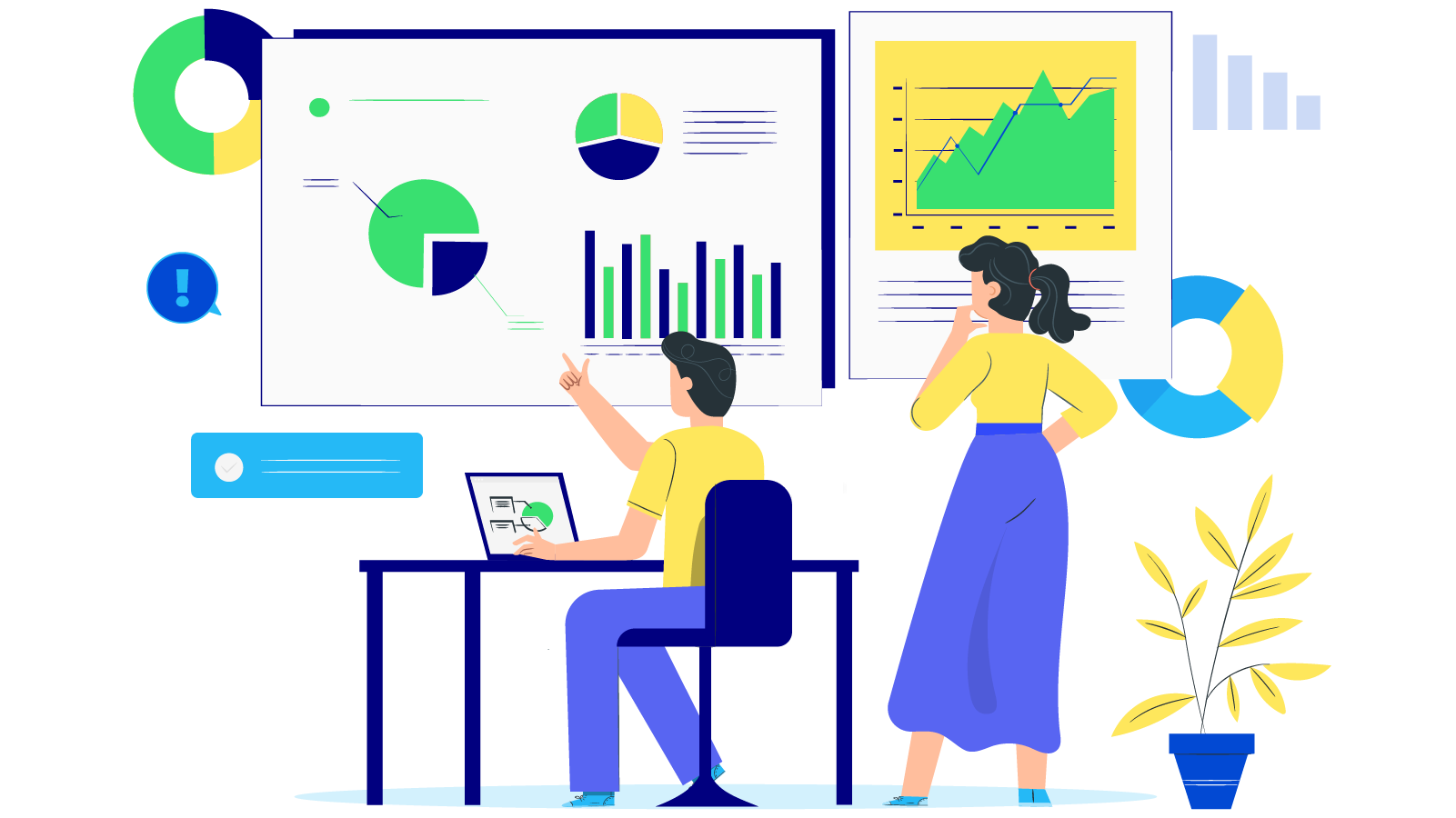 New Posts



Subscribe
Stay in the know
Get special offers on the latest news from Mageplaza.
Earn $10 in reward now!