28+ Best Digital Marketing Tools in 2023
The Most Popular Extension Builder for

Magento 2
With a big catalog of 224+ extensions for your online store
A business without comprehensive digital marketing campaigns is like a ship without sails - it's not going anywhere.
If you want your enterprise to get noticed in today's fast-paced world, you are gonna need to market yourself online, and you will need to be savvy about it. That's where a digital marketing tool comes in handy.
Digital marketing involves the act of promoting and selling products/ services through digital marketing channels, such as search engines, emails, mobile apps, etc. While digital marketing platforms will only help you execute a proper strategy (they won't do the whole work for you), the right technology stack can actually help you zoom past the competition.
To help your marketing strategy reach the next level, we have compiled the 28+ best digital marketing tools every marketer should keep in their tool belt.
We've broken the list down into the 9 categories most important to any business. You can click any of the links below to jump right to that section.
Table of contents
SEO tools
Gone are the days when SEO was considered a passing trend. Nowadays, even the non-techie modern marketer understands the importance of online and search engine traffic.
However, mastering SEO optimization can be difficult, especially when you're just starting out. Fortunately, we've listed the 3 best SEO tools right below. With these tools, you can see what is working and which parts of your strategy could benefit from some tweaking.
Check it out!
1. Shopify SEO Suite
There are a lot of reasons that make your website load slowly and rank at a very low position on search page results. For example, your high-quality images are too heavy to load, links are broken, or social connections to your website are not strong enough.
Shopify SEO Suite can help you deal with all of those problems! The tool is a comprehensive solution for an optimized website as essential features, such as structure data, images, HTML Sitemap, meta tags are well-supported.
With Shopify SEO Suite, you can auto-insert ALT tags to your images and compress them to fasten your website's loading speed. Besides, auto-add Google structured data helps the search engine understand your content easier and then prioritize it on the top search result page. Most importantly, it is totally FREE!
Plus, its professional and dedicated customer support team will respond to every request with lightning speed. So, feel free to contact them if you have any concerns at any time.
Price: This is the best part about Shopify SEO Suite, as this app is absolutely FREE. You can access all amazing features with unlimited usage without being charged, which makes it one of the best SEO tools. There're no setup fees or any other hidden costs.
GET SHOPIFY SEO SUITE FOR FREE
2. Ahrefs
Ahrefs is another comprehensive SEO tool to help you punch up your website traffic. They have data for about 150 million keywords in the US and even more for 150 other countries.
This tool is great for competitive analysis, enabling you to check out who is linking to your competitors, their top pages, and many more. You can even see where their content ranks using the Content Gap tool. Plus, the Top Pages tool allows you to see which pages get the most traffic and the amount of traffic going to your competitors' sites.
As SEO and content marketing go hand in hand, this tool is what you need on your side if you want to lay a firm foundation for marketing success from day one.
Pricing plans:
Lite Plan: $99
Standard Plan: $179
Advanced Plan: $399
Agency Plan: $999
3. Moz Pro
As described on Moz Pro's website, this tool is "the proven, all-in-one SEO toolset" that will provide you with the necessary SEO solutions for your business needs.
Key tools consist of the ability to audit your own site with Moz Pro Spider, which should highlight potential issues and recommend actionable insights. There is also the ability to track your website rankings over hundreds or even thousands of keywords per website.
Plus, a keyword research tool helps determine which keywords and keyword combinations may be the best for targeting, together with a backlink analysis tool that mixes a variety of metrics, including anchor text in links and estimated domain authority.
Once signing up to Moz Pro, you can enjoy full access to MozBar (SEO toolbar for Chrome), SEO insights, one-on-one walkthrough, and keyword tracking on multiple search engines. Even if you don't sign up, a number of free tools are available. There is also a vast supporting community ready to offer help, guidance, and advice across the breadth of search marketing issues.
Pricing plans:
Standard: $99/ month
Medium: $149/ month
Large: $249/ month
Premium: $599/ month
4. Yoast
Yoast is a popular plugin that works well with both Gutenberg and the Classic editor in WordPress. It's an excellent tool to help you optimize your content for search engines.
The tool lets you add SEO titles and descriptions to all posts and pages on your website easily. You can also use Yoast to add social media images and Open Graph metadata to your articles.
Besides, Yoast automatically generates an XML sitemap for all your website content to make it easier for search engines to crawl your website. It also helps import your SEO data easily if you have been using another SEO plugin.
The tool is updated to reflect Google's algorithm every two weeks, so you can always stay up-to-date on your SEO.
Pricing plan: The Yoast plugin for WordPress is free, but the paid premium plans range based on the number of sites you need to monitor.
5. SEMRush
Recommended by lots of professional SEO experts, marketers, bloggers, and businesses of all sizes, SEMRush provides a comprehensive set of tools to improve your traffic.
SEMRush allows you to find organic keywords and search terms that you can easily rank for. It also lets you do competitive research and see which keywords your competitors rank for, and how to beat them.
Plus, the SEMRush SEO Writing Assistant tool helps you improve your website content to beat the top ten results for your focus keyword. It integrates well with WordPress, which allows you to write more SEO-friendly content.
Pricing plans:
Pro Plan: $99.95/ month
Guru Plan: $199.95/ month
Business Plan: $399.95/ month
Magento SEO Services
by Mageplaza
Let experienced professionals optimize your website's ranking
Learn more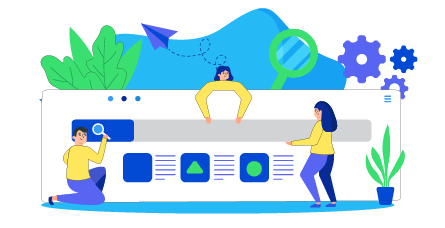 Email Marketing tools
Email marketing is a massive deal for digital marketers. It remains one of the most efficient ways to engage and nurture leads into loyal customers. It's also extremely cost-effective, with an ROI of up to 4,400%!
Among many email marketing tools out there, we chose the best 4 tools right below. For more amazing email marketing software, please refer to this blog post!
6. AVADA Email Marketing - Marketing Automation
AVADA Email Marketing by AVADA Commerce is one of the best tools for starters and medium merchants who wish to take off and scale up their businesses. Focus on user-friendliness and simplicity; this tool helps non-tech users send emails to engage and convert customers easily.
Designed to optimize abandoned cart campaigns, AVADA Email Marketing follows up with your prospects and quickly reminds them to continue their purchase. With an intuitive interface, the tool is simple to use, even for novice users. And for anyone with no ideas on designing, AVADA Email Marketing offers ready-to-use templates that can save a lot of time and effort for admins.
Furthermore, you can segment and target specific audiences for your emails to get the best possible results. With an outstanding customer support team, AVADA Email Marketing ensures you'll have incredible experiences with your email marketing campaigns.
The tool especially offers a free plan along with a 14-day free trial for you, so test it out today!
Pricing plans:
Free Plan
Pro Plan: $9/ month
TRY AVADA EMAIL MARKETING FOR FREE
7. SendPulse
The platform, built around email marketing, gradually evolved into a marketing automation platform that offers a variety of channels for communication with customers.
Businesses of all sizes can combine marketing email campaigns with SMS notifications or a messenger chatbot (Facebook, Instagram, WhatsApp, etc).
Additional email marketing tools include a drag-and-drop email template builder, email verifier, smart pop-ups, and subscription forms as well as a reliable SMTP server for transactional emails. The platform also offers a free CRM to better manage deals and handy analytics reports to track the performance of marketing campaigns.
SendPulse offers a forever free plan with 15,000 free emails every month as well as other things free chatbots or landing pages.
Pricing:
Forever free plan.
Standard – $7
Pro – $8
Enterprise – $10
8. MailChimp
As one of the top-rated email marketing platforms, MailChimp is responsible for sending more than one billion emails in a day.
Instead of struggling with cut-and-paste mass email, you can streamline every aspect of email newsletter creation with MailChimp: from design and subscriber management to social sharing and analytics tracking. Its email templates are easy-to-use and oh-so-snazzy with a lot of built-in images and calls-to-action.
In addition, MailChimp offers multiple integrations with other SaaS companies. The software is especially powerful for email drip campaigns. Ultimately, it is a good option for engaging with your audience.
Read more: MailChimp Reviews: Is This Email Giant Your Best Choice?
Pricing plans:
Free Plan
Essentials Plan: starts at $9.99/ month
Standard Plan: starts at $14.99/ month
Premium Plan: starts at $299/ month
9. Constant Contact
With more than 20 years as an industry leader in email marketing, Constant Contact offers an ideal solution for small businesses, large enterprises, and everything in between.
You can choose from one of more than 240 email templates, then customize your content to match your brand with its intuitive drag-and-drop email builder. Each template is responsive, so you don't need to worry about redesigning your campaigns for small devices.
Constant Contact allows you to leverage automation with welcome emails and other triggered responses based on user actions to send hyper-targeted emails at the right time.
Also, you'll get access to insightful reports for your email campaigns. Multiple valuable information like open rates, click-through rates, opt-outs, bounce rates give deep insight into what's really working and which campaigns need improvement.
Pricing plans:
Email Plan: starts at $20/ month
Email Plus Plan: starts at $45/ month
10. Selzy
Selzy is an all-in-one email marketing platform that targets small and medium-sized businesses. With its user-friendly interface, you can set up and run your first campaign in under 15 minutes.
In Selzy, you can build picture-perfect emails with no coding or design skills needed, grow and manage your contact list, set up automated sequences, and check out extensive but digestible reports on metrics. And if you have deliverability issues, follow in-built anti-spam recommendations!
The best part is, Selzy offers a forever free plan with a limit of 1000 contacts, 15,000 emails a month, and all the basic functionality available — what a steal!
Lite (from $7/month): Free functionality + A/B tests and segmentation + no limit on emails sent per month
Standard (from $11/month): Lite + anti-spam checks and growth recommendations
Premium (from $220/month): Standard + subject line assistant and full campaign management from email marketing experts
Social Media Marketing tools
Social media marketing is one of the breeding grounds for innovations in digital marketing. Having the right tools to manage it can make a big difference.
With the following tools, you'll be able to create remarketing campaigns or even synchronize your business message across all social media channels. Take a look!
11. Buffer
Managing all your social media marketing activities in one place can be a huge time saver. Buffer certainly fits the bill with its simple and clean interface and intuitive setup flow. Moreover, there are plenty of advanced features for the many social media jobs you need to do.
With this tool, you can get a full social media management solution: from planning, creating, scheduling your social media posts, following up on post-performance with smart analytics, to engaging with your followers from a social media inbox. Plus, you can work with your team to run all your organic social strategy through Buffer.
Pricing plans: Buffer Publish:
Pro Plan: $15/ month
Premium Plan: $65/ month
Business Plan: $99/ month
Buffer Analyze:
Pro Plan: $35/ month
Premium Plan: $50/ month
12. Hootsuite
More of an enterprise social media management tool, Hootsuite is quite powerful and very popular. Hootsuite can store your approved content in a cloud that team members can access 24/7 for social media posting needs. It also allows multiple posts to be scheduled at once with developed keywords and tags.
With Hootsuite, you can track the performance of your social media content. Plus, the tool calculates ROI, conversions and tracks public conversations about your brand or specific subject matter.
Pricing plans:
Professional Plan: $19/ month (billed annually)
Team Plan: $99/ month (billed annually)
Business Plan: $599/ month (billed annually)
Enterprise Plan: Custom price
13. MeetEdgar
MeetEdgar is an amazing social media management tool.
Using the browser extension can help you write posts and extract up to five critical highlights from your posted content to share easily. You can sort your content into various categories and decide when you want your content shared from each category.
It lets you schedule posts 24/7, and if your queue runs out, it'll mine previous posts and reshare them, which you can start and stop at any time. You can also use the tool to run A/B tests on your content to find the most optimal content and language for your posts.
MeetEdgar is integrated with Facebook, Twitter, LinkedIn, and Instagram.
Pricing plans:
Edgar Lite: $19/ month
Edgar: $49/ month
Learn more:
Content Marketing tools
As many as 88% of B2B marketers regard content marketing as part of their marketing strategy. If you're part of that 88%, you are probably well aware of all the benefits. If you aren't, it is just a matter of time.
There are two essential things when building content: creation and curation. The following tools you're about to see are the best in helping your content marketing team with those tasks.
14. Trello
Trello is a common content management tool that many organizations use for brainstorming and strategizing content.
The reason why Trello is so appealing is that it is free for small teams and businesses, while providing a visual way to brainstorm and schedule content online, even if your team is remote and global. It is also easy to assign multiple employees to a card, so you can know who is in charge of writing, editing, or adding CTA offers to a post.
Users can generate cards, include notes on the card topic, and create deadlines and assign topics to specific teams. The tool facilitates collaboration and provides clarity on projects in the pipeline.
Pricing plans:
Free Plan
Business Class Plan: $12.50/ user/ month
Enterprise Class Plan: starts at $17.50/ user/ month
15. BuzzSumo
Do you want to know what kind of content is trending in your industry?
Do you want to know what your competitors are writing about and how they market it?
BuzzSumo is a perfect tool for leveling the playing field, revealing the topics you should consider, and helping you find appropriate influencers in your industry to market your content.
You can look up trending topics and determine the scope of your search to create both evergreen content, or trending content targeted at your desired audience. From there, you're able to look at your content's analytics and social mentions, and then measure performance accordingly.
Plus, with competitor analysis, you can track how your competitor's content is performing and compare their results to yours.
Pricing plans:
Pro Plan: $99/ month
Plus Plan: $179/ month
Large Plan: $299/ month
Enterprise Plan: $499+/ month
16. Evernote
Businesses can stay more organized with Evernote. It's the right place to note your ideas, where your entire team can have access and collaborate with each other.
With this tool, you can easily manage your content and projects on any platform - desktop, tablet, and smartphone. It allows users to sync notes and files between devices.
Marketers can use Evernote to edit documents, add attachments, set reminders, clop web pages, and record memos. Storing and sharing information can also be implemented quickly and securely in just one click. Besides, its Resource library allows saving the most valuable materials and building a content marketing calendar with other third-party apps, such as Google Calendar, Apple Calendar, Microsoft Exchange, and Outlook.com.
Pricing plans:
Free Plan
Premium Plan: $7.99/ month
Business Plan: $14.99/ month
Marketing Automation tools
Keeping up with all of your business activities can be exhausting, challenging, and time-consuming. Marketing automation is designed to make your job a little more painless. So, you and your team can focus valuable time and attention on other efforts that drive revenue.
Let's explore the best ones right below!
17. Flipsnack
While there are many valid strategies when it comes to effective content marketing, no such strategy is complete without a good content creation tool. As the name suggests, creating quality content on a consistent basis is non-negotiable.
That's where Flipsnack comes in! Flipsnack's versatile and robust suite of content marketing tools allow marketers to effortlessly create sleek, modern marketing content without any previous design experience.
From interactive catalogs to animated flipbooks and online magazines, Flipsnack is the perfect tool to place at the heart of your content marketing toolkit.
Pricing plans: Free 14 day trial Starter: $14/month Professional: $35/month Business: $79/mon th
18. Customer.io
Customer.io enables you to send targeted messages to your customers that can be crafted based on how they interact with your business.
The best part about Customer.io is that it can integrate with your mobile app or website. Thus, you can see data in real-time and trigger actions by adding in predefined rules. Basically, the tool makes personalized messages simple.
Other outstanding features include conversion tracking, customer profiles, A/B testing, and in-context conversations.
Pricing plans: based on the size of your email list and total email credits
Basic Plan: starts at $150/ month
Premium Plan: $995/ month
19. Marketo
This marketing automation tool has been around for a while, and was recently acquired by Adobe and incorporated into their enterprise marketing cloud.
The Adobe integration means that, in case you use Adobe Analytics for data measurement and Adobe Target for experimentation and personalization, you will have a robust enterprise marketing automation and optimization suite.
Marketo lets you drive revenue with lead management, mobile marketing, and many more. It is typically geared towards enterprise customers, which is a bit out of range for most small business owners.
Pricing plan: Marketo breaks down its pricing packages into bundles, so businesses can purchase exactly what they need. Each bundle's pricing is based on the number of contacts you have in your database, not solution-usage. Quotes and custom bundles are available by contacting the tool's sales reps.
20. HubSpot Marketing Automation
HubSpot is an excellent inbound-marketing tool with the goal of turning outbound leads into inbound ones.
As a standalone, HubSpot marketing automation functionality includes a modern visual board where you can craft simple or highly sophisticated conditional workflows.
It can take time to master this tool; however, once you grasp it, the creative possibilities are endless. You're able to set up simple email list autoresponders, or create a smart and complicated network of rules designed to target particluar users with the exact right email, live chat, website experience, and more.
The workflows tool is automation beyond email, so you can spend less time on repetitive tasks and scale your growth.
Pricing plans:
Starter: starts at $50/ month
Professional: starts at $890/ month
Enterprise: starts at $3,200/ month
Marketing Analytics tools
Digital marketing is actually grounded on analytics; after all, it's the first marketing effort that can really measure data with precision.
While most tools offer at least some form of analytics to help your business understand what gains they're bringing to the table, some professional analytics platforms will help you compile this data and gain valuable insight from it.
Check out these cool marketing analytics tools to add to your list!
21. Google Analytics
Google Analytics is regarded as the gold standard for website analytics. Today, it is hard to operate as a digital marketer if you don't have some Google Analytics expertise level.
At its most basic level, Google Analytics can show you who's coming to your website, from where, and on which pages they are spending most of their time. Beyond that, you're able to set up goals to track your conversions, build an enhanced E-commerce setup, and track events to know more about user engagement.
Pricing plans:
Free Plan
Analytics 360 Plan: $starts at $150,000 per year and increases after your site receives more than one billion monthly hits.
22. MixPanel
The main goal of MixPanel is to track actions that users are performing on your site or mobile app (both Android and iOS).
Its main features are funnels, A/B testing of different variations of your mobile app and tracking their performance, tracking individual users by their sessions, as well as viewing trends of chosen events, among others.
The tool requires you to define the actions you want to track and focus on. This can be done either by using a visual selector or adding code annotations. Once chosen, the events you want to track will add up to your dashboard with the metrics of your choice presented.
In fact, MixPanel was designed for product managers, its features are therefore more product-oriented than marketing. However, it is also used by marketing teams, especially to identify user behavior and optimize funnels.
Pricing plans:
Free Plan
Growth Plan: starts at $17/ month
Enterprise Plan: custom price
23. Klipfolio
Klipfolio is a dashboard tool, enabling you to build your own interactive dashboard containing all your marketing-related data from various channels. It allows you to pull data from Google Analytics or social media channels, so you can track your performance and see the data in a single integrated dashboard.
The pre-built templates let you use the tool instantly, but you can, of course, build your own dashboard according to your specific needs.
Klipfolio is a good fit for any marketer with multiple channels who wish to monitor them on one simple screen. The tool also offers features for marketing agencies that can build dashboards to share their performance with their clients.
Pricing plans:
For Businesses: starts at $49/ month
For Agencies: starts at $49/ month
For Enterprises: starts at $499/ month
Digital Advertising tools
Marketers globally spent $92.4 billion for paid ads with search engine marketing agencies. However, how much of that expenditure could have yielded increased ROI through better planning and optimization?
4 tools below have proven themselves in the marketing world to increase conversions and revenue…
24. Google Adwords
Released on October 23, 2000, Google Adwords has become one of the most popular options for advertising your business on Google's search engine result pages. Payment is based on either a PPC (pay-per-click) or pay-per-call structure.
The tool hosts the Google Keyword Planner, where you can research which keywords you'd like to include in your ad and other content. You can set budget caps on how much you'd like to spend. Ultimately, Google Adwords helps you funnel more prospects to your websites.
Adwords now has become more segmented in the kinds of ads they offer, including:
Search Ads. The ads on the side of your screen after searching for something using Google' search box. These are highly relevant and appropriate ads based on the search term.

Display Ads. These are the three-line texts and banner ads in Gmail and almost every website.

App Ads. Use ads to promote new apps anywhere on the Google network.

Video Ads. Custom video ads that companies link to on Youtube.
Pricing plan: Google Adwords runs on a pay-per-click model. The average PPC on Google Ads is $1 to $2 for the Google Search Network and less than $1 for the Google Display Network.
25. AdRoll
Whenever someone visits your website, store, or social media channels, you know something interests them. If they leave without taking any further action, retargeting can recapture their interest and bring them back.
For instance, if someone visits your website, leaves, and later opens Facebook, your ads will appear next to their newsfeed. Retargeting ads keep your website and products top of mind.
AdRoll combines your user data and uses it to leverage retargeted display ads, social ads, as well as triggered emails. It syncs with existing email, CRM, and other marketing platforms to learn your shoppers' history and habits. It then uses the display, social, and email ads to connect with new shoppers, convert abandoned carts, and recommend new products. As a result, your sales will increase for a fraction of the cost of new PPC ads.
Pricing plans:
Starter Plan: $0
Essentials Plan: starts at $12/ month
Growth Plan: $starts at $25/ month
26. AdEspresso
Facebook is considered one of the most well-known social media platforms. With more than 60 million businesses having pages, and more than 2 billion active users, Facebook is a paradise for marketers. However, without knowing how to use the platform, your business will lose a lot of cash.
Fortunately, AdEspresso - a tool specializing in optimizing Facebook ads - can help. This dedicated tool will allow you to advertise on Facebook in a more profitable way.
Can't decide which ad is the best? Split test it in seconds!
The tool also gives you the chance to keep yourself updated with ongoing industry trends. Besides, you can save lots of time with its automated posting. With the help of its clean and thorough analysis, you can easily measure the performance of your ads.
Pricing plans:
Starter Plan: $49/ month (billed annually)
Plus Plan: $99/ month (billed annually)
Enterprise Plan: starts at $259/ month (billed annually)
27. Criteo
This Paris-born company is the go-to provider of many big names such as Sony, Lenovo, and BMW.
You can reach out to your customers regardless of the device they're using with Criteo's cross-device advertising solution. For web retargeting services, Criteo has direct relationships with publishers and purchases inventory with CPM pricing. The tool includes an intelligent algorithm with connections to 16,000 publishers with precise CPC tracking and management.
In addition to their retargeting services, Criteo also offers supplemental services such as Kinetic Design, which combines your own branding with personalized content to catch your customers' attention. The tool comes with a dedicated creative team.
Pricing plan: Criteo runs on a pay-per-click model.
Video Editing & Creation tools
Video marketing is one of the most compelling ways to lure free and targeted traffic to your website and market your products/ services.
Related to this, search engines also prefer to rank a certain content that is high in details and cover video content that is more relatable and engaging to the viewer. This is why online entrepreneurs are dwelling in massively creating high-quality video content for their target market.
28. FlexClip
FlexClip is a video editor available entirely online with a number of different options available to you. You can get started easily with FlexClip.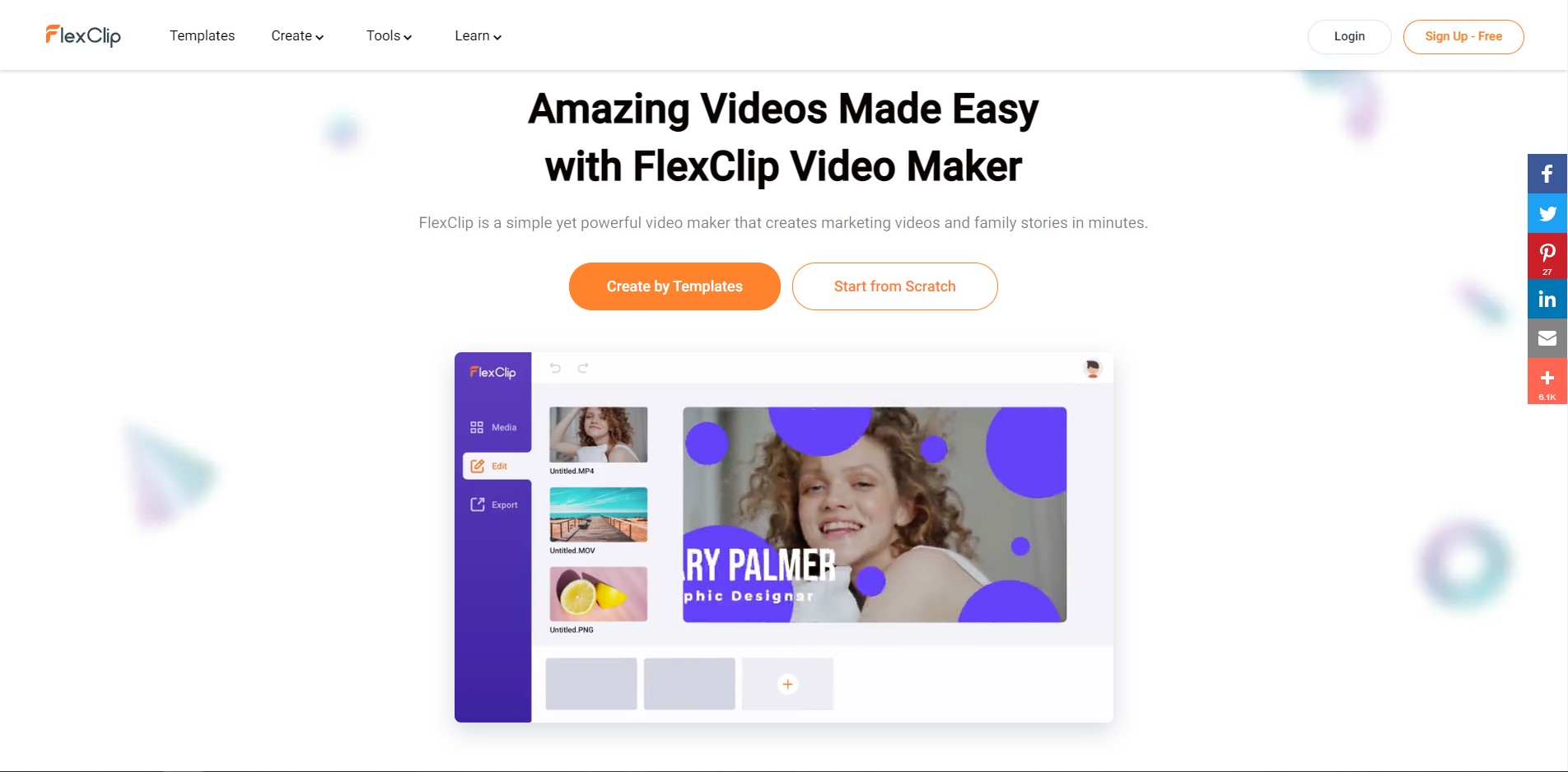 There are a large number of templates you can use for just about any occasion, all of which FlexClip provides for you right from the start. There are different categories to choose from, all with great variety, and you can also start editing from scratch if you prefer. FlexClip has a storyboard + timeline mode which can meet the needs of both the starters and pros.
If you are looking for simple tools, FlexClip also offers help in this regard. Creating GIFs, clipping or merging video, adding text or music, and much more. FlexClip is capable of all these things and more.
Pricing plans:
Free Plan
Basic Plan: $5.99/month
Plus Plan: $9.99/month
Business Plan: $19.99/month
29. Animoto
If you've got no idea of where to start with your video marketing, apps like Animoto can help you. It lets you create gorgeous, professional slideshow videos with visual effects, music, text, and more.
Just choose a template, then drag and drop your desired media assets directly into the timeline. Animoto includes access to Getty Images, the world's premier stock photo and video library with millions of assets, so you won't need to slug through the dredges of the Internet in search of classy, complementary visuals.
Plus, you can instantly publish your masterpiece to all your websites or social channels with just a few clicks!
Pricing plans:
Free Plan
Professional Plan: $29/ month
Team Plan: $79/ month
30. Nero Video
Nero is a reliable name when it comes to easy-to-use and diverse multimedia suites. Nero Video is an excellent tool for editing videos and burning discs.
The tool offers a comprehensive collection of high-quality effects and templates to make your videos beautiful and unique. Audio is a vital part of video editing as well, and Nero Video offers access to an extensive database of royalty-free soundtracks for your clips. You can even create slideshows for playback on your PC or through a connected TV.
One of the critical benefits of this tool is its price. While it isn't free, it's very accessible to everyone. Therefore, if you're on a tight budget, Nero Video is one of the best choices you could make.
Price: $39.95
31. Pinnacle Studio
Pinnacle Studio combines the storyboard and timeline editing to offer maximum usability for both novice and advanced users. Most tools allow for easy switching between the two mods. Nevertheless, using them simultaneously is much more productive and allows for a more dynamic editing process.
The tool consists of all utilities required to convert your raw footage into an excellent polished movie. Additionally, you can make use of more than 20 different audio and video tracks.
What else can you get? Split-screen video, motion tracking, 360-degree video editing (in premium version), and a large set of effect packs (including more than 900 effects). The best thing is the tool automatically splits media into chapters and supports drag-and-drop of all items, so editing a video couldn't be easier.
Pricing plans:
Studio Plan: $54.95
Studio Plus Plan: $89.95
Studio Ultimate Plan: $109.95
32. Adobe Premiere Pro
Adobe Premiere Pro is popular with many professionals in a range of industries. It is really one of the best in its class and is a must-have for video editing and post-production professionals. With full advanced tools, this tool is very powerful to process your video streams.
Adobe Premiere Pro features top-notch video masking, awesome transitions, and integration with Photoshop and After Effects. There's an uninterrupted player mode that lets you apply filters and adjust video parameters while playing.
This tool is immensely common among users because of its advanced functionalities like time remapping, bit-depth rendering, color correction ability, multicamera editing, multiple sequence support, Bezier keyframing, and detailed audio mixer interface. Furthermore, it is powerful enough to handle 360-degree virtual reality video to 8K resolution, all in native format.
Pricing plans:
Premiere Pro Single App: $20.99/ month
Creative Cloud All Apps: $52.99/ month
Students and teachers: $19.99/ month
Business: $33.99/ month
33. Promo
Promo is the most popular online video maker where you can easily use it with unlimited access to thousands of ready-made templates. Quickly match each video to fit your brand's style by adding your logo, colors and fonts. And using Promo.com's free standard media or combining the two. Free users will be able to access all of Promo's video tools and music collections. They will have a Promo watermark and can be shared only via a link.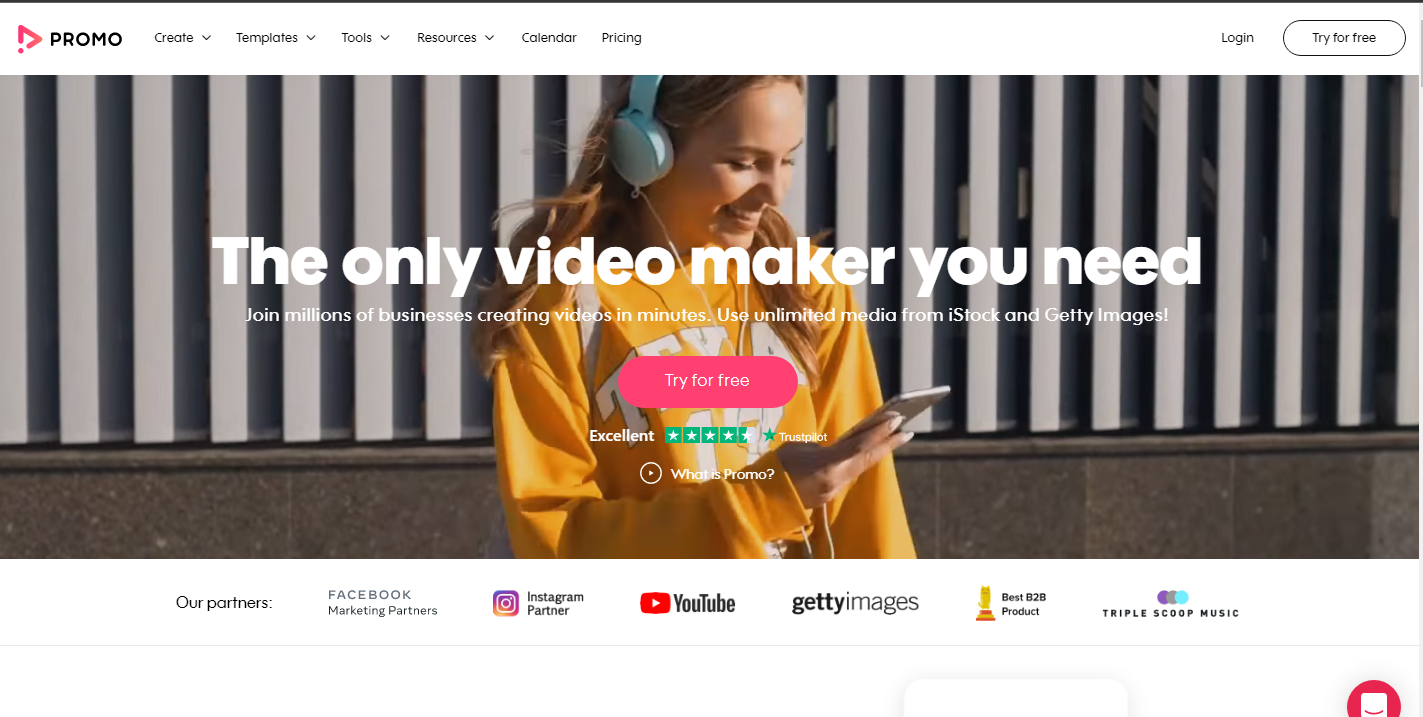 If you are looking for simple tools, Promo also offers help in this by creating Memes, Social media ads,Adding Subtitles to your video,Lyric video maker,GIF editor and many more.
Pricing plans:
Free plan
Starting price: $18.00/ month
Annual Business Plan: $14.62/ month
Annual Agency: $48.00/ month
34. Omnisend
Omnisend is a leading email & SMS marketing automation platform that has garnered high praise as one of the best digital marketing tools in 2023.
Say goodbye to the days of complicated, expensive email marketing tools, as Omnisend makes it easy and affordable to create beautiful emails that sell. Its collection of email templates is not only easy to use but also visually appealing, featuring built-in images and compelling calls-to-action.
What sets Omnisend apart is its impressive range of integrations with various other SaaS companies, expanding its functionality and allowing users to consolidate their marketing efforts. This makes it particularly potent for implementing email drip campaigns, ensuring a consistent and personalized approach to reaching the target audience.
Pricing plans:
Free Plan: Ideal for getting started with unlimited features and 500 emails per month
Standard Plan: Starting at $16 per month, and best for growing businesses mainly sending emails
Pro Plan: Starting at $59 per month, this plan is tailored for ecommerce stores sending out both email & SMS, with free SMS credits equal to the price of the plan
35. Movavi Video Editor
Movavi Video Editor is user-friendly software that caters to the needs of both beginners and more advanced users. It offers all the basic tools required for video editing, such as cut, crop, trim, and merge. The drag-and-drop interface makes it easy to use, and the timeline view allows for precise edits.
With a wide selection of filters, transitions, music, titles, and stickers to choose from, you can personalize your videos to fit your brand and make it stand out. Movavi Video Editor also has advanced features like chroma key, background and noise removal, picture-in-picture, video stabilization, audio editing, and more to further enhance the output quality.
Pricing plans:
Free Trial
Annual Plan: $54.95/ year
Lifetime License: $79.95
The bottom line
You have reached the end of this blog! These 28+ digital marketing tools are just the start for beefing up your outreach.
Actually, there are hundreds of resources out there for both small and large businesses, but these are an excellent start for acing your digital marketing strategy from all angles. The ship's steering wheel is now in your hands, so set sail!
Haley is a content creator at Mageplaza. When not working, she spends time on travel adventures, books, and food tasting. As growing up, she wants to read, learn, and experience more things to adapt herself to this ever-changing world.
Website Support
& Maintenance Services
Make sure your store is not only in good shape but also thriving with a professional team yet at an affordable price.
Get Started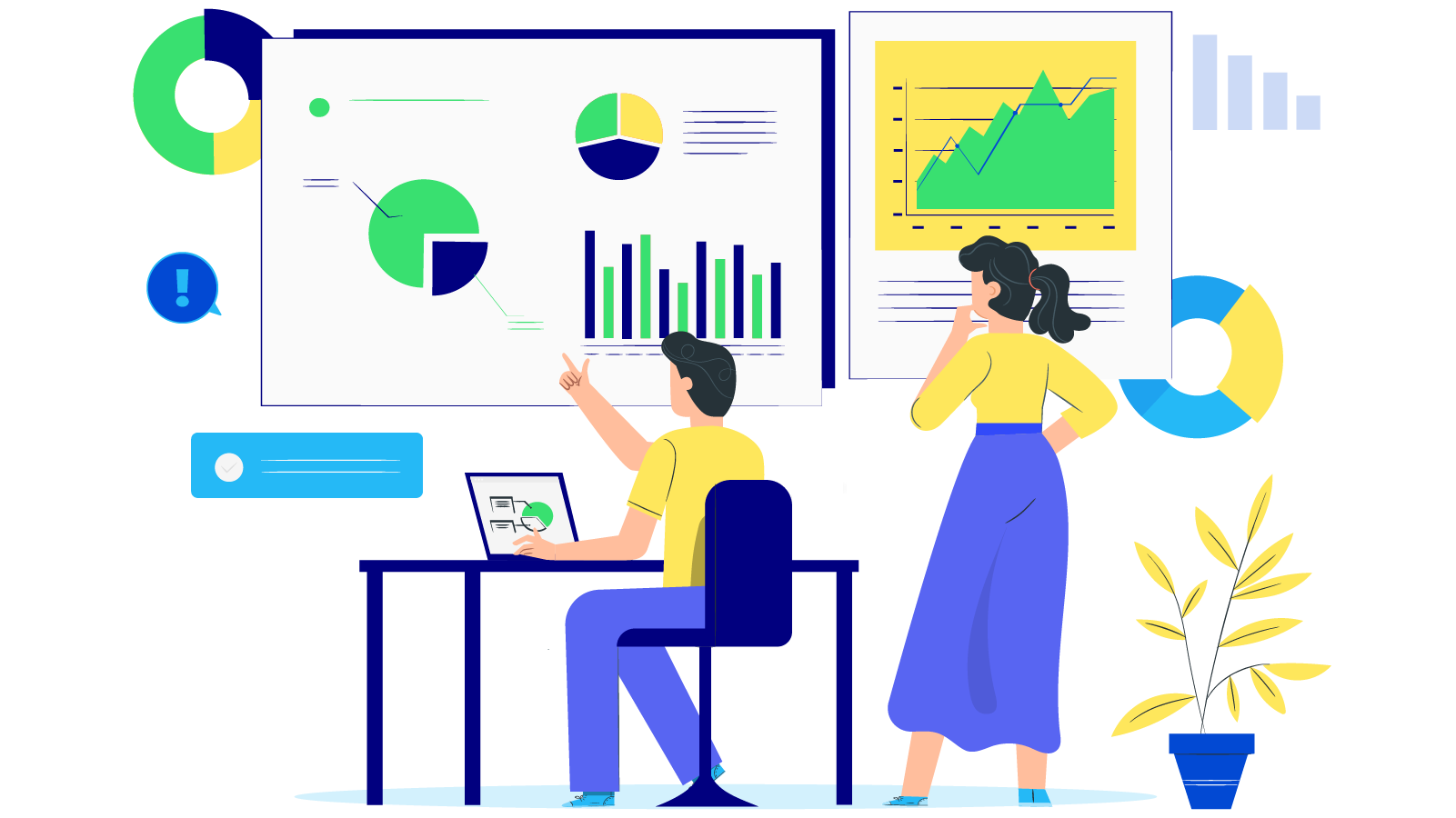 New Posts



Subscribe
Stay in the know
Get special offers on the latest news from Mageplaza.
Earn $10 in reward now!