Top 13 Affiliate Marketing Programs For Beginners
The Most Popular Extension Builder for

Magento 2
With a big catalog of 224+ extensions for your online store
Being an affiliate has become one of the best ways to earn extra income, especially for influencers like bloggers, reviewers, and content creators. By joining affiliate networks, you can make a lot more than you think. It's not a coincidence that more people tend to become an influencer these days rather than office jobs like a few years ago.
Of course, if things were so easy, everyone would have jumped in already. Even the first start off choosing an affiliate program can be challenging as there are so many available options calling for affiliate marketers.
Understanding your struggle, we have compiled 13 best affiliate marketing programs for beginners to help you get started with this model and earn extra income. Let's start with the basic points!
Table of contents
What Are Affiliate Marketing Programs? How Does It Work?
Before giving some affiliate marketing tips, we will cover the basic understanding of this field so that all newbies can start their own journey.
Affiliate programs, often referred to as associate programs, function as intermediary platforms connecting individuals and brands for collaboration. This process involves both parties registering on the platform, initiating discussions about potential partnerships, and subsequently commencing their cooperative efforts.
Beneath the surface, these affiliate programs are intricate systems that offer more than just facilitation for merchants and affiliate entities. They offer vital services to both sides. So, how does it operate? Affiliate programs function by enabling individuals or businesses to establish profiles on their platforms and select the brands they wish to endorse.
These programs then generate distinctive links for affiliates to distribute among their website visitors, customers, and social media followers. If someone clicks on this link and makes a purchase from the brand, the affiliate earns a commission. Companies leverage affiliate programs to boost their sales, relying on these platforms equipped with tracking technology to monitor affiliate activities.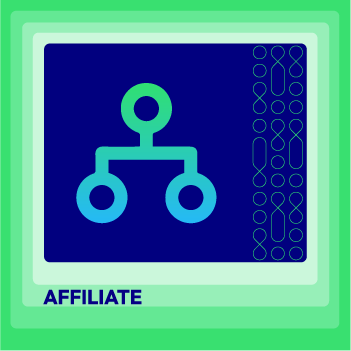 Affiliate Extension for Magento 2
Effective and trending marketing tool to promote stores via a network of affiliate partners
Check it out!
What To Look For In A Good Affiliate Marketing Program
Ease of use
As a beginner in affiliate marketing, it's crucial to simplify the process for yourself. This begins with selecting affiliate programs that are both logically structured and well-designed. Dealing with a convoluted interface is the last thing you need. It can turn tasks like creating affiliate links or uploading banners into nightmarish experiences. I've been there – frustrated at my computer because an affiliate program's interface was so complicated that it seemed only a hybrid of Stephen Hawking and Doctor Strange could decipher it. Affiliate networks typically excel in this aspect; they strive to make your affiliate marketing journey as effortless as possible. After all, if you're not making money (i.e., generating passive income), neither are they or their clients. Therefore, ease of use should strongly influence your choice of an affiliate program, especially as a newcomer.
Support system
In the world of affiliate marketing, occasional hiccups are inevitable. Links might malfunction, or you might encounter perplexing sales reports. This is precisely when you'll need assistance from a dedicated affiliate manager. Affiliate networks often have an edge in this regard because you can rely on their support team in addition to the affiliate manager for your specific program. However, it's worth noting that affiliate managers, like managers in any field, vary in competence. Some are exceptional, while others fall short. Always evaluate the level of support you'll receive before committing to an affiliate program. Ensure that you have a dedicated affiliate manager, as responses like "Jack from IT handles that" won't suffice – nor should they.
Commissions and payouts
Understanding the compensation structure of an affiliate program is vital. Determine not only how much you'll earn but also when you'll receive your payments. Most affiliate programs operate on a Net 30 basis, meaning you get paid 30 days after making a sale. However, some follow Net 60 or even Net 90 schedules, which imply that you won't receive your affiliate income until 60 or 90 days have passed. This extended waiting period can be challenging, especially if you have financial commitments. Therefore, it's crucial to factor in the payment terms when selecting an affiliate program to ensure they align with your financial needs and expectations.
Best Affiliate Marketing Programs For Beginners
My compilation of affiliate marketing programs is not exhaustive. The realm of affiliate programs is vast, with thousands of options, not all of which are publicly listed.
It's highly probable that there are affiliate programs more finely attuned to your specific niche. Additionally, you may encounter merchants who prefer establishing a direct rapport rather than going through a network.
Nevertheless, regardless of your niche, these are the top-notch affiliate programs that I recommend for beginners. You can confidently enroll in all nine of them.
1. Amazon Associates

Amazon is the go-to choice for many affiliate marketing beginners. Although it isn't perfect, the program is still excellent for anyone just starting.
Amazon, as one of the world's largest and most trusted e-commerce platforms, is an ideal choice for promoting products. For instance, when Quicken's affiliate program, previously with Commission Junction, unexpectedly ended, I seamlessly transitioned my links to Amazon to continue earning.
If you already have an Amazon account, you're halfway there. Just remember that Amazon's affiliate programs are country-specific, so ensure your links work for your diverse audience. To simplify this, consider using the WordPress plugin AAWP, which tailors links to your visitors' locations and enhances conversions with live prices and product summary boxes.
List of 14 countries where Amazon offers are available:
United States
United Kingdom
Canada
France
Germany
Italy
Mexico
Brazil
Spain
China
Japan
India
Australia
United Arab Emirates
If you seek an improved method for handling your Amazon affiliate links, I suggest considering the WordPress plugin AAWP. This tool can generate Amazon links tailored to the geographic location of each visitor to your site. Furthermore, AAWP can exhibit real-time Amazon prices and craft product summary boxes, effectively boosting conversion rates on your website.
Key points:
Entrance cost: Free
Payment schedule: Net 60
Minimum Payout Requirement: $10
Ideal for: Affiliate marketing newbies building their first site
Benefits

Drawbacks

- Globally recognized brand




- A vast product selection




- Strong customer service




- Effortless link management




- User-friendly affiliate dashboard

- Commission rate fluctuations




- Short 24-hour cookie duration
2. Tiktok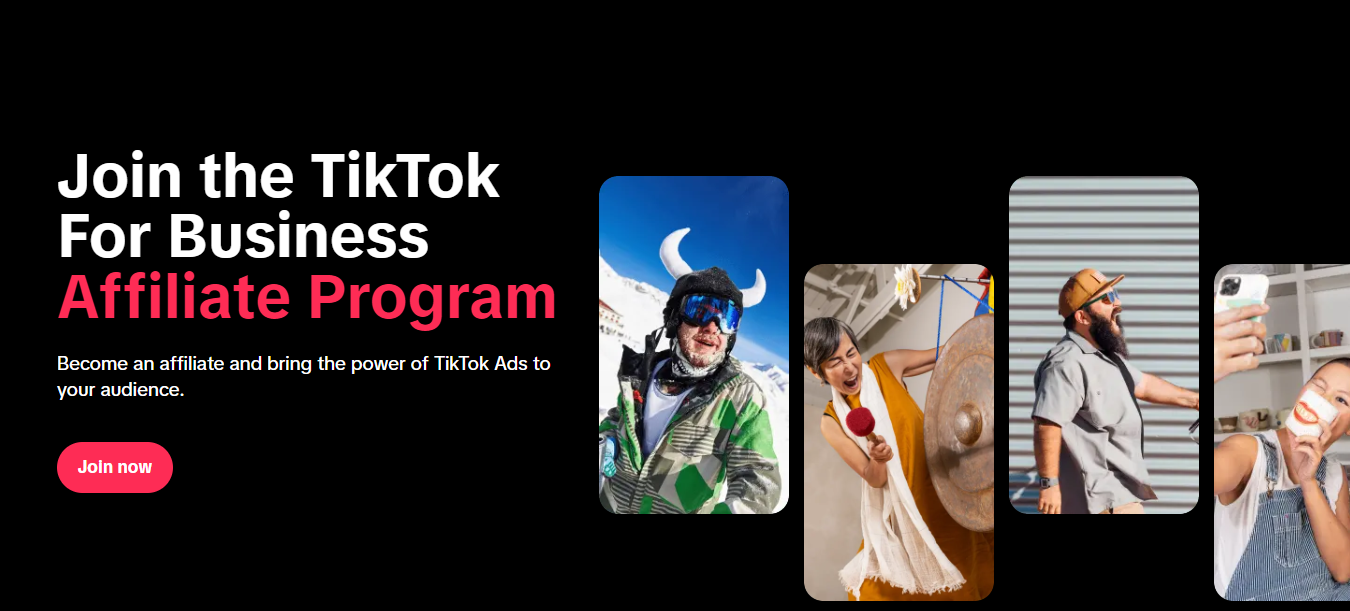 The second name in today's list of affiliate marketing programs would have been familiar to most people.
TikTok, the social media sensation of the moment, also offers an enticing affiliate marketing program. With its skyrocketing popularity, TikTok presents an exciting opportunity for affiliate marketers to tap into a vast and engaged user base.
Key points:
Entrance cost: Free
Payment schedule: Net 30
Minimum Payout Requirement: $100
Ideal for: Marketers skilled in creating engaging short-form video content
Benefits

Drawbacks

- Large and engaged audience




- Organic reach




- Creative freedom




- Potential to earn a lot of money

- No clickable links in videos




- Limited product availability




- High competition
3. Clickbank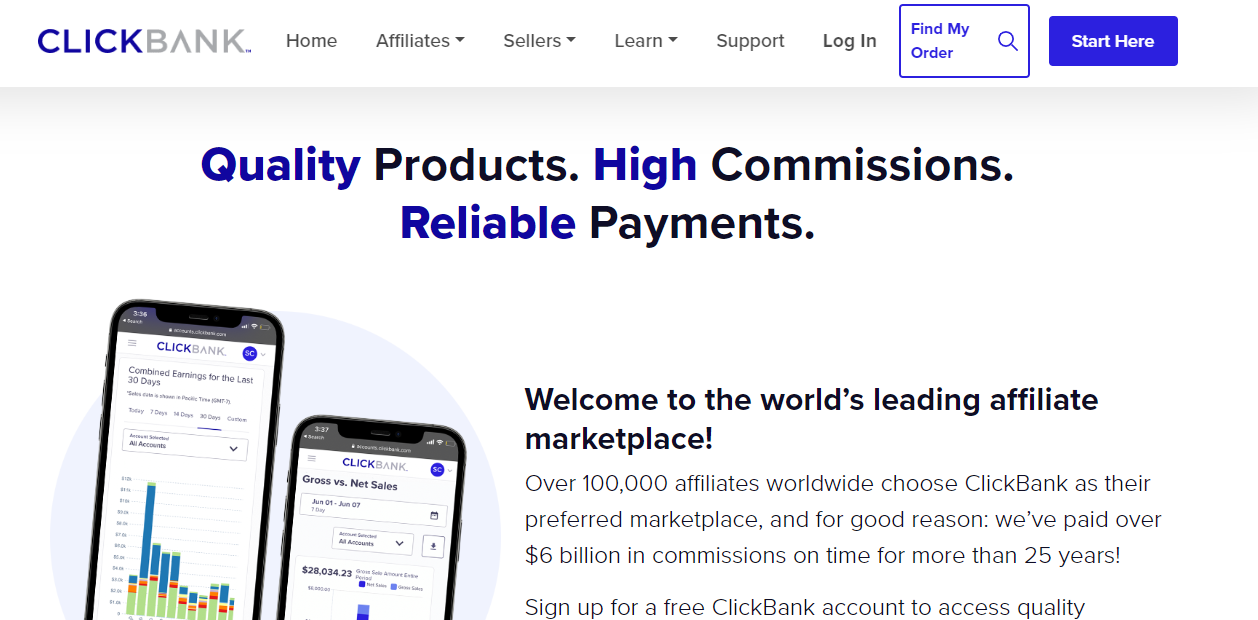 ClickBank, an affiliate network with a lengthy online presence dating back to 1998, is a remarkable success story. Originating from humble beginnings in a garage, it has evolved into a billion-dollar enterprise, generating annual sales of US$3 billion.
Distinguishing itself from other affiliate programs, ClickBank revolutionized the industry by exclusively focusing on digital products. This strategic shift enabled instant delivery, minimal overhead costs, and direct collaboration with product creators. While the founders couldn't have foreseen the rise of social media, ClickBank's array of products aligns seamlessly with modern digital audiences.
Products from ClickBank, ranging from digital to physical offerings, can be found in their Marketplace. However, it's worth noting that the Marketplace interface, while functional, has retained its appearance since 1998 and may benefit from a modern update.
For those seeking guidance on starting their journey as ClickBank affiliates, our comprehensive article (authored by Gael) offers valuable insights into making money with ClickBank.
Key points:
Entrance cost: Free
Payment schedule: Net 60
Minimum Payout Requirement: 50
Ideal for: Marketer newbies who love promoting digital products
Benefits

Drawbacks

- No approval needed for program promotion




- Great for website-less affiliates




- Top programs average $50 per sale




- Many recurring commission opportunities




- Merchants' landing pages handle pre-selling




- Digital products complement email and social media




- Easy affiliate link creation

- The Marketplace is unchanged after 19 years - functional but outdated




- Some programs have notably high refund rates
4. Flipkart

Flipkart, a prominent e-commerce platform in India, encompasses a vast range of products, exceeding 80 million items spanning diverse categories such as fashion, electronics, books, and more. As an affiliate marketer, you have the opportunity to promote this extensive selection.
What sets Flipkart's affiliate program apart is its enticing offer for new users, providing a commission rate of up to 12%, a notable increase compared to the standard 8% rate for existing users.
Key points:
Entrance cost: Free
Payment schedule: Net 90
Minimum Payout Requirement: INR 25,000
Ideal for: New users
Benefits

Drawbacks

- Flipkart boasts a strong conversion rate in India




- Their affiliate commission, especially for gadgets, is impressive

- Rates may drop due to cancellations or backorders




- Reports are provided weekly or monthly, not daily
5. eBay Partner Network (EPN)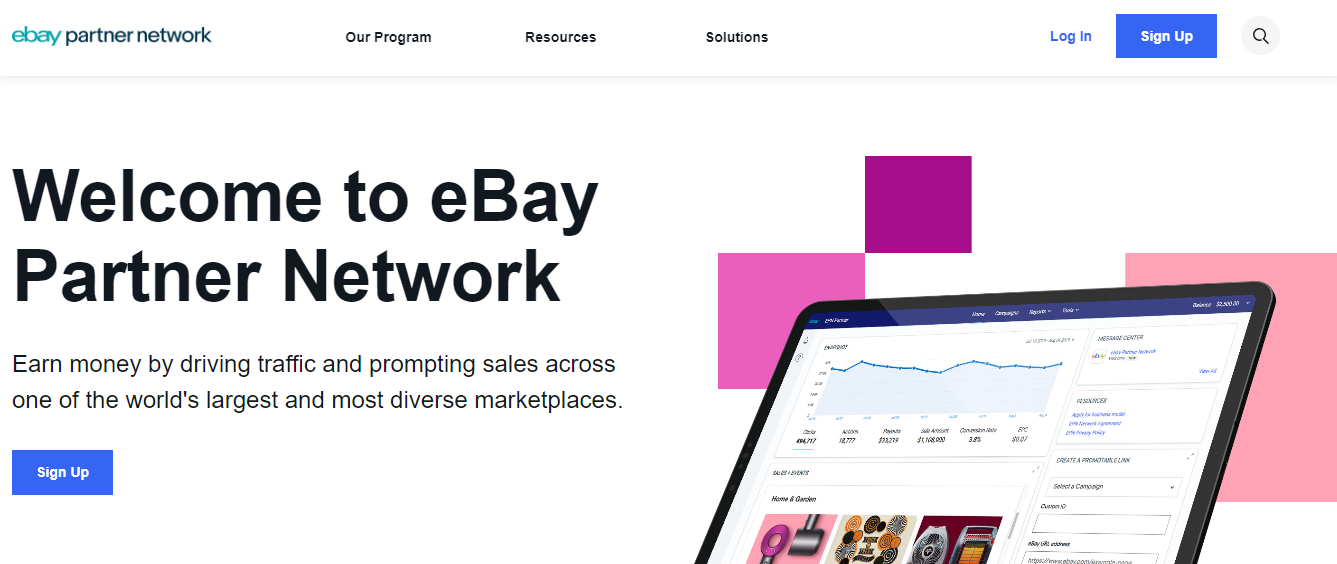 The fifth recommendation in our article about affiliate marketing programs is eBay.
With over one billion listings from a wide range of product categories, eBay's affiliate program shares a lot of the same advantages as Amazon's, high conversion rates, and a diverse selection of products.
The eBay Partner Network pays a commission of 1% to 4%. You earn a percentage of the revenue eBay earns from that purchase, based on the product category.
High-ticket items you can promote fall under Parts & Accessories, or Fashion. You can have a look at the complete rate card here. The one downside of this program is that it offers a cap for each category — with most falling well under $1,000. Your earning potential is thus limited.
Key points:
Entrance cost: Free
Payment schedule: Net 30
Minimum Payout Requirement: $10
Ideal for: Anyone
Benefits

Drawbacks

- EPN warmly welcomes beginners with a low entry barrier




- Enjoy global brand recognition




- Access hundreds of millions of products for sale




- Provide excellent value to your visitors, often surpassing Amazon




- Enjoy high commission rates, reaching up to 70% per sale




- Receive payments through PayPal

- 24-hour cookie - A session-based cookie could make this worse




- Many replicas and knock-off products on their platform
6. Commission Junction (CJ)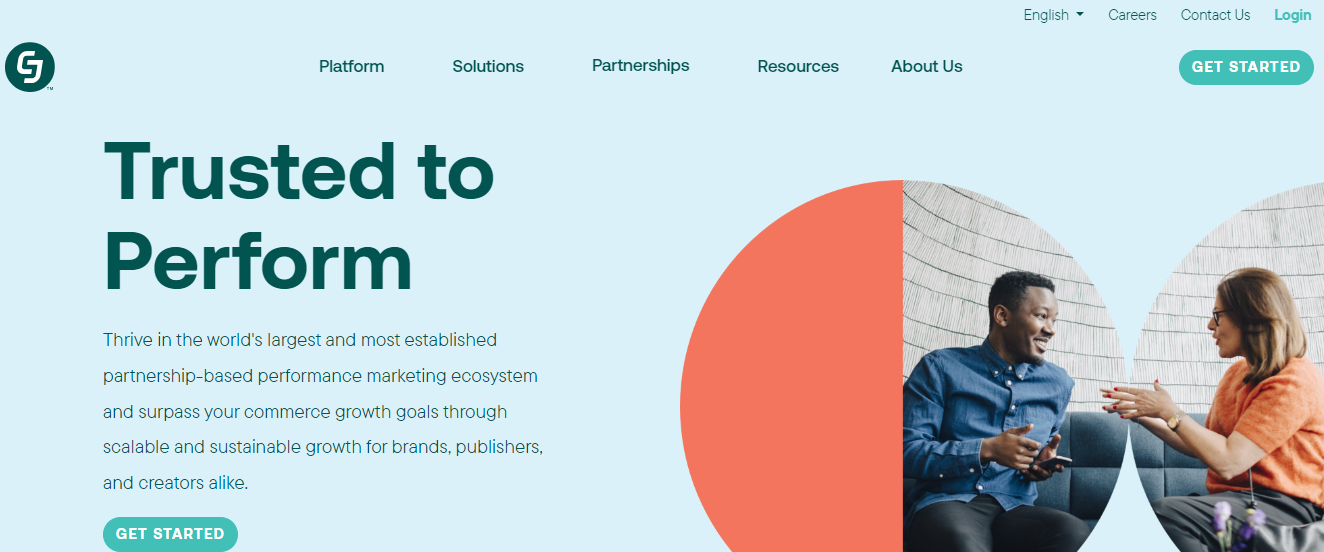 Beside Amazon, Commission Junction, often referred to as "CJ," stands as one of the internet's oldest affiliate programs. It distinguishes itself by functioning as a network rather than an e-commerce platform.
In essence, CJ serves as a bridge between its affiliates and merchants, taking charge of most aspects of these partnerships. For newcomers to affiliate marketing, this can be a valuable arrangement, sparing them from the complexities of direct merchant dealings.
As of my last update, over 3,300 merchants relied on CJ's services, spanning a wide array of niches. Given this diversity, I strongly recommend considering membership in this network.
The process to join CJ is relatively straightforward. However, once onboarded, you'll need to submit applications to individual merchants. The approval process varies from merchant to merchant, with some offering instant acceptance, while others may take several days, and a few might not respond at all.
Key points:
Entrance cost: Free
Payment schedule: Net 30
Minimum Payout Requirement: $50
Ideal for: Affiliate marketers with a bit of experience
Benefits

Drawbacks

- User-friendly interface and dashboard




- Many top brand names in one place




- Direct display advertising options (flat fee and commission)




- Easily find profitable affiliate programs




- Support and tutorials for simplicity

- Big brands frequently join and leave this network




- The learning curve is relatively gentle compared to Amazon
7. Awin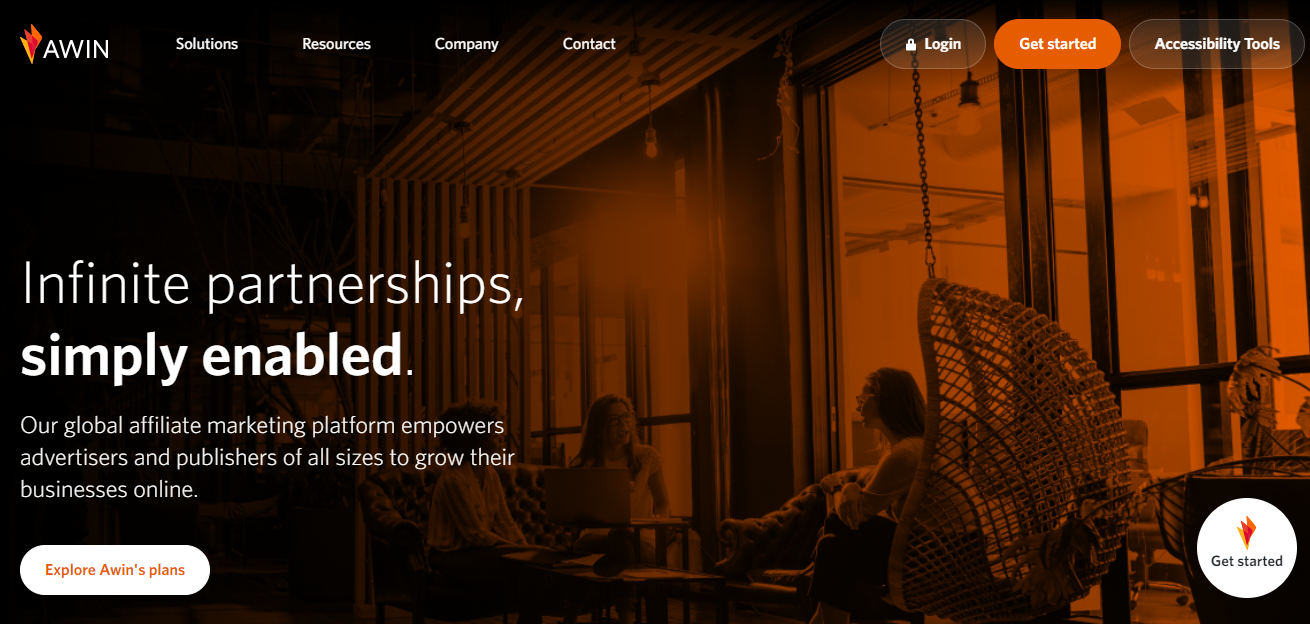 The following network in the top 13 affiliate marketing programs, Awin, might be unfamiliar to some. Awin is a relatively recent entrant in the field, emerging from the amalgamation of two other affiliate networks, Zanox and Affilinet, in August 2017.
Awin boasts a robust roster of over 8,000 merchants, positioning it as one of the more robust networks. Its user-friendliness makes it an attractive choice. Moreover, it extends its affiliate programs across various countries, making it an excellent option if your website draws international visitors.
However, it's essential to note that Awin's merchants predominantly focus on tangible products rather than software or SaaS offerings.
Key points:
Entrance cost: Free
Payment schedule: Once or twice a month (can freely choose)
Minimum Payout Requirement: $20
Ideal for: Affiliates who want to get their payment promptly!
Benefits

Drawbacks

- Fast payments ensure no commission waiting




- Vast selection of affiliate programs




- User-friendly platform with clear, consistent design




- Easily comprehensible tracking via Awin dashboards




- Sleeker interface than many networks




- Abundance of prominent brands for collaboration

- A daily influx of 260 new affiliate marketers intensifies competition




- Although it has a global presence, its focus is primarily on UK and EU advertisers
8. ShareASale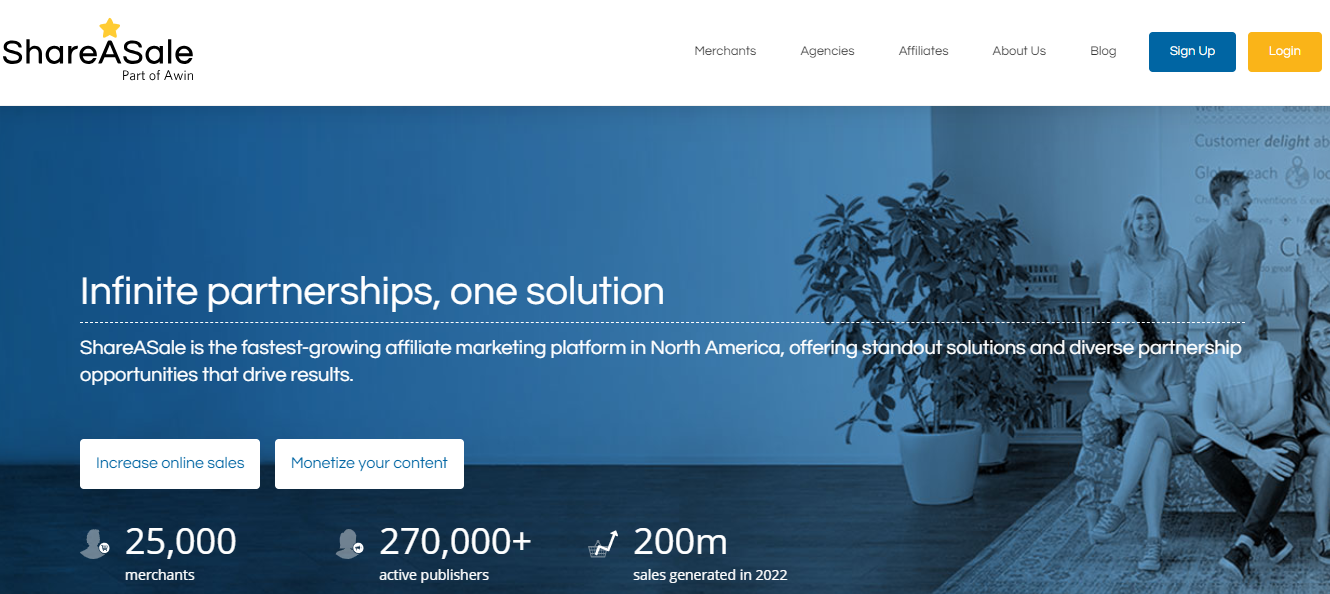 ShareASale, a part of Awin, distinguishes itself by offering a diverse array of top-notch merchants. With a portfolio spanning over 1,000 merchants, ShareASale encompasses an extensive spectrum of offerings, ranging from physical products to software services. This versatility aligns seamlessly with the focus of this website on internet marketing.
The process of joining ShareASale is relatively straightforward, accompanied by the convenience of accessing conversion data from existing affiliates. However, a minor drawback lies in the somewhat limited availability of links from most merchants.
A notable advantage of the ShareASale platform is its capacity to furnish valuable insights into the performance of affiliated merchants. ShareASale supplies metrics such as average sale figures, conversion rates, earnings per click (EPC), and their ranking within the ShareASale ecosystem.
Key points:
Entrance cost: Free
Payment schedule: Net 30
Minimum Payout Requirement: $50
Ideal for: An affiliate marketer seeking rising brands or niche products and services.
Benefits

Drawbacks

- Numerous products and services to promote




- Valuable lesser-known affiliate programs




- Advanced "Search for Merchants" function




- "PowerRank" metric for program ranking




- Swift payment processing

- Outdated interface




- Unpredictable affiliate program approval
9. Impact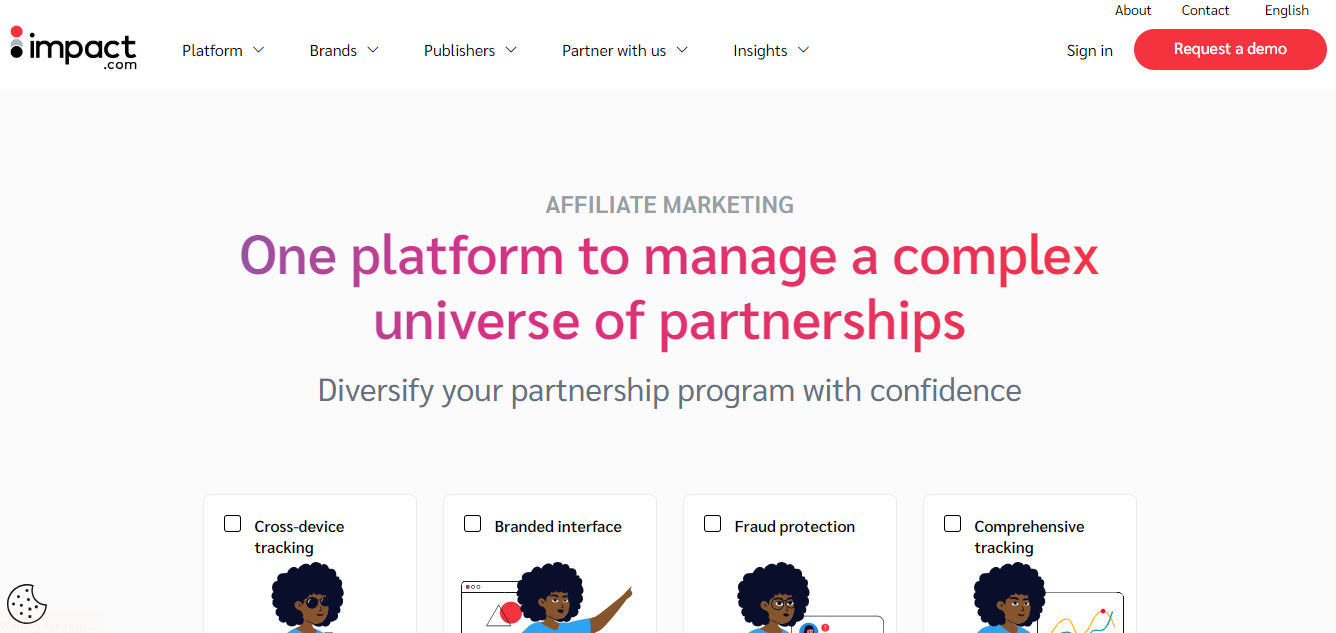 Impact stands out as one of the newer affiliate networks featured on this roster. Established in 2008, it was founded by former employees of Commission Junction, Savings.com, and Leadpoint.
As of my last update, Impact's network boasts over 3,500 merchants, covering a broad spectrum of industries, much like Commission Junction.
It's worth noting that the application process for Impact may present a bit more of a challenge compared to CJ. However, once you've gained entry, I've observed that securing approval from merchants tends to be more straightforward.
What sets Impact apart is its highly adaptable reporting and postback capabilities, surpassing the flexibility of many other affiliate programs. If you find yourself wanting to collaborate with a merchant involved with multiple affiliate networks, including Impact, I'd recommend utilizing Impact for its enhanced functionality.
Key points:
Entrance cost: Free
Payment schedule: Monthly
Minimum Payout Requirement: Varies by payment method
Ideal for: Affiliate marketers seeking programs with quick approvals
Benefits

Drawbacks

- Easily discover brands with instant approvals




- Extensive selection of over 2,500 affiliate programs




- User-friendly interface surpasses older networks




- Hosts renowned brands like Adidas and Airbnb




- Diverse categories, from footwear to B2B services




- Multiple payout options, including PayPal and direct transfers

- Abundance of features may be a bit complex for new affiliates




- Lack many big names
10. Sovrn //Commerce

I personally don't favor heavy reliance on automation for embedding merchant links within a blog. However, some affiliate marketers may prefer a more hands-off approach to monetization. Sovrn //Commerce provides a solution for this. Previously, it went by the name VigLink.
Sovrn //Commerce offers you the choice between CPC (cost-per-click) or CPA (cost-per-acquisition) merchants.
This platform automatically inserts affiliate links into your blog posts using a WordPress plugin or through Google Tag Manager. If you're seeking a convenient method for monetizing through affiliate links with minimal effort, Sovrn //Commerce offers an effective solution.
I personally incorporate Sovrn //Commerce links directly into my content rather than relying solely on the automated tool.
For a more practical approach, you can consider implementing Svrn // Commerce for user-generated content, such as a forum on your website. Additionally, the company provides options compatible with vBulletin and phpBB for this purpose.
Key points:
Entrance cost: Free
Payment schedule:
Minimum Payout Requirement: $25
Ideal for: Content creators and publishers.
Benefits

Drawbacks

- Access to leading international retailers




- Swift link generation via chrome extension




- Automated link creation for efficiency

- Less compatible with smaller websites
11. FlexOffers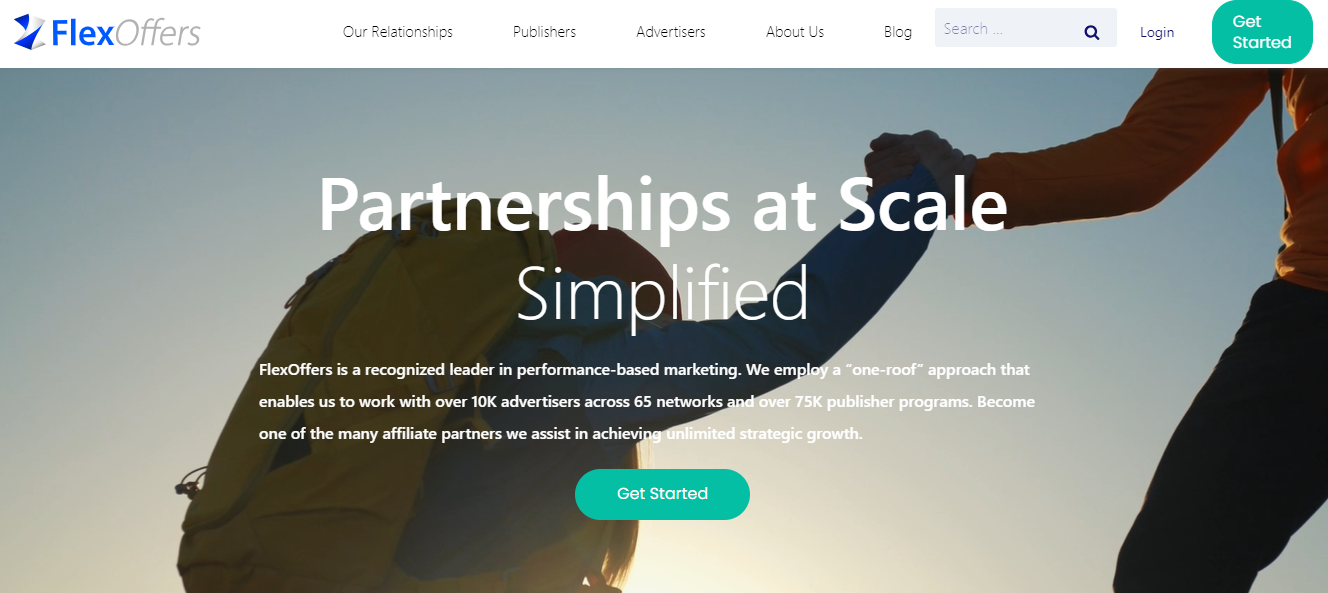 The next one to consider for the best affiliate marketing programs is FlexOffers.
In many instances, FlexOffers provides access to the same affiliate programs as other networks, such as CJ. With over 12,000 merchants available within its system, it's arguably one of the largest affiliate networks around.
FlexOffers operates both directly with many merchants and as a "sub-affiliate" platform. This means that FlexOffers participates in a merchant's program as an affiliate, allowing bloggers to utilize its affiliate links instead of going through a direct application process with the merchant. For each affiliate signup, the commission is divided between the blogger and FlexOffers.
If you encounter difficulty gaining entry to a specific affiliate program, particularly when you're just starting out, FlexOffers can serve as an intermediary.
However, it's important to note that payouts from FlexOffers are often somewhat lower, as they retain a portion of each transaction.
The signup process for FlexOffers may be somewhat rigorous. As a sub-affiliate, FlexOffers bears some responsibility for the quality of conversions, making them somewhat selective when it comes to accepting affiliates into their network.
Nonetheless, for novice affiliate marketers, FlexOffers is a valuable option worth pursuing. Just ensure that your website is well-prepared and professionally presented before applying.
Key points:
Entrance cost: Free
Payment schedule: Net 60
Minimum Payout Requirement: $25
Ideal for: Affiliates seeking access to a wide range of advertisers
Benefits

Drawbacks

- Smooth onboarding with error detection




- Accepts Wix and Blogger affiliates




- Streamlined interface for easy advertiser selection, with EPC sorting




- Earn extra through the Flex-Rev$hare program

- Limited support with a knowledge base and email contact




- The color scheme can be headache-inducing
12. Skimlinks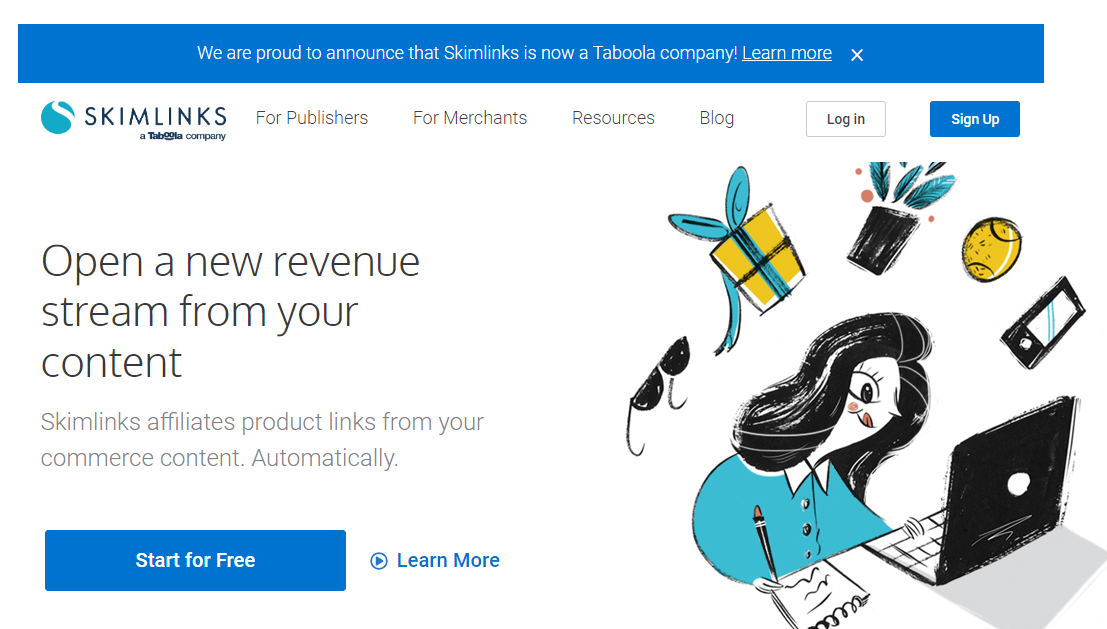 Much like Sovrn //Commerce, Skimlinks offers the convenience of automatically generating affiliate links within your content. This can be particularly advantageous for content that is generated without your direct involvement, such as user-generated content in a forum.
Moreover, Skimlinks also allows for manual insertion of affiliate links, offering flexibility in how you incorporate them into your content.
Notably, Skimlinks collaborates with an extensive network of over 24,000 merchants spanning a wide spectrum of niche markets. Given this broad reach, I strongly recommend considering Skimlinks as an affiliate program to join. It provides you with a vast array of options for monetizing your content across various niches.
Key points:
Entrance cost: Free
Payment schedule: Net 90
Minimum Payout Requirement: $65
Ideal for: New bloggers.
Benefits

Drawbacks

- Easy sign-up process




- Skimlinks offers full automation for monetization




- Access declined programs




- Access to 25,000+ merchants




- Eliminate the need for manual affiliate link creation




- Robust reporting features




- Superior UX compared to mainstream networks




- Potential for preferential commission rates from select merchants

- High commission charge




- Slow support
13. Fiverr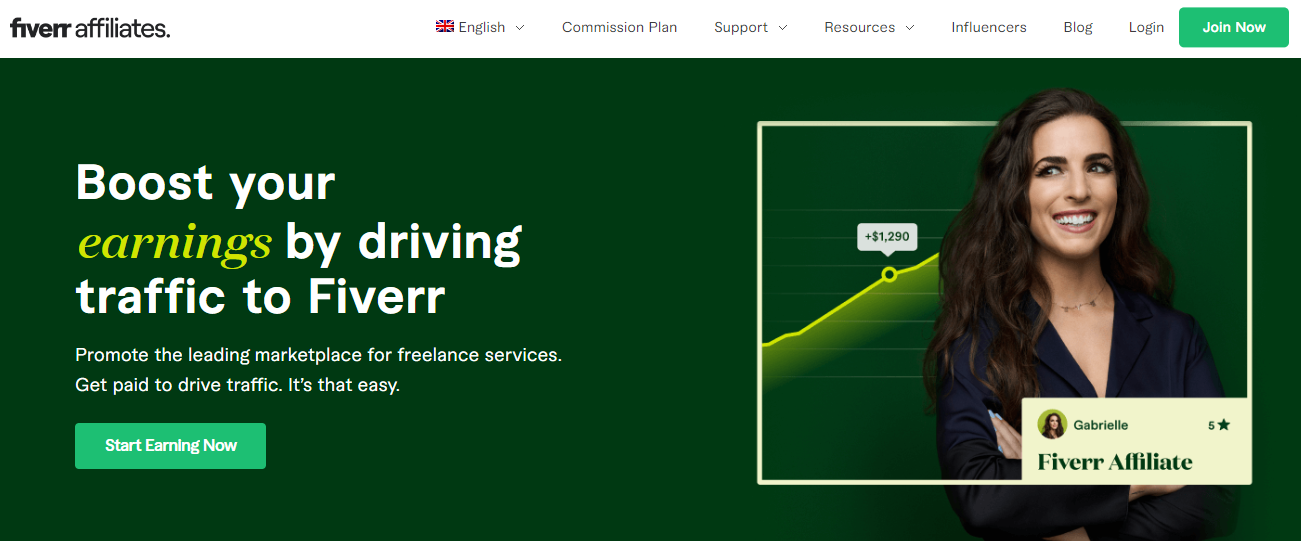 Last but not least, Fiverr is the final name in the best affiliate marketing programs for beginners.
When you introduce Fiverr to your audience, you're essentially showcasing a diverse range of services that can be invaluable to bloggers, small business owners, or contractors looking to enhance their businesses. Fiverr's freelancer marketplace is teeming with thousands of skilled service providers, offering a wealth of solutions for your audience's needs. It's a fantastic avenue for offering recommendations to your followers.
What's truly remarkable about Fiverr is the potential to earn up to $1,000 per referral. However, it's worth noting that my recommendation for Fiverr isn't primarily based on its high-paying options. Rather, if your website focuses on endorsing business services, Fiverr provides an excellent marketplace to recommend to your audience.
While you can access Fiverr through CJ, I strongly suggest going directly to Fiverr due to the superior terms and more active engagement you can expect from this direct relationship.
Key points:
Entrance cost: Free
Payment schedule: Net 30
Minimum Payout Requirement: $100
Ideal for: Any blog related to a Fiverr gig category, especially business services.
Benefits

Drawbacks

- Excellent affiliate interface, refreshing compared to others




- Fiverr, a market leader with little competition




- Constant addition of new services to sell




- Potential for lucrative $150-per-referral commissions

- No pay for sales to existing customers




- Like Etsy, popular gigs may move to their own sites
Get Started With Affiliate Marketing
Have you found yourself suitable affiliate marketing programs? Are you excited to start right now? Here are some affiliate marketing tips to earn your very first affiliate dollars.
Selecting the right niche
Your niche is essentially the subject of your blog or videos. It can range from your hobbies to your lifestyle and virtually any topic of interest. As long as there's an audience for what you want to discuss, it can be your affiliate niche.
For instance, niches encompass areas such as gaming, travel, knitting, woodworking, and more. To pinpoint your niche, consider these questions:
What are you skilled at?
What piques your curiosity?
What do you possess extensive knowledge about?
What do others appreciate your abilities or insights in?
The convergence of your responses often unveils a promising starting point. For example, if you're both skilled in and intrigued by entrepreneurship, and people often commend your creativity in making money, you might choose finance and entrepreneurship as your niche.
Additionally, tools like Ahrefs' SEO Toolbar can assist in discovering an affiliate niche as you conduct everyday Google searches. This toolbar provides keyword data, including monthly search volumes and ranking difficulty. If you identify a keyword with high monthly searches and low competition, it might indicate a viable niche.
To gauge competition, you can employ Ahrefs' free keyword difficulty checker, which assigns a Keyword Difficulty (KD) score between 0 and 100. For newer websites, aiming for keywords with KD scores below 30 is advisable, as they are relatively easier to rank for.
Building your website and content
Once your niche is established, the next step is to create a niche website. This involves purchasing a domain name, acquiring website hosting, and linking your website to WordPress for backend editing. Although it may sound intricate, it's a manageable process. WPBeginner provides a comprehensive video guide to assist you.
After setting up your website, engage in basic affiliate keyword research to outline your content strategy. I'm sure you don't want duplicate content. Unique content makes you stand out from millions of other affiliate marketers. Using Mageplaza's better SEO, the system will automatically eliminate duplicate content on your site, reducing traffic loss and negative effects on the search ranking.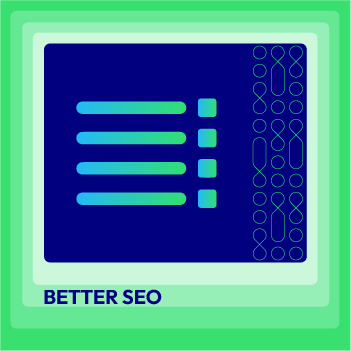 Drive more traffic to your online store and boost your rank on search engines
Check it out!
Promoting your content
With your content in place, it's time to promote it to attract traffic and, subsequently, generate affiliate sales. There are various promotional methods, such as conducting email outreach to like-minded bloggers or sharing on social media. If you want to go with sharing on the internet, think about adding a feature for your viewers to share from your website to their social media like using Magento 2 Social Share Extension.
However, one of the most rewarding approaches, in my view, is search engine optimization (SEO). Achieving a first-page ranking on search engines like Google ensures a consistent influx of traffic without the constant need for outreach or substantial advertising expenses.
Moreover, SEO and affiliate marketing align seamlessly because individuals actively searching for solutions to their problems, which is often the case with search engine users, are closer to making purchase decisions. SEO may demand time and effort to master, but it's a skill that promises significant returns on investment.
This simplified approach can set you on the path to affiliate marketing success.
Conclusion
In affiliate marketing, you can earn a much better passive income that is entirely flexible in your work, allowing you to arrange your time comfortably without the need to follow strict office norms. Due to its attractive income potential and flexibility, affiliate marketing has become widely popular. You can come across it anytime, such as when a Key Opinion Leader (KOL) attaches product links in their reviews or when an article includes links to certain services - all using this model.
We hope that our analysis of the most trending affiliate marketing programs today will help you choose a suitable path for yourself, avoiding unnecessary risks and maximizing your potential income.

Marketing Manager of Mageplaza. Summer is attracted by new things. She loves writing, travelling and photography. Perceives herself as a part-time gymmer and a full-time dream chaser.
Website Support
& Maintenance Services
Make sure your store is not only in good shape but also thriving with a professional team yet at an affordable price.
Get Started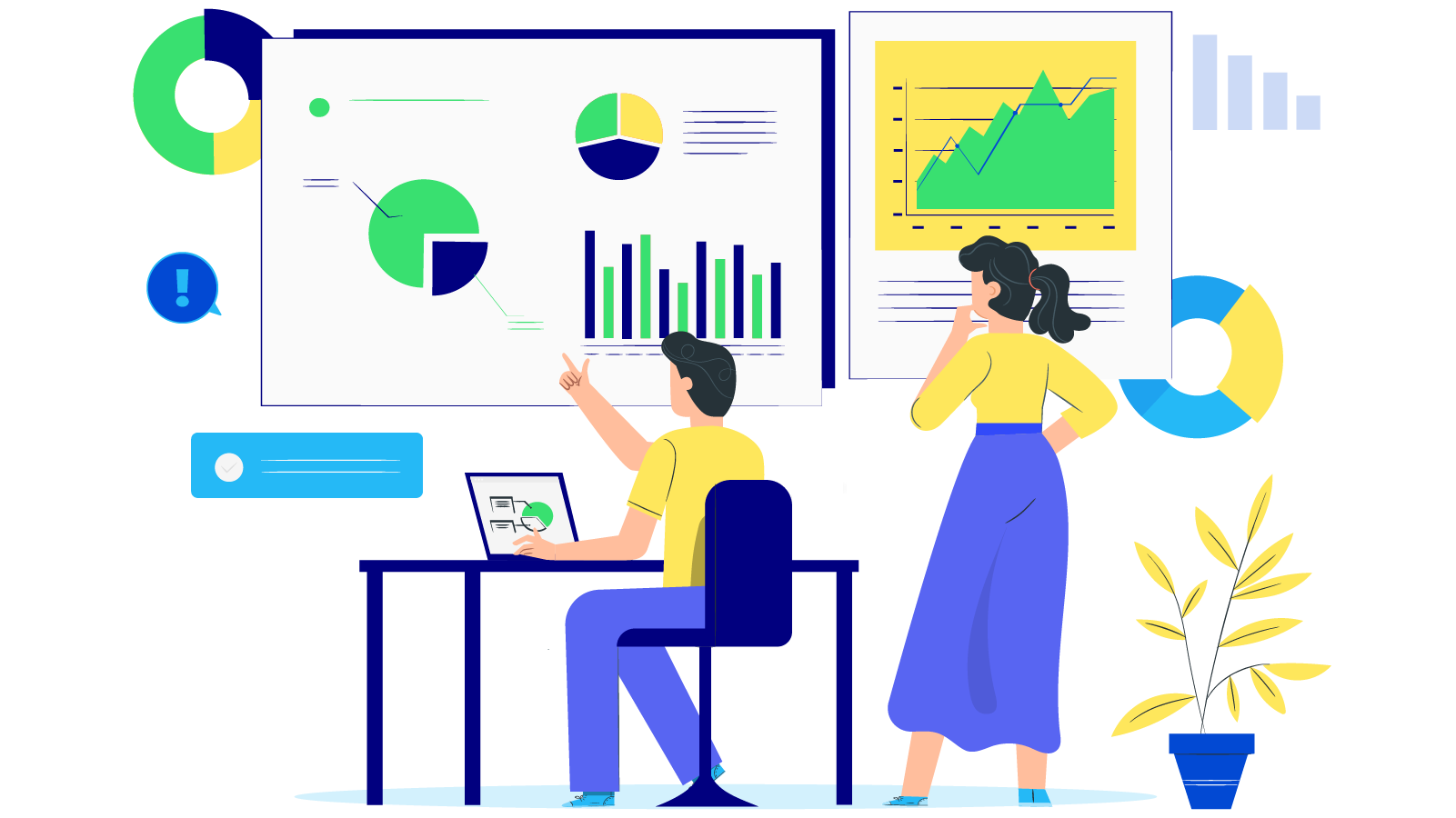 New Posts



Subscribe
Stay in the know
Get special offers on the latest news from Mageplaza.
Earn $10 in reward now!