Quickbooks Online Integration Extension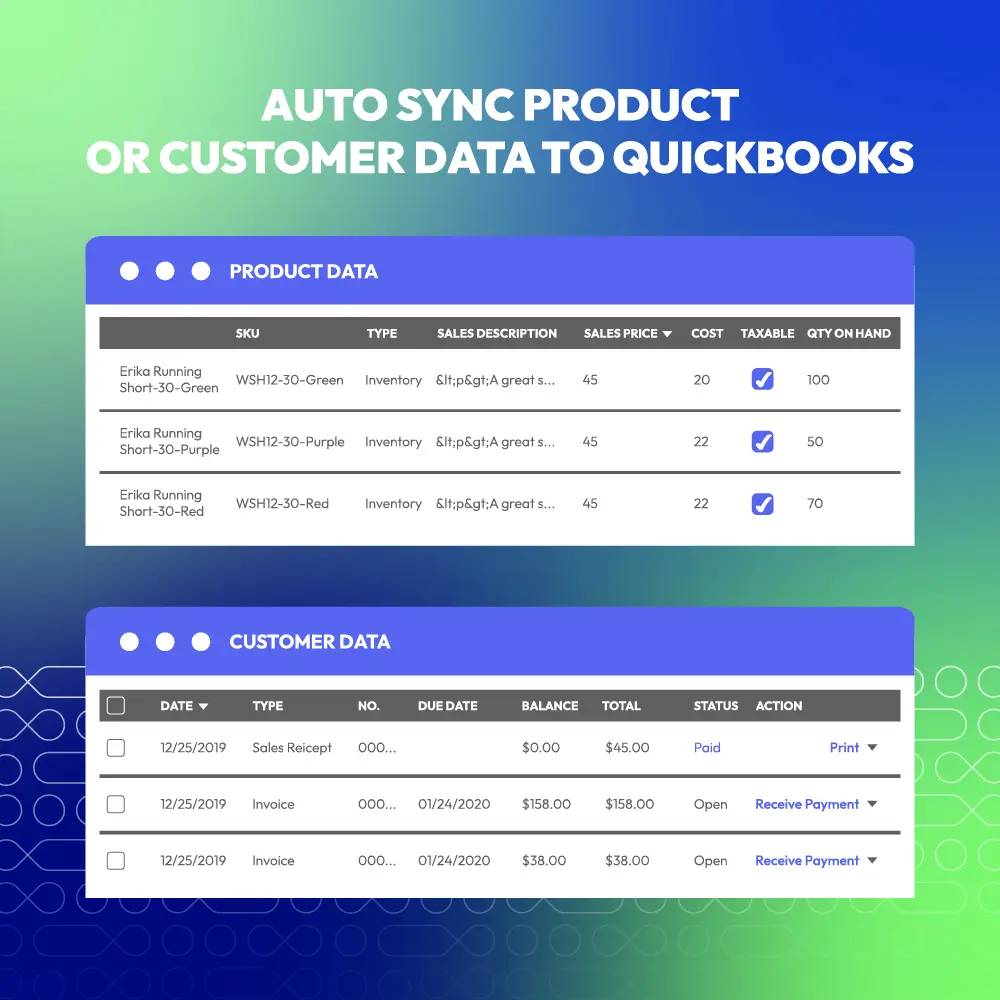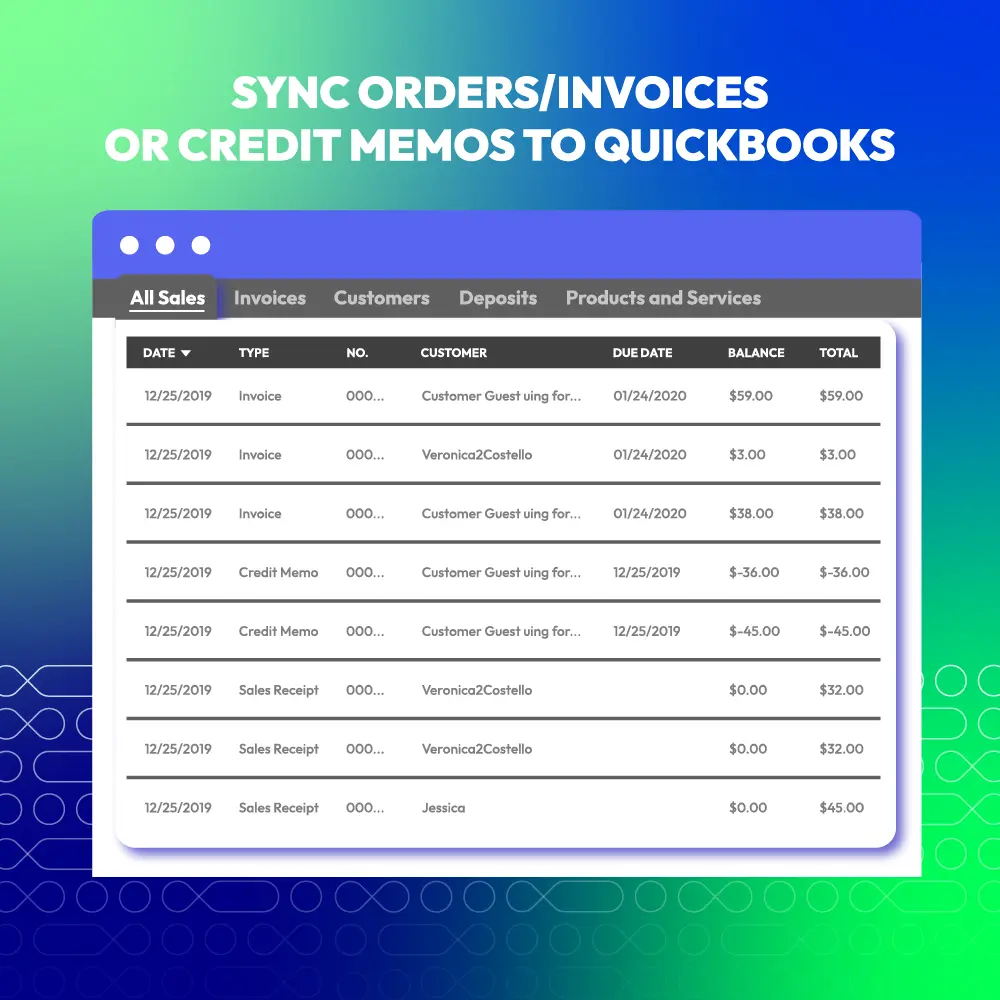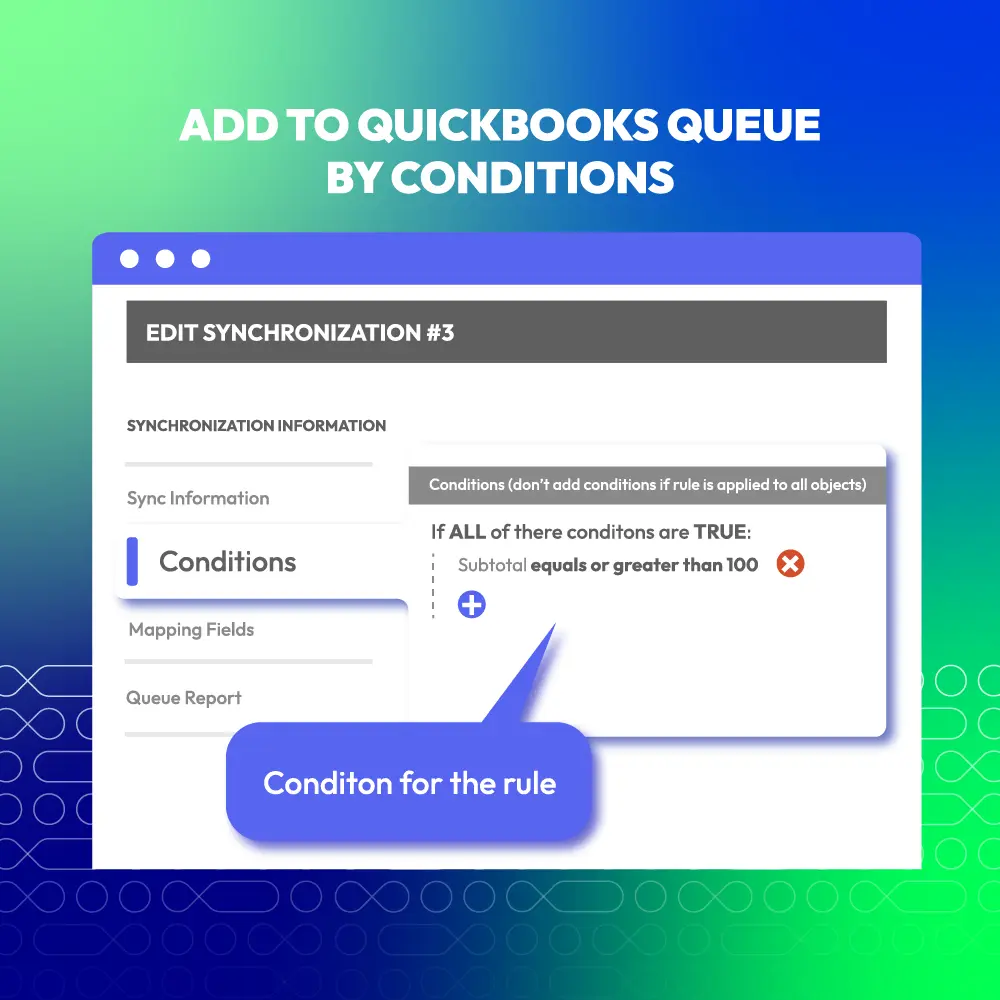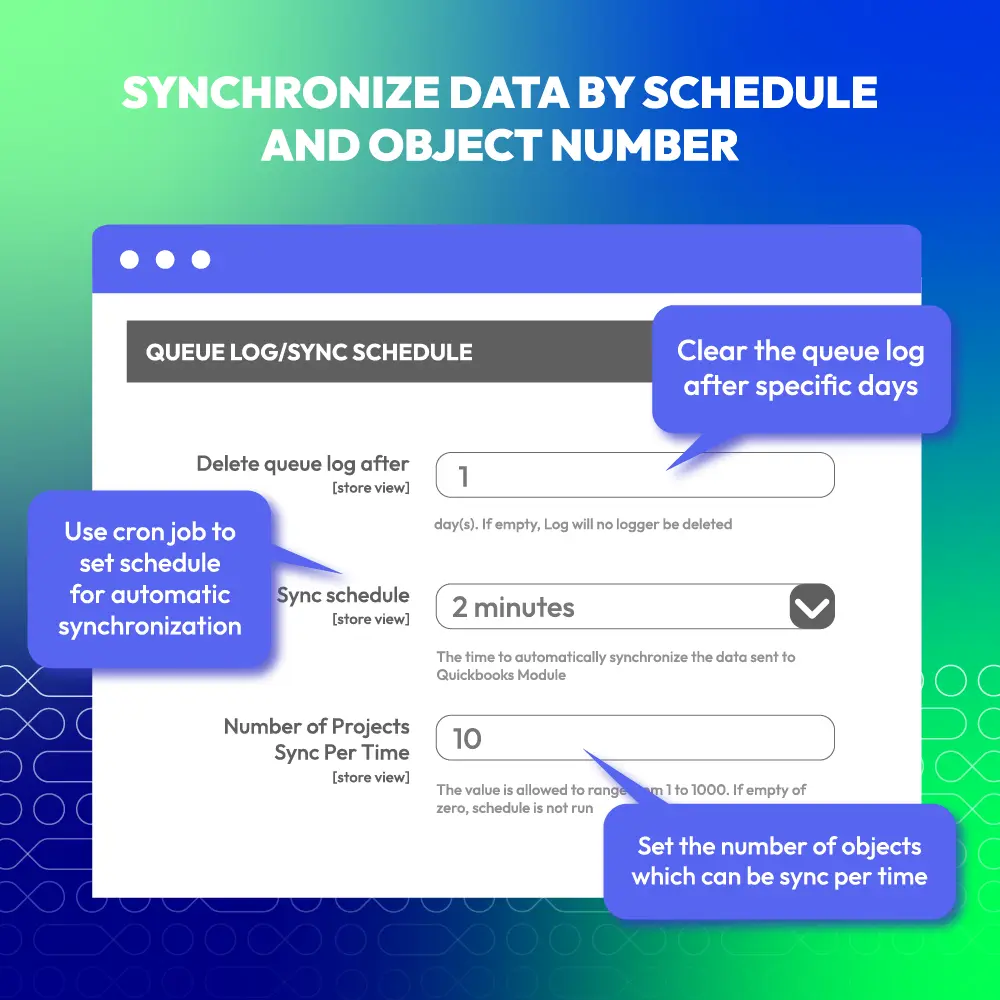 60-day Money Back
Frequent Update
365-day Support
Quickbooks Online Integration for Magento 2
v1.0.5
Magento 2 Quickbooks Online extension automatically synchronize and update all accounting information such as customer's information, product details, orders, payments, invoices, inventory, etc. from Magento 2 store to Quickbooks platform.
Need API/GraphQL for Magento 2 Quickbooks Online Integration Extension? Chat now
CE/EE/B2B/Cloud/ Adobe Commerce 2.2.x, 2.3.x, 2.4.x
Chat now
Problems
Quickbooks Online is a cloud based financial management software. This is the platform supporting you to save time spending managing business finances.
Manage all customer information
Manage all billing documents
Track sales and cash flow
Monitoring your tax and making tax return much easier
Etc.
But how can you connect your Magento 2 store with Quickbooks Online account and synchronize all information?
Solutions
Synchronize and keep track all store transactions on Quickbooks Online platform. With simple connection settings, store owners can connect Magento 2 store with Quickbooks online account and synchronize all information including customers, products, sales, billing documents, payment methods, tax. Therefore, you can manage the important data more effectively.
Save time with the automatic update. When there is any update such as placing order, new account, etc, the information is automatically synchronized and updated in Quickbooks Online. No manual action is required.
Synchronize Product data to Quickbooks
Magento 2 Quickbooks Online extension allows auto-synchronizing and updating Product including both basic and advanced information into Quickbooks Online without any barrier.
Name
SKU
Type
Sales Description
Sales Price/ Cost/ Taxable
Qty on hand
Quickbooks supports multiple product types including inventory, non-inventory, service and bundle.
Sync orders/ invoices/credit memos to Quickbooks
Quickbooks Online allows synchronizing all billing documents' information to Quickbooks including orders, invoices and credit memos automatically.
The details in Quickbooks are totally corresponding to the Magento 2.
Auto sync customer data to Quickbooks
With Quickbooks Online extension, all information related to customer account is transmitted and updated automatically from Magento 2 store to Quickbooks page to be protected carefully and clearly.
Automatically sync payment methods to Quickbooks
Multiple payment methods that are supported for your Magento 2 store are under control of Quickbooks Online very well. This means when installing Quickbooks Online extension, every existing method is auto-transmitted from Magento 2 store to Quickbooks Online and if there is any new one, it will be added immediately into the management system of Quickbooks Online.
Add to Quickbooks queue by conditions
Store admins can select the conditions to automatically add the objects to Quickbooks queue easily.
For example, only add the orders whose subtotal is no smaller than 100 will be added to Quickbooks queue.
This feature is helpful in case stores want to manage data selectively in Quickbooks.
Synchronize data by schedule and object number
Easy to set the schedule for automatic synchronization by minutes, hours, daily, weekly or monthly.
Besides, the number of objects can be set the limitation for each synchronization time.
More Features

Check out more details of Quickbooks Online
Mapping fields
Match the Magento 2 fields with Quickbooks fields to specify the data.
Rule grid
View all synchronization rules and the queue report including total objects, pending requests and successful requests for each rule.
Queue grid
View all the objects in queue with synchronization status (pending, success or error). You can view the object detail via a popup or delete any objects here.
Manually synchronize
You can select objects in queue to manually sync to Quickbooks via the queue grid.
Clear queue log
Set the time by days to automatically clear queue log.
Number of sync objects
Limit the number of objects to sync per time.
Pricing

Choose your suitable edition
Community
Crafted for a great webstore start
$

249

first year
Supports for Magento 2 Community Edition
Enterprise
Great for an enterprise solution
$

449

first year
Supports for Magento 2 Enterprise Edition
Highest priority support
You can sync multiple Magento objects to Quickbooks including Customer, Product, Order, Invoice, Credit Memo, Payment Methods and Tax.
Yes, definitely. At the configuration, you can set the number of objects which can be synchronized per time easily from 1 to 1000.
The integration supports you both. You can set a schedule to automatically sync objects or manually sync at the queue grid.
Yes. You can set the time by days to clear the queue log at the admin backend.
GREAT
Easy to install & use. The support team helped us a lot. Many thanks
Jacqueline
-
Verified Purchase
Highly recommended
This extension is highly recommended. I used this for a while and it did make my life a lot easier. All accounting infos can be synced and updated automatically.
Joshua
-
Verified Purchase
Easy management
Quickbooks is very easy to use and straightforward. Data are synced instantly so the management becomes easier. Great features and great support too. Thank you Mageplaza. I totally recommend this.
Heather
-
Verified Purchase
Wow
I've never been a technical person, so Quickbooks helped me a lot. I've been trying some other extensions but they are hard to use. However, this one is easy to set up. I also got help a lot from your team.
James Green
-
Verified Purchase
Don't see the features you are looking for?
Request feature
Submit your feature requests below
Want to do extension customization?
Custom request
Let us know your requirements
v1.0.5

28 December 2021

Compatible with Magento v2.3.7
Fixed minor bugs
v4.0.1

27 October 2021

Compatible with Magento 2.4.2
Fix some minor bugs
v1.0.4

27 October 2021

Compatible with Magento 2.3.7
Fix some minor bugs
v1.0.3

23 March 2021

Compatible with Magento v2.3.6
Fix minor bugs
v4.0.0

23 March 2021

Supported Magento v2.4
Fixed minor bugs
v1.0.2

23 June 2020

Fixed wrong data error when syncing Creditmemo
Fixed Item price error if qty greater than 1
v1.0.0

31 December 2019

Initial release
Quickbooks Online's Full Features List
General
Enable/ Disable the extension
Select the testing environment
Enter the client ID
Enter the client secret
Enter redirect URI
Click connect to start connection with
Compatible with other extensions: Salesforce, RMA extension, Zoho CRM, Freshsales
Queue Log/ Sync Schedule
Set the time by days to delete queue log
Set the sync schedule by minutes
Set the number of objects sync per time
Synchronization rules grid
Add a new rule for Magento objects including Customer, Product, Order, Invoice, Credit Memo, Payment Methods and Tax
View all the synchronization rules via the grid easily
Add the objects to queue via the grid
Queue grid
View the status of all objects: Pending, Success or Error
Manually select and synchronize objects via queue grid
Why choose us?
Mageplaza provides consistent and customer-centric extensions for your Magento 2 store.
We don't sell products for one time. We provide lifetime solutions which help our customers thrive with their businesses.
60-day Money Back
Extensive 60-day money-back period. You love it or get a full refund no questions asked.
Extensive Support Timeframe
Mageplaza provides support 16 hrs/day, 5.5 days/week to guarantee the seamless operation of our extensions on your store.
Install via Composer
Simple installation via composer helps you save time and eliminates technical issues during future updates.
Frequent Updates
Intensive update roadmaps ensure great performance, bug-free, highly compatible, and innovative extensions.