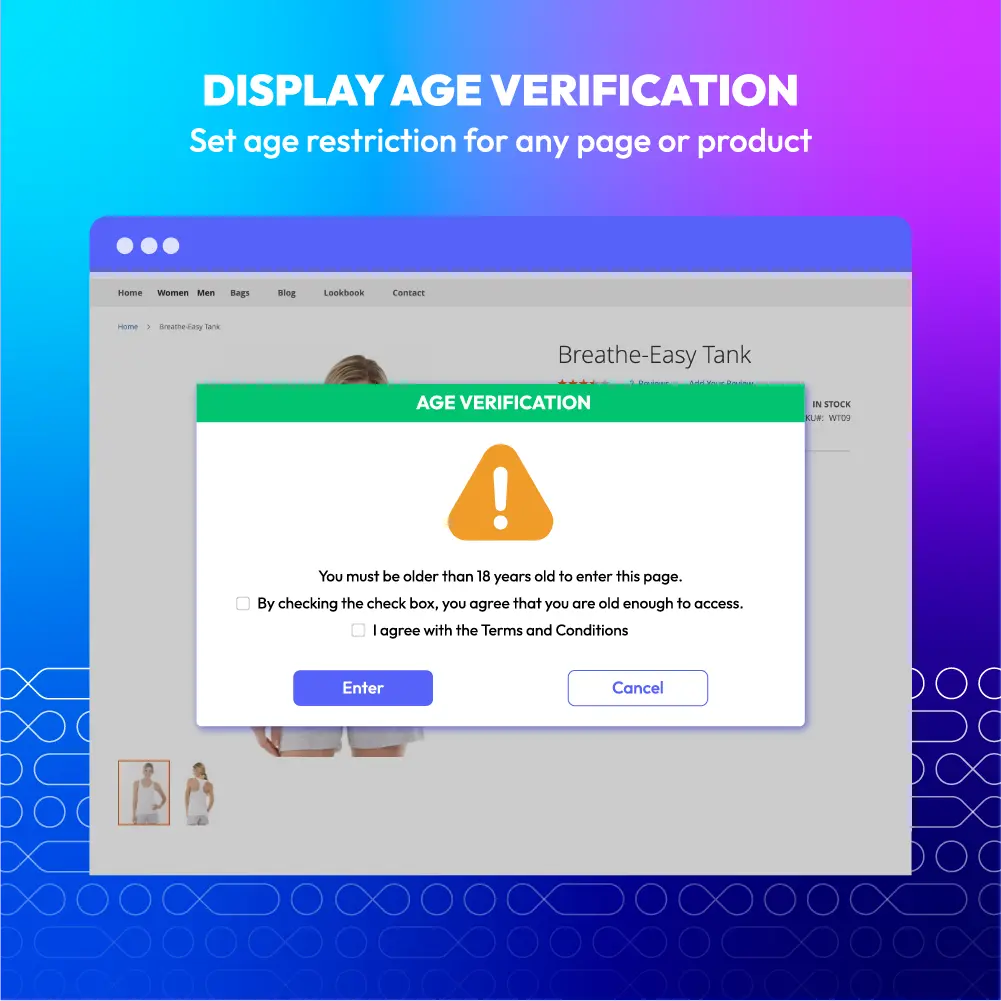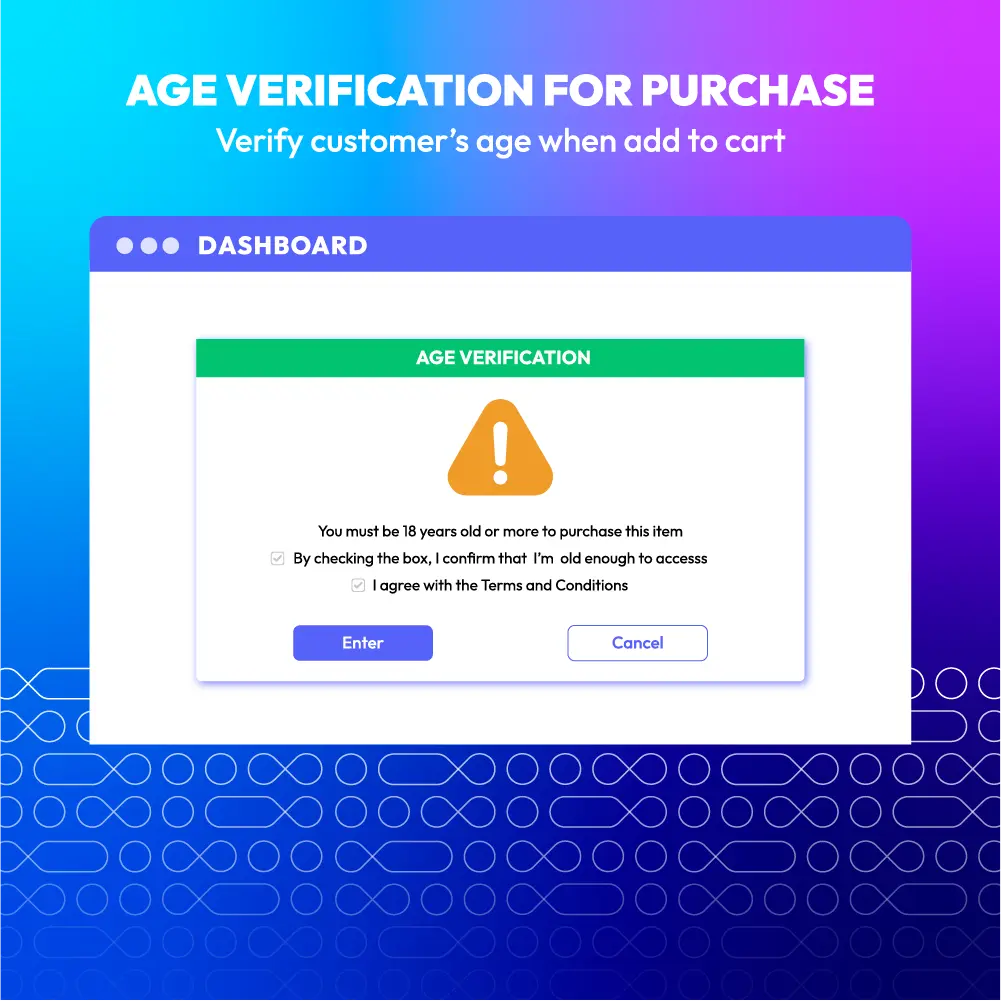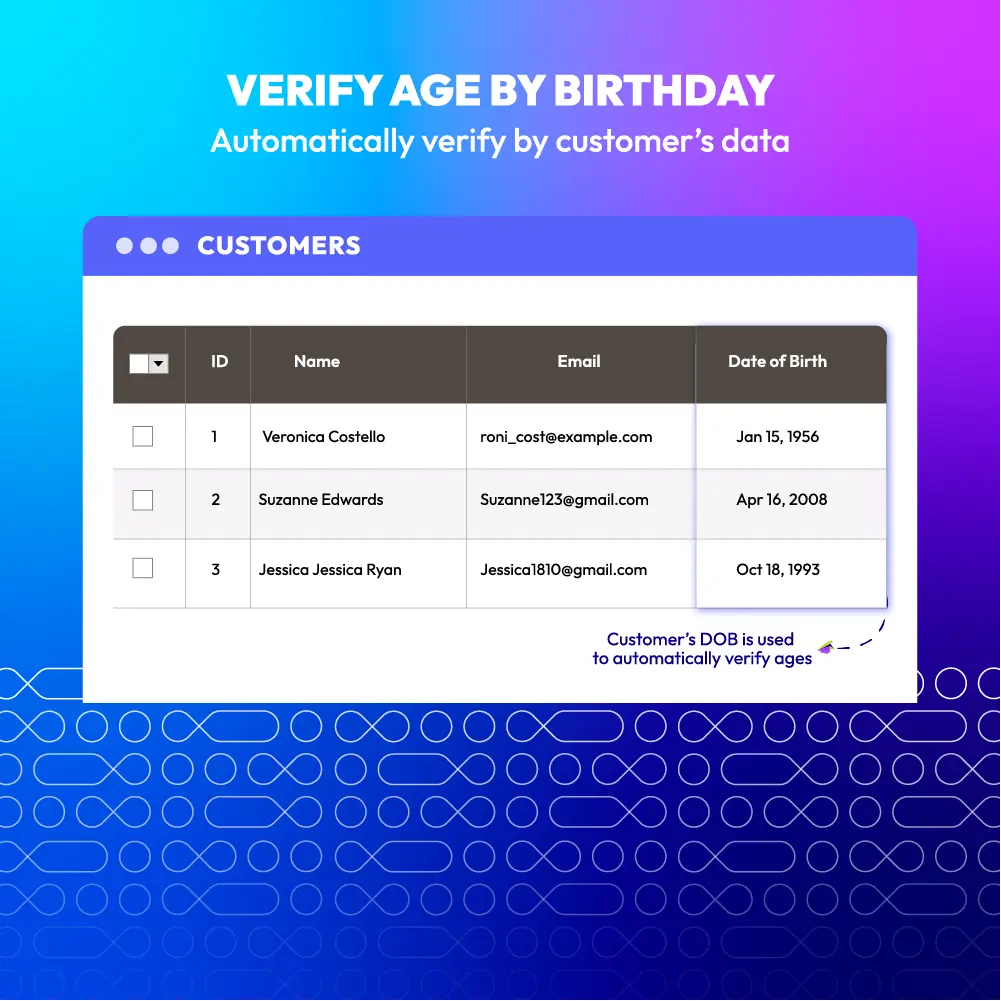 60-day Money Back
Frequent Update
365-day Support
Age Verification Popup for Magento 2
v1.1.1
Magento 2 Age Verification extension requires one more step about the age requirement for customers before getting the permission to view or make purchases on specific store pages.
CE/EE/B2B/Cloud/ Adobe Commerce 2.2.x, 2.3.x, 2.4.x
Chat now
Problems
It is regulated that sensitive industries such as gaming, lottery requires age verification of customers. This is necessary to prevent from dealing with legality. Some business types with demand for age verification:
Alcohol/ Tobacco companies
Adult-only industries
Lottery industries
Gaming industries
Financial institutions
Solutions
Deal with legal abilities
Prevent identity fraud
Prevent adults from accessing child-specific sites
Protect children from accessing unsuitable sites
Pricing

Choose your suitable edition
Community
Crafted for a great webstore start
$

149

first year
Supports for Magento 2 Community Edition
Enterprise
Great for an enterprise solutions
$

349

first year
Supports for Magento 2 Enterprise Edition
Highest priority support
Yes. You can set any pages you want from default page, CMS pages to Category Pages. Besides, Age Verification allows you to include or exclude one or many custom URL(s) with ease from backend settings.
You can do this easily from Purchase Verification Configuration section. You just need to select product conditions(e.g, gender, category, so on) and notice sign by message or image.
Yes, Age Verification pop-up allows customization. You can select verification type including checkbox, input, yes/no, upload icon, set title and description, labels for confirm/cancel buttons. All are easy to customize as you wish.
You can do it easily by setting redirect URL in the configuration section of the extension.
You can set cookie life-time by day(s) to remember the verification. For examples, if it is 30 days, the access is remembered and approved within 30 days.
Yes, you just need to enable display this section so it will appear on the pop-up when customers verify age.
Perfect
I'm worried about content block for certain age groups, so I was recommended to try this plugin. It works perfectly for my store and did not conflict with my current theme.
AWESOME EXTENSION
This is a very good extension with great features. And don't worry if you have any trouble, Mageplaza support will help you fix it quickly. Highly recommended!
Felix Thompson
-
Verified Purchase
Mr
This process is very great for age verification for any UK's free mobile number
Md Mazharul Islam
-
Verified Purchase
Must buy!
Age Verification by Mageplaza is a must buy extension, especially when your store is selling sensitive products such as alcohol, tobacco, or game. Besides the support team is very great. Thanks, guys!
Marc D. Russell
-
Verified Purchase
Excellent extension
This module is excellent and helpful for my store in preventing identity fraud. Plus, the support was great, very kind and helpful.
Julia L. Webb
-
Verified Purchase
Highly recommended
This module is very easy to use and the support team is fast
Michael
-
Verified Purchase
Don't see the features you are looking for?
Request feature
Submit your feature requests below
Want to do extension customization?
Custom request
Let us know your requirements
v1.1.1 (Magento v2.3.x)

27 October 2021

Compatible Magento 2.3.7
Fix some minor bugs
v4.0.1 (Magento v2.4.x)

06 June 2021

Compatible with Magento v2.4.2
Fix minor bugs
v4.0.0 (Magento v2.4.x)

19 January 2021
v1.1.0 (Magento v2.3.x)

19 January 2021

Compatible with Magento v2.3.6
Supported Rest API
v1.0.3 (Magento v2.3.x)

30 July 2020

Fixed error with validating customer group
v1.0.2 (Magento v2.3.x)

19 June 2020

Compatible with Magento v2.3.4
Compatible with Mageplaza Google reCaptcha
Fixed minor bugs
v1.0.1 (Magento v2.3.x)

31 July 2019

Fixed minor bugs
Compatible with Magento 2.3
v1.0.0 (Magento v2.3.x)

29 January 2019

Initial Release
For store admins
General setting
Enable/ Disable the extension
Input verification age
Display/ Hide Terms and Conditions
Set time by days for cookies
Select customer groups
Set automatic age verification with DOB
Set redirect URL when the access is restricted
Page Verification
Select default pages to apply age verification
Select CMS pages to apply age verification
Select Category pages to apply age verification
Set conditions to apply for Product Detail Pages
Set include and exclude custom pages
Design configuration
Select Verification Type
Upload icon for the verification pop-up
Upload title for the verification pop-up
Upload description for the verification pop-up
Set label for age confirmation
Set label when canceling the pop-up
Purchase Verification
Set conditions to apply age verification when adding to cart
Set notice message
Why choose us?
Mageplaza provides consistent and customer-centric extensions for your Magento 2 store.
We don't sell products for one time. We provide lifetime solutions which help our customers thrive with their businesses.
60-day Money Back
Extensive 60-day money-back period. You love it or get a full refund no questions asked.
Extensive Support Timeframe
Mageplaza provides support 16 hrs/day, 5.5 days/week to guarantee the seamless operation of our extensions on your store.
Install via Composer
Simple installation via composer helps you save time and eliminates technical issues during future updates.
Frequent Updates
Intensive update roadmaps ensure great performance, bug-free, highly compatible, and innovative extensions.