Show lively notifications and promotions with Promo Bar extension
The Most Popular Extension Builder for

Magento 2
With a big catalog of 224+ extensions for your online store
It is an undeniable truth that one of the foremost compelling ways to dispatch your advancement campaigns is to show pertinent notices to your target customers conveniently. Especially with a Magento 2 store, eye-catching Promo Bar is something you cannot disregard since they can offer great benefits such as
Capture customer's impression.
Engrave the brand pictures profoundly in customers' mind.
Encourage clients to purchase products.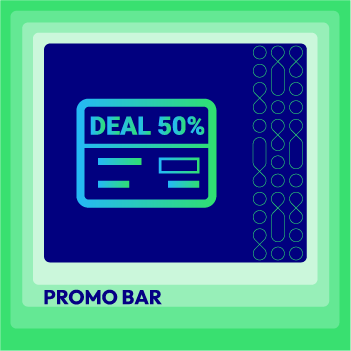 Draw customer's attention with eye-catching promo bars on your website
Check it out!
Main Contents
What is called Promo Bar?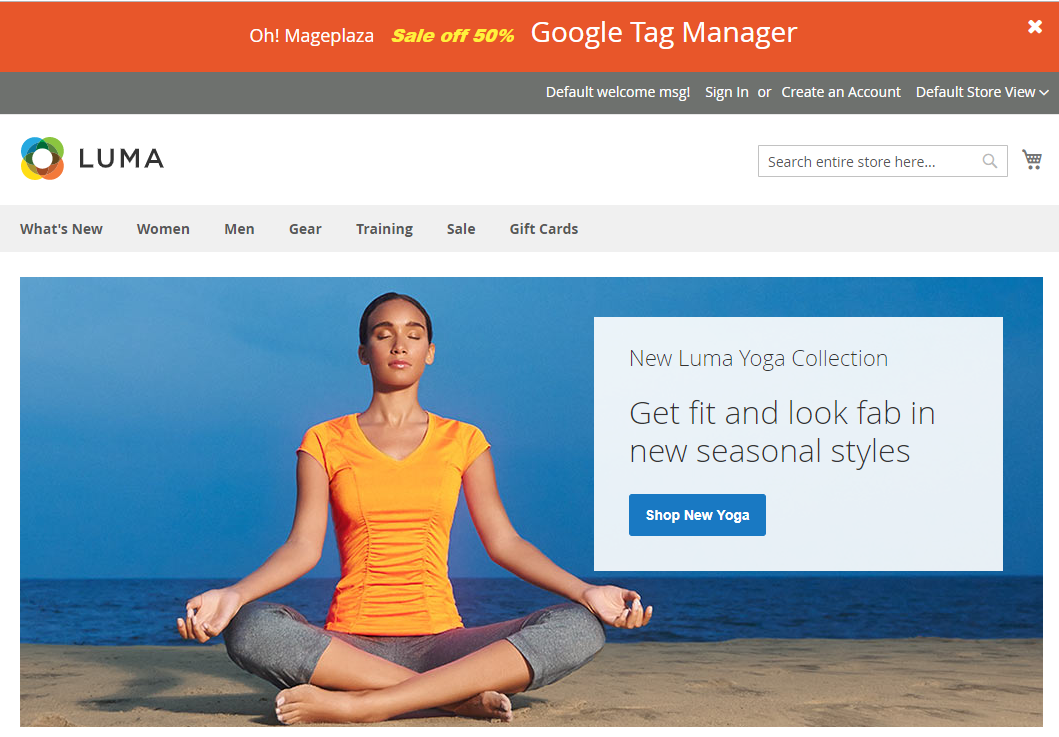 A Promo bar could be a highlight that lets you appear promotions on your eCommerce site. Promo bars are as a rule at the beat of all of your pages. It supports you to show data approximately promotions, deals, rebates, free shipping and more. A few indeed let you incorporate a countdown clock to let customers know how much time they have to get a bargain!
These bars can be used especially for creating urgency before a holiday like New Year, Christmas, Easter; or other sales events like Cyber Monday and Black Friday. They can also be used at certain times of year, like if you're offering Spring sales or Mother's Day specials.
How online stores benefit from Promo Bar?
Bring attractive marketing promotions close to buyers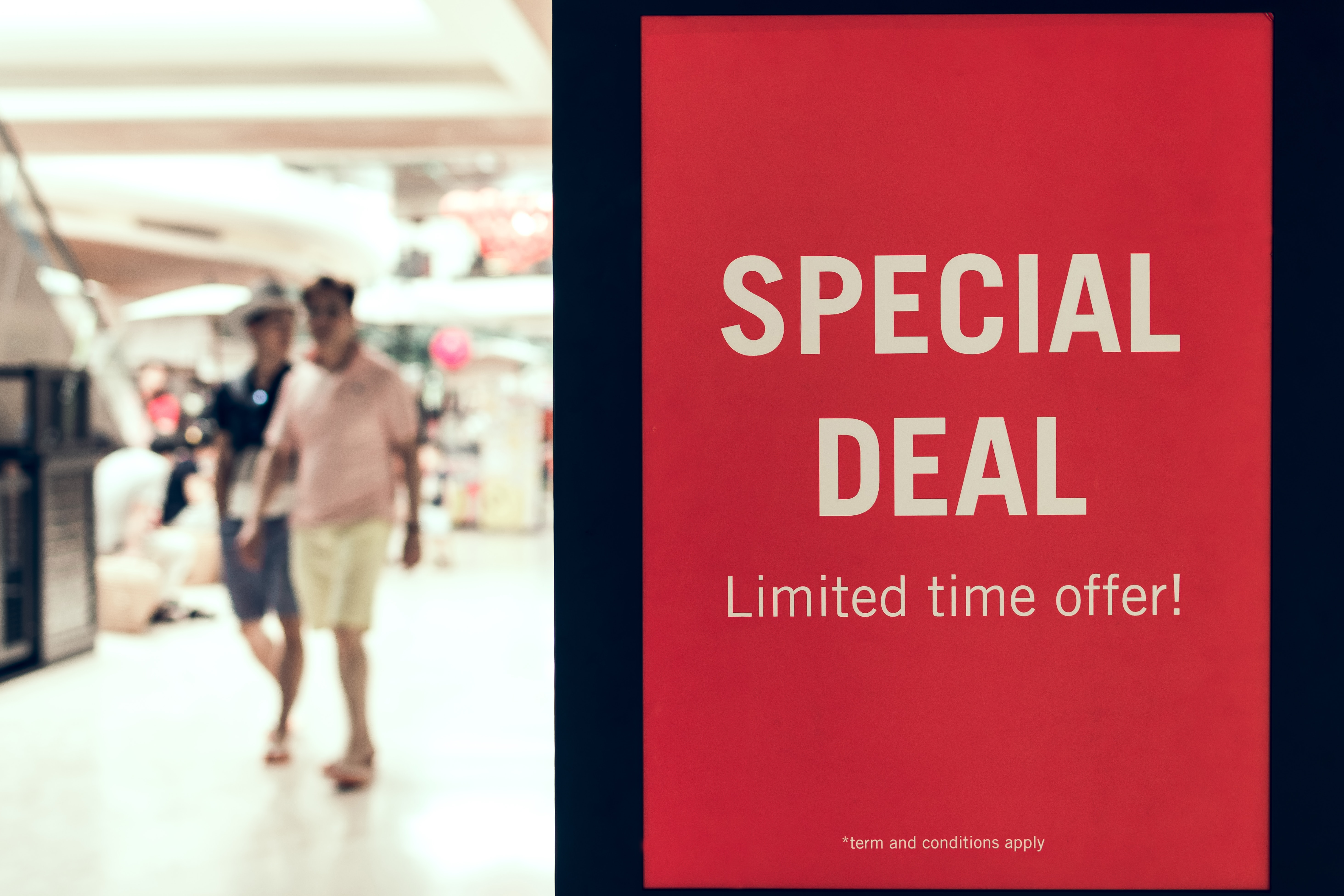 Promo bars precisely works as notice bars, so store runners can apply effortlessly and fittingly to any promoting campaigns. The promo bars are set at the eye-catching positions will offer assistance online stores pass on messages approximately the continuous or up and coming campaigns. You can also use Pro Banner with the same functions on your Magento 2 web stores.
Notifications of new store programs or policies
When the store has any upgrades or news, they can inform them by utilizing promo bars. The news can be the opening of a modern department, the devotion programs with remunerate focuses, etc. Promo bars can be made utilize of adaptably concurring to particular points.
Let take Free Shipping Bar for example. If you are going to launch a new shipping policy such as "Free shipping for order over $500", Promo Bar can be placed on the homepage, product page and even on your blog which are related to the new policies.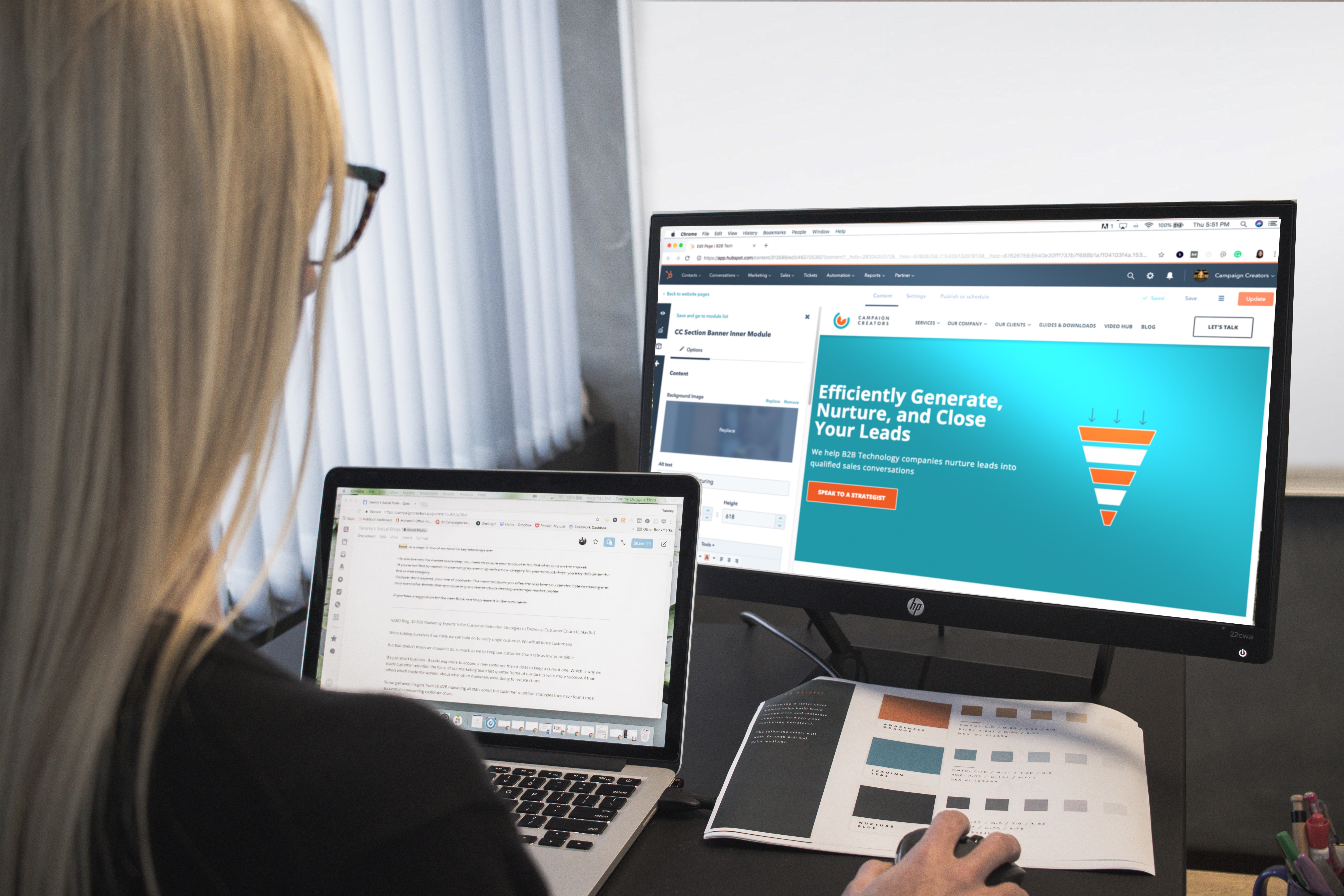 Actively reach target customers
The energetic and moving bars on pages of store locales will make the stores see dynamic all the time. The guests coming to this location will feel this store is working actively and would like to surf more.
Eye-catching advancement bars will draw client consideration superior. In addition, the appearance of bars is rehashed so that it works as an update. Subsequently, clients will be spurred and empowered not to miss the great chances and wrap up with buys.
Highlight Features of Promo Bar module
Display Unlimited Promo Bars On Page
With Promo Bar, you will be able to show various promotion banners on your store pages. This allows you to advertise multiple sales campaigns or notifications simultaneously.
If multiple banners are displayed at the same time, customers can be well noticed about all the sale and discount programs that are running on site.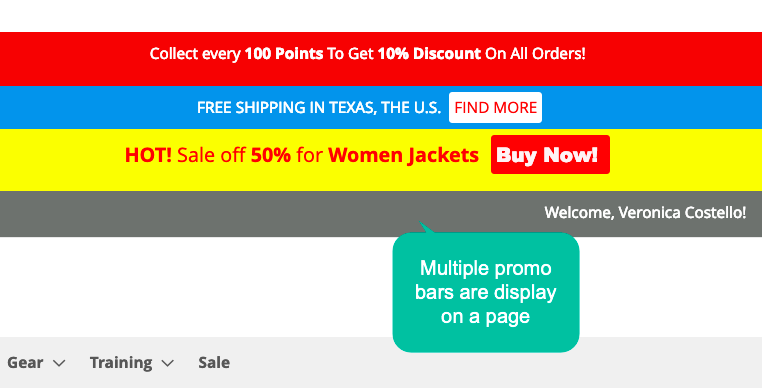 Apply Condition To Auto-display Promo Bars
Condition application is one of the most exciting features of Promo Bar plugin. Store admins will have the ability to set conditions to show promotion bar from the backend.
For instance, the "Sale off 50% for Women Jackets" promo bar will be displayed to a customer when the items which belong to Women Jackets are included in their shopping cart. Also, the promo bars can be prepared for each period by conditions. And when that period comes, the promotion bar will be displayed automatically.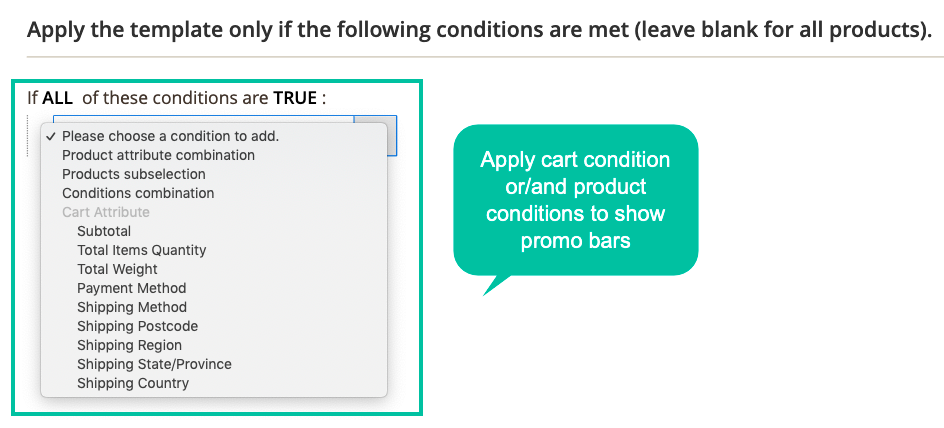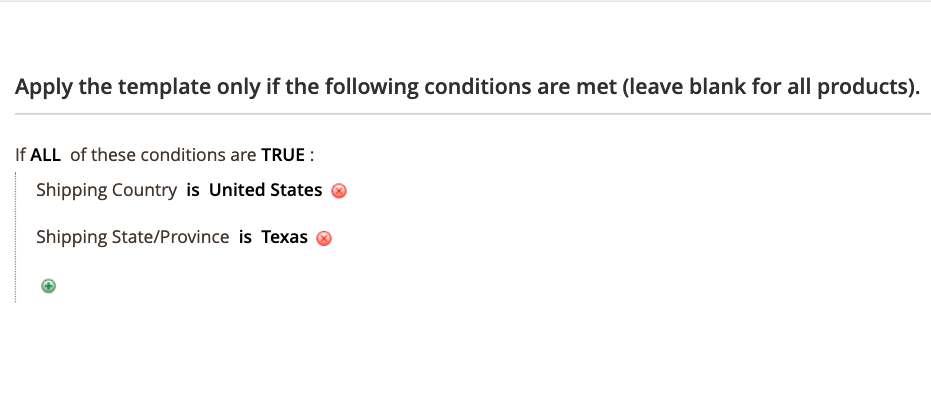 Easy To Design Promo Bars
Promo bar is an effective tool to attract customers to your stores and boost sales. Therefore, its appearance is significant. Understand this, Promo Bar extension offers five pre-made eye-catching templates for store owners to use. As a result, admins can directly use it or customize some elements in the templates if they want.
Text Content
Text Color
Background Color
URL
URL Text
URL Text Color
URL Text Background Color
Noticeably, there is no limitation in selecting the content and color when you design promotion bars or notification bars. In addition, this module also supports variables in order to customize the bars fully and quickly.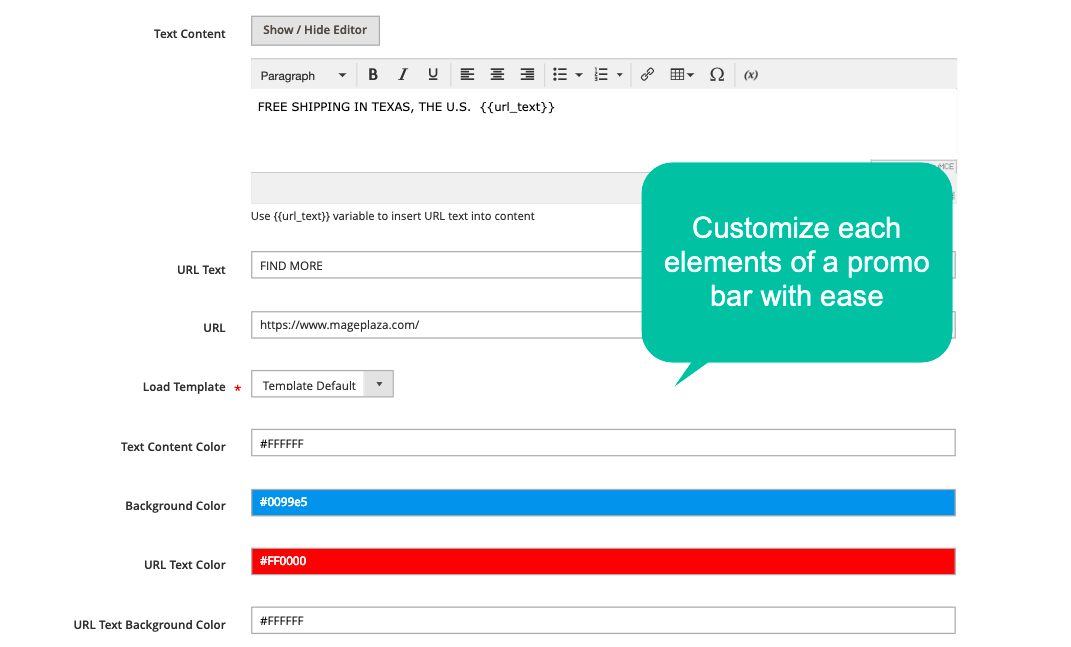 Slider Or Separately Promo Bars
There are two options for you to show multiple promo bars on the same page, which are Slider and Separate.
With the Separate options, promotion bars which are placed in the same position will be arranged based on the priority level. With the remaining option, all the bars which are in the same place will be shown one after another, and the fade effect will be applied to change the bars. Depending on the themes of your store site and the number of promo bars, one type can be selected to display the promotion bars in an appropriate way.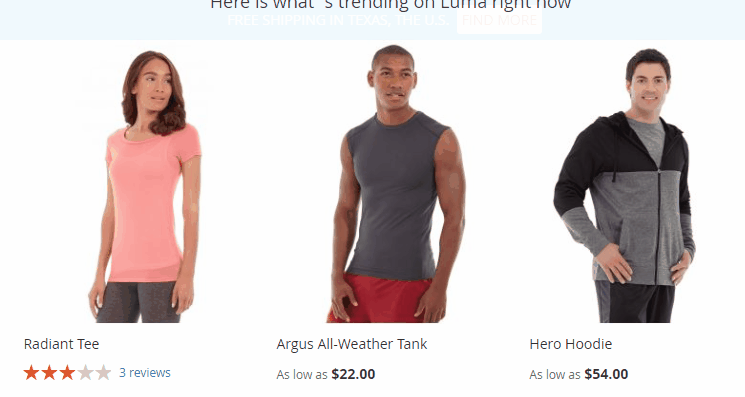 Place Promo Bars In Any Position On Store Site
When store owners have finished designing an attractive appearance for the bars, they can choose to place it anywhere they like. Besides the ready options which are placing the promo bars at the top of the page or content, admin can also use snippet to custom the positions of the bar easily.
After a bar is saved, you can paste the snippet code at any position on your store site to display the bar.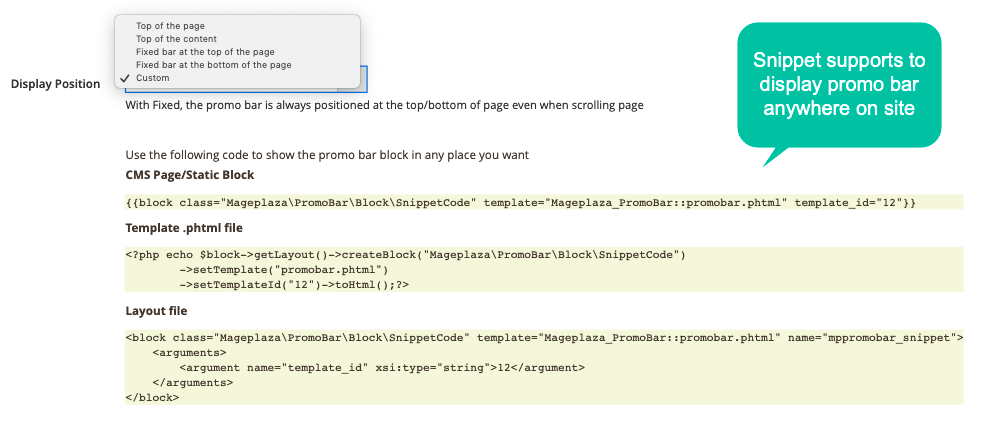 Set Schedule To Display Promo Bars
The promo bars can be set up to start running in a suitable time with ease. The start date and end date, which are a promo bar valid time can be set. During this time period, you can also set the promo bar to auto-close or auto-reopen with a particular schedule.
For instance, the promotion bar will be closed after 1 minute and open again after 5 minutes. Continuously displaying promotions can sometimes annoy shoppers. Because of that, a litter gap time could make the promo bars more friendly to users.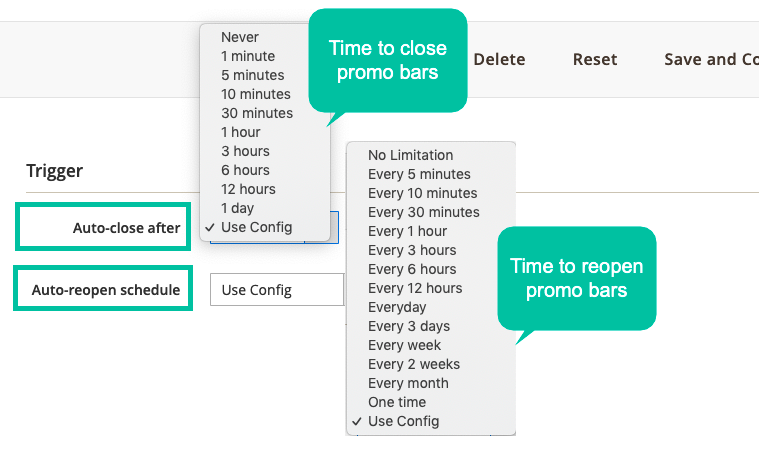 Full Features List of Promo Bar module
For Store Admins
General
Enable/ Disable the module
Set category which contains promo bars
Allow/ Disallow promo bars to be closed by customers
Close promo bars automatically after particular time
Reopen promo bars automatically after particular time
Display Setting
Allow/ Disallow multiple promo bars
Set time to swift bars
Create/Edit Promo Bar
Set a promo bar's name
Set the promo bar's status
Choose the promo bar's store views
Choose the customer group to display the promo bar
Set the promo bar's category
Set the promo bar's start date and end date
Set the promo bar's priority
Set the promo bar's condition
Allow design the promo bar include: Text content, Load Template, Text Content Color, Background Color, URL Text, URL, URL Text Color, URL Text Background Color
Allow previewing Template from the backend
Set the position for displaying promo bar: Choose available options or use snippet code
Set the schedule to close and reopen promo bar

For Customers

Well notified about news and promotions
No longer miss good chances, good prices
Have more enjoyable shopping time on site
Conclusion
Through this post, we hope that you can have a choice for your promotion campaign and notification solution. Magento 2 Promo Bar extension assists your stores to display notifications, promotion campaigns easily via small bars on the top of pages or any positions to attract customers. The module works effectively to draw customer attention and increase store sales.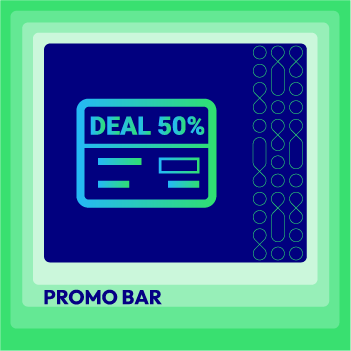 Draw customer's attention with eye-catching promo bars on your website
Check it out!

Sam is the CEO and Founder of Mageplaza, pursuing a simple and healthy lifestyle. He is a friend, a husband, and a father to two children. As a trainer and an aspiring influencer, he is also a big fan of sports and travel. Sam is exceptionally knowledgeable about e-commerce, especially Magento and Shopify, with 10 years of experience in the field.
Website Support
& Maintenance Services
Make sure your store is not only in good shape but also thriving with a professional team yet at an affordable price.
Get Started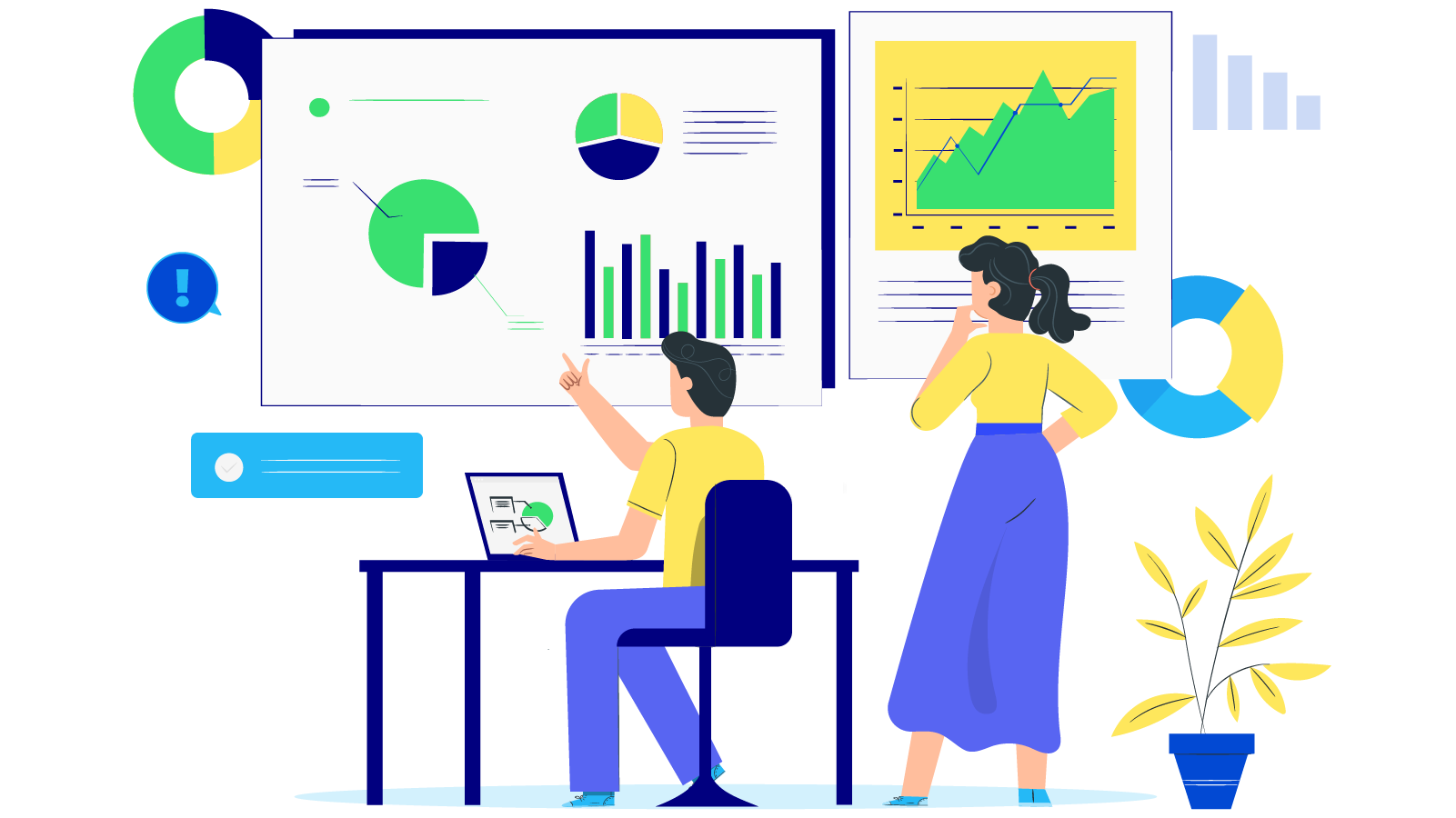 New Posts



Subscribe
Stay in the know
Get special offers on the latest news from Mageplaza.
Earn $10 in reward now!