How to show Magento 2 Configurable Products via table grid
The Most Popular Extension Builder for

Magento 2
With a big catalog of 224+ extensions for your online store
Do you know that, on average, three over four shoppers abandon their shopping cart in all industries? And one of the top causes of this number is "the complexity and time-consuming purchase process" as researched by Statis.com.
For Magento 2 stores and who are selling a number of configurable products, you properly need to optimize the customer shopping experience by offering them the most simple and user-friendly product page view. Via this blog, we hope that you can have a solution for displaying your configurable products smarter by the extension Configurable Product Grid View for Magento 2 websites.
Main Contents
How configurable products are shown in Magento 2 default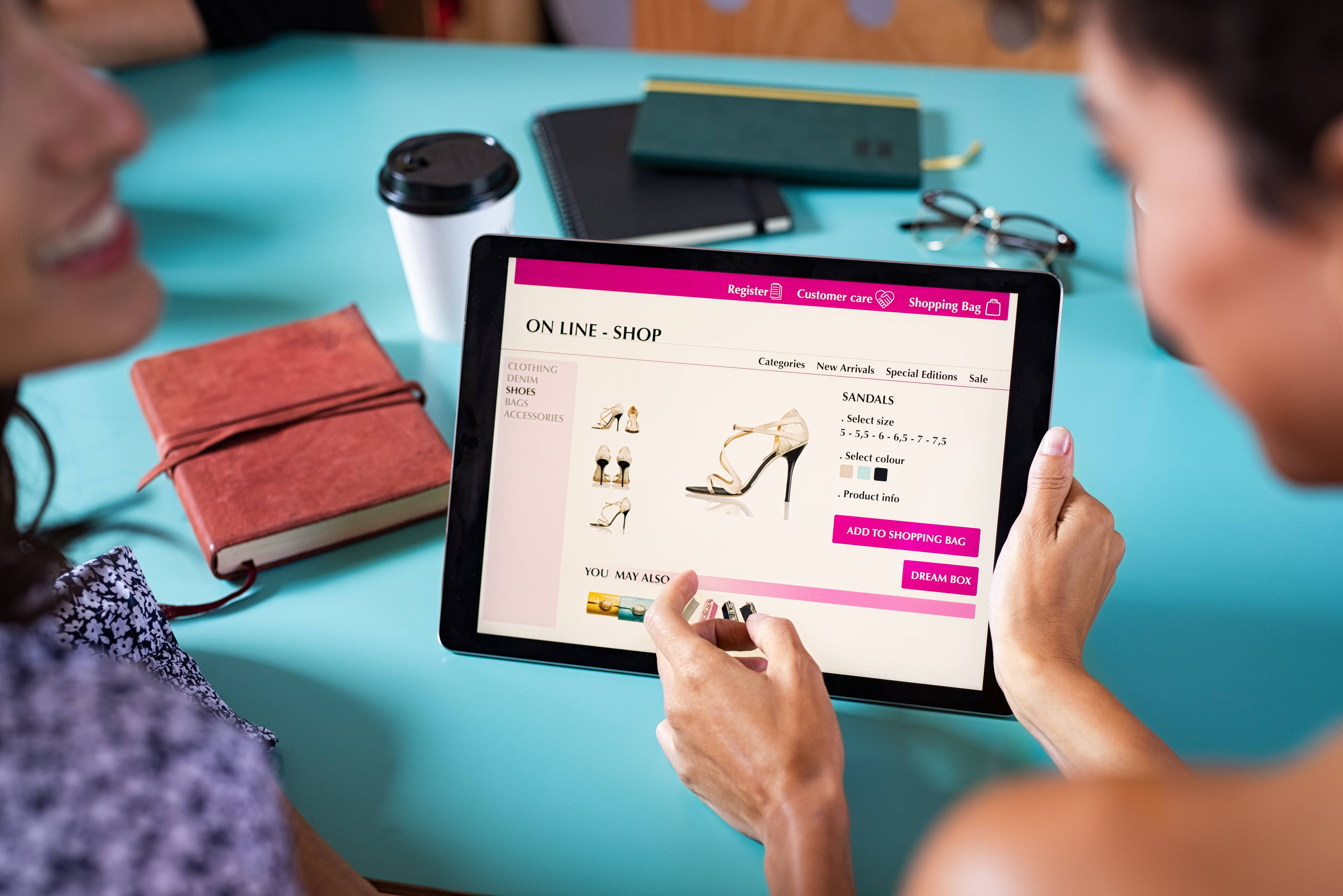 In the Magento 2 default, a configurable product is shown with multiple options' attributes in the filter row or on the drop-down list. Choosing a child product requires shoppers to select and filter each attribute manually. This process is time taking, especially, in case that buyers suddenly navigate to another page then come back to the product page to shop, they absolutely have to configure from the beginning to choose their favored items again.
As a consequence of this limitation, your store may face a higher abandonment rate. You can wonder why? It's simple. The selection of configurable products is time-consuming and frustrating if they need to be repeated, so it is likely that customers feel impatient and leave the store site without making the purchase. This is one of the most popular causes of an increase in the abandonment rate of Magento 2 stores.
The advantages of showing child products in a grid
Buyers friendly when shopping configurable products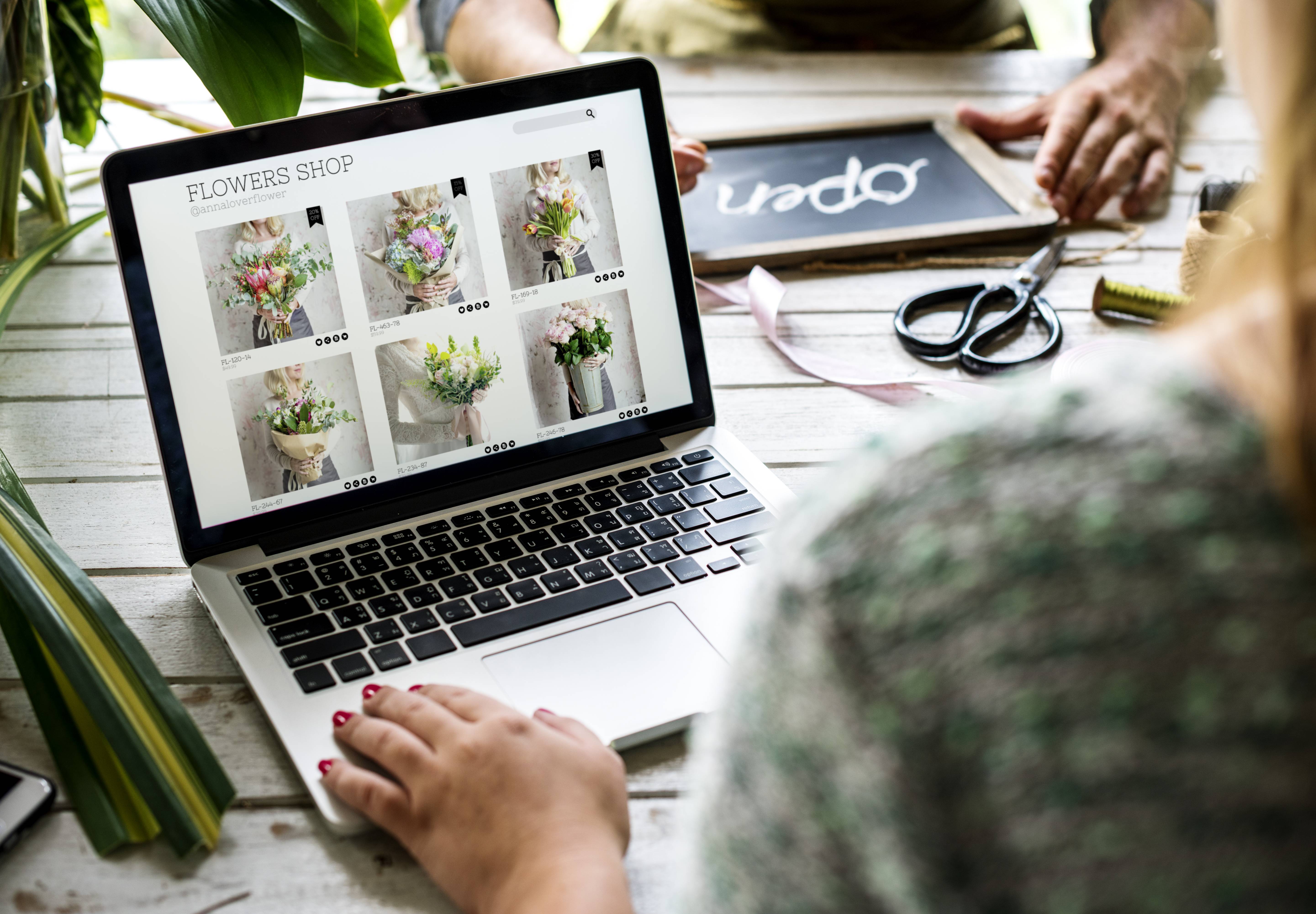 Configurable Product Grid View extension improves the display of configurable products by showing all available combinations of options to customers in a table grid format. This type of display allows customers to view all options quickly and make their decision more easily.
Faster the purchase
Because all options are shown clearly to customers as simple products, customers can pick multiple products at the same time, then add to their shopping cart. No waiting time, no repetition of product selection surely contributes to facilitating the transaction.
Convenient for wholesales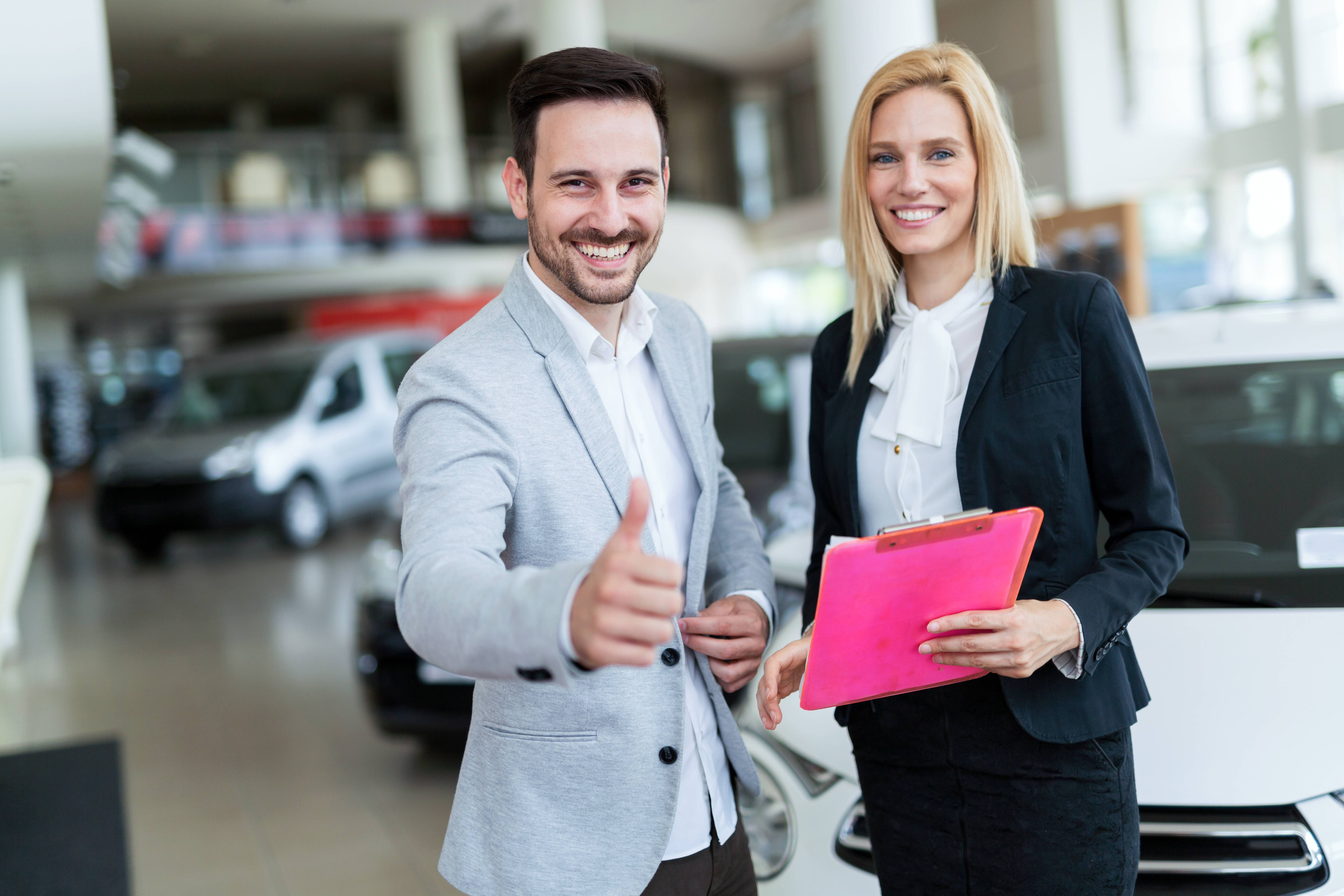 This extension is really helpful to the customers as wholesalers who often order a considerable number of children products. With this add-on, they can view all options available, select quantity and add to cart at once, which is very convenient and time-saving.
Reduce cart abandonment and enhance sales
With this improvement on the Configurable Product page, buyers are supported with the quick shopping journey. Picking configurable products to cart becomes much easier and faster than ever. Consequently, customers are willing to complete their orders in your stores.
Superlative functions by Configurable Product Grid View
Show all child products in a grid table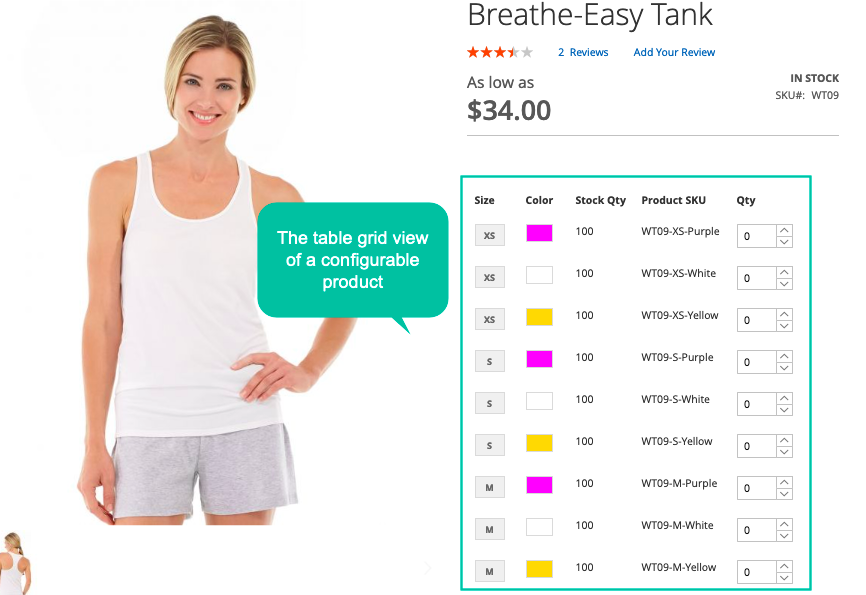 Magento 2 Default only allows showing Configurable Products in drop-down or horizontal options, which require customers to choose each simple product by attributes. However, Configurable Product Grid View uses a table to show all available related child products in a clear and detailed way right on Product Page.
Thanks to this innovation tool, the shopping steps and time with Configurable Products are minimized significantly. Buyers are only required to choose which combination they want by pick up the exact child products and add to cart easily.
Add mass child products to cart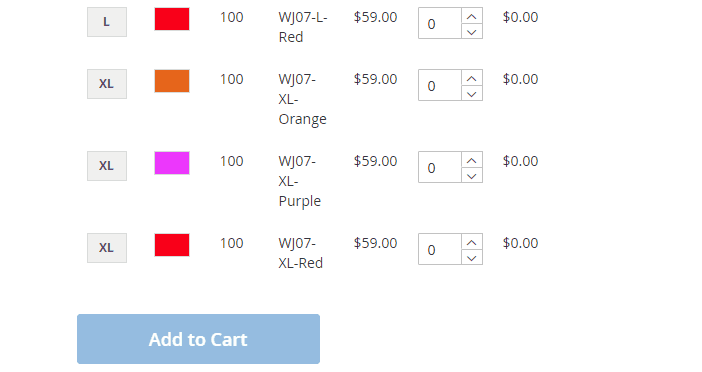 A simple product (or child product) of a configurable product is considered a separated and single item, which means that you can add them to cart in bug.
Customers easily choose the preferred child products once then move to shopping cart later to check it out. The process is short and simple to make the purchase experience pleasant and convenient for all of our busy shoppers these days.
View stock statuses of all child products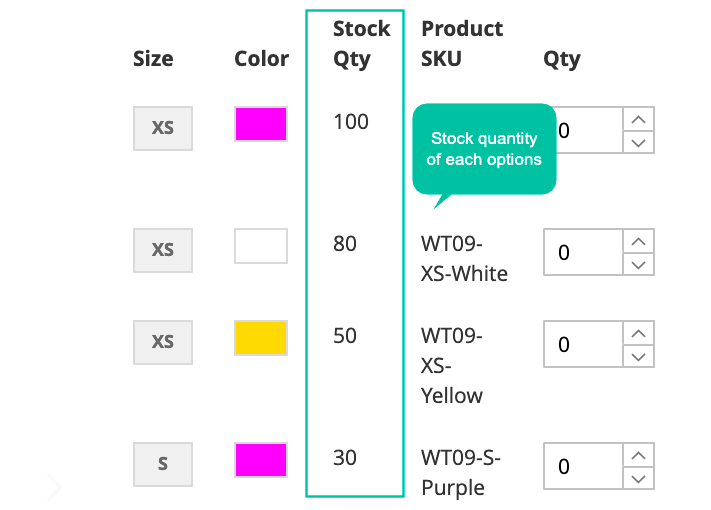 As the module counts each child product as a separated object, it can also be displayed along with its stock status. Let consider this case: a configurable product like a pair of shoes with different child products in color and size. Unfortunately, your blue shoes are running out of stock. Using this extension, customers can see the "Out of stock" notice under that blue pair of shoes. This helps them make the buying decision more accurately and quickly.
Show advanced pricing of configurable products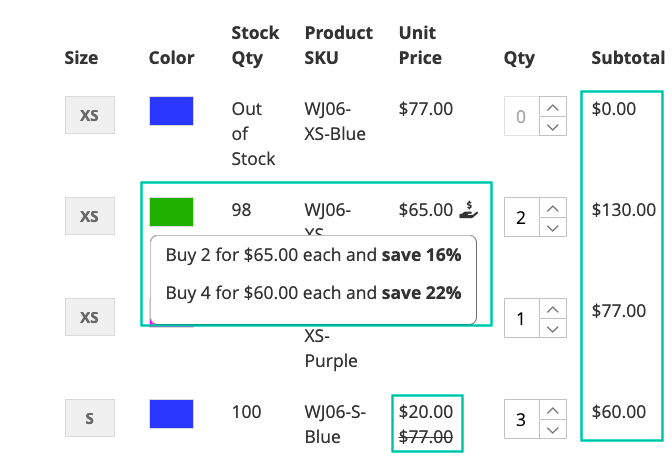 By Configurable Product Grid View, admins can show all the advanced pricing of every child product easily. In more details, at the grid table, buyers can view the following price types:
Unit price: The price per one child product
Special price: The discount price of children products shown next to the original price
Tier price: The unit price of children products based on certain purchase quantity
Subtotal: The total amount of all children products added to cart
Responsive with all devices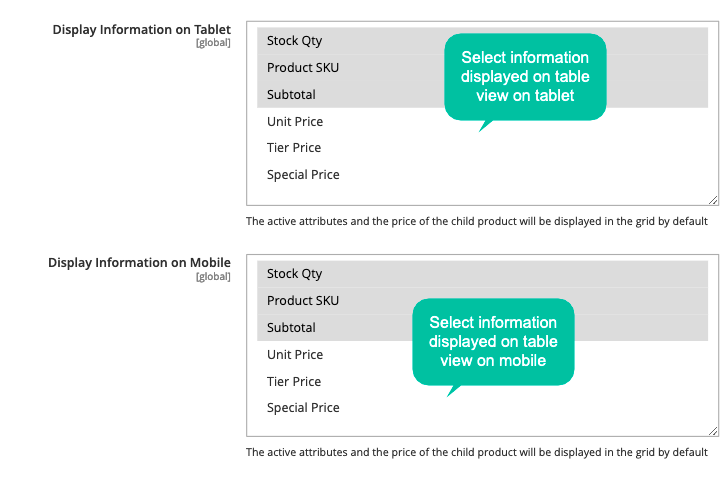 Due to the variations in screen sizes and shapes, admins need to choose the suitable and necessary information to display on certain devices to optimize the displaying indexes of the Configurable Product Grid. By Configurable Product Grid View extension, store admins are allowed to select information to create the table grid with different devices including PC, Tablet, Mobile. The information of children products can be:
Stock Quantity
Subtotal
Unit Price
Tier Price
Special Price
Full Features List
For store admins
Activate/Deactivate the module
Allow specific customer group to see Configurable Product Grid
Choose columns shown on the computer
Choose columns shown on the tablet
Choose columns shown on the mobile
Show total quantity and total value of all child products
Show/Hide out of stock products

For customers

Save time to select any configurable product
Better shopping experience
Quick and supportive for customers making large orders of configurable products
Final Words
Configurable Product Grid View is a helpful extension that displays all configurable products more clearly and fully in a table grid view. This special table facilitates customers to pick children products quickly and conveniently, supporting online stores to decrease abandonment and increase sales.
Buy Configurable Product Grid View
Website Support
& Maintenance Services
Make sure your store is not only in good shape but also thriving with a professional team yet at an affordable price.
Get Started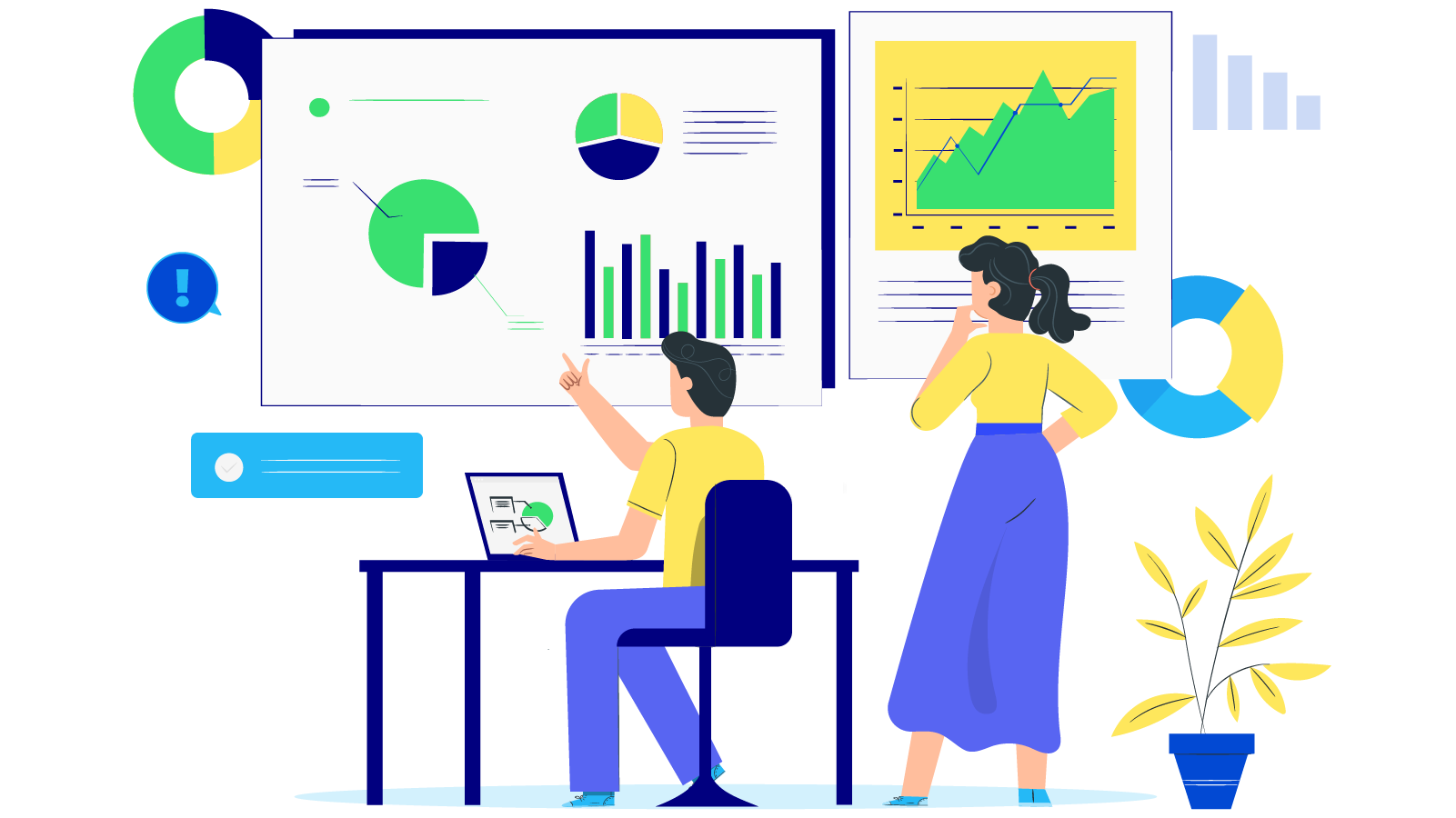 New Posts



Subscribe
Stay in the know
Get special offers on the latest news from Mageplaza.
Earn $10 in reward now!