Shopify Dropshipping: A Comprehensive Guide on How to Dropship for 2023
The Most Popular Extension Builder for

Magento 2
With a big catalog of 224+ extensions for your online store
In the rapidly evolving landscape of e-commerce, e-commerce dropshipping has become a popular business model because it enables entrepreneurs to sell products without the headache of keeping inventory or fulfilling orders. Dropshipping is a type of fulfillment in which things are shipped directly to customers from the manufacturer. One of the platforms that has revolutionized the dropshipping game is Shopify.
Table of Contents
Why is Shopify a top choice for dropshipping?
What is Shopify?
Shopify is a leading e-commerce platform that allows entrepreneurs to set up and run their own online stores. It has a simple layout and many useful features, making it simple for anyone to start selling products online. You can manage your inventory, process payments, and track orders all in one place using Shopify.
What is Shopify Dropshipping?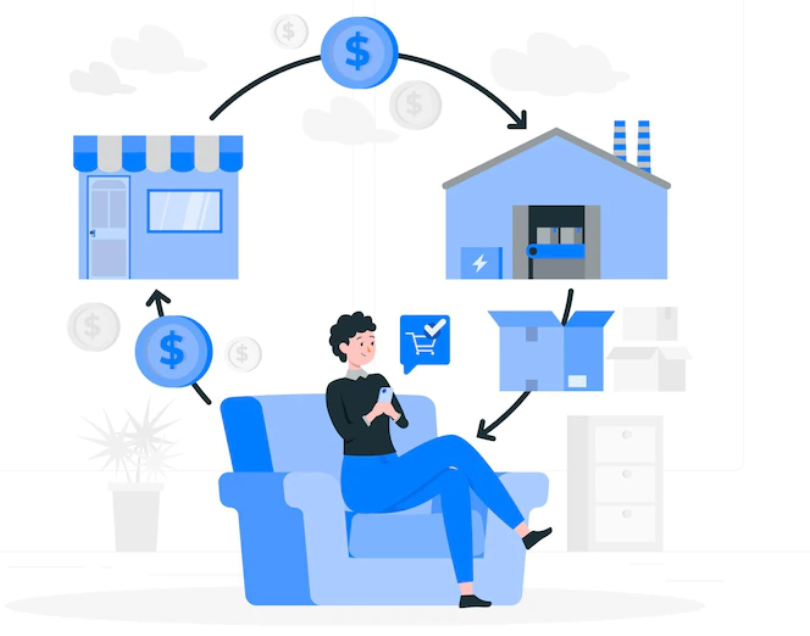 The Shopify Dropshipping business concept enables you to offer products to customers without having to carry any inventory. Rather than storing goods yourself, you can work with suppliers who will supply items directly to your clients. This means that you can launch a profitable Shopify store without the need for a physical warehouse or expensive inventory.
Shopify is the best choice for selling for more than one reason.
First of all, Shopify has a tool that is simple and easy to use, even for beginners. With its drag-and-drop system, you can make an online store that looks good even if you don't know how to code or design. Additionally, Shopify offers a large variety of themes and templates from which to tailor your store to match your brand.
Secondly, Shopify offers a robust set of features that are specifically designed for e-commerce businesses. From inventory management to order tracking and customer support, Shopify has everything you need to run a successful dropshipping business.
To further expand your store's functionality and enhance your operations, it also integrates with a wide range of external apps and services.
Lastly, Shopify provides great customer support. Shopify has a team of professionals available 24/7 to help you with anything, whether it's a technical problem or you just need some guidance in getting your store up and running. They offer 24/7 support via email, live chat, and phone, ensuring that you never feel stranded in your dropshipping journey.
Want to establish your own dropshipping business? Everything you need to know to launch and run a thriving dropshipping business on Shopify in 2023 is included in this detailed tutorial. Whether you're just starting out or looking to take your existing venture to new heights, the strategies and tips in this article will give you a solid basis for navigating the ever-changing world of e-commerce.
Let's get started
5 Steps to Start Dropshipping on Shopify
Step 1: Research and Planning
1. Choose a Niche
Select a specific product category or niche that you're passionate about and that has market demand.
Look for products that are in high demand but have low competition, as this will increase your chances of making sales. Google Trends and other keyword research tools can help you locate popular products and promising niches.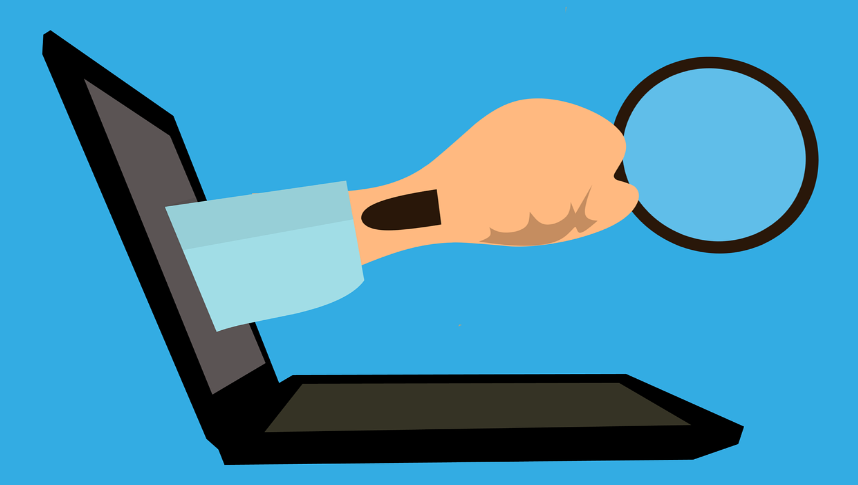 Learn more: 13+ Best Dropshipping Products That Can Bring More Profit in 2023
2. Competitor Analysis
Competitor analysis is the process of identifying and assessing your dropshipping competitors. It helps you understand their strengths and limitations, as well as strategies to differentiate your store from them. When you begin dropshipping on Shopify, follow these steps to do a competitive analysis: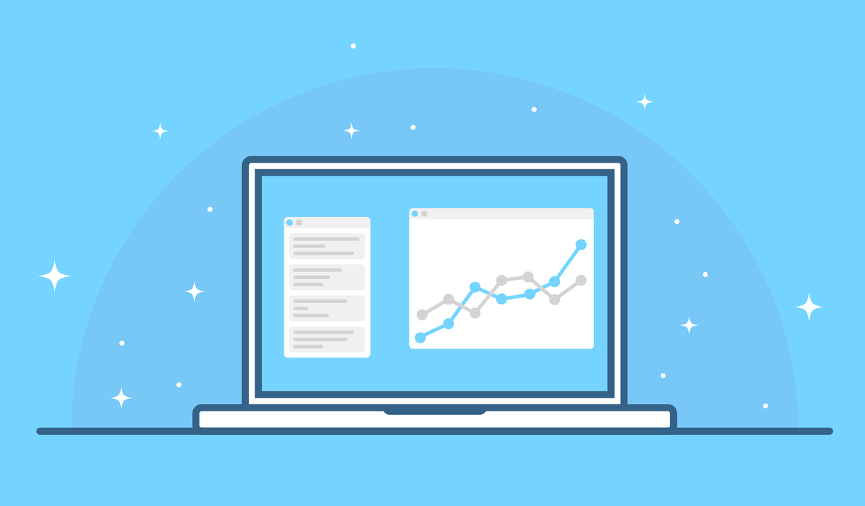 1. Identify your competitors
You can use various tools to find out who the top players are in your niche. For example, you can use Google to look for keywords related to your products and see which websites rank high in the results. You can also use Amazon and eBay to search for sellers who offer similar products to yours. Another tool you can use is KeywordSpy, which can show you the organic competitors for any keyword you enter.
2. Analyze their websites
Once you have a list of competitors, you can visit their websites and examine their designs, products, prices, content, and customer reviews. You can look for things like:
How user-friendly and attractive is their website?
What are their best-selling products, and how do they showcase them?
How do they price their products, and what discounts or offers do they provide?
What kind of content do they create to attract and engage customers?
What are the feedback and ratings from their customers?
3. Analyze their marketing strategies
You can also research how your competitors promote their products and reach their target audience. You can look for things like:
What social media platforms do they use, and how active are they?
What kind of ads do they run, and where do they display them?
What keywords do they target, and how do they optimize their SEO?
What email marketing campaigns do they send, and how often?
What influencers or affiliates do they collaborate with, and how effective are they?
4. Identify your competitive advantages and gaps
Using your research, you can figure out what makes your store different and where you need to make improvements. You can look for things like:
What are the unique value propositions of your products or services?
What are the customer pain points or problems that your products or services solve?
What are the opportunities or trends that you can leverage in your niche?
What are the threats or challenges that you face in your niche?
What are the best practices or benchmarks that you can learn from your competitors?
By following these steps, you can conduct a competitor analysis when you start dropshipping on Shopify. This can help you gain insights into your market, customers, and competitors, and help you develop a better business strategy.
3. Supplier Research
Once you have identified the products you want to sell, the next step is to find reliable suppliers.
Your e-commerce dropshipping business will only be successful if you work with reliable suppliers. They will be in charge of filling orders and delivering goods to your customers.
When researching suppliers, consider factors such as reliability, product quality, shipping times, and customer service.
One way to find reliable suppliers is by using supplier directories and marketplaces. Shopify has a built-in supplier directory called Oberlo, which allows you to find and import products from verified suppliers. Oberlo also provides detailed information about each supplier, including their average shipping times and customer ratings.
Another option is to reach out to manufacturers and wholesalers directly. This allows you to establish a direct relationship with the supplier and negotiate better deals.
Before finalizing a supplier, it is important to test their products and services. Place a few test orders to assess the quality of the products and the reliability of the supplier. Pay attention to shipping times, packaging, and overall customer experience.
If everything meets your expectations, you can proceed with partnering with the supplier.
Step 2: Create Your Shopify Store
1. Sign Up for Shopify
Go to shopify and sign up for an account.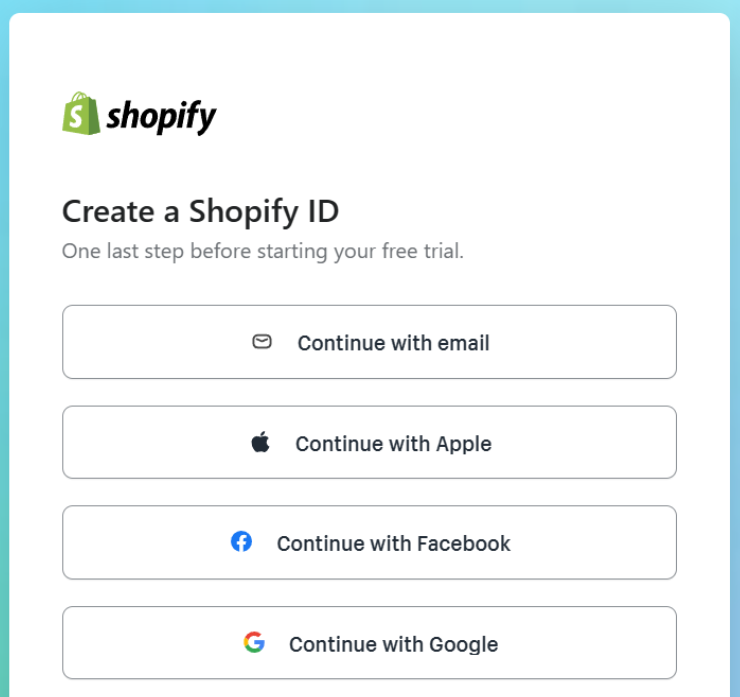 2. Add Products
Install a dropshipping app like Oberlo, Spocket, or Modalyst from the Shopify App Store. Use the dropshipping app to find and import products from your chosen suppliers.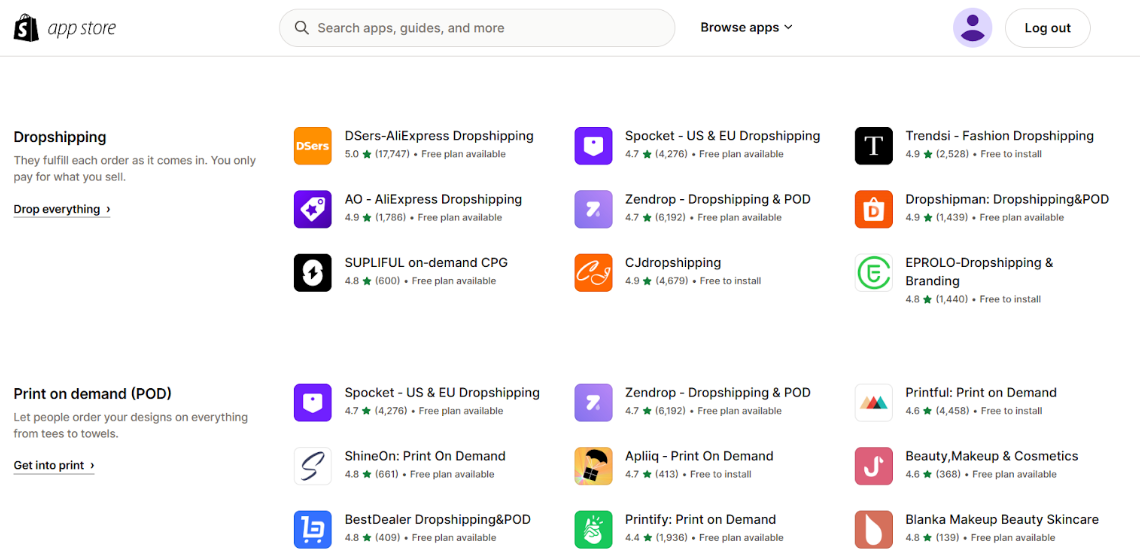 Edit product details, descriptions, high-quality images as needed, and any other relevant information to entice customers. Set your own prices for the products, considering factors like supplier costs, shipping, and desired profit margin.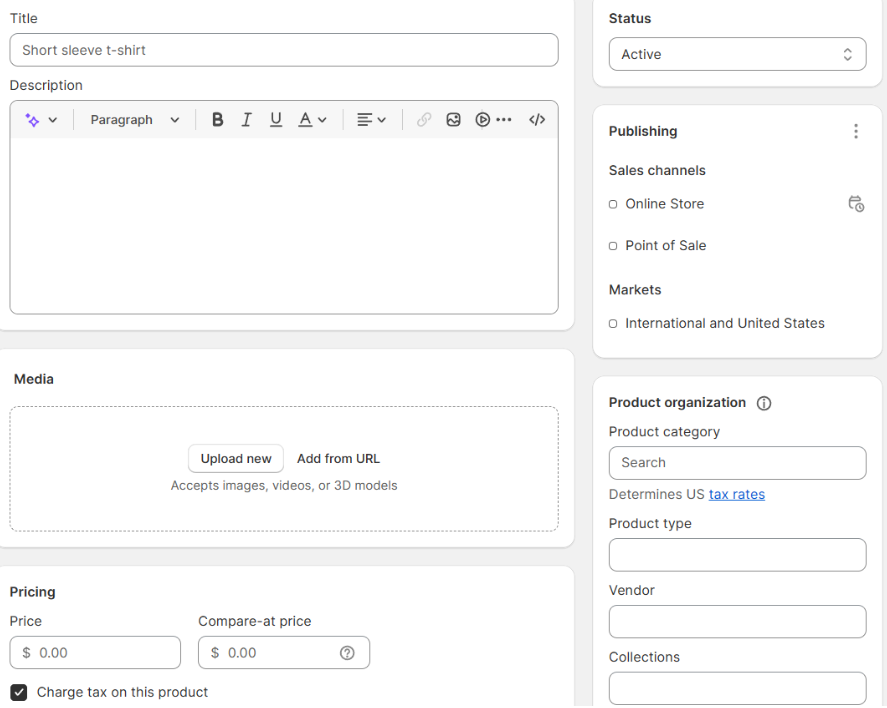 3. Choose a Theme
Browse through the wide selection of themes available on Shopify and choose one that best suits your brand and products. Change the theme so that it fits with your branding and makes your store look attractive.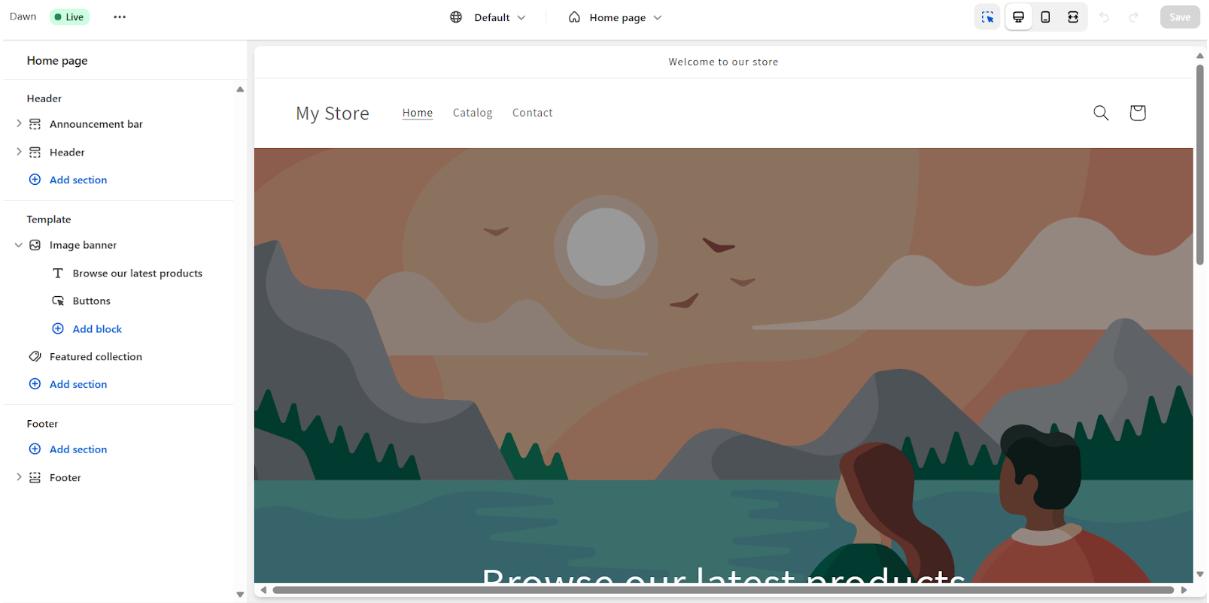 4. Add a custom domain
Adding a custom domain helps you establish your brand and build trust in your online store. If you want to modify the URL that customers use to access your store, you may purchase a custom domain from Shopify or link to an existing third-party domain.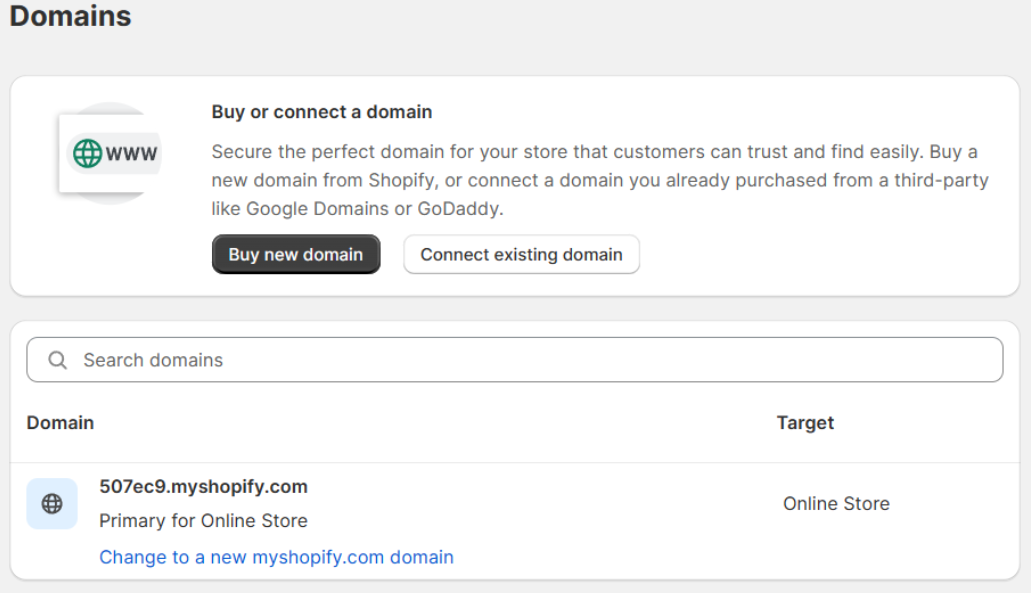 5. Add sharing details
Add a social sharing image, title, and description to your store before you share it on social media. You can choose what picture, title, and description people see when you share a link to your homepage on Facebook or Pinterest. Your title and meta description can also help your store come up higher in search results. Include the keywords that your customers use to get them to click the link to your store.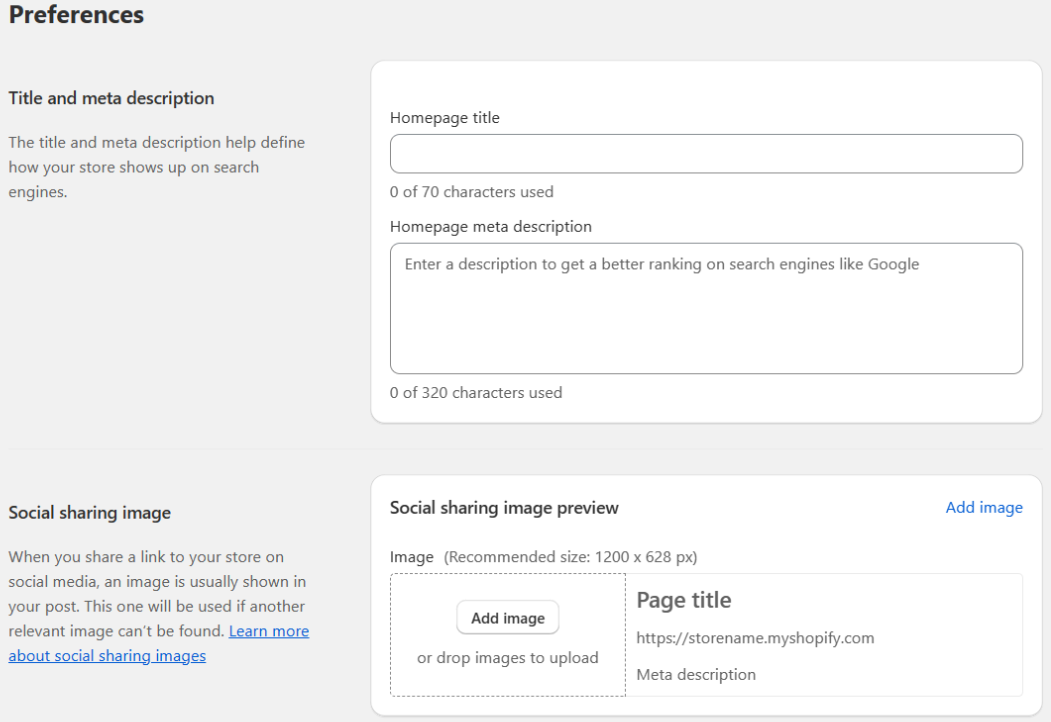 6. Choose a unique store name
This is the name that your customers will see when they visit your website. The name you choose should be one that stands out from the crowd while also being descriptive of your business. You can use the business name generator tool from Shopify to come up with your brand's name in a few seconds.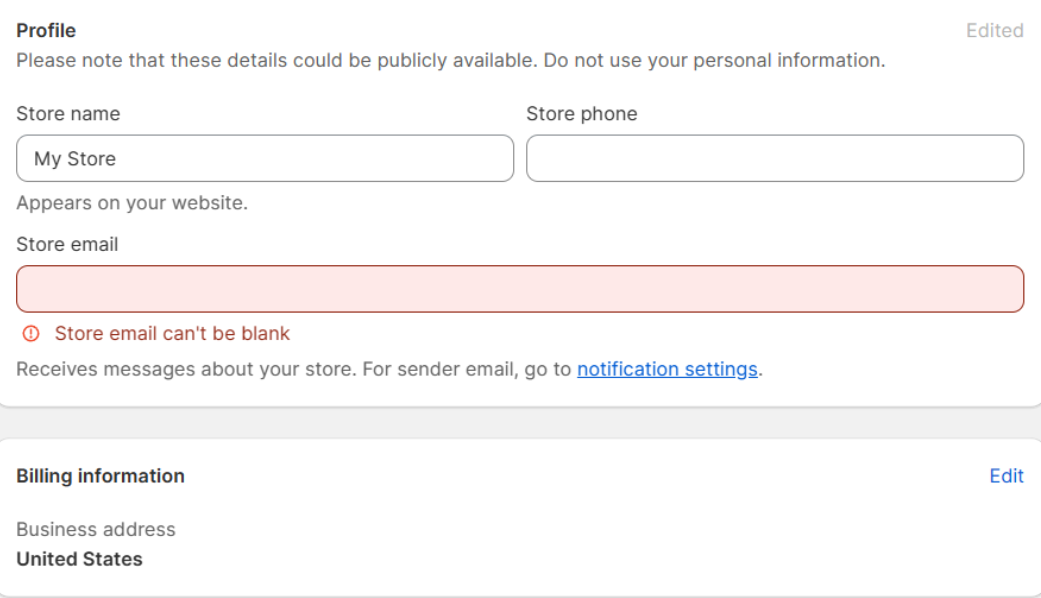 7. Payment Gateways
Set up payment gateways like Shopify Payments, PayPal, and credit cards to accept customer payments. Choose a payment gateway that is trusted and widely used in your target market.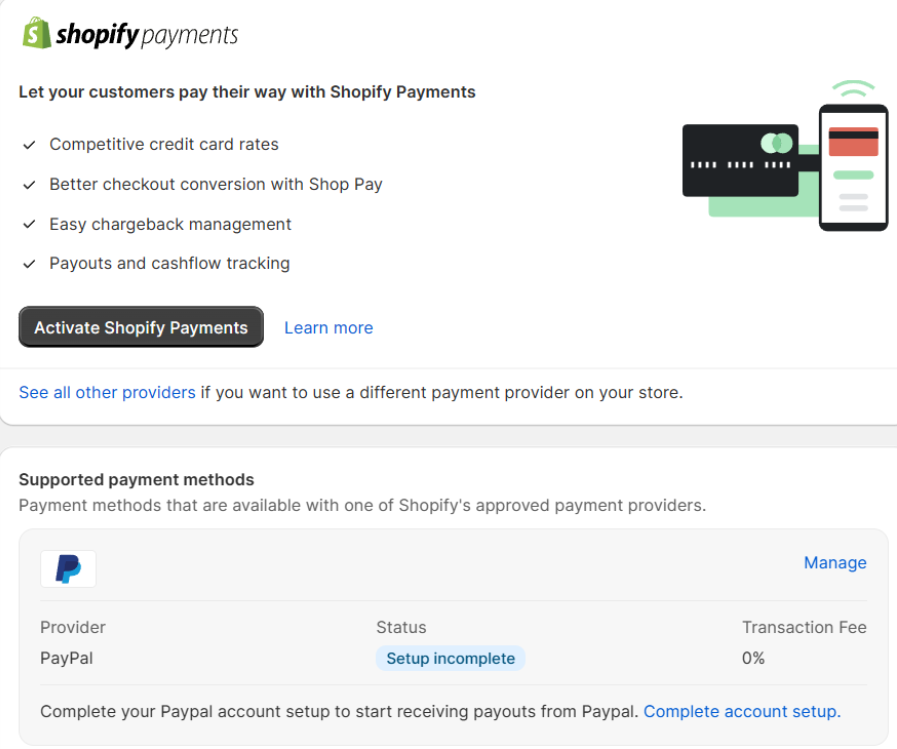 8. Shipping Settings
Configure shipping rates, zones, and estimated delivery times.
Determine whether to offer free shipping or flat-rate options.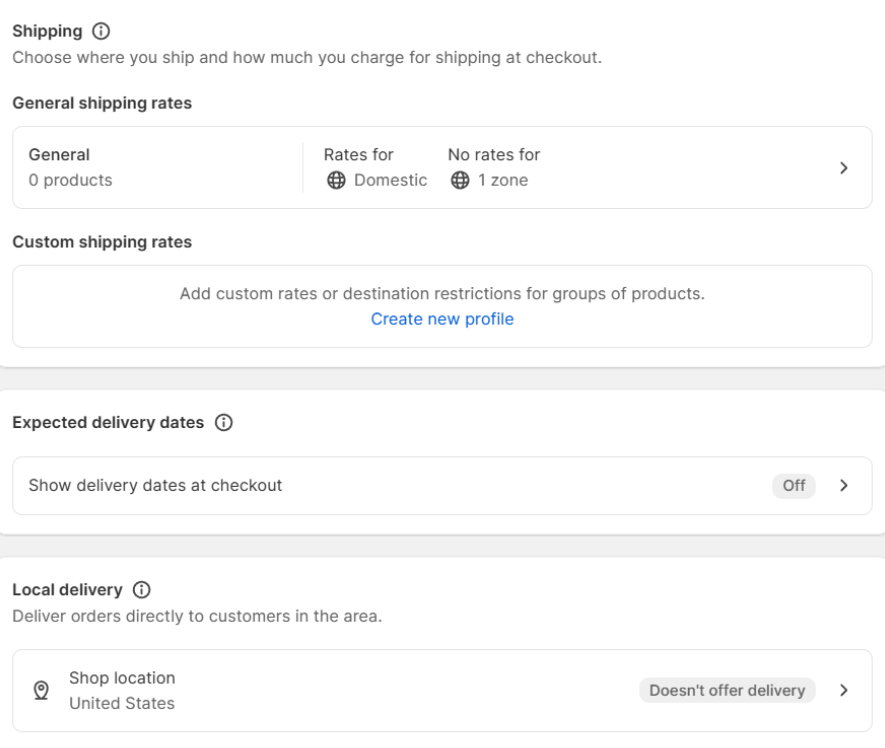 9. Launch
Your online store can now be opened once you've finished all the setup. You should select a Shopify plan that best fits your demands and your wallet, remove the password, and then your shop is ready!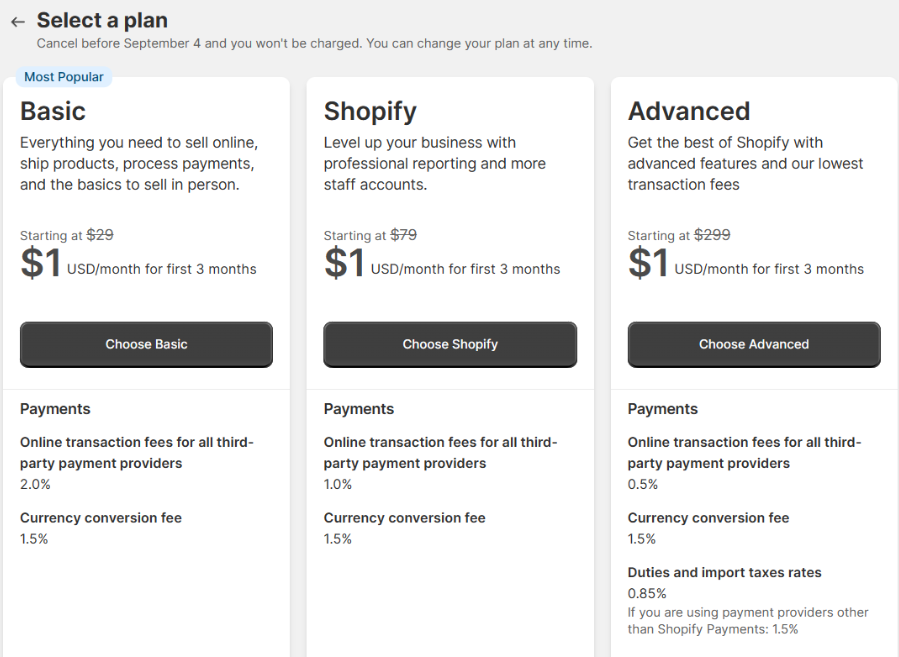 Step 3: Launch and Marketing
Once your store is set up, products are listed, and inventory is managed, it's time to focus on marketing and promoting your dropshipping store. Marketing is essential for attracting visitors to your store and increasing revenue. Consider the following effective marketing strategies:
Social media marketing: To market your items and engage with your target audience, use popular social media platforms such as Facebook, Instagram, and Pinterest. Create compelling content, run targeted ads, and collaborate with influencers to expand your reach.

Search engine optimization (SEO): Improve organic traffic by optimizing your website and product listings for search engines.. Conduct keyword research, optimize your meta tags and descriptions, and create valuable content that attracts and engages potential customers.

Email marketing: Establish a customer email list and use it to send out regular newsletters and special offers in order to maintain consumer interest and boost sales. Offer incentives such as discounts and exclusive offers to encourage sign-ups.
Learn more: 15+ Best Shopify Email Marketing Apps in 2023
Paid advertising: Advertise on Google Ads or Facebook Ads to reach a larger audience and send qualified leads straight to your online shop. Determine your target audience, establish a budget, and monitor the performance of your ads to maximize ROI.

Content marketing: Produce useful and valuable material, such as videos, blog posts, and tutorials, that is relevant to your products and target audience. This not only helps drive traffic to your store but also positions you as an authority in your niche.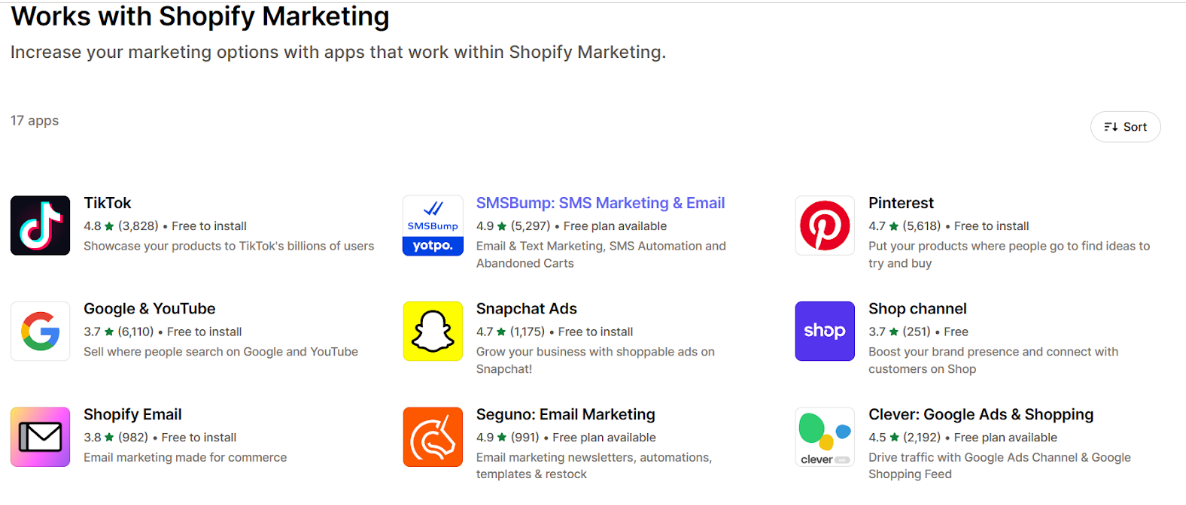 Step 4: Customer Support and Order Fulfillment
1. Customer Support
Provide outstanding customer service by responding to questions and addressing concerns as soon as possible.
2. Managing inventory and order fulfillment
One of the advantages of e-commerce dropshipping on Shopify is that you don't have to worry about managing inventory or shipping. However, Despite this, it is essential to maintain control of your inventory and check that the products that customers want to buy are in stock and ready to ship. This involves regularly communicating with your suppliers and updating your inventory levels.
Shopify provides various inventory management apps and tools that can help you streamline the process. These tools allow you to automatically sync your inventory with your suppliers, receive notifications when products are out of stock, and track the status of each order.
By staying organized and proactive, you can ensure a smooth order fulfillment process and avoid disappointing your customers.
3. Tracking Orders
Keep customers informed by providing order tracking information and estimated delivery dates.
Step 5: Continuous Improvement
1. Analyze Performance
Regularly monitor your store's analytics to track sales, traffic, and customer behavior.
2. Optimize
Track your conversion rates, analyze customer behavior, and make data-driven decisions to grow your business.
Remember, dropshipping requires ongoing effort and adaptation. Stay engaged with your audience, keep up with industry trends, and continuously work to enhance your customers' experiences.
Case Studies: Successful E-commerce Dropshipping on Shopify Stories
1."Mystic Jewels Boutique" - Capitalizing on Trends
Maya Patel, an entrepreneur, started Mystic Jewels Boutique in 2017. It quickly became the place to go for unique, spiritually inspired jewelry. Maya's dropshipping plan was to stay on top of jewelry trends and capitalize on them. She kept a close eye on fashion and pop culture trends to make sure that her products were in line with what buyers were looking for.
Maya worked with a number of jewelry suppliers to make sure she had a wide range of goods and styles. By constantly updating her product selection to reflect new trends, she gave her customers a sense of urgency and exclusivity. Mystic Jewels Boutique's success depended on its ability to offer trendy jewelry without having to worry about keeping track of its stock.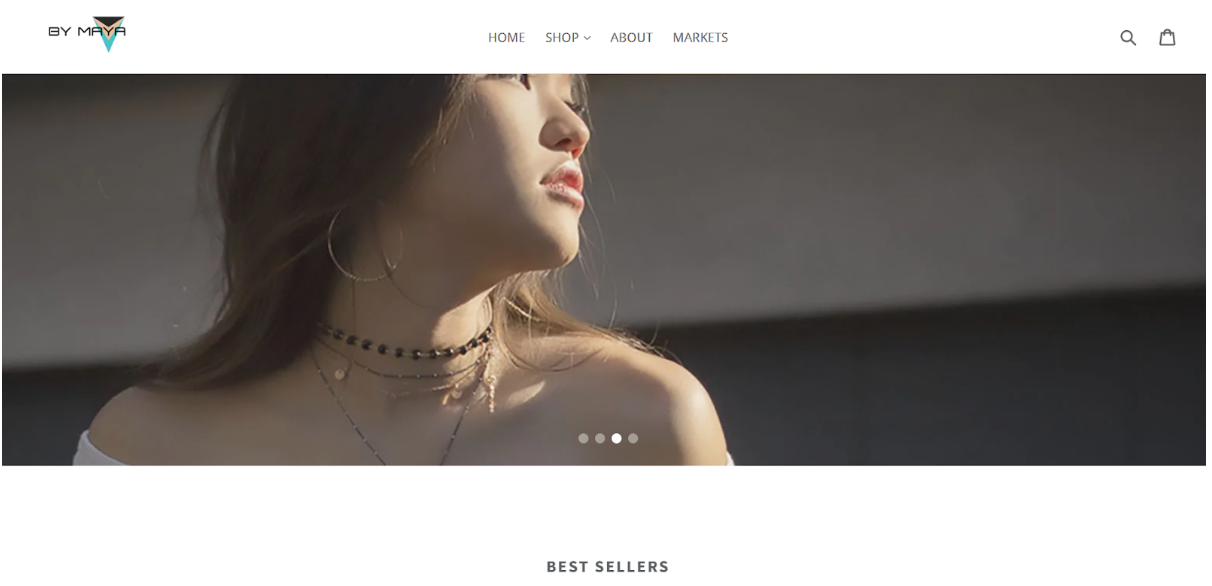 2."Pawsome Pets" - Niche Expertise and Community Building
Pawsome Pets, launched by animal lover and entrepreneur Alex Turner in 2018, specializes in pet accessories and supplies. Alex's dropshipping strategy centered on building a passionate community around his brand. He immersed himself in the pet owners' world, understanding their needs and concerns.
Alex leveraged social media platforms to create engaging content, featuring customer-submitted photos of their furry companions with Pawsome Pets' products. This user-generated content not only built trust but also fostered a sense of belonging among pet owners. The store's unique value proposition was its curated selection of pet essentials, delivered hassle-free through its dropshipping partnerships.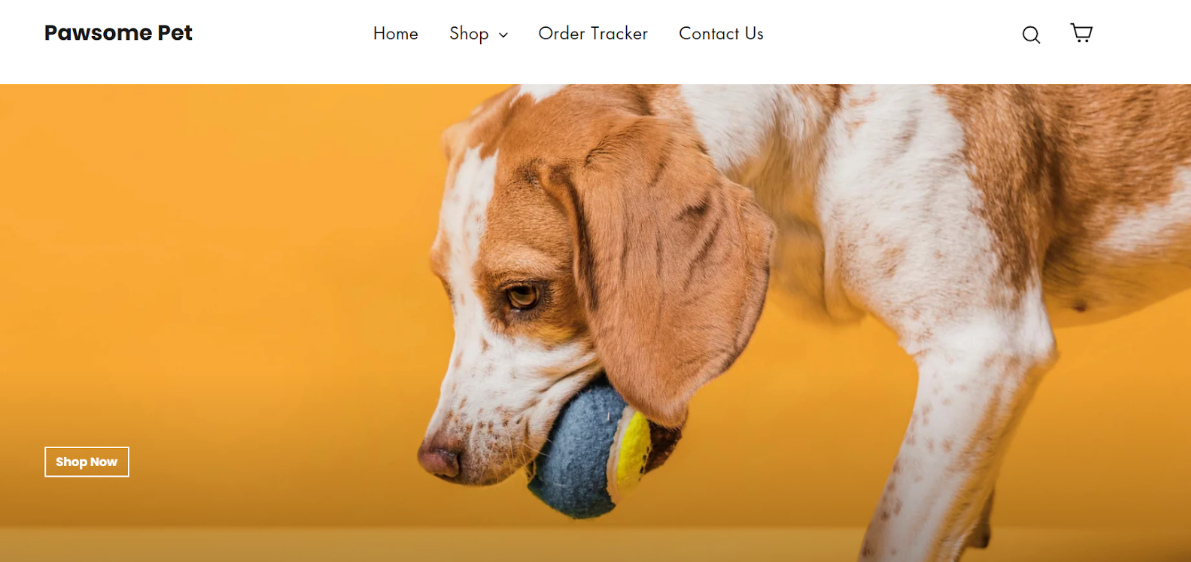 The Future of Shopify Dropshipping Beyond 2023
We can expect the Shopify dropshipping business to keep growing and changing after 2023. As e-commerce grows and online shopping becomes more popular, dropshipping is likely to become even more common.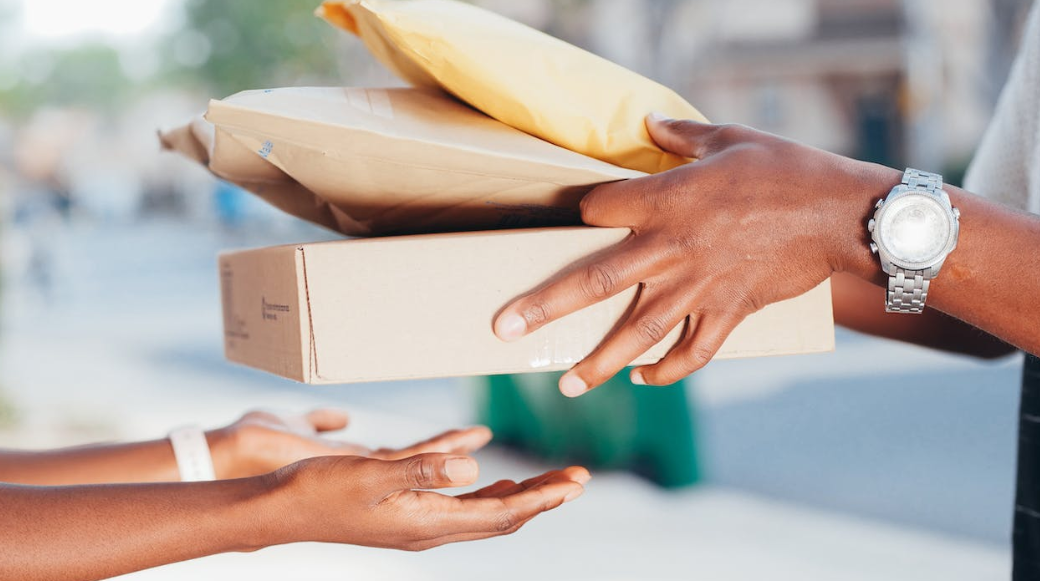 Here's a glimpse of what to expect:
Enhanced Automation and Technology Integration
One of the key trends we can anticipate is the integration of artificial intelligence (AI) and machine learning into dropshipping processes. AI-powered tools can help automate various aspects of the dropshipping business, such as product sourcing, inventory management, and customer support. This will enable entrepreneurs to streamline their operations, reduce costs, and provide better customer experiences.
Sustainable and Ethical Practices
The focus on sustainability and ethical sourcing will also shape e-commerce dropshipping. Consumers are increasingly demanding eco-friendly and socially responsible items. Product and supply chain sustainability will help dropshippers grab this increasing market.
Augmented Reality (AR) and Virtual Try-Ons
Also, integrating augmented reality (AR) and virtual reality (VR) technologies into shopping will change the way people shop online. With AR and VR, customers can virtually try on clothes, see how furniture will look in their homes, and experience goods in a more interactive and immersive way. Dropshippers who use these technologies will be able to offer a unique and interesting shopping experience, putting themselves apart from the competition.
Conclusion
E-commerce dropshipping on Shopify offers a lucrative opportunity for entrepreneurs to start and scale their own e-commerce businesses. With its user-friendly interface, extensive features, and excellent customer support, Shopify is the ultimate platform for mastering dropshipping. By following the detailed steps outlined in this guide and learning from successful case studies, you can build a thriving dropshipping business on Shopify.
As we look to the future of Shopify dropshipping beyond 2023, it's clear that the industry will continue to evolve and innovate. By staying ahead of trends and embracing technologies like AI, AR, and VR, dropshippers can position themselves for long-term success.
So, take the plunge and start mastering e-commerce dropshipping on Shopify today!
Related post:
10 Best eCommerce Platforms for Dropshipping in 2023
Top 10 Dropshipping Websites: Begin Your E-Commerce Journey

Marketing Manager of Mageplaza. Summer is attracted by new things. She loves writing, travelling and photography. Perceives herself as a part-time gymmer and a full-time dream chaser.
Website Support
& Maintenance Services
Make sure your store is not only in good shape but also thriving with a professional team yet at an affordable price.
Get Started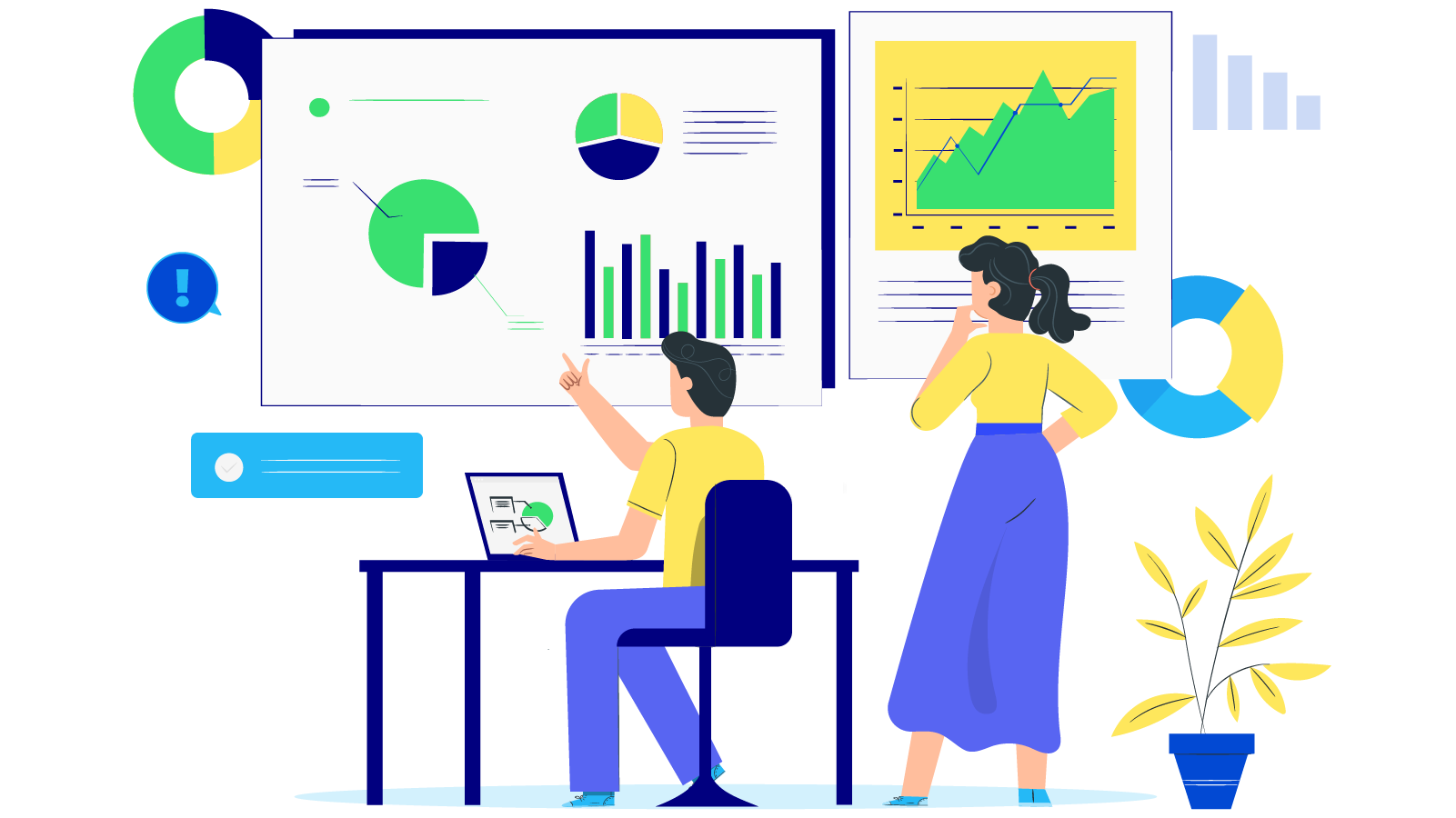 New Posts



Subscribe
Stay in the know
Get special offers on the latest news from Mageplaza.
Earn $10 in reward now!