Magento 2 store Payment restriction - 4 most common case studies
The Most Popular Extension Builder for

Magento 2
With a big catalog of 224+ extensions for your online store
Magento 2 Payment Restrictions is a supportive tool which helps store owners to restrict the use of payment methods based on specific conditions such as store views, customer groups, countries/states, product attributes and more.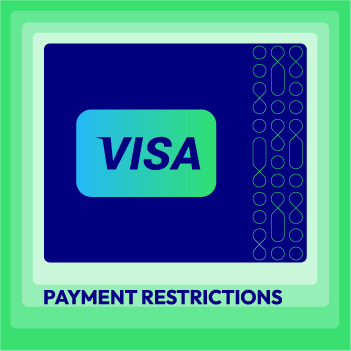 Payment Restriction for Magento 2
Allows store admins to restrict payment choices of customers using conditions to assign payment methods
Check it out!
Table of contents
Magento 2 Payment restriction: 4 most common case studies
Case study 1: Restrict payment based on cart total
For some orders with high value cart total, admin can set the specific payment methods for that to assure that they will receive the money without any troubles. To illustrate, let take a look at the jewelry industry, most of the items purchased are high value items, which require stores' owners to be truly careful with the payment. If they do not give an eye to this, they may get in big loss for their business.
Case study 2: Enable payment depending on the product information
Another application of payment restriction is that admins can apply restrictions based on order information to create various payment conditions for your clients. For illustration, you can disable 'check/money order' method for cheap items or products of a particular material. Thanks to this, you can control your revenue by deciding payment restrictions for certain products based on their attributes. For example, you can disable PayPal for items in a particular category, by some manufacture or at a specific price.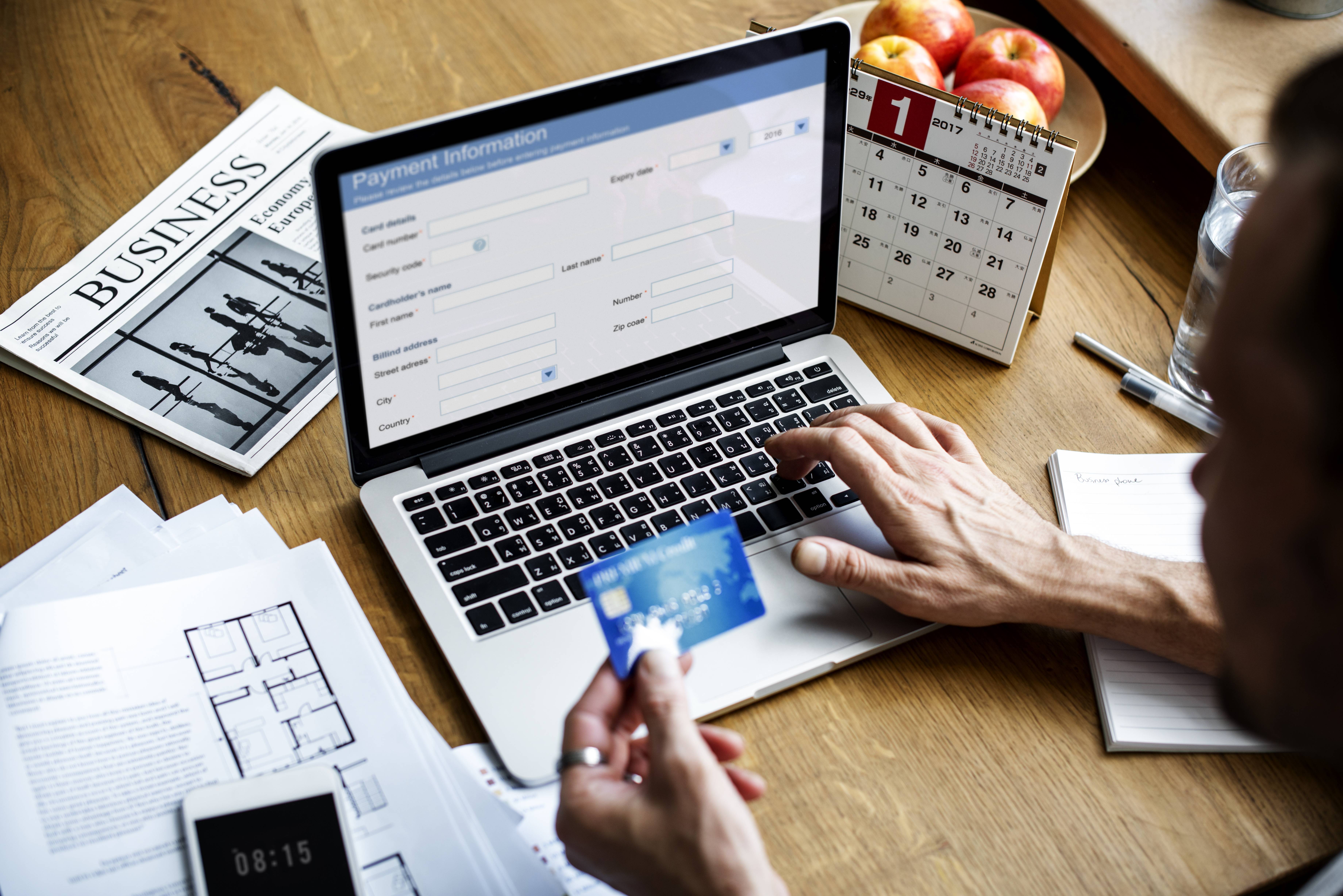 Case study 3: Allow specific payments by certain countries
For several countries, there are some payment methods which are not used. Therefore the store owners would like to remove these methods in checkout page in order to prevent the customers from being confused. Payment restriction is especially crucial to multi-national stores.
Case study 4: Disable one or some payment methods by customer groups
Payment also needs to be varied by customer groups. Since one e-store can have transactions with different customer types, they need to treat them separately to make full use of the customer segmentation. To be more clear, admins can restrict not logged in customers of the COD payment methods, whereas allowing other individual logged-in buyers to receive their items then pay money. Besides, for wholesalers, since they purchase a considerable amount of products, online stores need to offer them Bank transfer method only. This will help sellers flexibly manage their order and payment efficiently.
Highlight features of Mageplaza Payment Restriction module
Display payment methods depending on shipping methods
Since online stores often offer buyers multiple shipping methods, allowing the suitable payment for certain shipping approaches is truly helpful for better sales management. Store owners, by this, can balance the shipping cost charged by the third parties and the risky possibilities of the customer' orders.
For instance, if customers select FedEx shipping method, they are required to pay via Bank Transfer. Otherwise, for free shipping, customers can choose Cash on Delivery payment.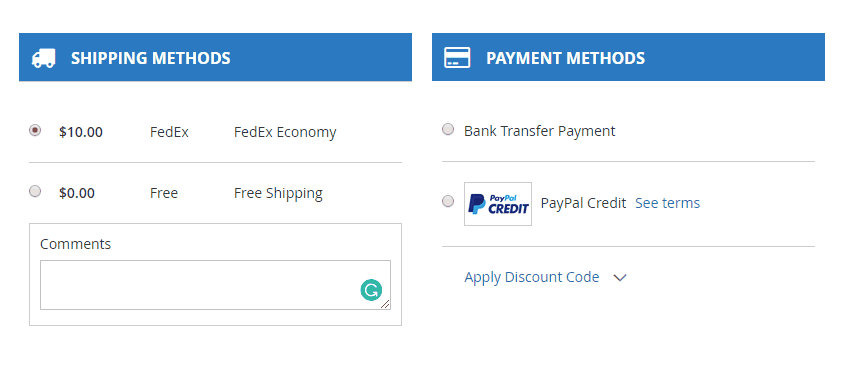 Limit payment by product information
Moreover, admin can restrict the payment methods based on orders' information. The price of a product is stronly determined by its attributes such as the material, the style, the quantity, etc. Thus, to prevent risky possibilities of orders (like abandoned carts), store owners would like to set payment restriction based on the attributes of items.
To illustrate, an accessories shop selling a limited-edition bag made from rare material requires buyers to pay via Bank Transfer Payment and does not accept Cash on Delivery. This will help shop owners manage their sales more securely and effectively.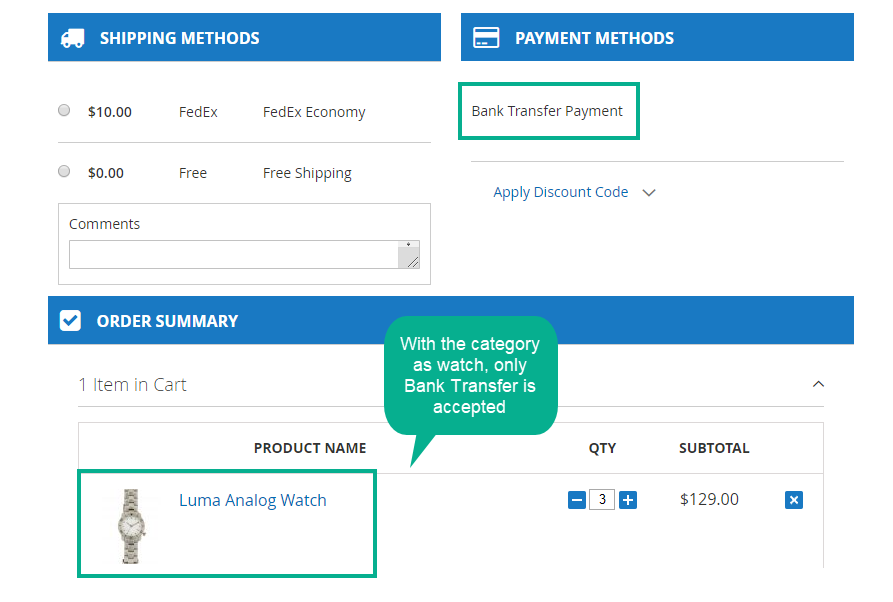 Enable certain gateways based on cart total
One of the key features of Payment Restriction is restricting payment methods depending on the cart total. It is understandable that store owners take special consideration for the high-value orders so they need the orders guaranteed by safe payment methods such as Wire Transfer.
Admins can easily select condition as Cart Subtotal then apply the rule with specific suitable payment methods.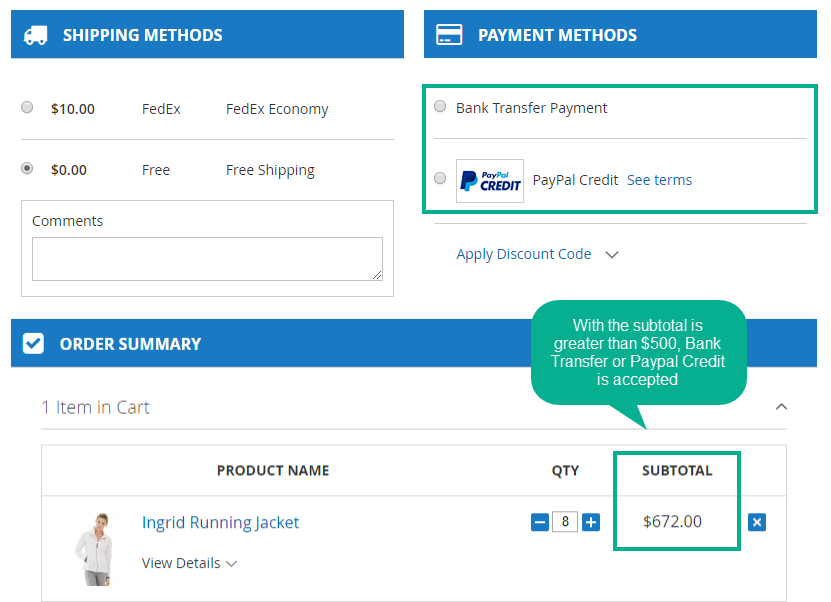 Apply for both frontend and backend orders
Admins also can choose to apply each restriction rule for payment for Frontend Orders, Backend Orders or both of them. This is an outstanding feature of Payment Restriction.
At the frontend, certain payment methods can be displayed on Minicart, View Cart Page, and Checkout Page. Regarding this, the module is fully compatible with Mageplaza One Step Checkout.
At the bottom of the spectrum, for special orders (with very high value or from special customers) which store owners would like to set the rule for these orders only visible from the backend, Payment Restriction module can assist well.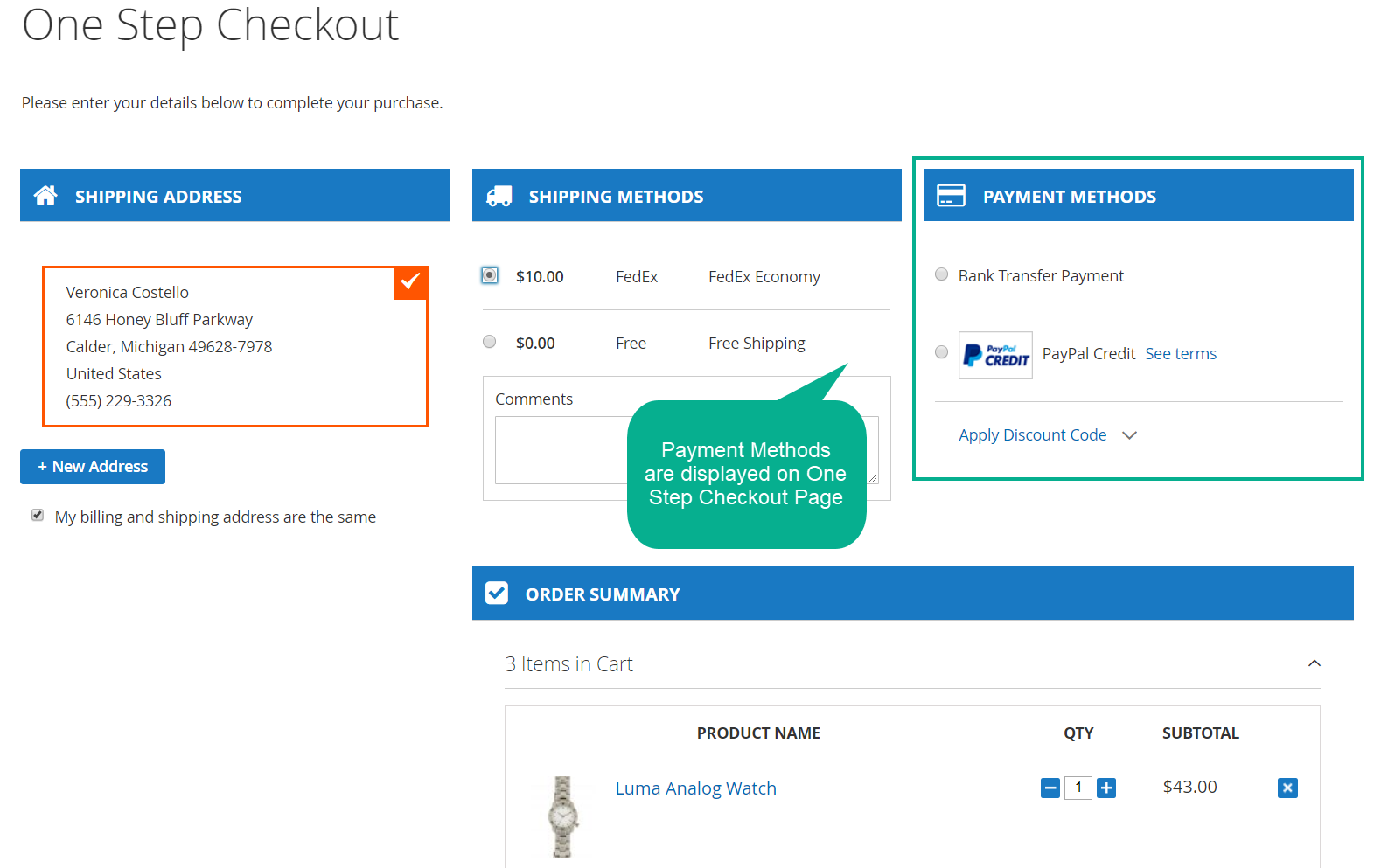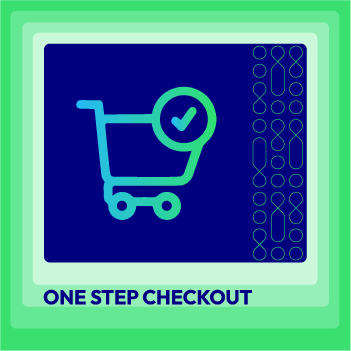 One Step Checkout for Magento 2
Cut down 80% of checkout time & increase 30% of conversion rates
Check it out!
Full Features List of Mageplaza Payment Restriction module
For admins
Enable/ Disable the module
Manage all payment method rules via a grid
Set the name for a rule
Set the rule description for internal use
Set status for the rule
Restrict rule visibility for store views and customer groups
Set timeframe for the rule: date, day, hour
Set priority for the rule
Set conditions for the rule based on cart price rules
Select payment methods applied the rule
Apply the payment methods on backend order and/or frontend order
Show/Hide the payment methods
For customers
Able to access suitable payment methods
Select conditions (product attributes, subtotal, shipping method) to use their wished payment methods.
Final Words
Payment restriction for Magento 2 helps online stores get rid of unexpected payment issues and boost the effectiveness of the payment process. If your store is offering various kinds of payment, keep this module in mind as a comprehensive solution.

Sam is the CEO and Founder of Mageplaza, pursuing a simple and healthy lifestyle. He is a friend, a husband, and a father to two children. As a trainer and an aspiring influencer, he is also a big fan of sports and travel. Sam is exceptionally knowledgeable about e-commerce, especially Magento and Shopify, with 10 years of experience in the field.
Website Support
& Maintenance Services
Make sure your store is not only in good shape but also thriving with a professional team yet at an affordable price.
Get Started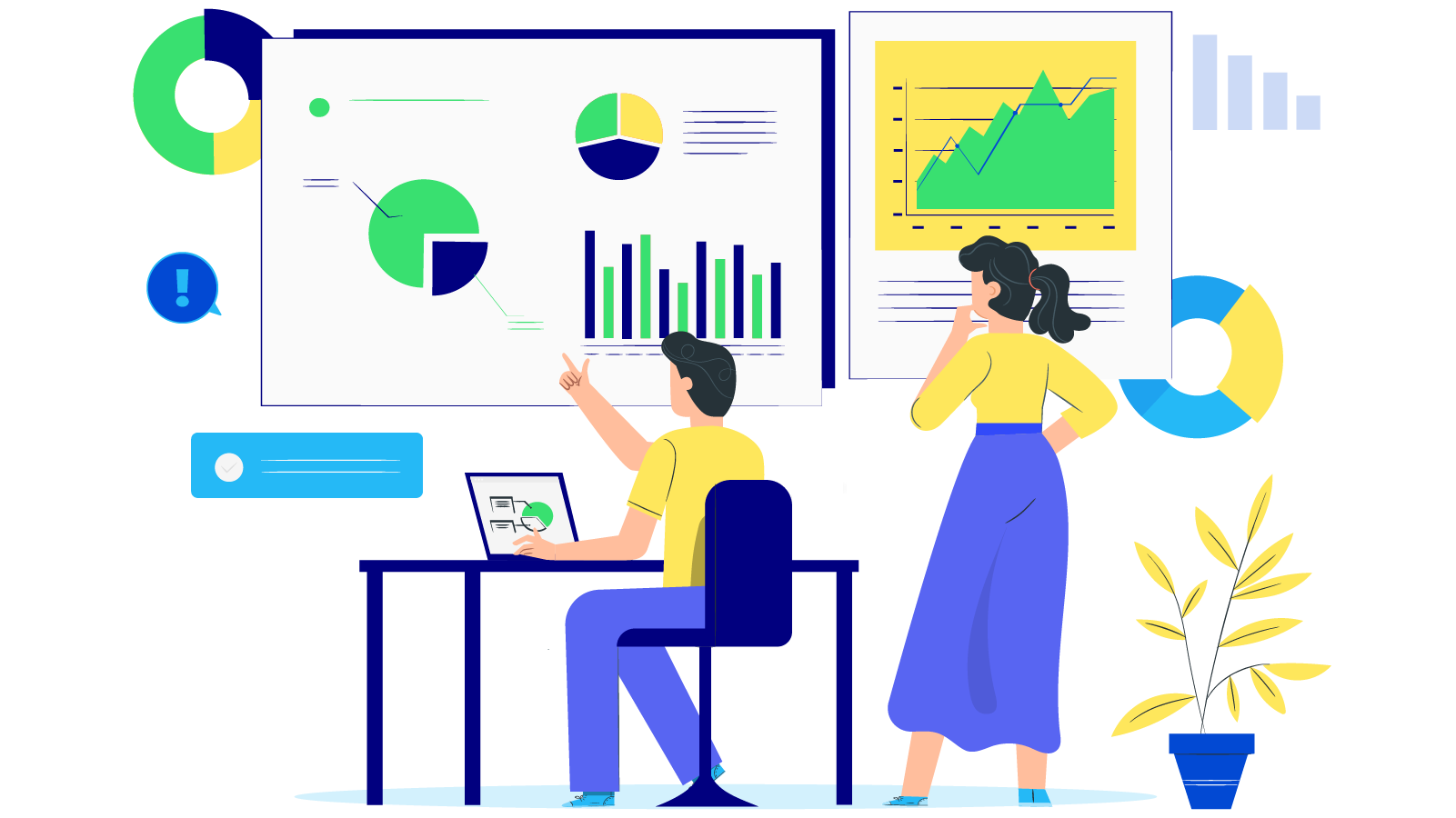 New Posts



People also searched for
magento 2 payment restriction

payment restriction magento 2

magento 2 payment restriction extension
2.2.x, 2.3.x, 2.4.x
Subscribe
Stay in the know
Get special offers on the latest news from Mageplaza.
Earn $10 in reward now!