17 Spooky Halloween Marketing Ideas & Practical Tips
The Most Popular Extension Builder for

Magento 2
With a big catalog of 224+ extensions for your online store
Arthur Conan Doyle once said, "Where there is no imagination, there is no horror." For me, where there is no imagination, there is no profit.
Halloween can bring significant success during this holiday season by attracting and creating a new atmosphere for customers, but only if you prepare well in advance. Moreover, a successful Halloween campaign will leave a strong impression, enough for customers to remember you till the biggest shopping seasons of the year - Black Friday and Christmas, which occur very soon later in November and December.
So, try to seize the opportunity to generate as much revenue as possible. If you're still empty of this year's Halloween marketing ideas, check out our list below!
Table of contents
Best Halloween Marketing Ideas to Boost Sales
In this section, we will haunt down the most spooktacular Halloween campaign ideas to trigger your creativity. Let's start the journey!
1. Offer Discounts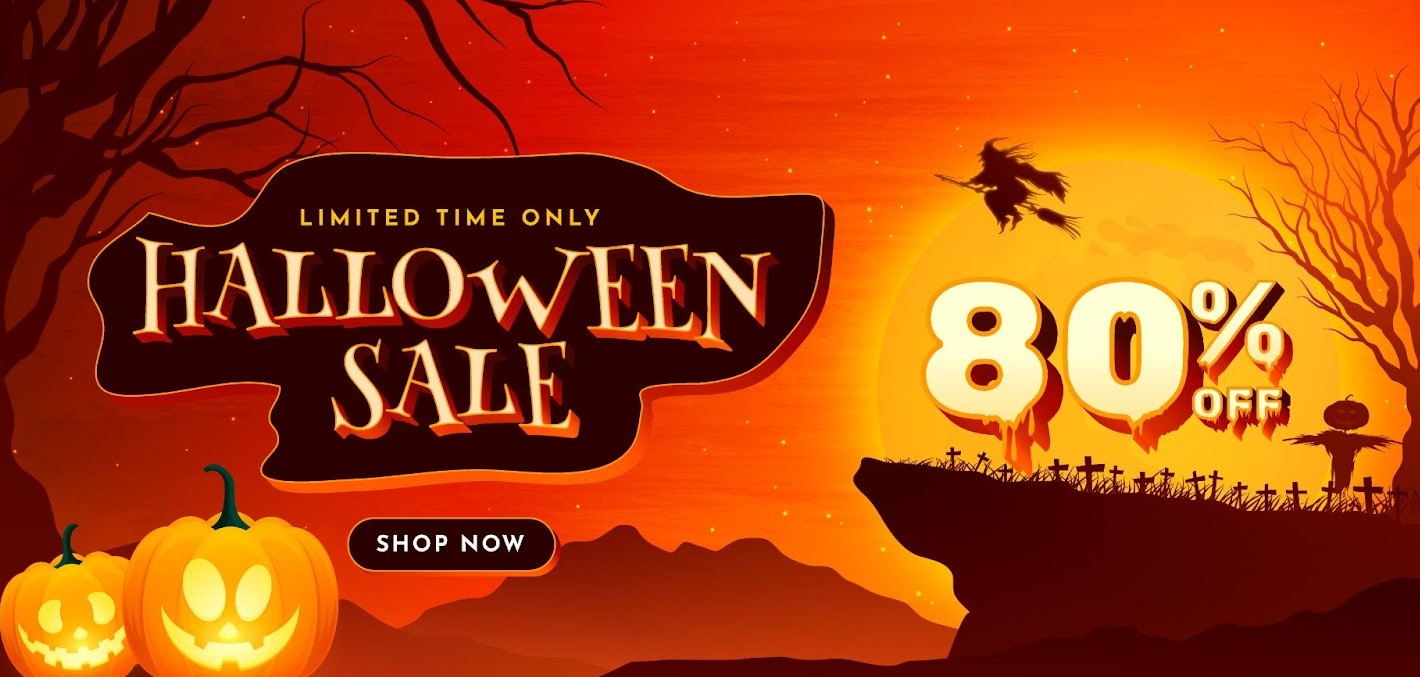 Display Halloween-themed discount popups
Using popups is an excellent Halloween marketing tactic, driving email sign-ups, reducing cart abandonment, and boosting sales. With a user-friendly popup builder, you can create eye-catching Halloween-themed popups effortlessly. Include limited-time deals and eye-catching images to maximize attention and sales during this spooky season.
Small advice to make your discount popups look attractive:
Don't put on too much text. It might overwhelm your clients. Keep it short, clear, and simple!
Highlight numbers: sale-off percentage, discount amount, etc.
Include a strong emotional trigger phrase: limited time only, last chance, etc.
Don't forget to add a call to action.
Offer sale on a bundle of best-sellers
By combining highly sought-after items in a special package and offering a limited-time discount, you're hitting the right chord with your customers. Craft a unique Halloween-themed bundle and promote it with catchy, spooky slogans.
Providing early access to this exclusive offer for your email subscribers will make them feel valued and appreciated.
What to remember:
Emphasize the numbers instead of percentages for each product. Customers are more likely to buy your special holiday offers if they can see how much actual money can they save.
Ex: Say SAVE $50 rather than a 30% discount.
Sell gift cards
During the holiday season, people tend to be more excited to shop with gift cards given by friends or family, not only because of the material value but also because of a meaningful gesture to express affection for our loved ones. So, why not grasp this sentiment and create unique Halloween-themed gift cards, letting your customers be the ones to introduce your brand to their friends through this memorable gift?
If you want to sell as many gift cards as possible, consider:
Promoting your gift cards in your store to make more people know about them.
Focusing on the image design of gift cards, making them look attractive and appealing so that everyone would want one.
Apply discount code
Effective marketing is not just about one successful campaign; it's about making customers remember you. So, strive to appear as naturally and frequently as possible to leave a lasting impression in their minds. Applying discount codes with your targeted keyword is a way to do so.
Most stores usually incorporate their brand or targeted product/ service names into the codes to leave a lasting impression on customers. When customers see or use the code, the phrase can naturally hit their minds.
Moreover, using discount codes can help you limit the number of discounted product quantities, ensuring your business's revenue stream without accidentally spending too much on any campaign.
2. Issue Limited-edition Items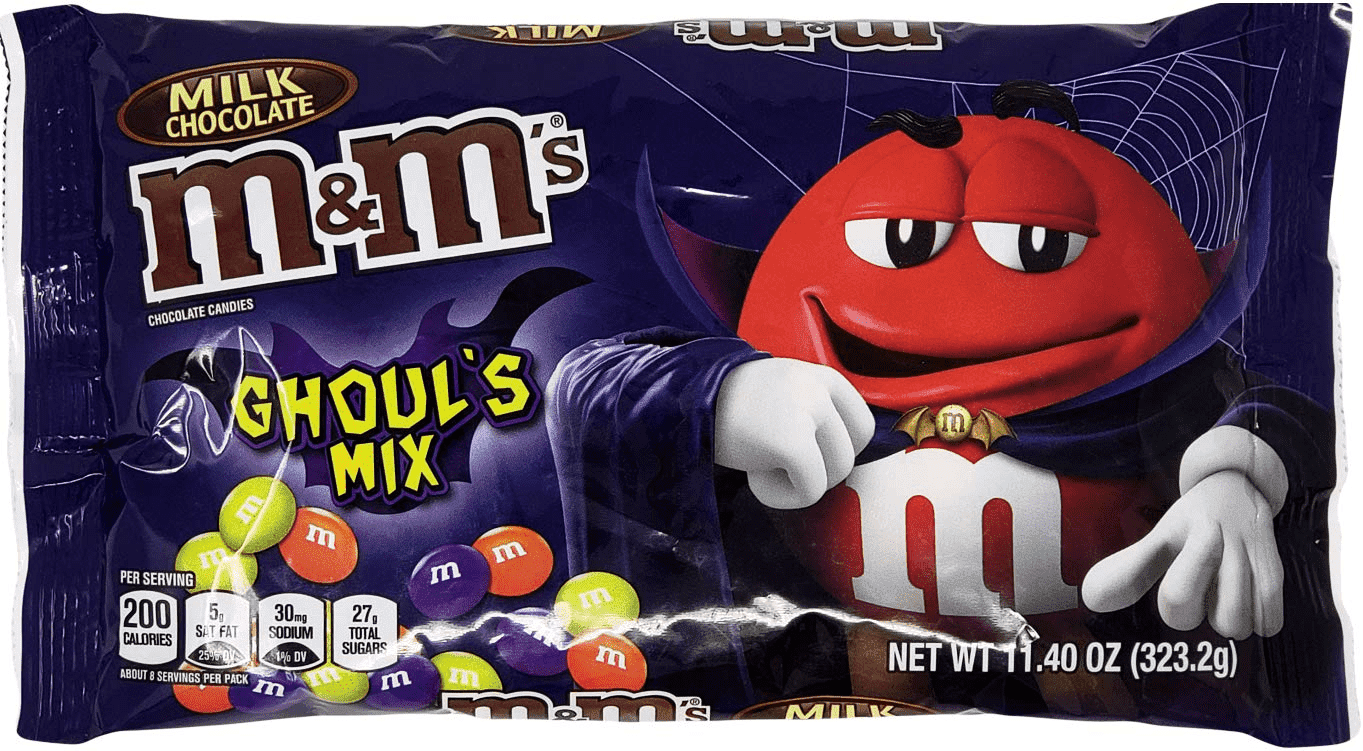 Presenting limited-edition products is one of the great Halloween marketing ideas. People tend to prefer something that others don't have. Therefore, introducing limited products makes them more attractive and valuable.
Use phrases that trigger emotions in users, like "limited only," "last chance," and "Only this Halloween," to make them feel that if they don't buy right away, they'll never get this product again.
Of course, with a holiday theme, products should also relate to the occasion. You can launch new products just for Halloween or change the packaging design for existing ones to fit the holiday.
Don't forget to add a separate section for the limited edition. You can use a layered navigation extension to add it easily as a filter on your store.
3. Add Countdown
Besides using emotional trigger phrases, you can add a countdown on the product page to create the FOMO (fear of missing out) effect.
To enhance the effectiveness of this idea, you can combine time limitations with other discounts and incentives, along with the right trigger phrases to make customers feel it's the best deal ever, with the most significant savings. If they miss out, they'll have to buy at a much higher price. This can be the last motivation to generate extra revenue during this sale.
Special recommendations to make the most out of your countdown timer:
Place your timer in the most visible section on your site where you can immediately draw attention, like on the top of your cart page or below the "Buy Now" button on the product page.
Choose your words wisely. Make it short and clear but still bold and attention-grabbing. Put strong persuasive words like "sale off," "deal," "discount," "today only," or "don't miss out".
Use realistic timeframes to give a real sensation.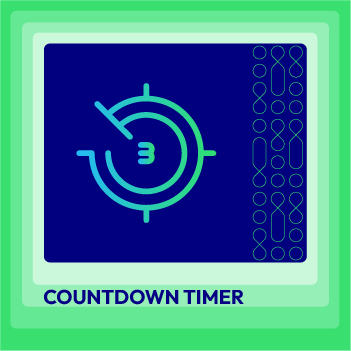 Increase conversion rates with the most effective FOMO marketing tactic.
Check it out!
4. Customize Your Homepage with Halloween Theme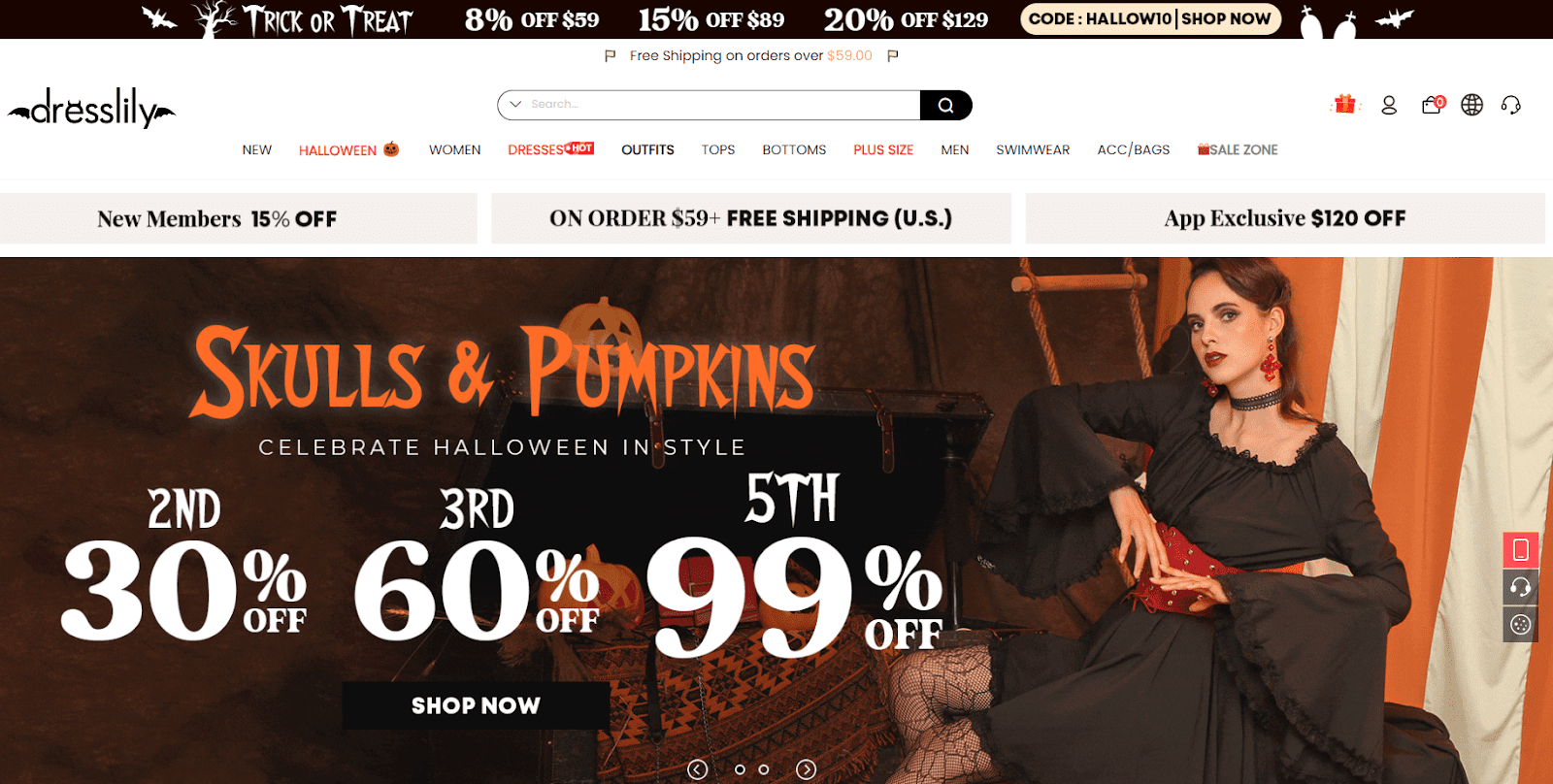 It's Halloween! Everyone is choosing for themselves a great costume, so let your store website have one, too.
Spice things up on your website for Halloween by adding fun, audience-relevant elements. Some festive filters and graphics on your homepage would definitely grab visitors' attention.
To go viral and engage your audience, start with simple steps:
Change the color scheme to orange and black
Replace stock photos with Halloween decorations
Use gifs and animations to make your home and product pages more attractive and seasonal
Basically, try to make your site as "Halloween" as possible while still showing what you're selling. However, if you want to stand out among the competitors, you have to work harder than that. Try to stay on top of the latest trends and use Halloween-themed taglines and product headlines to promote your website.
For instance, last year, a movie called "Wednesday" went viral and became a global phenomenon. Many websites like Spirit Halloween caught onto this trend and offer designs related to the film, such as similar costumes, to attract customers.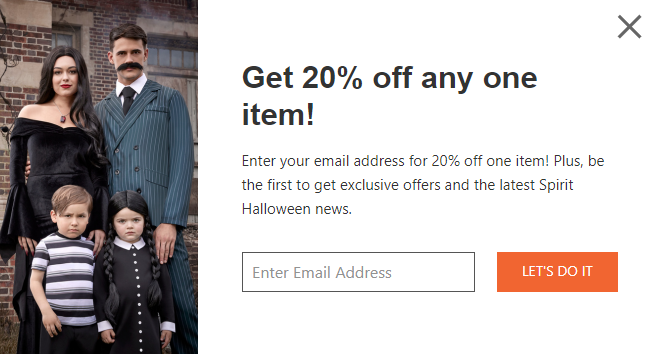 Cool tips to make your homepage unforgettable:
Change your logo to a spooky version.
Choose a Halloween text font.
Mix Halloween typical colors and symbols with your brand ID.
Leave a spider web at the top corner, design a spider peeking out, or add a ghosting effect to woo your customers.
Replace regular social media icons with spooky ones.
5. Design A Spooky Landing Page for Special Offers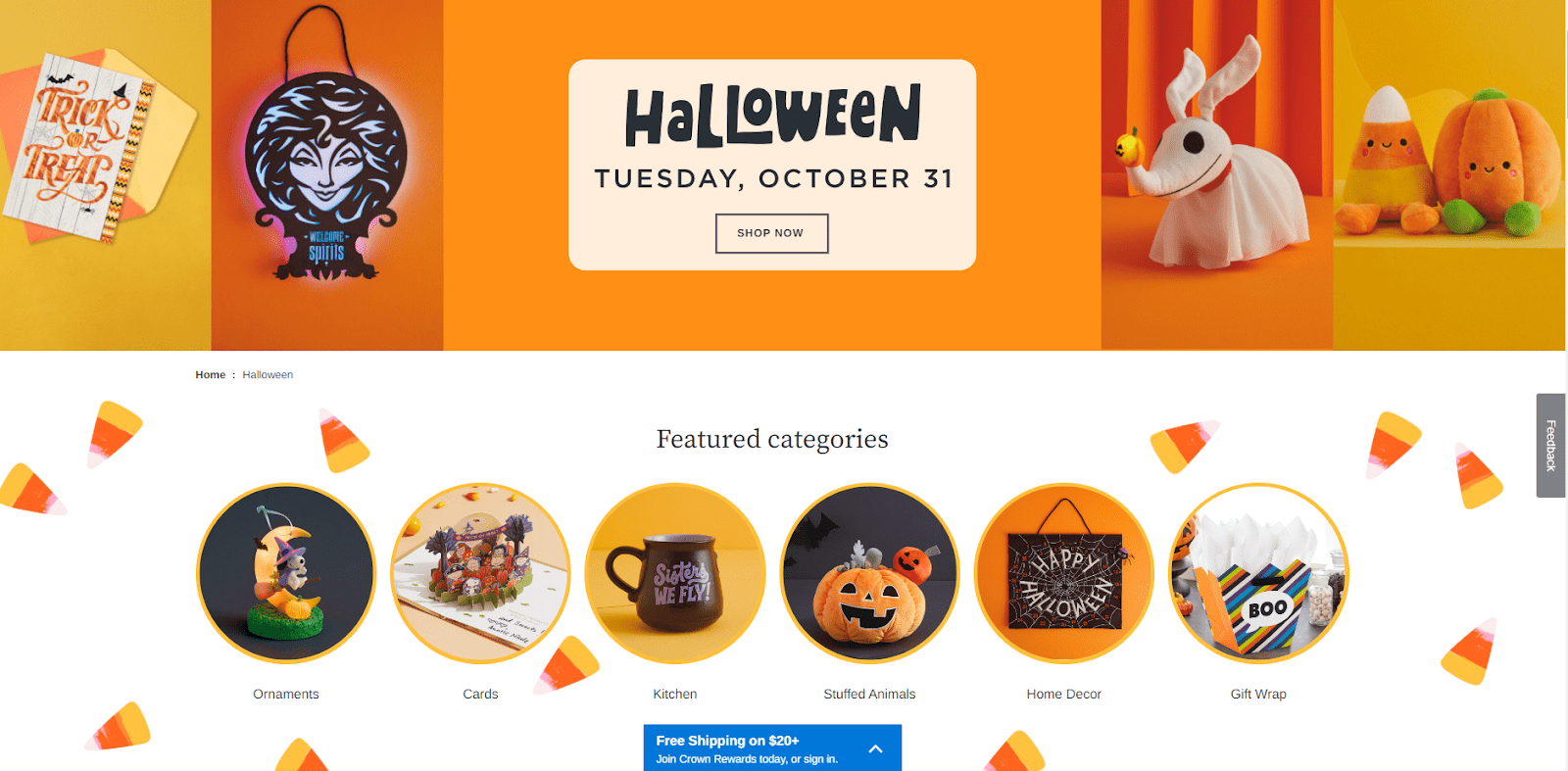 A Halloween-themed landing page can guide users and boost conversions significantly. Combining festive elements is kind of fun, but it will be much better if you can add some brand's personal touch. Design a landing page that taps into emotions like humor and horror to encourage conversions.
Follow the landing page guidance for creating an appealing and entertaining page for your audience.
Note: After designing a spooky homepage and landing page with attractive deals, along with many other ways to get your customer to swipe their card on your products, you're gonna need to pay attention to the checkout page as well. If the process takes too long or it's too complicated, your cart might be abandoned. Double-check whether you have optimized the checkout page well in advance would save the day.
6. Offer Free Stuff
Free delivery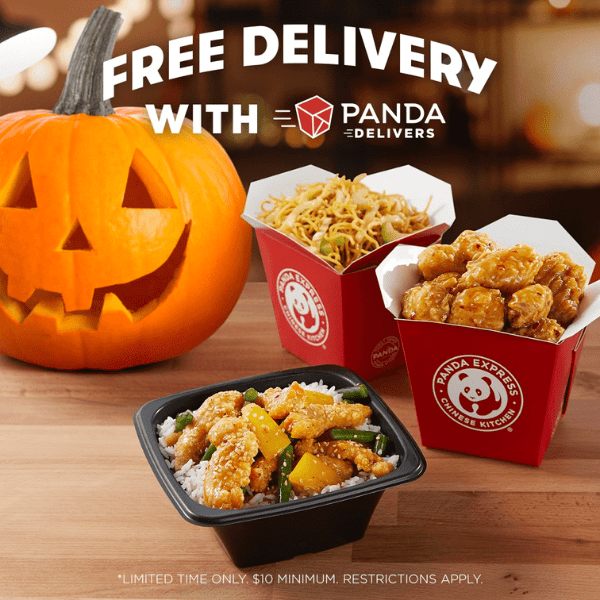 Offering free shipping coupons is a Halloween marketing idea.
As e-commerce grows and online shopping becomes more popular, high shipping costs can discourage customers.
If they have to choose between a $20 product with a $5 shipping fee and a $25 product with free shipping, most people would prefer the second option.
Give away items
Offering special deals and freebies always works a charm, and it works the same for Halloween.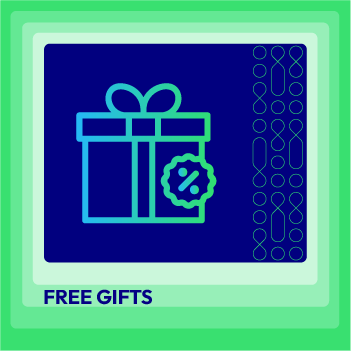 Retain customers and boost sales easily by offering free gifts
Check it out!
Although Halloween might not be the biggest occasion, it is still a great opportunity to boost sales with the festival spirit and joy. According to Statista's 2022 Halloween spending report, Americans spent $10.6 billion on this holiday and are expected to increase to $12.2 billion this year.
That's a substantial revenue stream you don't want to miss, and discounts are an effective way to tap into it. Consider setting a goal and providing a free product for orders above a certain amount. It would be great if the product relates to the festival.
However, this Halloween strategy, although straightforward and effective, requires advanced planning and statistical calculation. Limited-time giveaways create excitement for a brief period, so capitalize on it and encourage users to take immediate action.
Attach samples of new products
In addition to giving Halloween-themed items, you can also send the purchaser some samples of your new products.
This strategy not only stimulates customers' interest in purchasing but also naturally promotes new products.
By creating a more comfortable sense when receiving free gifts, you can satisfy customers, lead to sales raising, and positive feedback for the product.
7. Launch Campaigns And Events On Social Media
UGC Marketing campaign
Using user-generated content (UGC) for your Halloween marketing campaign is a fresh way to engage potential customers.
This method of encouraging users to share visual content builds social proof and boosts organic traffic. Regardless of your business size, the right strategy and approach can bring you authentic customer engagement.
There are plenty of ways to apply this idea and get closer to your clients, including:
Use an Instagram story question box to ask users for their scariest horror tale
Request user Halloween costume photos for your landing page
Create a TikTok dance, sound, or theme, encouraging others to join
Remember to tailor the UGC campaign for each social media channel to drive traffic to your website and landing page.
Online event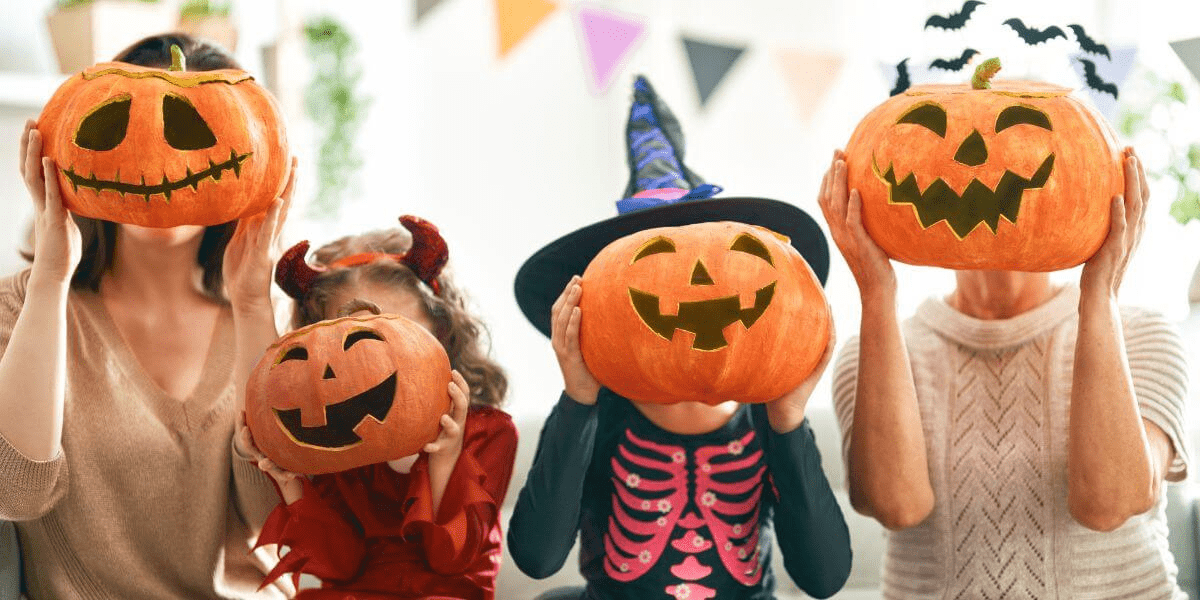 Organizing online events is one of the great Halloween marketing ideas that create excitement and strengthen your connection with customers, boosting interaction dramatically.
For brands with physical stores, the tradition of "trick or treat" is common during Halloween. Don't forget to locate your store on Google Maps to make it easier for customers to find you.
However, this can be a challenge for online stores. Instead, try our online event suggestions:
Halloween Costume Contest: Encourage your followers to share photos of their Halloween costumes related to your niche or products. Offer prizes for the most creative, spooky, or unique costumes.
Pumpkin Carving Competition: Host a virtual pumpkin carving contest where participants can showcase their artistic skills. Ask them to carve pumpkins related to your products or brand.
Halloween Trivia: Organize a Halloween-themed trivia game on your social media platforms. Share interesting facts about Halloween and your products, and offer prizes to participants with the correct answers.
Spooky Storytelling: Run a mysterious storytelling event where followers can submit their Halloween-themed short stories or anecdotes. Share the best stories and give credit to the authors.
Guess the Ghost: Post images or riddles related to your products with hidden ghosts or Halloween-themed elements. Ask your audience to guess where they are hidden.
Also, it would be great to track down events' statistics to prepare better next time. If you want to hold various campaigns on your website and social channels, consider using Google Tag Manager to save time modifying source code and optimizing tracking.
8. Send Promotional Email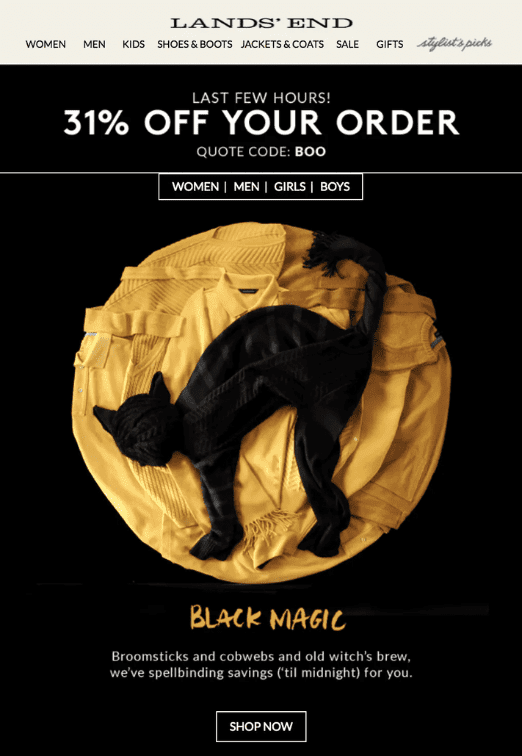 During holidays like Halloween, people are more likely to open emails in search of the best deals.
Be creative! Craft humorous subject lines and use email personalization to entice readers to click. A well-timed, festive Halloween email campaign with a compelling offer is hard to beat. For your loyal customers, send exclusive promotional emails to make them feel special.
If your social media campaign is attracting first-time visitors to your site, use a Halloween-themed exit-intent popup, like a pumpkin, to collect email subscribers for future promotions.
According to a Google and Boston Consulting Group study, 90% of customers will share their email for incentives, such as a discount.
9. Create Eye-catching Promotional Videos
Video marketing is booming! A study by Sandvine stated that online videos account for 65% of internet traffic in 2022. In fact, we have witnessed the impact of video content via TikTok, a strong competitor for other social media, forcing other channels to come up with video reels like YouTube, Facebook, and Instagram.
Use your creativity and Halloween theme to make a great promotional video for the holiday season.
If your products or services fit with Halloween, get involved.
Check out how M&Ms joined in on Halloween in 2018 with an animated video showing Yellow and Red escaping a Halloween party.
Remember, a good story is important in video marketing, so include one in your video.
Tips to create eye-catching videos:
Tell a story in your video. Deliver a message to make it more meaningful.
Capture customer attention early, about the first 8 seconds of the video.
Include trending elements, perhaps a caption, a sound, or a situation.
Keep it short and clear. A lengthy clip will make your watcher fall asleep.
End with a call to action.
10. Use Informative Content
It's great to add marketing elements but don't go overboard. Excessive promotions may overshadow your brand's core value. Apply marketing techniques subtly in your content and visuals, focusing on the value delivered to your clients.
You can create informative blogs with hot Halloween topics like costume and decoration ideas, food recipes, horror game lists, marketing ideas, etc. With skillful and interesting blogs, it will be easier to boost your SEO rankings and increase traffic. Furthermore, this approach can help attract new visitors and convert them into actual buyers.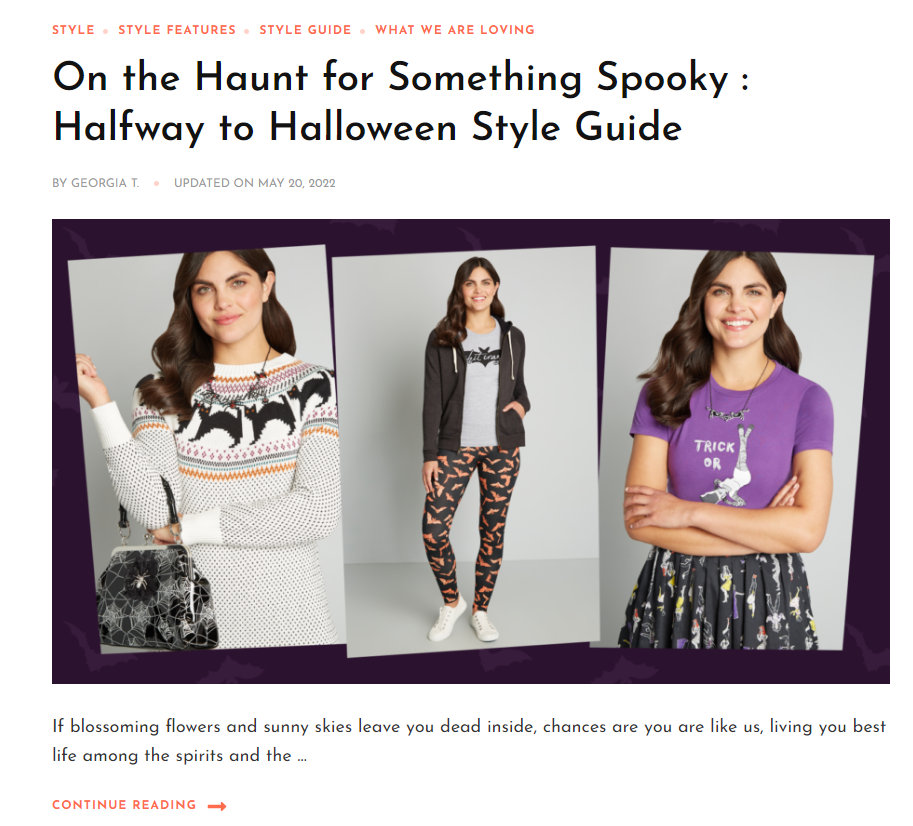 Once you can infuse a hint of Halloween into your products or services while providing genuinely helpful information, you'll win over your audience.
11. Use Wordplay
Wordplay involves using the multiple meanings of words, the literal and figurative meanings of idioms, or combining two words that sound the same for humor.
Using Halloween-related wordplay in your advertising is a great way to grab readers' attention and keep them engaged.
If you're launching new Halloween products, consider using wordplay in the product names and calls to action to attract more attention.
Here are some wordplay examples for your Halloween marketing:
Haunted Hot Deals - Don't Ghost on These Offers!
Scary Good Savings Inside!
Creep It Real with Our Halloween Collection!
Fangtastic Deals Await!
Witchful Thinking: Our Spooky Sale Is On!
Don't forget to use hashtags to promote your funny tag and encourage others to share content using it.
12. Show How Funny Your Store Is
Don't get carried away with formal style! Sometimes, a touch of humor can actually make customers like you more and be more willing to swipe their cards!
When it comes to Halloween marketing, there are endless creative possibilities. You can build personal connections with your customers by sharing a video of your team in Halloween costumes and interesting Halloween facts.
An interesting example of creativity is, in 2013, Pepsi and Coca-Cola teased each other with a Halloween ad, generating significant attention.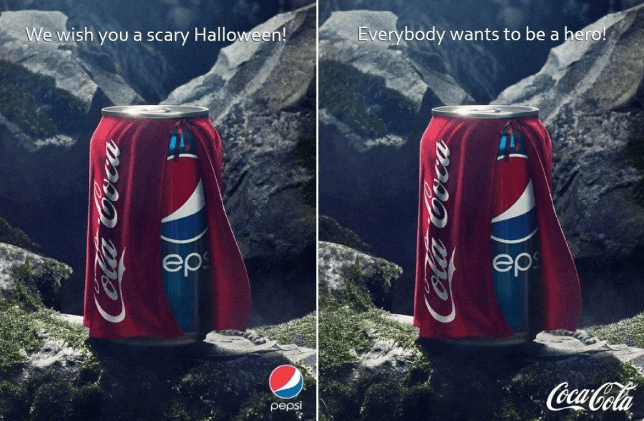 13. Enhance Connection With Loyal Customers
Holidays like Halloween are perfect for highlighting your loyalty programs. Show your appreciation to loyal customers with a thank-you email and reward points. Offer them exclusive rewards to make their loyalty feel even more special.
When planning your Halloween marketing ideas, think about how to enhance your loyal customers' experience. Tailor your offers based on their past purchases and preferences. Even a touch of personalization and Halloween fun can elevate your loyalty program's impact.
14. Extend Offers For Late Comers
You can kickstart your Halloween marketing as early as October 1st but don't forget those who tend to act later.
While FOMO marketing can drive early sales, consider late bloomers too. Extending limited-time offers can frustrate customers, making them think the store is misleading them.
Instead, consider leaving some campaigns open until the last minute, giving customers a final chance to join your Halloween celebration. This approach ensures fairness and avoids customer frustration.
15. Collaborate With Famous Brands
During special occasions, bet that you often see brands collaborating. It's a great marketing effect that brings a win-win situation. This can be a fantastic Halloween marketing idea to increase awareness and break into new markets.
For more inspiration, consider this co-branding example:
A famous example of collaboration is Cover Girl and Star Wars. Beyond promoting Star Wars, it also showcased CoverGirl's contouring makeup.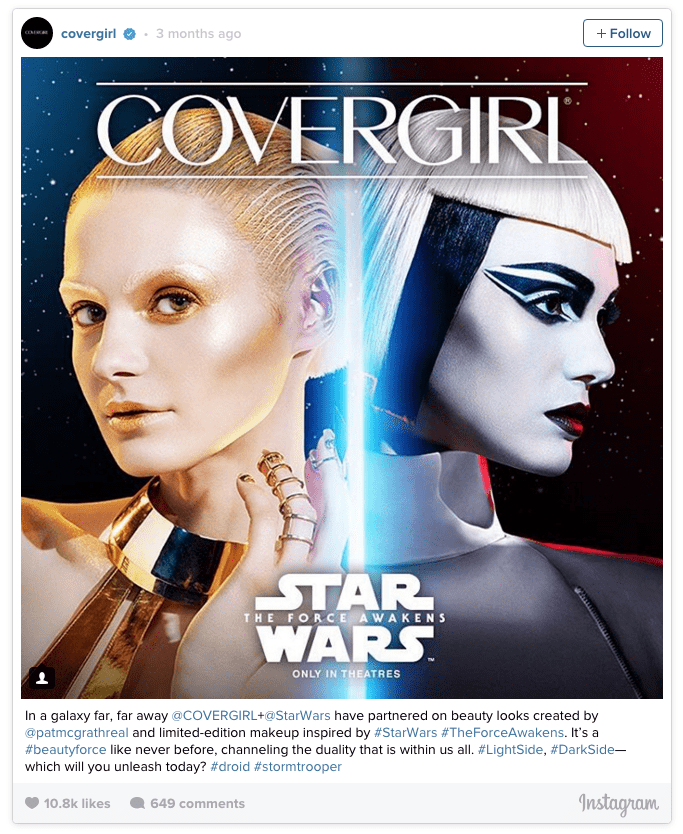 Some tips to make your event unique:
Ensure that your partner business can offer exclusive items or services so that you will have a more diverse and appealing range of offers.
If you have various physical stores, you can include a treasure map that lists all your incentives with some riddles for customers to figure out the store associated with each promotion. But hey, don't make it too hard!
16. Apply Various Marketing Strategies To Boost Sales
Referral Marketing
Elevate your Halloween campaign awareness strategy by transforming your current customers into brand advocates through referral marketing programs.
Leverage your existing clients' networks to grow your customer base by rewarding them for their recommendations.
Referral marketing comes in various forms, but its essence lies in engaging your most dedicated fans in promoting your brand.
Provide your loyal customers with a special referral code. Each time someone makes a purchase using it, they can earn points and discounts.
Satisfied customers serve as your most effective marketing asset, enhancing the perceived value of your products and driving sales.
Learn more about How to Successfully Run a Referral Program for E-commerce.
Nostalgia Marketing
Nostalgia Marketing is a special promotion strategy that triggers positive feelings in the past.
Most people often enjoy reliving emotions tied to earlier experiences, like cherished childhood moments, family gatherings, or fun times with friends.
Fortunately, Halloween brings an opportunity for your brand to tap into nostalgia, reminding potential customers of positive memories. Try to take advantage of all the old nostalgia from classic Halloween movies, costumes, and events.
With these comforting emotion triggers, Nostalgia Marketing helps link your brand to the client's feelings, giving them a sense of familiarity and more likely to shop with you.
17. Win Back Previous Year's Customers
To prepare for Halloween, look at how your business did last year. See what things worked best with your customers and which ways of advertising got you the most attention and sales. The statistics in reports are the best way to accurately assess the store's performance. If you haven't installed analytics and tracking tools, start right away this year.
Things you can do to remind old customers to come back:
Send an email to people who bought from you last Halloween to invite them to return this year.
Offer previous customers special deals.
Choose the language that shows closeness with customers, like "we miss you" to show how they mean to your store.
Special Deals For This Halloween
Mageplaza Special Deal for Halloween
No Tricks, Just Treats
Customers can insert emails in the Mageplaza popup to download the Halloween PDF Infographic and receive a 20% OFF code, which is valid until October 31st. The incentive works for all extensions and subscriptions.
Conclusion
In a nutshell, Halloween is a golden opportunity to boost sales while celebrating this spooky occasion. We hope our unique marketing ideas above will help you raise significant revenue this October and impress your customers to return in the next shopping season. And Happy Halloween!

Marketing Manager of Mageplaza. Summer is attracted by new things. She loves writing, travelling and photography. Perceives herself as a part-time gymmer and a full-time dream chaser.
Website Support
& Maintenance Services
Make sure your store is not only in good shape but also thriving with a professional team yet at an affordable price.
Get Started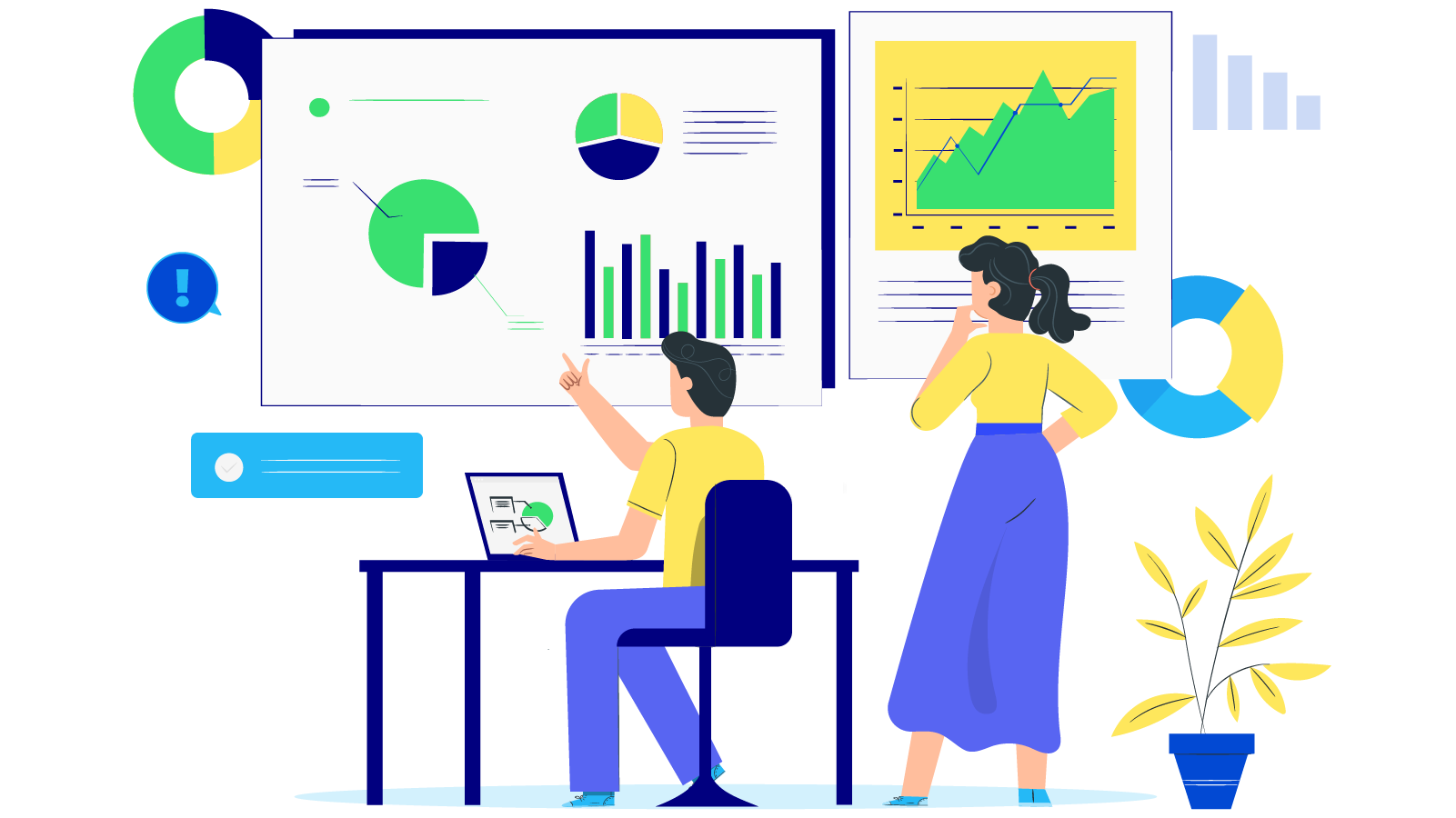 New Posts



Subscribe
Stay in the know
Get special offers on the latest news from Mageplaza.
Earn $10 in reward now!