From A to Z: How To Create Gift Vouchers to Sell on Holiday Shopping Season
The Most Popular Extension Builder for

Magento 2
With a big catalog of 224+ extensions for your online store
From A to Z: How To Create Gift Vouchers to Sell on Holiday Shopping Season
Related Post:
Gift cards, which are also known as gift certificates or gift vouchers, are considered to be the most convenient and suitable way to giving gift nowadays. Thanks to its outstanding features, users can easily insert their images, make their own cards based on their tastes and preferences and even attach their messages to send to their beloveds. Since the advantages of owning or giving a gift voucher are undeniable in the busy and modern life now, many people have a tendency to purchase gift certificates for personal use and gift-giving as well.
According to statistics by National Retail Federation Gift Card Spending Survey (2015), the number of people in the US who buy or receive a gift voucher accounted for more than 90% in 2015. Among those asked many said that they even purchase or receive up to 7 gift certificates on a yearly basis. 2015 also experienced gift cards becoming the most desirable present during holiday season. That is the reason why online merchants want to take advantages of gift cards by using the supporting tool "gift card extension". When the holiday shopping season is coming soon, the demand to possess gift vouchers is increasingly much higher. Following are some instructions for any online store who is new to Mageplaza gift card module in this upcoming shopping season.
I. Configuration

The first step that shop admins should do is taking a quick look at general settings by visiting Mageplaza > Gift Card > Configuration. In the display page, remember to select "Yes" to all criteria: Module enable, Enable Gift Card Credit, Gift Card Can Be Redeem. When shop owners turn on gift card credit and redeem function, they enable their customers to use gift vouchers as credit cards and add extra amount of money to their credit. Besides, do not forget Gift Code Pattern setting, since it is the template for every code created. Store admins can choose default setting for this field or generate a personal setting before making a gift code or a gift code pool.
II. Templates management
This function can be accessed via Mageplaza > Gift Card > Manage templates
1. General settings
This is the place in which all gift card templates are stored
The Grid enables shop admins to get basic and general information about customer ID, Name, Status, Thumbnail, Created Date. Store owners can take some adjustments such as delete inappropriate templates, change template status into active or inactive, edit a template. Besides, they can also make changes to Filter, Change Store View, Column or Export Grid to make their online merchants suitable with consumer's demands.

2. Edit template/ Create a New Template
After admins access to Manage Templates pages, click on create new template and save button. Then select Continue Edit to move to Edit page. There are three main fields that shop admins need to adjust which are Template Information, Design, and Images.
2.1. Template Information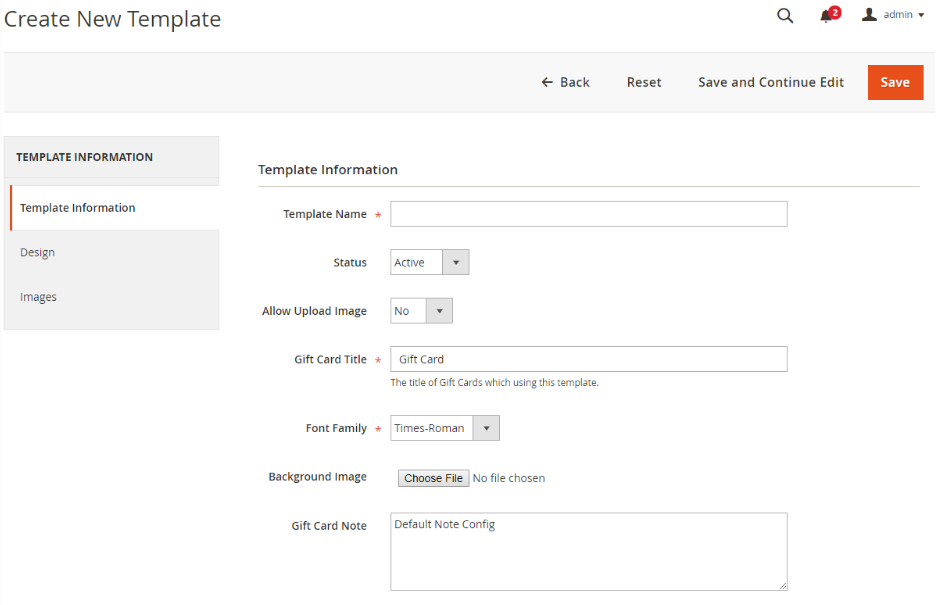 For this function, shop admins first remember to name the template and set the Status as Active to allow new template to appear on Frontend of Gift card product page and be used by customers. If they forget to do so, an error message will be sent through to their system.

Turn on "Allow upload image" to activate the function that enables users to upload their favorite images. By turning on this function, your online merchant is sure to attract more shopping doers.

Do not forget to make a description for Gift Card Title in order not to receive an error message. The title will be printed on the gift voucher if its design has a title filed.

Regards Font Family, there are different fonts which are available to be changed based on tastes and preferences of admins.

It is advisable for shop owners to make change to background image if they do not want to leave their gift certificate with a white background.

With the Gift Card Note, it can be filled in flexibly by setters and can be presented on the gift voucher as well
2.2. Design
To design template, web administrators need to go through two steps. First, they have to upload template from available templates in the box list, then the Design Template will be showed on the screen. Next, shop owners will start designing their templates simply by dragging and dropping in the empty box.
2.3. Images
Shop admins can choose default images for their stores by selecting appropriate images for each them by themselves. These images after chosen by customers will be printed on the gift certificates.
III. Gift codes management
To manage all the gift codes created, shop owners can access from Mageplaza > Gift Card > Manage Gift Codes.
1. General management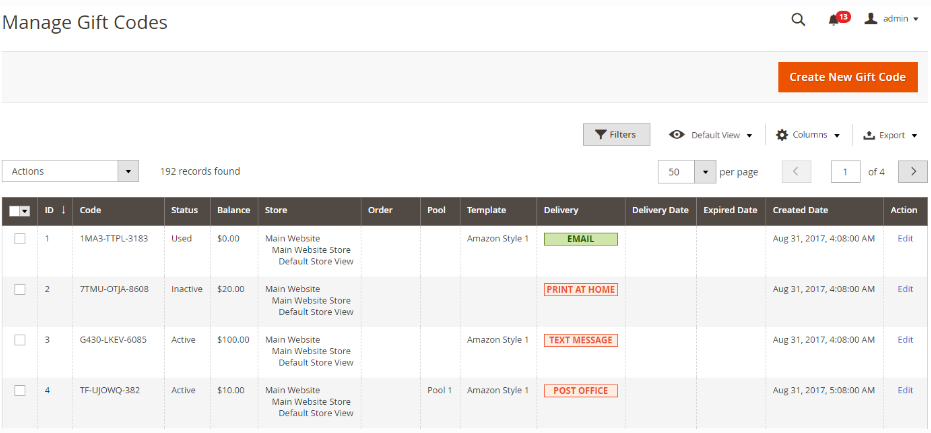 The Grid on the product page provides users with general information about all gift codes such as ID, code, status, balance, store view, expired date, created date, order, pool, template, delivery method, and delivery date.
In this management, owners can take some actions that are quite similar to those in Template Management like Delete, Change Status, Change Store View, use Filter, change Column or Grid. Besides, gift code management enables administrators to print or/ and send their gift codes at ease.
2. Create/ Edit Gift Codes
After editing the general settings for gift codes, users can create a new gift code by clicking Create New Gift Code, Save and then Continue Edit button. After that, the display page will automatically switch to Edit Gift Code page.
2.1. Gift Code information
In this setting, remember to make some fundamental adjustments as following:
Fill in date and time that the gift codes are valid in the Expires At and Created At boxes.

Enable Status and Redeem function to Yes so that the gift codes can be used and added value by consumers.

With the Code Pattern, admins can decide to keep the default setting for this field or adjust to make it more suitable.

In the Balance field, remember to assign the amount of value that can be added to the gift card when it is redeemed so as not to receive an error message.

Shop owners also need to decide the type of store view that the gift codes can be used. This adjustment is available at Store field.
2.2. Delivery
To deliver gift codes, first shop admins are required to fill in all the field boxes such as Template, Image, Sender name, Recipient name, and Message. After that, they can select the appropriate or favourable delivery methods. Generally, there are four ways to send a gift code which are email, text message, print at home, and post office.
For each option, users need to fill in relevant information to despatch gift codes successfully. For example, if they prefer to send via email address, they need to provide required criteria related to recipient email address, delivery date and time.

2.3. History
With History function, it allows users to track every activities or changes have been made to gift codes, such as remain balance, value changes, valid date, and so on.
IV. Gift code pools management
Gift code pool management can be accessible by visiting Mageplaza > Gift Card > Manage GIft Code Pool.
1. General Management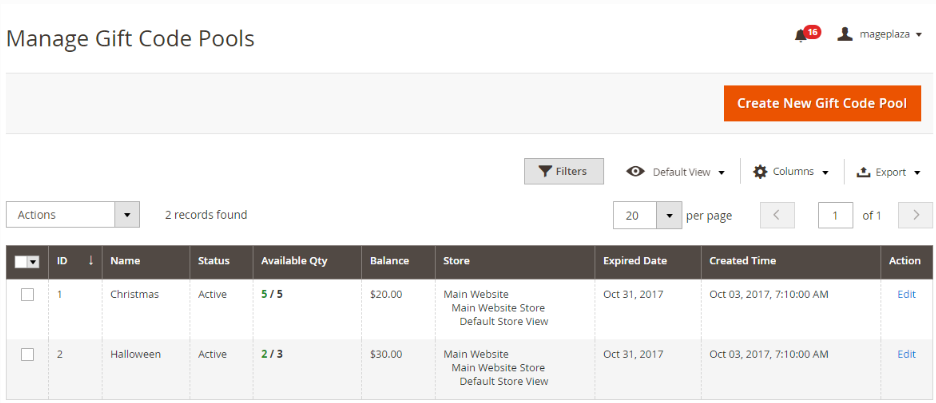 This is the place where admins can manage all the gift code pools created. A gift code pool is known as a list a gift codes which share a lot of similar information such as balance, expiration date, template, and so on. Generating a pool will help users to release various gift codes with shorter time. Similar to gift code management page, in this field, admins can take an overview about recorded data concerning ID, Name, Store View, Expired Date, Created Time.
They can also take some basic actions as mentioned above as Delete, Change Status, Edit, Use Filter, Change Store View, Modify Column, and Export Grid. However, there is additional information regarding the total number of codes and valid ones.
2. Create/ Edit Gift Code Pool
2.1. Pool Information

In this setting, store managers only need to follow instructions and requirements in the presented field boxes. They need to name or describe a pool in order to distinguish it from others. Then, do not forget to change Status to active and enable Inheritance function by select Yes in the field option.
2.2. Gift Card information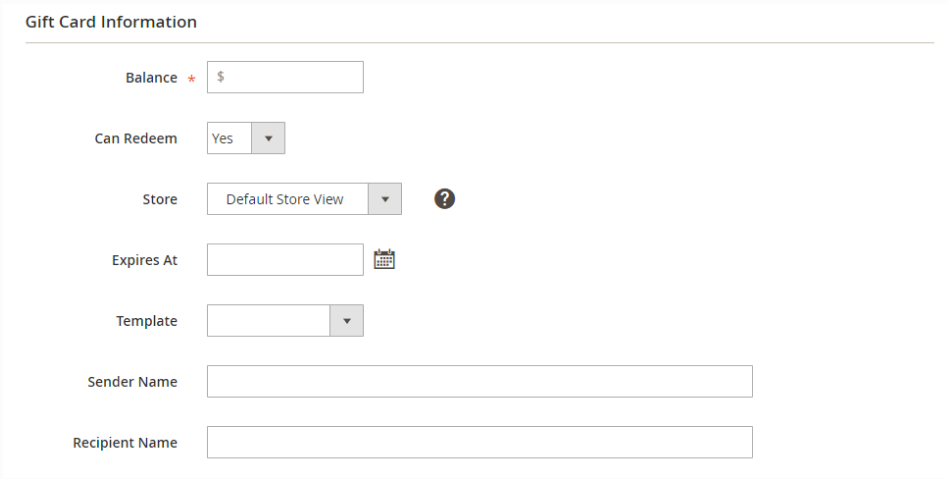 In this page, there are numerous fields need to be filled in as presented in the above image.
2.3. Generate Gift Cards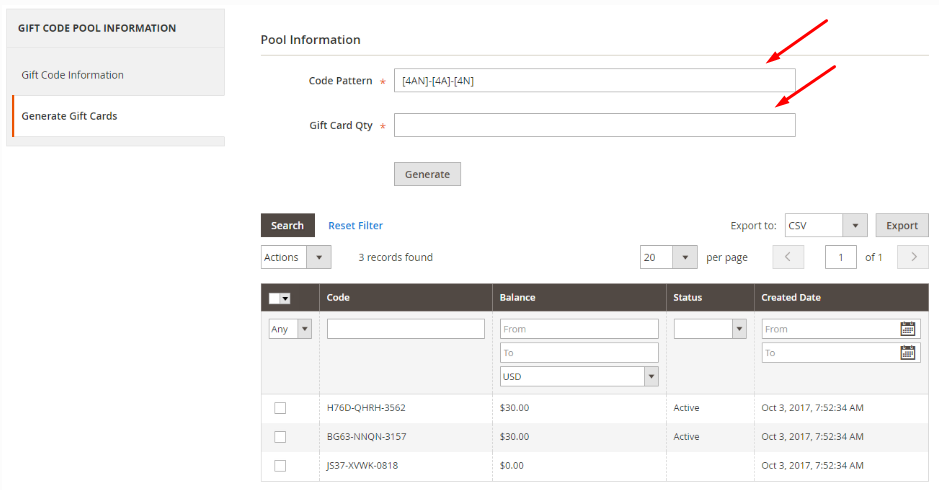 Here is the last step that users need to pay attention after creating a pool. Shop admins can directly change code pattern for this new pool and decide the number of gift cards generated in this pool.
V. Gift card history management
Gift Card History is the storage of all data related to gift cards; therefore, store admins can track the history log of every gift card concerning ID, Code, action, Balance, and so on
If there is any gift voucher that admins want to delete, they can access Manage Gift Code section and take action. Only by a simple click, all history data of this gift card will disappear.
VI. Gift card product creation
To perform this function, users can access from Product > Catalog > Add New Product > Gift Card Product. In the display place, shop admins are required to fill in name, SKU, Qty (quantity), and Category. After that, they need to follow a chain of actions as listed below:
Change Gift Code Pattern if they want
Choose one types of gift card among three options: e-gift, print at home, and email
Decide the minimum and maximum amount of a gift card
Enable Can Redeem function and Allow Amount Range by select Yes in the option field
Decide expiration date
Select a template
A completed gift card product is considered to be valid when all the field boxes are filled in as following:
VII. Gift card credit management in customer's backend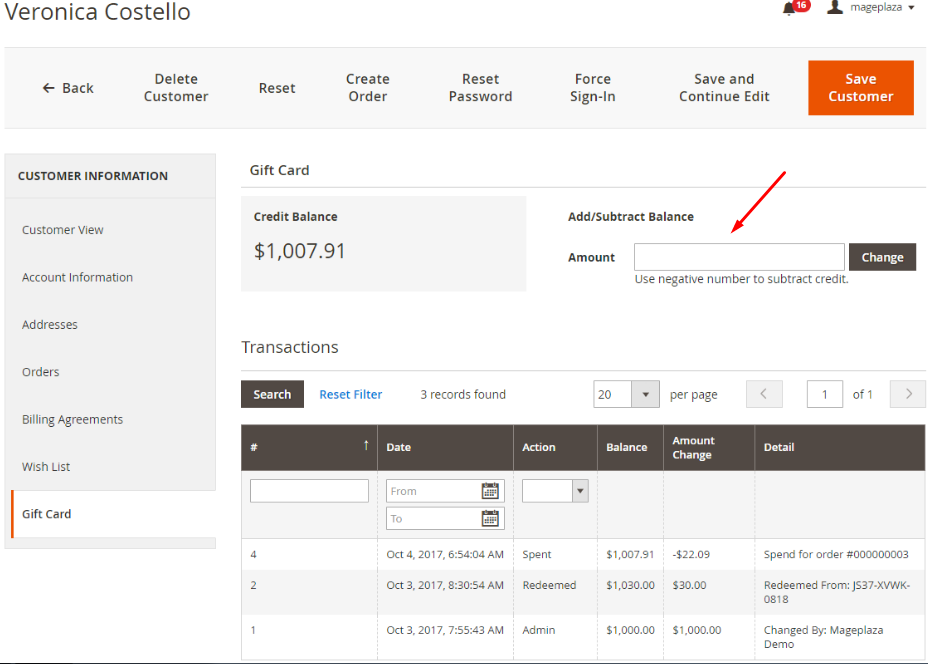 Store admins can access Customer > Edit Customer > Gift Card to manage balance and transaction of card owners.
They can also add or subtract an amount of value from customer's balance by typing the number as guided in Change box.
VIII. Frontend
There are three important factors that should be paid attention.
1. Account > Gift Card
In this product page, customers can easily manage their gift cards and take some actions such as view, print, redeem, remove. Therefore, the only thing that shop admins need to pay attention is turning on Gift Card Update Notification and Update Balance Notification so that their customers can receive notification email every time there is a change in gift card or balance.
2. Gift Card Category
In this display, users can themselves create a new category by two methods. First, they have to visit Product > Category, choose New category, fill in all requested information and click on Save button. The other way is accessing from Product > Catalog > Edit Gift Card Product (or create new).
3. Gift Card Product Page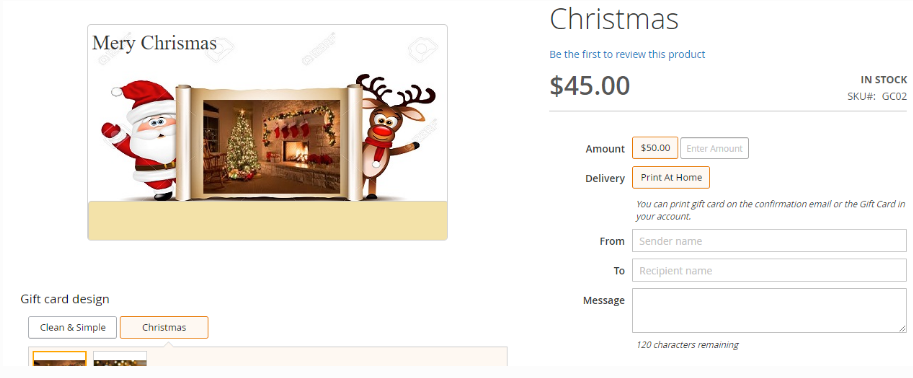 Shop admins do not have much to do here. This is the place where consumers can make changes to and have personal settings for their gift cards. They can themselves decide gift card template, represented image, who is recipient, message content, date and time to deliver, and delivery methods,…
IX. Gift card code import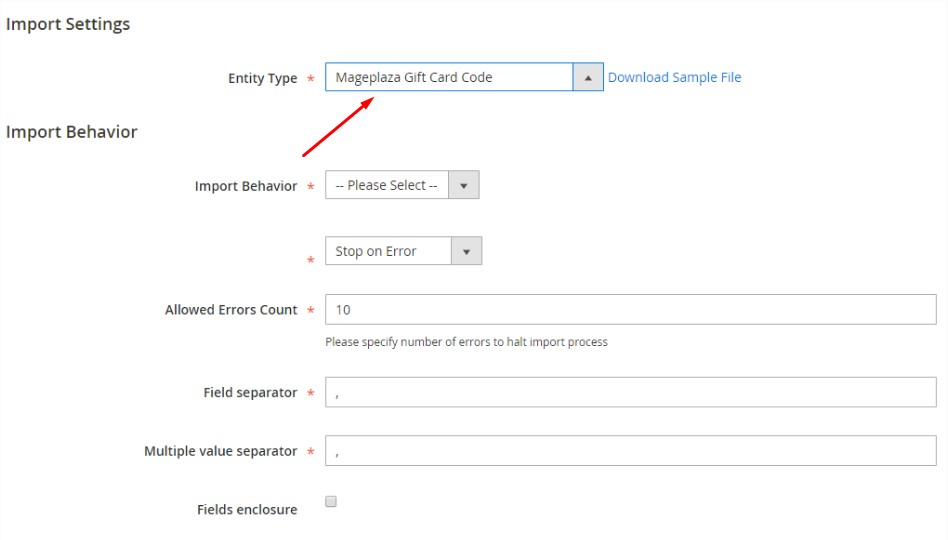 After shop admins reach import page, they need to select the extension with Gift Code inputted. At the Entity Type select Mageplaza Gift Card Code, then admins will see Import Behaviour and File to Import represented.

Next, they should download Sample File to have a CSV file with codes, balance, status, and a bundle of other factors included.

After that, select "Add/ Update" in Import Behaviour in order to add gift code to Manage Gift Code section.
The next step is choosing the file that need to import.

Using Check Data function before starting Importing. If the csv file is not valid or unacceptable, shop admins have to adjust their files again. If the csv file is valid, all they need to do is to click on the button "Import" - the final step.
In summary, a gift voucher is the most suitable present following the development of globalization that makes people become busier with their work. By using a gift certificate, buyers do not need to waste their valuable time searching for a suitable gift, whereas, recipients can use the value of the card to purchase their wishing present.
That is the reason why gift vouchers have been becoming increasingly popular recently and a gift card extension can be remarkably beneficial to e-commerce enterprises. If your online merchants still do not have any gift card extension, let Mageplaza gift card extension help you with such a great effort. When the holiday shopping season is on the way to come soon, equip your store today to get ready as soon as possible. For more details about how great contribution our extension can bring to your store, please visit our gift card extension for Magento 2 here.
Website Support
& Maintenance Services
Make sure your store is not only in good shape but also thriving with a professional team yet at an affordable price.
Get Started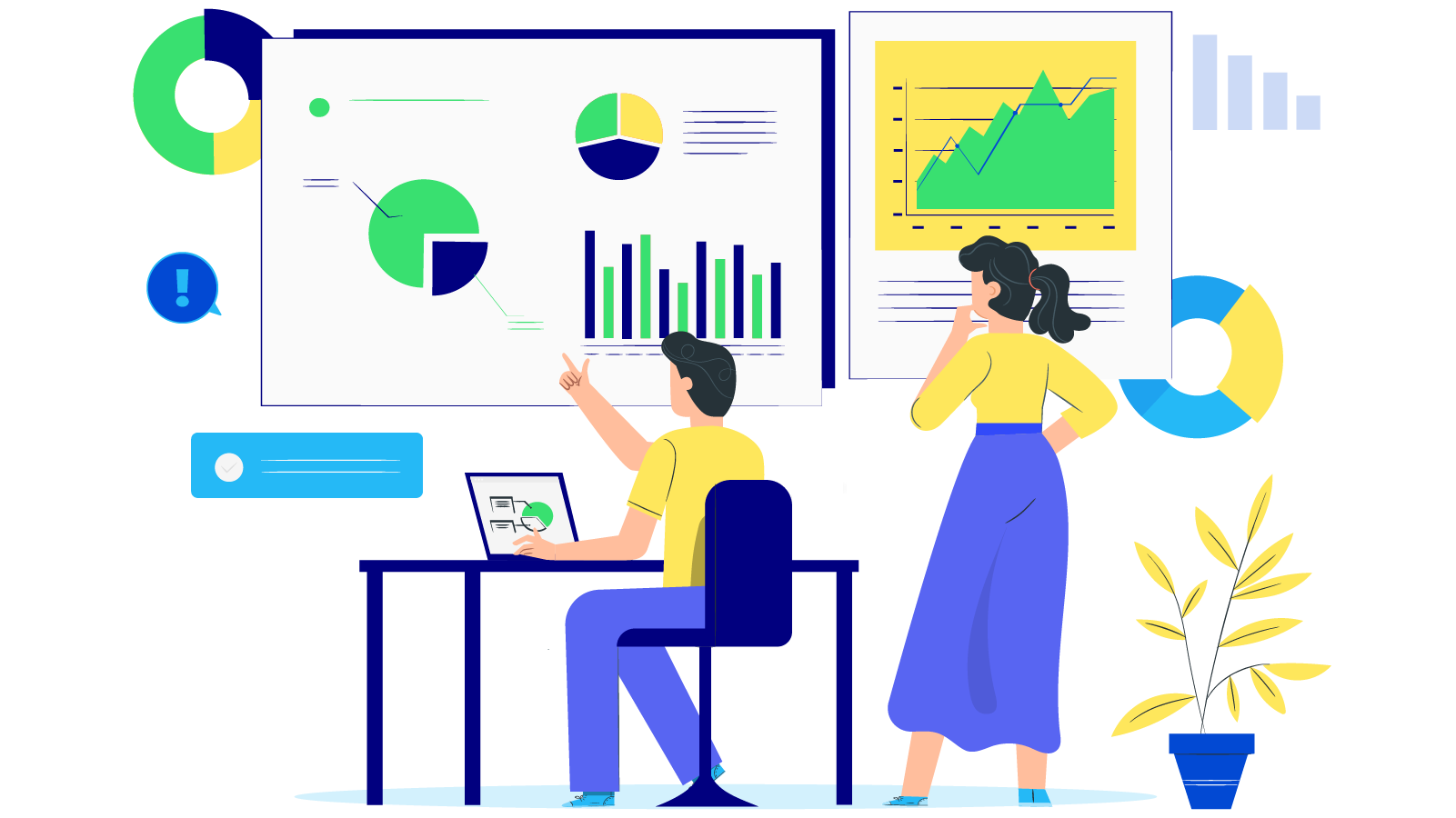 New Posts



Subscribe
Stay in the know
Get special offers on the latest news from Mageplaza.
Earn $10 in reward now!