20+ Top E-commerce Fulfillment Services in 2023
The Most Popular Extension Builder for

Magento 2
With a big catalog of 224+ extensions for your online store
With rapid technological advancements and the increasing trend of working from home, turning everything online has become a preferred choice, especially after the COVID-19 pandemic. Consequently, online shopping has gained even more momentum, leading to the crazy rising demand for outsourcing fulfillment services.
Today's article aims to provide you with a comprehensive understanding of order fulfillment services and offers a detailed analysis of 24 e-commerce fulfillment companies that help safeguard your products, raise revenue, and ensure customer satisfaction.
Table of Contents
E-commerce Fulfillment Services vs. Dropshipping Suppliers
Speaking of e-commerce, the term Dropshipping definitely hits many people's minds. However, fulfillment services and dropshipping suppliers are two completely different concepts. Let's distinguish them!
Fulfillment Services: Merchants manufacture their products and send them in bulk to a fulfillment company. When someone places an order, this company will pick the products, pack and deliver them to the customers. Basically, the fulfillment centers are not the manufacturers.
Dropshipping: Merchants sell the products that are manufactured by another party. Once an order is placed, the dropshippers pick the products from the manufacturers, and pack and ship them to customers. The product suppliers are usually the dropshippers.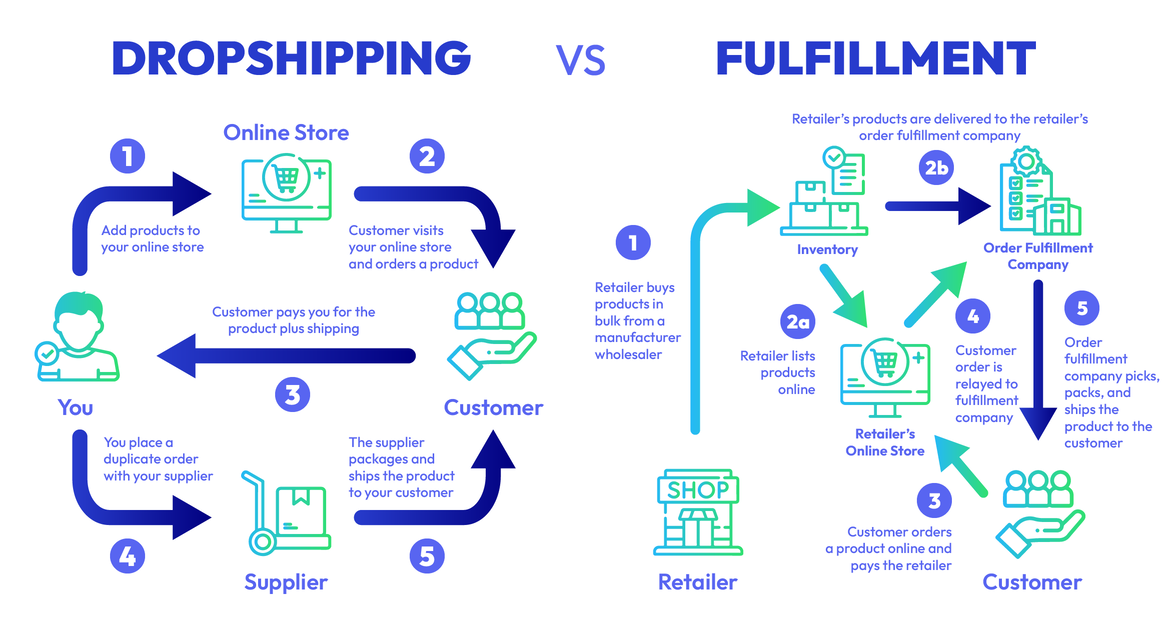 What Are the Benefits of Using a Fulfillment Service?
E-commerce fulfillment services offer numerous advantages, which is why businesses frequently employ these external providers.
Let's check out the reasons why fulfillment service providers are in great demand:
Enhance global market presence and the ability to sell products worldwide.
Free up additional space in your office for other business activities.
Often include customer service support, relieving you of this responsibility.
Lower shipping expenses due to the proximity of customers to multiple fulfillment centers.
Customize packaging choices for enhanced branding.
Decrease operational cost.
Apply the latest technology to handle orders quickly and correctly.
Streamline management of the supply chain.
20+ Top E-commerce Fulfillment Services in 2023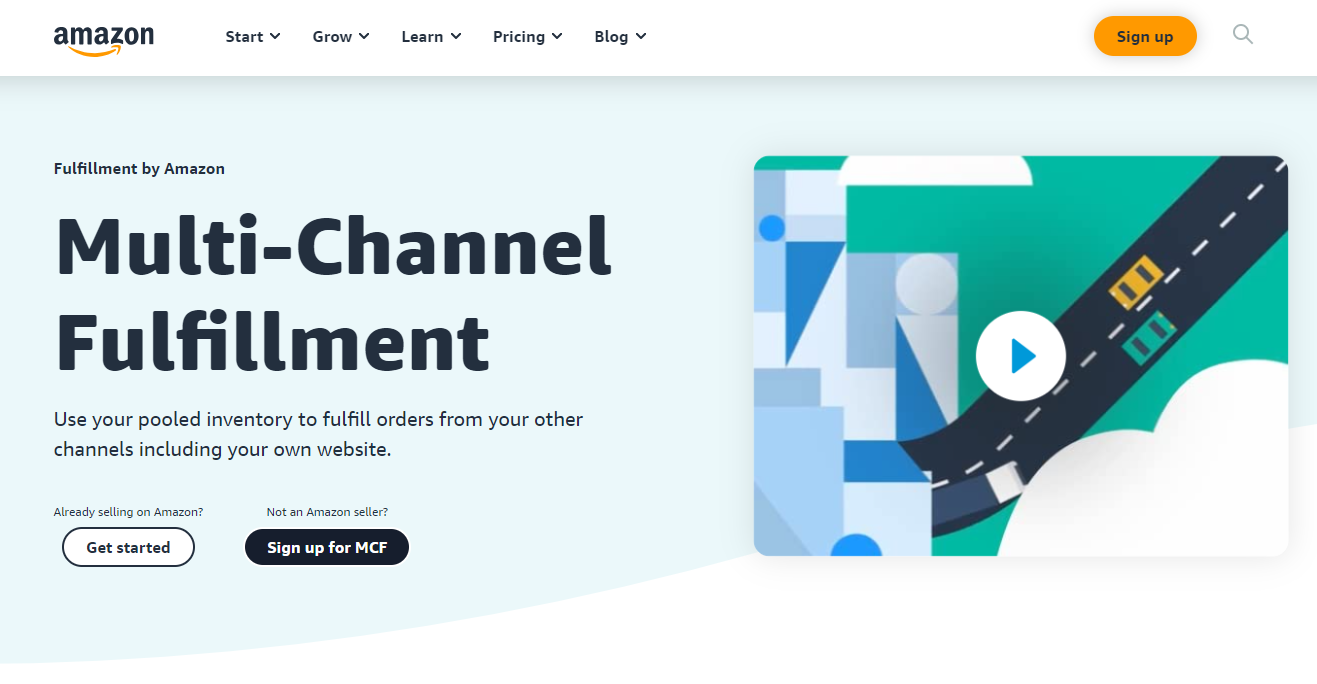 The first to be named in our list of e-commerce fulfillment services is Fulfillment by Amazon.
Amazon operates an advanced fulfillment network known and trusted by e-commerce businesses for inventory management. Amazon FBA (Fulfillment by Amazon) is favored by online retailers, especially those dealing with high-volume and high-margin products.
Pros

Cons

- Ideal for high-end and high-volume inventory




- Trusted Amazon brand




- Suitable for e-commerce and - online brick-and-mortar stores




- Handles diverse inventory




- Offers Prime shipping

- Fluctuating and complex fee structures




- Amazon gains access to customer data
This service provides attractive features for online sellers. Amazon's reputation ensures top-notch packing, shipping, returns, and customer support. Additional perks are available for Amazon Prime customers. However, keep in mind that Amazon's pricing can be complex, with warehousing fees that vary and pick-and-pack rates based on size and weight.
2 ShipBob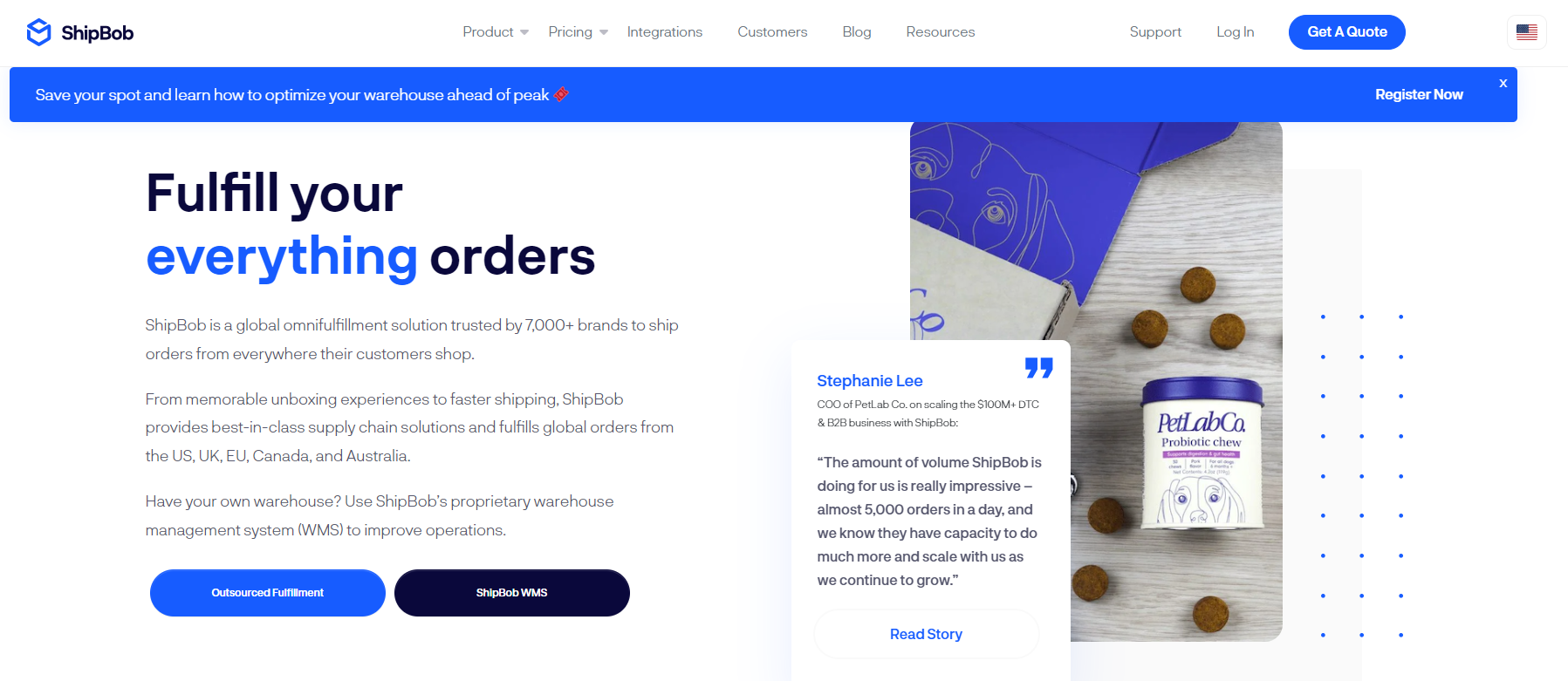 ShipBob ranks as the leading fulfillment company in the USA, known for its exceptional services and consistent growth since its establishment in 2014. This trusted provider offers cost-effective shipping and logistics services, along with highly praised customer support.
Pros

Cons

- Nationwide presence with multiple locations.




- User-friendly dashboard and useful tools.




- Real-time inventory and order tracking.




- 2-day express shipping program.




- Address verification for delivery accuracy.

- Limited services like refrigeration.




- Not specialized in B2B e-commerce fulfillment, although it's available.
ShipBob presents an enticing array of e-commerce features, making it a popular choice among online businesses. From robust inventory management to advanced filtering options, ShipBob covers diverse needs. The platform facilitates seamless online integrations, ensuring easy connectivity with your e-commerce store. Competitive pricing caters to businesses of all sizes, and dedicated account managers deliver excellent customer support. If you seek an all-around e-commerce fulfillment solution, ShipBob is a strong contender.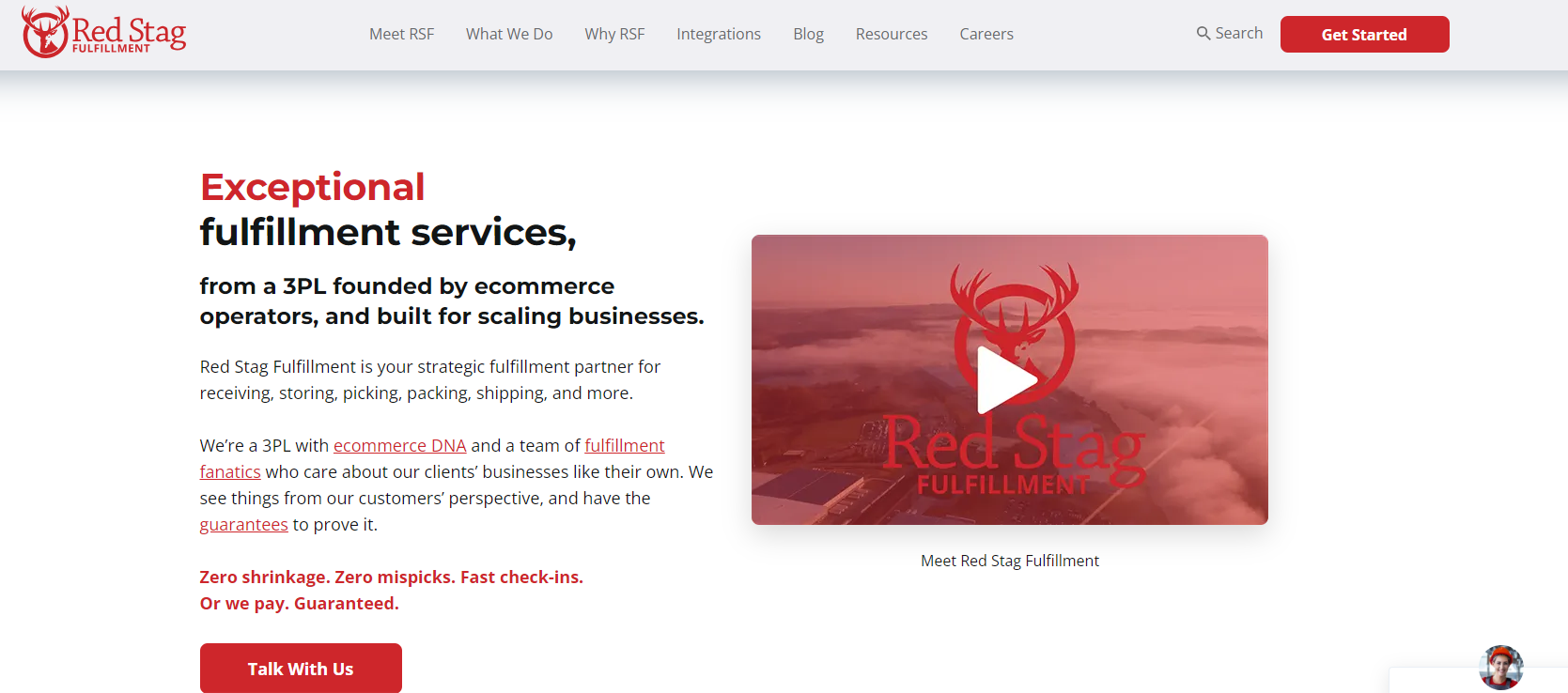 For online retailers specializing in large, heavy products, Red Stag Fulfillment stands out as a top choice. While they accommodate various product orders, their expertise lies in efficiently packing and shipping these bulkier items.
Pros

Cons

- Proficiency in handling heavy and bulky products




- Advanced video monitoring




- Outstanding customer support




- Robust pallet delivery system




- Guaranteed same-day shipping and order completion




- Extensive fulfillment warehouse network.




- Impressive scalability

- Proficiency in handling heavy and bulky products




- Advanced video monitoring




- Outstanding customer support




- Robust pallet delivery system




- Guaranteed same-day shipping and order completion




- Extensive fulfillment warehouse network.




- Impressive scalability
Red Stag Fulfillment excels in scalability, making them suitable for both small and large businesses. Their comprehensive services offer valuable features for e-commerce store owners, ensuring swift and efficient inventory delivery. If you require a fulfillment partner capable of managing intricate shipping needs or handling heavy items, Red Stag is a compelling choice.
4 ShipMonk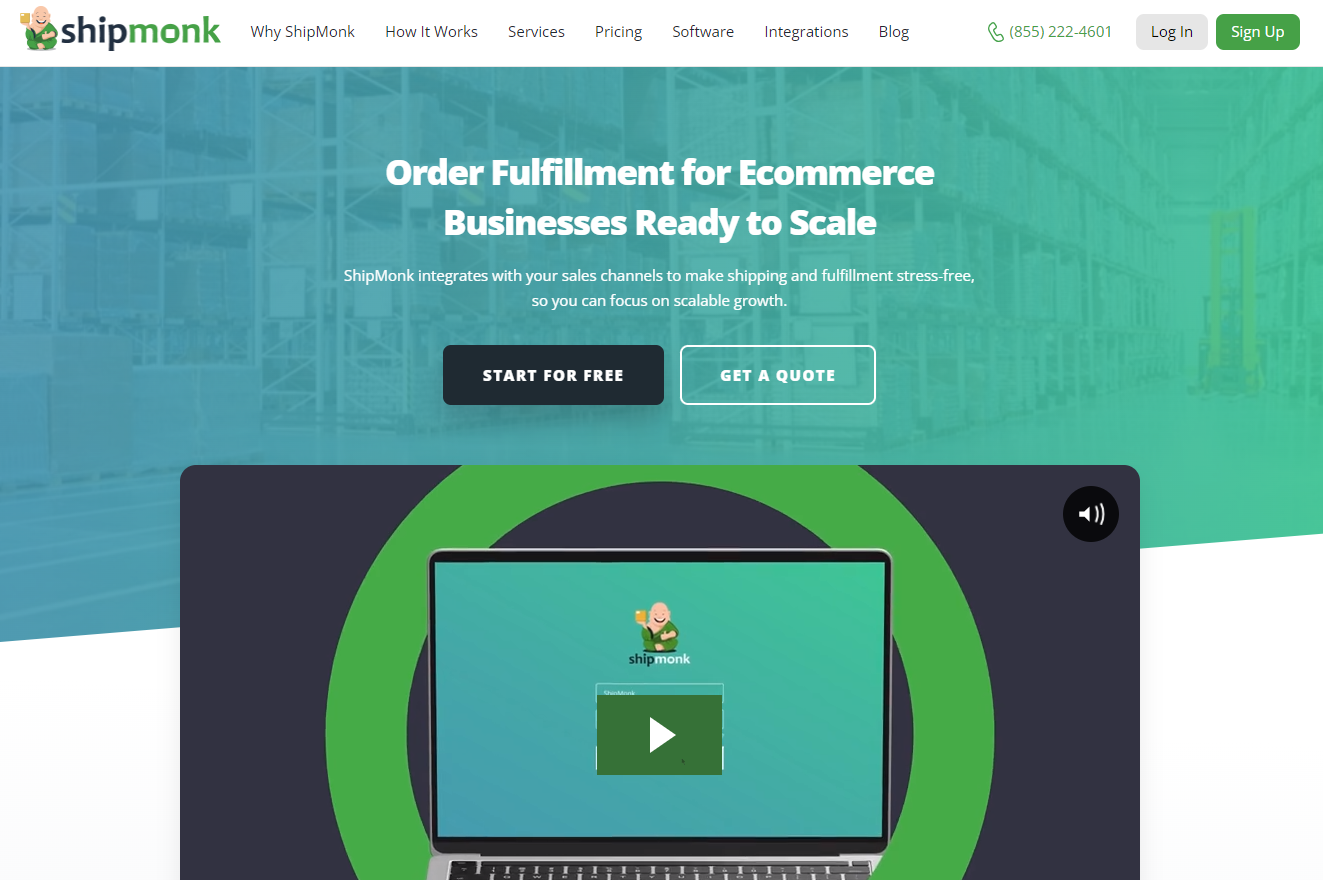 Another notable entry among the top e-commerce fulfillment services is ShipMonk. Established in 2014, this logistics provider demands your attention.
ShipMonk offers comprehensive fulfillment services, with a specialization in B2C eCommerce, subscription box management, and support for crowdfunding endeavors.
Pros

Cons

- Proficiency in managing B2C eCommerce, subscription boxes, and crowdfunding campaigns




- Utilizes proprietary SaaS software for order, inventory, and warehouse management




- Seamless integration with over 75 shopping carts, marketplaces, and solution providers




- Boasts three warehouse locations in Florida, California, and Pennsylvania




- No setup or inventory receiving fees




- Access to discounted shipping rates




- Efficient claims management




- Competent international order processing

- No Wix integration
ShipMonk offers a wide array of integrations, empowering you to select the options that align best with your company's needs. While renowned for its subscription fulfillment services, ShipMonk's expertise extends beyond this niche, catering to various product categories and inventory requirements for your online store. With a foundation dating back to 2014, ShipMonk brings a wealth of experience to the table.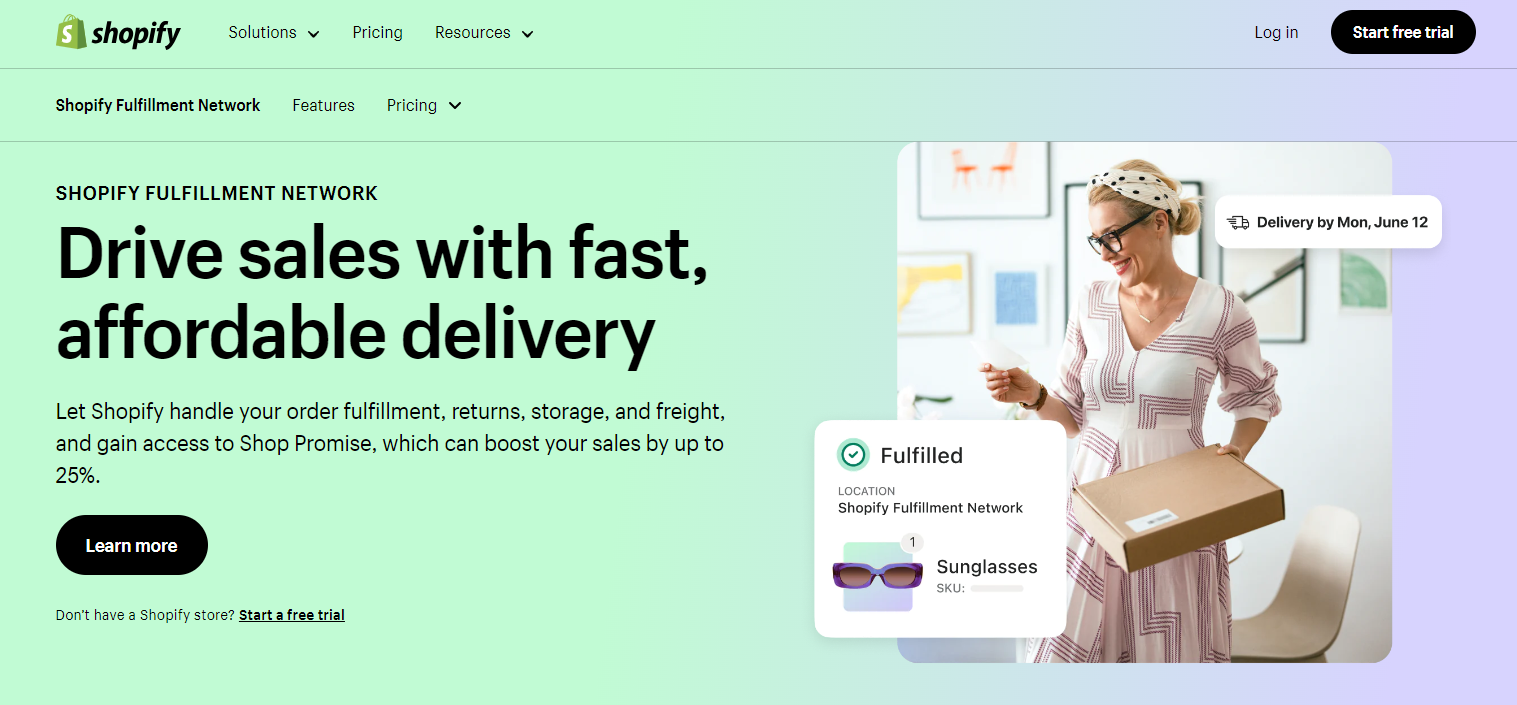 As one of the latest order fulfillment services, Shopify Fulfillment Network provides Shopify store owners with streamlined fulfillment and delivery services at an affordable price.
Pros

Cons

- Integrated streamline management system




- Supports multi-channel selling




- Offers two-day delivery




- Provides options for customized branding

- Limit country




- Stricter eligibility criteria:




Must operate in the United States




Should have less than 2,000 SKUs




Daily order shipments must be from 10 to 10,000




Can't sell regulated or perishable products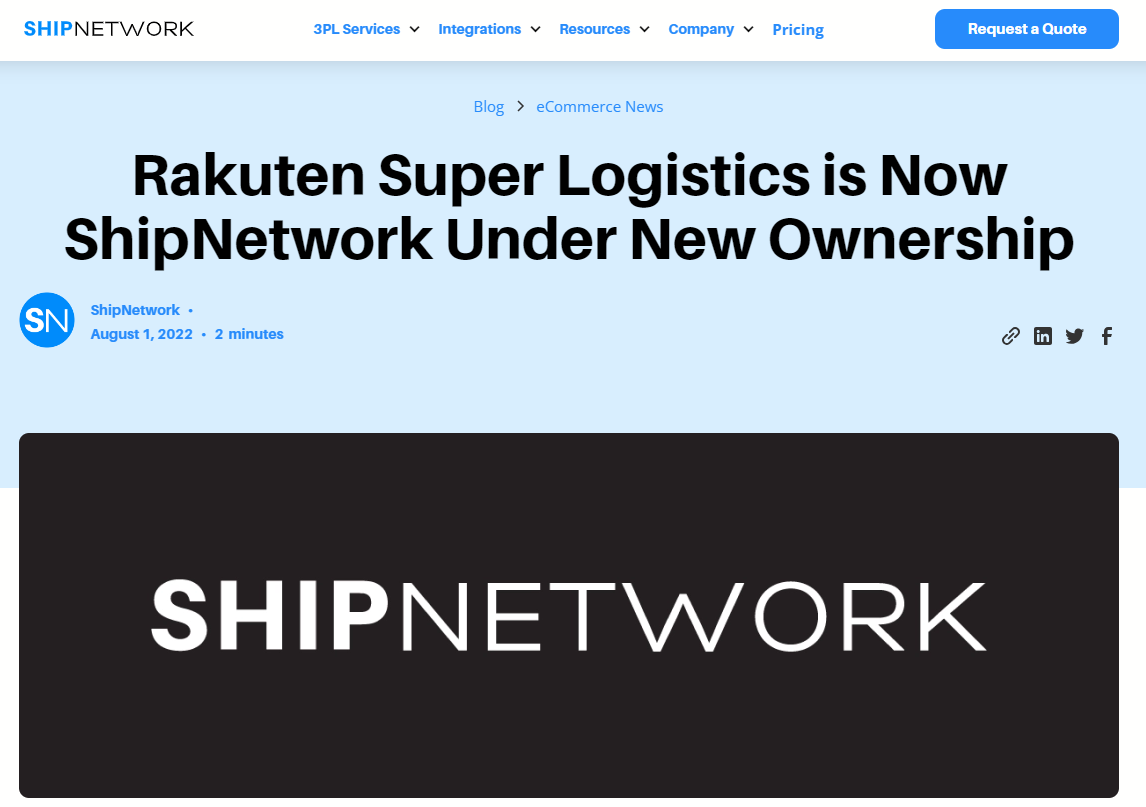 The sixth candidate in today's list of 20+ best e-commerce fulfillment services is Rakuten Super Logistics, which partners with mid-sized and expanding e-commerce stores that ship a minimum of 1,000 orders monthly. They predominantly cater to enterprise brands, rendering their service highly attractive for larger stores and those operating within the B2B and enterprise sectors.
Pros

Cons

- Marketing services alongside shipping




- Integration with various e-commerce platforms




- Multiple warehouse locations for faster customer reach

- Lack of international fulfillment centers




- Missing options like custom packaging




- Uncertainty due to the closure of Rakuten Americas marketplace




- Support and integration challenges mentioned in customer reviews
7 Deliverr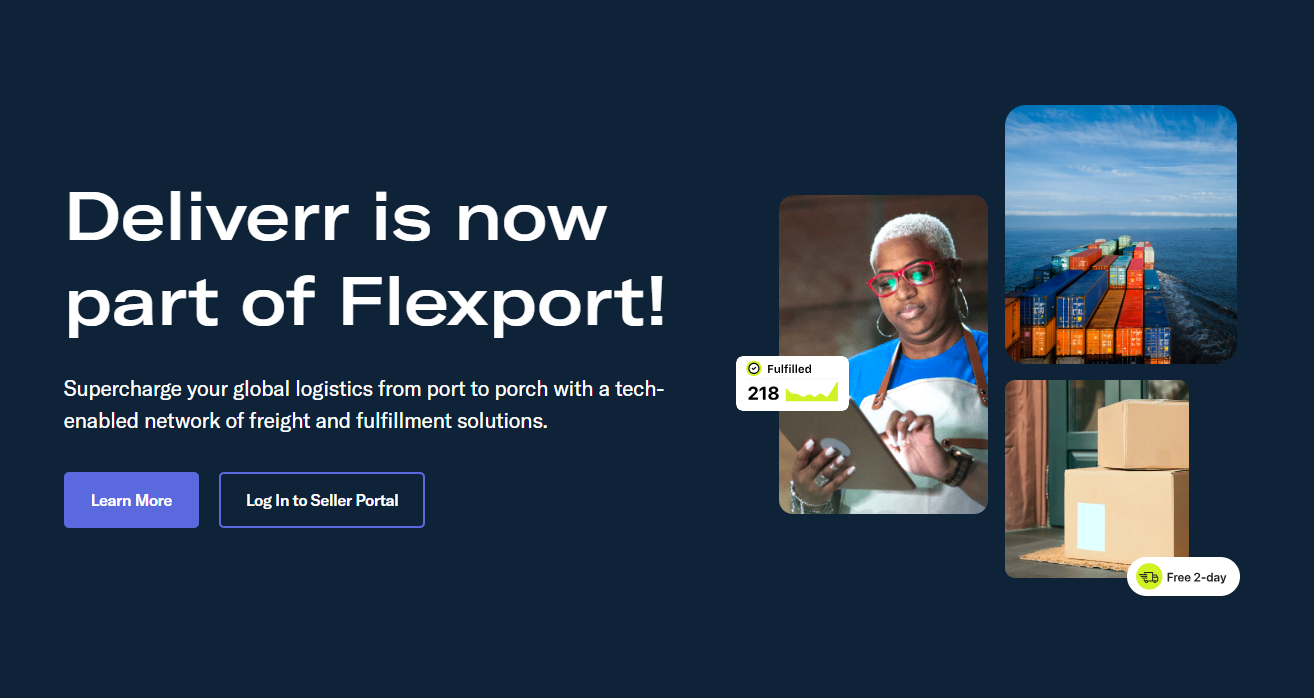 Deliverr, established in 2017, is a newcomer in the fulfillment industry. Its mission revolves around making 2-day shipping accessible across various sales channels, akin to Amazon Prime. In July 2022, Shopify acquired Deliverr as part of its efforts to enhance the Shopify Fulfillment Network.
What distinguishes Deliverr is its commitment to transparent pricing. Their website features a cost calculator where you can input product details to obtain a precise cost estimate.
Pros

Cons

- Integrates with major e-commerce platforms




- All-in-one fees include receiving and fulfillment




- Real-time inventory and order tracking




- Returns processing and subscription box kitting available

- Lots of poor customer feedback around delayed shipments causing a bad customer experience
Deliverr makes it easy to see where you have products, and how many units are in each location. With the map on the dashboard, you'll be able to see how well each part of the U.S. is serviced. You can also build inventory buffers to prevent stockouts.
Deliverr may be a young company, but its continued rounds of investments provide the funding it needs to remain competitive and carve out its place in the market.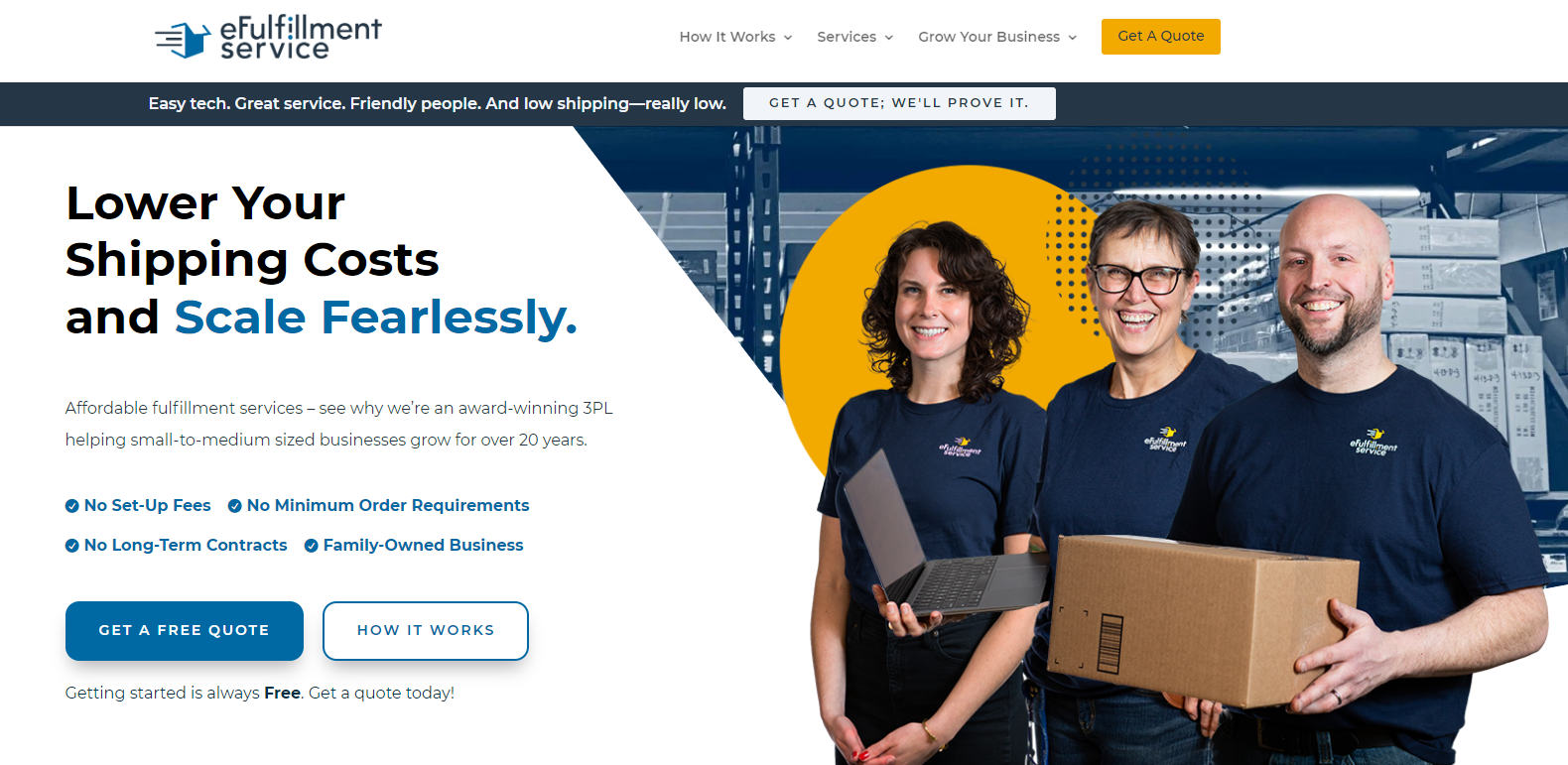 eFulfillment Service is dedicated to delivering straightforward, trustworthy, and dependable services, making it a preferred choice for many e-commerce businesses, particularly startups, who will appreciate the absence of a minimum order requirement.
Their extensive experience is worth noting, with eFulfillment Service having been actively engaged in product delivery and warehousing since 2001.
Pros

Cons

- Affordable pricing




- Excellent terms




- No setup fees




- In-house IT team




- No long-term contracts




- Free shopping cart integration




- No order minimums




- Discount shipping costs

- No custom packaging




- Smaller shipment needs




- Limited advanced features
While eFulfillment Service primarily serves startup e-commerce firms and the order fulfillment needs of small to medium-sized businesses, it's fully equipped to accommodate the requirements of larger enterprises as well. This third-party fulfillment provider offers a range of appealing features to facilitate your online sales distribution objectives.
In the e-commerce landscape, seamless integrations are vital for achieving optimal outcomes. Ensuring your order fulfillment company offers this accessibility is crucial.
eFulfillment Service provides cost-effective pricing tiers, particularly advantageous for startup companies operating with limited budgets.
Exceptional customer service is paramount for any business, including order fulfillment companies, as it can significantly impact customer retention and satisfaction.
If you're managing new ventures or small-scale e-commerce stores, exploring the offerings of eFulfillment Service could be beneficial for your business.

If your e-commerce business is looking for a partner who can deal with overseas shipping, don't skip FedEx Fulfillment - one of the best international e-commerce fulfillment services.
Pros

Cons

- Handles international shipments regularly




- Famous company name




- Impressive delivery network




- Many e-commerce integrations




- Easy-to-use platform

- No product-based batch fulfillment




- Inconsistent customer assistance




- Account fees when below minimum
Consider this option when you need to handle a lot of international shipping will make your business operation much easier.
10 Flowspace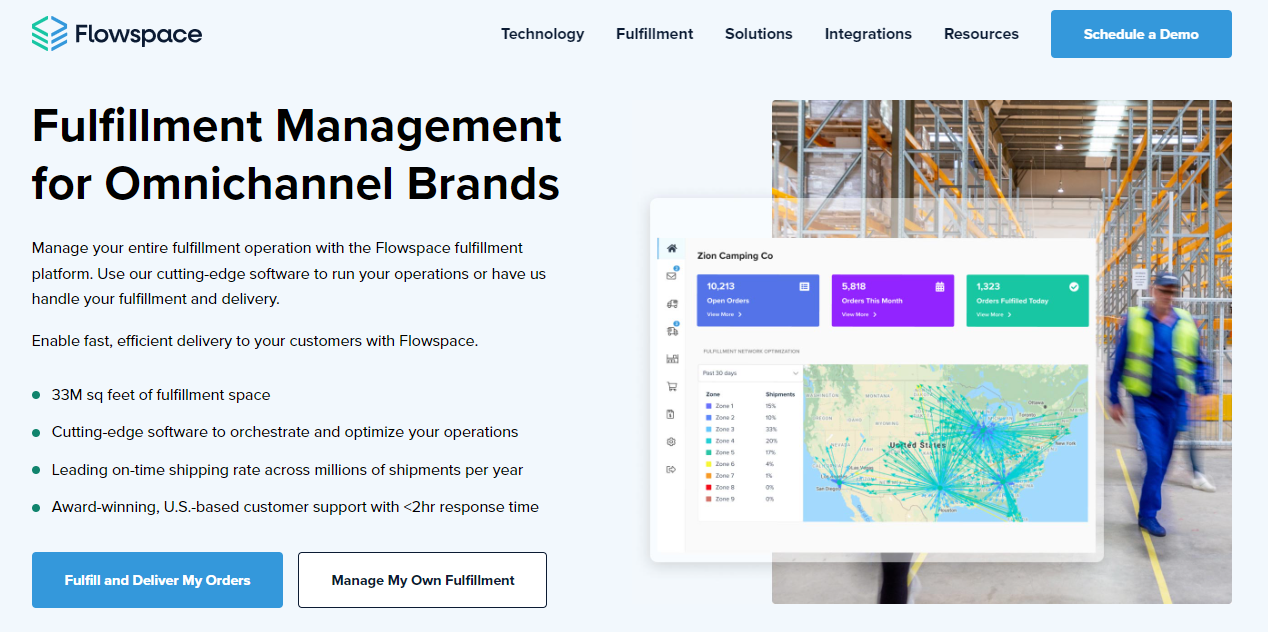 In contrast to FedEx Fulfillment, with a strong competitive in overseas delivery, Flowspace does not support international shipping. However, it is a great choice for businesses that focus on domestic development.
Flowspace was established in 2017 by CEO Ben Eachus and CTO Jason Habert with the primary goal of addressing the warehousing challenges faced by smaller enterprises.
In addition to solving warehouse space issues, they have expanded their services to encompass a wide range of fulfillment tasks, including order picking, packing, and shipping.
Pros

Cons

- Over 1,000 fulfillment centers nationwide




- Express shipping options

- No international shipping




- Reports of slow customer support
With an extensive network comprising hundreds of warehouses spread across the United States, Flowspace is capable of providing expedited one- and two-day shipping services to most destinations.
Their expansive fulfillment network is designed to expedite the delivery of your customers' purchases. Furthermore, the platform seamlessly integrates with popular e-commerce tools such as Shopify, Rakuten, Ecwid, and more.
What sets them apart is their comprehensive onboarding service. As a platform tailored to smaller companies, Flowspace offers a full 30-day onboarding program managed by actual individuals, readily accessible customer support, and a dedicated warehouse liaison.
However, if your objective is international shipping, Flowspace may not be the ideal choice. Nonetheless, despite the absence of international shipping services, they are still in the top e-commerce fulfillment services cause they provide storage and fulfillment solutions that can grow with your brand.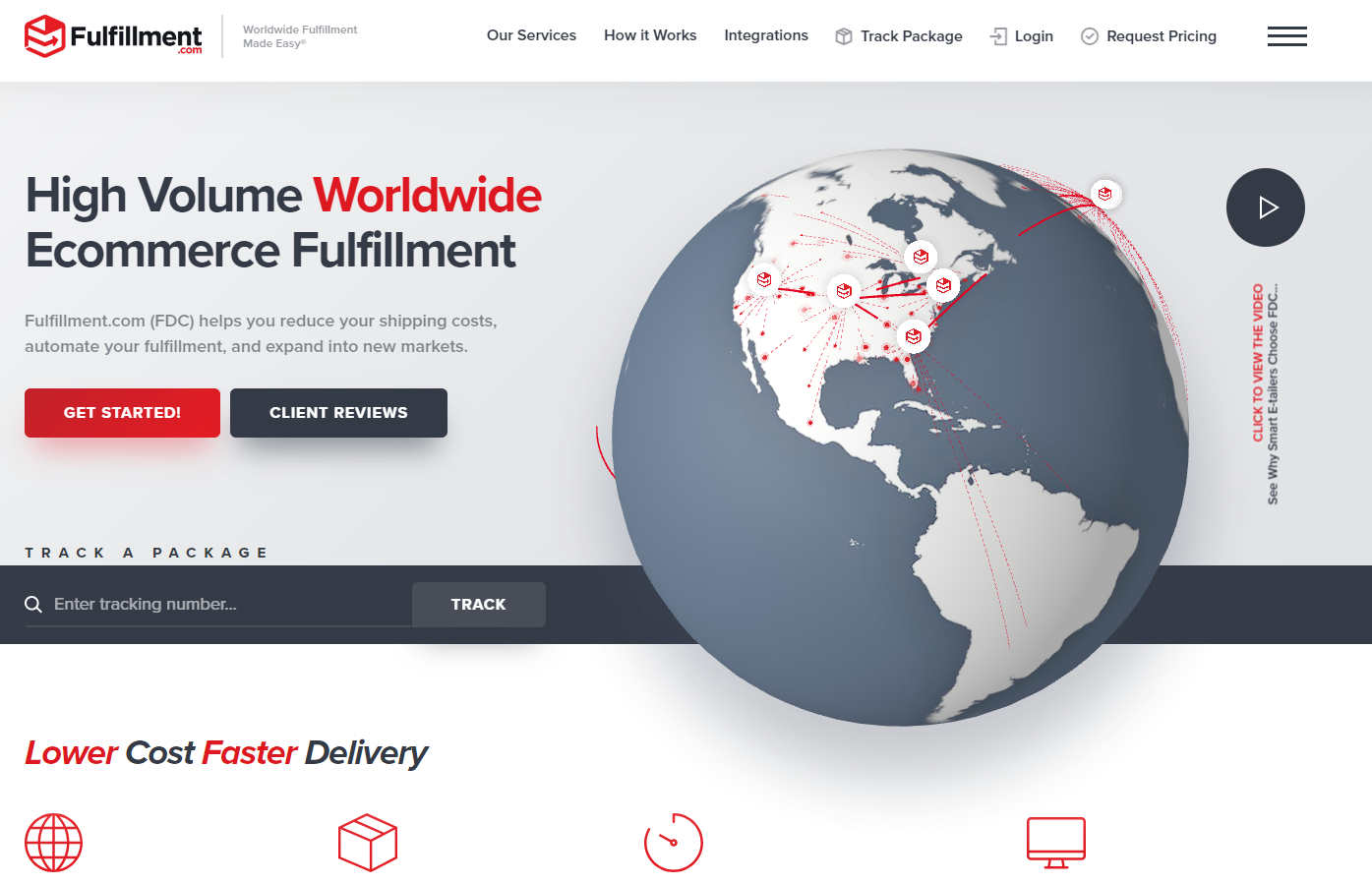 If your business operates with a substantial order volume and you're exploring alternatives to Amazon FBA, Fulfillment.com is well-equipped to manage your extensive order quantities. Furthermore, if you're an international e-commerce enterprise engaged in high-volume operations, Fulfillment.com serves as a precious fulfillment center.
To kickstart your research, let's delve into some of the advantages and drawbacks linked to Fulfillment.com:
Pros

Cons

- Cloud-based platform




- Handles high-volume orders




- International orders




- Account managers assigned to each customer




- Worldwide fulfillment center locations




- Same-day order processing

- Non-refundable deposit fee




- Limited customer support
Considering the substantial scale of Fulfillment.com as a fulfillment provider, it's no surprise that they offer an extensive range of features.
Fulfillment.com provides a wide array of integration options, allowing you to seamlessly connect with the necessary platforms and efficiently fulfill customer orders.
For businesses dealing with large shipment volumes or frequently shipping products internationally, Fulfillment.com can significantly ease your fulfillment responsibilities.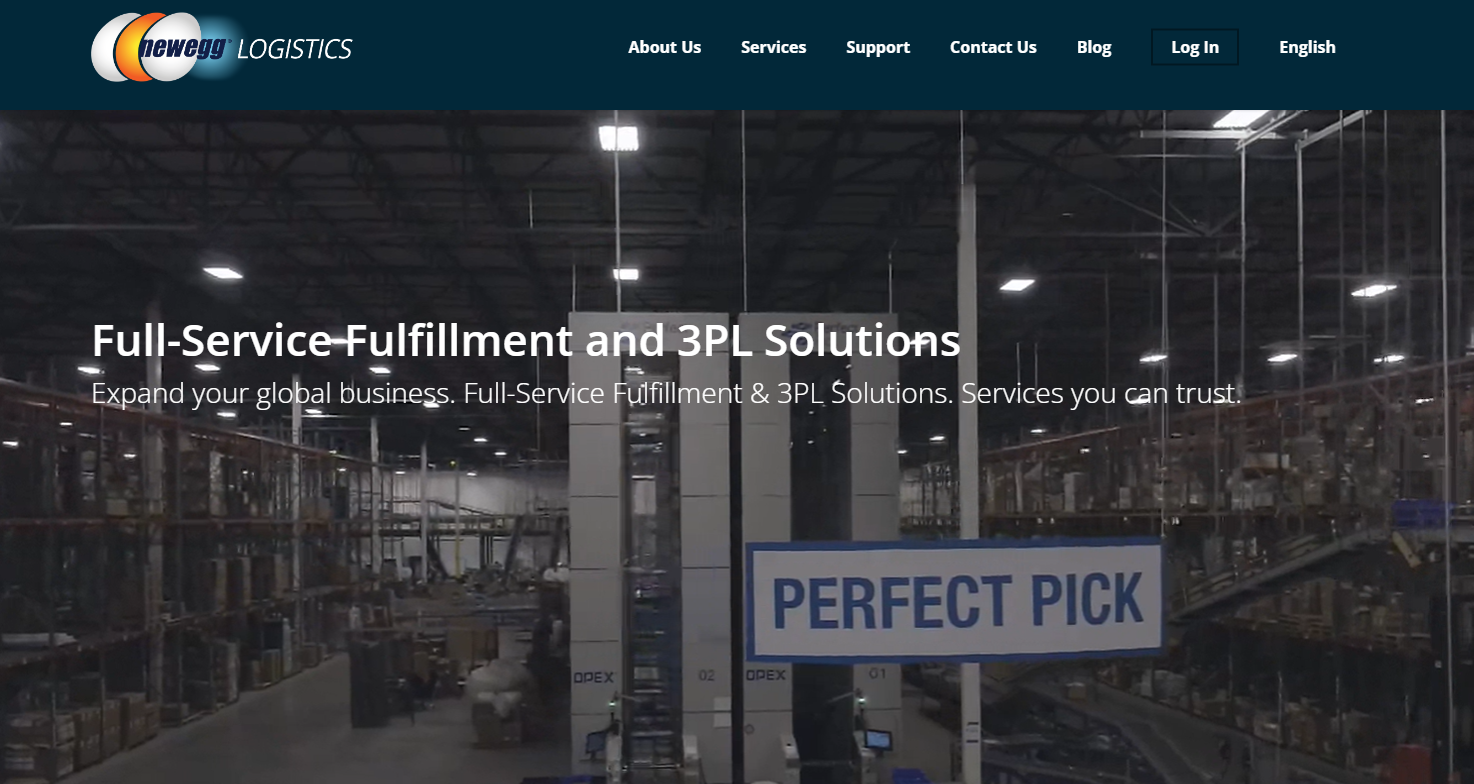 Another must-mention name in today's list of E-commerce fulfillment services is Newegg Logistics, a full-service logistics partner that offers quick shipping within 24 hours and claims to have 99% inventory accuracy.
Pros

Cons

- Manage returns




- 24/7 customer service




- Fast shipping across the US (mostly in two days)

- Steep oversized item fees




- Limited integrations




- Only five warehouses
Newegg Logistics provides several e-commerce solutions, including shipping, kitting and assembly services, as well as reverse logistics for returns.
With a total storage space of over one million square feet across five warehouses, they achieve an impressive 91% two-day shipping coverage throughout the US and Canada.
They also offer round-the-clock access to their customer service team to address any issues you may encounter.
A notable feature that sets Newegg Logistics apart is their collaboration with Indiegogo, making them a top choice for crowdfunded projects in need of cross-docking solutions.
However, for items that don't conform to standard sizes (such as a 42-inch TV), Newegg Logistics imposes an additional fee on top of their regular pricing structure.
It's worth noting that they have limited platform integration, including Amazon USA Fulfillment, eBay Fulfillment, SellerCloud, ShipStation, Shopify Fulfillment, Skubana, and Walmart. If your preferred platform isn't on this list, using Newegg Logistics may pose challenges.
13 Fulfillify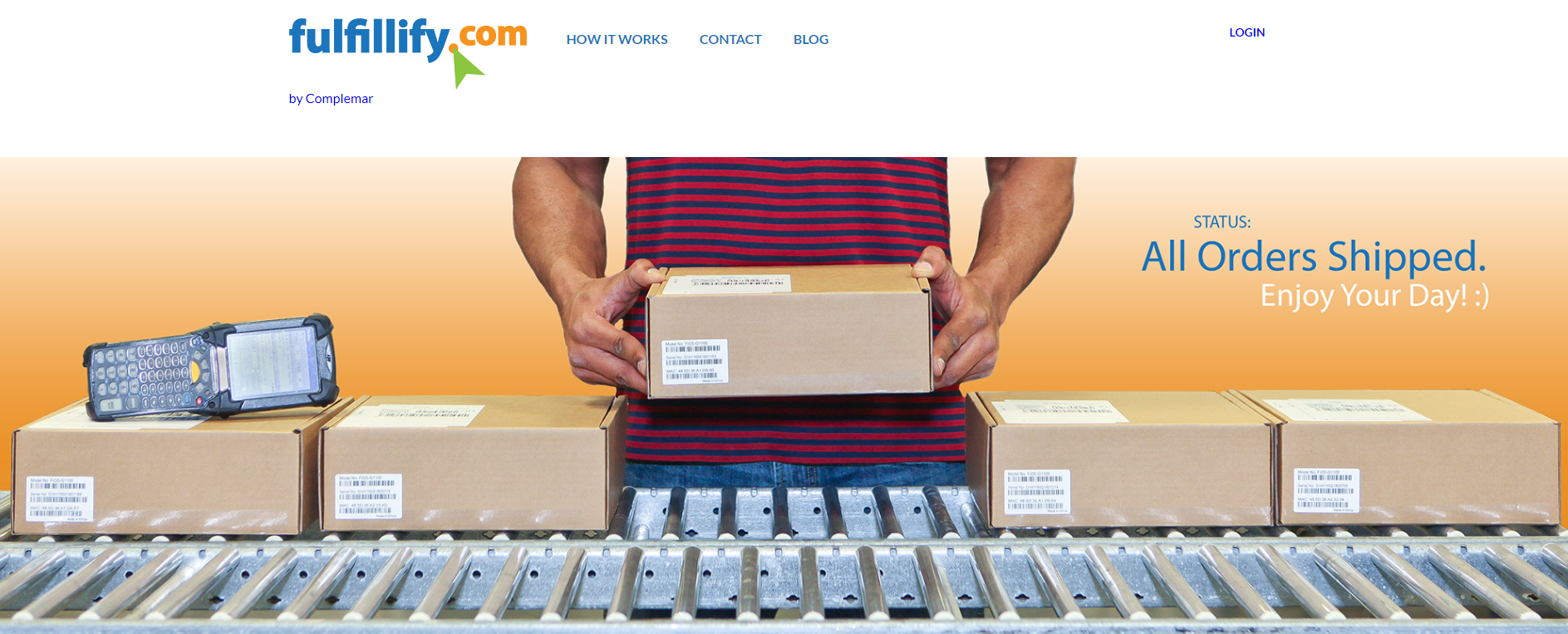 ‍Fulfillify has warehouses in various cities like Rochester, Harrisburg, New York, Oklahoma City, Pennsylvania, Oklahoma, etc.
The team claims to reach 98.6% of orders from the US with one to two days of ground shipping.
Pros

Cons

- Easy-to-use software




- Month-to-month pricing




- Real-time inventory tracking and monitoring

- Limited integrations




- Only four warehouses
A significant advantage of using Fulfillify lies in its software - their dashboard delivers comprehensive, up-to-the-minute reports covering inventory, material receipts, order status, reorders, and shipment tracking.
Despite having only four warehouses, their strategic locations ensure they can provide express shipping services to 98.6% of the US population.
Fulfillify is an excellent choice for 3PL services, especially for brands that may be uncertain about committing to a fulfillment service long-term. Their billing is monthly, allowing for easy plan cancellation if you find it doesn't meet your needs.
In terms of integration, Fulfillify is compatible with all major e-commerce platforms, including Shopify, BigCommerce, and PayPal.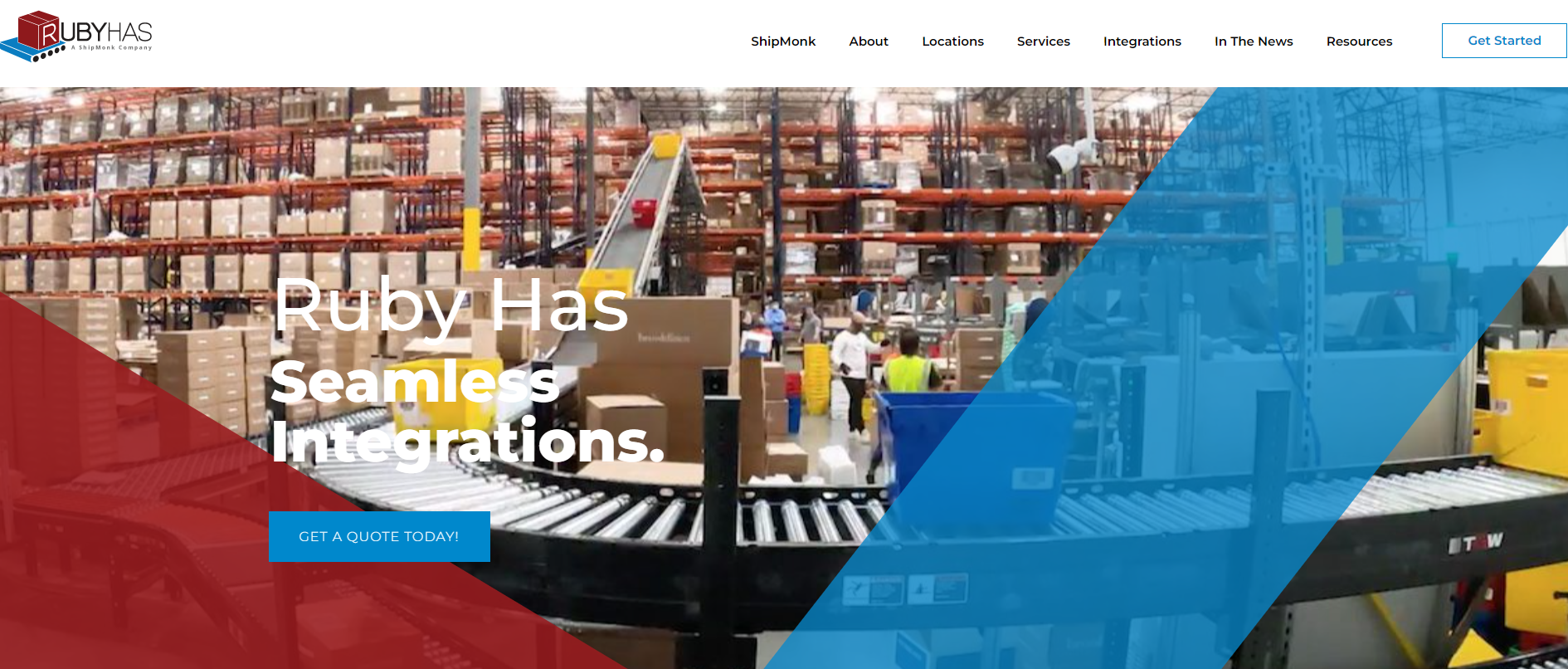 In the list of best e-commerce fulfillment services, it would be a pity if we ignore Ruby Has Fulfillment, a trusted 3PL provider, boasts an impressive 99.7% accuracy rate in the picking, packing, and shipping process, making it an ideal choice for medium to large enterprises.
Pros

Cons

- Integrations with more than 60 e-commerce tools




- Automated warehouse management




- 11 distribution centers

- Lack of customer service




- Only seven distribution centers
Ruby Has Fulfillment seamlessly integrates with over 60 e-commerce tools, simplifying its addition to your website and primary sales channels.
With a total of seven strategically located fulfillment centers (six in the US and one in the UK), Ruby Has Fulfillment offers same-day shipping to most US destinations and extends its fulfillment services worldwide.
Additionally, they claim to significantly reduce both national and international freight costs by up to 45%, thanks to their automated warehouse management system that ensures data accuracy and efficient inventory tracking.
One limitation of Ruby Has Fulfillment is its sole customer support channel, visible on its website as phone support, which may result in reduced accessibility compared to other fulfillment solutions.
15 ShipHero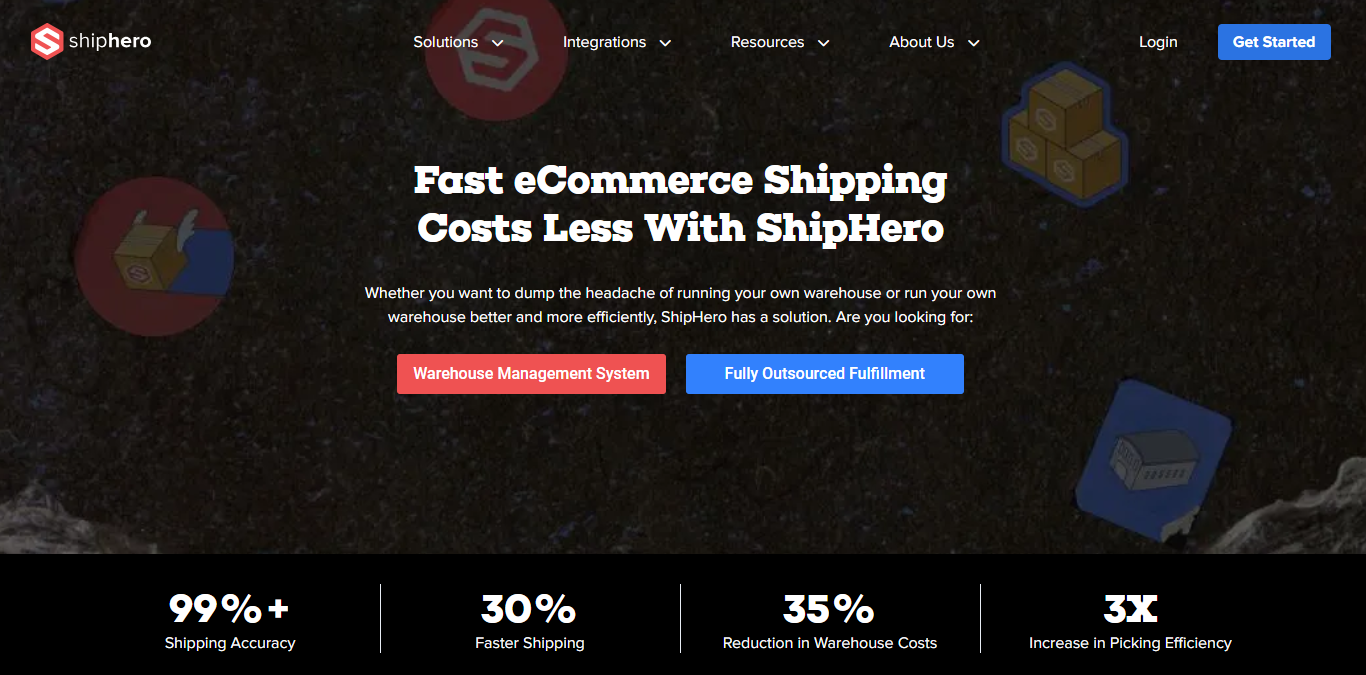 ShipHero, in partnership with Shopify, proudly serves as the fulfillment solution for over 10% of all Shopify Plus stores worldwide, according to their website.
In addition to its fulfillment services, ShipHero offers a separate SaaS tool, underlining its commitment to providing a comprehensive suite of solutions.
Pros

Cons

- International shipping services




- Custom packaging




- No minimum orders

- Software fee on top of fulfillment
ShipHero distinguishes itself through its exceptional software and reporting dashboard, which explains why it offers it as a standalone service. Their user-friendly software and feature-rich reporting dashboard empower users to identify trends and opportunities effortlessly. They also offer workflow automation to enhance efficiency and time savings.
With seven strategically located warehouses throughout North America, ShipHero delivers robust mid-sized coverage that can seamlessly grow with your brand up to a certain extent. Notably, if you choose to utilize their software, it comes with an additional charge on top of their fulfillment fees.
16 ShipWire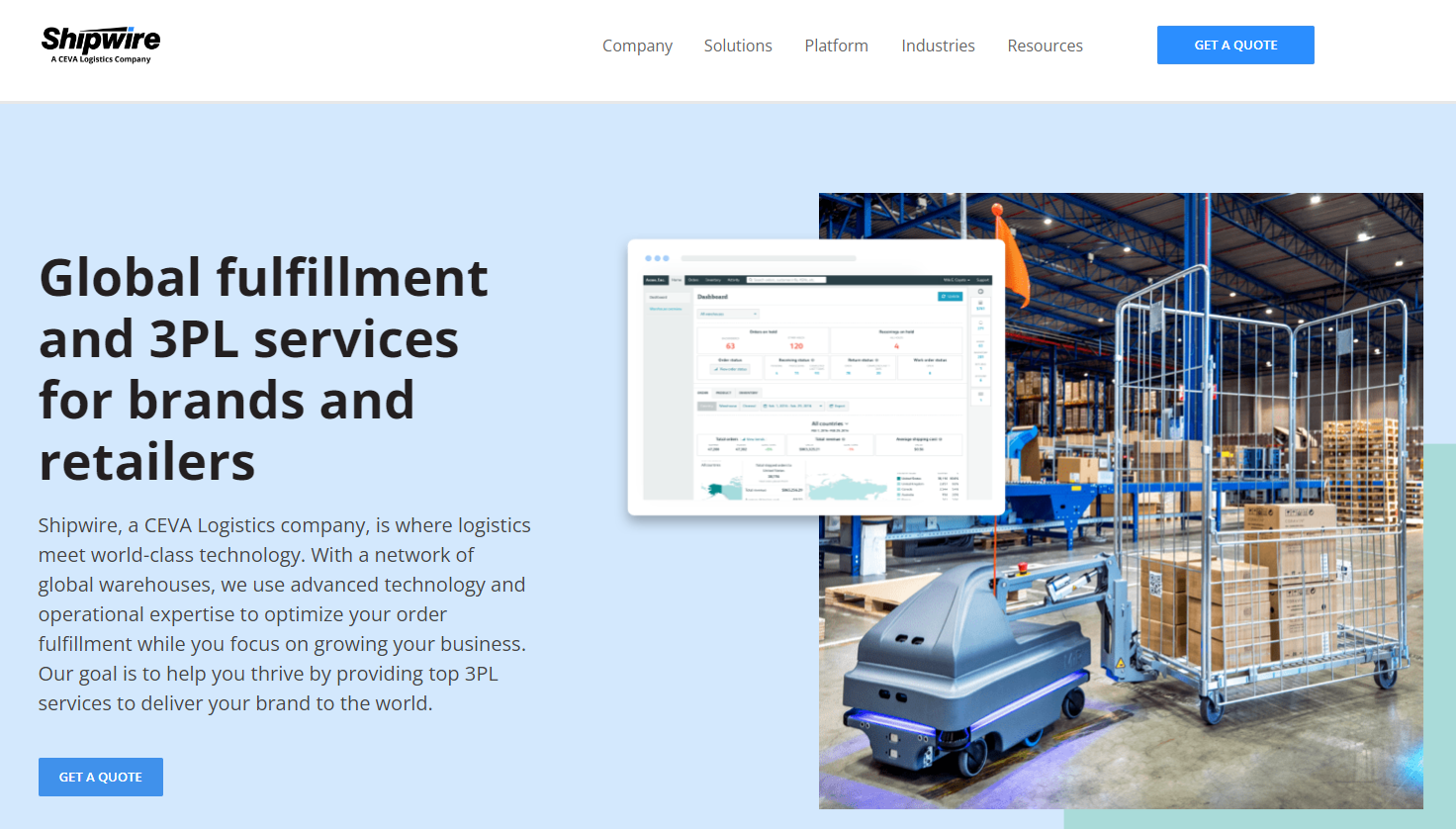 Shipwire is an online fulfillment center platform catering to both domestic and international shipping and fulfillment needs. In fact, it can actually be a strong candidate in the top 23 e-commerce fulfillment services.
Pros

Cons

- More than 120 warehouses worldwide




- International inventory management and fulfillment




- Express same and 2-day shipping




- Integrates with more than 200 e-commerce tools

- Reports of hidden fees
With an extensive network of more than 120 warehouses worldwide, Shipwire boasts the capability to provide rapid shipping, typically within the same day or two days, for the majority of destinations.
In terms of storage capacity, Shipwire offers a vast expanse of over 17 million square feet, ensuring that your business can easily expand its operations without encountering space constraints.
Furthermore, Shipwire's adaptability is showcased through its compatibility with a wide array of e-commerce tools and platforms, with integrations extending to over 200 options.
However, it's worth noting that one of the key challenges with Shipwire lies in its pricing structure, which needs more transparency and has led to dissatisfaction among some previous users.
Nevertheless, despite these challenges, Shipwire remains a compelling choice for small to medium-sized enterprises seeking to initiate global product distribution.

UPS Supply Chain Solutions (SCS) offers comprehensive warehousing and fulfillment services, covering the entire spectrum of logistical needs.
Pros

Cons

- International shipping




- Robust tracking system




- Variety of shipping options and transportation types




- Branded delivery labels

- More expensive




- No free pickups




- More hands-on attention needed




- Reports of inaccurate and unreliable deliveries
With a vast network of fulfillment centers situated worldwide, UPS SCS facilitates rapid and efficient delivery to end customers, promoting accelerated order fulfillment.
Their service portfolio encompasses an array of shipping alternatives and transportation modes, containing air, ground, and maritime transfers. This diverse range of choices includes overnight, same-day, next-day, and two-day delivery options.
It's worth noting that the prominence of the UPS brand does come with a premium price tag compared to some competing services. Additionally, unlike USPS Business Shipping, UPS SCS does not provide complimentary pick-up services.
One notable concern associated with UPS is the prevalence of negative feedback from customers, citing instances where packages were erroneously marked as delivered, misdelivered to incorrect addresses, or entirely lost. As a result, businesses utilizing UPS may find it necessary to take a more hands-on approach to ensure timely and accurate deliveries.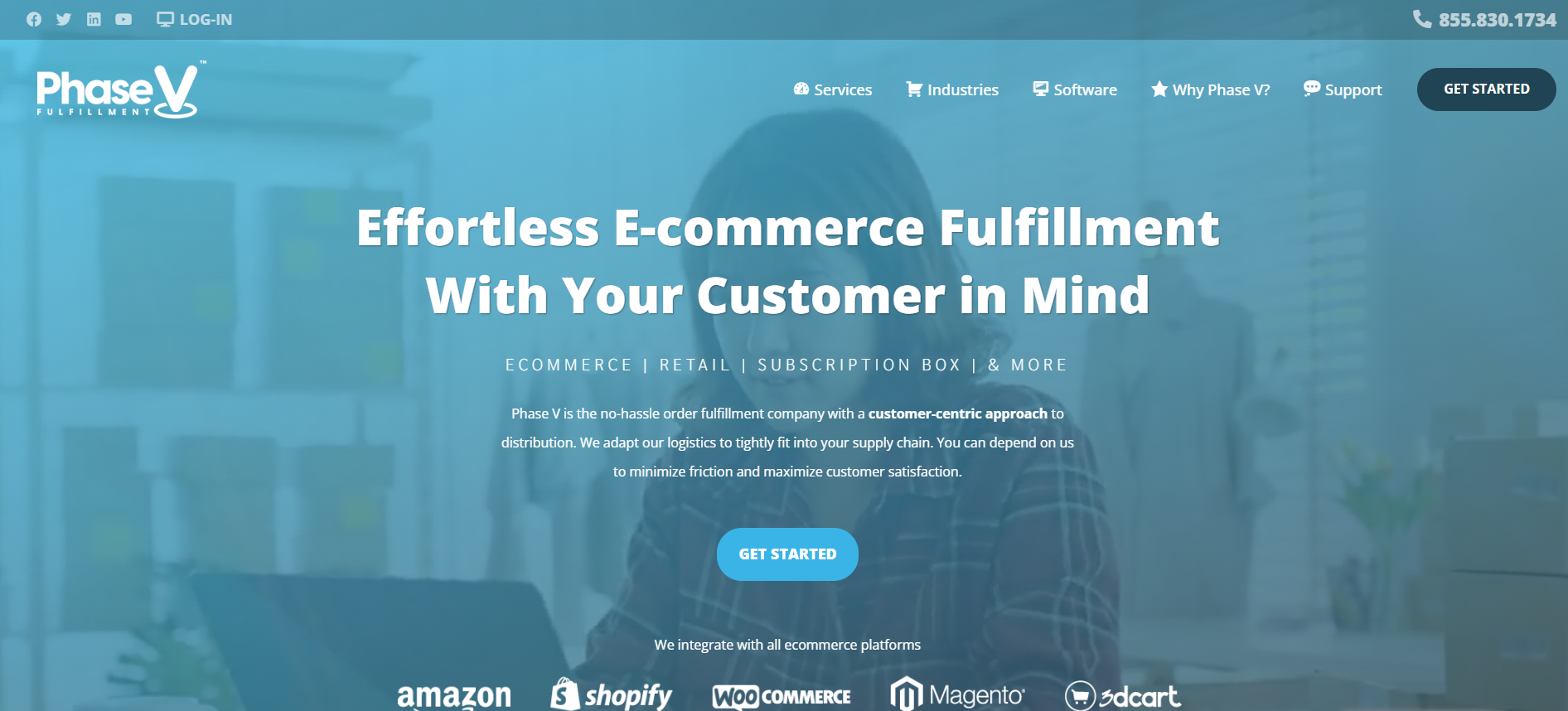 Phase V Fulfillment is also one of the well-known e-commerce fulfillment services. It is based in Florida and is suitable for consumer goods.
Pros

Cons

- Volume-based pricing




- Warehouse-based account management




- Lot and expiry control




- Can integrate with any e-commerce platform

- Not for hazmat materials




- Not for large products
19 MyFBAPrep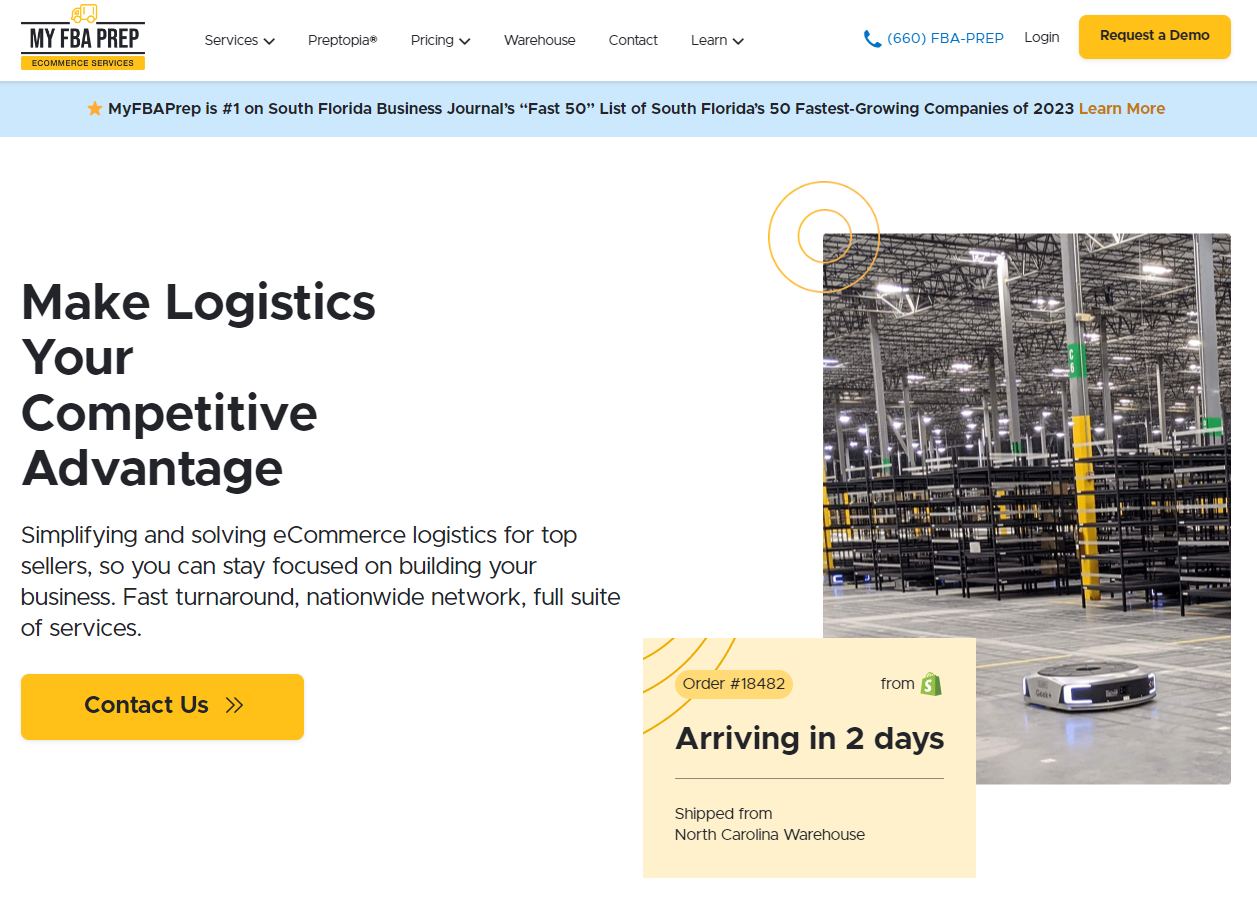 MyFBAPrep is a fulfillment company established by former Amazon employees, primarily focused on mitigating one of the critical challenges associated with utilizing FBA: the stringent prep requirements.
However, they've diversified their services to encompass direct-to-consumer logistics and other online marketplaces.
Pros

Cons

- 50+ warehouses across the US




- International warehouses




- Extensive eCommerce service list




- Chat, email, and phone support

- Lack of direct integrations
MyFBAPrep streamlines FBA sales with fast 1-3 day prep services and Preptopia™, a robust dashboard for data-driven decision-making. They offer diverse direct-to-consumer (DTC) solutions, from kitting for DTC subscription boxes to quality control, labeling, and more for various sales channels.
Their multi-channel support includes chat, email, and phone assistance. However, direct integrations with other sales tools are lacking, requiring manual input for DTC orders.

USPS Business Shipping, the United States' national postal service, is a popular choice for shipping due to its unbeatable rates and widespread drop-off points. Their extensive branch and fulfillment center network enables these affordable rates, particularly for lighter items and liquid products priced by volume. USPS also offers free pickups for most locations, simplifying shipping.
However, USPS is less reliable for international shipping and doesn't guarantee delivery times. If timing is critical, consider a fulfillment service with guaranteed shipping.
Pros

Cons

- Incredibly affordable




- Charges by volume for liquid products, instead of weight




- Free pickups

- No guaranteed delivery times




- No warehousing services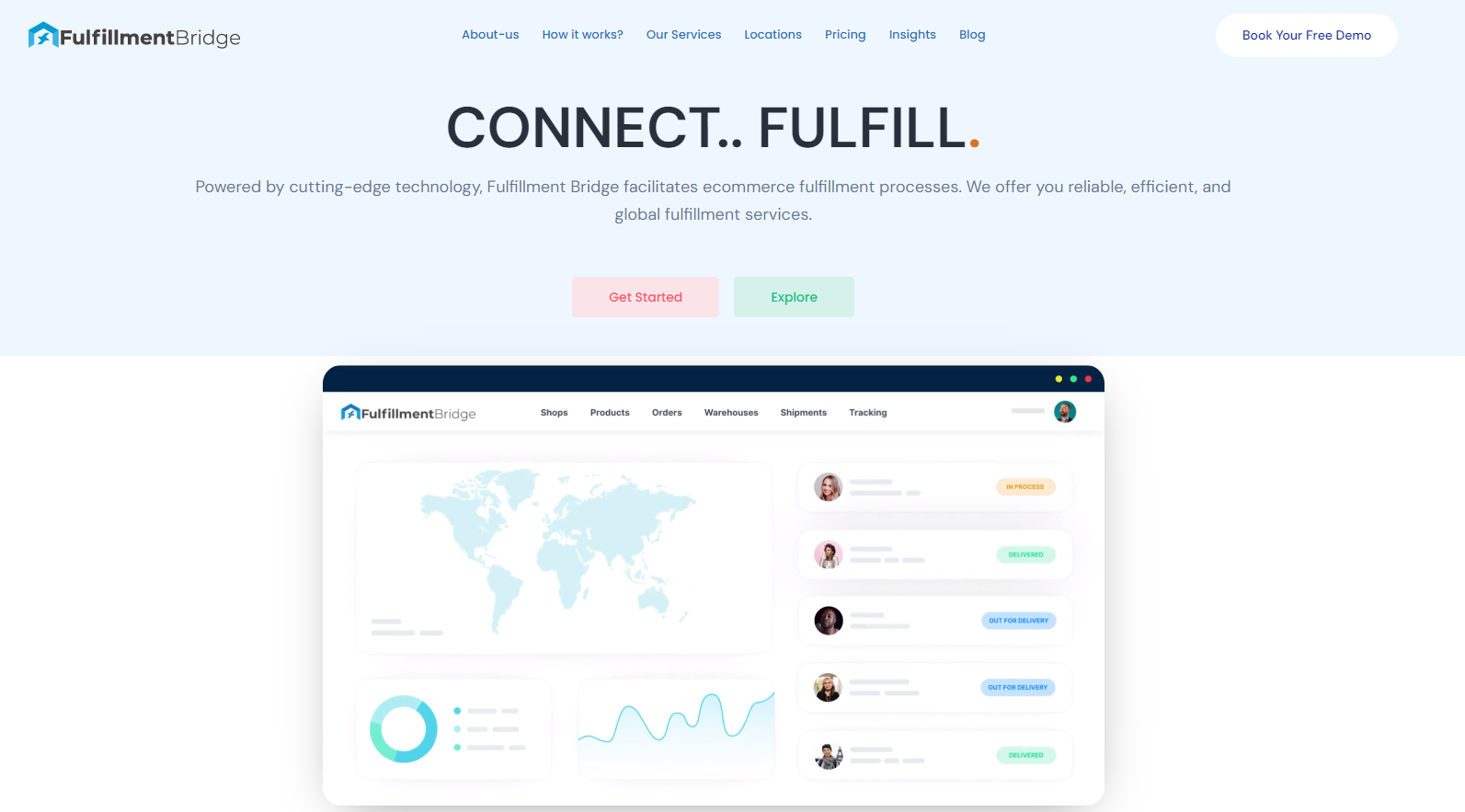 Headquartered in Hong Kong, Fulfillment Bridge is a relatively young e-commerce fulfillment company, just three years old, but it offers impressive solutions.
Pros

Cons

- Global network




- User-friendly dashboard




- Cost-effective services




- Transparent pricing

- Not ideal for large companies




- Poor customer support
22 Fulfillman
Fulfillman, often recognized as a top dropshipping company, extends its services to fulfillment. Partnered with Amazon, Fulfillman guarantees full compliance with Amazon FBA requirements, covering everything from sourcing to branding and photography. While integration options are limited to platforms like Shopify, Amazon, WooCommerce, BigCommerce, and eBay, Fulfillman stands out as a leading choice for Amazon FBA fulfillment.
Pros

Cons

- Integrates with most major e-commerce marketplaces




- Good for crowdfunding fulfillment

- A required minimum of 100 orders/month




- Long shipping times (10-20 days to the USA, and 15-30 days to other countries)
Established in 2008, XPert Fulfillment, a US-based order fulfillment company, boasts extensive experience and top-tier customer support. With founders who collectively hold over forty years of experience in eCommerce fulfillment, the company has forged partnerships with European Union-based providers, enabling it to offer international services. XPert Fulfillment caters to both startups and Fortune 500 companies globally.
Pros

Cons

- Transparency in pricing and quotation




- No minimum orders required




- Low fulfillment cost




- Discount shipping rates and fees




- Real-time inventory insights




- Auto notifications




- Reliable cloud-based services




- Up-to-par e-commerce integration

- Not suitable for small businesses
The dominance of XPert Fulfillment advantages over its disadvantage has clearly indicated why it's named in top e-commerce fulfillment services.
What to Expect when Choosing an E-commerce Fulfillment Partner
When choosing a fulfillment center for your business, consider the following factors to make an informed decision that aligns with your company's needs:
E-commerce Platform Compatibility
When evaluating fulfillment providers, inquire about their compatibility with your e-commerce platforms. Seamless integration with your e-commerce platform is crucial for a smooth and successful fulfillment process.
Multichannel Sales Support
Ensure that your chosen third-party fulfillment company can accommodate multichannel sales. If you plan to sell through various channels such as Shopify, Amazon, and eBay, opt for a service that can cover all these sales options.
Shipping Provider Integration
Pay close attention to shipping provider integration capabilities. Connecting with various shipping providers is essential for efficient order processing.
Ease of Use and Customer Service
Find a fulfillment provider offering easy use and robust customer service support. Multiple customer support avenues, such as phone and live chat, can be beneficial. Having a dedicated account manager can enhance the support experience.
Advanced Features
Beyond basic packing, shipping, and returns handling, consider advanced features like analytics and reporting. Inquire about the extent to which the fulfillment provider offers these services. If special packaging is required, ask whether they provide this service or if you need to hire an additional company.
When discussing analytics, reporting, and specialized services, inquire about the provider's partnerships for services they may not offer directly. This comprehensive assessment will help you select the fulfillment services that best suit your business requirements.
Conclusion
The increasing demand for online businesses has led to the development of various fulfillment services, diversifying options worldwide. However, to choose a suitable service partner, you need to be vigilant and outline a clear strategy for your business. Afterward, check the list of 20+ top e-commerce fulfillment services above to find the perfect choice that meets all the required factors.

Marketing Manager of Mageplaza. Summer is attracted by new things. She loves writing, travelling and photography. Perceives herself as a part-time gymmer and a full-time dream chaser.
Website Support
& Maintenance Services
Make sure your store is not only in good shape but also thriving with a professional team yet at an affordable price.
Get Started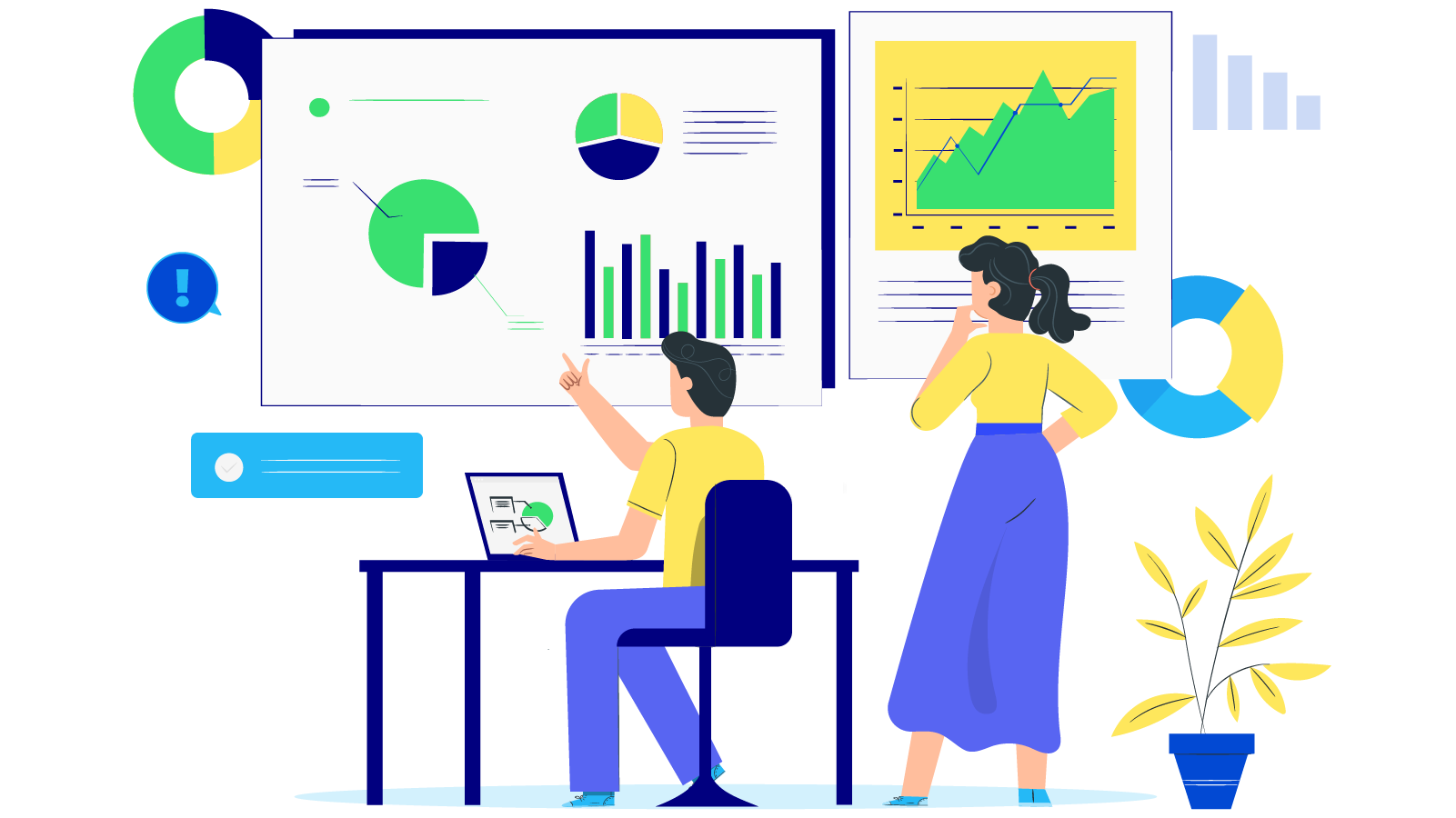 New Posts



Subscribe
Stay in the know
Get special offers on the latest news from Mageplaza.
Earn $10 in reward now!