10+ Best Magento 2 Multi-Language Extensions
The Most Popular Extension Builder for

Magento 2
With a big catalog of 224+ extensions for your online store
The world is taking a big leap towards digital transformation; for that reason, many companies have turned to the technology side to grow their business. Especially in the context of the covid 19 pandemics raging all over the world, seriously affecting the development of companies.
Moving to corporate development in Magento 2 is a smart choice for any business today. It is a smart, flexible, and powerful platform that comes with tons of great features. One of the most perfect features for Magento 2 stores is multi-language. Thanks to this feature, you will have the opportunity to connect your store with customers around the world easily and quickly.
In this blog post, we collect 10 Best Multi Language extensions for Magento 2 stores. Hope that you can choose the best one for your store. Now let's get started!
Table of Contents
The Importance of Magento 2 Multi-Language
If you are looking for a solution to expand the reach of your business, this is an intelligent choice.
With Magento 2 Multi-Language, you can reach a global audience. Magento 2 Multi-Language allows you to manage your online store in many different languages. The wider the scope of your business, the higher your store sales.
Besides, with the help of this feature, you have provided customers with a great shopping experience. You allow customers to visit your website and view your store's content as well as products in their native language. This is sure to bring a pleasant and comfortable shopping experience for customers when shopping at your Magento 2 store.
10 Best Multi-Language extensions in Magento 2
1. Mageplaza - Magento 2 Store Switcher
Mageplaza Store Switcher for Magento 2 is an ideal choice if you are looking for a language switcher for your online store with customers around the world. Thanks to this module, it will automatically guide international customers visiting your website to the stores in their familiar language and currency. By doing this, we believe your customers will not have any difficulty in the shopping process. On the contrary, it also brings great experiences for them. As a result, you can double sales effectively.
Moreover, Magento 2 Store Switcher also comes with a lot of powerful features like automatic or manual switching of store views, allowing selection of pages to apply store view rules, easily switching matching currency, detecting client's location using GeoIP, etc.
Last but not least, only $149 to own this plugin, you will get support in 1 year and update it in your lifetime. If you find it unsuitable for your store after using this module, you can refund it within 60 days. That's really ideal, isn't it?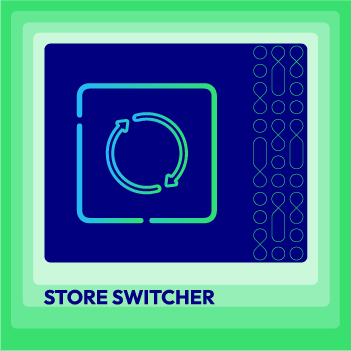 Store Switcher extension for Magento 2
Easily switch between stores using a dropdown menu that appears on every page of your website.
Learn more
2. MageComp - Magento 2 Google Language Translator Module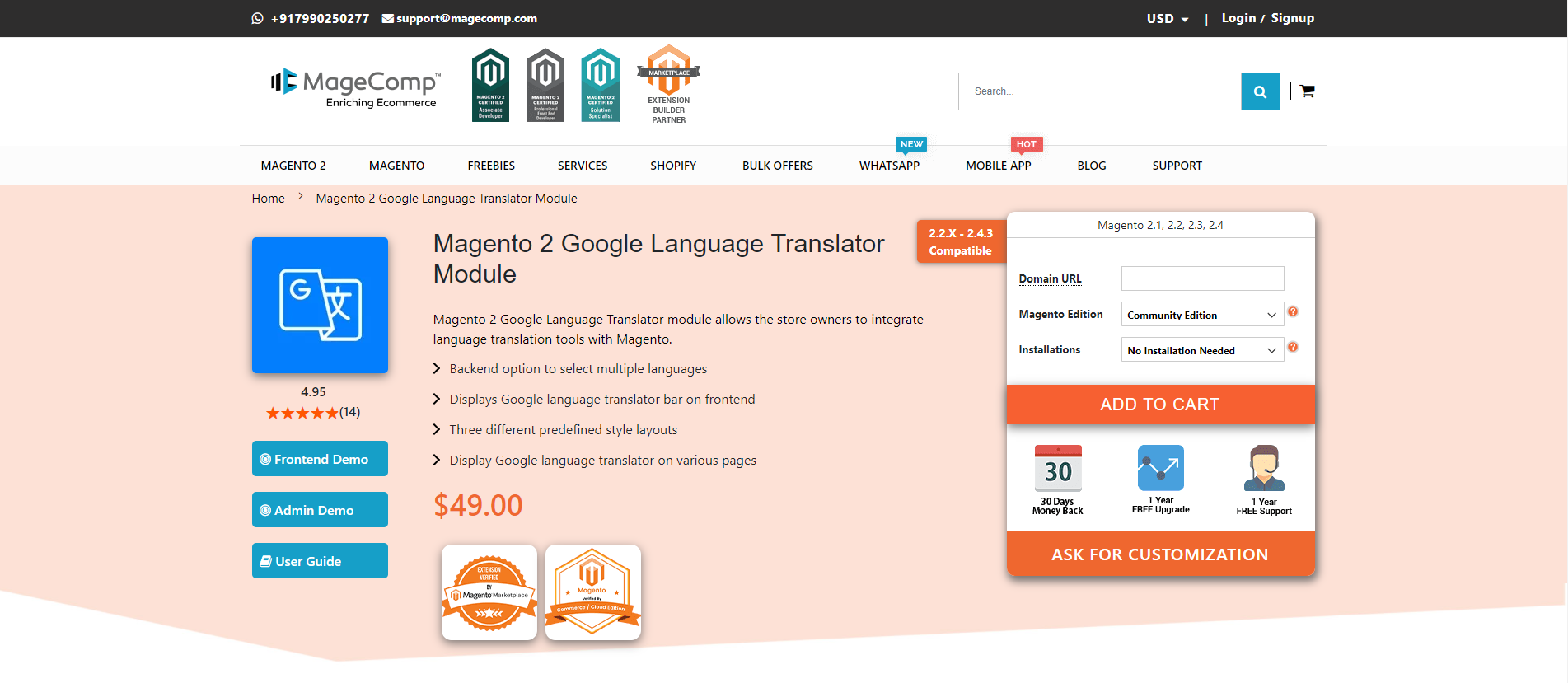 Magento 2 Google Language Translator module allows the store owners to integrate language translation tools with Magento. Making your E-commerce store multilingual & engaging with store customers in their native language helps to deliver a great experience and boost your sales. Also having a multilingual E-commerce Mobile App can help you reach a broader audience in a user-friendly manner. Creating a multilingual store needs great effort to manage everything while translating your store using google translator to reduce your efforts and help your customer quickly translate your whole store with just one single click.
MageComp has come up with Magento 2 Google Language Translator Module that helps store owners integrate the Google language translation tools and helps store customers translate their store into their local language quickly.
Price: $49
3. Mageworx - Magento 2 Multi Language
Store and Currency Auto Switcher for Magento 2 will be a perfect module for your online store that converts languages and currencies for customers around the world. Not only will it help customers easily in the shopping process in their native language, but this extension will bring valuable benefits for your business such as improving customer traffic, increasing sales, etc.
Besides, it provides many different features such as automatically switching to the language and currency of the country where the customer is logged in, knowing where the customer is from, protecting your store from bots and spammers, etc.
Price: $149
4. Webiators - Google Language Translation Extension For Magento 2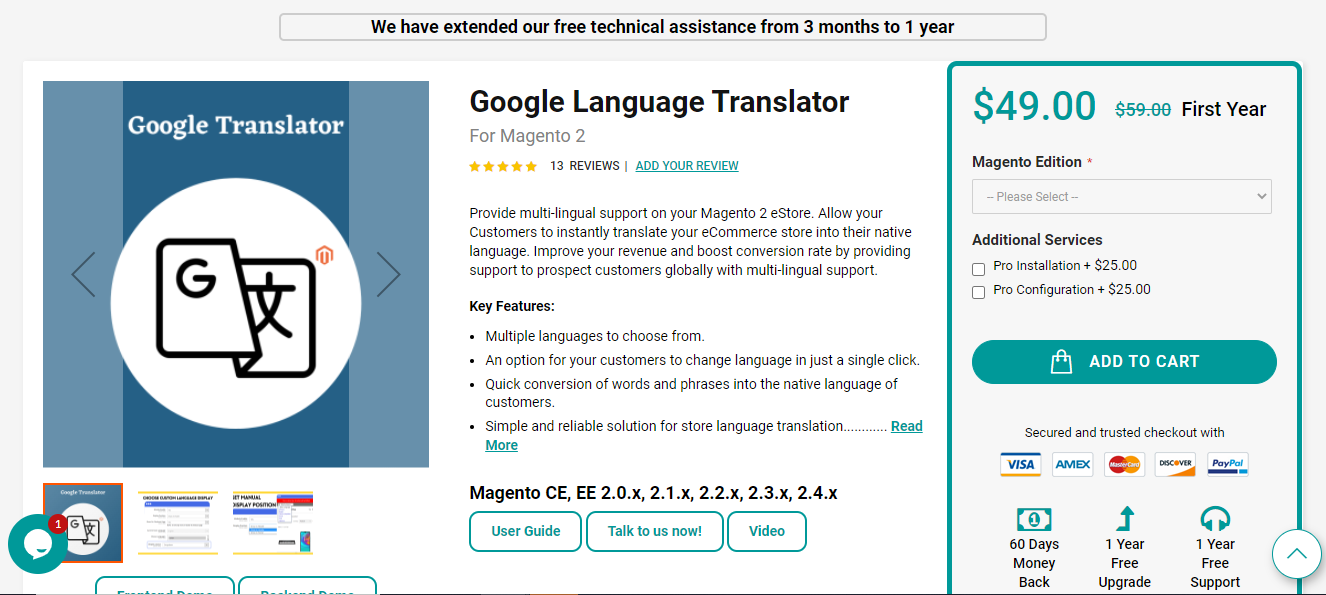 A multi language store gives the Magento eStore merchants an opportunity to engage with customers in their native language. Magento 2 Language Translation Extension By Webiators enables the users to run a multilingual store to offer an incredible shopping experience to its customers and boost the revenue through the roof. Any business owner would want to drive traffic from across the world and many of the website visitors may not be fluent in English. Thus, this extension helps in offering multi-language support to visitors from across the globe.
With this Magento 2 Language Translation extension for Magento, store visitors can easily change website language to their preferred language in just a single click. Browsing the website in their own native languages gives the customers a feeling of personalization and it can help in improving the revenue generated by your Magento store.
Price: $49
5. AppJetty - Magento 2 Language Translator
Magento 2 Language Switcher by AppJetty allows you to easily manage translations on your online store. With the help of Google Translation API, your website will be translated into different languages based on the customer's wishes. Besides, it also allows editing Google API's translated content with WYSIWYG Editor.
Some of the wonderful features of this extension include Multi-Language Store Translation, ability to translate instantly with Console command, easy to search and translate database, allow translating web pages, reviews, meta details in mass, etc.
This is a great multilingual translator for your Magento 2 store, which will definitely improve your store traffic and sales.
6. WebkulStore - Magento 2 MOB Multi Language Extension
Thanks to the help of MOB Multi Language Extension for Magento 2, your website will easily be translated into many different languages depending on the wishes of the customer. This would be an attractive option if you are looking for such a module. However, one drawback of this extension is, you must install the Odoo Bridge module on Magento 2 to work with this extension.
Besides, the extension developed by WebkulStore comes with a lot of other great features for your Magento store like exporting/updating all translations of products or categories, exporting customer's language by Magento store easily, etc.
This will be a useful module for those who are operating Magento and Odoo in multi-language.
7. ZealousWeb - Magento 2 Language Translator
Language Translator for Magento is a Google Translate module that allows users to translate stores into more than 75 languages. As a result, store owners can easily target customers globally, resulting in a significant increase in-store revenue.
Besides, by using Google Translate, the admin won't have to manage the store view for their Magento 2 store for customers, it will take more time and effort.
Some studies show that customers want to surf websites in their native language. Using this add-on on your online store will give them the best experience.
8. Knowband - Magento 2 Auto Switch Language and Currency
Now, with Auto Switch Language and Currency extension by Knowband, store owners can easily take their website to the global level and of course, their online store will be compatible with customers worldwide, because this plugin will automatically change the language on the website based on the geographical location of the customer.
This module comes with some attractive features such as automatic language and currency conversion according to the customer's geographical location, allowing the store owner to run the business of his online store on the global, user-friendly interface, allowing language switching according to the client's IP location, etc.
This add-on is for you, why don't you try it out in your store and get amazing results.
It would be a smart choice if your online store can automatically switch languages and currencies based on their geographic location. Customers always want to surf and shop on the website in their native language. Obviously, this will bring a lot of benefits to your store. This extension not only helps your store to have a global presence, but also helps your online store increase unexpected revenue. This module uses the Maxmind database to verify the exact location your customers visit.
Moreover, it also packs a lot of features such as manual or automatic redirects, adding IP exceptions, creating different rules for the store, and the ability to know the visitor's location from the IP address on the store, etc.
Suppose you are still wondering about the benefits of this add-on. Why don't you try to install it and experience it? You will get the most accurate answer.
Suppose your Magento store has many store views in different languages, then for each language, you need to do very time-consuming setup operations. Especially if you want to set up multiple languages differently, this manual work is not easy. To save you time and effort in the process of setting up different languages ​​for your website, the Multi Translate extension by Magepow will help you do this. It allows you to collect all information only once to fill all information for different languages. You only need to save once to finish.
Moreover, this extension also packs with many other flexible features such as the ability to quickly translate information, no need to choose a store view, no need to worry about the number of languages, displaying all store view language in a window, etc.
This perfect module is precisely for you.
If you want to reach customers globally, first make your online store a flexible language. One of the best solutions to do this is to integrate a 3rd extension, and then you just get the results from it. Google Translator is a suitable choice for you. It allows you to display your online store in different favorite languages depending on customer wishes. With more than 140 languages, this module is highly flexible with different stores.
Some great features can be mentioned, such as quickly turning on/off modules, choosing the display language, using google API methods, changing the position and layout of the module, etc., and many other benefits that this module brings. Why don't you take it and experience it?
As soon as you integrate this module on your website, you will no longer have to worry about whether customers from all over the country can purchase in your store or not. Because Magento 2 Language Switcher will automatically enable GeoIP to redirect to store views based on the customer's geolocation or IP address in their native language. Indeed, it is as great a tool as ever. Now you can connect your online store worldwide, bring your products and services to all different countries, bringing tons of benefits and significant revenue to the store online.
There is not any customer who is not interested and attracted to stores that display their native language. Obviously, you have brought exciting experiences for them. This makes them happy and comfortable when shopping on your website. Don't hesitate; now is your time to do and integrate this extension.
Final thoughts
In summary, there is no denying that Multi-Language plays a vital and meaningful role for any online store. It is not only an intelligent extension but also provides a lot of benefits to your business. Not to mention, it helps to increase traffic, increase sales, get a large number of loyal customers, and promote your website around the world.
Above are the top 10 Best Multi-Language for Magento 2 that we have collected based on good customer reviews and feedback about them. You absolutely can choose one of them to experience, and of course, you will receive a lot of surprises too.
Don't forget to share it with your friends and thanks a lot for reading!
Website Support
& Maintenance Services
Make sure your store is not only in good shape but also thriving with a professional team yet at an affordable price.
Get Started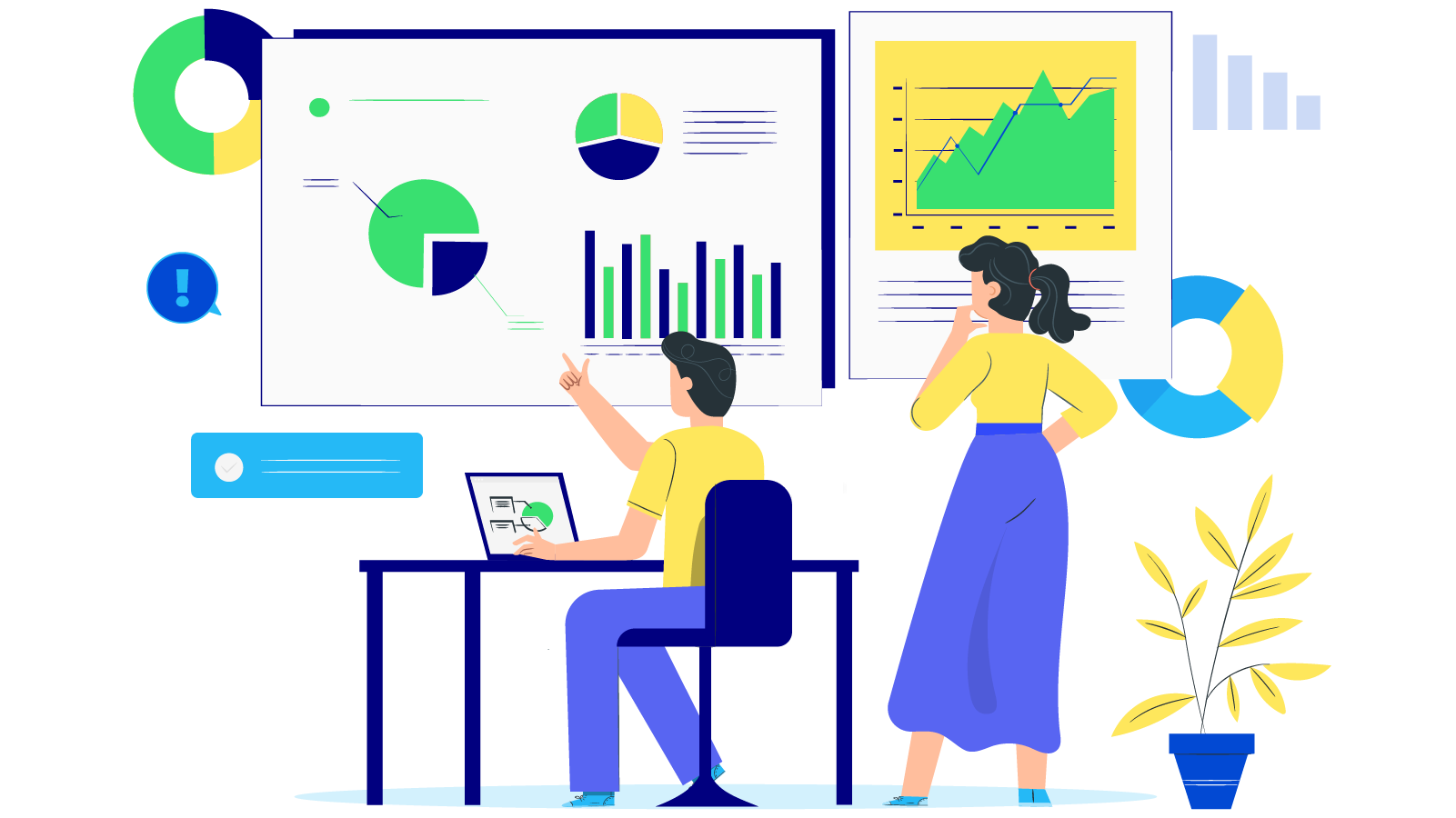 New Posts



Subscribe
Stay in the know
Get special offers on the latest news from Mageplaza.
Earn $10 in reward now!