Top 12 B2B eCommerce Platforms for Advancing Your Business
The Most Popular Extension Builder for

Magento 2
With a big catalog of 224+ extensions for your online store
Discover the game-changers for your B2B enterprise in our latest article about top B2B commerce platforms. In our comprehensive article, let's discover how these dynamic solutions can revolutionize your operations.
From seamless automation to personalized customer experiences, scalability, and cost efficiency, these platforms empower your business to thrive in the modern B2B landscape. Explore the top 7 options that promise to reshape the way you do business and gain a competitive edge in today's evolving market.
Table of Contents
Why Shift to B2B Commerce Platforms
Transitioning to B2B commerce platforms offers businesses diverse advantages. Automation and personalized interfaces enhance efficiency and customer focus. Scalability facilitates growth, ensuring a smooth customer experience. Centralized data management empowers data-driven decisions, boosting efficiency and planning.
Supporting multiple currencies and localization expands global reach. Integration with existing systems enhances cohesion, and analytics-driven insights illuminate customer behaviors and trends. Adopting these platforms showcases commitment to modernization and competitiveness in the evolving B2B commerce landscape.
Top B2B eCommerce Platforms
1. Adobe Commerce (Magento)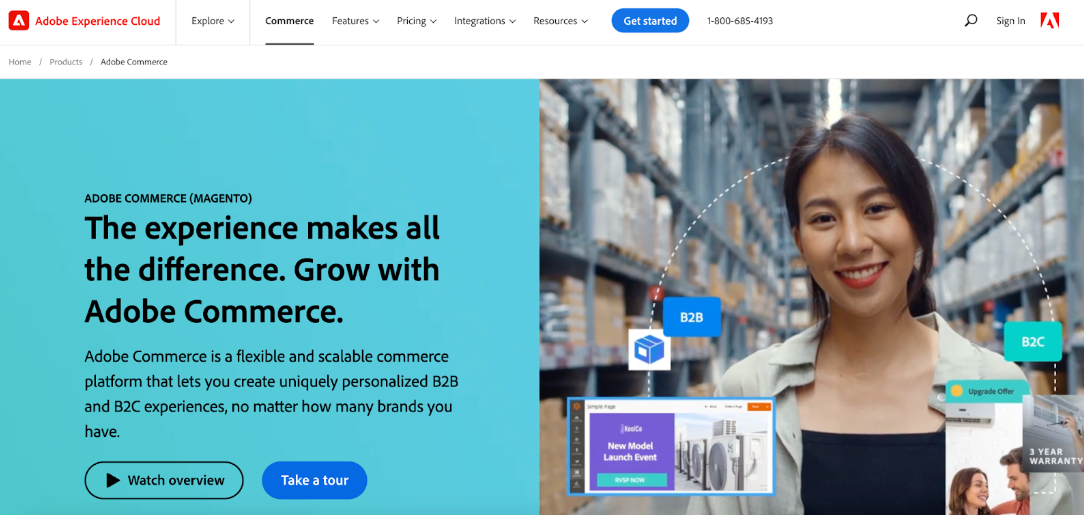 Among the upper echelons of B2B eCommerce solutions, Magento has surged ahead, garnering praise for its remarkable versatility and potential for expansion. In our assessment, it firmly stands out as an exceptional option for those seeking the epitome of B2B eCommerce platforms.
With Adobe's acquisition, Magento now boasts two primary editions. The first, Magento Open Source (formerly Magento Community), offers a free version that mandates the use of Magento hosting. Conversely, there's Adobe Commerce, previously recognized as Magento Enterprise, positioned as the premium iteration of the Magento platform.
In comparing Adobe Commerce with Magento Open Source, a clear distinction emerges: Magento Commerce is engineered to deliver a superior commerce experience. This enterprise-grade eCommerce platform is brimming with an extensive suite of pre-designed features, spanning B2B data capabilities, enhanced functionalities, robust security provisions, and tailor-made solutions, among other attributes.
Security
A cornerstone of Adobe Commerce's offerings lies in its robust security measures. Backed by continuous efforts to adhere to industry standards, the platform is known for its robust defense against cyber threats.
Notably, Adobe Commerce achieved Payment Card Industry Data Security Standard (PCI DSS) compliance, a testament to its commitment to data security.
Below are several components within the security setup of Adobe Commerce:
SSL certificate
Content Delivery Network (CDN) & DDoS Protection
Web Application Firewall (WAF)
Virtual Private Cloud
Penetration testing
Payment Gateway
Internationalization
The global market is within reach through Adobe Commerce's comprehensive internationalization features.:
The B2B eCommerce systems accommodate currencies from over 200 nations, allowing manual or automated updates of currency rates in your store.
Store owners have the flexibility to tailor and adapt their stores for various markets and regions using the Localization feature.
Adobe Commerce also performs automated tax calculations for EU transactions through VAT-ID validation, and it supports specific fixed product taxes like WEEE/DEEE within the EU.
Customization
Adobe Commerce offers unparalleled customization through the Adobe Experience Manager. This empowers brands to create unique digital experiences, aligning storefronts, products, and user journeys with their identity. Explore over 1,700 third-party extensions from the Magento Marketplace to stand out. Options include SEO, call for price, and quick order.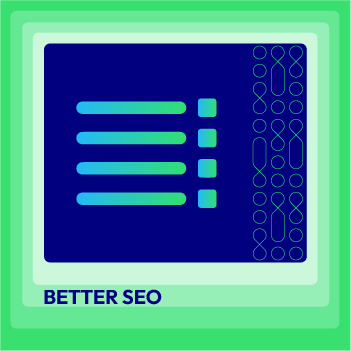 Drive more traffic to your online store and boost your rank on search engines
Check it out!
Wholesale
As one of the best B2B wholesale platforms, Adobe Commerce offers a comprehensive solution for managing B2B eCommerce sites.
B2B customers can independently handle their company accounts and establish multiple tiers of buyers with specific roles and permissions. They also have access to features like quote tracking, detailed order history, and online credit management.
Moreover, Adobe Commerce enables B2B buyers to enhance sales through Payments on Account, permitting purchases up to the specified credit limit.
Omnichannel
Adobe Commerce provides an Order Management System for selling and fulfilling orders from any location. This empowers merchants to streamline global inventory, intelligently allocate items for fulfillment, and elevate customer support. For instance, it seamlessly integrates diverse eCommerce channels, adeptly managing complex order and fulfillment requirements such as back-orders and BOPIS (Buy Online Pick-up In-Store).
Furthermore, store proprietors can harness Magento Business Intelligence (BI) to identify their most lucrative customers. In cases where multi-channel selling is involved, BI can query the entire data repository, analyze product data, and more, thereby pinpointing new avenues for growth.
2. Amazon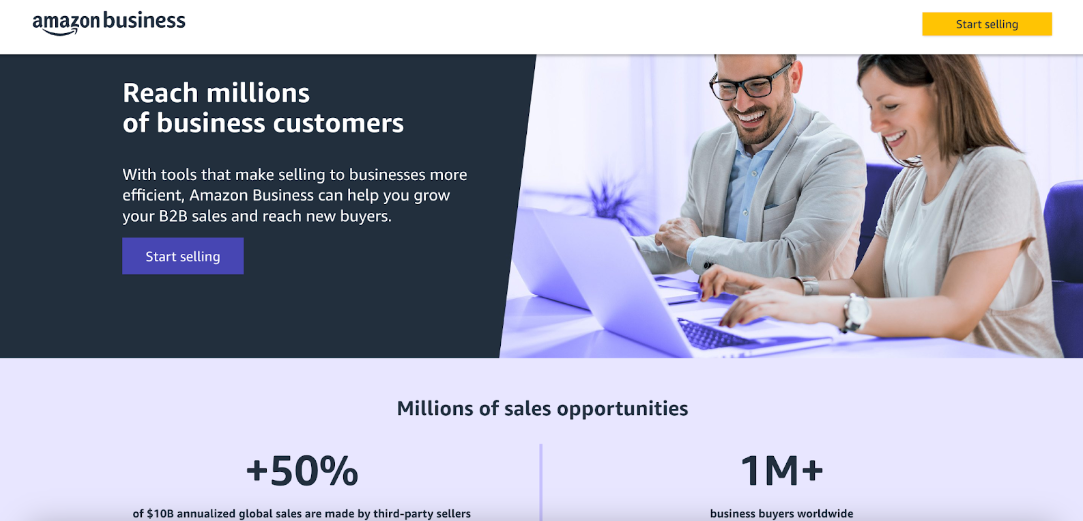 Security
Amazon's success hinges on unwavering security commitment, evident in a 99.9% drop in order fraud since 2016, building customer trust. Adhering to PCI DSS, secure transactions bolster 300 million global customers' confidence. With 99%+ Two-Step Verification adoption, added safeguards protect accounts and transactions.
Internationalization
Amazon's global footprint spans 20 countries, yielding 66% of sales revenue. Backed by 75 languages, localized content drives international sales growth. 400+ fulfillment centers ensure swift cross-border orders, meeting rapid delivery expectations.
Customization
Amazon's personalized approach drives 35% of revenue through data-backed product recommendations. Processing 1.3 million daily orders with machine learning, it refines tailored experiences, boosting engagement. Patented one-click tech boosts conversion rates by 21%.
Wholesale
Amazon Business redefines B2B with 5 million business customers, boasting high annual sales. Tiered pricing lifts bulk orders by 30%, driving B2B transactions. Embracing Amazon Business reduces procurement costs by 42%, streamlining wholesaling.
Omnichannel
Amazon bridges digital-physical realms seamlessly. Cashierless Amazon Go boosts spend by 18%. Curbside pickup marries online-offline experiences for convenience. Alexa integration into 100M+ devices showcases Amazon's omnichannel mastery.
3. Shopify Plus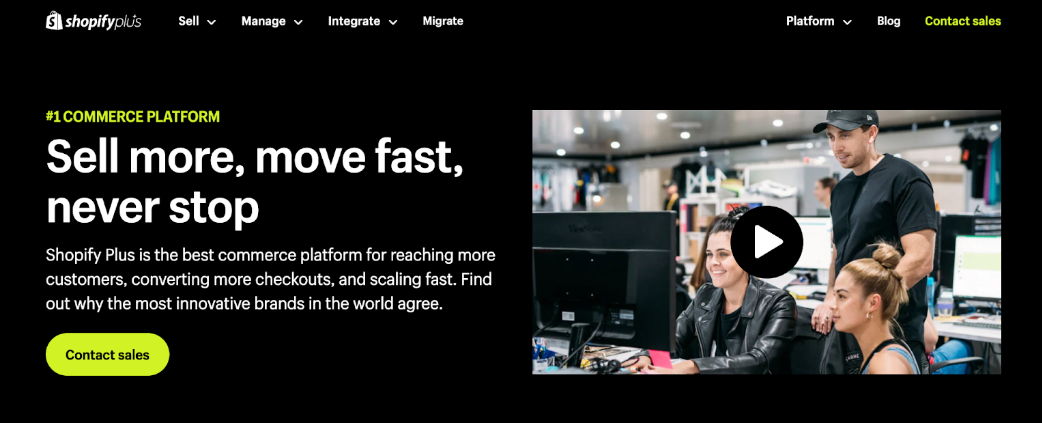 Security
Shopify Plus B2B offers a safe and regulatory-compliant setting for online transactions. It abides by established norms and industry-leading protocols for safeguarding data. It incorporates inherent functionalities like SSL certificates, fraud identification, and adherence to PCI compliance. These provisions work in harmony to safeguard customer data and foster a sense of reliability among B2B clients.
Internationalization
Shopify Plus offers Shopify Payments, streamlining the process of selling in numerous currencies with ease and scalability. It particularly stands out as it automatically selects the appropriate currency for customers based on their IP addresses.
In the realm of multi-language stores, Shopify Plus extends the capability for merchants to translate content into 20 distinct languages.
For seamless international expansion, it's crucial to consider accurate tax calculations for individual countries. In terms of Shopify sales tax functionality, the platform seamlessly integrates with various third-party extensions to simplify your tax-related tasks.
Customization
The B2B version of Shopify Plus offers an array of extensive customization possibilities such as Shopify API Integration Service, enabling enterprises to craft distinctive, branded encounters. It permits a complete overhaul of your website's appearance and ambiance, ensuring it resonates with your brand's essence and distinctive offerings. This endeavor contributes to the establishment of a unified and polished image tailored to cater to your B2B clientele.
Shopify API Integration Service
Let's seamlessly connect your store to favorite tools and platforms and rocket sales!
Learn more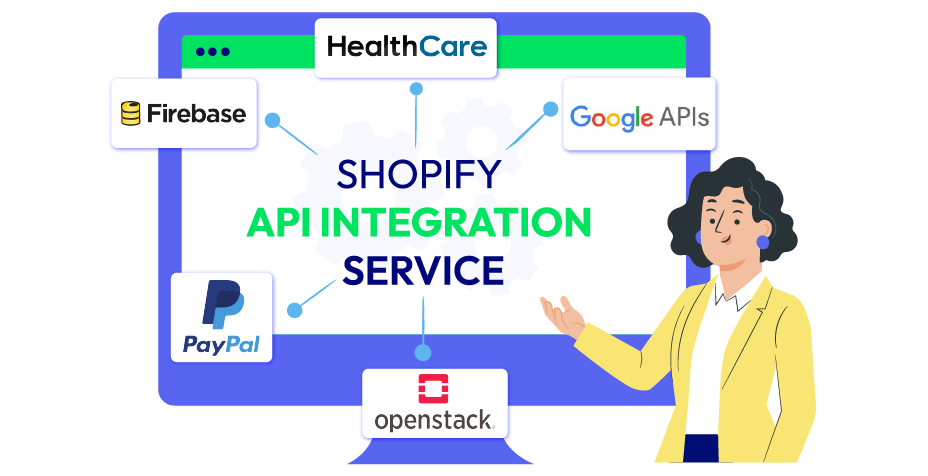 Wholesale
Shopify Plus provides an automated wholesale experience tailored to any necessary scale. B2B purchasers are equipped to buy, monitor, and reorder products, while also having the option to review wholesale orders prior to invoicing.
This B2B selling solution introduces the Wholesale Channel, a feature enabling store proprietors to:
Establish a distinct wholesale store, separate from their existing online storefront. Tailor pricing structures for their wholesale clientele and oversee order placement procedures.
In addition to these attributes, among the leading B2B eCommerce platforms, Shopify Plus offers an extensive array of superior Shopify applications specifically designed for wholesale transactions. The integration of these third-party plugins augments your B2B sales capabilities.
Omnichannel
Being recognized as a top-tier B2B eCommerce solution, Shopify Plus offers entry to 23 distinct sales channels directly from your dashboard. This allows seamless synchronization of inventory, orders, and customer data across all channels, all managed from a single centralized location. Moreover, it extends the capability for B2B enterprises to conduct sales both online and in physical stores through the Shopify POS system.
4. WooCommerce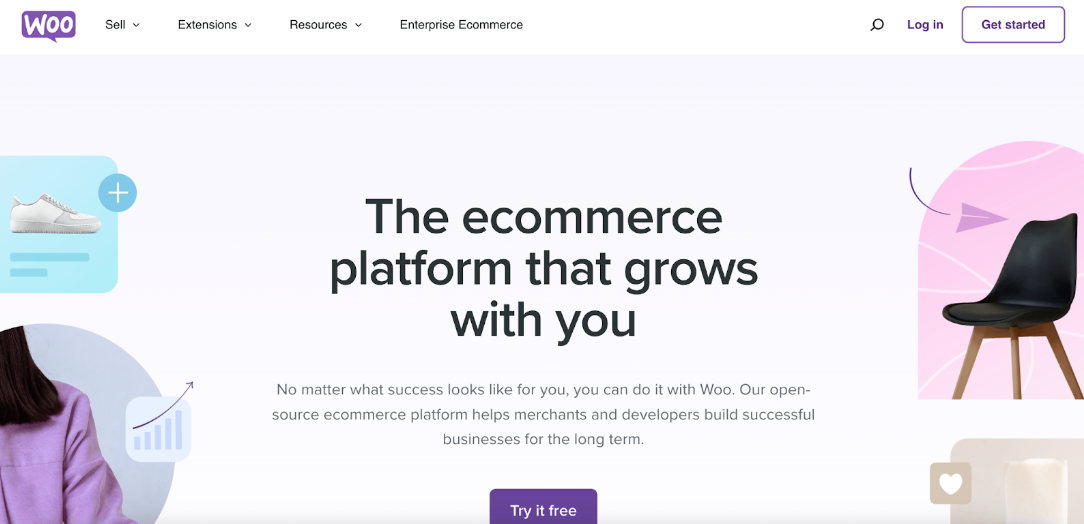 Security
In the face of cybersecurity challenges, WooCommerce prioritizes transaction security. With features like SSL encryption and regular updates, customer data confidentiality is assured during transactions. Adhering to industry standards, WooCommerce is PCI DSS compliant, and it adds an extra layer of protection with Two-factor authentication (2FA).
Internationalization
WooCommerce's global appeal is bolstered by its strong multilingual support. Businesses can engage diverse audiences with content in their preferred languages, while multi-currency support facilitates seamless transactions in different currencies. Geolocation-based pricing ensures accurate regional pricing.
Customization
WooCommerce empowers businesses with customization. Themes, both free and premium, align the digital storefront with brand identity. Plugins and extensions enhance functionality, granting tailored shopping experiences, product variations, custom attributes, and flexible pricing.
Wholesale
For B2B transactions, WooCommerce offers tailored features. User roles set distinct pricing tiers, while wholesale plugins streamline bulk orders. Integrated invoicing and order management enhance B2B transactions and communication.
Omnichannel
WooCommerce excels in omnichannel experiences. Responsive design optimizes stores for various devices. Multiple payment gateways and shipping providers offer choices, while real-time inventory sync enhances transparency.
5. BigCommerce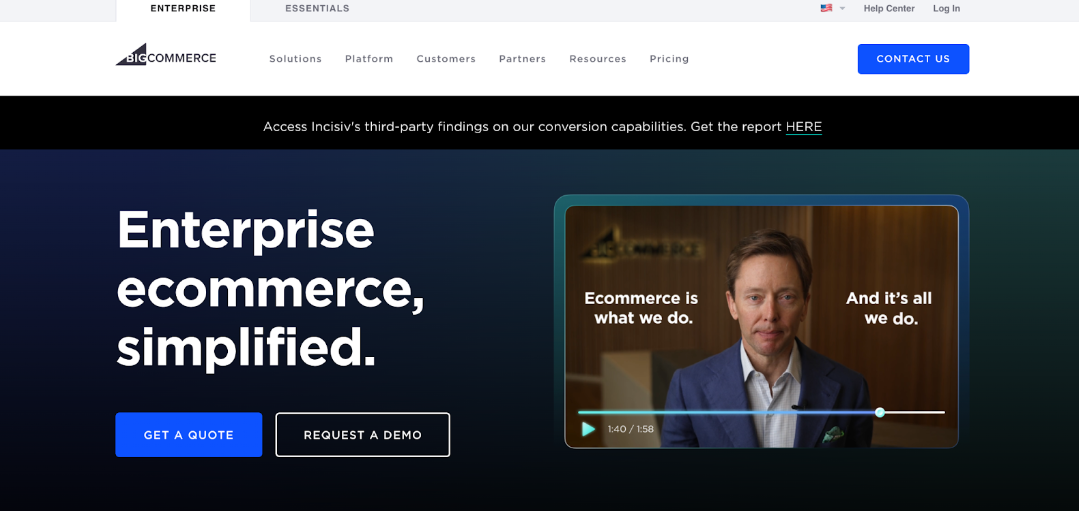 Security
BigCommerce manages your online store's hosting and security, allowing you to focus on your business operations. With certifications like ISO/IEC 27001:2013 and PCI DSS 3.2, BigCommerce implements multiple security layers, including firewalls, intrusion detection, and file integrity scanners.
This robust security ensures the protection of customer data and establishes trust in the platform's enterprise-level network architecture.
Internationalization
For B2B merchants seeking international growth, BigCommerce offers essential features. BigCommerce Payment supports over 100 currencies and enables pricing customization per product in specific currencies.
The platform introduces diverse payment gateways for tailored payment experiences in various regions. Flexible tax configuration options simplify compliance in foreign markets. Stencil, BigCommerce's front-end development framework, enhances localization with customizable content and conversion tools.
Customization
BigCommerce allows both easy website alterations and advanced personalization. The Page Builder tool enables coding-free page creation and modification. Storefront attributes like colors and fonts are adjustable.
The B2B Edition offers intricate customization, including repositioning app elements and configuring checkout settings. The REST API facilitates extensive customization, enabling tasks such as entity management and seamless integration with ERPs and CRMs.
Wholesale
Positioned among the leading platforms, the BigCommerce B2B Edition presents robust attributes and capabilities as one of the best B2B wholesale platforms. These encompass:
Payment method visibility control
Set Buyer Roles and Permissions
Invoice Portal
Sales Rep Masquerade
Customers Requested Quotes
Customer Groups
Quick Reorder
Omnichannel
Leveraging the Channel Manager tool, BigCommerce provides seamless connections with numerous prominent social media platforms and online marketplaces, encompassing:
Amazon & Amazon Multi-channel Fulfillment (MCF)
eBay
Facebook
Instagram
Pinterest
Google Shopping
Mercado Libre
Walmart Marketplace
6. OpenCart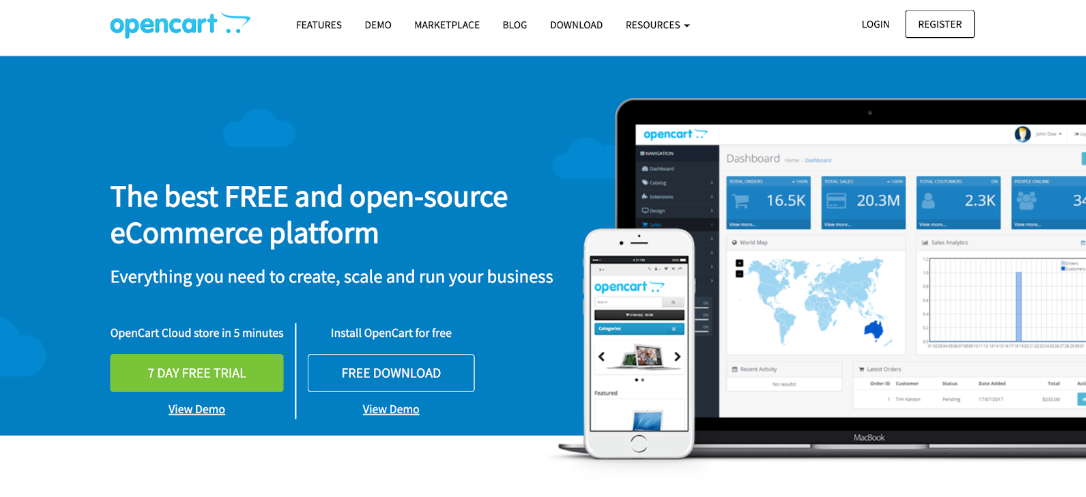 Security
In an era marked by cybersecurity concerns, OpenCart continues to prioritize the security of online transactions. OpenCart integrates robust security protocols, including CAPTCHA and SSL encryption, to ensure that customer data remains protected during transactions.
Its compatibility with Payment Card Industry Data Security Standard (PCI DSS) ensures that payment processes adhere to industry-leading security standards. To combat fraud, OpenCart supports anti-fraud modules that contribute to safer online shopping experiences and foster trust among consumers.
Internationalization
OpenCart's internationalization features have continued to evolve to cater to a diverse global market. Support for over 40 languages enables businesses to cater to customers from different regions, enhancing their reach and engagement.
Multi-currency support remains a core feature, allowing businesses to facilitate seamless transactions in customers' preferred currencies. OpenCart's emphasis on providing accurate exchange rates ensures that customers worldwide have consistent and transparent pricing information.
Customization
OpenCart's commitment to customization empowers businesses to create unique and engaging online storefronts. The availability of numerous themes and templates, both free and premium, enables businesses to align their digital presence with their brand identity and aesthetic.
The modular architecture of OpenCart supports the integration of extensions and modules, offering businesses the flexibility to expand their online store's functionalities. Businesses can leverage custom product attributes, pricing structures, and shipping options to provide tailored experiences, meeting the specific needs of their target audience.
Wholesale
OpenCart's wholesale features remain valuable for businesses engaged in B2B transactions. User group and access control functionalities allow businesses to set differentiated pricing levels for different customer segments, catering to both retail and wholesale buyers.
Bulk ordering capabilities streamline the B2B purchasing process, enhancing the efficiency of large-scale transactions. Integrated invoice and packing slip generation capabilities facilitate seamless communication and transactions between businesses and their wholesale clients.
Omnichannel
OpenCart's omnichannel capabilities continue to support integrated shopping journeys. Responsive design templates ensure that online stores are optimized for various devices, catering to customers' preferences for desktop, tablet, or mobile shopping.
Integration with diverse payment gateways and shipping providers offers customers flexibility and choice during transactions. Order tracking and notification features enhance customer engagement by providing real-time updates, enhancing transparency throughout the purchasing journey.
7. Salesforce B2B Commerce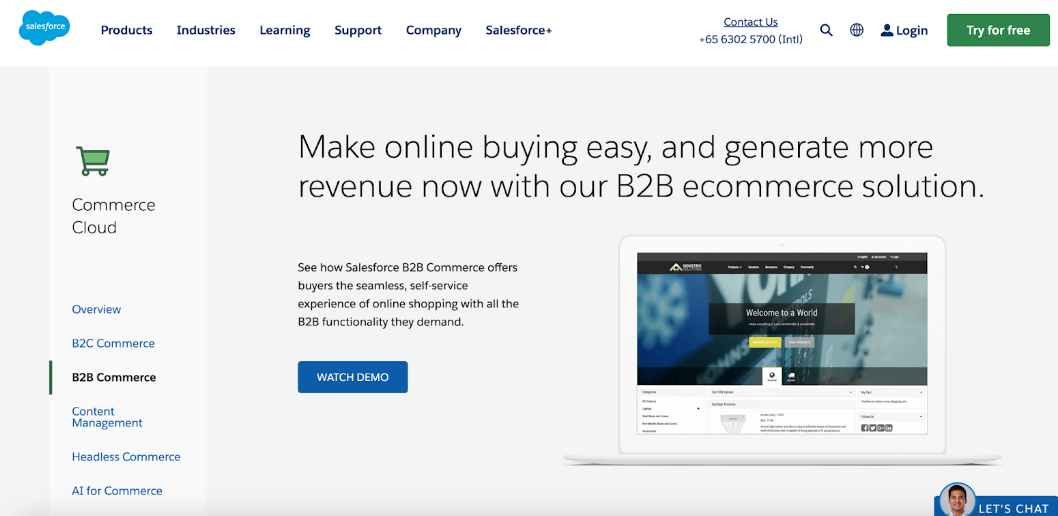 Security
Data breaches can have catastrophic consequences for businesses. Salesforce B2B Commerce employs robust security measures to protect sensitive data:
Security Compliance: Salesforce is compliant with industry standards such as ISO 27001, SOC 2 Type II, and GDPR, ensuring a secure environment for B2B transactions.
SSL Encryption: 100% of web transactions on the Salesforce platform are encrypted with SSL/TLS protocols, ensuring data integrity and confidentiality.
Two-Factor Authentication (2FA): Over 85% of Salesforce users enable 2FA to enhance authentication security.
Internationalization
Expanding into international markets requires adapting to local preferences. Salesforce B2B Commerce offers three levels of language support: fully supported languages, end-user languages, and platform-only languages with a total of more than 100 languages.
Customization
Although the level of customization in Salesforce Commerce Cloud is not as robust as what Adobe Commerce offers, it still surpasses the flexibility of other SaaS solutions such as Shopify Plus or BigCommerce Enterprise. TrustRadius, a reputable platform for evaluating business technology, rates Salesforce Customization features at 8.4 out of 10, underscoring the platform's substantial adaptability in eCommerce site building.
Merchants are equipped with the "Page Designer" tool to craft, schedule, and publish pages. Commerce Cloud Partner Marketplace is also available for store owners seeking assistance and supplementary services to enhance their stores.
Salesforce CRM
Integration Service
Integrate Salesforce CRM with your M2 store to automate your workflow and establish long-lasting customer relationships.
Explore More
Wholesale
Salesforce B2B Commerce Cloud offers unique solutions for seamless experiences for site managers and B2B customers. The wholesale market thrives on efficient collaboration and streamlined transactions:
Self-Service Portals: Businesses utilizing self-service portals for wholesalers report a 25% reduction in customer support inquiries.
Bulk Ordering: Implementing bulk ordering features led to a 30% increase in order size for B2B transactions.
Negotiated Pricing: Businesses with negotiated pricing capabilities experienced a 20% increase in repeat orders.
Omnichannel
Customers expect consistent experiences across all touchpoints:
Unified Customer Profiles: Businesses with unified customer profiles report a 360-degree view of customer interactions, resulting in a 25% increase in upsell and cross-sell opportunities.
Real-Time Inventory Visibility: Providing real-time inventory information increased customer trust, leading to a 15% increase in online sales.
Omnichannel Shoppers: Over 73% of customers use multiple channels during their buying journey, emphasizing the importance of omnichannel experiences.
8. OroCommerce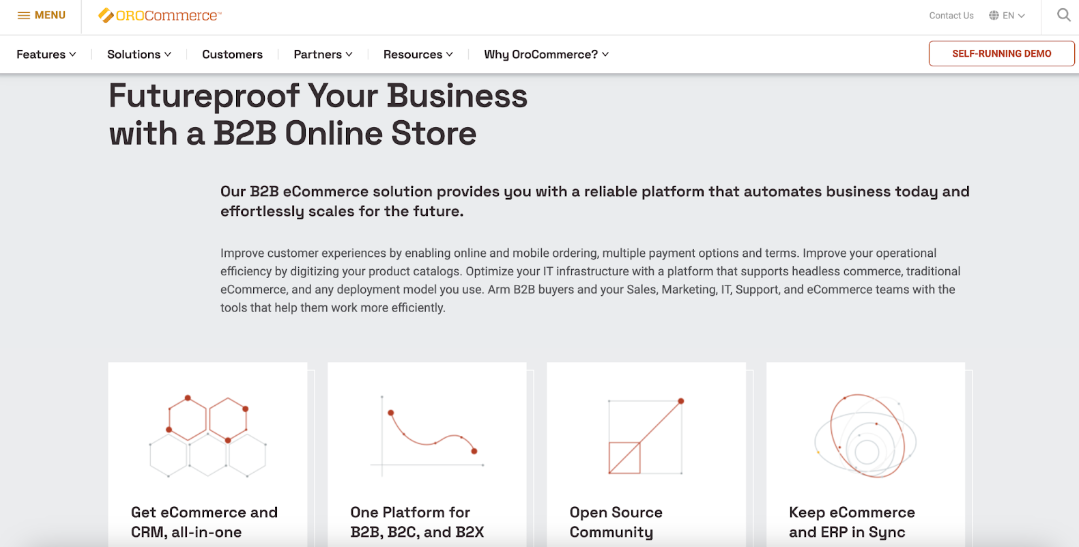 Security
As a leading B2B eCommerce platform, it prioritizes robust safeguarding of customer data, payment details, and access authorizations. The platform includes the following security features:
Security based on role-specific access control lists (ACLs)
Adherence to PCI DSS Compliance standards
Certification of SOC 2 Type 2
Internationalization
OroCommerce excels in localization, supporting various languages, currencies, and tax regulations. Perfect for international enterprises and multi-brand setups, it integrates region-specific payment gateways and shipping, enhancing customer satisfaction.
Customization
OroCommerce, open-source, accommodates complex B2B scenarios. Merchants create storefronts, adopt B2C or D2C models, and explore integrations via the marketplace and partner community.
Wholesale
OroCommerce suits enterprise B2B brands, scalable for growth. Robust features enable quick orders, shopping lists, and personalized pricing, checkout, and invoicing.
Omnichannel
For B2B brands, OroCommerce offers the capability to deliver omnichannel experiences through OroCRM, an integrated CRM tool. This functionality enables targeted campaigns, customization of product catalogs, and adjustments to promotions as required. With its robust integration capacities and powerful APIs, OroCommerce seamlessly integrates with preferred ERP, CRM, PIM, or procurement systems.
9. eWorldTrade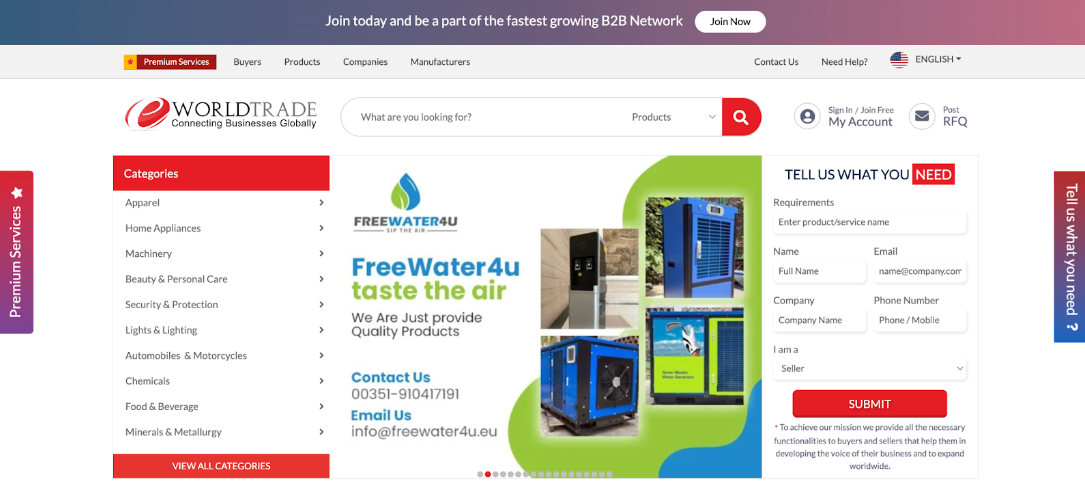 Security
eWordTrade prioritizes security, boasting an up-to-date system for user safety. With Level 1 PCI compliance, SSL certification, Payment Gateway, WAF, and more, it ensures secure transactions, data, and admin processes.
Internationalization
eWorldTrade serves as a global eCommerce platform, catering to clients internationally. They facilitate their platform in two languages: English and Chinese. The platform permits trade in various currencies for wholesale products. B2B buyers have the option to utilize local shipping methods, leading to increased business and engagement with a broader customer base.
Customization
Our observation suggests that eWorldTrade encourages business expansion without constraints. Their customization offerings are tailored to individual business requirements. Merchants are afforded the flexibility to personalize storefronts. Retailers can modify banners, display the latest promotions, advertisements, or update other vital sections.
Omnichannel
eWorldTrade collaborates with other B2B ecommerce platforms, expanding product reach and sales channels for clients, offering more business opportunities.
Wholesale
Functioning as a B2B wholesale platform, eWorldTrade aids wholesale operations, including automated management, returns, deliveries, and analytics for informed business decisions.
10. Quick eSelling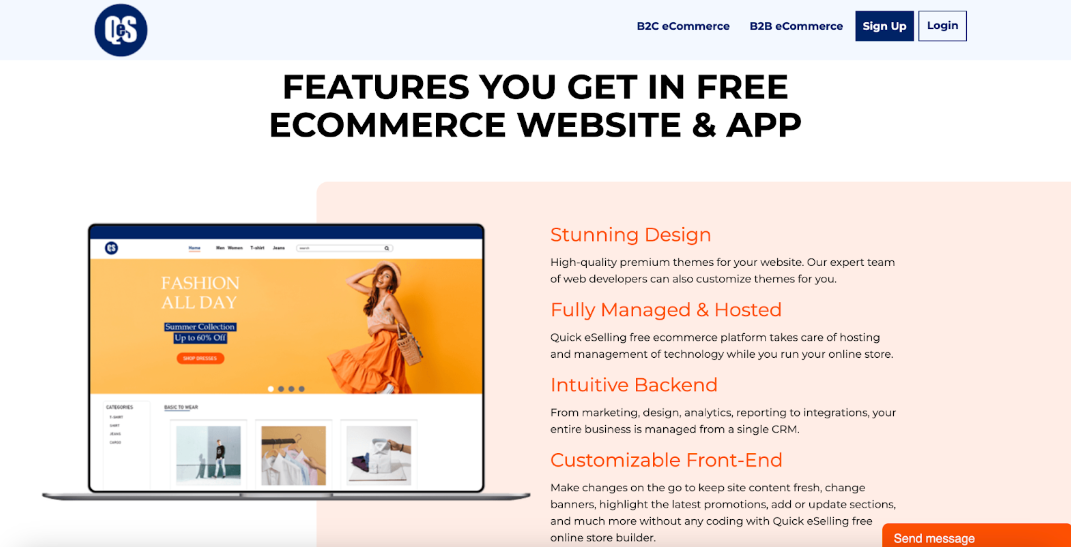 Security
To ensure top-notch data security, the platform offers comprehensive protection through advanced Firewalls and Encryption for Server, Transaction, and Data Security. The following security attributes are integral to the Quick eSelling B2B eCommerce platform:
Robust Server Security
Transaction Safety Measures
Data Encryption
Authentication and Authorization Protocols
SSL Certificates for Domains
Provision for Custom SSL Certificates
Effective Firewalls
Advanced Encryption Techniques
Internationalization
Designed for B2B eCommerce, this platform integrates multiple payment gateways, catering to global business owners. It offers multi-currency, multilingual support, and APIs for shipping and taxation. Over 20,000 global retailers and proprietors rely on Quick eSelling.
Customization
Quick eSelling is fully adaptable and scalable. It offers a customizable front-end for real-time store changes. No coding needed to update content, banners, promotions, or sections. Free themes enhance store appearance. A responsive tech team handles new features and APIs.
Wholesale
To expedite wholesale operations, Quick eSelling offers an array of comprehensive wholesale features:
Automated Management of Wholesale Orders, including Purchases, Returns, and Deliveries
Real-time Inventory Management Updates
Seamless Linkage of Existing Inventory and Order Management Solutions
Intelligent Analytical Dashboards for Informed Business Decisions
Integrated Marketing Tools such as Push Notifications, Discount Coupons, Cart Recovery, Email Alerts, and more
Omni-channel
In the pursuit of enhanced sales and brand exposure, contemporary business owners seek multi-channel selling approaches. Quick eSelling empowers retailers to simultaneously vend products on eCommerce marketplaces like Amazon or Flipkart, alongside their own independent online stores.
11. SeeBiz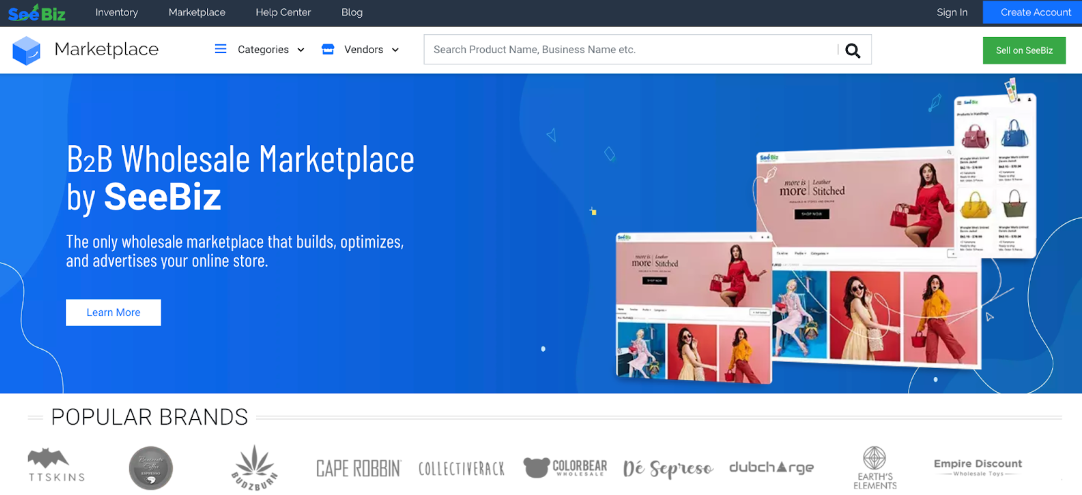 Security
SeeBiz prioritizes data privacy, ensuring wholesalers' product information is secure. Every piece of information, from logins to contacts, is safeguarded.
Security Measures:
Content Delivery Network (CDN) & DDoS Protection
Web Application Firewall (WAF)
SSL Certificates
Stringent Data Validation
Internationalization
Presently confined to the United States, SeeBiz primarily operates in English. However, as it expands its services to other global regions, the plan is to incorporate diverse languages and currencies.
Customization
The level of customization available for business profiles on SeeBiz is noteworthy. Vendors have the freedom to personalize aspects ranging from business logos to product data. A prominent feature of customization is group pricing, enabling the display of distinct prices to different customers.
Wholesale
SeeBiz serves as an interactive business networking platform. Users can update pricing, upload products, connect with wholesalers, and more.
SeeBiz also hosts an extensive wholesale marketplace with 600,000+ products from 1000+ vendors, spanning general merchandise to antiques.
The vendor network and listings continually expand. Sellers join the SeeBiz network, boosting connections and online presence. Buyers access a vast supplier network in the USA, streamlining sourcing and interactions for diverse, quality products.
Omnichannel
SeeBiz is progressively venturing into the omni-channel landscape by introducing complementary applications. Although these are still under development, the plan is to roll out an inventory management system and an invoice management system.
12. NuORDER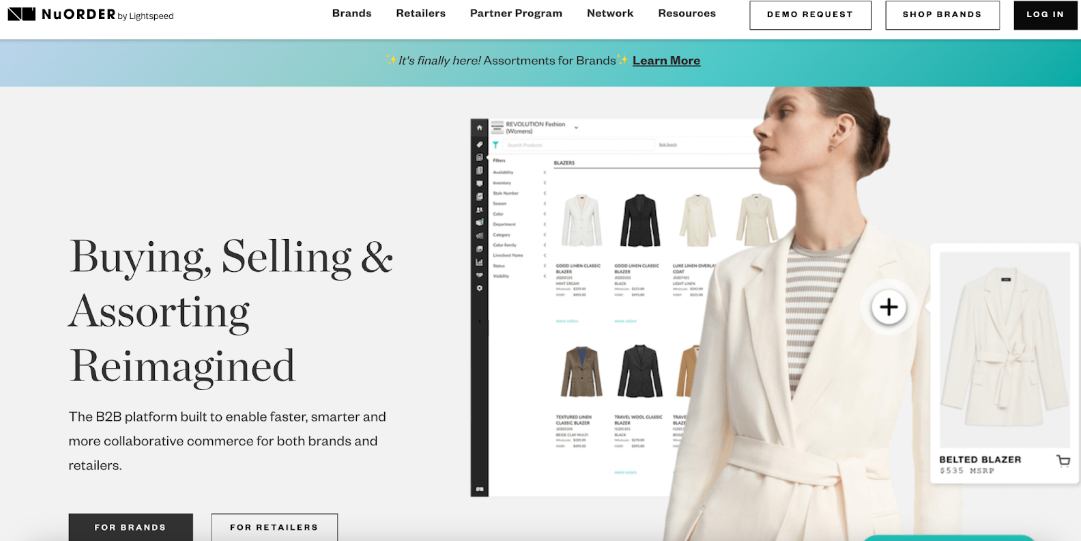 Security
NuORDER secures personal information against various threats. It follows U.S.-EU and U.S.-Swiss Privacy Shield Principles for handling EU and Swiss data in the U.S. Customers are responsible for data confidentiality. Personal data is retained for necessary periods.
Internationalization
NuORDER supports five languages and offers multi-currency options, including RUB, EUR, CAD, GBP, and USD. Global Tax Rules automate tax charging, while Tax Jurisdiction applies region-specific tax rules.
Customization
NuORDER excels in wholesale features, aiding brand-retailer collaboration. Order Tab streamlines management, with statuses, filters, searches, reordering, and more.
Wholesale
NuORDER is a leading name in the best B2B eCommerce platforms, especially for wholesale features. The platform offers robust wholesale functionalities that promote collaborative growth between brands and retailers.
NuORDER partners with Stitch Labs for omni-channel retail. Stitch Labs syncs inventory, orders, and sales across channels, benefiting brands and retailers.
Omnichannel
NuORDER partners with Stitch Labs to broaden B2B customers' avenues for selling products to larger audiences. Stitch Labs, an online inventory management solution, simplifies omni-channel retail by automatically syncing inventory, orders, and sales across channels.
This partnership enables NuORDER and Stitch Labs to deliver a comprehensive platform to brands and retailers.
How to Choose a B2B Commerce Platform
1. Customization
Look for a platform that offers a high level of customization. B2B enterprises often have unique requirements, so the ability to tailor the platform to your specific needs is essential. This includes custom catalogs, personalized pricing, and branding options.
2. Speed and reliability
A fast and reliable platform is essential for a seamless B2B buying experience. Slow loading times can deter customers, impacting your sales. Ensure the platform has a strong uptime record and can handle the volume of traffic your business generates.
3. Ease of use
An intuitive and user-friendly interface is key. Your team should be able to manage the platform without extensive technical knowledge. Look for features like drag-and-drop page builders and straightforward product management tools.
4. Mobile responsiveness
B2B buyers are increasingly using mobile devices for their purchasing decisions. Your chosen platform must offer responsive design, ensuring that your website looks and functions well on various screen sizes. Mobile-friendly interfaces improve user experience and boost sales.
5. Competitive pricing
While cost isn't the only factor, it's important to find a platform that aligns with your budget. Compare pricing plans and consider the value you'll get for your investment. Look for transparent pricing structures without hidden fees.
Push Boundaries with B2B Commerce Platforms
In concluding our exploration of top B2B eCommerce platforms, it's clear that businesses now possess transformative tools. Magento Commerce, Shopify Plus, Salesforce B2B Commerce, OpenCart, and WooCommerce offer unique strengths, catering to diverse needs.
These platforms are more than transactions; they're B2B growth foundations. Whether scaling, customizing, securing, going global, or embracing omnichannel, each platform empowers businesses in the digital landscape.
Choosing the right platform relies on understanding your business's needs, budget, and goals. Staying current with trends is vital for a competitive edge.
The journey to B2B excellence is continuous. By harnessing these platforms, businesses strengthen connections, optimize operations, and pave a path to digital success.

Marketing Manager of Mageplaza. Summer is attracted by new things. She loves writing, travelling and photography. Perceives herself as a part-time gymmer and a full-time dream chaser.
Website Support
& Maintenance Services
Make sure your store is not only in good shape but also thriving with a professional team yet at an affordable price.
Get Started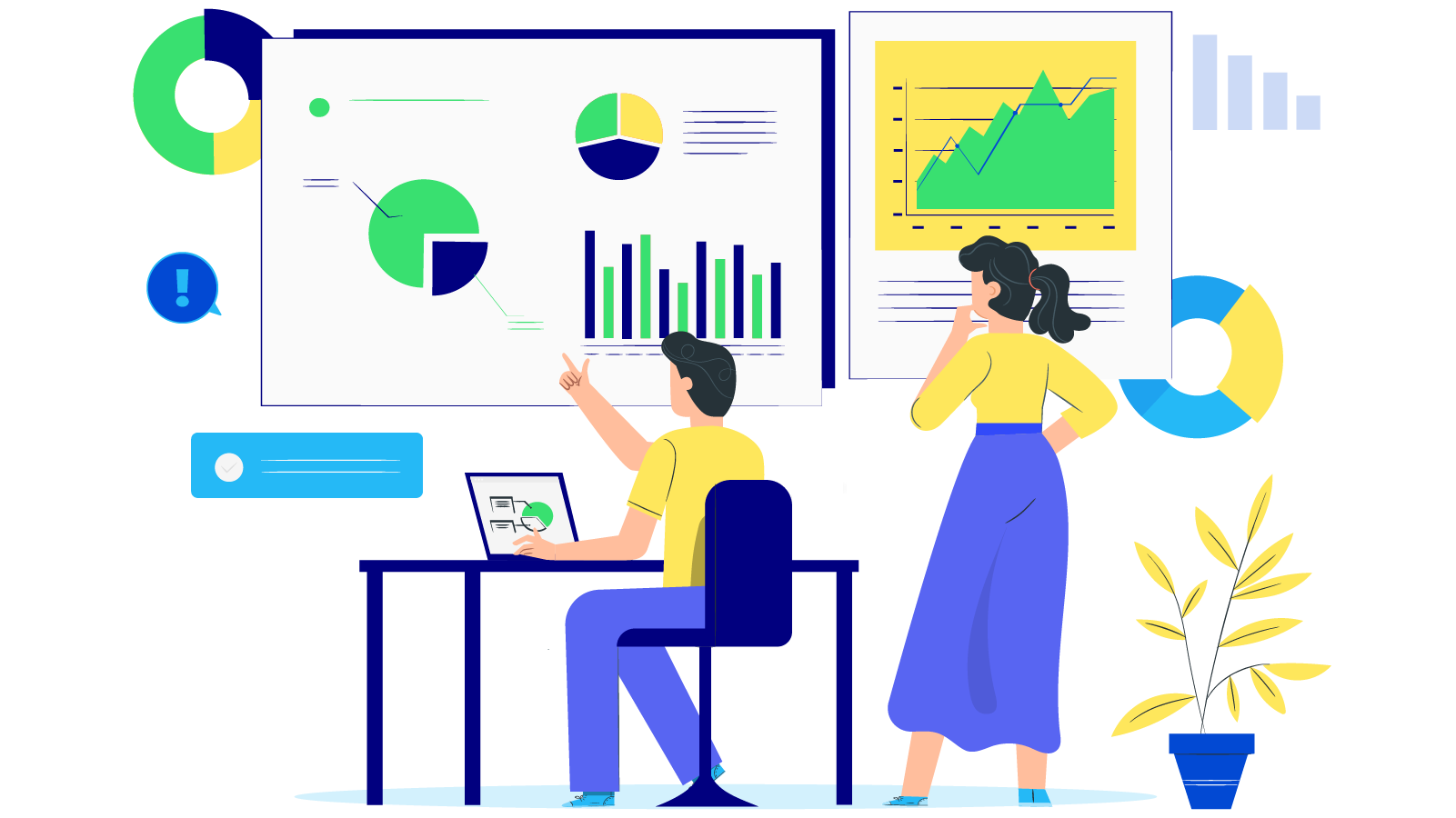 New Posts



Subscribe
Stay in the know
Get special offers on the latest news from Mageplaza.
Earn $10 in reward now!