Magento 2 Rewards Points Extension
Boost your customer loyalty effortlessly - from buyers to loyal customers
Short Overview
Magento 2 Reward Points is the most powerful Loyalty program, in which Reward System helps convert your buyers into loyal customers effortlessly by building an automatic points earning and spending system. Through this, stores can boost sales, conversion rate and have their customers around now and again.
Here are some highlight features of Magento 2 Reward Points extension: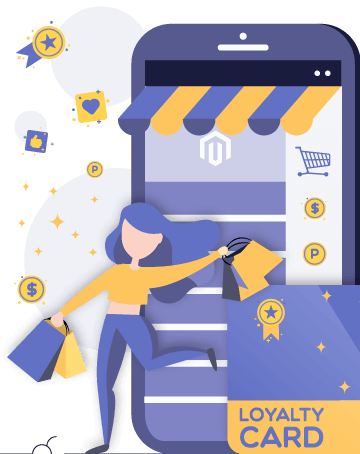 WHY MAGENTO 2 REWARD POINTS IS A MUST-HAVE

See the power of reward points
Build customer loyalty effectively
As known as an effective loyalty program, Mageplaza's Reward Points module provides a reward system for various customer behaviors. By rewarding buyers for performing specific actions such as repurchasing, subscribing, rating and reviewing, shopping doers are engaged and encouraged to commit to your online stores.
Increase conversion rate effortlessly
It's not easy to convert a visitor into a customer, but with Reward System for Magento 2, shoppers are more interested in shopping and repurchasing goods on your store. Reward Points module make it more obvious that customers are able to buy everything with a bargain. Hence, this erases hesitation to convert in customer's purchasing decision.
Attract more new customers
Reward Points extension can be awarded for signup to encourage visitors to become registered customers. This is a big motivation to drive more traffic to your website; besides, reward points is seen as a powerful welcome gift that drives a shopper to place an order on your store.
Enhance brand awareness
To approach potential customers through social media is wise. By Rewarding points for sharing, you are able to drive customers to share and interact on social channels. Consequently, the awareness of your brand is enhanced dramatically with much lower cost.
Improve customer's satisfaction
More rewarding methods can be applied to bring satisfaction to your customers such as rewards on customer's birthday, special events and promotional campaigns.
Enhance customer's shopping experience
Reward points for specific customer behaviors can be indicated everywhere on your store to remind customers of extra benefits they have for every interaction. This increases the effectiveness in rewrad points program as well as improve purchasing experience.
How Magento 2 Reward System works?

See the workflow of reward system
Set up Reward System rules
Customers interact on store
Customers get Points
Customers spend points on next purchases
FEATURED REWARD POINTS!
View Mageplaza Reward Points on Actual Magento 2 Stores
HIGHLIGHT FEATURES!

See what make Reward Points stand out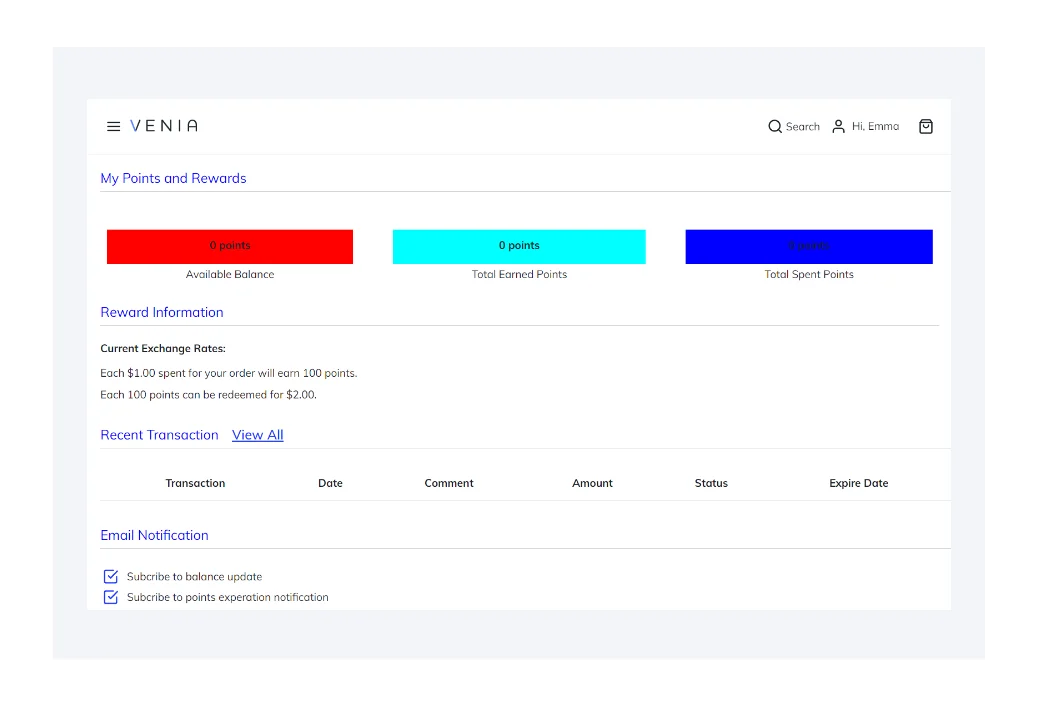 Mageplaza Reward Points PWA-ready
Optimize mobile shopping experience of the reward points features with the ready solution of PWA compatibility. Guaranteed to work smoothly on all screen types
Compatible with SimiCart PWA
Excellent mobile-friendly interface
Ready-to-use solution for PWA Studio storefront
Works perfectly with Magento Venia storefront
Customize Reward point labels
Point labels are cool things to consider when you use Loyalty Point on your store. As this makes earning points more enjoyable and playful, buyers will likely be attracted to your reward program, hence are interested more in shopping on your website.
Online stores are able to name their reward points with eye-catching labels such as coin, flower, heart, and so on.
Points spending slider
Beside other different ways to select point spending like entering a number, a spending slider can be used to increase customer's shopping experience. By pulling the slider, things seem to be easier and more playful. The Point spending slider can be displayed on the Cart page and the Checkout page.
Reward points by Earning & Spending rules
A system of conditions and respective actions can form unlimited earning and spending rules. This feature offers a much greater flexibility in the way online stores set up reward levels.
Reward for Social Sharing
Buyers can be also rewarded points when they share products on social channels. This feature encourages buyers socialize your online stores. Facebook, Google +, Twitter … are supported.
Send the referral URL to friends
Send emails invitations to friends
Share on social media with 250+ social buttons
Embed snippet on affiliate websites
Insert a banner with a referral link (from Pro Edition)
Reward for Behaviors
Besides rewards for purchasing, other customer behaviors on stores can be tracked and rewarded such as subscribing, product reviewing, rating, sharing and others.
Sell by points
Customers can use their reward points to buy products from your stores. Sell products and accept points as a payment method.
Reward for referring friends
Customers can earn loyalty points by referring friends. Referred friends can also earn points or get a discount when shopping on your store.
Track Reward program via advanced report
Compatible with Report extension. An advanced report on point earning and spending will be shown on the Dashboard with a friendly interface.
Learn more
Support API
Integrates with other third-party modules or apps in rewarding system. From this, buyers from other platforms do not miss any rewards from your stores.
Import & Export reward points
Helps cut down workload for admins by easily importing or exporting customers' reward points transaction. No more manual and complex work.
Milestones Program
A powerful version of reward point program which customers in other levels get different reward point tiers. This is a wise strategy to form lasting customer loyalty.
From February 1, 2022, we are launching Product Subscriptions
Buy now to get 15% cashback and other appealing incentives.
Learn more →
FEATURED TESTIMONIALS

"Ready to be a part of us?"
What Mageplaza customers say about Mageplaza Reward Points extension.
Excellent, as usual!
This extension does exactly what it says. Easy to understand and configure. And our customers love building up and spending their points!
The Ultimate package is the way to go
This is hands-down the best addon you can have for your store. Not only does it drive engagement through sharing and repeat orders, it gives customers an incentive to order MORE to get more points. Sort of like micro-transactions. A+
Great Service
"Great customer service from the Mageplaza team. I was able to fix all my issues and customize according to our needs thanks to the superb customer service team. Thank you!"
Great module i love this
"Thank you Mageplaza to providing this valuable module, we used this in my our store and this will be very much helpful to increase our sale, and very nice support they provide to us thank you again."
Magento 2 Reward Points's More Features

See more details of Mageplaza Reward Ponits
REWARD POINTS FOR PURCHASING
Based on settings on the backend, buyers can get points for each successful order placement.
REWARD POINTS EXPIRATION
Points expiration can be configured. Buyers will get a notification email when their points are about to expire.
REWARD POINT INDICATORS
Show how many points are rewarded on the Category page, Product page, Cart, Mini cart and Checkout page.
EARNING/SPENDING RATE
Configure the reward rates for various customer groups with their own priorities.
REWARD POINTS TRANSACTION MANAGEMENT
A detail transaction report of how buyers earned and spent points on your store.
REWARD POINT ICONS
An icon can be uploaded by store admins to use as a symbol for reward points.
REFUNDABLE REWARD POINTS
Store admins can configure reward points to be refundable or not.
REWARD POINT SPENDING RESTRICTION
The minimum and maximum amount of reward points spent in a time can be limited
CUSTOMER GROUP REWARD
Reward point rates can be configured in specific store views and customer groups.
---
SMART PRICING

Choose your suitable edition
STANDARD
$

99
CRAFTED FOR A GREAT WEBSTORE START
Supports for Magento 2 Community Edition
Eanring/Spending Configuration
60 days refund - no question asked
Compare features
ULTIMATE
$

299
GREAT FOR ENTERPRISE SOLUTION
Includes all Professional features, plus ...
Social Sharing
Reward for behaviors
Reports
Sell Products by Points
Reward for referring friends
Priority support
60 days refund - no question asked
Compare features
PROFESSIONAL
$

199
THE MOST POPULAR
Includes all Standard features, plus ...
Earning/Spending Rules
Compare features
How We Guarantee?
Better guarantee of maintanance from consistent & customer-centric policies.
We don't sell products for one time. We provide lifetime solutions which help our customers thrive with their businesses.
60-day Money Back
Extend your experience period to 60 days. Money-back guaratee with no questions asked
1-year Free Support
Get premium support for the first year to guarantee no conflicts, the best integration & stability..
One-time Payment
Pay only once and get the solution for a lifetime. No hidden cost.
Frequent Updates
Get technical updates every month for free without paying extra. Keep it best forever.
FREQUENTLY ASKED QUESTIONS

We have answered a wide range of questions for your convenience
Magento 2 Reward Points
is a rewarding system allowing merchants to bonus points to customers when they perform specific actions such as repurchasing, subscribing, or reviewing. Merchants can set rules for all rewarding actions.
To enable Magento 2 Reward Points extension: Log in to Admin Panel > Admin Panel > Store > Configuration > Mageplaza Extensions > Reward Points > General configuration and turn the Enable to Yes. Follow
our guide
to discover further settings.
There are so many options you can name for points such as pounds, cash, dollar, cent, etc or you can call creatively as star, flower, heart, or love etc. Remember that maybe it is the smart way to impress your customers.
If so, you have to set the priority for each. The earning rate with a higher priority with be applied first.
Of course, yes. You will have great experience in building
loyalty program
with the live demo extension.
To create a reward program in Magento 2: Log in to Admin Panel > Marketing > Earning and Spending. Here you can set up the point that customers gain when performing actions and the points they can use to purchase.
You can use reward points to delight customers by providing points when they purchase or interact with your online store. When customers get certain points in your store, they will be more likely to come back and use the points to buy products.
Yes, you can do that by setting various earning rates in the backend.
Feel free to set up languages for your store; it can be English, French, German or anything.
Milestone is a tiered/level program you can create when installing Reward Point System - the Ultimate version. Different tiers/levels such as Platinum, Gold, Silver come with different benefits. The higher tier a customer reaches, the more rewards he will gets.
From Magento Admin Panel, you can see the details of transaction including created time, used point, point balance and status.
Whenever there is a new version, we will update and you can download it by going to My Account > My Download Products.
CHEER UP YOUR CUSTOMERS AND BOOST SALES!
RISK-FREE solution. It's time to try NOW.
Buy now
Or
Talk to us
Basic
Professional
Ultimate
| | | | |
| --- | --- | --- | --- |
| | Standard | Professional | Ultimate |
| General configuration | | | |
| Enable/Disable the module | | | |
| Customize Reward point labels | | | |
| Configure Reward point icons | | | |
| Rewards for Customer group | | | |
| Rewards for Specific store views | | | |
| Set the Maximum Available Points Balance | | | |
| Sell products by points | | | |
| Earning Configuration | | | |
| Set Rounding point method: Up or Down | | | |
| Allow earning points from tax | | | |
| Allow earning points from free shipping | | | |
| Enable/Disable Point refund | | | |
| Allow earning points after Invoice created | | | |
| Enable admin to set the Point Expiration | | | |
| Milestone Program | | | |
| Get X points after Y days of inactivity | | | |
| Spending Configuration | | | |
| Minimum Balance to Spend Points | | | |
| Insert the Discount Label | | | |
| Set the Maximum Spending Points per Order | | | |
| Spending Points on Tax | | | |
| Restore Spent Points after Order Refunding | | | |
| Use Max Points by Default | | | |
| Refund orders by points | | | |
| Limit spending point by percent of checkout total | | | |
| Allow spending points on coupon codes | | | |
| Use points when creating order in admin | | | |
| Display Configuration | | | |
| Display Total Points on Top Links | | | |
| Display Earning Points on Minicart | | | |
| Highlight point label | | | |
| Email Configuration | | | |
| Enable Email Notification | | | |
| Subscribe Customers by Default | | | |
| Set the Email Sender | | | |
| Update point balance email | | | |
| Points expiration email | | | |
| Integration and other features | | | |
| Reward points by earning and spending rules | | | |
| Display reward point on the Category page, Product page | | | |
| Reports of Earned and Spent points | | | |
| Sell products by points | | | |
| Reward for Social Behavior | | | |
| Display Social button on frontend | | | |
| Choose Page to Display Social button | | | |
| Reward for referring friends | | | |
| Invitation email for referral | | | |
| Allow inserting default refer URL | | | |
| API integration | | | |
| Import/Export reward transactions | | | |
| Import points | | | |
| Reindex management | | | |
| Support | | | |
| Auto-fit with every device (Mobile, Tablet, PC | | | |
| Support multiple stores | | | |
| Support multiple languages | | | |
| Fully compatible with Mageplaza extensions | | | |
| 1-year free support | | | |
| Lifetime updates | | | |
| 60 days guarantee money back | | | |
Nice Plugin
Was a nice plugin and worked well but didn't do what I needed in the end so have to return it but for it can do it does very well
A must have
Great extension and fast support. I bought the Pro version and tried some simple rules. It's just great. Can't wait for the site to go live to really test it with sales, I think that the customers will like it!
Simona
-
Verified Purchase
Excellent, as usual!
This extension does exactly what it says. Easy to understand and configure. And our customers love building up and spending their points!
Bill Rust
-
Verified Purchase
Director
We installed it seamlessly within a few hours. Features are great and covers all our requirements
Anil Bhat
-
Verified Purchase
Great service.
Great products and great service. They offer the best service in my experience for all my Magento extensions I have purchased. Highly recommend.
Mageplaza Never Fails
Wonderful extensions. Easy installation, really hassle-free. Many options to customize. Definitely the best in the budget.
Bartosz
-
Verified Purchase
Wonderful!
an easy module to install. Cart and Behavior rules give a wide variety to configure the reward system. Also, MagePlaza support is such a quick, professional and very efficient service!
Mayyar
-
Verified Purchase
Good and Good
Instantly quick fix made by Bruce which saved my day! The support was awesome!
MohanaKrishnan
-
Verified Purchase
Blown away!
Best support service. We will purchase more extensions in futures and refer Mageplaza for our clients.
MohanaKrishnan
-
Verified Purchase
Thank you so so much
Always fast and friendly support from Mageplaza. My site worked again!
Jan Hemmingsson
-
Verified Purchase
Unbelievable Support!
In general, the extension works as advertised. Lots of features and a ton you weren't expecting that are really great. I've been working on Magento for 10 years and I can confidently say that these guys know what they're doing. Clean and reliable code. That's all fine and great but what really got me off my ass to write this review was the dev support, I had some features that I really needed, and I asked if they were 'possible.' I was expecting a bush-league workaround or a simple "nah" but I was SUPER impressed by the response I got instead. Thomas, one of their devs immediately jumped in and wrote a whole new plugin for my cart to work correctly. He even followed up a few days later to see how things were going. – Blown away. As if the extension doesn't do enough to begin with, the cost was worth the support provided to follow, alone. These guys will get as much business as I have to give them going forward.
Michael
-
Verified Purchase
Very useful
It's really useful to increase customer loyalty at your store. For the customer, this extension is easy to use and the Mageplaza support is reliable!
Simone
-
Verified Purchase
Does a great job
Does a great job and has helped my sales. Is easy to configure and offers a good solution. Should be on the top of your list of addons.
Martin
-
Verified Purchase
The best addon
This is hands-down the best addon you can have for your store. Not only does it drive engagement through sharing and repeat orders, it gives customers an incentive to order MORE to get more points. Sort of like micro-transactions. A+
Awesome extension
I used Reward Points from j2t before and they were just OK. But Mageplaza Reward Points extension is a huge step UP. Ultimate edition of this module makes my revenues go and go...I can't wait for milestones feature, this will be a huge step forward. Thanks, Mageplaza.
marina
-
Verified Purchase
Awesome extension !!!
This plugin is very easy to use. I really love it!! Customers can earn points and redeem for cash!! It's the best extension I found after a long search. I'm very happy and highly recommended.
Perfect Extension
This little add-on has a major impact on customer loyalty and helps you to stabilize and increase sales:-) The useful adaptations of this module you can do is that you can customize this extension as your needs.
Patrick
-
Verified Purchase
Great loyalty program
This is an amazing extension which is a must-have for every e-commerce store. The set up is very easy to install. Just try and see. Much more easy to retain customers :-)
Lubomir
-
Verified Purchase
Incredible support and respect for the user
I am very satisfied with this extension because it's very useful for my store. I did have an issue with the translate of extension, they worked quickly to resolve the issue. I am very happy with the support.
Our loyal customers' number has increased by nearly 30%
It's such a big surprise for us to experience this for the very first time. After having Mageplaza Reward points extension installed in our store, our conversion rate is growing significantly. Many one-time buyers visit back our website and purchase more. The last holiday shopping season was awesome, customers were more interested in shopping. It's so cool after all.
Vernon
-
Verified Purchase
Great support from you guys
It's always so easy to be satisfied with the way I'm supported in Mageplaza. The guys solved the compatibility issue in my store so well that I couldn't ask for more. Reward points extension is working properly and plays its role exactly as it's claimed. Can't wait to see the Ultimate version showing up.
Angelina Badger
-
Verified Purchase
Basic yet useful
Got this from a slot of Pre-order event. Mageplaza Reward Points extension is basically perfect for our store. Everything is working well and the extension's brought many benefits so far. The support team works so efficiently, thank you guys!
MK. Fardy
-
Verified Purchase
v4.3.0

14 September 2021

Added allow spending points for Coupon Code
Added sell product by points or price
Added spending points when creating order in admin
Added points allocation action for behavior rule
Compatible with Magento v2.4.3
Fixed minor bugs
v1.7.0

14 September 2021

Added allow spending points for Coupon Code
Added sell product by points or price
Added spending points when creating order in admin
Added points allocation action for behavior rule
Compatible with Magento v2.3.7
Fixed minor bugs
v1.6.0

26 May 2021

Added Reward Landing Page
Added min grand total for reward point when writing reviews
Fixed minor bugs
v4.2.0

26 May 2021

Added Reward Landing Page
Added min grand total for reward point when writing reviews
Fixed minor bugs
v1.5.1

05 May 2021

Compatible with Klarna payment.
Fixed minor bugs
v4.1.0

02 April 2021

Compatible with Magento v2.4.2
Compatible with Klarna payment.
Fixed minor bugs
v1.5.0

08 December 2020

Added new feature: Milestone Program (Reward Points Ultimate)
Added new feature: Hightlight point label
Added: limit spending point by percent of checkout total
Added: refund order by points
Added behavior event: Get X points after Y days of inactivity (Reward Points Ultimate)
v1.4.3

15 July 2020

Fixed error while getting Transaction Title via API
v1.4.2

16 June 2020

Compatible with Magento v2.3.5
Fixed minor bugs
v1.4.1

05 May 2020

Added transaction export feature
Added import type "Replace"
Fixed minor bugs
v1.4.0

04 March 2020

Supported GraphQL
Improved & added more RestAPI
Compatible with Magento 2.3.4
Fixed admin ACL error with earning/spending rate
Fixed error on checkout page if no rule
Improved code style & performance
Fixed minor bugs
v1.3.2

31 December 2019

Added Rest API get earning/spending rate/rule data
Improved code style & performance
v1.3.1

10 June 2019

Compatible with Magento 2.3.1
Improved code style & performance
Fixed minor bugs
v1.3.0

26 February 2019

Standard

Improved code style & performance
Fixed error happen when ordering with point on Backend

Pro

Fixed error while spending point with discount percent action

Ultimate

New feature: Reward Points API
New feature: Reward Points Import
v1.2.0

05 October 2018

Standard

Improved code quality & performance
Fixed minor bugs

Pro

Fixed the rounding issue in case of partial refund
Fixed error on displaying shopping cart spending rule while customer balance is not enough
Improved UI/UX
Fixed minor bugs

Ultimate

Initial release

New feature: Social sharing
New feature: Reward for behaviors
New feature: Sell product by points
New feature: Customer can refer friend to store & earn points
New feature: Reward Point Report for Admin
v1.1.0

22 August 2018

Improve performance
Improve Reward Points Dashboard on the frontend
Fixed error on calculating point/discount for invoice/credit memo

Reward Point Pro

Support Catalog Earning Rules (Show point earned on Catalog/Product page)
Support Shopping Cart Earning/Spending Rules
v1.0.1

29 March 2018

Move backend module menu to Magento Marketing
Remove earn point message on Product Listing/View page.
Fix bug: cannot place the order with Paypal if customer spend reward points