When shopping online has been increasingly popular among people, online business doers also try to bring better shopping experience to customers. Following this current trend, Magento 2 Reward Points by Mageplaza is created to significantly help online merchants in their loyalty programs. With all outstanding features, customers will be satisfied with not only reward points program but also other interesting features such as point spending slider. This function allows buyers to themselves decide the number of points used for promotion by pulling a slider which represents their points.
Why point spending slider?
The appearance of point spending slider on the shopping cart and checkout page plays an integral role in creating a sense of satisfaction among customers. Since these sliders remind buyers that they use their points and also gain more points in the next purchases, it provides them a feeling of getting discount for their orders. By knowing that they are gaining benefits from reward points, buyers will have tendency to spend more and come back to your store to use old earned points.
Besides, with the application of slider instead of a text box, shopping doers no longer need to enter a specific number. Instead they can pull the slider to determine the amount of points used for promotion. This action is sure to make customers more interesting in shopping activity like playing a computer game.
Display on frontend
There are two different places where point spending slider can be seen which are on shopping cart and checkout page.
Shopping cart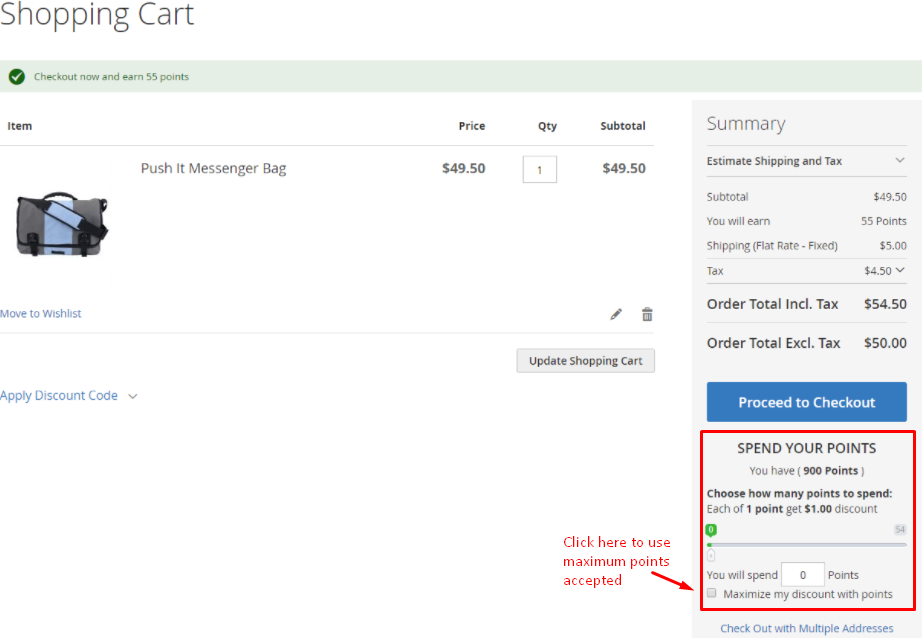 When being on the shopping cart, customers are provided with brief information about their selected products including short description, price with taxes, and earning points. Besides, they can easily catch a glimpse of Spend Your Point filed. Here buyers are informed about their total points and options to spend their reward points for that order. To determining the number of points used, shopping doers only need to pull the slider to make decision. In case customers do not want to use the point spending slider, they can directly enter the number of points in the box.
For any order, if buyers want to use all their points to gain a big bargain, they can simply tick on Maximize my discount with points. By doing so, the maximum points available to use will be applied since the largest number of points used in one purchase maybe restricted to a certain amount. For instance, if the maximum points can be applied in one order is 100, a buyer is having 150 point, when choosing Maximize my discount with points, that customer can use 100 points for this order. In case, purchaser has only 80 points, then after select maximum option, he can use his total 80 points in one time.
However, the amount of points used need to be parallel with the spending rate. For example, if 10 points equal to one dollar, the accepted numbers need to be divided by 10 such as 10, 20, 30, and so on. Therefore, the accepted number depends on spending rate generated by admins.
Checkout page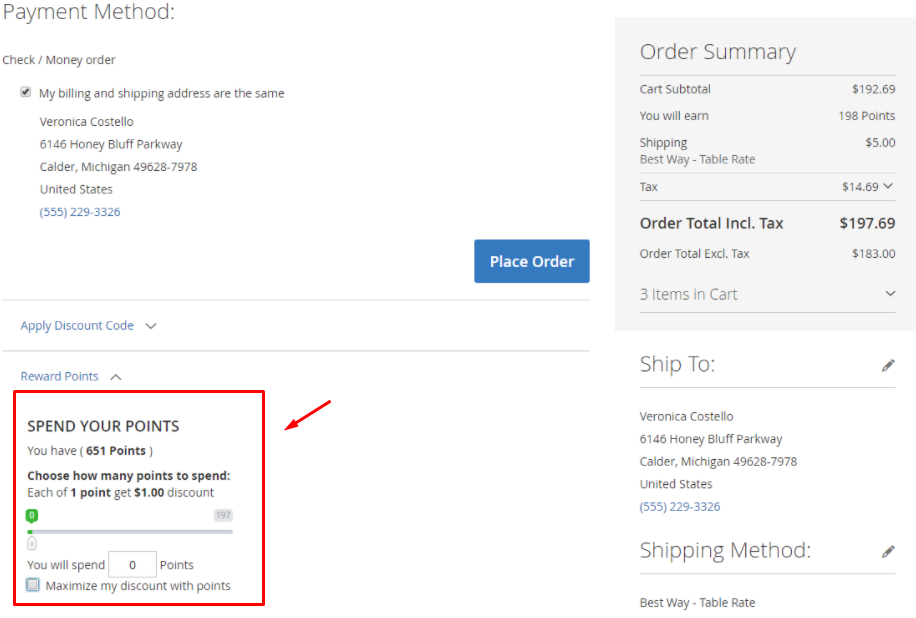 Similar to point spending slider on shopping cart. In checkout page, buyers are again informed about their total gained points and different options to spend these points. These options are also applied in the same way as in the shopping cart.
In conclusion, Magento Reward Points Extension empowers both users and customers chances to personalize their business and shopping activities as well. With point spending slider, this extension is expected to help business doers provide better shopping experiences for consumers; consequently, increase sales and conversion rate for online stores. Besides, another feature called point indicator is included in the extension to inform customers about their will-be-earned points. If you want to know more about this function, refer here: