Top 18 offshore companies in Mauritius
Experienced E-commerce Agency for

Magento/ Adobe Commerce/ Shopify/ Shopware

Development
If you are looking to grow your business and need the help of a trusted company in Mauritius, you are in the right place. In this blog, we will unveil the top 18 offshore companies in Mauritius. 
Each offshore company has been carefully selected based on its track record, reputation, and contribution to the Mauritius economy. Let's dive in and choose a reliable partner for your business!
Table of content
Why is Mauritius a good place for offshore companies?
Mauritius is a beautiful island nation that has attracted numerous businesses looking for a strategic and conducive environment to thrive. But why is Mauritius a favorable place for offshore companies? 
Here are why:
Tax advantages and double taxation avoidance treaties

: Mauritius has established a comprehensive network of double taxation treaties with over 40 nations, including major economies. Under these agreements, businesses can benefit from lower or zero withholding taxes on profits, interest, and royalties. As a result, offshore enterprises in Mauritius can maximize their tax methods and realize significant savings.

Strategic geographic location

: Mauritius has a favorable location at the intersection of Africa, Asia, and the Middle East. Because of its proximity to rising countries and global trade routes, firms have unrivaled access to a large consumer base. Also, Mauritius' compatibility with major financial centers allows for seamless communication and effective company operations.

Robust legal and regulatory framework

: Mauritius' allure stems from its strong legal and regulatory structure, formed by years of progressive policies. The country's legislation encourages the formation of offshore organizations, providing flexibility and appealing incentives to businesses. International investors benefit from the legal system founded on English common law.

Skilled workforce and language advantage

: Mauritius has a well-educated and multilingual workforce fluent in English and French, the country's official languages. This language advantage and a strong work ethic promote excellent communication and collaboration with worldwide partners. Furthermore, Mauritius' dedication to education and constant skill development fosters well-equipped talent to tackle the challenges of a fast-changing corporate world.
Top 20 offshore companies in Mauritius
Techmode Outsourcing Ltd
Established in Ebene, Mauritius, Techmode has rapidly emerged as a leading player in the technology sector. The company offers cutting-edge solutions and services to clients worldwide.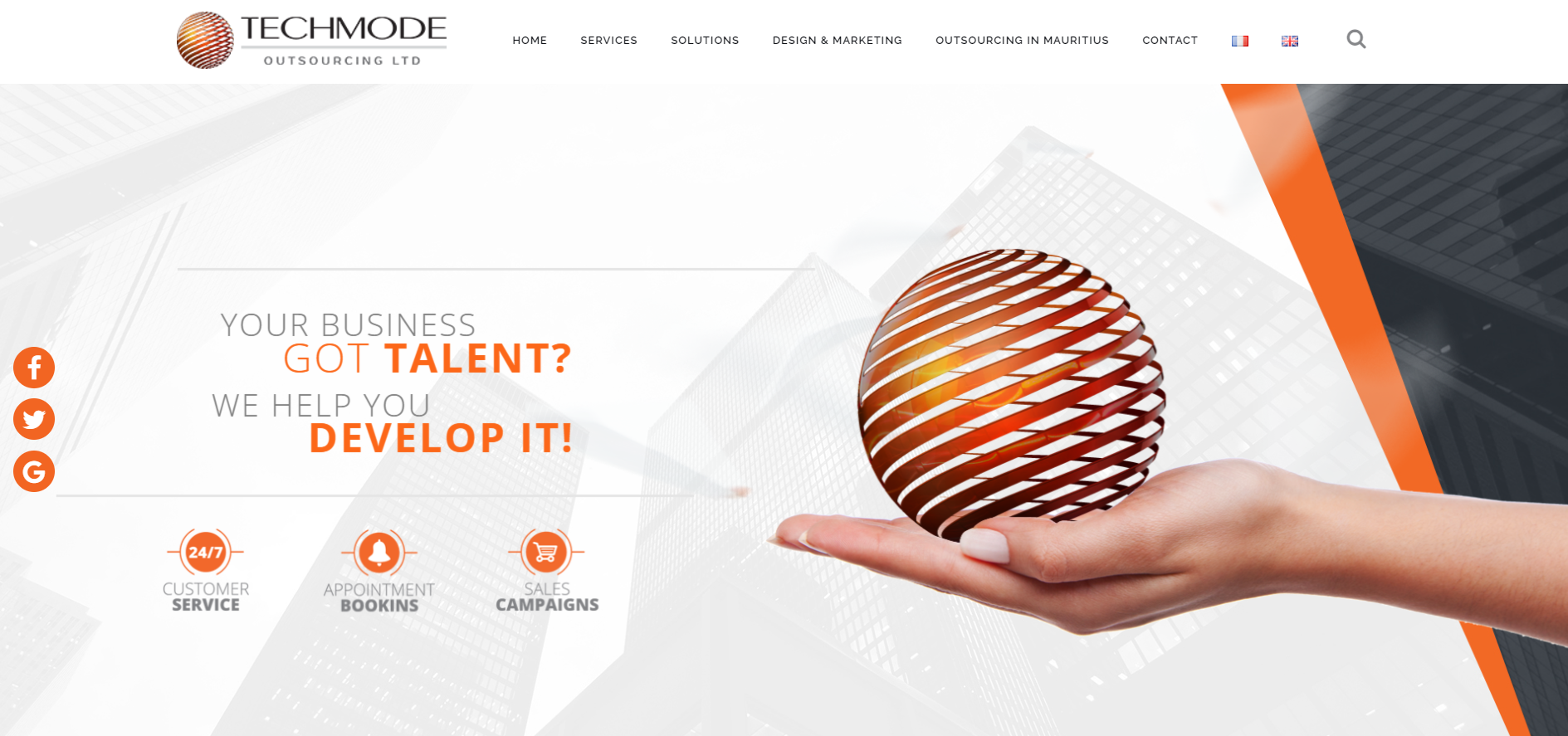 In an era of fast digital transformation, Techmode is critical to helping companies adapt to the digital age. Techmode's significant cross-domain knowledge enables them to serve various industry segments. 
Techmode has the knowledge and experience to identify each area's particular issues and requirements. Whether it be finance, healthcare, e-commerce, logistics, or tourism, the company can provide clients with the most innovative solutions.
Services:
Marketing & Sales

Finance & Administration

Accounting & Management

Ligitation & Legal

IT & Telecom
HSBC Mauritius
As one of Mauritius's leading offshore companies, HSBC plays a crucial role in the country's financial landscape. HSBC Mauritius tailors its solutions to help customers meet their financial objectives while providing a seamless banking experience.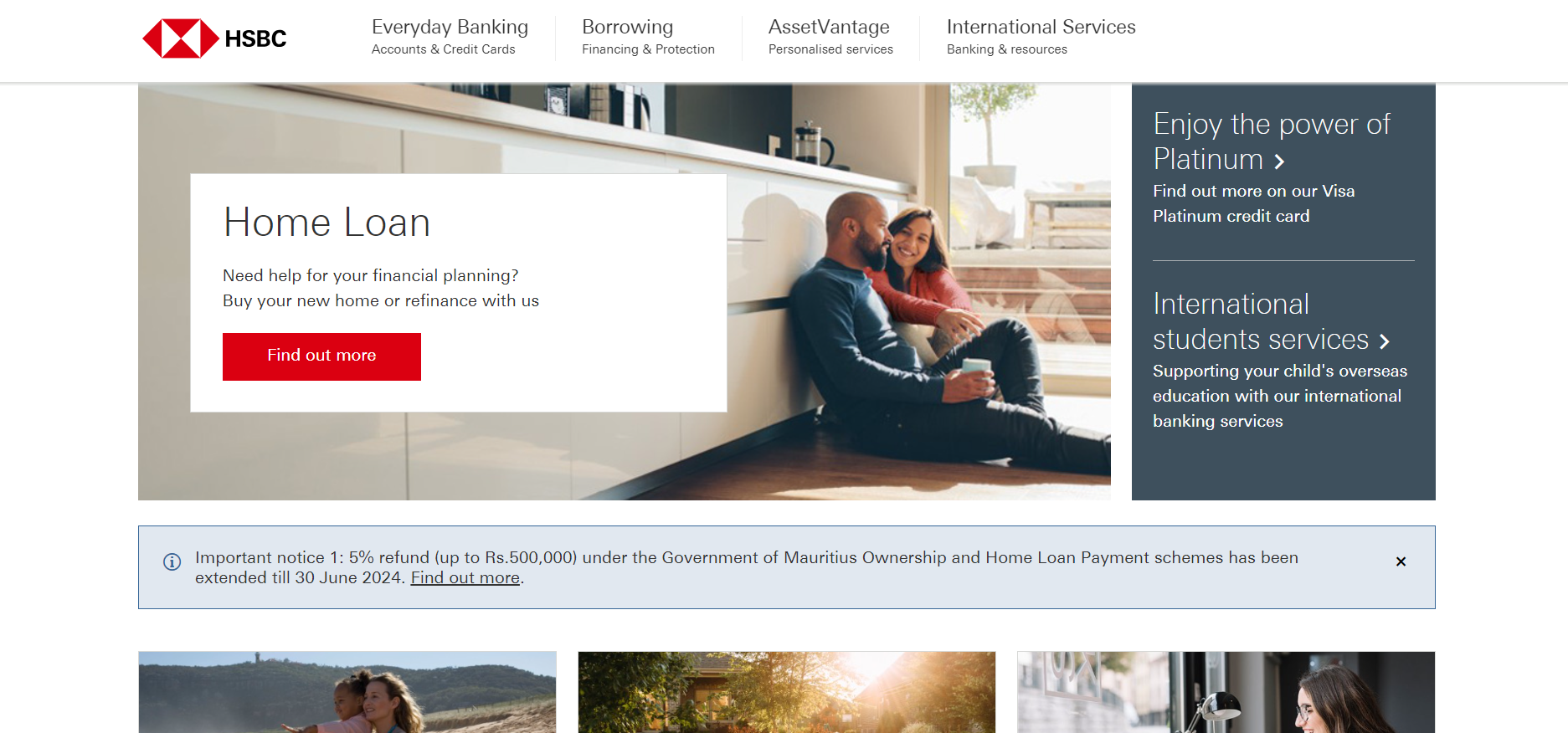 HSBC Mauritius is dedicated to providing excellent customer service while upholding the highest professionalism and honesty. The bank's global network and experience enable it to provide several international banking services, simplifying cross-border transactions and assisting Mauritius firms in their international expansion.
With a strong presence in over 64 countries and territories, HSBC operates across four key segments. They include retail banking and wealth management, commercial banking, global banking and market, and global private banking. 
Services: 
Personal Banking Services: Current accounts, Savings accounts, Fixed deposits, Personal loans and mortgages, Credit cards, Debit cards

Wealth Management and Investment Services: Portfolio management, Investment advisory services, Unit trusts, and mutual funds, Discretionary and non-discretionary investment solutions, Insurance products, Retirement planning

Business and Commercial Banking Services: Business current accounts, Business savings accounts, Business loans and overdrafts, Trade finance and international banking services

Corporate and Institutional Banking Services: Corporate lending and financing solutions, Trade finance and documentary credits, Cash management and liquidity solutions

International Banking Services: International banking and cross-border solutions, Correspondent banking services, Import and export financing
GR Morgan Formations
GR Morgan Formations is a reputable company specializing in facilitating the formation of international corporations in different countries around the globe. GR Morgan offers comprehensive, professional, and tailored solutions from the United Kingdom to Mauritius, the Seychelles, and Hong Kong.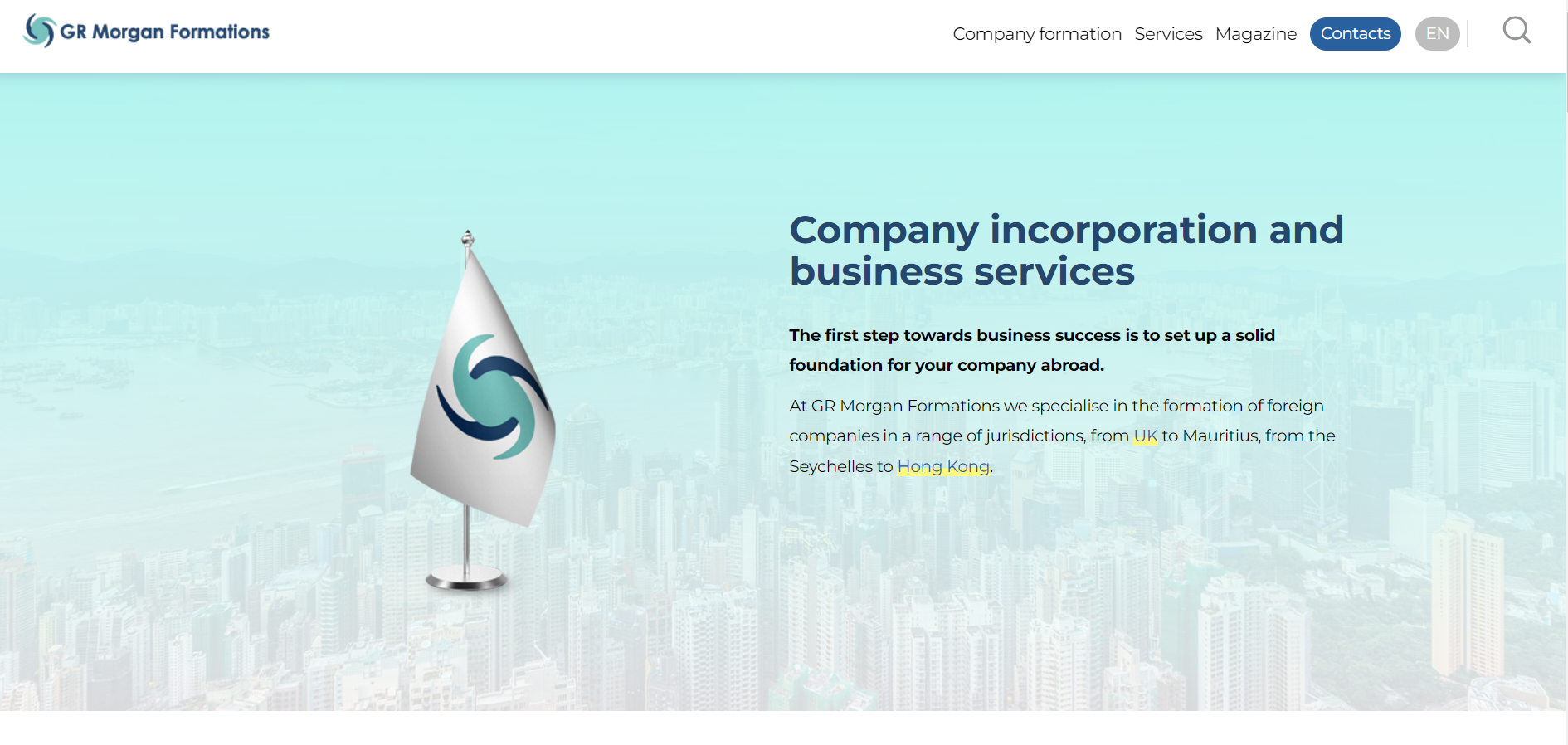 GR Morgan's main goal is to help Italian entrepreneurs extend their companies beyond national borders. The company strives to be a reliable partner that facilitates seamless cross-border expansion. They want businesses to prosper in new markets while following legal and regulatory standards. 
The company's committed team comprises highly experienced individuals with considerable knowledge and expertise in business formation in multiple jurisdictions. From legal professionals to financial specialists, the team aspires to provide customers with excellent services and customized attention.
Services: 
Accounts Preparation and Tax Computation in the UK

Apostille and Notary services

Bank account in the United Kingdom

Commercial intermediation agency

International Bank Accounts

Legal services

Nominee Services for UK companies

Relocation

Secretarial Services

Virtual office
Major clients: Togi Ltd, ASH Design London Ltd, BCS Development Limited
AAMIL Ltd
AAMIL (Advanced Asset Management and Investment Ltd), founded in 1997, has developed as a significant provider of international financial services.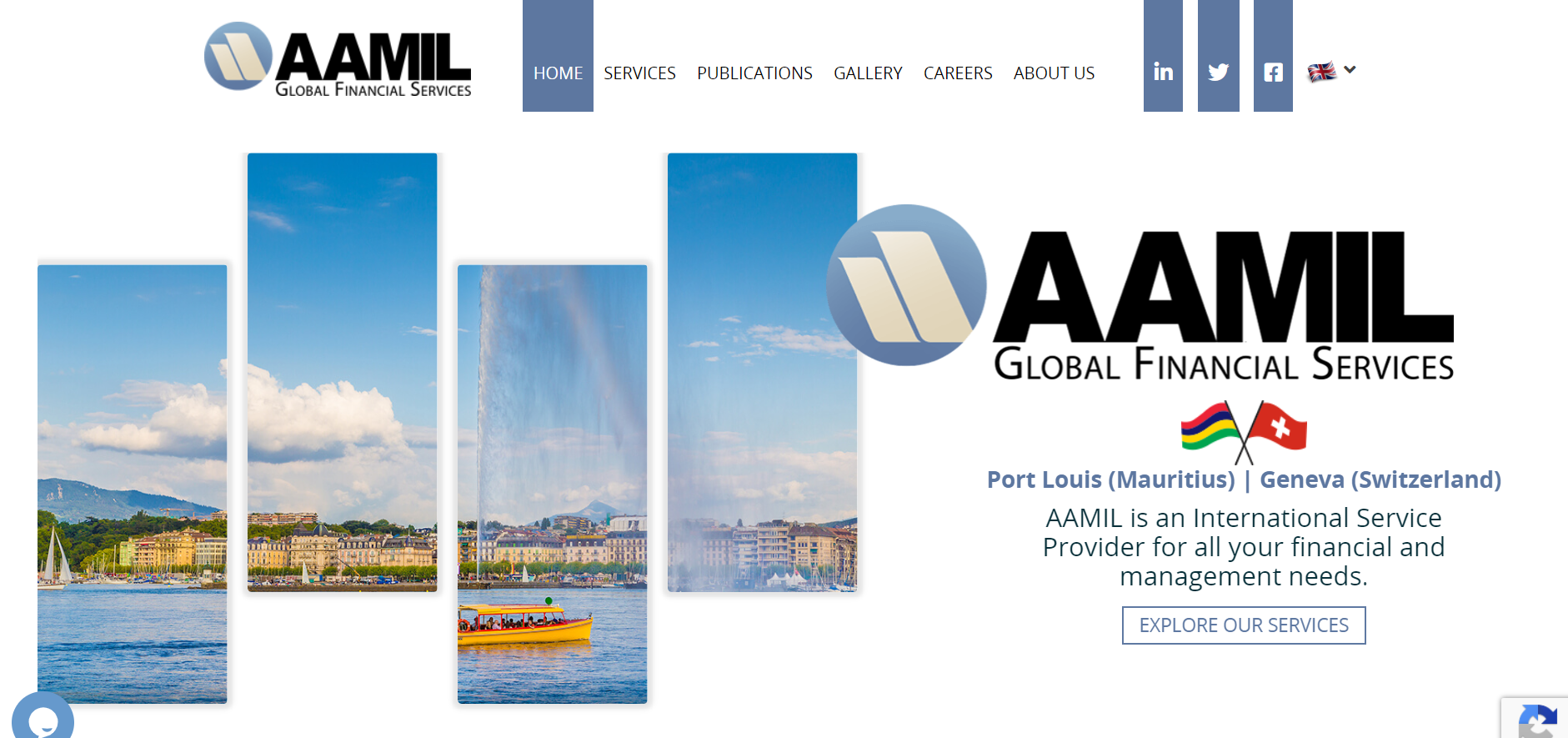 AAMIL provides a wide variety of financial services tailored to its client's specific needs. Asset management, investment advising, wealth planning, and corporate services are provided.
AAMIL operates under the supervision of the regulatory authorities in both Mauritius and Switzerland. AAMIL is strongly committed to regulatory compliance. Dr. Ludovic C. Verbist, an accomplished lawyer and Ph.D. holder in economics, leads AAMIL. 
The company has a devoted staff of 40 experts ready to assist clients with knowledge and customized attention. AAMIL prioritizes understanding its client's goals and risk profiles to develop solid and lasting relationships.
Services:
Incorporation and Administration of Legal Entities

Residency and Real Estate Search

Lawyers Chambers, Legal and Tax Opinions

Asset Management

Investment Advisory

Investment Platform Tapping African Continent
AXYS Global Services
As one of the leading offshore companies in Mauritius, Asys Global Services specializes in delivering customized solutions for mission-critical facilities.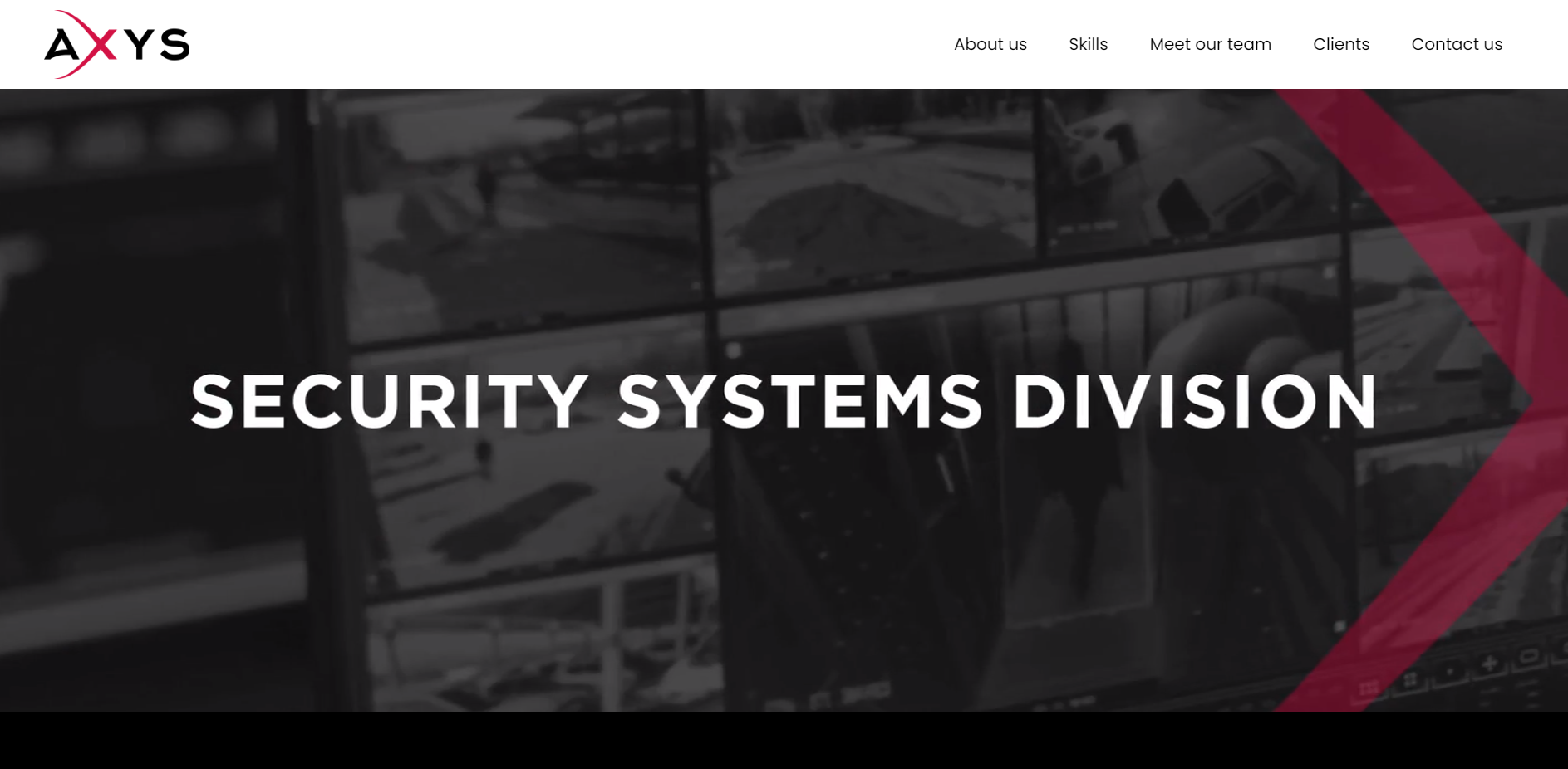 Axys operates worldwide with a global footprint, servicing clients from various locations and industries. That includes North America, South America, Africa, the Middle East, Europe, and Asia-Pacific. 
The company is dedicated to excellence and client satisfaction, which allows them to create a strong presence in a large number of countries throughout the world. Asys Global can deliver efficient services regardless of geographical location. 
Asys's strategy is built around three main components: standardization, auditing, and design, all suited to its client's specific needs. The company is committed to exploring cost-cutting options while ensuring the highest quality and trustworthiness.
Services: 
Facility Design and Engineering

Energy Efficiency and Sustainability

Auditing and Compliance

Risk Management and Resilience

Maintenance and Support
Major clients: Equinix, Tesla, Nissan, Michelin, Valiant, Mead Johnson Nutrition
Imara Trust Company Limited
Imara Trust Company is a boutique, owner-managed fiduciary firm that prioritizes customized service. The company's principal concentration is on forming corporations and trusts, with various services.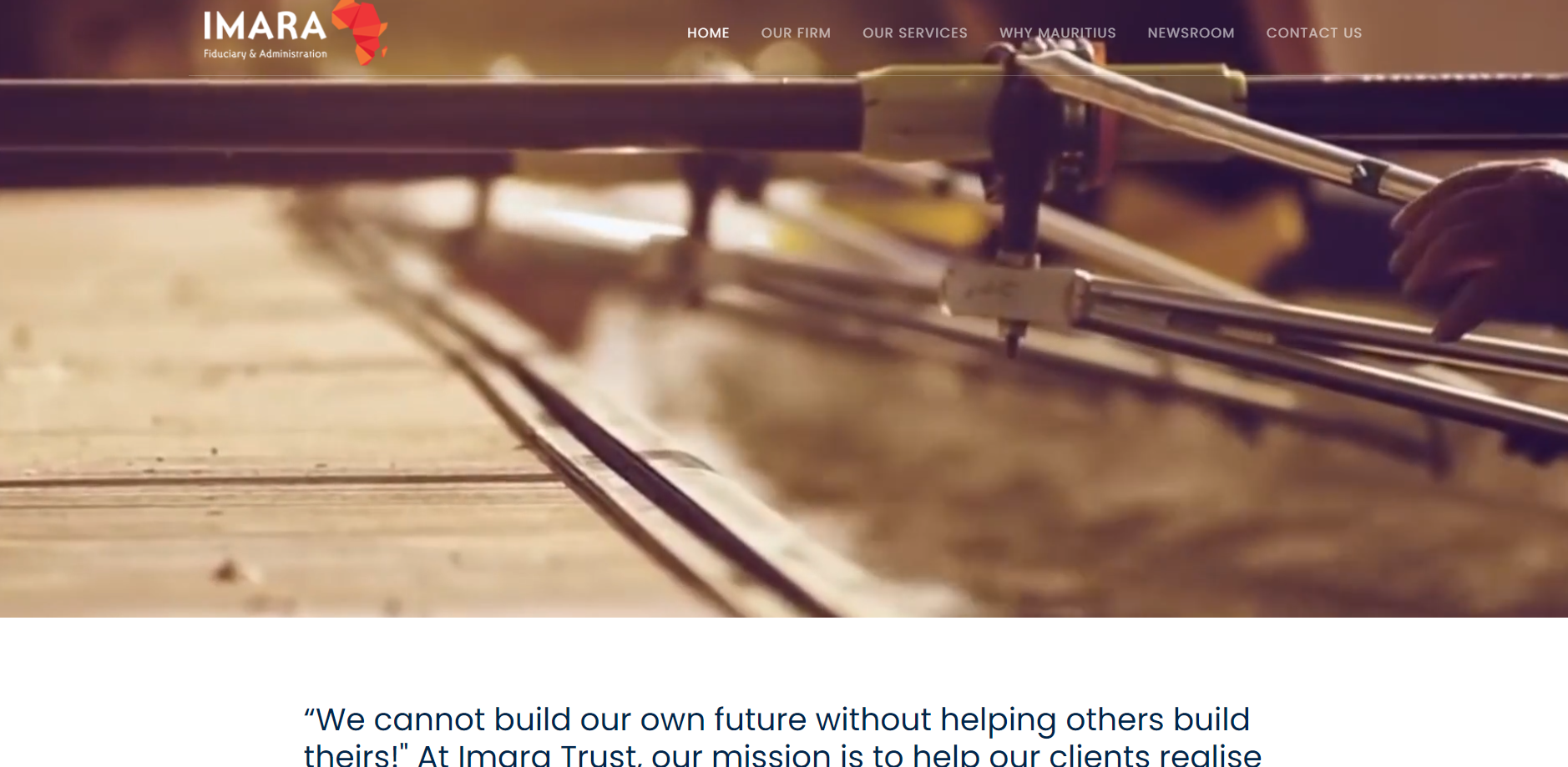 As a leading business service provider, Imara has worked with customers who are at the forefront of making a positive difference in the world. Imara has stood by their side, rigorously maintained and defended their companies. By doing that, Imara helps businesses develop more job opportunities, increase efficiency, and improve existing company structures.
Imara's autonomous and adaptable strategy sets the company apart, enabling it to serve a varied clientele and collaborate with advisers from around the world. The company also has a competent and stable workforce, who implements cutting-edge technology to provide clients with the best solutions. 
Services:
Corporate

Fiduciary

Tax & Accounting

Fund Administration

Relocation
MATCO
MATCO (The Mauritius Administration and Trust Company) is a prominent Management Company based in Mauritius. The company specializes in providing tailored wealth management, fiduciary, and structuring solutions to individuals and corporate clients.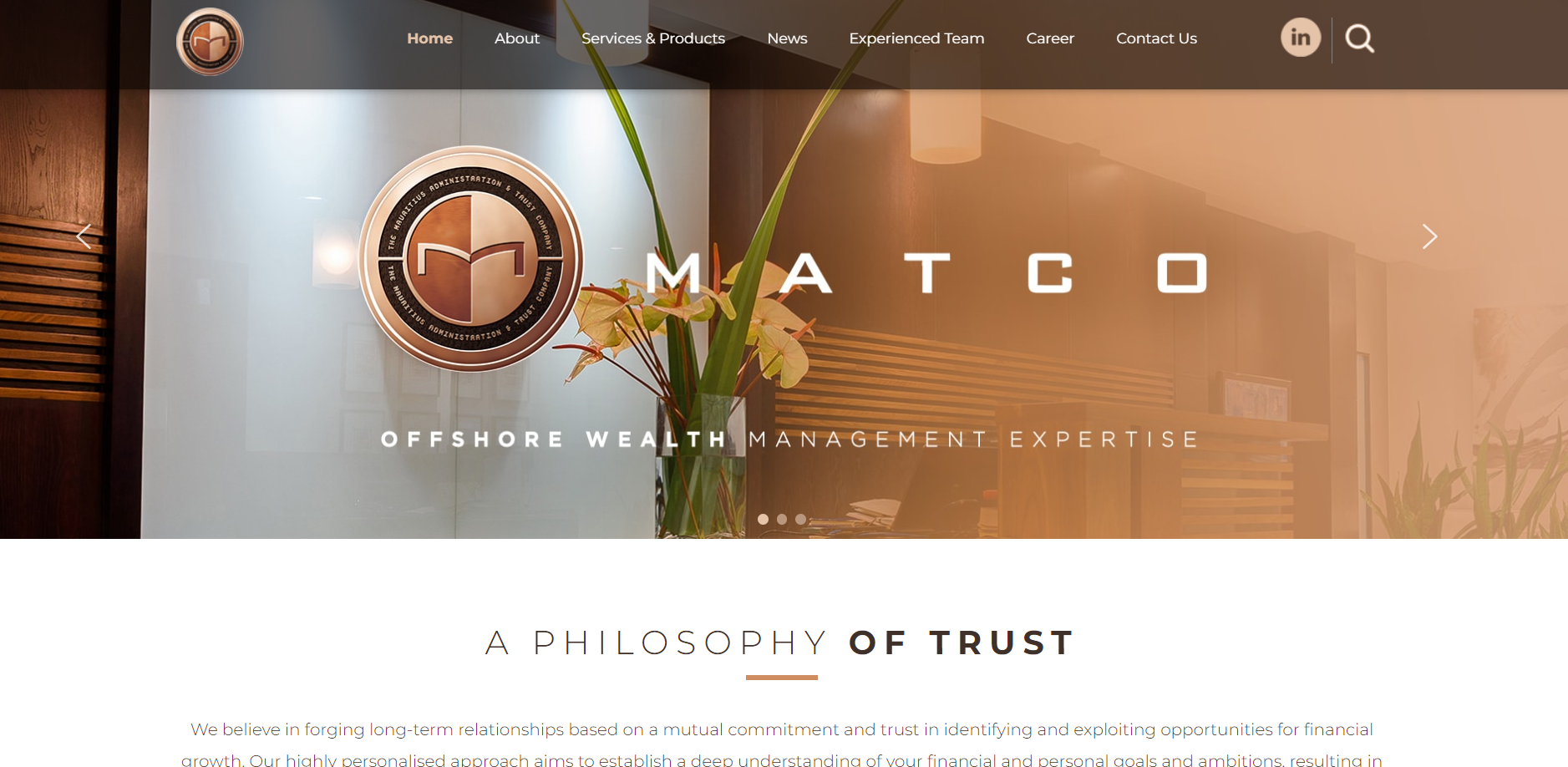 MATCO also recognizes the specific needs of professional intermediaries seeking a reliable partner. The company is capable of delivering a comprehensive range of offshore management services. 
The Mauritius Financial Services Commission has fully regulated MATCO since its establishment in 2005. The company can provide an innovative and entrepreneurial approach to financial services administration and trusteeship. Being an independent service provider, MATCO is completely aligned with the interests of our clients. This can ensure that the advice the company provides is unbiased and truthful. 
MATCO has a cutting-edge computerization system that makes the company different and ensures efficient results for the clients and their enterprises. While MATCO's technological capabilities are great, the company also values personal touch to guarantee that their service is personalized and appropriate for each client. 
MATCO also has a thorough awareness of the needs of professional intermediaries such as lawyers, financial advisers, and tax specialists. The company's philosophy revolves around cultivating long-term relationships built on mutual commitment and trust. 
Services: 
Wealth Structuring Services

Corporate services

Accounting Services

Fund Administration Services

Compliance and Risk Mitigation services

Back Office Services

Assistance with Permits and Relocation
Corporate & Chancery Groupe Ltd
Corporate & Chancery Group Limited is a prestigious boutique management firm specializing in advising Family Offices, High Net Worth Individuals, and Ultras on international tax, succession, and trust planning issues.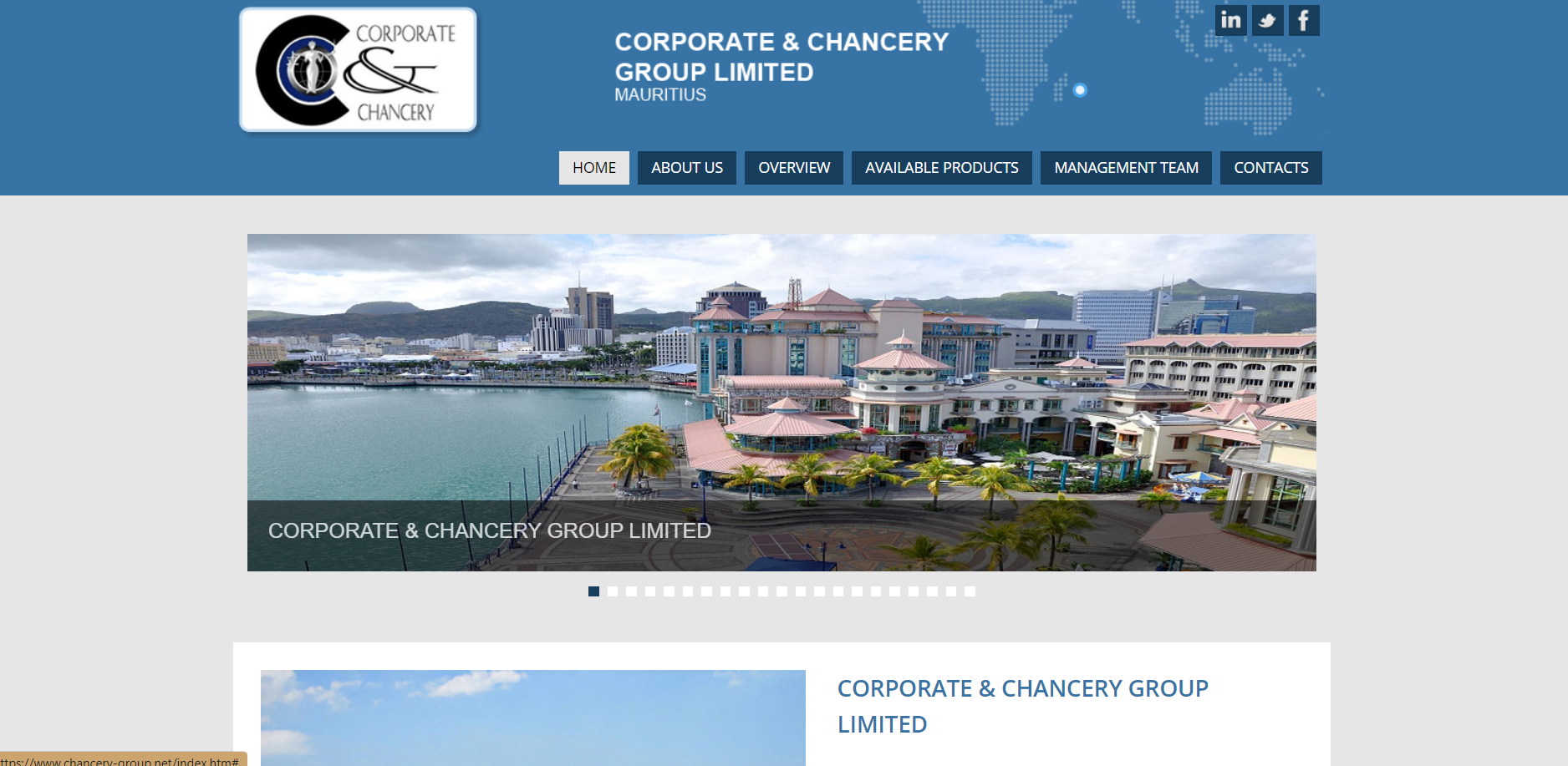 Corporate & Chancery Group is unique in that it is managed and owned by a group of tax and trust specialists. The members are seasoned legal professionals, including practicing Barristers from the United Kingdom and Hong Kong. 
The competent accountants with credentials such as ACCA (Association of Chartered Certified Accountants) and ACMA (Association of Certified Management Accountants) (Associate Chartered Management Accountant) are also members of the company. 
The company's expertise in NON-CIS (Collective Investment Scheme) Protected Cell Companies makes Corporate & Chancery Group Limited stand out. These companies act as outstanding "wrappers" intended exclusively for European High Net Worth Investors. Corporate & Chancery Group Limited is proud to be the only management business in Mauritius that specializes in this field.
Services:
Provision of nominee shareholders and directors

Company Secretarial Services including Registered Offices

Advisory services on Joint Ventures, Trademark Registration, Group Structures etc.

Corporate Migrations and Amalgamations

Corporate Restructuring
Frontiere Finance
Frontière Finance is a distinguished company that specializes in providing tailored trust, fund, and outsourcing solutions. Established in 1993, Frontière Finance has garnered extensive experience in the industry.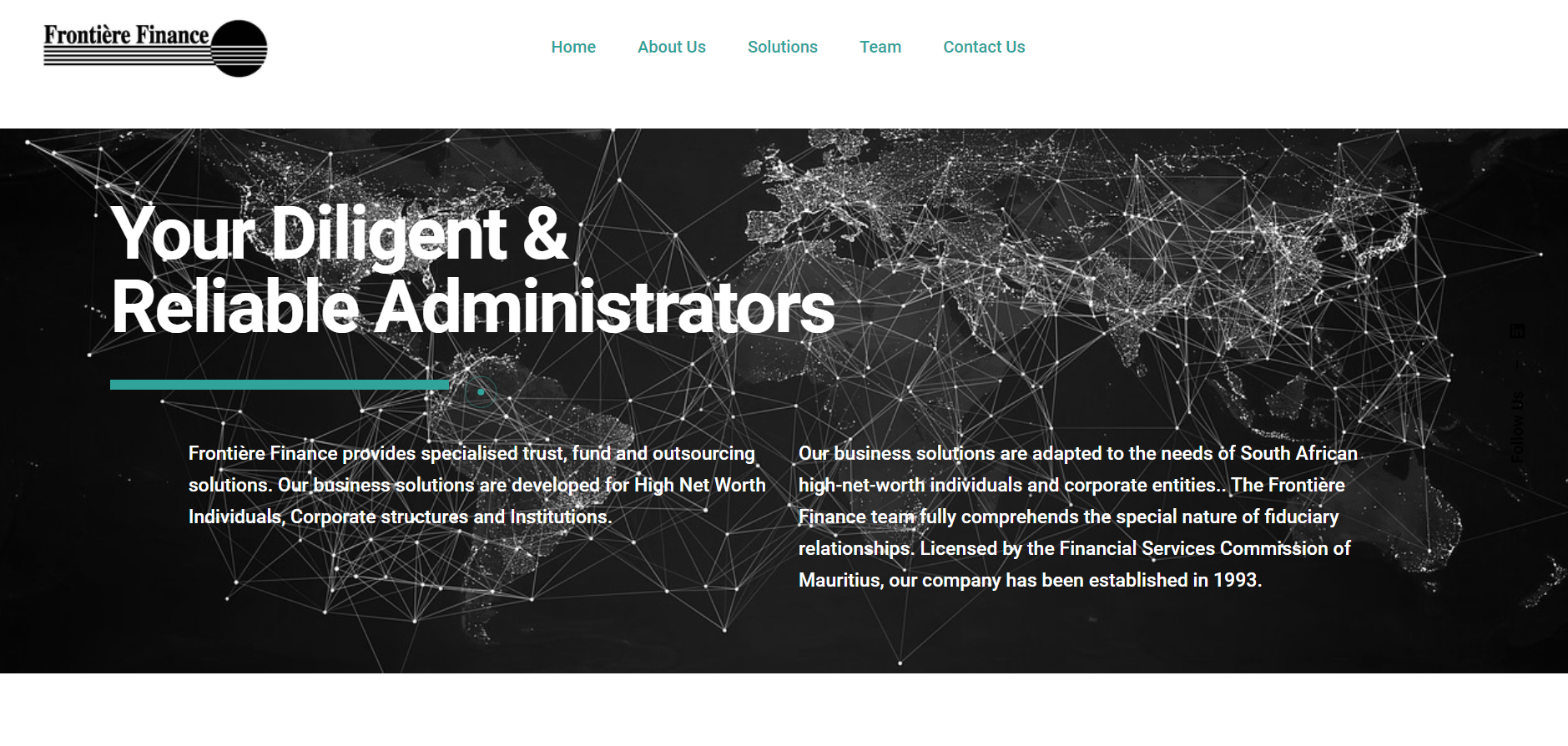 Over the course of more than 25 years, Frontière Finance has nurtured enduring relationships with an esteemed clientele, primarily based in South Africa. Its client-centric approach is built on trust, as the company believes that trust forms the foundation of successful partnerships.
Frontiere's business solutions are carefully crafted to cater to their specific needs, ensuring that the clients receive personalized and effective services. The company recognizes the exceptional nature of fiduciary relationships and prioritizes the highest standards of professionalism and integrity.
The company is also proud to be licensed by the Financial Services Commission of Mauritius. This highlights Frontiere's commitment to regulatory compliance and adherence to best practices.
Services:
Corporate Administration

Accounting Solutions

Outsourcing solutions

Fund Administration
Baker Tilly
Baker Tilly Mauritius is an independent member firm of renowned accountants and business advisors. The company has built a reputation for delivering continuous year-on-year growth that complements its valued clients' triumphs.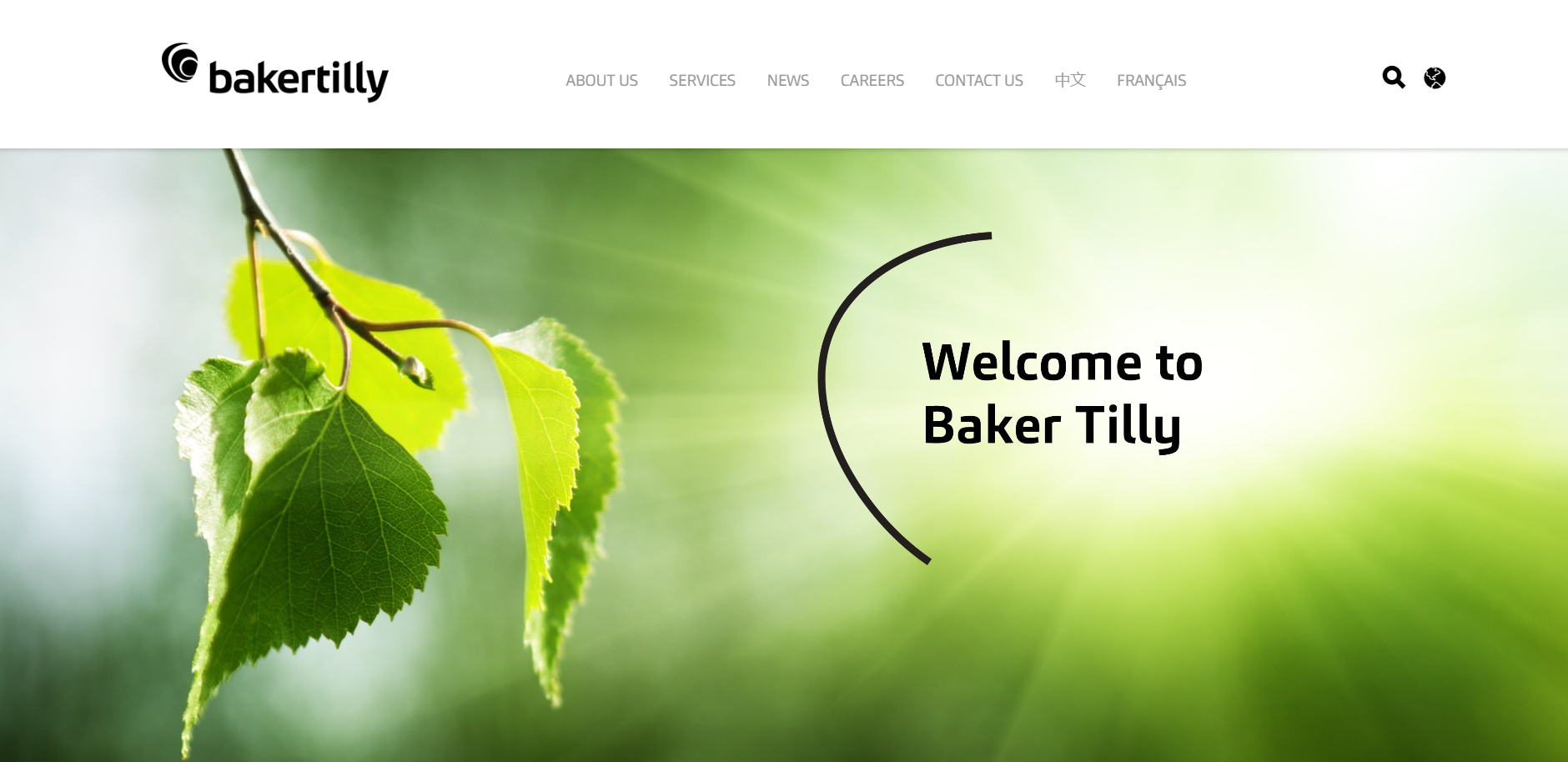 Baker Tilly provides a wide range of professional services beyond typical accounting methods. The company's team of professionals has a thorough awareness of the local business landscape as well as the unique problems that firms operating in Mauritius confront. 
Baker Tilly goes beyond simply crunching numbers to deliver intelligent advice services that assist clients in navigating complicated financial and operational issues. The company works closely with businesses across various industries, including finance, manufacturing, hospitality, and more. 
Services:
Audit & assurance

Tax

Risk assurance

Regulatory compliance

Learning and development

Restructuring & recovery

Our special desks

BPO
Citco Limited
Citco Limited is a business consulting company based in Mauritius. Being one of the top offshore companies in Mauritius, Citco has been serving both private clients and multinational corporations in the aftermath of World War II.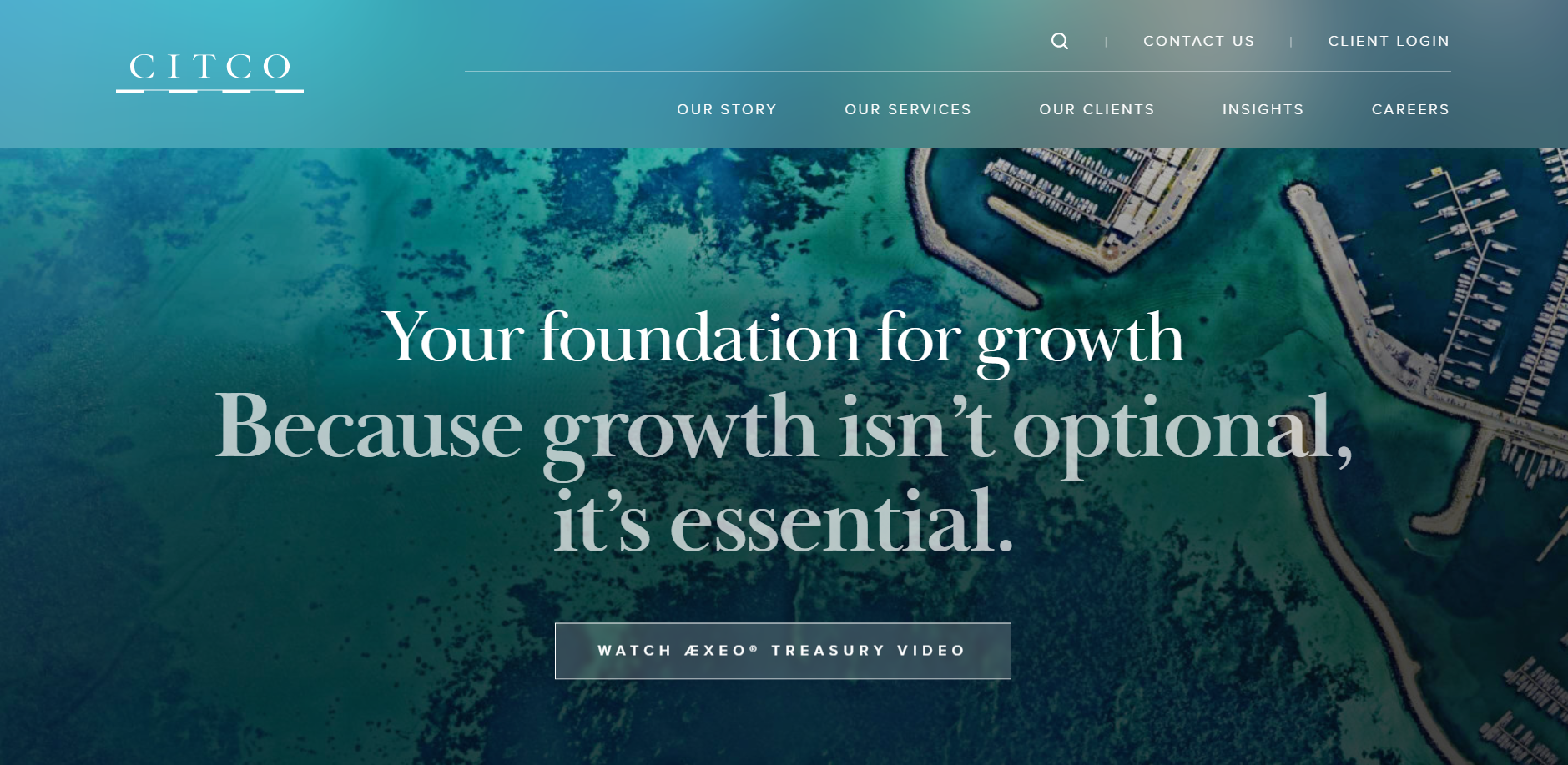 Citco has maintained majority independence since its inception, allowing the company to better serve its valued partners. Citco's culture revolves around placing clients at its core, recognizing that client satisfaction begins with the company's autonomy.
Resting on our laurels has never been an option at Citco. Since day one, the company has proudly led the way in our industry. Every single day, Citco challenges itself to elevate the standards of its sector, striving to make it the very best it can be.
Services: 
Fund Administration

Banking

Direct Lending and Capital Advisory

Loan Servicing Solutions

Middle Office Solutions

Tax and Regulatory

Corporate Secretarial and Management Services

Entity Incorporation, Merger, Liquidation Services

Registered Office/Agent

Global Entity Portfolio Management

Corporate Accounting and Bookkeeping
First Island Trust Ltd
Established in 1996, First Island Trust Company Ltd (First Island Trust) has emerged as a prominent management company in Mauritius.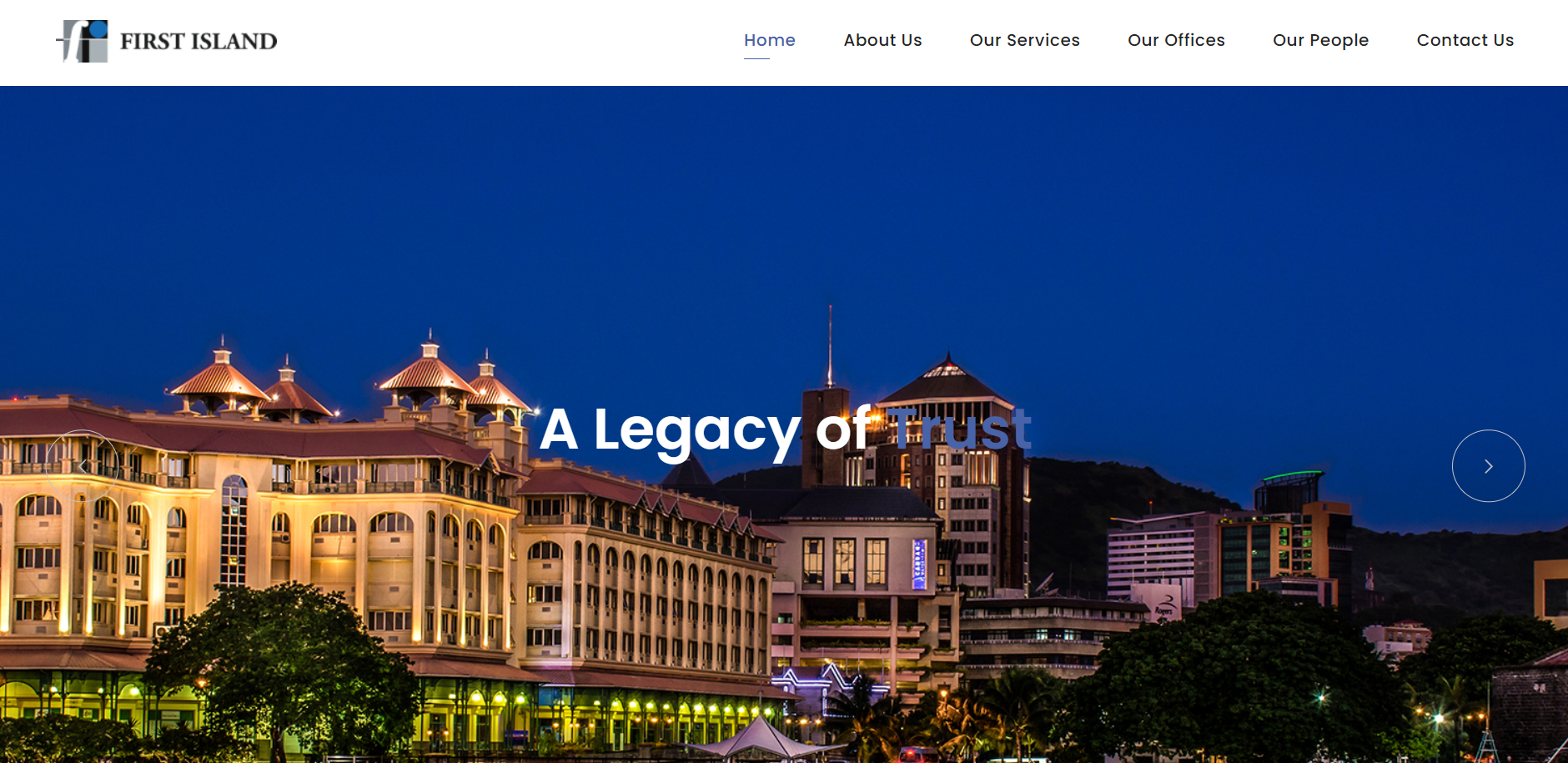 As a member of the First Island Group, First Island Trust leverages the support and services of its sister company, First Island Secretarial, for local investments and business facilitation. This collaborative approach allows the company to provide a holistic and streamlined experience to its clients.
With the proper license and regulation from the Financial Services Commission of Mauritius (FSC), the company offers a comprehensive range of financial services. These services encompass all facets of fiduciary and trusts for both local and international clients. 
The core specialization of the company lies in the establishment and administration of trusts, and investment funds for clients worldwide. In addition, the proficient in-house team of qualified professionals brings value-added expertise in international tax and business services.
Services: 
Corporate Management Services

Trust & Trusteeship Services

Fund Management Services

Compliance & Legal Services

Accountancy & Tax Services

Back Office Operation

Work & Residency Permits

Opening & Administering Bank Accounts

Cross Investment Investment Structuring

Business Process Outsourcing
Congruent Software Solutions
Established in 1994, Congruent is a renowned global company specializing in cloud services, IT consulting, and software development. Throughout the years, Congruent has evolved into a preferred partner for industry-leading enterprises, SMBs, and ISVs.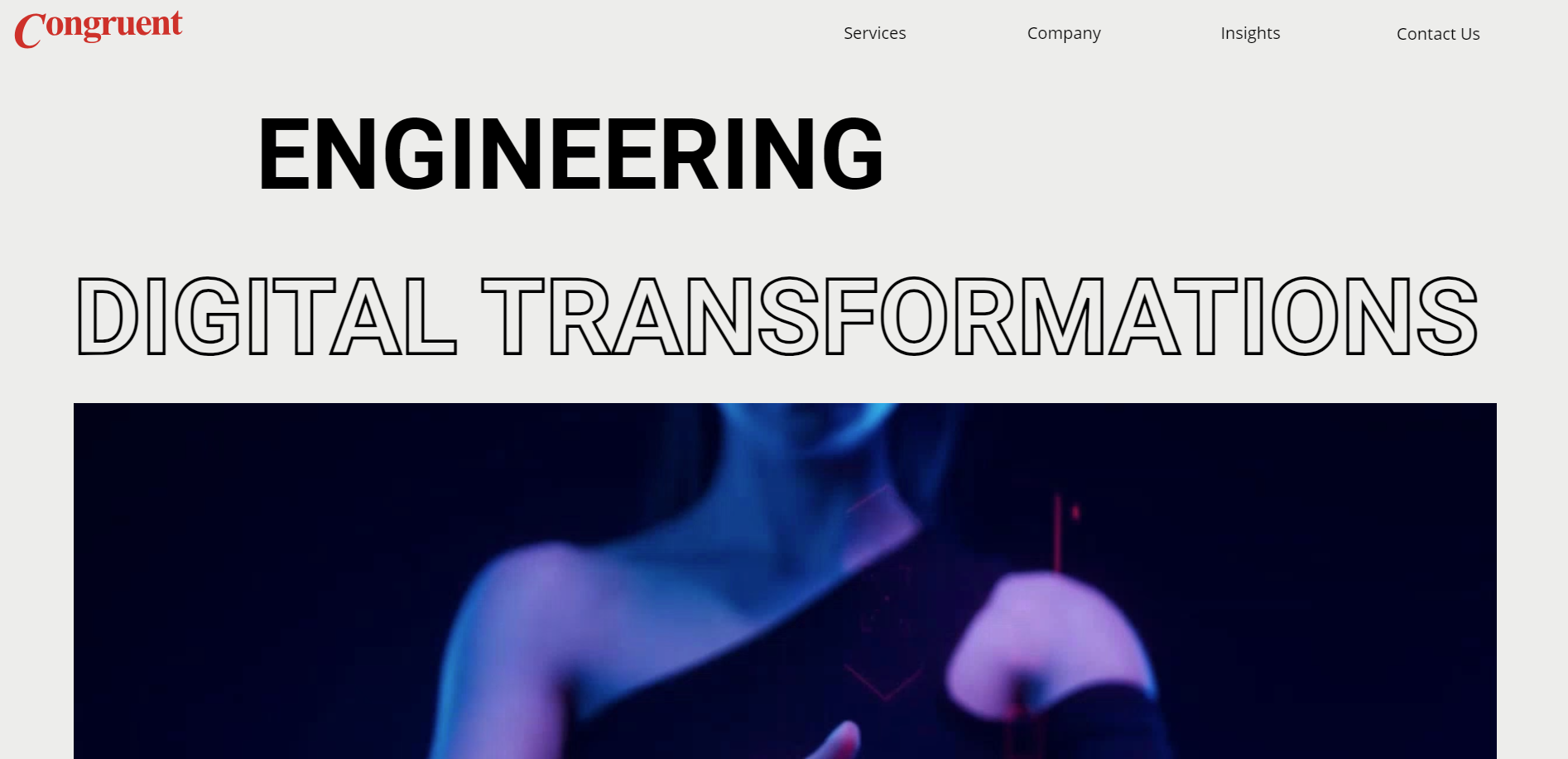 Being one of the top offshore companies in Mauritius, Congruent has a firm foundation and considerable experience in providing IT services. Congruent has continuously delivered great services since 1994, making the company the preferred choice for businesses of all sizes. 
Congruent has the expertise to design and engineer cutting-edge digital products and experiences. This allows the company to successfully execute your digital transformation efforts. Congruent has proudly supported numerous brands worldwide in their digital transformation journeys for the course of 25 years.
Services:
Cloud

Application Development

BI and Analytics

Salesforce

Microsoft Dynamics

SharePoint

DevOps
Major clients: Allnex, Hennepin Healthcare, Securitas, Starbucks
Cim Finance
CIM Financial Services Ltd, operating as Cim Finance, stands as the largest non-banking financial institution in Mauritius. With a mission to improve lives and create brighter futures, Cim Finance has crafted a diverse range of flexible financing solutions tailored for different business needs.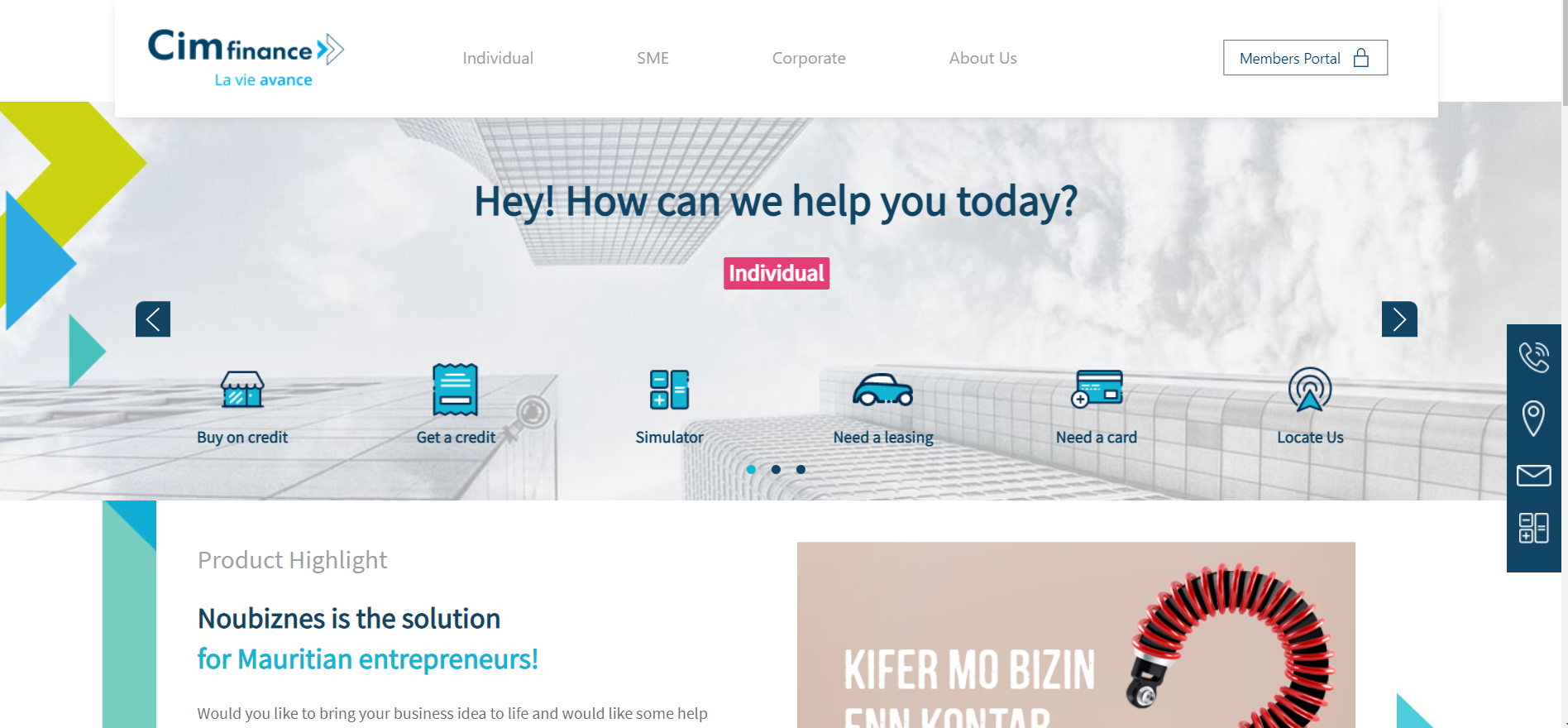 Cim Finance is licensed as a Payment Service Provider by the Bank of Mauritius to execute payment activities. The organization has about 800 personnel spread across Mauritius, Rodrigues, and Kenya and operates through two main categories: finance and investment.
Cim Finance's services are designed to be cost-effective, easily accessible, disruptive to traditional practices, and remarkably user-friendly. With a combination of local expertise and a technologically innovative framework, the company is well-positioned to develop new products. Their services are catered to the diverse needs of the company's growing customer base.
Services:
Purchase of credit

Unsecured credit lines

Credit card issuing and acquiring – MasterCard and Visa

Leasing of vehicles and equipment

Credit insurance and factoring (receivables finance)

Debit and credit card POS terminals

Internet payment gateway for merchant site e-commerce acquisition
Bank Of Baroda
Bank of Baroda (BOB) has been operating in Mauritius since October 19, 1962, when it inaugurated its first branch in Port Louis. Recognizing the importance of reaching rural and unbanked areas, the bank introduced a mobile branch in 1965 to extend its services to these communities.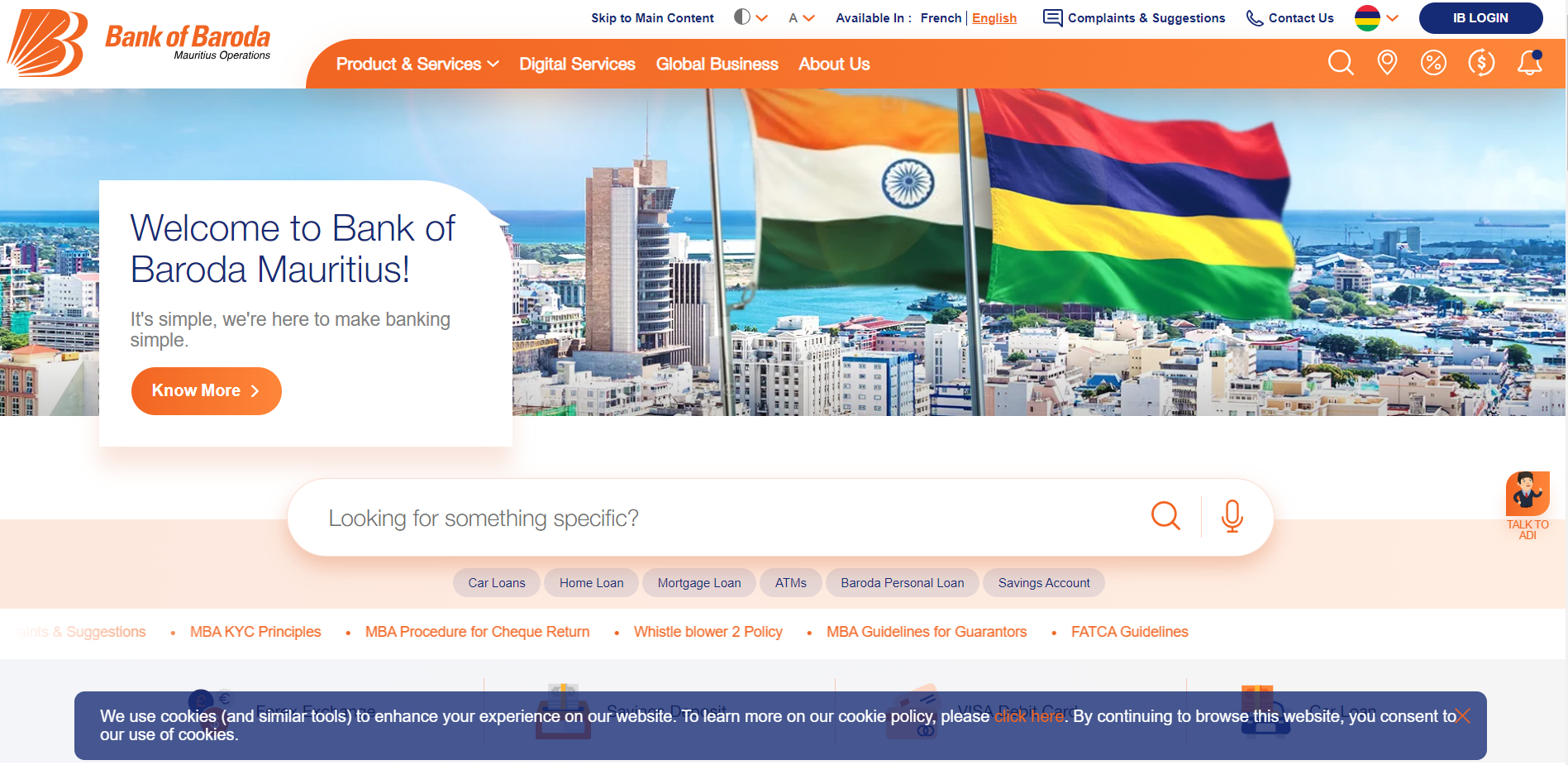 In the mid-1970s, Bank of Baroda expanded its presence in Mauritius by establishing four additional branches in Curepipe, Vacoas, Rose Hill, and Quatre Bornes. In 2000, a branch was opened at Centre De Flacq, and in July 2012, another branch was added in Rose Belle.
To meet the growing demands of global business, the Bank of Baroda established a global business branch in Mauritius in 1990. As part of its commitment to enhancing convenience for customers, the bank introduced ATM and VISA Electron International Debit Card services in 2001-2002.
Presently, the Bank of Baroda operates a network of seven domestic branches and one global business branch in Mauritius. The bank employs 93 local staff members who play a vital role in delivering quality banking services to customers across the country. 
Services:
Debit Cards

Digital Services

Foreign Exchange Services

Safe Deposits

Savings Account

Current Account

Fixed Deposit

Short Term Deposit

Balance inquiry

Mini statement

Transfer of funds within linked accounts
OCRA Limited
OCRA Mauritius is an integral part of the esteemed OCRA Worldwide group, a professional association with a diverse range of experts spread across the globe. The company's shared objective is to deliver optimal and effective solutions that allow our clients to attain optimal benefits while minimizing costs.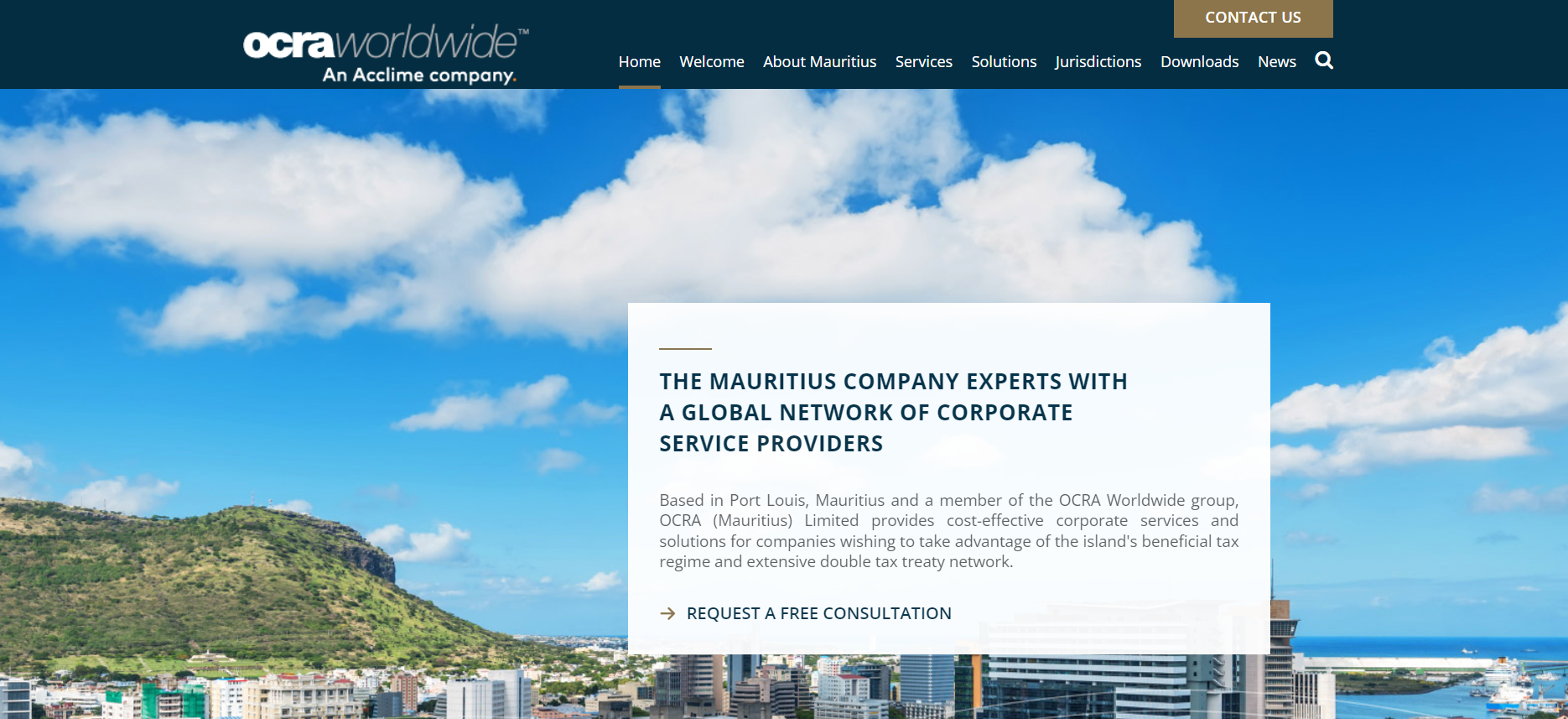 OCRA Mauritius, as a member of the OCRA Global Group, leverages its global network and collective knowledge to provide clients with comprehensive services. OCRA Mauritius provides a wide range of professional services, with a focus on delivering value and fulfilling client objectives.
Services:
Company Formation, Administration & Management

Accounting & Bookkeeping

Virtual Office Solutions

Bank Introductions

Trademark & IP services

Trust & Trustee Services

Ship Registration & Management

Yacht Registration & Management

Services for Professional Intermediaries
Sunibel
Sunibel is a fast-growing multidisciplinary professional services organization that specializes in providing tailored corporate, trust, fund, and fiduciary services.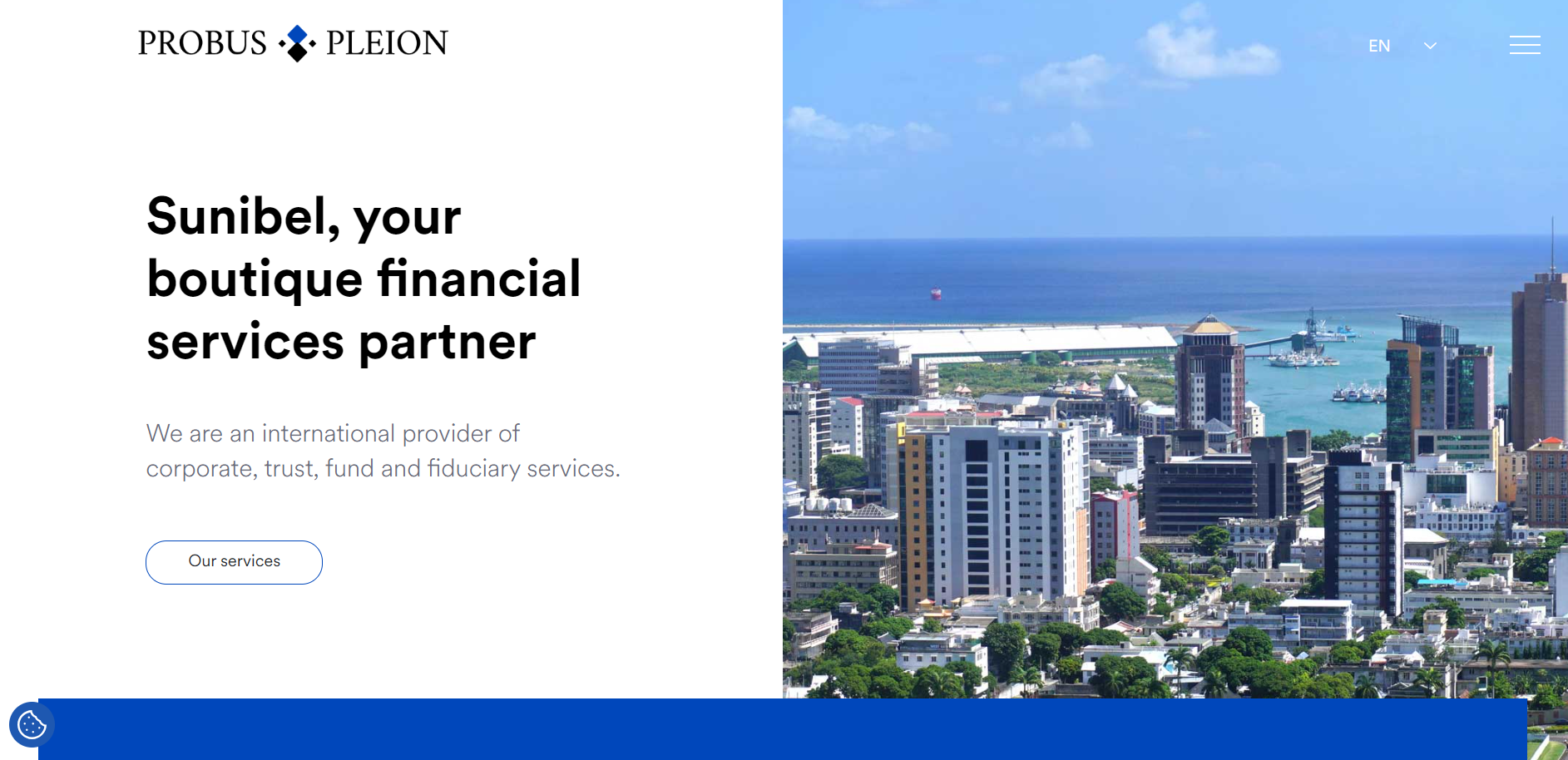 Sunibel works from Mauritius as part of Probus Pleion, a prominent Swiss multinational and multidisciplinary firm founded in the 1980s. The company provides a variety of services and solutions customized to meet your specific requirements. 
The company's primary area of competence is cross-border investment structure and administration. With a client-centric approach, Sunibel ensures that your company receives devoted and professional attention. This will allow you to pay attention to your business activities and achieve your goals.
Finsburey Management
Finsburey Management Services s an officially licensed management business. The company is licensed to provide corporate and trust services by the Financial Services Commission of Mauritius.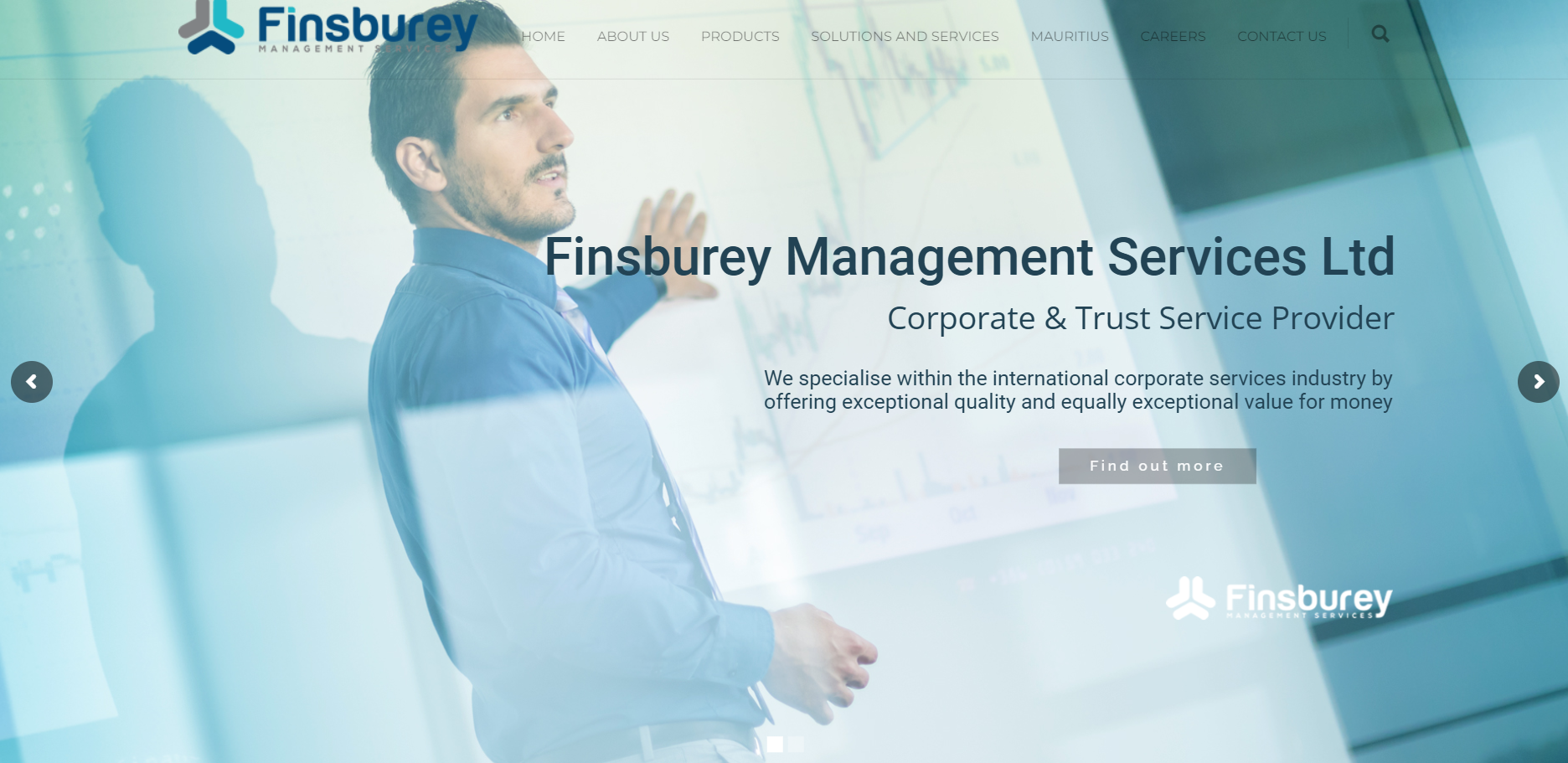 Finsburey's team is made up of creative, qualified, and experienced experts in the Global Business Sector. They are committed to offering tailored solutions to clients in a variety of industries and geographical regions. 
The company excels at the formation and structure of offshore corporations, trusts, and investment vehicles. The company has a significant presence in important financial hubs, with its headquarters in Mauritius and specialized resources in South Africa, the United Kingdom, Dubai, Seychelles, Hong Kong, and Singapore.
Finsburey's mission is to assist its clients in achieving their objectives and maximizing their advantages.
Services: 
Investment Holding

Protected Cell Companies

International Trade

Consultancy

Property Holding

E-Commerce

Intellectual Property Holding Company

Accounting & Tax Services

Tax Planning and Structuring

Bank Accounts and Related Services

Working & Living in Mauritius

Property Development Scheme
The challenges of working with offshore companies in Mauritius
There are several challenges arising from working with offshore companies in Mauritius that businesses need to consider. Here are some:
Cultural and language differences

: Offshore businesses frequently operate in a multicultural context, which can create communication difficulties due to language issues, various business processes, and cultural standards.

Taxation and double taxation agreements

: While Mauritius provides advantageous tax structures for offshore corporations, navigating the tax landscape can be difficult. Maintaining compliance with local tax rules and comprehending the ramifications of double taxation treaties between Mauritius and other nations necessitates extensive knowledge and skill.

Legal and jurisdictional complexity

: Offshore structures require navigating various legal jurisdictions, including those of the host nation and Mauritius. This complication can make contract enforcement, dispute settlement, and comprehending the legal ramifications of cross-border transactions difficult.
These challenges, however, can be avoided by selecting and collaborating with a suitable offshore company. Mageplaza can help you with that.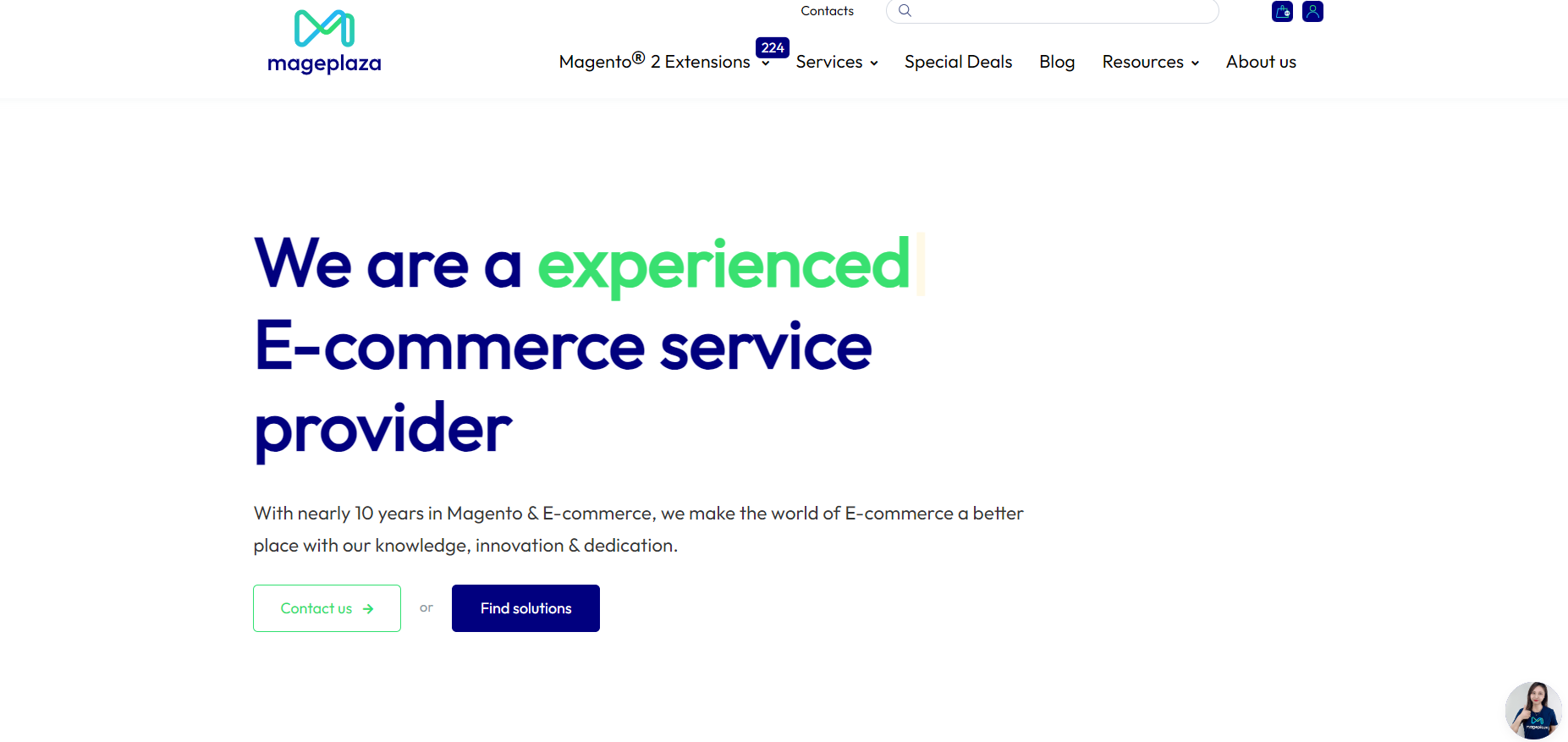 With nearly 10 years of experience in E-commerce, our experts will give you the much-needed support you need to grow your business. Here is what you can expect from us:
Extensive Knowledge

: Our team of experts has more than a decade of experience designing and implementing E-commerce solutions for businesses like yours. With our dedicated team by your side every step of the way, you can approach your business objectives with unflinching confidence.

Technical Support

: Our commitment to providing uninterrupted technical support means that our team of experts is always available to promptly address any concerns you may have. Whether it's troubleshooting issues, performing essential maintenance tasks, or ensuring smooth operation, we have the expertise to handle it all.

Cutting-Edge Security

: Safeguarding your privacy and security is our utmost concern, which is why we prioritize signing non-disclosure agreements (NDAs) and contracts before embarking on any project. With our unwavering commitment to protecting your business, you can have peace of mind knowing that your data is meticulously protected.
Are you ready to take your business to the next level and thrive in the ever-evolving digital era? Let's connect with our experts!
Conclusion
Throughout this blog, we have explored the top 18 offshore companies in Mauritius, each bringing unique strengths and expertise to the table. These offshore companies provide a wide range of services in various industries and demonstrate their dedication to excellence.
However, you also need to keep in mind the challenges of working with these companies before kickstarting your offshore business project. By making informed decisions and partnering with the right offshore service provider, you can unleash the full potential of your business. 
Website Support
& Maintenance Services
Make sure your store is not only in good shape but also thriving with a professional team yet at an affordable price.
Get Started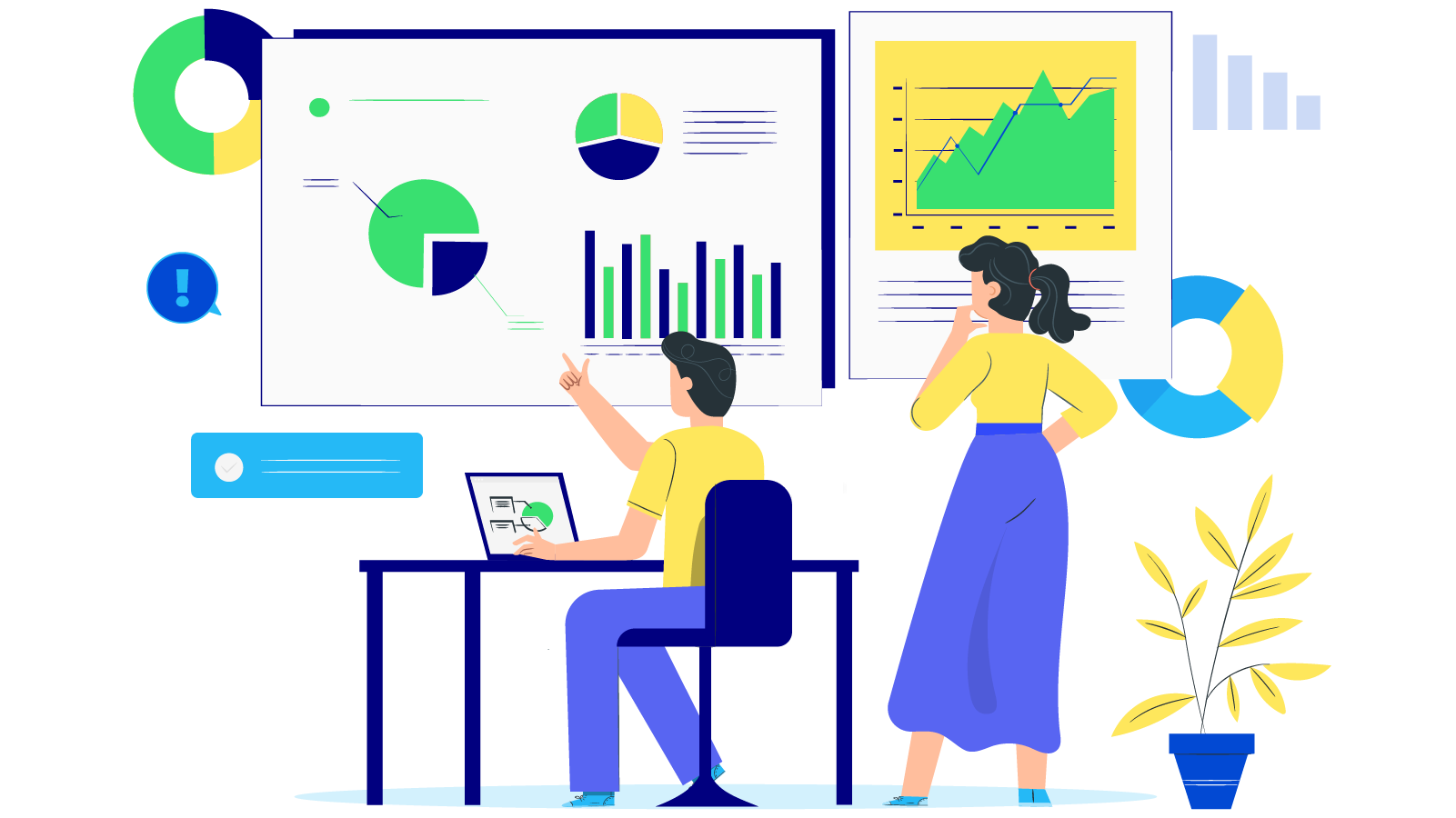 New Posts



Subscribe
Stay in the know
Get special offers on the latest news from Mageplaza.
Earn $10 in reward now!