Everything to Know about Magento Support and Maintenance Services
Experienced E-commerce Agency for

Magento/ Adobe Commerce/ Shopify/ Shopware

Development
Let's start with this fact: Magento needs no introduction.
It's the buzzword that needs no introduction or explanation when we talk about an E-commerce website. This platform offers a wide range of capabilities, making it a valuable option for any business owner. It even comes with out-of-the-box features for anyone looking to craft a high-converting store.
However, it's insufficient to have a Magento website alone. Maintaining flawless and smooth performance is essential for an enhanced user experience. This goal can only be achieved by investing proper time in website support and maintenance.
If you are wondering what Magento support and maintenance are and why you need this service, you've come to the right place. Read on to find out more!
Website Support
& Maintenance Services
Make sure your store is not only in good shape but also thriving with a professional team yet at an affordable price.
Get Started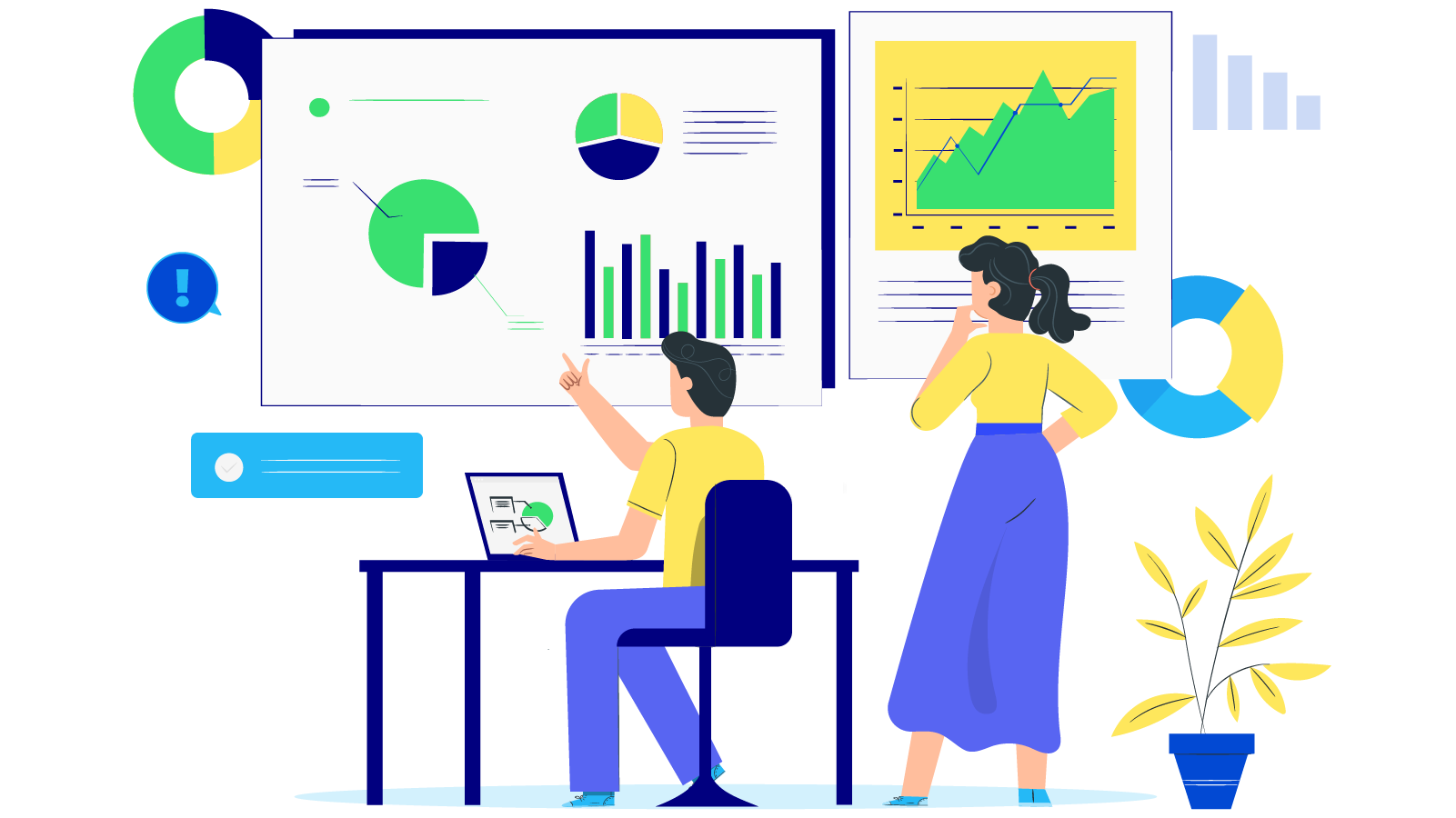 Table of Content
What is Magento support and maintenance?
As its name suggests, Magento support and maintenance involves supporting and maintaining your website's superior performance.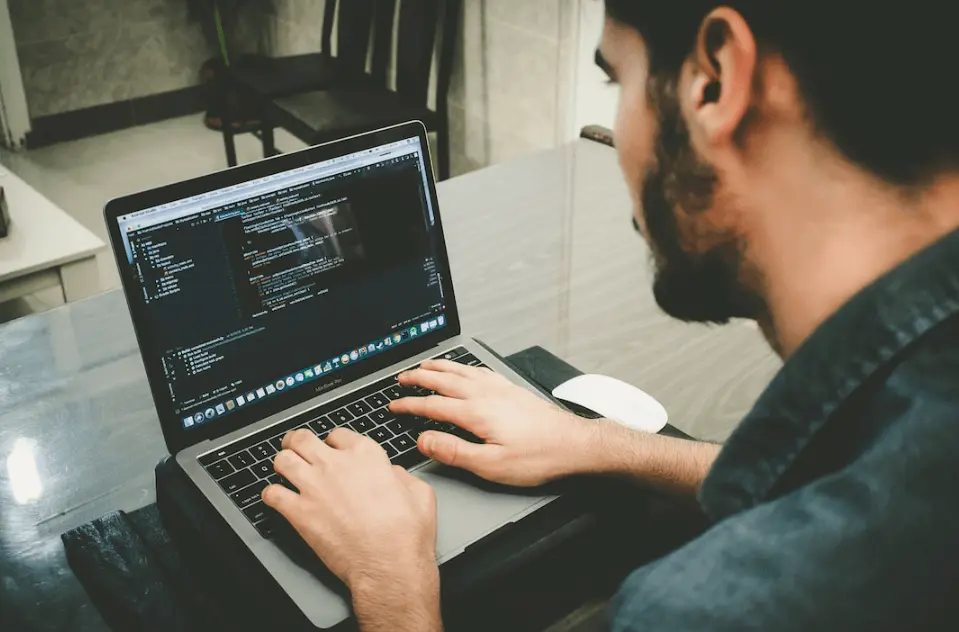 In general, Magento support and maintenance services include:
Website health check
Installation of new security patches
Bug/glitch fixes
Website performance optimization
Ongoing support, monitoring, and alerting
Ongoing developments
And a lot more to keep your Magento website functional and secure all the time.
Even if you've built a flawless Magento website, a dedicated Magento support and maintenance team is vital to deal with instant issues, while examining, upgrading, and fueling your E-commerce system frequently to ensure it runs smoothly in the long run.
Related article: 12+ Magento Website Maintenance Tips That You Should Implement Now
10 reasons to choose Magento support and maintenance services
If your Magento website is not properly maintained, it could lead to identity theft, financial loss, high processing fees, and reputation damage. Meanwhile, a properly maintained website can help engage your users by providing a fantastic shopping experience online.
Here are the top 10 reasons you should choose Magento support and maintenance solutions.
Optimize your website speed and uptime
Speed plays an essential role in your Magento website's success. Having a slow-loading page is the biggest turn-off for visitors. So, it's necessary to audit your website performance on a regular basis and fix all issues negatively impacting your load time.
Do you know that even a second of site downtime can significantly cost your business? Visitors will turn toward your competitors, which results in a loss of sales. With Magento support and maintenance services, you'll get 24/7 website monitoring. Some tasks like advanced server monitoring or infrastructure support will be covered to keep your website up every time. When considering IT support, it's important to understand that there are different levels of it support: first-level support handles basic issues, second-level support addresses more complex problems, and third-level support deals with specialized technical challenges and system-wide solutions.
In short, Magento support and maintenance services can help you optimize your website performance, including:
Optimizing hosting from a trustworthy service provider
Enabling cache to keep track of the pages most visited by users
Ensuring your website loads faster
Monitoring your website uptime
Upgrade your website to the latest version
When a new Magento version is released, the dedicated support team is notified right away. That's because they keep track of all critical and recommended updates, including those for the official store and relevant third-party extensions and software. So, they can ensure the best possible service for you.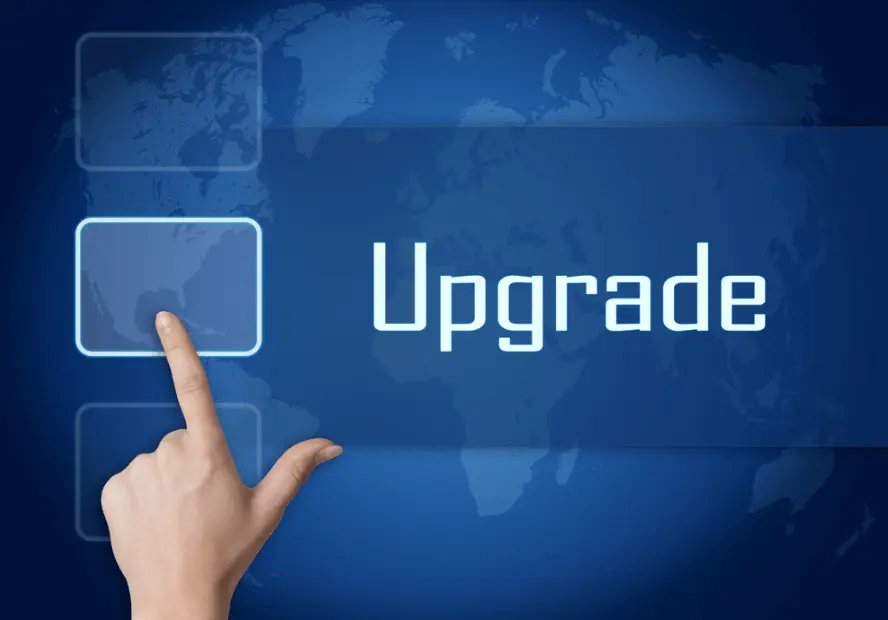 When you require an upgrade/update, the support and maintenance team is available to complete the task quickly and effectively. They'll help you upgrade your Magento website to the latest version, so you can take advantage of all the new features. Besides, they'll make the necessary efforts to install the updates and security fixes promptly and securely.
Fix bugs/glitches urgently
Whenever you require bug/glitch fixing or assistance with Magento configuration, a dedicated Magento support and maintenance agency can implement it immediately. They provide bespoke Magento technical support services and on-time health checks urgently to keep your online store running at optimal efficiency.
The regular fix of bugs, conflicts, and errors is as vital as the urgent fix. The dedicated support and maintenance team will examine every code line to figure out the problems and fix them in a matter of hours.
Improve your website security
Undoubtedly, E-commerce store owners should take every possible precaution to keep customers' data safe and secure. Regular maintenance can update online stores with the latest security patches as soon as Magento releases them.
Besides, you can ask the support and maintenance team to add appropriate extensions to enhance your store's security. With suitable security modules, you can protect customer data, prevent lost productivity, and reduce the risks of cyber-attacks or hacking.
Audit your website promptly and regularly
Many owners believe their business continues to function properly without technical concerns. However, your business issues may arise from time to time, which is unavoidable.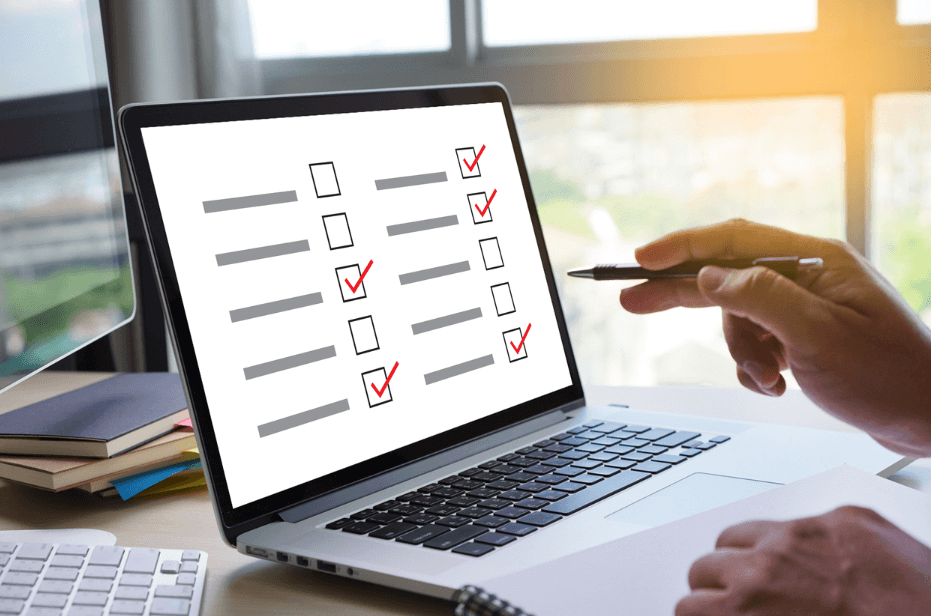 A reliable Magento support and maintenance service agency will keep an eye on any technical issues that might arise on your website. Your site will receive regular audits and testing, including integrated features, extensions, third-party integrations, and compatibility.
With prompt audits, the support and maintenance team can manage your online store, examine the risks of potential issues, and send notifications with methods to resolve them immediately.
Keep your SEO updated
Regular maintenance is vital to keep your website ranked higher in Google and other search engines. Solid SEO practices can help your target customers find you. You can take advantage of monthly Magento support and maintenance services.
They'll ensure that your Magento site runs at its optimum performance level. Experts will review your Google Analytics accounts to increase your speed. As a result, good search results generate a significant number of leads each month.
Install and configure extensions from trusted sources
If you need to install extensions to add the desired functionalities to your Magento website, you should buy them from trusted and reliable sources. Support and maintenance specialists help you choose and customize extensions to match your specific requirements and business goals.
Quickly answer your questions and problems
A dedicated support and maintenance team is often available 24/7 to answer all your inquiries. They'll get problems solved in a matter of minutes and get your business back up and running.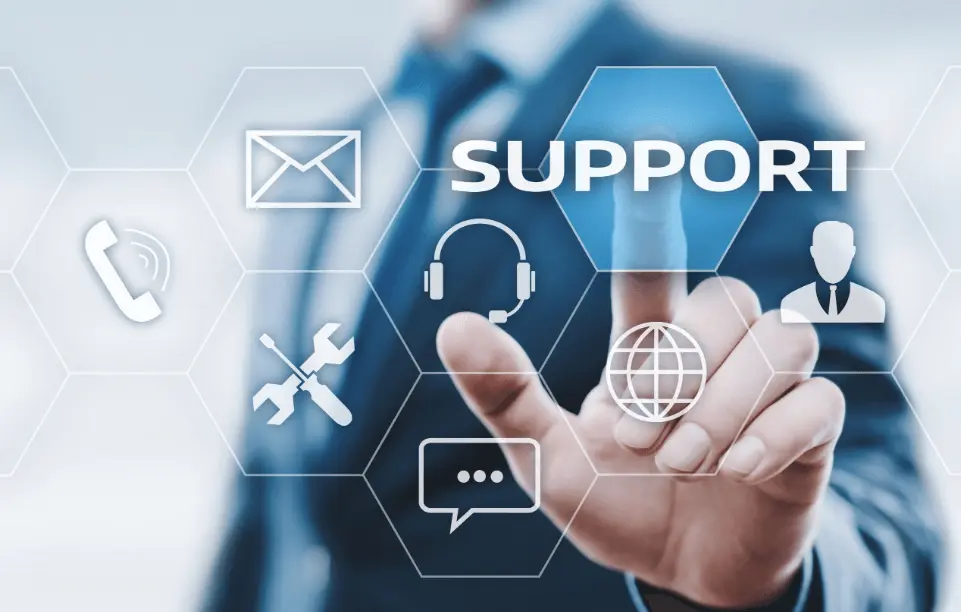 They have to address many issues and practical duties. As a result, they can quickly tackle a broader range of issues in a short amount of time, saving you time and effort. Whatever issue you're facing, no matter how big or minor, you can always rest assured that they'll solve it promptly.
Boost your user experience
A devoted Magento support and maintenance service will increase your chances of having a better website. The professionals can build better UX/UI for your online store. They also examine key indicators of usability and user experience, implement audits, and make data-based choices about what your E-commerce store needs to improve.
Therefore, you can focus on improving your conversion rates and revenues, enhancing user flow and navigation, lowering cart abandonment, and improving the checkout process.
Offer reasonable pricing
It's cheaper to pay for Magento support & maintenance services than it's to have your website repaired after cyber-attacks or downtime. The cost of these repairs can be up to thousands of dollars, while you're not sure if they are successful or not.
"Prevention is better than cure," they say. So, going with a maintenance service is a much safer option.
How much does it cost to hire a Magento support and maintenance service?
Short answer: it depends.
In fact, the cost of a Magento support and maintenance service is non-fixed. It's determined by your particular needs and the services you require from an agency.
To be honest, you'll receive more than you paid because you don't need to spend any additional money or effort resolving other problems when working on your website.
When it comes to supporting and maintaining, each agency has its own set of pricing packages from which you can choose based on your needs. So, make sure to choose an agency that meets your business preferences and requirements.
How to find an appropriate Magento support and maintenance service
When it comes to picking an agency for Magento support and maintenance services, it's vital to focus on getting quality over costs.
You should avoid working with providers who charge low costs for their packages. Keep in mind that trustworthy and top-rated agencies may charge you a significant amount of money, but they guarantee you'll get the best quality services for your E-commerce store.
Check out the following tips to find an appropriate Magento support and maintenance service:
Hire an experienced team of professionals who have worked in this industry for a number of years.
Look for an agency that is backed up by certified developers to cater to all types of support and maintenance services.
Look into their professionalism and delivery time - the company you're partnering with must have a strong work ethic. So, you can rest assured that they'll give you premium support and maintenance services.
As you'll provide them with your website data, it's vital to sign an NDA (Nondisclosure Agreement) before that.
Some agencies offer flexibility for support and maintenance services. Ask them what kind of flexibility and scalability they provide.
Run a background check on the agency by reading reviews from previous clients. You can even contact them and ask them about their experiences. This will offer you a great quality of work produced by prospective partners.
Looking for an agency with those criteria is time-consuming. But don't worry; we've done the most challenging part for you! The following section is about the top five Magento support and maintenance service providers you should try. Let's explore!
Top 5 Magento support and maintenance service providers
1. Mageplaza
Trusted by a number of clients around the world, Mageplaza has become one of the most reliable and top-rated providers of Magento support and maintenance services. By hiring Mageplaza developers, you will get a new website that is much improved than it was before.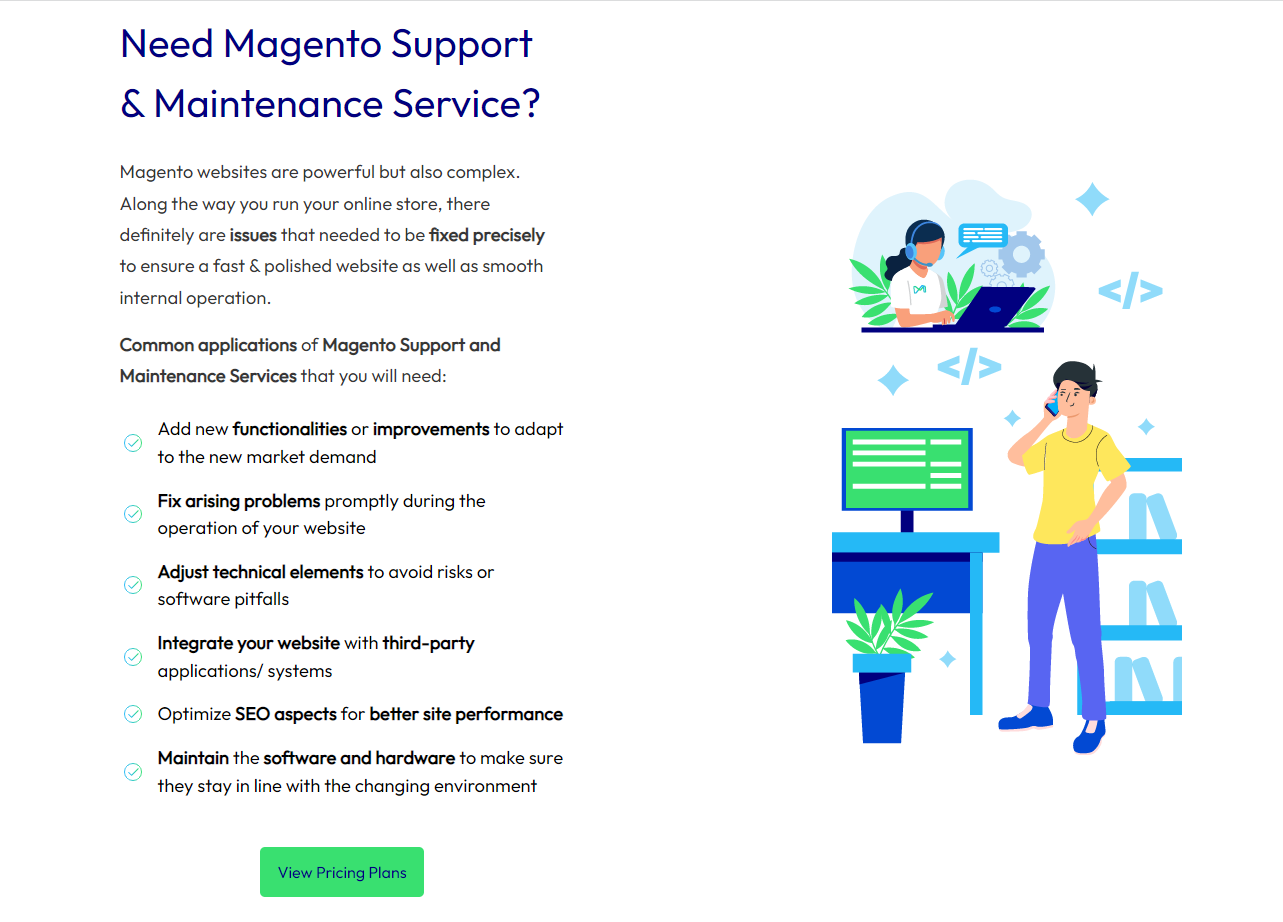 Which services are included in Magento support and maintenance by Mageplaza?
Performance optimization. Mageplaza will help you optimize your website performance, including speed and uptime.

Extension installation and configuration. As an experienced extension builder, Mageplaza understands which modules are necessary for your website. They can install, uninstall, or configure existing and new Magento extensions.

SEO & marketing optimization. They will audit your SEO and fix any issues that may affect your rankings on SERPs.

Magento upgrade. Their experts will upgrade your Magento website from the old version to the latest one. Besides, they update and/or upgrade your existing extensions no matter what the provider is.

Installation of security patches. They will install new security patches as you require. That helps you stay away from security breaches and protect your data better.

Bug fixes. Don't worry about bugs or glitches, because Mageplaza experts will troubleshoot and fix them to ensure a smooth experience on your website.

Regular site health check. They'll discover issues that might slow down your website performance or result in a system outage. Furthermore, you'll get an in-depth report to see how your site performs.
So, why should you choose Mageplaza to support and maintain your Magento website?
Experienced and certified specialists. Mageplaza has been in the Magento world for nearly 10 years, and they understand its structure and bottlenecks thoroughly. Thus, they can examine and address issues right in time.

100% security. You can always expect a trustworthy Magento support and maintenance service with the latest security patches installed. They guarantee to keep your data secured and do everything best to protect your customer data.

Dedicated support. Their devoted team offers quick support to run your store smoothly. Their experts make sure that your website always remains updated, fast, secure, and scalable with your evolving needs.

Transparent and accessible communication. They understand communication is the key to a healthy and long-term relationship, so they'll keep you informed and resolve issues at the earliest.

Affordable cost. All of their services, including the Magento support and maintenance service, are affordable and budget-friendly for startups and SMBs. Don't hesitate to contact them to get a free consultation and quote.
CONSULT WITH MAINTENANCE EXPERTS
2. Dinarys
Dinarys has 7+ years of experience developing solutions on Magento, and they know how important it is to generate a functional product and maintain smooth operation. So, they provide round-the-clock Magento support and maintenance to ensure your website's high performance and reliability.
Dinarys offer the following services in their Magento support and maintenance:
Magento website support and development - Their developers provide consulting services and deliver standard or custom solutions for your business.

Magento website maintenance - They keep your Magento website stable, accessible, up-to-date, and secure.

Magento SEO optimization - With their support plans, you can implement, maintain, and improve your SEO.

Emergency support - Their support team is ready to deal with your website issues at any time.
3. Ameex
With a multi-skilled support team and certified developers, Ameex is another option that you should try. They proactively keep your Magento website updated, available, and secure through their support plans.
Their support and maintenance services are carefully designed to meet your requirements. They include the following:
Magento security and patch updates
Security audit
Performance monitoring and tuning
Periodic health checks and site audit
Website uptime monitoring
Website backup and disaster recovery
SSL monitoring & renewal
24x7 emergency support
4. Rave Digital
Rave Digital provides you with great maintenance and custom solutions. They have monthly maintenance plans for merchants of all sizes. Here are their outstanding services.
Performance management - They optimize your website frequently by working on issues reported by performance management tools.

Security patches - Rave Digital secures your Magento website to avoid reputation loss or undue expenses in recovery.

Digital health monitoring - They keep your website's digital health in check with regular audits to improve overall performance.

Version upgrades - Bugs by earlier versions of Magento are left, and you can upgrade your website to the latest version.

Log management and monitoring - They offer detailed log reviews to find out errors that customers are facing.

Email and phone support - Their active technical support team is available to solve your problems.
5. Clapcreative
Last but not least, Clapcreative is an ideal option to keep your Magento site smooth. Their top priority is raising awareness about Magento support & maintenance services because they know it's vital to keep your online store up and running.
Like the above service providers, Clapcreative offers some outstanding services in their plans, such as
Magento website support and development
Magento website maintenance
Magento website security
Bug fixes
Version upgrades
Extension updates
Backup services
The bottom line
In short, Magento support and maintenance services are highly recommended. You can increase your website's security and visibility on search engines, while enhancing the overall user experience to drive conversions and repeat sales.
However, choosing the best Magento website maintenance service is challenging. With so many options out there, you need to decide carefully. Go through their website maintenance plans, services, reviews and ratings, and pricing packages. After checking out these things, you'll surely make the right decision.
We hope this ultimate guide has helped you a lot! If you want to learn more about Magento support and maintenance services, don't hesitate to reach out to us. We're always here to help you!
Contact our experts for free consultations now!
Website Support
& Maintenance Services
Make sure your store is not only in good shape but also thriving with a professional team yet at an affordable price.
Get Started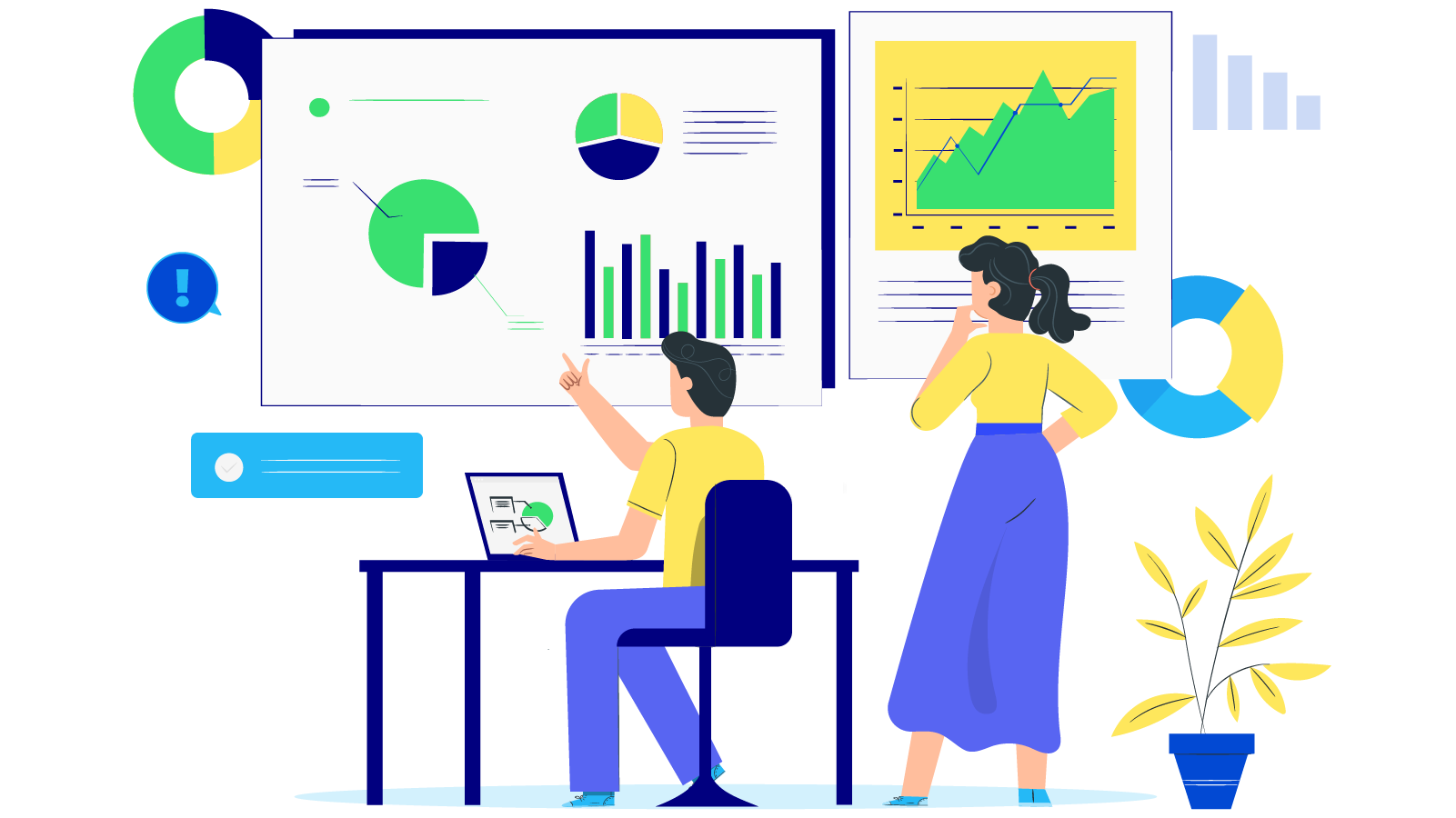 New Posts



Subscribe
Stay in the know
Get special offers on the latest news from Mageplaza.
Earn $10 in reward now!