10+ Best Magento 2 Invoice Templates Boosting User Experience
The Most Popular Extension Builder for

Magento 2
With a big catalog of 224+ extensions for your online store
When it refers to running an e-commerce store on Magento 2, you may need to pay attention to your online store's PDF invoice. It's extremely easy to generate PDF invoices in Magento 2 but quite challenging to make changes and customizations in each PDF.
However, fortunately, there are dozens of extensions out there designed to help you. You can have flexibility in customizing templates, adding more fields, and matching invoices with your brand identity.
Therefore, to save time and have an easier workflow, you might be looking for some great solutions. Let's have a look at the below list of the best Magento invoice templates in the current marketplace.
Table of Contents
1. Mageplaza PDF Invoice Templates
Magento 2 PDF Invoice by Mageplaza is a tool that allows you to automatically email your shoppers and attach PDF invoices. All the information related to your store, such as logo image, address, tax ID, barcode, and QR code, will be arranged properly in PDF documents.
Offer stunning PDF templates: The extension provides eye-catching invoice templates with rich information to boost your store's credibility. Users can easily customize templates' design, including style, color, variables, QR code, barcode, etc.
Allow sending PDF documents: A PDF invoice will be added automatically in the email sent to a shopper after the shopper pays the bill.
Support payment methods: Mageplaza's module supports barcodes and QR codes for billing documents or products to optimize management and reduce workflow for your store.
Allow downloading and printing PDF documents from My Order Page (for customers)
Allow downloading and printing PDF documents in mass (for store admins)
Allow documents to be printed in customer and admin accounts
Pricing
The Community plan: $199
The Enterprise plan: $399
2. Magezon PDF Templates Customizer
Magento 2 PDF Customizer by Magezon is an outstanding solution that enables you to design and customize beautiful PDF documents (invoice, order, shipment, and credit memo). You can create PDF templates without complex HTML/ CSS.
Generate stunning commercial PDF documents: PDF Customizer supports 4 types of commercial documents (invoice, order, shipment, and credit memo).
Offer a visual drag-and-drop PDF builder: The module supports dragging and dropping 12 elements to the editor without the need for HTML.
Support live preview: The preview tab in the builder allows you to see precisely how the information will be displayed.
Provide brilliant pre-made templates: Store owners can generate any common documents with 10 templates supported.
Support customizing templates: The extension allows adding, editing, or re-arranging the elements' orders.
Support different stores and languages: PDF Customizer supports popular languages such as English, Chinese, Vietnamese, India, etc.
Pricing
The Magento Community edition: $169
The Magento Enterprise edition: $399
3. Fooman PDF Templates Customizer
This extension from Fooman enables store owners to customize Magento invoices, credit memo, and shipment PDF documents. The module brings 4 stunning, modern templates and more than 60 custom options.
Offer trusted Magento PDF customization since 2009: Users can easily customize your Magento 2 PDF documents in minutes, with sleek PDF designs, trusted code by a Magento Certified Developer Plus, and integration with Magento's themes.
Support matching PDFs to your brand identity: You can flexibly include your brand and design elements in a few clicks.
Support building custom PDF: Users don't need any technical design or HTML knowledge. There are more than 60 backend settings to generate your perfect PDF.
Bring a seamless customer experience: You can make your sales PDF work harder by adding as much additional information as you want.
Simplify your order packing workflow: You can choose to print the order as a Packing Slip before generating the shipment in Magento 2.
Provide full Magento 2 tax support
Pricing
The Fooman PDF Customizer for Magento 2 costs NZ$208.30.
4. Eadesign PDF Invoice Templates
PDF Invoice for Magento 2 by Eadesign will enable store admín to modify invoice printouts for specific store views. The templates can be customized using the same system as the email templates with numerous additional variables.
Support customizing email templates with many additional variables
Allow adding PHTML templates to the template for more advanced configurations
Allow including your own item processing layout
Pricing
The price of Eadesign PDF Invoice starts at €75.00
5. Potatocommerce PDF Invoice Templates
This Magento 2 PDF Invoice is tailored for simple and quick editing of PDF invoice templates and other documents without any programming skills. Users can create Magento 2 customized invoice PDF templates with the support of HTML and CSS. By including product pictures, logo, or tax information, you can manage the layout and colors of the invoice.
Allow converting HTML into PDF: The module uses Wkhtmltopdf library, which creates PDF from HTML documents.
Allow adding product attributes to PDF invoices: Admins can show product attributes (product weight, style, season, warranty, etc.) to the templates.
Enable attaching PDF files to sales emails: Customers now no longer need to search for the Print Invoice button on your store.
Offer flexible templates: The extension supports printing not only PDF Magento templates for a custom invoice, credit memo, and shipment, but also generating printable order confirmations.
Support displaying product images
Enable bulk export of PDF documents
Enable using Google Font in PDF templates
Enable PDF preview
Pricing
The Magento Community edition: $139
The Magento Enterprise edition: $338
6. Mageants PDF Invoice Templates
Mageants PDF Invoice makes it easy for you to customize PDF designs for your invoice that impress your customers and make your brand outstanding. Notably, you don't need to have any technical knowledge to create appealing templates with this extension.
Support redesigning your store invoice: The module comes with convenient features and a user-friendly interface, facilitating the process of designing your invoice templates.
Offer comprehensive editing and customization on features: Users can edit the header, footer, and body design based on their preferences
Enable custom CSS for each template: This feature brings you complete control of how your invoice looks
Enable setting the PDF invoice structure: The module allows you to set the PDF Page Orientation to be vertical or horizontal, define PDF Paper size and fixed margin
Allow separating PDF templates for different stores
Pricing
The Magento Community edition: $99
The Magento Enterprise edition: $199
7. Cynoinfotech PDF Invoice Templates
Magento 2 Auto Invoice and Shipment extension lets you generate invoice manuals and payment transactions. It can help make your life easier when automating the invoice and shipment processes after customers place orders.
Support designing invoices and shipment notifications
Support automatically sending a confirmation email of invoices and shipment to customers
Allow activating/ deactivating the extension from the backend
Easy to install and configure
Pricing
The price of Magento 2 Auto Invoice and Shipment extension is $34.
8. Magetrend PDF Invoice Pro Templates
This PDF Invoice Pro extension from Magetrend saves you from the default Magento invoice, order, credit memo, and shipment PDF templates. The module provides the user-friendly MTE editor, which allows you to easily manage PDF templates.
Support order PDF: The extension enables generating order PDF documents that can be used as pre-invoice.
Support email attachments: Order, invoice, shipment, and credit memo PDF documents can be added to the related emails automatically.
Provide a drag-and-drop editor: The editor makes it easier for users to design and update PDF layouts, which allows placing elements anywhere in your document with ease.
Enhance flexibility: The MTE editor enables you to modify document properties such as width, height, background color, borders, top and left position, padding, font-size, and font-family.
Support editable content: Users can choose to translate template texts directly into different languages in the template preview mode.
Pricing
Magetrend PDF Invoice Pro's price starts at $74.
9. Vnecoms PDF Invoice Pro Templates
This Vnecoms module is another great PDF customization solution for Magento. It helps you to fully customize the look of your PDF invoice using HTML or CSS, impressing your customers.
Offer full customization: Users can flexibly customize the look of your invoice, order, shipment, and credit memo PDF files.
Support designing your PDF templates with or without HTML/ CSS standards: In case you don't have any knowledge of HTML/ CSS, you can still edit a printing template easily with the amazing page builder.
Allow including barcodes or QR codes: Store owners can add barcodes or QR codes of invoice ID, order ID, product SKU, etc. to their PDF invoices by using a code like .
Allow attaching PDF to notification emails: Merchants can include the PDF files as the attachments of the invoice, order, shipment, credit memo notification emails.
Support multiple languages: The module supports a number of languages, including English, Chinese, Japanese, Vietnamese, That, Arabic, German, and Hebrew.
Pricing
The price of Vnecoms PDF Invoice Pro starts at $99.
10. Swissuplabs PDF Invoices Templates
The Swissuplabs PDF Invoices module for Magento 2 comes with stunning easy-to-customize templates not only for invoice but also order, shipment, and credit memo.
Offer downloadable PDF content: Users can easily load custom PDF templates for invoice, order, shipment, and credit memo documents, and then print PDF from their account order view page.
Include downloadable PDF links to sales emails: The extension enables attaching PDF invoice, order, shipment, and credit memo files to the notification email.
Support tailoring templates to meet your requirements: The module allows you to edit the template HTML or CSS code and set the template name.
Pricing
The Magento 2 PDF Invoices by Swissuplabs costs you only $79.
11. Xtento PDF Templates Customizer
With Magento 2 PDF Customizer from Xtento, it has never been easier to create eye-catching invoice PDFs. The setup of invoice, order, shipment, credit memo, and products will be implemented in a few minutes without sophisticated technical manipulation.
Support every sales entity (print invoice, shipment PDFs: Users can generate PDF documents conforming with local regulations or laws.
Allow setting up as many PDF templates as needed: The extension helps you create many different PDF layouts for different purposes.
Allow customizing and editing all PDF documents: Users can use HTML and CSS to customize every little piece you see on the screenshots.
Support uploading background PDFs: This feature lets you output your company letterhead or stationery on your PDF files to show your corporate identity.
Generate splendid PDF catalogs/ brochures: You can display your items in a splendid PDF catalog or allow your shoppers to print product data on the product page as a PDF file.
Enrich PDF invoices with images: You can include any of your custom product attributes (size, color, stock, etc) or product images to each PDF document.
Provide 7 free stunning designs for four entities (orders, invoices, shipments, and credit memos)
Pricing
The price of Xtento PDF Customizer is $149.
12. Landofcoder PDF Invoice Templates
Although sending PDF invoices to shoppers after purchasing is an important part of maintaining a reliable online business, the default invoice template is not enough.
Landofcoder PDF Invoice comes as an advanced tool for online store owners to automatically customize beautiful PDF invoice templates and send them to their customers.
Support sending PDF invoices automatically: Right after shoppers place their orders, the system will automatically send a PDF invoice with all necessary information to the customers
Provide available excellent PDF invoice templates: Invoices are not only stunning but also packed with essential billing and company information.
Support barcode and QR code checking: The extension can automatically create Barcode or QR code for each PDF Invoice sent to customers via email.
Support exporting backend data into invoice: Store admission can export important data on the product page like product images, product information, and company information into PDF invoice files
Pricing
You need to reach out to the Landofcoder team to buy this extension.
13. MageComp Download Invoice PDF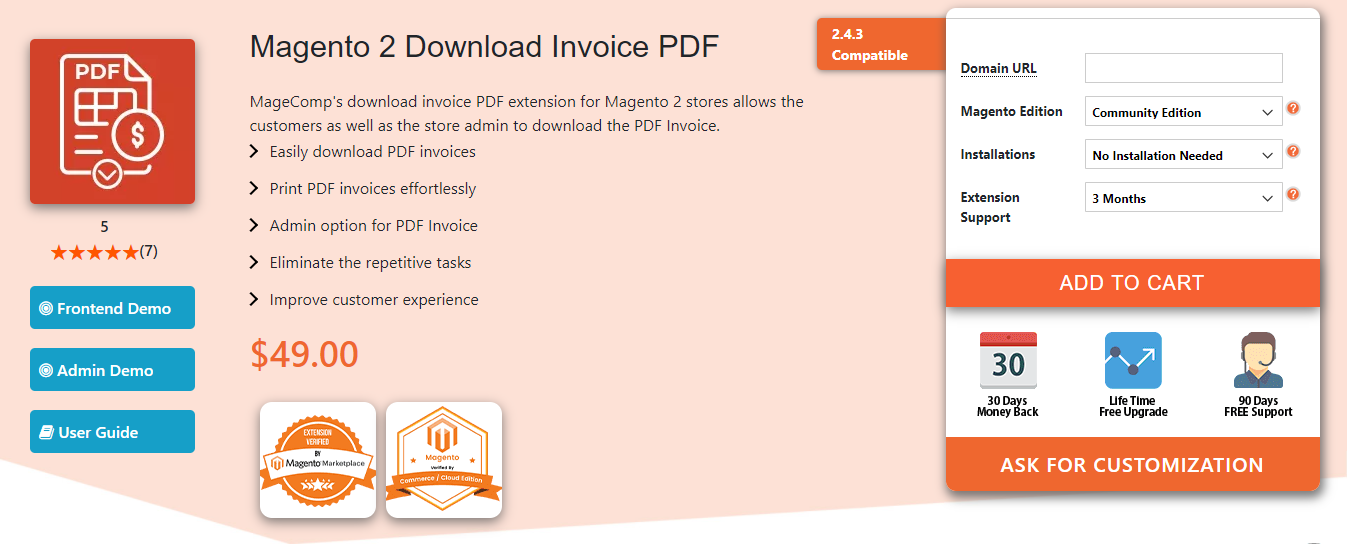 Magento 2 PDF Invoice Extension by MageComp helps the store owners and customers to easily download the order invoice in the form of PDF.
Effortlessly Download PDF Invoices: The module allows downloading order invoices in PDF format from the customer My Account on the store frontend.
Eliminate the repetitive tasks of admin: The admin can generate an order invoice PDF one time and the customers can download it any time whenever required.
Download PDF from Backend: The admin can also download the PDF invoices from the backend order details grid.
Enhance Brand Awareness Improve the user experience of your store by allowing the customers to download invoice PDF anytime and build brand identity by adding your logo on the PDF invoice.
Pricing
The Download Invoice PDF for Magento 2 by MageComp starts from $49.
Wrapping Up
We hope that this list can bring you more options in selecting which extension will help you handle the invoice issues and boost your store's user experience effectively.
Using Magento invoice template extensions can save you a large amount of time and effort during your workflow. You can speed up the order process while enhancing your shoppers' satisfaction.
Do you have any comments on any extensions mentioned above? Please drop some lines in the comment section.
Thank you for reading!
Website Support
& Maintenance Services
Make sure your store is not only in good shape but also thriving with a professional team yet at an affordable price.
Get Started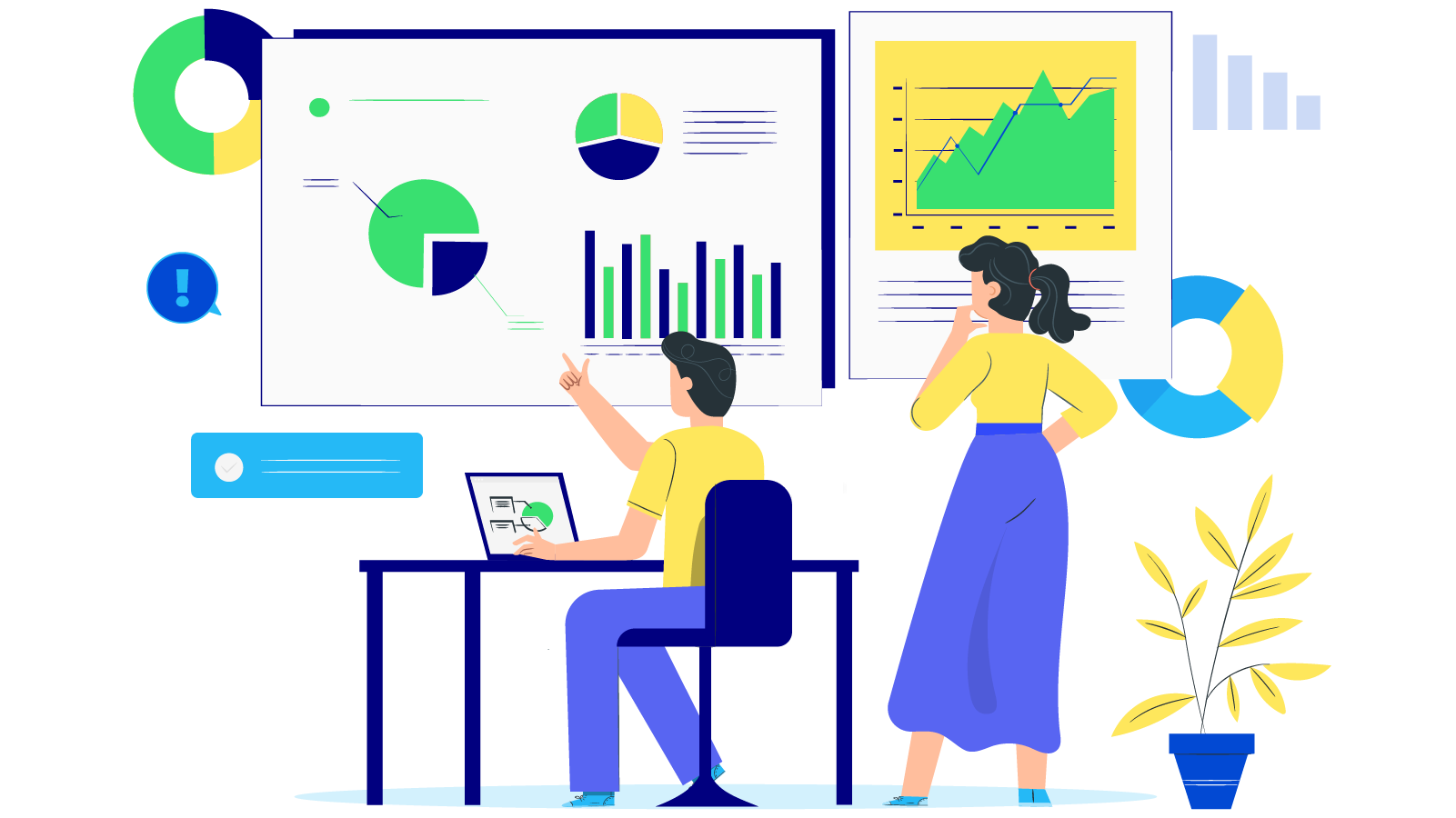 New Posts



Subscribe
Stay in the know
Get special offers on the latest news from Mageplaza.
Earn $10 in reward now!