If backlink is the soul of SEO Offpage, Internal link is an indispensable part of SEO Onpage
It can be said that internal links play an important role in optimizing On page. Good optimization, building and using of internal linking properly will help you increase your ranking significantly.
Related Posts:
So, what is an internal link in Magento 2 store
Internal Link is a form of link created by placing a link from a page on a domain and pointing to another page on the same domain. In simpler terms, internal linking is the linking of the pages on the same website. Example: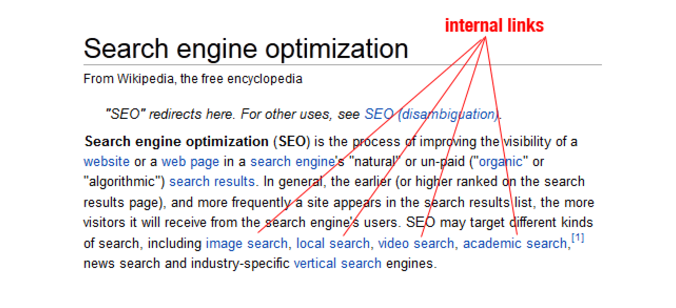 The role of Internal Link in SEO
In SEO, internal links are usually used for the purpose of navigating users and bots of search engine on the site. Internal Links is considered to be one of the most popular link types today playing an important role in the On-page process and user navigation.
There are some reasons why Internal Link is one of the most important links on a website:
It allows webmasters to direct users to a website, dramatically increasing access time and site interactions on the site. Besides that, by reducing negative indexes that reflect the user's experience badly such as Bounce Rate, Exit Rate, etc. In addition, internal links are also the main tools for navigating search engine bots, helping them to crawl the site in a complete way and helping the child pages free from isolation.
It helps establish a hierarchy of information for the given website. In other words, internal links help create a structure of the website. If the pages on the site are parts of the human body, the internal link, like the bone system, always attaches the scaffolds together and helps the parts to work. The more complete the skeleton is, the easier the parts will be to work.
It helps share the value of Pagerank for other content that ranks higher on the search page. This is the strength of the internal link. When high ranking content is set to link other related articles, it will receive a fraction of the value of the other articles and will increase the rank.
Internal link also increases the traffic into the website. When users visit your site that the site is not interesting to keep them, visitors will turn off the website, so the bounce rate will increase and Google also evaluates your low website quality and no useful for people. For that reason, you navigate the reader by adding internal links to other good articles, which helps your website become attractive.
Summary
In brief, Internal link in Magento 2 is extremely crucial. Through linking and clicking habits of these links of users, Google will know what your page is talking about. So the internal link is considered to be one of the most important SEO factors.