How to offer more flexible shipping methods by Table Rate Shipping module
The Most Popular Extension Builder for

Magento 2
With a big catalog of 224+ extensions for your online store
Have you ever, as a Magento store, got no profit or even got lost since you have to pay high delivery cost compensating for customers? Since there is limited options for shipping rate calculators, online stores have troubles in offering flexible and reasonable shipping methods for certain orders. We believe that the Magento 2 Table Rate Shipping will be the great solution for your problems. Let's explore it's function right below. Before that, it is recaped with some limitations of Default Magento.
Main Contents
4 problems and instant solutions for Magento Table Rate Shipping
Limited choices for shipping methods
If you are using the Magento default table rate, you properly know that they do not support creating multiple shipping rates within a shipping method. Customers have no choice rather than the only option offered by stores.
With the Table Rate Shipping extension, store admins can create unlimited table rate shipping methods for customers to select at the storefront.
Few conditions for table rate shipping methods
Similarly, in Magento 2 Default, the conditions to set table rate are limited in which store admins only can choose one of three conditions as followings:
Weight and Destination based per order
Price and Destination based per order
Number of Items vs. Destination based per order
This can be expanded to more choices for admin in Table Rate Shipping extension. By this, admin can create the shipping rates based on weight range, subtotal range, and quantity range. Particularly, multiple parameters can be combined to make a complete shipping rate based conditions.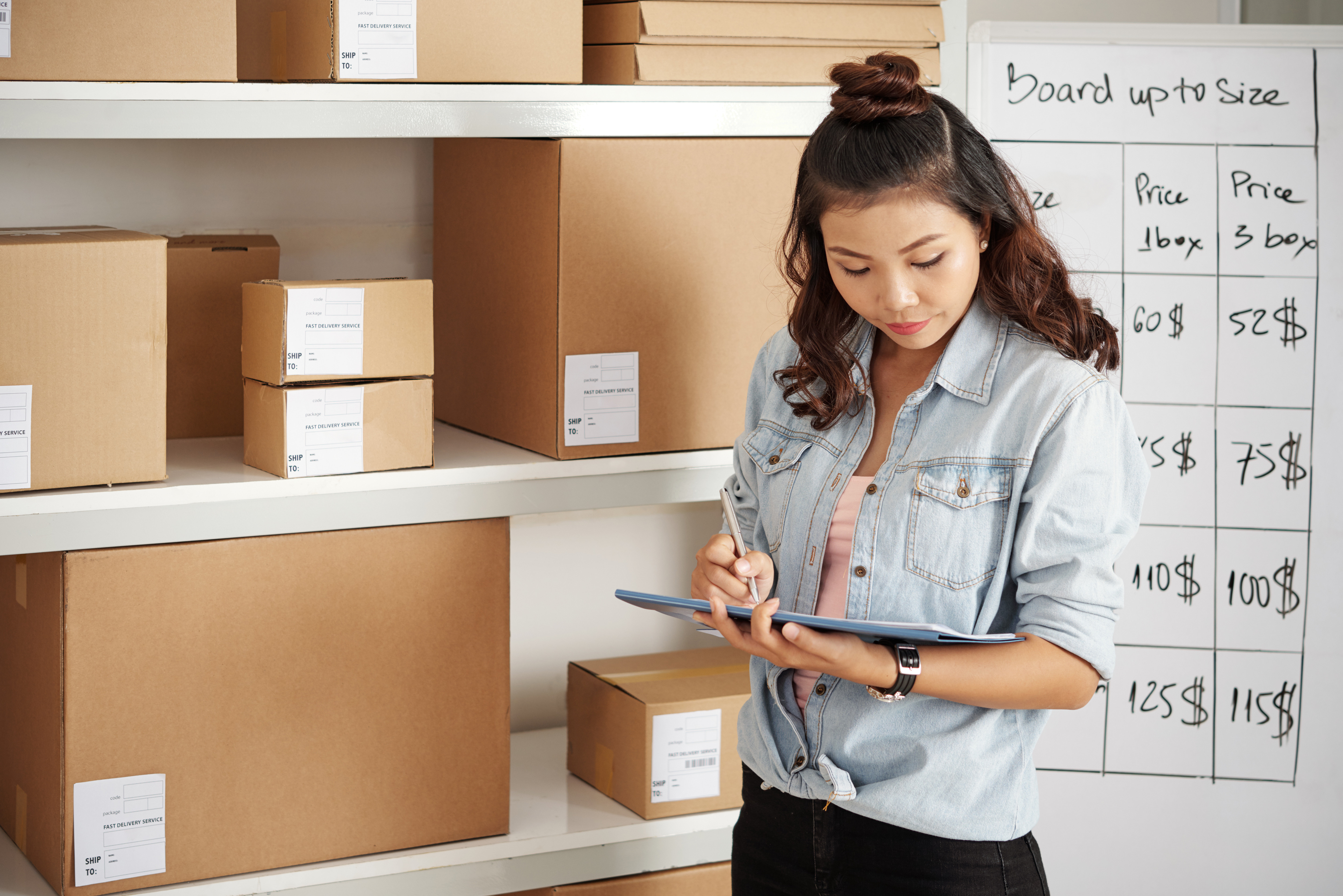 Not support various rates types
There is only one table rate type in Magento Default: fixed rate per order. Store admins, unfortunately, have no way to calculate shipping rate based on item, weight unit, or percentage of product types.
This function is improved significantly in the Table Rate Shipping extension for Magento 2. In which, shipping rates can be the following types:
The fixed-rate per item
The percentage per item
The fixed-rate per weight unit
The fixed-rate per weight unit
The fixed-rate per order
The combination of multiple rate types
Unable to calculate shipping rate based volumetric weight
For most of the delivery services, especially country-cross delivery, shipping cost for sellers is calculated based on package volume weight. The more space it needs to store your package, the more fee is required. Magento default does not support stores to count shipping rates based on product's volumetric weight. For some websites, they need to manually notify customers about the extra fee or self compensate the fee for customers.
Understanding this limitation, Table Category View extension is built with Volumetric Weight function. Store admins now can calculate weight based on volume to make sure the shipping cost is reasonable for both sellers and buyers.
Highlight functions of Table Rate Shipping extension
Create various shipping methods by conditions
Table Rate Shipping module allows Magento 2 stores to generate unlimited shipping methods based on the combination of the following elements:
Country: Set the destination of the shipping method, eg: USA, Canada, Japan
State/ Region: Set the state inside a country such as Texas, Florida, California
Postcode/ZIP code
Weight range: Set the weight limit for the specific shipping method
Subtotal range: For instance, the subtotal of the order from 50$ to 250$
Quantity range: For example, the item qty of the order from 3 to 10 units
Admin can configure to combine or individual apply those conditions for a shipping method. When customers' order meets the rules, the shipping method will be applied corresponding.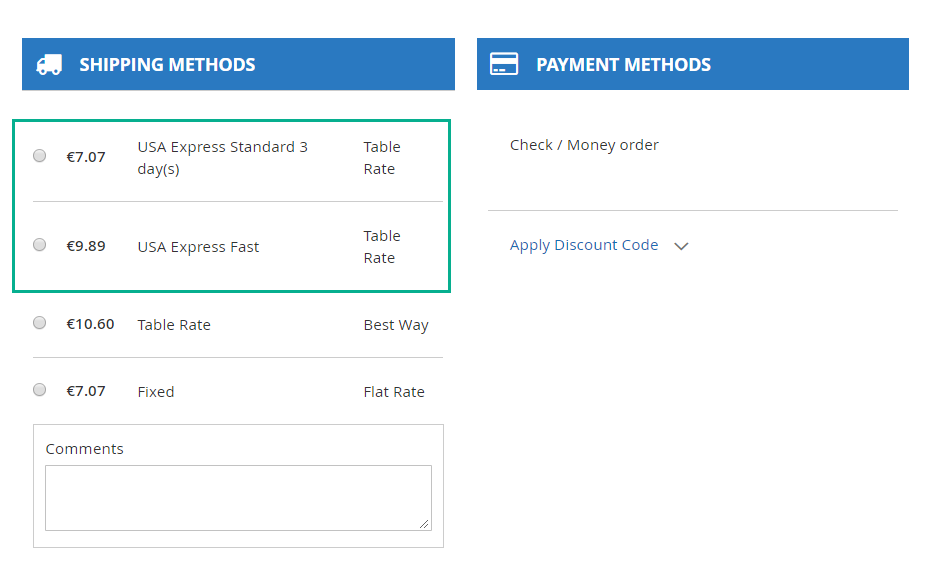 Select product groups for certain shipping rates
This module also helps Magento stores apply individual shipping rates for each product group separately. Some stores sell special products such as fragile items, or luxury ones that need better storage and safe delivery. For those types of products, online stores can definitely set a higher shipping rate to compensate for their cost spent.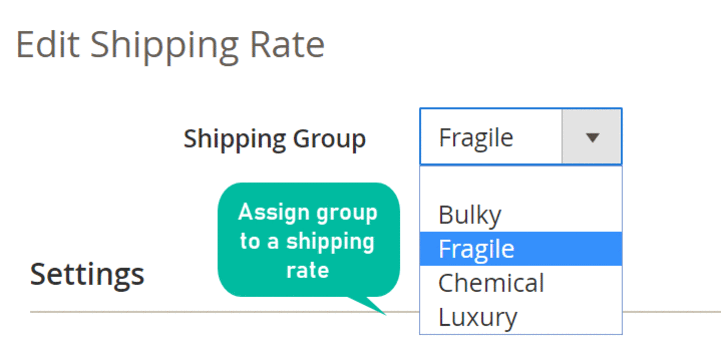 Calculate shipping cost by volumetric weight
With this extension, store owners have one more way to calculate their shipping rate, which is based on the package volumetric weight (V). In order to calculate the V of products, admin only needs to enter the 3 dimensions of a parcel: height, width, and length.
For illustration, if you have a box of items which is 12cm in height, 15cm in width and 20cm in length; with the dimensional weight divisor of 600, your DIM weight is 6 kg. You can set the shipping rate by this DIM number. For example, plus $2 for one additional kilogram of volumetric weight.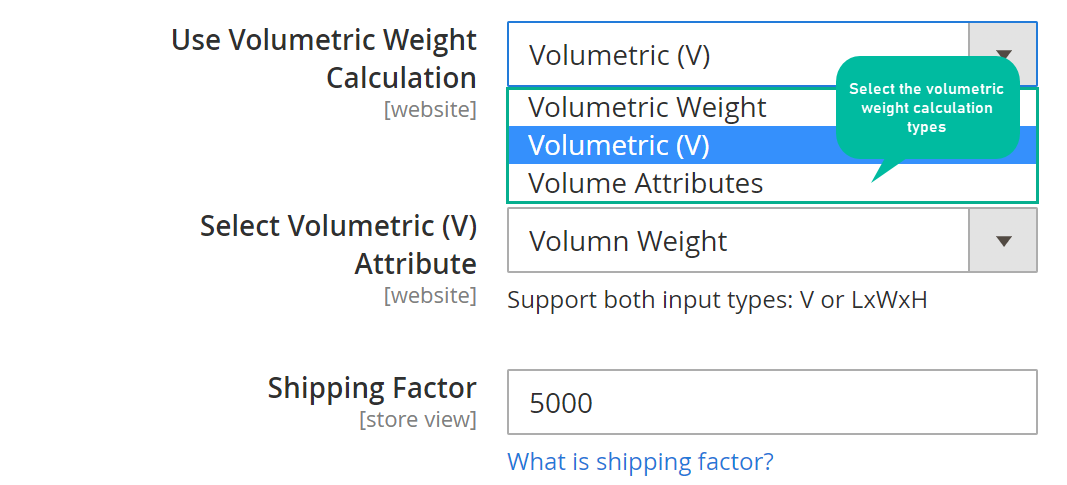 Multiple rates for one shipping method
One shipping method can have different shipping rates. Store admin can totally set up these rates using some typical types such as:
The fixed-rate per item
The percentage rate per item
The fixed-rate per weight unit
The fixed-rate per weight unit
The fixed-rate per order
Depending on admin configurations, the table rate will be calculated according to item rate, weight unit, the percentage of the product price or order rate or even the combination of all. For example, the shipping rate per item is $1 plus 2% of a product price.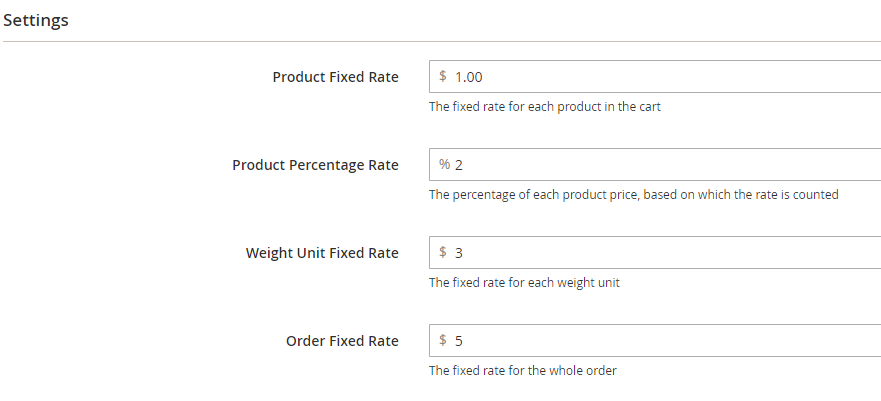 Support quick import of table shipping rates
The import function allows Magento 2 stores to quickly transfer the created shipping rate table from another shipping method to the new one. Or they can also import the available shipping rate table from CSV file via their computer data.
The conditions are still moved along with all the table rates so that admins can make some changes for the new shipping methods or just keep it the same. This feature saves a lot of administration time at backend and still bring the best accuracy and convenience for Magento 2 websites.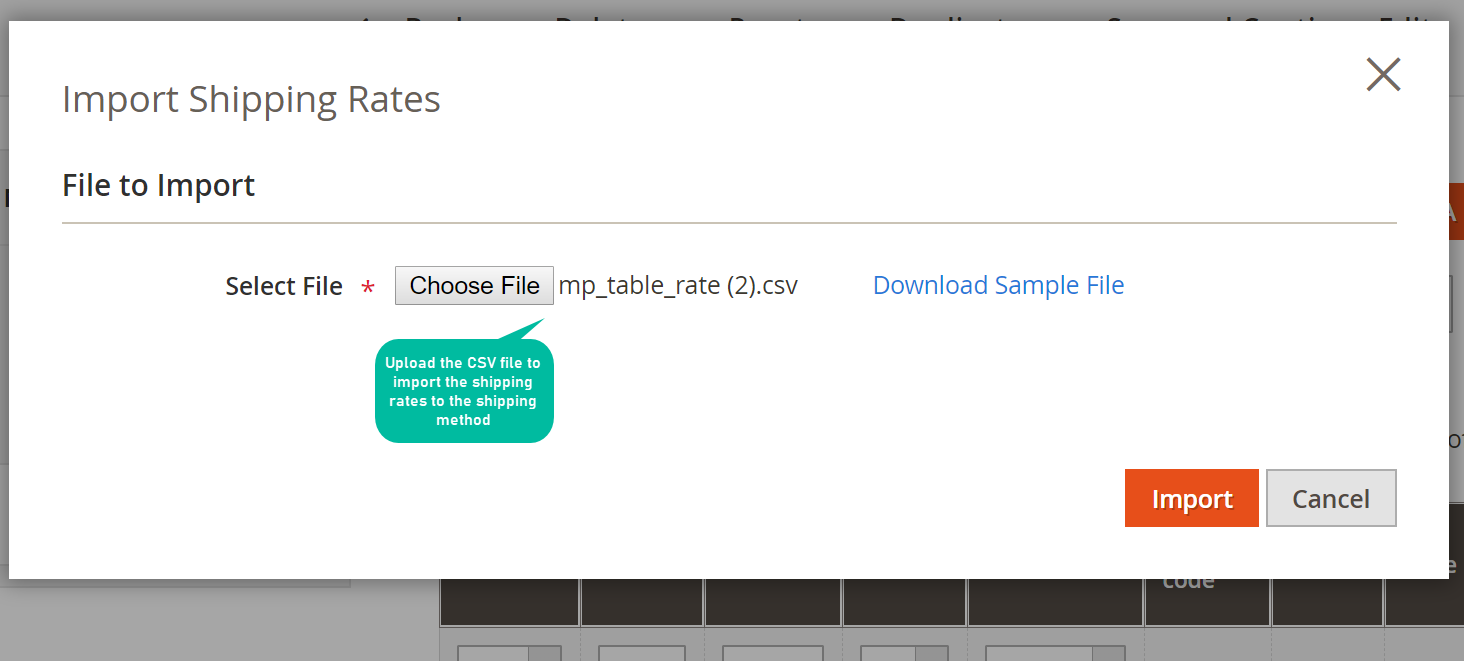 Allow estimating delivery dates
One more interesting feature of this module is the estimated shipping time. For each shipping method in typical orders, store admin can notify customers of the delivery time (which is the number of days). By this, shoppers know how long they have to wait for their items and can conveniently arrange to receive it on time.
The feature is not only helpful for customers in actively preparing for the delivery, but it also helps stores manage their shipping schedule effectively and accurately. Eventually, bring the best customer services and gain more love from buyers.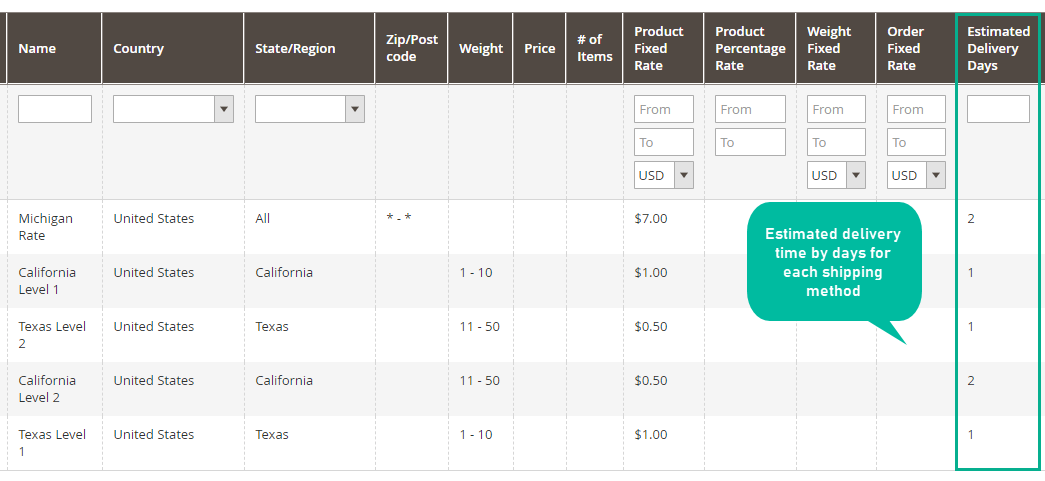 Full functions offered by Table Rate Shipping extension
For store admin
General configuration
Activate/Deactivate the module
Set title for shipping carrier
Select the countries for applying the module
Include/ exclude the virtual items in the price calculation
Select ways to calculate volumetric weight of the package
Create/Edit a new shipping method
Set name and internal note for certain shipping method
Select the rule for calculating shipping rates
Choose image illustrating the shipping method
Choose to apply for specific store views/ customer groups
Set label for shipping method at frontend
Create shipping rate(s) for the shipping method in three ways: Import from other shipping methods, Import via a CSV file or Add manually.
Control all shipping methods/ grids via grids
For customers
Be able to select more shipping methods and shipping rates
Choose the reasonable shipp[ing cost before checking out
Have a convenient and transparent shopping experience
Final words
In genaral, Table Rate Shipping emodule helps Magento 2 websites to generate unlimited custom shipping methods and shipping rates by multiple conditions such as country, state, postcode, weight range, subtotal range, and qty range. The calculator the shipping rate is upgraded with volumetric weight, rate-setting types and more.
Mageplaza Shipping Suite Infosheet for Magento 2
An all-in-one delivery solution for any e-commerce website
Download PDF

Sam is the CEO and Founder of Mageplaza, pursuing a simple and healthy lifestyle. He is a friend, a husband, and a father to two children. As a trainer and an aspiring influencer, he is also a big fan of sports and travel. Sam is exceptionally knowledgeable about e-commerce, especially Magento and Shopify, with 10 years of experience in the field.
Website Support
& Maintenance Services
Make sure your store is not only in good shape but also thriving with a professional team yet at an affordable price.
Get Started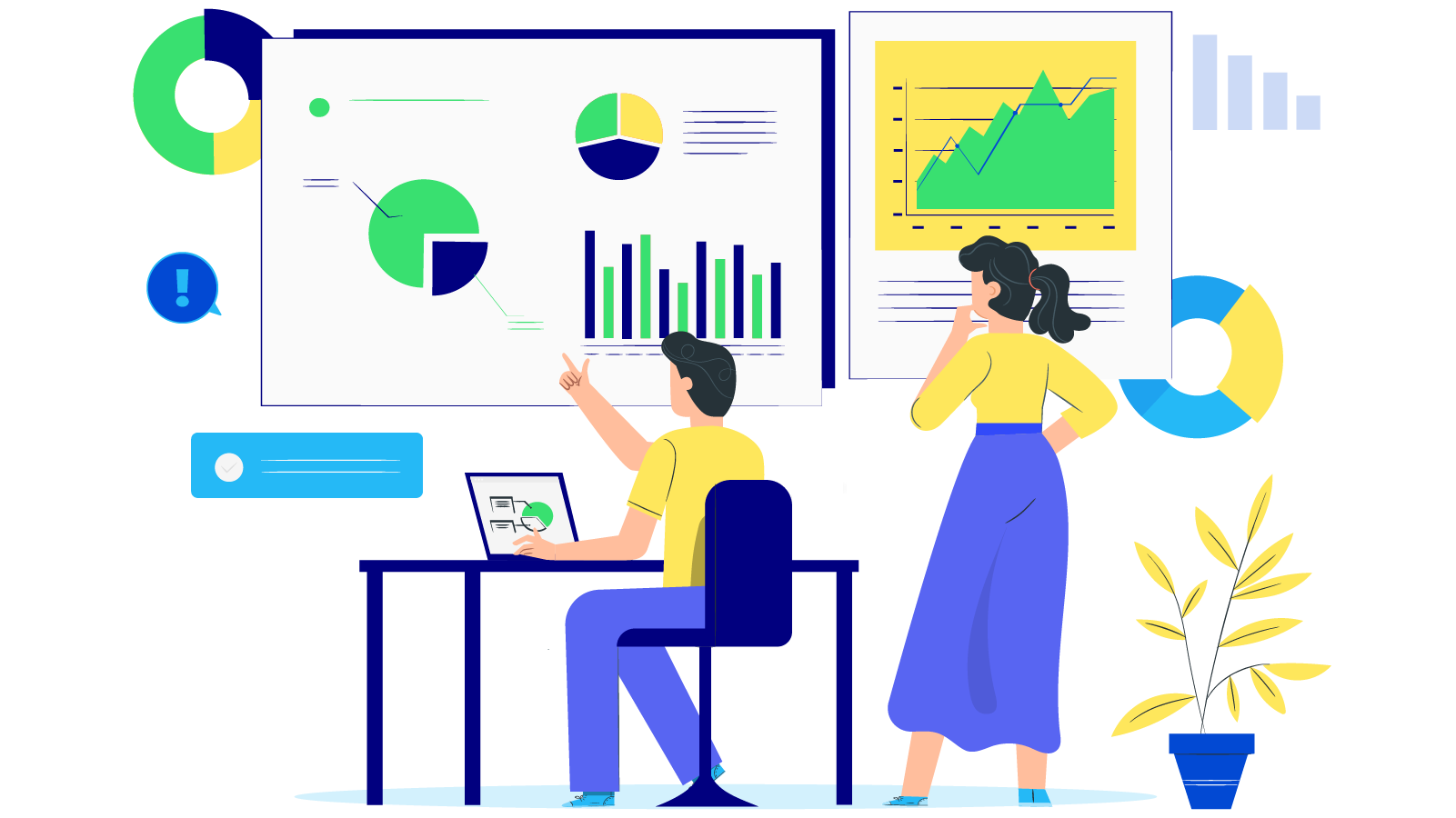 New Posts



Subscribe
Stay in the know
Get special offers on the latest news from Mageplaza.
Earn $10 in reward now!