7 Best Ecommerce Order Management Software for B2B Companies
The Most Popular Extension Builder for

Magento 2
With a big catalog of 224+ extensions for your online store
Ecommerce businesses typically operate across various platforms, spanning from their own websites to social media platforms, and even utilizing external marketplaces such as Amazon and eBay. Managing orders that flow in from all these diverse sources can pose a considerable challenge. That's why many companies opt to streamline this process by consolidating them into a single order management system.
This article presents an overview of the best ecommerce order management software currently available in the market. It provides insights into the software's functionality, ideal use cases, visual representations, notable features, compatibility with other systems, and pricing details, all aimed at simplifying your decision-making process.
Table of Contents
What Is An Order Management System?
To comprehend the best ecommerce order management software, it's essential to grasp the underlying process. Order management represents a business practice centered on capturing, monitoring, and fulfilling customer orders. Ecommerce order management software process initiates when a customer places an order and concludes when they receive their package.
Order management software are applications utilized by businesses to streamline the entry and processing of orders. An effective order management system aims to meet customer specifications precisely while ensuring the fulfillment of orders and the delivery of goods according to agreed-upon terms and conditions.
Best ecommerce order management software is purpose-built to automate and expedite the order fulfillment process, thereby reducing the time required in the order-to-cash cycle and enhancing order processing efficiency for wholesalers and suppliers.
Companies that employ order management systems can perform tasks such as entering and converting quotes or orders, monitoring inventory levels, analyzing past invoices to identify trends, confirming shipping preferences, and adjusting prices all in one go.
Modern order management systems come with a range of functionalities, often integrating features like billing software, subscription management, or customer relationship management (CRM) software.
However, the specific features and capabilities of an order management system product can vary based on the services sought and the roles a business needs to fulfill. As a general guideline, a product qualifies as an order management system when it can:
Provide real-time updates on stock levels and inventory availability.
Simplify the order fulfillment process by allowing the entry and conversion of quotes or orders.
Automatically assess shipping preferences, including carrier options, rates, and insurance choices.
Track orders comprehensively, from the initial order placement to order picking, invoicing, and final delivery.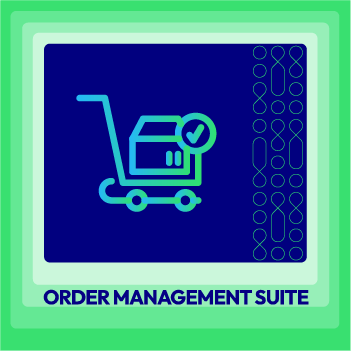 Boost order processing speed, level up customer satisfaction and maximize profit
Check it out!
Benefits of Using Efficient Order Management Software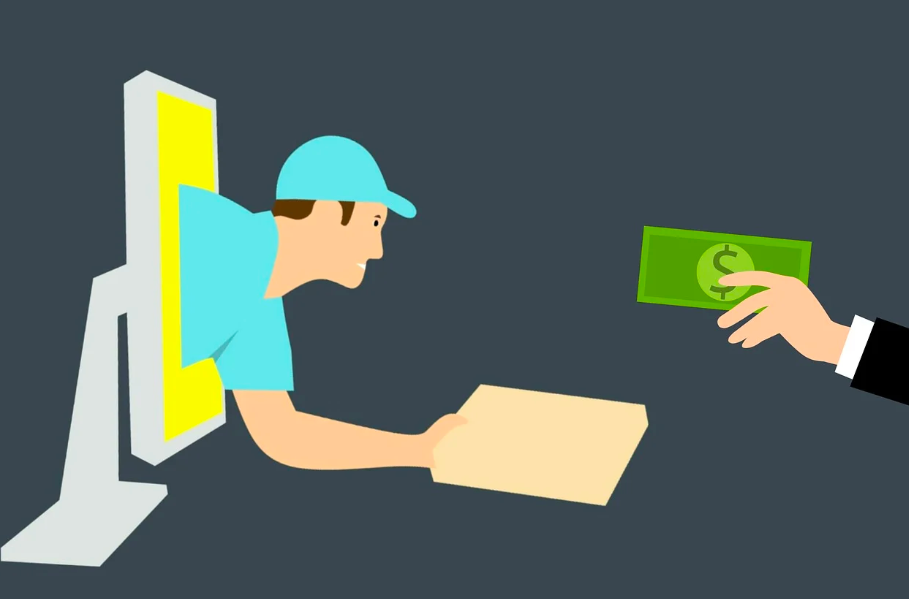 Reduce inventory costs
Ecommerce order management software significantly reduces inventory costs by streamlining inventory management processes. Users can effortlessly transfer stock between locations through straightforward scanning procedures for restocking purposes.
Moreover, ecommerce order management software enables users to establish rules for automating the order fulfillment process during packing. These rules can be customized based on various triggers, such as weight, value, delivery preferences, and more. As a result, manual processes and the associated time-consuming tasks become obsolete, increasing operational efficiency and accuracy.
Get Orders Quicker and Accurately
Ecommerce order management software eliminates the requirement for manual order monitoring by delivering real-time updates as orders are dispatched. These systems operate in the cloud, enabling users to track the status of their pending orders conveniently. This eliminates the necessity for hosting capabilities, as users can access the information from any location and at any time, providing flexibility and accessibility.
Streamlined Warehouse Operations
Order management system empowers users with a comprehensive view of their warehouse and entire inventory, establishing a user-friendly platform accessible from any location, around the clock. It delivers real-time updates for all orders and shipments.
Among the standout features of ecommerce order management software are mobile barcode scanning, warehouse capacity maps, thorough inventory tracking, and support for multiple warehouses. These features enhance efficiency and visibility in warehouse operations
Customized Reporting and Documents
Order management systems grant you the capability to generate comprehensive reports in flexible formats that seamlessly integrate with contemporary e-commerce channels.
The capacity to tailor your reports to align with your specific business needs instills a sense of confidence that can only be achieved through robust reporting tools. Moreover, this customization eliminates the time-consuming conventional practices of sending and receiving reports, streamlining the reporting process for greater efficiency.
Simplify Complex Orders
Order management systems eradicate the complexity of handling advanced orders, thanks to their advanced dashboards that assist users in executing intricate orders based on current conditions.
These systems have the capacity to simplify orders by undertaking tasks such as crafting personalized messages, labeling goods according to size or destination, and even flagging orders for further review. This level of automation and customization enhances order processing efficiency and accuracy, making complex orders more manageable.
Straight Forward Invoicing
Manual billing and invoicing are often among the most laborious tasks for many enterprises. Implementing an order management system brings about a clear and transparent billing and invoicing system.
Effortless billing and invoicing that itemizes costs related to fulfillment, shipping, packaging, and storage promote smoother collaborations with logistics and fulfillment partners while reducing the likelihood of data entry duplication. Furthermore, order management software can seamlessly integrate with accounting systems, simplifying the import and export of invoicing data. This integration enhances efficiency and accuracy in financial processes.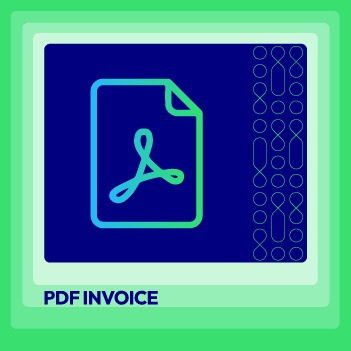 Impress your customers with professional PDF invoices that match your store's branding
Check it out!
Features to look for in order management software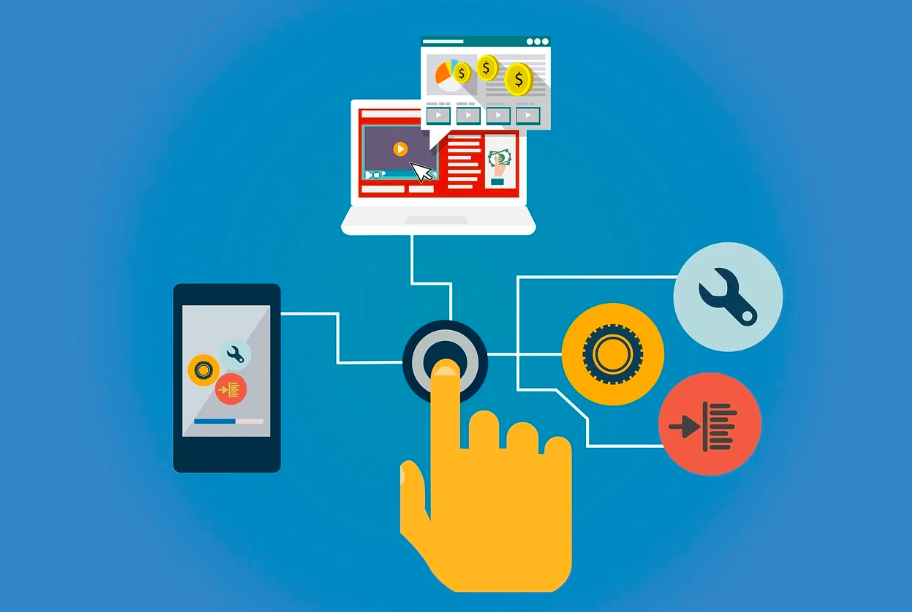 Certainly, those are valuable features to consider when selecting an ecommerce order management software to effectively manage various aspects of business fulfillment processes. Here's a summary of the key features to look for:
Automated Sales Processes: The best order management software for ecommerce should automate and streamline tracking of sales-related aspects, including payments and delivery status, to enhance efficiency.

Inventory Control: It should have the capability to automatically manage and control inventory levels, triggering reorders when stocks reach a specified threshold.

Customer Relationship Management: Ecommerce order management software should support the entire customer journey, from lead generation to customer retention, by offering tools to nurture customer relationships.

Sales Automation: The system should be able to automate order processing, payment handling, and customer communication to optimize the sales workflow.

Shipping and Receiving: Providing visibility into receipts and shipments, along with real-time updates and issue alerts, ensures efficient management of logistics.

Document Tracking: Ecommerce order management software should be equipped to track documents as they move through the production and sales pipeline, improving organization and accessibility.

Advanced Reporting: It should offer robust reporting capabilities, allowing for the analysis of performance reports related to customers, orders, or sales channels, and identifying areas for improvement.

Mobile Apps: The availability of mobile applications ensures accessibility to the order management system while on the move, enhancing flexibility and convenience.
When researching and selecting the best order management software for your enterprise, these features will play a crucial role in optimizing your business operations and ensuring smooth order fulfillment processes.
Overviews Of The 7 Best Order Management Software
Linnworks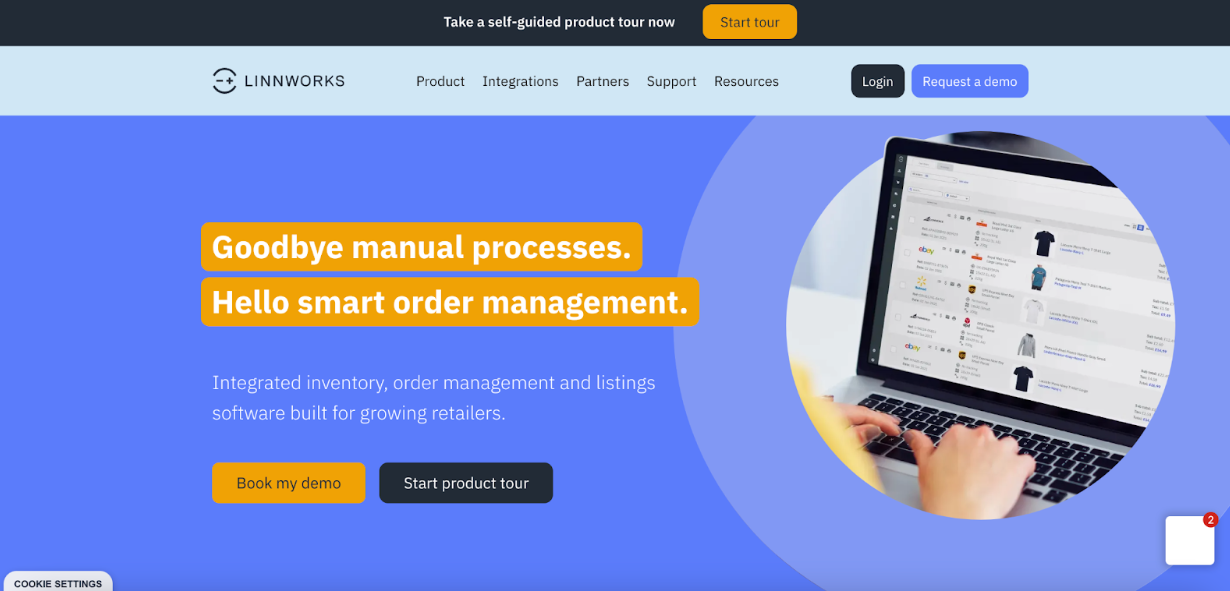 Linnworks is a cloud-based best ecommerce order management software that aids businesses in streamlining their operations by centralizing tasks such as inventory management, order processing, and shipping. It offers a variety of features geared towards automating and simplifying the order management process, making it a favored option among ecommerce businesses.
Our choice of Linnworks was initially driven by its comprehensive feature set, which encompasses everything necessary for handling orders and inventory. From order processing to shipping and in-depth reporting, it provides a well-rounded solution. Additionally, its ease of setup and usability make it accessible, even for team members lacking prior experience.
Linnworks serves as a versatile and customizable cloud-based multichannel ecommerce platform. It assists online sellers in automating diverse business processes, ranging from order and inventory management to shipping and fulfillment. Its adaptability makes it suitable for businesses of all sizes and types, and its seamless integration with a wide array of marketplaces, shopping carts, and shipping carriers positions it as an all-in-one solution for managing multichannel sales.
Linnworks boasts notable features and integrations, including API support, dashboards, data export/import, data visualization, external integrations, forecasting, inventory tracking, multi-user access, notifications, supplier management, product catalog management, shipping optimization, order management, route optimization, status updates, and warehouse management.
Furthermore, it integrates with major ecommerce platforms like Amazon, eBay, Shopify, and Magento, along with popular shipping carriers such as FedEx, DHL, and USPS. This wide compatibility makes Linnworks a versatile choice suitable for businesses of varying sizes and needs.
Pros:
Seamless multichannel integration
Robust reporting and analytics capabilities
High degree of customization
Cons:
Learning curve can be steep
Some limitations regarding marketplace listings
QuickBooks Online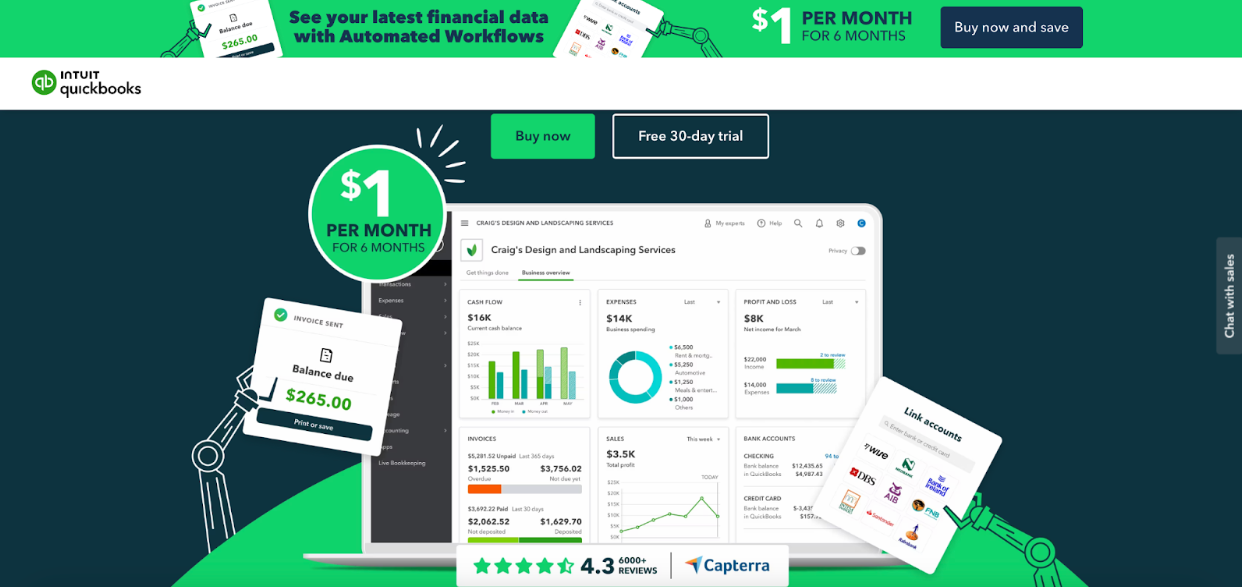 Quickbooks Commerce, derived from the well-known accounting software Quickbooks, functions as one of the best ecommerce order management software. It offers comprehensive tools for handling orders across multiple platforms, alongside robust accounting capabilities.
I selected Quickbooks Commerce because it enables tracking of orders across connected platforms, from inventory management to fulfillment, ensuring continuous order status awareness. Starting with their Essentials plan at $27.50/month, it allows connections with up to 3 sales channels, with the Plus and Advanced plans permitting unlimited connections.
One notable feature is the ease of keeping customers informed about any issues with their purchases using the data within the system. Additionally, it facilitates adding and updating product listings across multiple platforms simultaneously, saving substantial time by requiring product listing creation only once to reflect changes across all channels.
Quickbooks Commerce encompasses accounting, ecommerce integration, reporting & analytics, invoices and payments, sales & sales tax, inventory management, workflow automation, and bill management. It also integrates with popular online selling providers like eBay, Amazon, WooCommerce, and Shopify. It also tightly integrates with the Quickbooks accounting platform.
Pros:
Simple setup and usage.
Comprehensive handling of sales tax.
Abundance of payment and payroll features.
Cons:
Not specifically tailored for ecommerce.
Advanced inventory features restricted to higher-tier plans.
Shopify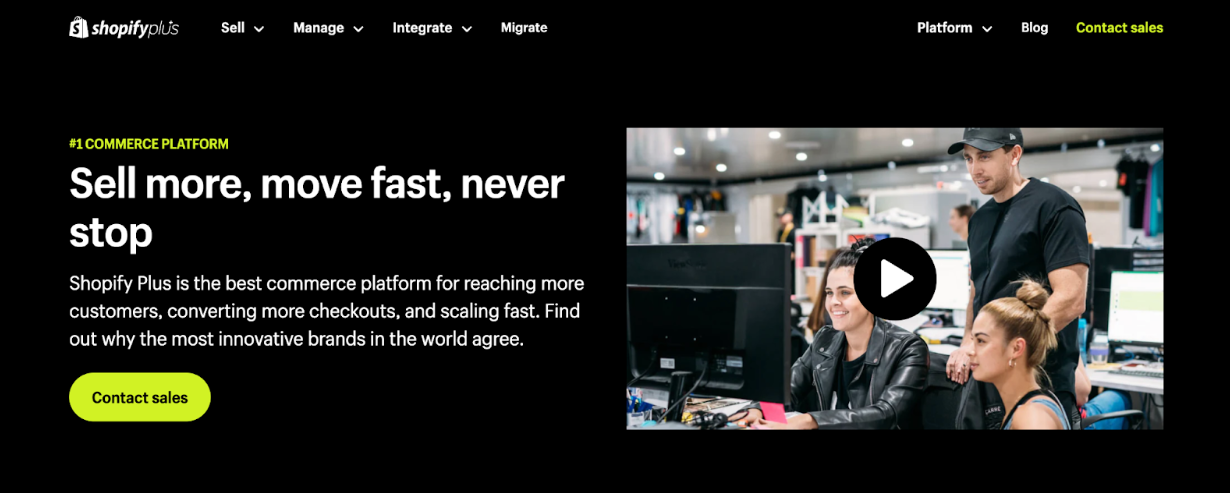 Shopify Plus serves as the best ecommerce order management software tailored for Shopify users. It offers an array of sophisticated order management capabilities. At its core, this tool enables the seamless integration of your online channels with physical locations. If you're already utilizing Shopify, upgrading your plan to include their integrated ecommerce order management software is a straightforward decision.
I opted for Shopify Plus due to its ability to automatically synchronize stock levels and orders across various sites. It also provides access to features such as click-to-collect, allowing customers to make in-store purchases from your online catalog. Furthermore, it permits customers to return or exchange items they purchased online at your physical retail stores.
Shopify Plus stands out with its advanced offerings for international sellers. You can tailor the sales experience based on the customer's location, utilizing expansion websites that display the customer's currency and language. Additionally, it allows you to accept payments through locally preferred methods.
Shopify Plus includes 2-factor authentication, analytics, API access, conversion tracking, dashboards, data export/import, external integrations, forecasting, inventory tracking, keyword tracking, marketing automation, notifications, product catalog management, order management, PayPal integration, review monitoring, payment gateway options, and design templates.
It integrates seamlessly with various platforms, including Facebook, Instagram, Google, Tumblr, Pinterest, Google Analytics, Walmart, Skubana, EzySlips, and numerous others.
Pros:
User-friendly interface.
Integrated into your ecommerce website.
Feature-rich solution.
Cons:
Imposes transaction fees.
Higher cost compared to some alternatives.
Shopify API Integration Service
Let's seamlessly connect your store to favorite tools and platforms and rocket sales!
Learn more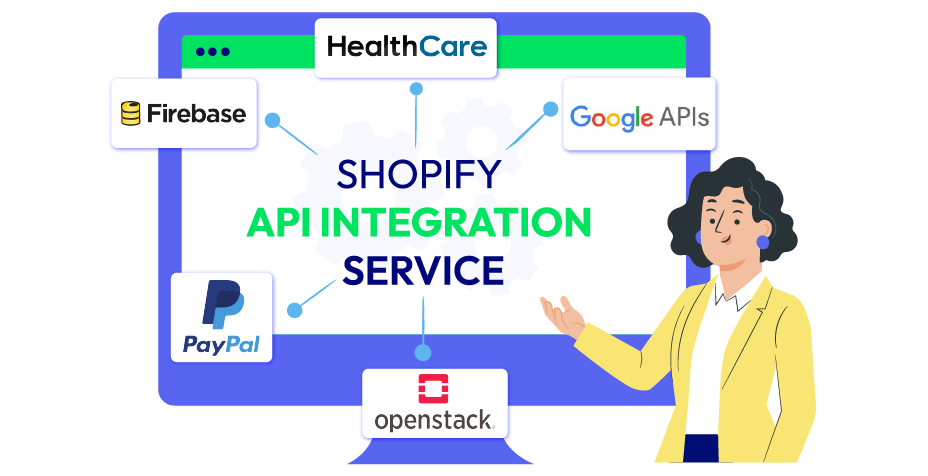 Zoho Inventory
Zoho Inventory is a platform designed to facilitate the tracking and management of orders from popular online sales platforms. It offers all the expected order management features, including the ability to establish automated reorder points to prevent missing out on sales due to low stock levels.
Zoho Inventory serves as a cloud-based best ecommerce order management software tailored to businesses of all sizes, streamlining inventory and order management processes. What distinguishes Zoho Inventory is its comprehensive feature set, encompassing inventory tracking, order management, purchase management, warehouse management, and shipping and fulfillment. Users appreciate Zoho Inventory for its user-friendliness, cost-effectiveness, and scalability.
With flexible pricing plans and seamless integration capabilities with other Zoho applications, Zoho Inventory stands out as a strong choice for businesses aiming to optimize operations and facilitate growth. Additionally, the platform provides detailed reports and analytics, enabling users to gain insights into their inventory's performance and make informed business decisions. Its integration within the broader Zoho ecosystem further enhances its capabilities, fostering connectivity with various Zoho services for sales, marketing, CRM, customer service, and more.
Pros:
Rich in features.
Highly adaptable for different business sizes.
Cost-effective.
Cons:
Limited reporting functionality.
May require some learning to use effectively.
Brightpearl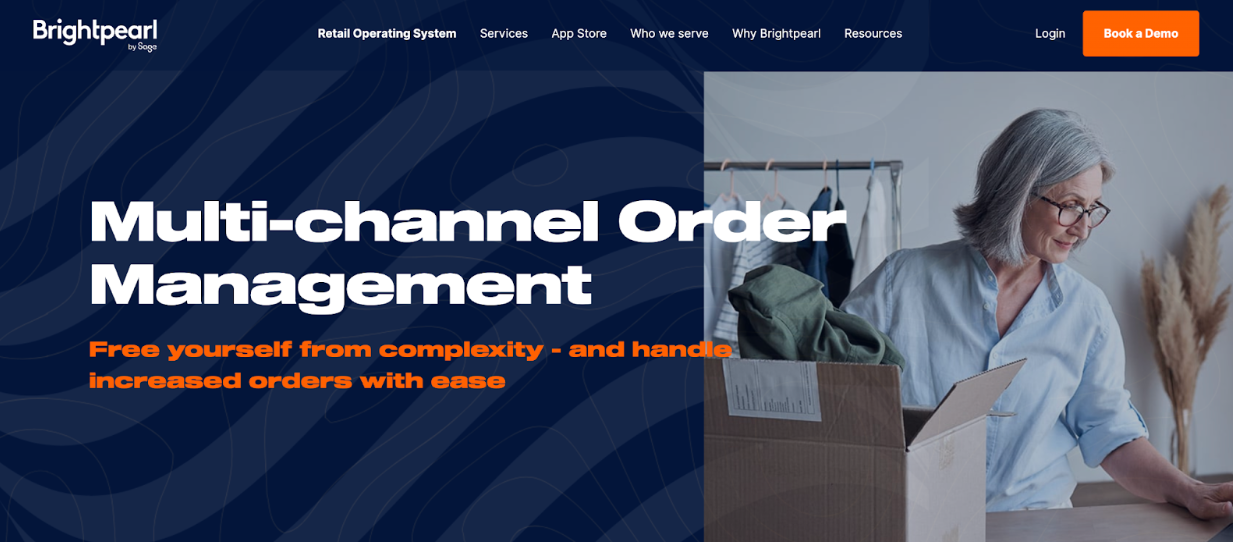 Brightpearl is one of the best ecommerce order management software packed with a plethora of features designed to assist multichannel sellers in effectively organizing customer orders. It offers connectivity to a wide range of popular ecommerce platforms, including Amazon, BigCommerce, Magento, and Shopify. Moreover, if you run a physical store, you can integrate your point of sale (PoS) system to ensure real-time synchronization of these orders.
Brightpearl serves as a comprehensive multichannel retail management platform, aiding businesses in streamlining their operations and enhancing efficiency. For multichannel sellers, Brightpearl serves as a centralized hub for managing inventory, orders, and customer data across all channels, spanning online marketplaces, brick-and-mortar stores, and e-commerce platforms. It boasts integration capabilities with numerous channels, such as Amazon, eBay, Shopify, and Magento, delivering real-time updates on inventory and order management.
In addition to order management, Brightpearl offers an array of features to optimize business operations, including procurement and supplier management, warehouse management, and shipping and fulfillment. With Brightpearl, you gain insights into channel performance based on metrics like revenue and average order value. If certain platforms are underperforming, you can consider fine-tuning them to maximize revenue. Furthermore, you can access customer-specific data to identify top spenders.
Key features encompass order management, replenishment, retail accounting, inventory management, and warehouse management. Integrations span a wide range of platforms and tools, including Amazon, BigCommerce, Shopify, Walmart, eBay, Magento, Mailchimp, Shipstation, Stripe, Quickbooks, CommerceHub, Square, USPS, WooCommerce, Xero, Worldpay, Sage Pay, and more.
Pros:
Seamless multichannel integration.
Highly adaptable and scalable solution.
Real-time inventory management capabilities.
Cons:
Steep learning curve.
Reporting options are limited.
BigCommerce
BigCommerce is a comprehensive ecommerce solution designed to assist you with various aspects, ranging from establishing an online store to managing multichannel sales. It's an excellent choice if you're starting from scratch to create your online store, although you can also utilize its backend capabilities to empower an existing shopfront.
We selected BigCommerce because it serves as an ecommerce platform that caters to businesses of all sizes, equipping them with a robust toolkit for designing, building, and overseeing their online stores. One of the standout qualities of BigCommerce is its user-friendliness and flexibility, enabling users to configure and personalize their online stores without requiring coding skills.
BigCommerce boasts a wide array of features, including integrated SEO tools, seamless payment and shipping integrations, and advanced analytics and reporting capabilities. Users value the platform's scalability and dependability, which enable them to manage high volumes of traffic and sales without encountering downtime or performance issues.
Features encompass billing and invoicing, contact management, conversion tracking, CRM integration, customer management, dashboards, data export/import, data visualization, external integrations, marketing automation, multi-currency support, multi-user access, notifications, tax management, third-party plugins/add-ons, product catalog management, shipping optimization, order management, Bitcoin, PayPal, Stripe, SAP integration, and creation of landing pages.
Integrations span a variety of platforms, including Facebook, Google, Instagram, eBay, Amazon, Spocket, and other tools.
Pros:
User-friendly system.
Highly customizable and adaptable to individual needs.
Access to 24/7 customer support.
Cons:
Limited built-in SEO capabilities.
May require a steep learning curve to fully utilize the platform.
NetSuite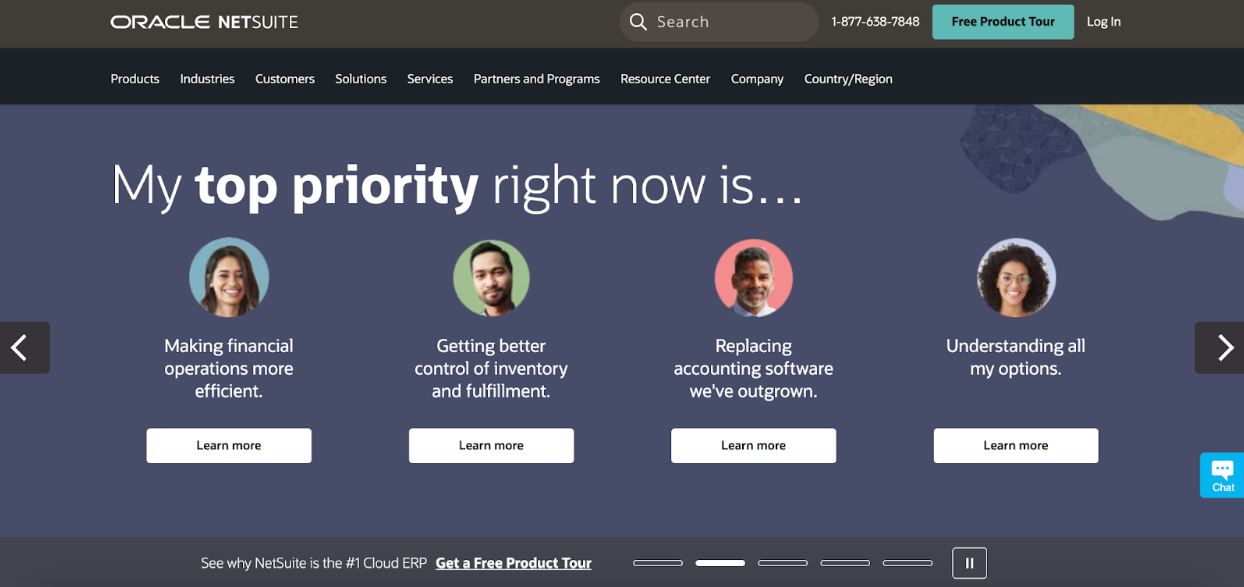 For over two decades, NetSuite has proudly held the position of being the leading cloud ERP (Enterprise Resource Planning) solution globally. It has played a pivotal role in assisting businesses in achieving the vital elements of visibility, control, and flexibility necessary for building and expanding successful enterprises.
Initially concentrating on financials and ERP, NetSuite has evolved into a comprehensive integrated system. This system not only encompasses financial management and ERP functionalities but also extends to include essential components like inventory management, human resources (HR), professional services automation, and omnichannel commerce solutions. This integrated suite of tools and capabilities is trusted and utilized by a vast customer base, exceeding 36,000 businesses across 217 countries worldwide.
Key features include:
Customization: This ecommerce order management software empowers administrators to tailor the system to suit their distinct business processes. It offers the capability to create custom objects, fields, rules, calculations, and views. This flexibility allows businesses to align NetSuite with their specific requirements and workflows, ensuring a more efficient and personalized ERP solution.

Document and content management: NetSuite provides a centralized interface for consuming, publishing, and editing various types of content. This encompasses the management of documents, presentations, images, and other related electronic files. This functionality is especially valuable within CRM (Customer Relationship Management) systems, allowing businesses to efficiently handle and organize their content assets.

Workflow Capability: NetSuite includes automation capabilities that streamline complex processes, which usually involve multiple steps requiring intervention from various users. Administrators have the flexibility to define rules that determine which users are responsible for specific steps and when those steps need to be completed. Additionally, this feature includes the ability to notify users when their action is required, ensuring that processes progress smoothly and efficiently.
Pros:
User-friendly dashboard and easy accounting.
Ability to customize
Cons:
Complex implementation process
Poor customer service
Conclusion
We've thoroughly examined the best ecommerce order management software, and as each has its own advantages and disadvantages, your aim is to select a solution that streamlines and automates your repetitive manual tasks. After assessing the features provided by each of them, the most suitable choice should align with your unique business environment, regardless of whether you operate a small or large enterprise, based on a careful analysis of your requirements.

Marketing Manager of Mageplaza. Summer is attracted by new things. She loves writing, travelling and photography. Perceives herself as a part-time gymmer and a full-time dream chaser.
Website Support
& Maintenance Services
Make sure your store is not only in good shape but also thriving with a professional team yet at an affordable price.
Get Started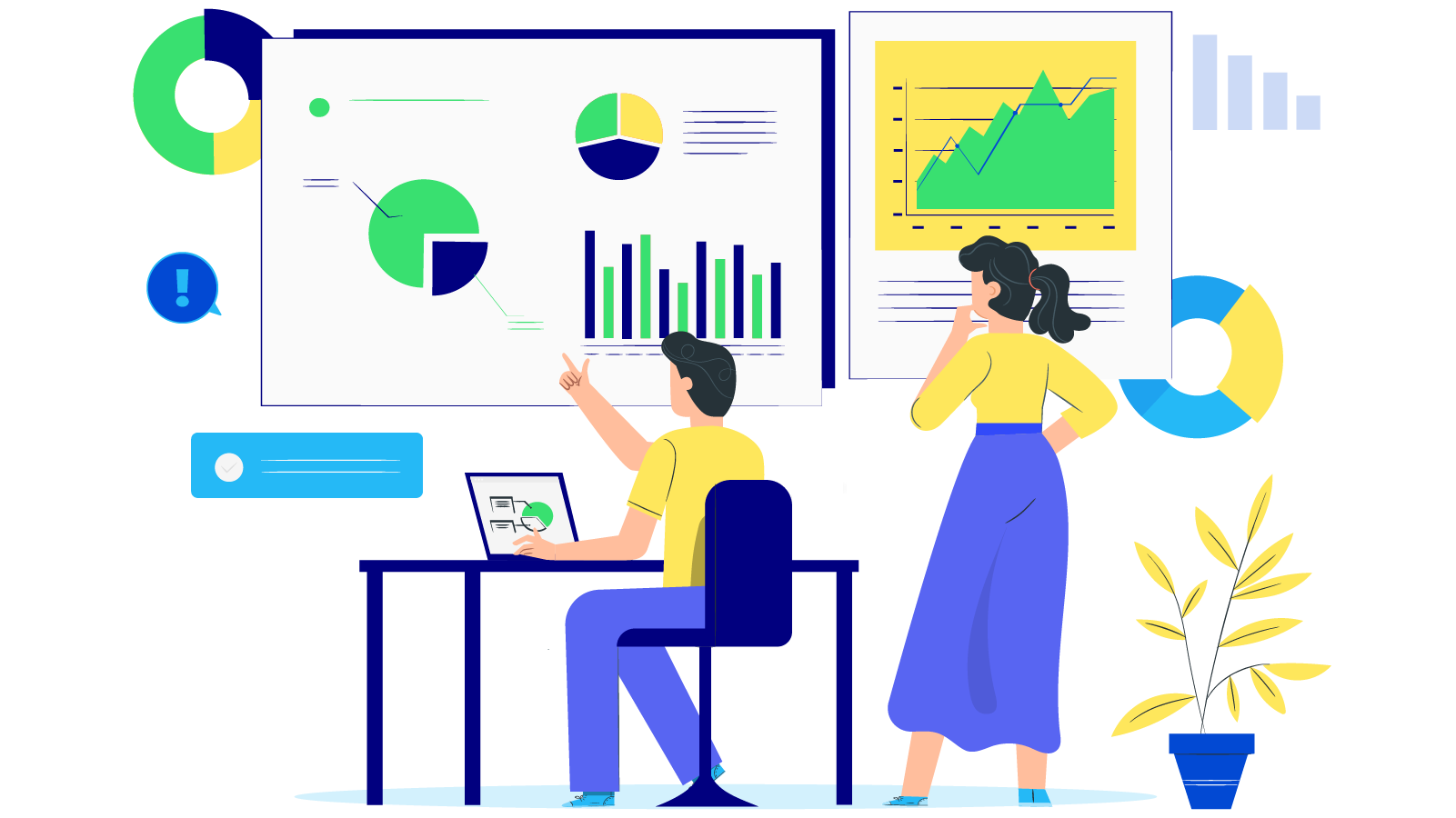 New Posts



Subscribe
Stay in the know
Get special offers on the latest news from Mageplaza.
Earn $10 in reward now!