15 eCommerce Marketing Automation Software to Enhance Growth
The Most Popular Extension Builder for

Magento 2
With a big catalog of 224+ extensions for your online store
In the bustling corridors of ecommerce strategy, where every click holds potential and every interaction is a transaction, a subtle yet powerful revolution is at play. Picture this: a symphony of code and creativity orchestrating seamless customer journeys, intuitive outreach, and exponential growth.
Welcome to our exploration of a curated selection – a top-tier congregation, if you will – of 15 ecommerce automation software solutions. These digital companions are not just tools; they are architects of efficiency, artists of engagement, and catalysts of revenue.
Embark with us on this odyssey as we navigate the landscape of possibility and chart a course towards elevated success in the upcoming future of B2B ecommerce.
Table of Contents
What is marketing automation software?
Marketing ecommerce automation software refers to a set of tools and technologies designed to automate and streamline marketing tasks and processes. These platforms assist businesses in managing and optimizing their marketing efforts across different channels such as email, social media, and websites.
Benefits of automated marketing platforms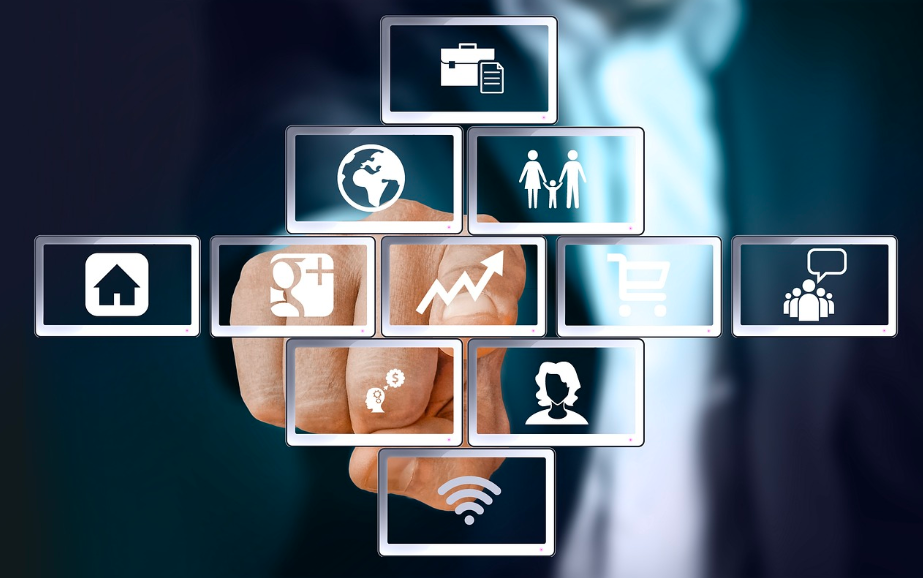 According to McKinsey & Company, roughly more than 30% of sales activities can be automated. creating additional time for marketing and sales teams to focus on guiding potential leads through the B2B ecommerce sales process.
Besides boosting revenue and enhancing effectiveness, ecommerce automation software also enables you to:
Time Savings: eCommerce automation software eliminates the need for repetitive manual tasks, such as sending individual emails or posting on social media. This saves marketers a significant amount of time, allowing them to focus on more strategic activities.

Personalization: Automated marketing platforms enable businesses to deliver personalized content and messages to individual customers based on their behaviors, preferences, and demographics. This enhances customer experience and increases the likelihood of conversions.

Lead Nurturing: Marketing automation allows businesses to nurture leads throughout the sales funnel with targeted content. Automated workflows can be designed to send relevant content to leads at different stages of their buying journey, increasing the chances of converting them into customers.

Analytics and Insights: Marketing automation platforms provide valuable data and insights into the performance of marketing campaigns. Marketers can track metrics like open rates, click-through rates, conversion rates, and more, allowing them to refine their strategies based on real-time feedback.

Enhance conversion rates: Implement strategies for optimizing conversion rates, such as automated email sequences for abandoned shopping carts, triggered within the platform.
15 top marketing automation software for ecommerce
1. HubSpot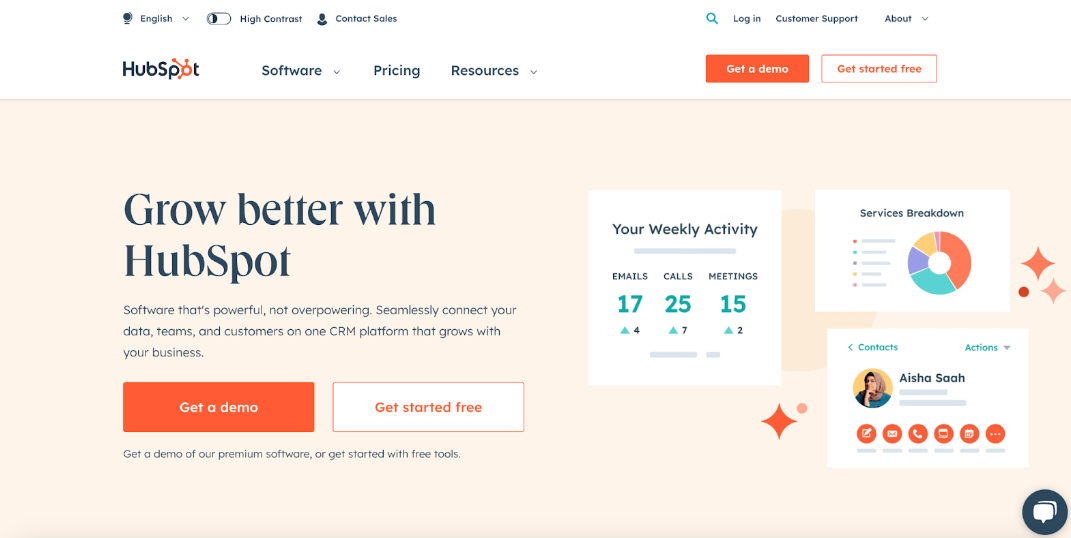 HubSpot, a highly popular ecommerce automation software, provides a comprehensive suite of sales, marketing, and CRM instruments, extensively utilized in the industry. Rivals encompass Marketo, Pardot, and Oracle Marketing Cloud. Despite not being exclusively an eCommerce MAP platform, HubSpot provides robust tools to effectively market your eCommerce store and carry out closed-loop marketing attribution.
Price
HubSpot offers three marketing hub packages, with costs spanning from $45 to $3600 per month.
Best choice for
Tracking advertisements, video material, optimizing for search engines, analyzing blog performance, scheduling on social media, real-time chat, integrating with Yieldify.
Customer Feedback
On G2Crowd, HubSpot holds an average rating of 4.3 out of 5 stars, based on feedback from more than 5,200 customers.
2. Mailchimp
Mailchimp stands as the leading platform for Email Marketing and Automations, catering specifically to expanding businesses. Its influence extends to over 12 million clients globally, aiding them in launching, developing, and expanding their enterprises using cutting-edge marketing technology. It's known for our exceptional customer support, engaging content, and data-backed suggestions.
Through Mailchimp's marketing platform, customers can swiftly establish an online presence for B2B ecommerce sales, foster connections and audience growth, and skillfully devise impactful multichannel marketing campaigns that span email, social media, landing pages, advertisements, websites, and beyond – all effortlessly managed within a single hub.
Price
Mailchimp comes with four pricing options, ranging from $0 to $350. Additionally, there's a chance to explore the platform through a free trial.
Best choice for
Small to medium-sized businesses seeking comprehensive marketing solutions to enhance scalability.
Customer Feedback
G2 rates it 8.7/10 for ease of use.
3. Campaign Monitor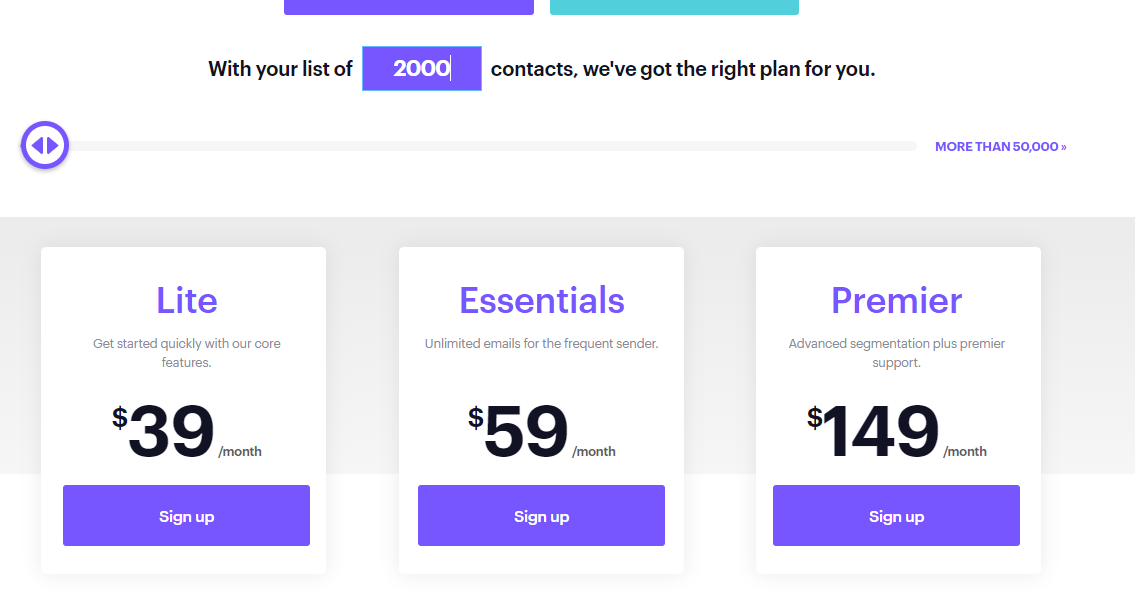 Campaign Monitor offers a user-friendly email ecommerce automation software that empowers marketers to send attractive and personalized emails. This creates a dependable channel for enhancing engagement with subscribers, fostering loyal readership, and driving conversions. With appealing templates, a drag-and-drop builder, and segmentation based on engagement, marketers can effectively deliver focused content to extensive subscriber lists without requiring technical skills.
Price
Campaign Monitor provides 3 pricing options, ranging from $9 to $149.
Best choice for
With its user-friendly drag-and-drop interface and customizable templates, Campaign Monitor is an excellent choice for small businesses and beginner email marketers who have limited experience.
Customer Feedback
G2 rates it 8.6/10 for ease of use.
4. Klaviyo
Klaviyo serves as a comprehensive marketing automation platform designed for eCommerce businesses, aiming to enhance marketing for high-growth online stores and catch up with the trends in B2B ecommerce. This cloud-based solution features a distinct "segmentation engine" that empowers organizations to work closely with customer data, enabling the creation of highly personalized email marketing campaigns on a large scale.
Price
Pricing for Klaviyo depends on your contact database size. For instance, businesses with 1,000-1,500 contacts pay $60 monthly for the email & SMS package.
Best choice for
Ideal for businesses of all sizes, Klaviyo is particularly suitable for expanding email & SMS marketing efforts with a focus on tailored experiences.
Customer Feedback
Klaviyo holds an average score of 4.6 out of 5 stars on G2Crowd, supported by 429 customer reviews. The platform has received high ratings (8.5/10 or higher) for user-friendliness, support, and setup simplicity.
5. Iterable
Iterable serves as a customer communication platform that combines real-time customer data with the capability to swiftly create experiences that engage customers across various channels. It aids brands in providing delightful experiences by delivering synchronized, tailored, and dynamic communications on a large scale.
Leveraging Iterable AI for intelligent personalization, the dynamic content abilities of Catalog, and a top-notch range of cross-channel personalization tools, Iterable enables brands to transform their customers' experiences.
Price
Iterable has not disclosed pricing details for this specific product or service. For up-to-date pricing information, it's recommended to reach out to Iterable directly.
Best choice for
This ecommerce automation software is best for medium-sized businesses seeking a user-friendly email marketing platform with a proactive and responsive customer support team.
Customer Feedback
G2 rates it 8.5/10 for ease of use.
6. Emarsys
Emarsys, now a part of SAP, empowers digital marketing leaders and business owners with an exclusive omnichannel customer engagement platform designed to enhance business outcomes swiftly. By aligning desired results with proven omnichannel strategies gathered from top brands in your industry - the platform accelerates time-to-value - offers exceptional one-on-one experiences, and generates measurable outcomes efficiently.
Emarsys serves over 1,500 customers globally, making it the preferred platform. Join the ranks of numerous leading brands who rely on Emarsys to provide the predictable, profitable outcomes their businesses require and the highly personalized omnichannel experiences their customers deserve.
Price
For detailed pricing information regarding Emarsys' offerings, contact Emarsys' sales team.
Best choice for
Mid-market businesses that are willing to undergo a significant learning curve in order to leverage the platform's comprehensive array of features.
Customer Feedback
G2 rates it 8.3/10 for ease of use.
7. Dotdigital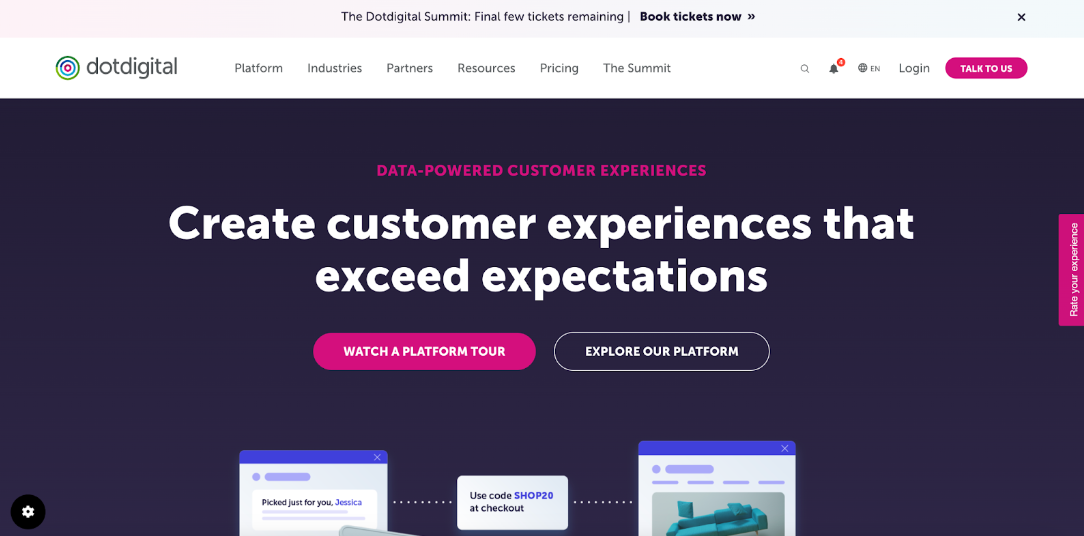 Dotdigital serves as a versatile cross-channel ecommerce automation software, assisting digital marketers and developers in delivering communications throughout the customer journey. By harnessing the potential of customer data, the platform drives engagement, conversion, and loyalty for brands during their growth and expansion. Users appreciate its user-friendly nature, facilitating the connection of first-party data across systems to reveal valuable insights and automate predictive cross-channel messages.
With a workforce of over 400, Dotdigital caters to mid-market and enterprise companies globally, spanning various industries. The company's mission is to encourage responsible marketing while upholding principles of sustainability, privacy, and security. Notably, Dotdigital is proud to hold the distinction of being the world's first carbon-neutral marketing automation platform, along with certifications including ISO 14001, ISO 27701, and ISO 27001.
Price
Contact Dotdigital's sales team for pricing details.
Best choice for
Perfect for email marketing experts seeking a comprehensive package with a robust drag-and-drop builder.
Customer Feedback
G2 rates it 8.6/10 for ease of use.
8. Listrak
Listrak stands as the premier customer engagement platform in the retail sector. With a track record of success for over 1,000 retailers, Listrak offers top-notch email, text message marketing, identity resolution marketing, and push notifications. Its seamless cross-channel orchestration ensures effective communication.
Listrak's approach, centered around data, ensures personalized interactions at scale. This enables you to send messages at precisely the optimal moments, through the right mix of channels and devices, ultimately maximizing customer engagement, revenue generation, and lifetime value.
Price
Contact Listrak to obtain more information on current pricing.
Best choice for
If you're seeking an account manager to maximize your utilization of a marketing automation platform, Listrak is an excellent choice to explore.
Customer Feedback
G2 rates it 8.5/10 for ease of use.
9. ActiveCampaign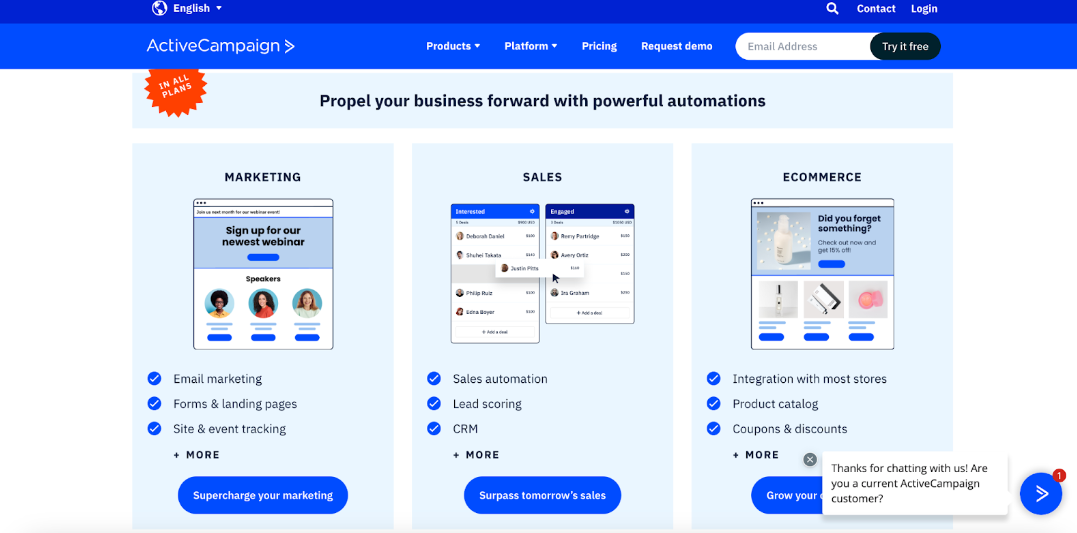 ActiveCampaign for Marketing seamlessly integrates all your tools and channels, allowing you to engage customers throughout their entire lifecycle. By utilizing data from email marketing, social media, digital advertising, and your website, you can create personalized interactions with your contacts. This ensures that your marketing is impactful, captivating, and leaves a lasting impression, all without consuming excessive time.
It employs automation to support you, enabling you to concentrate on the unique touches that differentiate your business and ensuring that you don't overlook any customer interactions.
Price
ActiveCampaign for Marketing offers five pricing options, beginning at $49 per month.
Best choice for
Ideal for small businesses in search of a potent yet cost-effective entry-level marketing automation solution.
Customer Feedback
ActiveCampaign has achieved an average rating of 4.6 out of 5 stars, as evaluated by more than 1,900 customer reviews on G2Crowd. Notably, it has received ratings of 8.5/10 or higher for user-friendliness, support quality, and ease of setup.
10. Act-On
Act-On, the global leader in growth marketing automation, is created by marketers, for marketers. This ecommerce automation software is tailored to provide versatile, scalable, and progressive marketing automation solutions for teams of all sizes, industries, and growth goals. What's more, Act-On is straightforward to set up, highly adaptable to your requirements, and backed by the industry's finest customer service team.
Featuring interactive and dynamic reporting and analytics, the Act-On Platform is crafted to evaluate, present, and enhance performance. Its aim is to provide growth marketing value for businesses and marketers regardless of their size, shape, location, or scale.
Price
Ranging from $900 per month.
Best choice for
Large corporations seeking a personalized solution that integrates B2B ecommerce sales, marketing automation, and a range of additional functionalities.
Customer Feedback
G2 rates it 8/10 for ease of use.
11. Sender
Sender is designed specifically for ecommerce businesses and bloggers, offering a variety of additional functionalities. However, it's also well-suited for all types of enterprises, ranging from solo entrepreneurs to medium and large corporations.
For ecommerce, Sender provides seamless integrations with platform-specific tools, allowing easy product inclusion in newsletters via URL copy-pasting. It extracts product images, descriptions, and prices automatically.
Bloggers and information marketers can leverage Sender's extensive automation capabilities. They can also effortlessly share newsletters with their social media followers and track engagement outcomes.
Moreover, Sender goes beyond with desktop push notifications, transactional and automated email sequences, API integrations, and a user-friendly drag-and-drop subscription form builder. All of these features are accessible across all Sender plans, including a generous FREE-FOREVER plan that enables sending up to 15,000 emails to 2,500 subscribers every month.
Best choice for
Sender offers a user-friendly and cost-effective email marketing solution tailored for small businesses.
Customer Feedback
G2 rates it 8.6/10 for ease of use.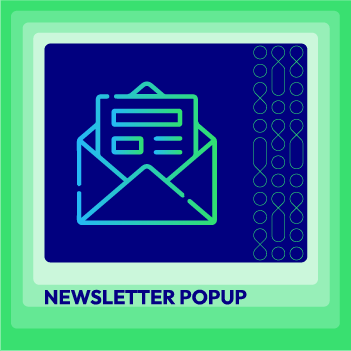 Newsletter Popup for Magento 2
Provide your customers with the latest updates and exciting deals
Check it out!
12. Keap
Keap serves as a comprehensive CRM and sales & marketing ecommerce automation software tailored to enhance business growth. Through Keap, you can effortlessly capture, organize, monitor, and nurture your leads to boost sales and revenue. Keap also provides expert coaching, thorough training, exceptional support, and a supportive community of entrepreneurs to ensure your success.
Price
Pricing begins at $129 per month.
Best choice for
Designed to empower small businesses, Keap offers one-on-one onboarding, 24/7 chat support, and on-demand training courses to facilitate their success.
Customer Feedback
G2 rates it 7.2/8 for ease of use.
13. Hunch
Hunch, a Meta Business Partner, specializes in creating and delivering hyper-localized and contextually relevant creative content. Collaborating with top-tier global brand and performance marketing teams, Hunch enhances operational efficiency, revenue generation, and speed-to-market.
As a leading platform, Hunch offers scalable hyper-local, contextually driven advertising on Paid Social channels. With visually appealing and on-brand ads that deliver results, Hunch serves as a valuable resource for mid-market advertisers within retail, food & grocery delivery, and eCommerce sectors. Its expertise lies in aiding businesses with hyper-localization, contextual advertising, and enriching Dynamic Ads.
Price
Hunch's pricing is adaptable and changes based on a range of performance metrics.
Best choice for
Ideal for ecommerce retailers and agencies aiming to elevate their paid social marketing efforts to new heights.
Customer Feedback
G2 rates it 8.6/10 for ease of use.
14. Omnisend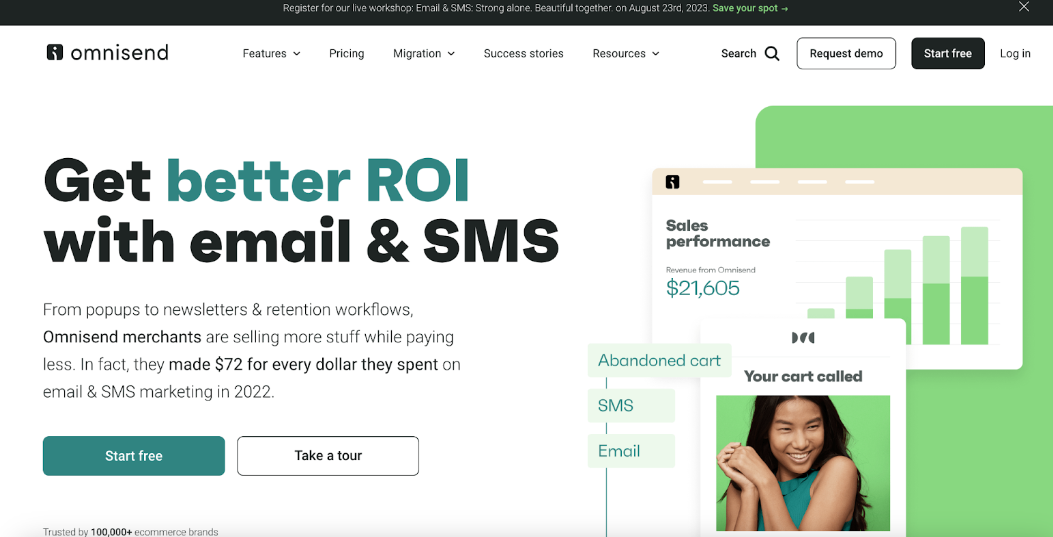 Omnisend offers a comprehensive marketing automation platform tailored for eCommerce businesses. It's crafted for "high-growth" brands seeking advanced capabilities beyond standard email sending platforms.
Omnisend serves as a user-friendly hub that empowers eCommerce brands to craft multi-channel customer campaigns, spanning email, social media, and mobile channels.
Price
Omnisend has 3 pricing editions, ranging from $0 to $59.
Best choice for
Perfect for marketing professionals who have moved beyond basic email marketing and are ready to explore omnichannel automation, all while maintaining a user-friendly experience.
Customer Feedback
G2 rates it 9.2/10 for ease of use.
15. Drip
Drip serves as an ecommerce automation software dedicated to aiding expanding ecommerce brands in enhancing repeat purchases and fostering brand loyalty.
Drip empowers over 30,000 ecommerce marketers with potent tools for comprehending and effectively marketing to their customer base. The platform facilitates the transformation of customer data into dynamic segments within Drip, allowing you to engage customers through both one-time and automated marketing campaigns.
Leverage Drip's array of automations, emails, and on-site messages to encourage customers to make repeat purchases. Enjoy cost savings by accessing beautifully designed emails and advanced pop-ups within a single platform.
Price
Hunch offers adaptable pricing that adjusts according to a range of performance metrics.
Best choice for
Hunch caters to ecommerce retailers and agencies aiming to elevate their paid social marketing to a higher level of effectiveness.
Customer Feedback
G2 rates it 8.6/10 for ease of use.
How to choose the best marketing automation platforms?
To select the right marketing automation software for your needs, consider the following key points:
Budget and Business Needs
Determine your budget and the requirements of your business. Smaller businesses and B2C organizations focusing on email may benefit from a more specialized automation product. Enterprises and B2B companies might require a platform with broader capabilities, even if it comes at a higher cost.
Ease of Use
Choose software with an intuitive interface that aligns with your workflow. The software should support you in implementing automation effectively. Look for providers with user-friendly interfaces and comprehensive support options, such as knowledge bases and tutorials.
Analytics and Reporting
Ensure the software provides robust analytics and reporting features. This is crucial for measuring the success of your campaigns. For B2B and enterprise setups, advanced reporting options like personalized dashboards and automated email reports might be essential.
Integration Compatibility
Evaluate how well the automation software integrates with your existing software stack. Integrations enhance data management and utility of your tools, making sure they work seamlessly together.
Potential Limitations
Be aware of any limitations imposed by the automation software, such as monthly action quotas or database size restrictions. Understand your contact list size, email frequency, and desired outcomes to avoid underestimating costs.
Request a Demo
Before finalizing your decision, reach out to providers for demos or trial offers. Testing the software firstly allows you to identify which features best meet your specific needs.
Ultimately, the choice of marketing automation software should align with your budget, business requirements, and the scale of your operations. Whether you're a small business focused on email campaigns or an enterprise requiring advanced capabilities, careful consideration of these factors will lead you to the optimal solution.
What automated marketing platform should you use?
Naturally, selecting the right platform should match your budget, goals, and desired product specifications. If you're a small business aiming to expand your email and SMS marketing, there are several solid options available, such as Klaviyo, Drip, and Sender.
For enterprise businesses with substantial budgets seeking a highly advanced tool, Act-On could be an excellent fit. Regardless of your specific business requirements, I trust this blog assists in narrowing down your search for an ecommerce automation software.

Marketing Manager of Mageplaza. Summer is attracted by new things. She loves writing, travelling and photography. Perceives herself as a part-time gymmer and a full-time dream chaser.
Website Support
& Maintenance Services
Make sure your store is not only in good shape but also thriving with a professional team yet at an affordable price.
Get Started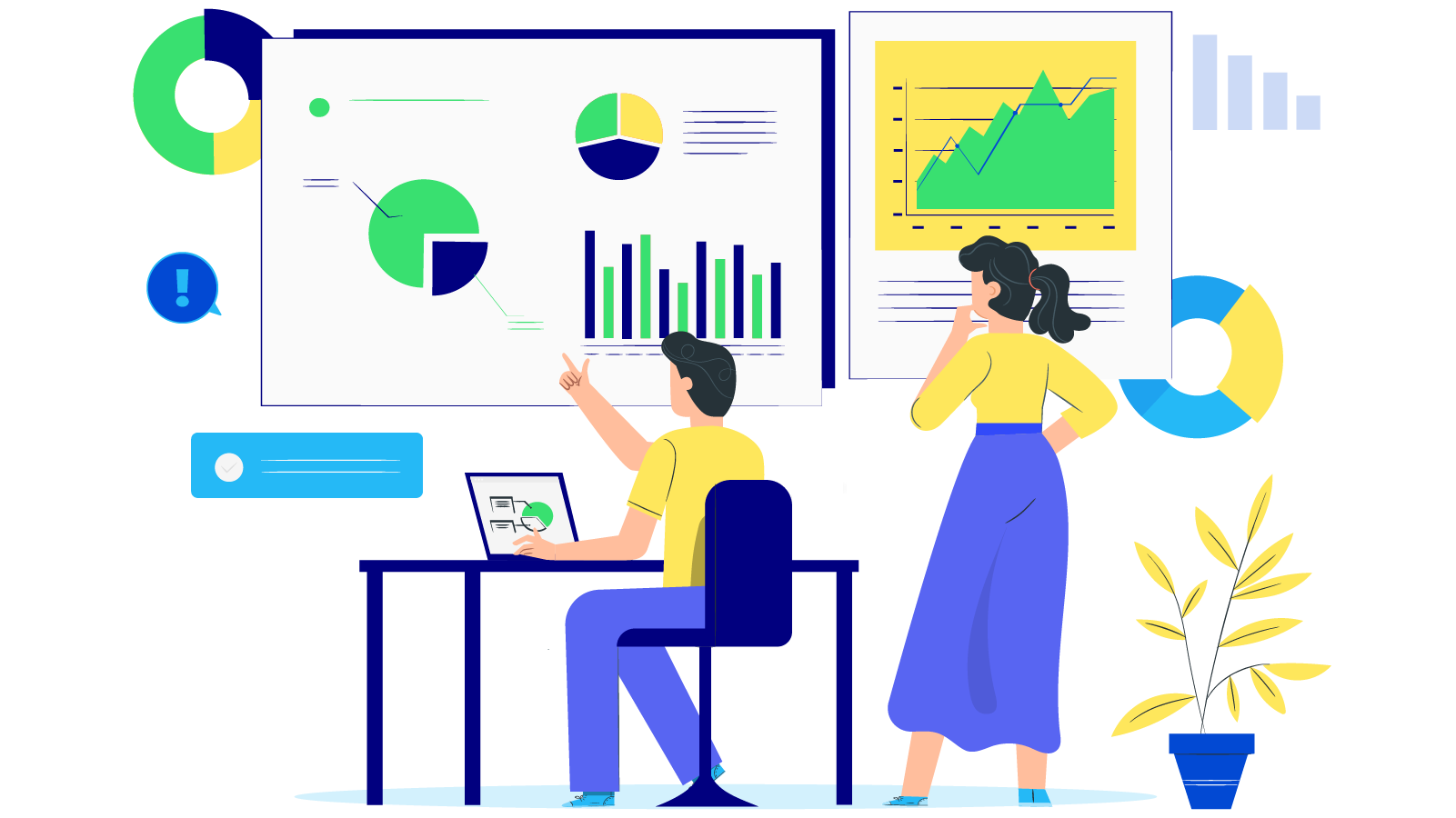 New Posts



Subscribe
Stay in the know
Get special offers on the latest news from Mageplaza.
Earn $10 in reward now!