Mageplaza Free Shipping Bar - 5 Case Studies on Actual Magento 2 Stores
Mageplaza Free Shipping Bar - 5 Case Studies on Actual Magento 2 Stores
Covid-19 has been affecting our lives in various areas, including how we shop. Online shopping is no longer an option, but sometimes is compulsory. Hence, the competition among online merchants has become harsher than ever, and free shipping offer is considered as a critical strategy to keep customers happy.
Mageplaza Free Shipping Bar extension allows online businesses to enhance the effectiveness of the free delivery tactic, by showing it on a bar and motivating customers to spend more thanks to the automatic message display feature. Understanding customers' behaviours is the key to generate suitable shipping fee strategies, which can be shown in the following case studies.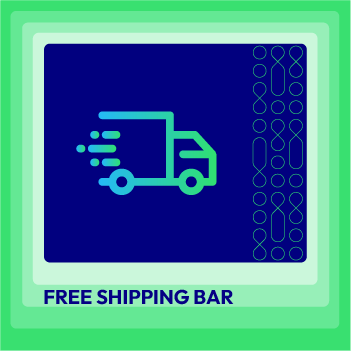 Free Shipping Bar for Magento 2
Expand shopping cart size by offering free delivery for buyers who hit the cart threshold.
Check it out!
Table of Contents
What do customers do to get free shipping?
Customers are willing to go out of their ways to achieve free delivery. According to a UPS study, in case buyers are not qualified for zero shipping fee yet, they may take actions as follows:
Add more items
Choose the slowest shipping method
Search promo code for free shipping
Pick up at store
Join loyalty program to get free shipping benefits
Delay that purchase to wait for free shipping offer in the future
Shop offline
Purchase a more expensive item than the free shipping threshold
Besides buying more or seeking benefits from the loyalty program or promotional codes, you can see that customers may abandon the cart or delay the purchase to wait for the free shipping offer. In other cases, they would rather shop offline or pick up at a store not to pay this fee. These cases cannot guarantee that they will eventually purchase or come back to your store again. So, it is necessary for online merchants like you to consider all these facts and build a suitable free delivery policy for your store.
Read more about Free shipping - the best incentive for online stores
The applications of Free Shipping Bar on actual Magento 2 stores
Case study 1: Jim Thompson shows free delivery information together with sales promotion
Jim Thompson is a famous Thai silk brand, founded by the talented businessman, architect, and art collector Jim Thompson in 1950. After settling in Bangkok, he found interest in hand-woven Thai silk and decided to create silk products to sustain the tradition as well as the local weavers and farmers' dignity. The brand soon becomes an icon in Thailand and helps create such a luxury craft industry. Not to mention fabrics, now it even sells luxury home decor items, and opens a Thai restaurant.
Because the brand sells its products globally, it also takes notice of this factor in their free delivery messages. It uses the free shipping bar on top of the homepage to give information about the threshold: 'THB1000 within Thailand', and 'USD200 for international' shipping. Right after that is a message about the current sales promotion. These messages well support each other in grasping shoppers' attention more effectively.
Case study 2: Eco Cannabis and the delivery fee included in products' prices strategies
Eco Cannabis is a hemp seller run by farmers in Croatia and the EU. Its products are grown in fields located in Slavonia. The brand focuses on bringing the best items according to their customers' needs, to create a lifestyle.
The brand uses Mageplaza Free Shipping Bar module to inform its shipping policy right at the homepage. According to their message on the bar, Eco Cannabis includes shipping fee in all of their products' prices, which means that all items can be shipped free of charge. This is a smart move to compete with other e-commerce businesses, as when customers are assured that every order is under no-charged delivery, they tend to purchase instantly.
Find out more about free shipping applications
Case study 3: Belazu - Free Shipping Bar notice and the below-goal messages
In 1991, Adam and George founded The Fresh Olive Company after visiting George's mom in Provence and buying 10 buckets of high quality olive oils, and in 2000, the B2C brand, Belazu, was created. The first oils and vinegars are sold in Sainsbury's and Waitrose. Until now, it has more than 300 product lines, ranging from oils, vinegars, pastes, sauces, to condiments, snacks, pastas, and more.
Like many other online merchants, Belazu does not offer free shipping for all products, but uses a threshold to encourage more spending. On the homepage, the initial message is well written on the bar: 'Free Shipping for orders over GBP40'. One more thing is under the basket on the right top corner, you can take notice of that message once again. It makes sure that shoppers are well aware of the information.
After customers add items to their cart, the remaining amount on the bar will automatically be calculated and displayed. For instance, you can take a look at the following example: after customers add a GBP3.3 item to their cart, the below-goal message is shown on the bar as 'Only GBP 36.70 away to get free shipping'. This is an effective approach, as you also inform customers how much more they have to spend to be qualified for the offer.
Case study 4: How Tecentralen places Free Shipping Bar throughout their pages
Tecentralen is known as the oldest online tea store in Sweden since 2003. It also has an offline store to showcase and sell their products on Östersund road. The business reduces environmental impact by offering excellent organic teas in almost all categories. Not only is the brand an expert in teas, it also offers a wide range of accessories, naming jugs, strainers, cups and more.
On the top of the home page, the initial message clearly states delivery information that customers are usually curious about, which are when the order will be sent (the next working day), and the shipping fees (SEK 39). After that, it provides zero shipping fee threshold information, which is when the order's total value reaches SEK 500. This approach attracts shoppers greatly because that is the information that they are looking for, so later, the business can easily motivate them to buy more to reach the free shipping threshold.
This message is still shown at the product page, making the message consistent and reminding customers throughout their journey.
Case study 5: The Stamps of Life and the achieve-goal message when qualifying for delivery free of charge
The Stamps of Life was founded by Stephanie who has an ultimate hobby in stamps and paper. Until now, the business has been creating numerous stamps, paper and card stocks, together with accessories such as ink pads, dies, and card sets. Besides, it also offers online classes that teach and share new techniques.
Due to the free shipping threshold policy, The Stamps of Life first displays the initial message stating that when the order reaches $100, customers are qualified for delivery free of charge in the United States.
Once the order's value is more than $100, the achieve-goal message is shown to congratulate shoppers:
Takeaways
Free delivery statistics you should know
Benefits of free shipping to online businesses
Increase conversion rates: Customers will make faster purchase decisions when motivated by the free shipping offer
Expand customer cart size: Shoppers will add more items or select more expensive choices
Gain customer loyalty: Your store will be preferred when compared to other businesses that do not offer shipping free of charge
Control the shipping costs: Limit the free shipping regions or the minimum order value for the zero shipping fee to be applied
May reduce the number of orders need processing: Customers tend to place orders with multiple items to qualify for free shipping
Extend the shipping time: Sometimes the free delivery offer may go along with the longer wait, giving merchants more time to process orders
Read more on benefits of free shipping
Highlight features of Free Shipping Bar by Mageplaza
Display free shipping policy
Show messages automatically based on carts' current value: initial message, below-goal message, achieve-goal message
Provide ready-made templates
Allow flexible bar design and customization
Set time frame to display the bar
Place the bar anywhere on site
Enable preview when configuring
Insert links on the bar
Support Google fonts
Tips to enhance your zero-fee delivery policy
Make your shipping policy noticeable: Mageplaza Free Shipping Bar can display your free shipping messages attractively everywhere as you wish.
Apply free delivery threshold: if you want to expand customer shopping cart, as well as process fewer orders, free delivery threshold is your solution.
Give promo codes: On special occasions, you can give customers free delivery promo codes to motivate their spending.
Create promotional campaigns: When you want to promote specific products, you can allow free shipping for those items.
Allow zero shipping fee for specific product types: Expensive and fragile products may require higher shipping fees, so it will be unprofitable to enable shipping free of charge for these items. Therefore, you should consider enabling only certain product types to be delivered free to maximize your profits.
The bottom line
Of course shipping fees may differ depending on which products you are selling and where you ship them to, but free shipping is still a strategy worth considering, especially in today's competitive online shopping context. The above case studies hopefully give you some ideas on how to apply the Mageplaza Free Shipping Bar extension to your Magento 2 store. Do not hesitate to share with us your concerns or outcomes. We'd love to hear from you!
---
---
Harper is a content creator by day, and a coffee lover by night. She loves exploring the world of content and uses her interesting findings, experiences and passions to give readers what they are looking for. Her ultimate hobby is travelling, which helps her learn and grow.
Subscribe
Stay in the know
Get special offers on the latest news from Mageplaza.
Earn $10 in reward now!