Top 16+ Best Magento Agency in 2023 & How to Choose The Right One
The Most Popular Extension Builder for

Magento 2
With a big catalog of 224+ extensions for your online store
Do you want to create a high-quality online store for your customers to experience? However, you are still dizzying scrolling through a list of agents and do not know who to choose?
Confuse no more!
Just continue to read this article as I will introduce a reliable agency which is suitable for your business whether you are a major or small merchant of B2B and B2C industries.
As we have already known, Magento partner was divided into three categories which are Solution partners, Technology partners, Community insiders. The agents you want to find is the Magento solution partners.
What you need to do is only describing desired features of the Magento website, we will help you to build the store that ticks all the boxes!
Get Started
Table of Contents
What Is A Magento Agency?
A Magento agency is a specialized company providing services related to the Adobe Commerce (Magento) platform. Magento agencies offer various services, such as website development and design, customization, third-party integration, ongoing support and maintenance, etc.
A trustworthy Magento agency typically consists of at least one team of developers and other Ecommerce professionals who are highly experienced. Besides, they have a significant number of clients who have used their services. They can work with businesses of all sizes, from startups to large enterprises, and provide custom solutions to meet each client's unique requirements.
Choosing a well-known and reputable Magento agency is essential to the success of your business. With the help of a skilled Magento agency, you can optimize your website performance, improve its security, enhance user experience, and rocket sales eventually.
Recommend: Find all Magento Development Agency - Solution Partners
Top 16+ Magento Agencies Around The World
As you already know or do not know, Magento partner was divided into three categories which are Solution partners, Technology partners, Community insiders. The network of Magento partner will be a great way to assist you to transform your business with projects such as site design, implementation, support, and merchandise.
However, there are other aspects that lead to the success of this platform is its expert partners.
It is not only just a platform, but they also want to become an ecosystem so support merchants to develop businesses and grow sales by pushing your store to the market faster as well as creating the best customer experience. To do so, the team has created programs and trained solution partner trained high-quality partners with Magento Solution partner program.
Magento Global Platinum Solution Partner
Mageplaza
Mageplaza is a leading Magento agency with over 8 years of experience in the industry. Mageplaza has become a trustful problem solver for many Magento businesses worldwide because of its top-notch Magento experts, customer-center service and innovations in every process. The company provides a wide range of solutions for B2B businesses of all sizes to support them in improving user experience, site optimization, shipping & fulfillment, payments & security, sales, marketing, and reporting & analytics.
Not only is Mageplaza a feature-rich extension provider, but the business also provides services for Magento 2 merchants as follows:
Our developers strictly follows Magento coding standards, and all processes are made secure to your store to enable no data loss and quick turnaround time.
To start using Mageplaza service, contact us and we will consult you the most suitable plan and pricing package.
Magento 2 Services
by Mageplaza
Explore a wide range of Magento 2 services that are tailored to your business needs!
Get Started
EPAM
EPAM Systems is a globally recognized leader in providing end-to-end software engineering and digital transformation solutions. With a strong commitment to innovation, EPAM empowers businesses to navigate the complex landscape of the digital age. Leveraging its expertise in cutting-edge technologies, design thinking, and strategic consulting, EPAM assists organizations across industries in accelerating their digital initiatives and achieving tangible results.
Addresses: 41 University Drive, Suite 202, Newtown, PA 18940 United States
Contact: +1 267 759 9000
Email: [email protected]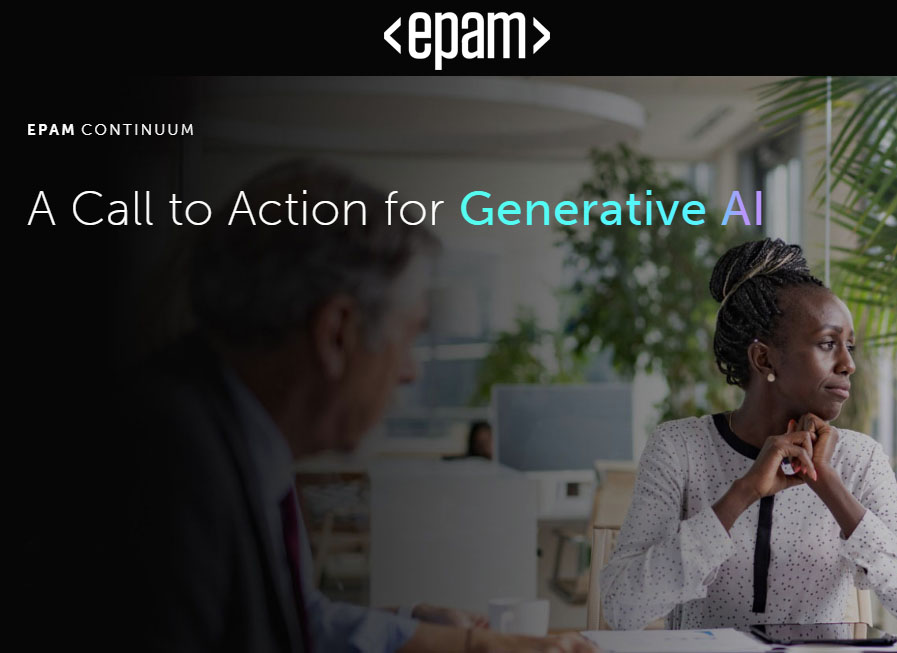 EPAM Systems offers a wide range of services that span various domains and industries, catering to the diverse needs of modern businesses, including:
Software Development and Engineering
Digital Transformation
Experience Design
Consulting and Strategy
Product Engineering
Product Engineering
Digital Marketing and Analytics
Cloud Solutions
Ecommerce Solutions
EPAM's comprehensive suite of services enables clients to deliver exceptional customer experiences, optimize operations, and drive business growth. With a global presence and a track record of successful collaborations, EPAM Systems is a trusted partner for organizations seeking to thrive in the digital era.
Born
Born is also one of the largest independent agencies in the customer and brand experience with 8 different offices located in 8 different countries. They are an award-winning global agency that focuses on Enterprise Commerce and Experience Design. Within 20 years of concentrating on creativity, content, and e-commerce, they have created more than 500 digital transformations for both B2B and B2C businesses.
Addresses: 114 West 26th Street Floor 2 New York, United States
Contact: +1 347 630 0284
Email: [email protected]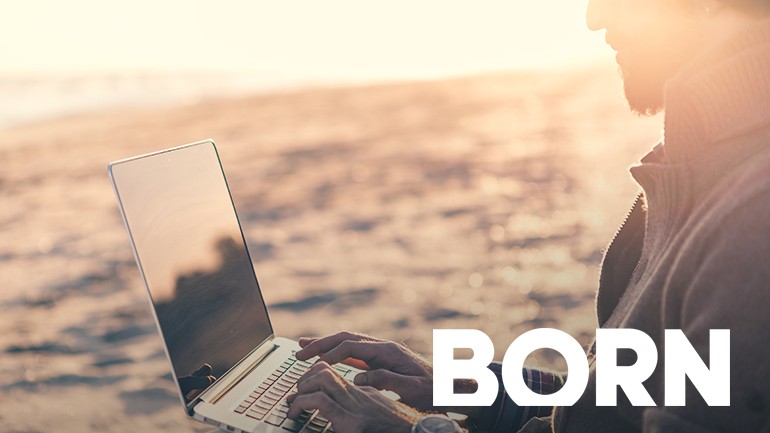 The company had excellently possed 83 certified Magento 2 employees and 15 certified solution specialists. Born can execute many solutions including consulting, creative, commerce, cloud computing, and channels. The company works on Magento's latest version which is Magento 2.
Born is a great agency in marketing service when you want to have top-notch experience for customers including content and up-to-date solutions for e-commerce.
Gorilla
Gorilla is created to help brands and businesses navigate their position in the digital economy. The company's size is 400 employees located mostly in North America and Europe. The firm will try to learn more about your business and find opportunities to develop your business with services. The firm specializes in Order Management. They are located in 4 countries which are the US, Ukraine, Poland, and Canada.
Address: 466 Lexington Ave, New York, United States
Contact detail: +1 888 601 2091
Email: [email protected]
Gorilla firm possesses 83 Magento 2 certified developers, 1 certified professional cloud developer, and 16 certified solution specialists. The service provided by the firm is designing experiences, managing services, forming plans, optimizing services, and managing hosting. The firm's support can work well on the platform of Magento 1 and Magento 2.
Gorilla is suitable for intermediate and large enterprises who want to create focused on customers from any industry. The team will help you create and maintain the best customer experience incorporating the ability to manage services with high-tech to create digital transformation and customer lifetime value.
Corra
As one of the pioneers in the development and provision of services that support headless sites, Corra has extensive experience in the commercial non-UI and PWA sectors.
This agency offers a wide range of enterprise commerce solutions to clients ranging from individual sellers to large global enterprises. Its solutions include software development, Headless and PWA enhancements, enterprise strategy consulting, technical support, security and compliance monitoring, and many more services tailored to the needs of vendors.
Address: 340 Madison Avenue, 3rd Floor, Suite A, New York, United States
Contact detail: +1 212 268 4500
Email: [email protected]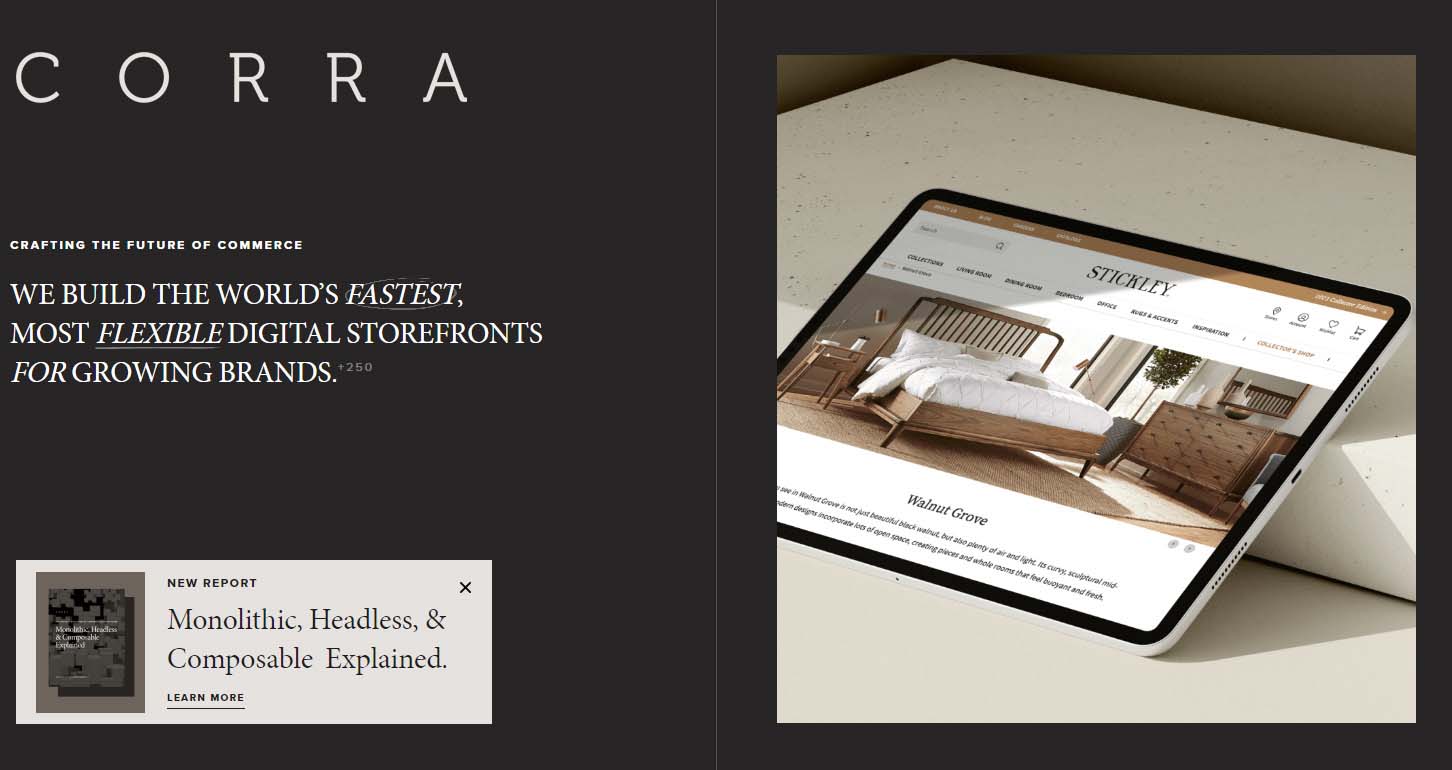 Perficient digital
Perficient digital aims to support your store to multiple channels and optimize the seamless experience in your business system. Based on wonderful experience and execution. Other than building sites, the team also measure and find the best way to optimize your business. The team has expanded to more than 7 countries and had consulted for many major brands such as Curt, Brady, Ford, etc
Address: Milwaukee: 311 E Chicago St, Suite 520 Milwaukee, Wisconsin, US
Contacts: (312) 244 2200
Email: [email protected]
The experienced firm gains 40 staff who had passed more than 4 or more Magento certification exams. Also, they gain many more certificates with high-quality developers and specialists for Magento 1 and Magento 2.
The team concentrates on providing services for B2B partners with services like Order Management, Mobile experience, Brand experience, Digital Strategy, and Digital Marketing.
In general, the company is suitable for B2B businesses who want to optimize the seamless experience and encompass multiple channels and that the team can
Balance
Founded in 2008, Balance is a longtime Magento partner with a mission to provide high-performance digital solutions to B2C, B2B, and D2C customers. The Balance team is comprised of Adobe-accredited Ecommerce experts, with years of experience developing and contributing technologies to Magento through its global developer community.
Address: Freshwater Place, Southbank, Melbourne, Victoria, Australia
Contacts: +61 394 151 463
Email: [email protected]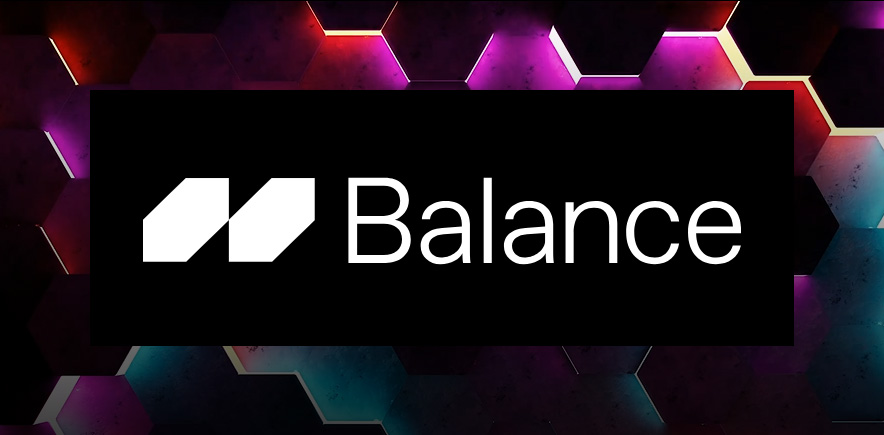 Balance comprehends the intricate tapestry of successful eCommerce ventures, recognizing that a mere online presence is insufficient. With a seasoned team of Magento connoisseurs, the agency delves into the platform's depths, tailoring solutions that coalesce with individual business objectives.
The agency's comprehensive suite of services encompasses design, development, optimization, and continuous support, ensuring the seamless launch and perpetual evolution of your Magento-powered emporium.
Ecx.io
As a distinguished entity within the esteemed IBM iX network, Ecx.io boasts a storied legacy spanning two decades in the domains of digital marketing and Ecommerce.
Operating across a network of five countries, including the UK, Germany, Croatia, Austria, and India, with a formidable team of over 440 adept professionals, Ecx.io stands as a powerhouse of digital transformation. Aligning with their overarching mission of crafting a superior digital landscape, their Magento services epitomize innovation and excellence.
Address: Plange Mühle 1, Dusseldorf, Nrth Rhine Westfalia, Germany
Contacts: +43 664 132 7212
Email: [email protected]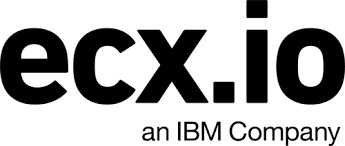 Within Ecx.io's holistic portfolio, their Magento service stands as a testament to their multifaceted capabilities. With a rich history dating back to 1997, their proficiency in Adobe Solutions showcases a remarkable track record. Armed with a team of over 100 Adobe specialists, Ecx.io has scripted numerous triumphs, underscoring their deep-rooted expertise.
As a valued member of the Adobe Partner Advisory board, their innovative solutions and client successes resonate as a testament to their enduring commitment to pushing the boundaries of digital excellence. Whether it's strategy, design, technical implementation, or ongoing support, Ecx.io's Magento service seamlessly integrates into its comprehensive suite of offerings, setting the stage for unparalleled Ecommerce experiences.
Magento Global Gold Solution Partners
Vaimo
Vaimo is a Sweden enterprise which was founded in 2008. Until now they have achieved great success by becoming one of the top Magento experts. To become successful, they focused 100% of their workforce which consists of a crowded team of more than 450 specialists scatter across 15 countries.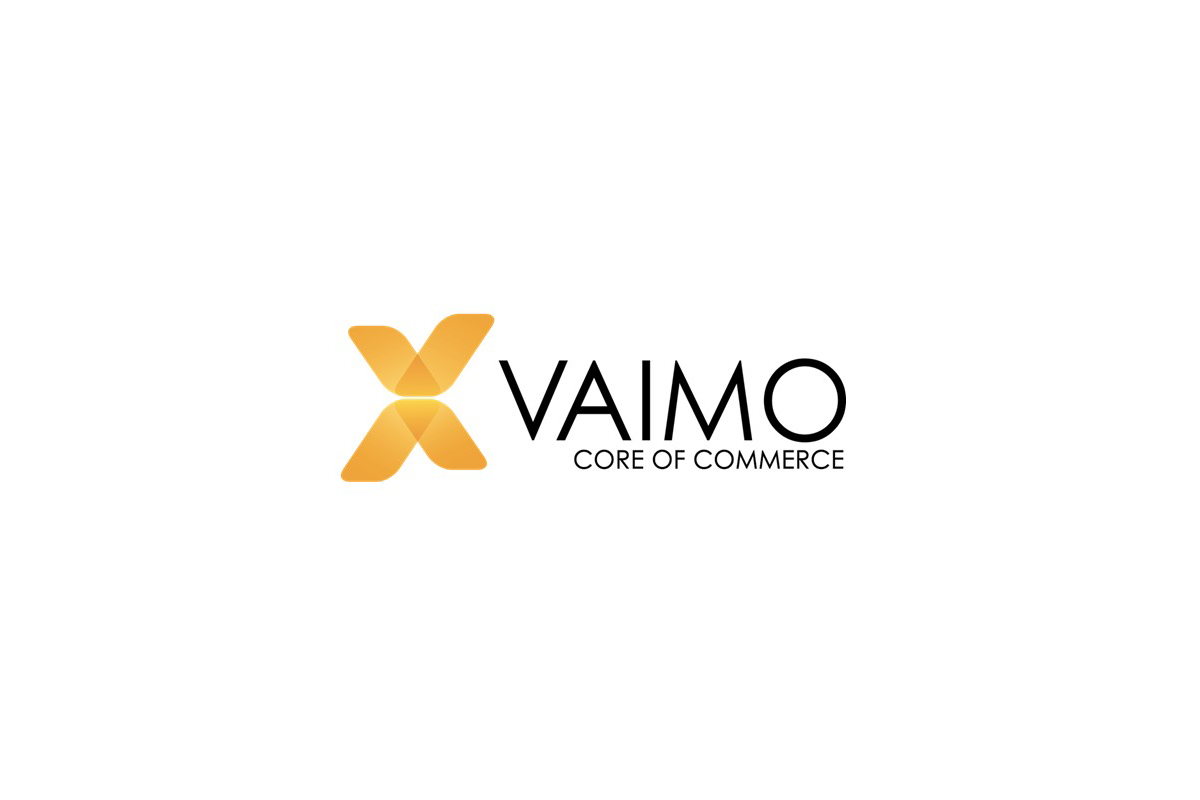 For more than ten years, the company proudly supported more than 400 B2B and B2B brands and merchants to find the best solution for their online e-commerce.
Their offices are located in Sweden, the UK, Denmark, Finland, Norway, South Africa, Estonia, Dubai, Japan, Belgium, the Netherlands, and the USA. The company is a global elite partner with 91 Magento 2 certified professional developers, 46 solution specialists for Magento 1, and 15 specialists for Magento 2. The company specifically provides a full-service omnichannel agency, a full spectrum of services, and strategy consulting and especially supports your omnichannel for work better.
Brainvire
With 88 Adobe-certified employees and 120 Adobe developer certifications, Brainvire provides innovative solutions that help merchants transform the customer experience throughout their journey with brands. Brainvire has over 1800 employees spread across regions such as the United States, Canada, UAE, Saudi Arabia, and Singapore.
Addresses: 6600 Chase Oaks Boulevard, Suite 150, Plano, Texas, 75023 United States
Contact: +1 631 897 7276
Email: [email protected]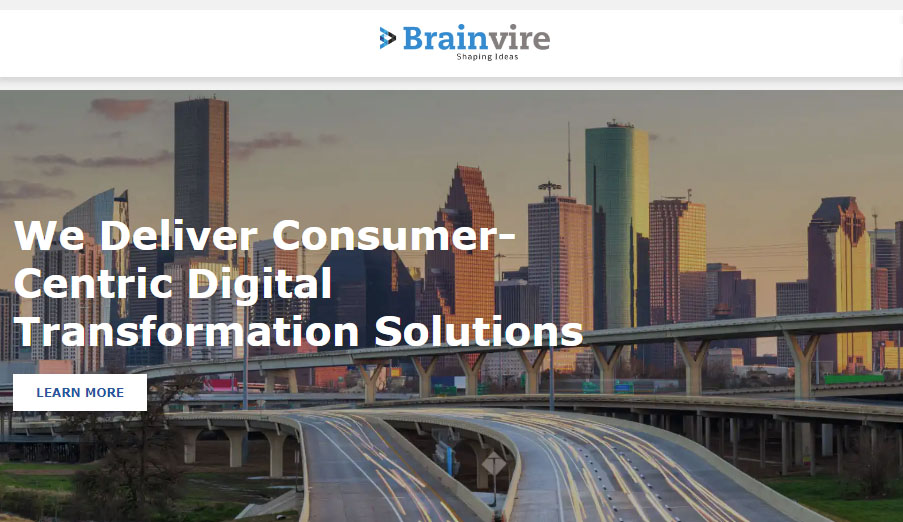 Brainvire creates innovative solutions for online retailers, provides world-class experiences for leading consumer brands, and streamlines the financial processes of big e-commerce corporations.
Brainvire's services are diverse including Digital Strategy, Customer Experience, E-Commerce Technology, Commercial Operations, B2B and B2C Commerce, Omnichannel, Marketplace, Mobile Commerce Dynamic, Headless Commerce, and Progressive Web Apps. Furthermore, they have deep expertise in products such as Adobe Commerce, Adobe Experience Manager, Adobe Target, and Adobe Analytics.
Atwix
Atwix was founded in 2006 and became a Magento partner in 2011. They are praised as Magento's number 1 contributor in 2018 with 364 code contributions to the platform within that year. They are recognized as a full-service agency. The company had worked on many projects for more than a decade and they confidently support you in the long term not only with building sites but also improving and supporting continuously.
Address: Spitalska 53, Bratislava, Slovakia
Contact: (646) 926 6955
Email: [email protected]

They deserved the title of Magento Professional solution partner, a Contributor partner, has 25 certified staffs that exceed Magento 2 certification exams. Services provided by Atwix are website design, website development, performance development, Magento Maintenance, and ERP integrations
In general, the firm is famous for providing services including web development, and mobile optimization. If you are interested in CRM, SEO, and mobile apps you can totally create a project with them.
Krish TechnoLabs
Krish TechnoLabs' exceptional Magento service is an integral facet of their esteemed full-service digital commerce agency. With a legacy dating back to 2003, Krish TechnoLabs has carved a prominent niche for itself in the digital landscape, specializing in propelling brands to new heights of innovation and prosperity within the realm of digital commerce.
Address: 340 S Lemon AVE, Walnut, United States
Contact: +1 913 206 0077
Email: [email protected]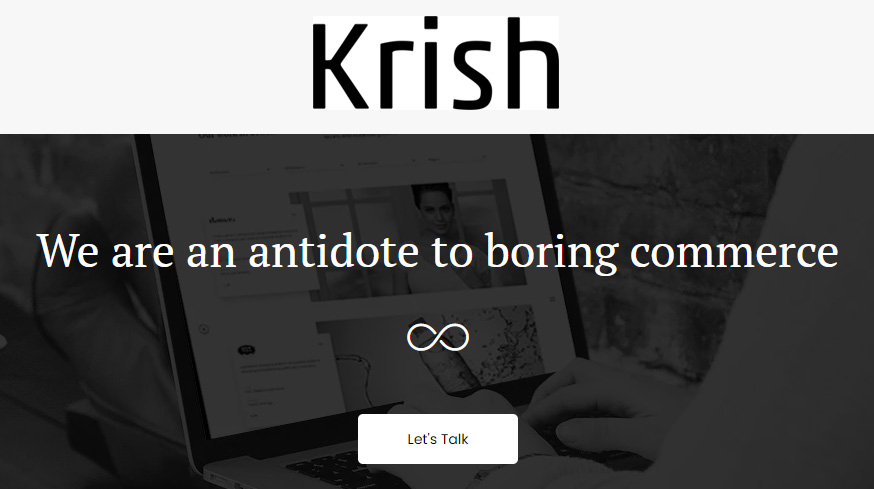 Konrad
Konrad Solutions' exceptional Magento service is an integral part of its comprehensive digital transformation offerings. As a distinguished digital consultancy and innovation firm, Konrad empowers prominent expertise spanning digital strategy, experience design, development, implementation, and data science, Konrad is primed to shape the future of digital experiences. They have delivered unparalleled digital solutions that are utilized by millions worldwide.
Address: Crosby Street, New York, New York, United States
Contact: +1 212 624 2679
Email: [email protected]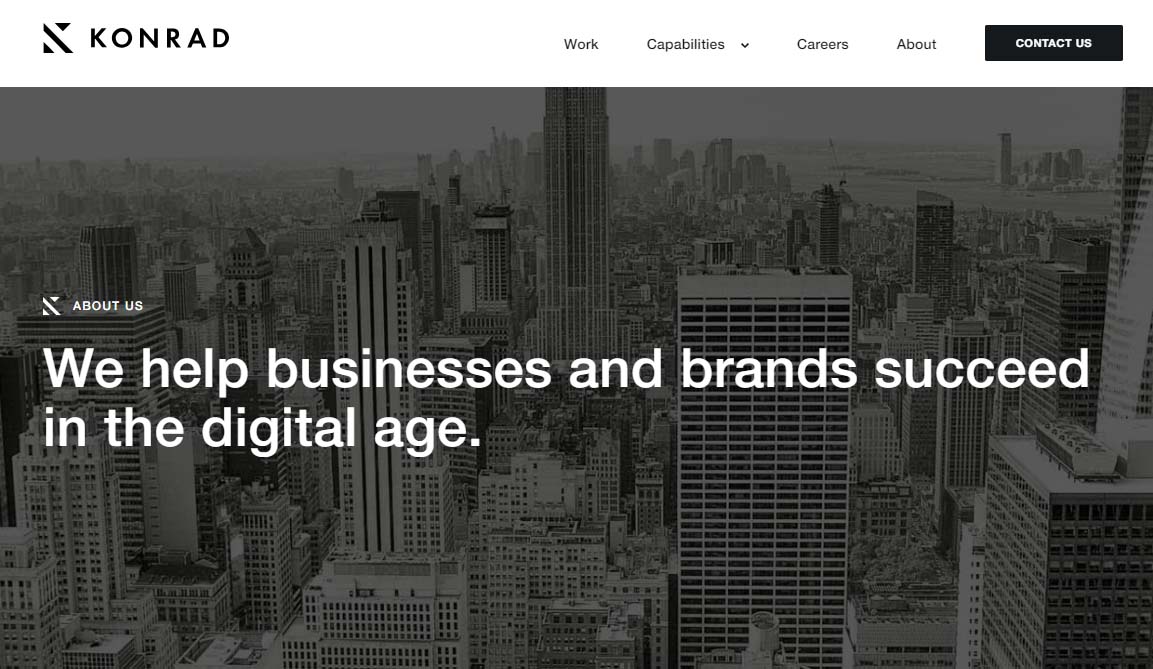 Within the framework of their esteemed consultancy, Konrad extends its capabilities to offer Magento services that cater to the unique eCommerce needs of ambitious businesses and brands.
With an established reputation in the digital landscape and a team of over 500 accomplished professionals across multiple global offices, Konrad excels at crafting top-tier digital experiences. Their holistic approach to digital transformation, bolstered by Magento's capabilities, positions them as an ideal partner to drive success for brands seeking excellence in the digital age.
Williams Commerce
As a full-service digital agency, Williams Commerce is at the forefront of Digital Transformation, Ecommerce Development, Digital Marketing, Systems Integration, multi-channel Growth Consultancy, and Ecommerce Support.
Boasting a team of 100+ skilled digital experts across the UK, APAC, and the USA, they have an impressive 10-year track record crafting high-performance websites for diverse B2C, B2B, and D2C projects spanning various sectors. Renowned brands like British Museum, National Gallery, Start-Rite Shoes, and more, have entrusted William Commerce for their digital prowess.
Address: The Creative Mill, Mansfield Street, Leicester, United Kingdom
Contact: +44 116 326 1116
Email: [email protected]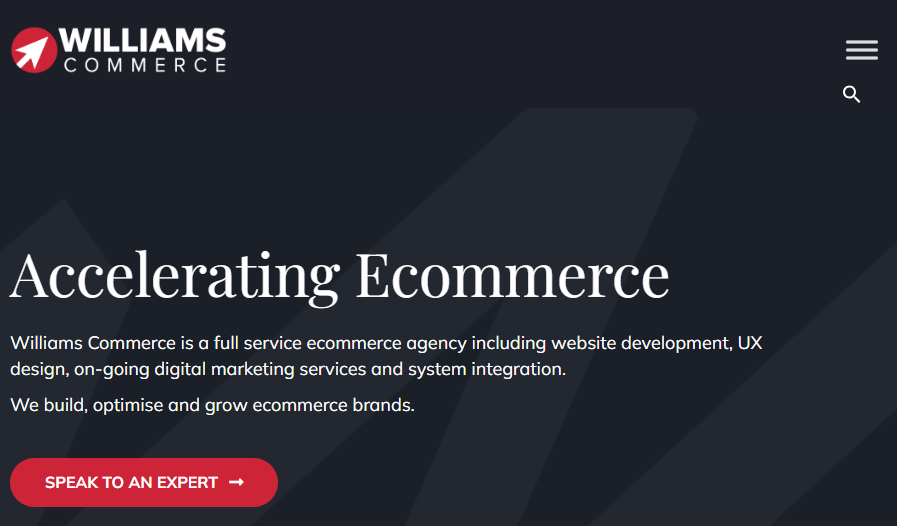 Their extensive network of reliable partners ensures seamless integration with best-in-class systems, enabling businesses to achieve enhanced performance year after year. With a focus on technical expertise, intuitive UX/UI design, and comprehensive service offerings, William Commerce propels digital commerce to drive remarkable growth.
TechDivision
TechDivision's unparalleled Magento services, a culmination of over a decade's experience in the digital commerce arena, is recognized as an esteemed Adobe Magento Partner. With a profound focus on both B2C and B2B landscapes and an exceptional specialization in Omnichannel projects, TechDivision stands as a powerhouse in shaping seamless and comprehensive Ecommerce experiences.
Address: An der Alten Spinnerei 2 a, Kolbermoor, Germany
Contact: +49 163 637 0323
Email: [email protected]

Backed by a formidable team of more than 120 digital experts dedicated to your success, TechDivision is synonymous with excellence. TechDivision's legacy in the online realm is underscored by the trust bestowed upon them by industry giants like Volkswagen, Villeroy & Boch, Hoegl Shoes, Eglo, and Adobe.
With a footprint extending across 6 locations in Germany, Austria, and Switzerland and a workforce exceeding 150 professionals, TechDivision is firmly positioned as a leading multi-solution partner for Adobe. They adeptly steer complex B2B and B2C projects through agile methodologies, offering full-fledged support in your digitization journey.
Magento Global Silver Solution Partner
Scandiweb
Leaders in eCommerce since 2003, Scandiweb is supporting the digital goals of brands such as Jaguar Land Rover, New York Times, Puma, The Metropolitan Museum of Art, and 400 other brands in 35 countries.

With the largest Magento certified developer team in the world, they specialize in delivering a unified commerce experience for the Magento ecosystem and everything around it. The Scandiweb team is also the proud creator of ScandiPWA, the first ready-to-use PWA solution for Magento.
Founded in 2003, their offices are located in Stockholm, Amsterdam, New York, São Paulo, and London. Development headquarter is based in Riga, Latvia with 300+ engineers helping to design, build, and scale any B2C or B2B Magento business with blazing speed and efficiency.
Ziffity Solutions
Ziffity Solutions is an accomplished eCommerce agency driven by over 8 years of experience in pioneering advanced eCommerce technologies. With an unwavering focus on addressing challenges and realizing aspirations, Ziffity leverages Adobe's cutting-edge eCommerce, digital experience, and marketing technology capabilities to empower both B2B and B2C brands.
Address: Plano, Texas, United States.
Phone number: +1 734 301 8388
Contact: [email protected]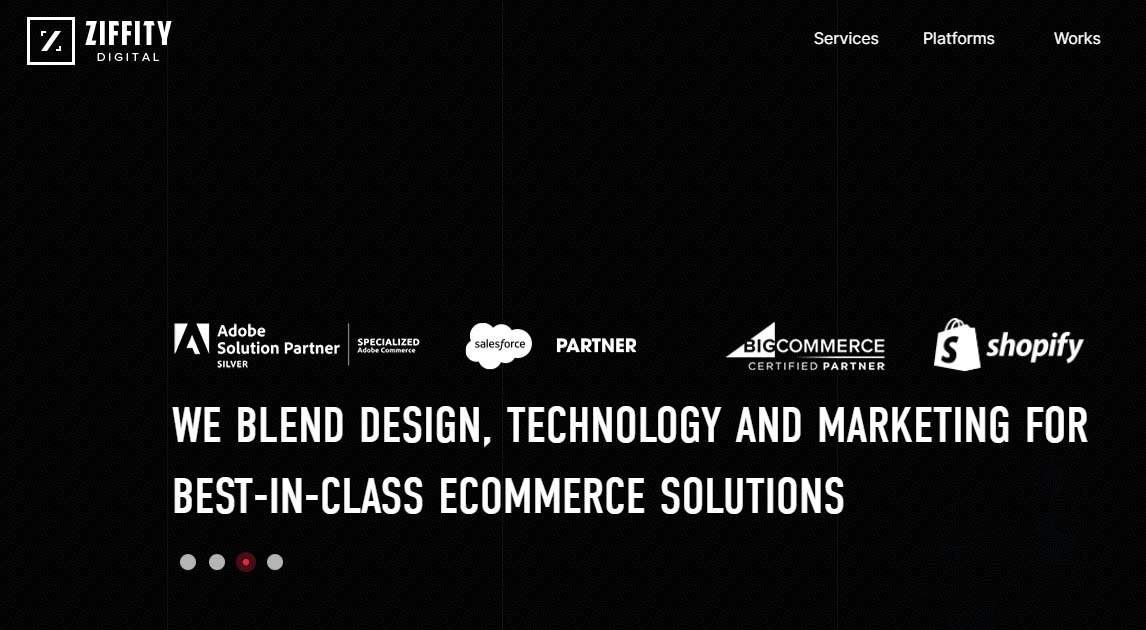 Specializing in a comprehensive spectrum of services, including development, cloud solutions, experience design, digital marketing, AI, and machine learning, Ziffity's prowess lies in their ability to provide end-to-end eCommerce solutions. From seamless implementations and strategic re-platforming to integrations, custom development, and ongoing support, Ziffity Solutions ensures the transformation and success of businesses in the digital landscape.
Unified
Unified is a Richmond-based Ecommerce agency recognized for their expertise in Magento, Shopify Plus, and BigCommerce. Brands seek out Unified for innovative growth-focused strategies that merge quality development, captivating design, and forward-thinking solutions.
Unified's holistic approach emphasizes collaboration, support, and long-term partnerships. Their team of experts, spanning strategy, design, tech, marketing, and growth, has worked closely with clients from inception, always envisioning the future. This agency's unique blend of creative and technical prowess has propelled countless Ecommerce brands to success since their founding in 1993.
Address: Midmoor House, Kew Road, Richmond, London, United Kingdom
Phone number: +44 (0)20 8335 6611
Website: https://unified.co/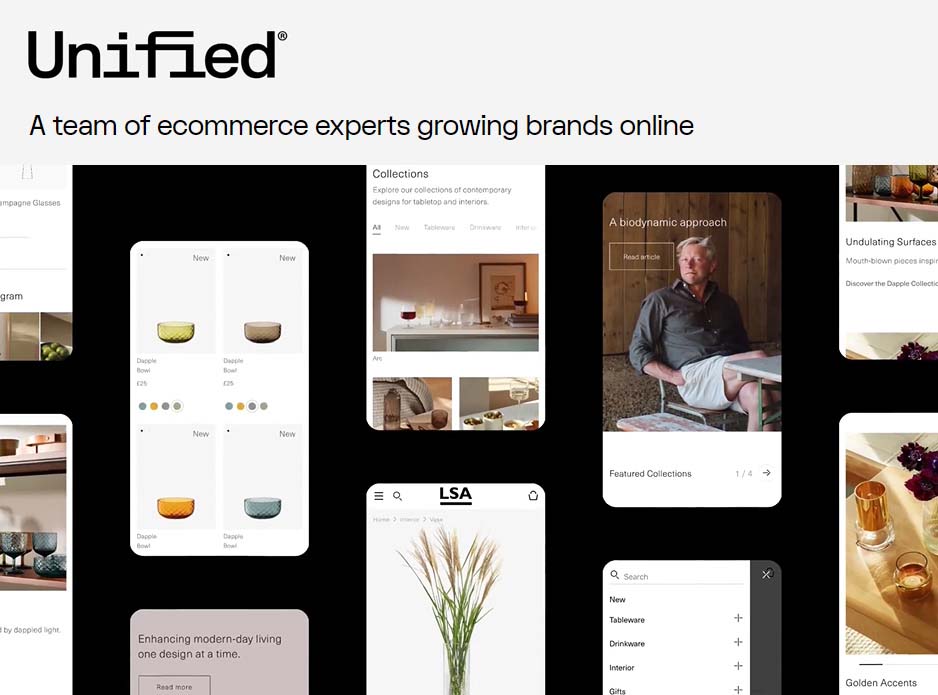 Unified's recent merger of LogicSpot and Diligent Commerce in 2022 has further solidified their capabilities, providing comprehensive in-house tools to drive ambitious brands forward. If you're seeking more than just a new website, Unified excels in holistic strategies that help Ecommerce brands achieve comprehensive growth and reach their goals.
Other Magento Global Solution Partners
BSSCommerce
Founded in 2012, BSS Commerce has continuously learned and grown to be a full-service Magento development agency. The company takes pride in their high-quality human resources, including certified Magento Solution Specialists & Developers.
Address: 14-16-18-19F, Viwaseen Tower, 48 To Huu Str., Trung Van Ward, Nam Tu Liem Dist., Hanoi, Vietnam
Phone: +84 983 513 599
Email: [email protected]
Within 10+ years, they have reached out to 75,000+ clients worldwide and worked on 550+ Magento-related projects.
Besides Magento Web Development, BSS Commerce also offers ongoing consulting, support, maintenance, migration, and optimization services.
Along with fully-tailored services, the company owns 190+ Magento extensions. Magento users can easily find an extension to improve any aspect of their stores here, from order management, sales motivation, checkout improvement, and so on.
Magenest
Founded in 2015, Magenest is proud to have been recognized as a leading business Solution Partner of Magento in the APAC region. With 21 Magento 2 certified developers, 9 certified professional developers and 3 certified solution specialists, Magenest has the elite eCommerce developing team with creative eyes, seasoned knowledge, and virtuoso skills.

With high-level English proficiency and extensive technical expertise, Magenest's Account Managers can grasp clients' demands and convey your requirements to our development team clearly. They also offer several additional services to any clients, namely platform integration, site auditing and maintenance, and upgrading that ensure your website will be faultless and ready to use.
Moreover, Magenest has a Magento extensions store with a wide range of useful features that you can add to your site to make it more user-friendly and interesting to customers. Throughout nearly 6 years of development, the company has the honor to work with global brands and digital agencies around the world such as Heineken, Trung Nguyen Group, Bibo Mart, Nestle, etc.
Address: GP Invest Building, 170 De La Thanh, Dong Da, Hanoi, Vietnam
Email: [email protected]
Tigren
Tigren is a global leader company in providing cutting-edge e-commerce solutions for small and medium-sized businesses based in Vietnam. Founded in 2012, Tigren has successfully delivered hundreds of projects from all over the world. They have become one of the best Magento agencies with economical but effective e-commerce solutions including Magento Web Development, Magento Progressive Web App Development, Magento Migration, etc.
Tigren values practical expertise over a collection of certificates. While others may chase accolades through theoretical exams, Tigren has chosen a different path. Their expertise is honed through a multitude of projects, ranging from small-scale ventures to large-scale enterprises, and let the tangible results and glowing client testimonials validate their capabilities.
How To Choose The Most Suitable Agency
The most important criteria you need to stay noticed in the first place is your budget and your needs. If you keep in mind about this you can narrow the choices and the decision will become easier and more effective. Explore our 11 pro tips for choosing the best agency for your eCommerce business!
But how can you actually know which one is suitable for your needs and budget? There is one simple way by looking deeper into the 4 main Magento agency categories:
Magento Global Platinum Solution Partners
They are the agencies that work primarily with Magento. The operation is normally run by a huge team of high-quality developers, managers, and specialists. These top agencies are popular in the Magento community with the operation spread widely across many countries This is the full integration
They often do a full-service system mainly for major brands across the world. What makes them different is their high performance in the digital commerce domain, excellent UX/CX design through a complex program, and 24/7 service and support.
The cons of the Global Platinum Agencies is that they cannot maintain close contact with the team often.
Magento Global Gold Solution Partners
They have the expertise and capabilities to support you with full service from the beginning of forming a strategy to manage and maintain the best performance on sites. For merchants, you need to have a significant budget to afford to work with this team. It is not recommended for small online stores to look further into this agency.
Magento Global Silver Solution Partners
Despite being smaller than the Global Platinum and Gold, it is considered as an advantage for merchants to consider as there are three reasons for you to choose them.
The first reason they focus more on your project can support you well with a team to execute your project on a daily basis. Secondly, you can conduct better solutions for your stores as you can interact directly with the team which is usually difficult for bigger agencies. As the number of agencies falling into this category is very significant, you can gain better benefits with competitive prices.
This agency always stays on track with the latest Magento innovations and has the ability to get access to an abundance of multi-channel.
Final words
To sum up, the relationship with an agency is not only a short-term but a long-term process with continuous innovation.
As a result, it is a decision that you need to take careful consideration as this can influence significantly your online businesses to become successful or fail. You should have a clear requirement for your e-commerce business and choose which is suitable for your projects.
All 16 of my suggested Magento agency have 5 years and above experience in the Magento community and have transparency and excellent customer service. They will get your project done with high quality according to the desired deadline.
Website Support
& Maintenance Services
Make sure your store is not only in good shape but also thriving with a professional team yet at an affordable price.
Get Started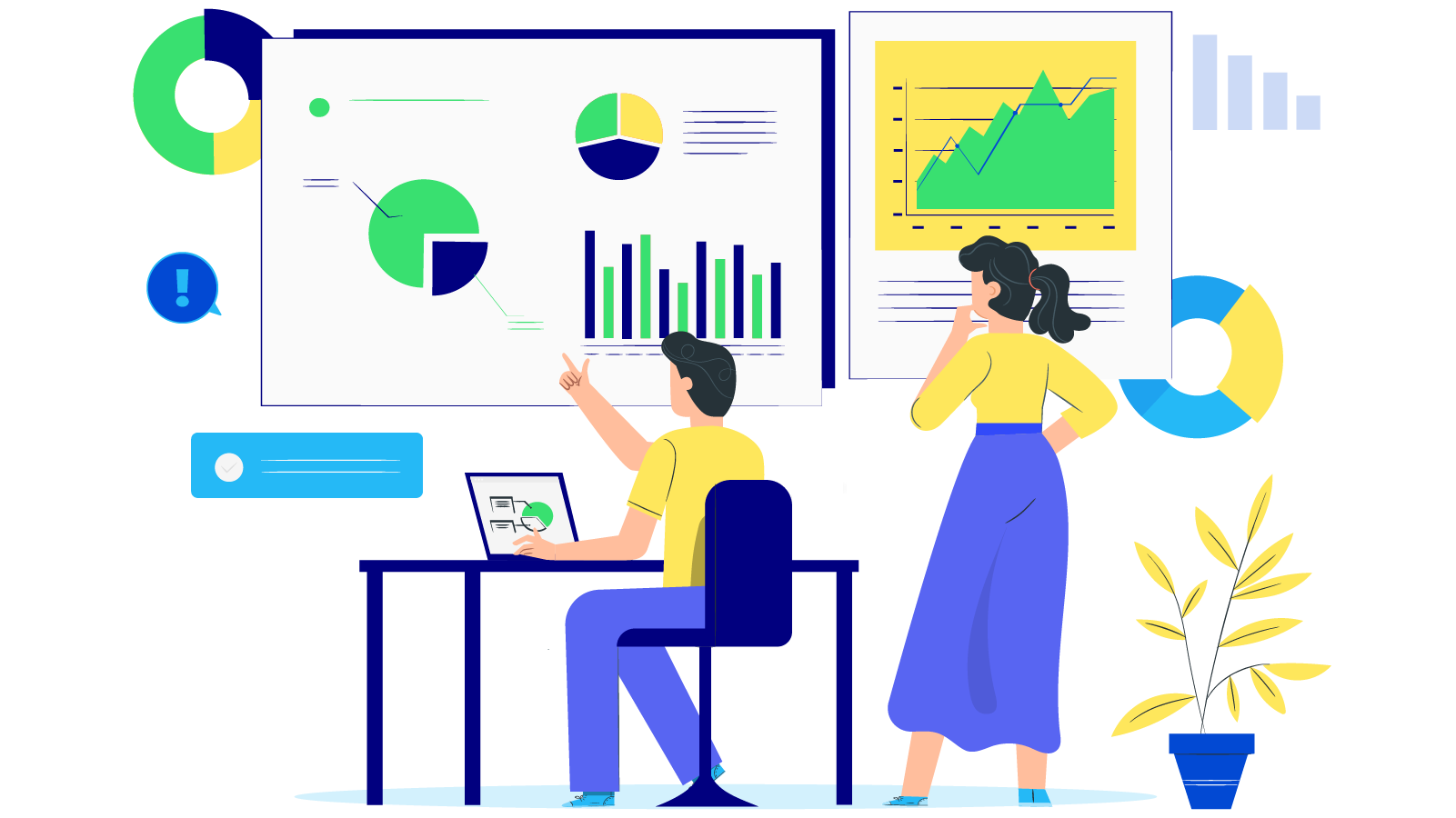 New Posts



Subscribe
Stay in the know
Get special offers on the latest news from Mageplaza.
Earn $10 in reward now!