Gift Card Statistics
The statistics below are collected from several reliable sources and represented by Mageplaza. This is specially made for Magento suppliers and merchants for consult. For more details about Gift Card extension or any other extensions, please visit our website Mageplaza
Related Posts: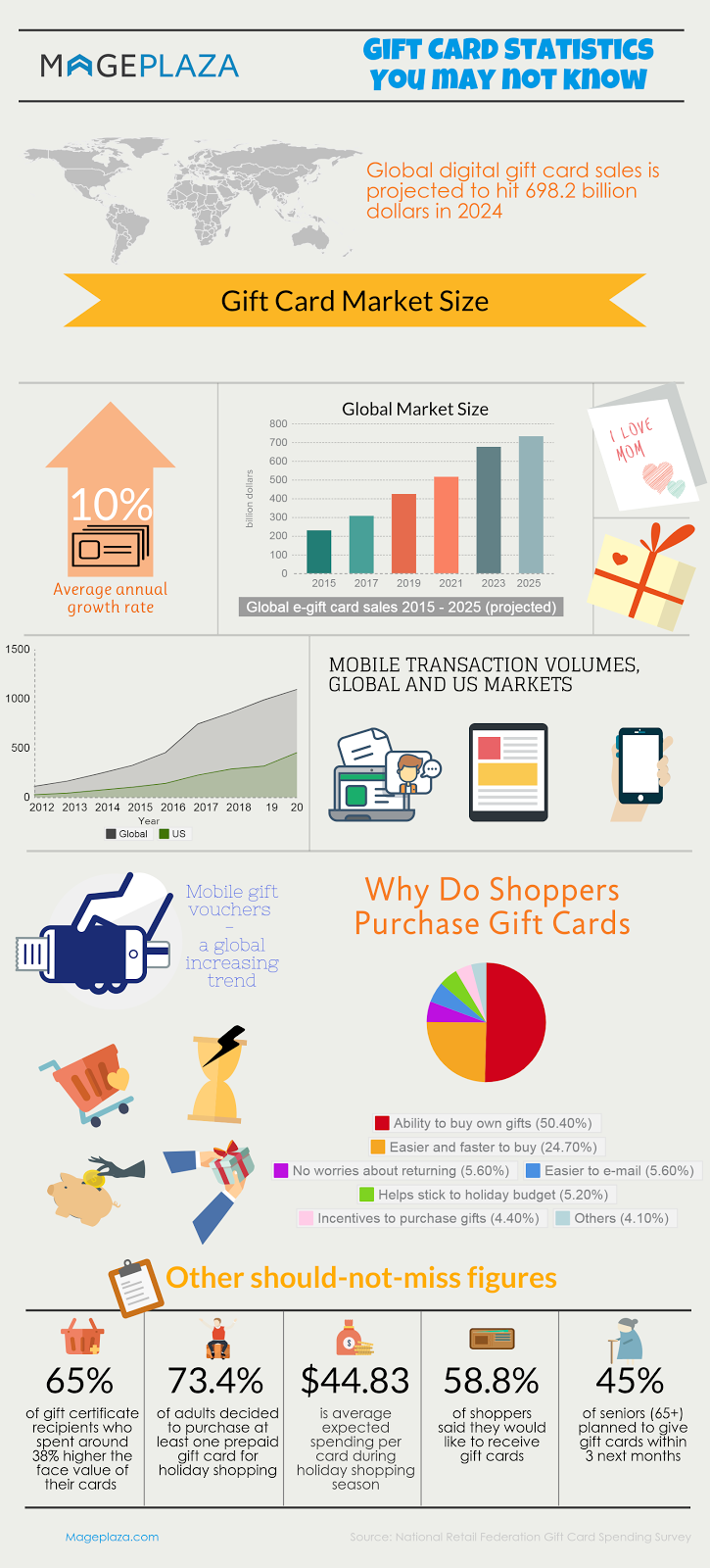 First introduced in 1994, gift card nowadays is no longer an uncommon term, instead it has become increasingly popular and favorable on the global scale. The fast growing rate of gift cards consumed may surprise people a lot, that promises even brighter outlook for gift voucher industry in the future, especially mobile gift certificates.
Overview about gift card industry in 10-year period
According to Global Market Research, the gross revenues of digital gift vouchers globally is estimated to reach US $698.2 billion. The report of the research also highlighted an impressive growth rate expected of 10% annually from 2015 to 2025.
A transference in consumer' shopping behaviors
In recent years, the gift card industry globally experienced a remarkable transaction in the way consumers use gift cards including how to buy a gift voucher and how to use it. Thanks to the development of hi-tech devices, people have a tendency to take advantage of those in the way they buy and sell goods. Purchasing an e-gift certificate, as a result, is a predictable trend because of its huge convenience. Consumers no longer need to go to the bricks and mortals, but they can still have their digital gift cards sent via their email addresses or phone numbers. In other words, with an internet connected mobile devices such as a computer, a tablet or a smartphone, people can easily shop for an e-gift voucher.
The preference for gift certificates
According to National Retail Federation Gift Card Spending Survey (2015), the percentage of US people either purchase or receive a gift card in 2015 had reached 93%, and a large number of people among those asked said they even bought or receive annually 7 gift cards. In 2015, gift cards even ranked the first position for the most favorable present during holiday. Why gift cards become so popular among consumers? Among several options listed in a survey, the reason chosen by most respondents is enabling recipients to buy their own desired gifts with more than 50%. Time saving and easy to purchase rank the second position in enforcing buyers to consume gift cards with approximately 25%. Besides, there are numerous reasons driving customers to own a gift card such as delivery speed, cost-effective budget, and so on.
Bright future for virtual gift voucher industry
Digital gift certificate market is a worth-investing industry for any online merchants who want to keep up with the fast pace of technological development globally. When people use a gift card, they have a tendency to spend more than the actual money valued in the card. Surveys by National Retail Federation Gift Card Spending Survey showed that recipients who spend more than 38% of card's face value account for around 65% of certificate's owners. Three-fourths of adults asked bought at least one gift voucher during shopping holiday. Nearly 60% of people have a preference for receiving gift certificates as presents. Needless to say about the optimistic vision for virtual gift card industry.
In conclusion, we all know that the whole world is on the verge of the fourth industrial revolution which is expected to significantly change our life into a world of advanced mobile devices. Therefore, the number of people of purchasing a gift card online will definitely increase at even more impressive level. Digital gift card industry is sure to be a promising land for investors. Why don't you let Gift Card extension Magento 2 help you from now on?
New Posts

Subscribe
Stay

in the know

Get special offers on the latest news from Mageplaza.
Earn $10 in reward now!