Gift Card - Virtual Gift Cards - History & Future
The Most Popular Extension Builder for

Magento 2
With a big catalog of 234+ extensions for your online store
Table of Contents
I. The History of Gifts
With the advance of nowaday technology, you may be more familiar with e-gift cards than old-fashioned presents like flowers and notebooks or prehistory gifts as stones and bones. Giving gifts is a necessary part of our life that we don't know when it first started.
A gift is not only a thing but also a part of giver's heart and the most beautiful expression of people's inner emotions. No matter what, it is an expression of love, friendship, gratefulness or pity, presents deliver well all the meanings from givers to receivers.
1.1 Prehistory Gifts
Researching about long tradition of gifting, it's really interesting to find out that it is dated back to prehistory period. It is a part of human-being nature which is in our DNA. When humans still lived as hunter-gatherers more than 2 millions years ago, activities of giving materials happened to show goodwill towards others.
A man presented a woman with a small piece of unusual rock, tooth of animals or nature-based stuff so that he could attract a mate. The more special the gifts were, the easier for man to impress females.Together with the rise of civilization, presents started to become more complicated such as carved stones or handmade jewellery.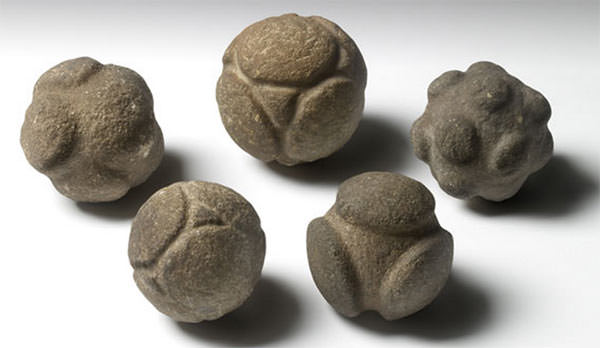 1.2 Striking Presents
Throughout human-being history, some presents were so special that they became legends and people discussed them from time to time. The biggest gift ever should be awarded for The Statue of Liberty (305-foot-tall) on the 100th anniversary of The Declaration of Independence of the United state, given by France.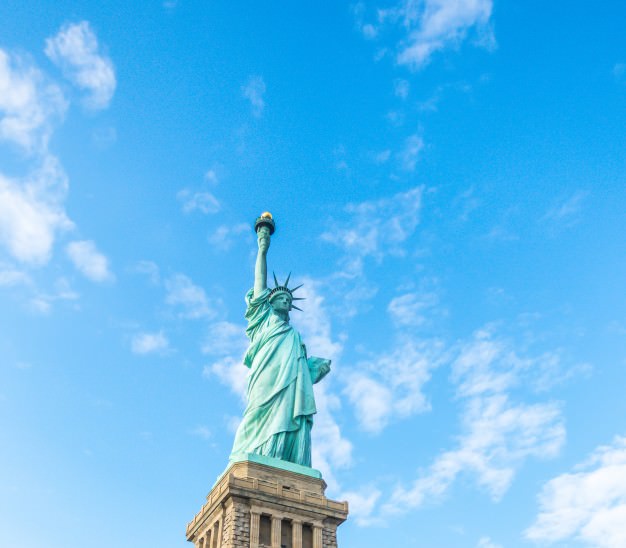 One more admirable gift is the present of Taj Mahal from Mughal emperor Shah Jahan for his beloved wife Mumtaz Mahal. Romantic people around the world should be jealous of this couple. That ivory-white marble monument is the most beautiful and permanent evidence of their love.
There is a most enigmatic gift, Babylon hanging garden which is included in seven wonders of ancient world. According to one legend, Nebuchadnezzar II built a paradise garden for Queen Amytis since she missed her hometown.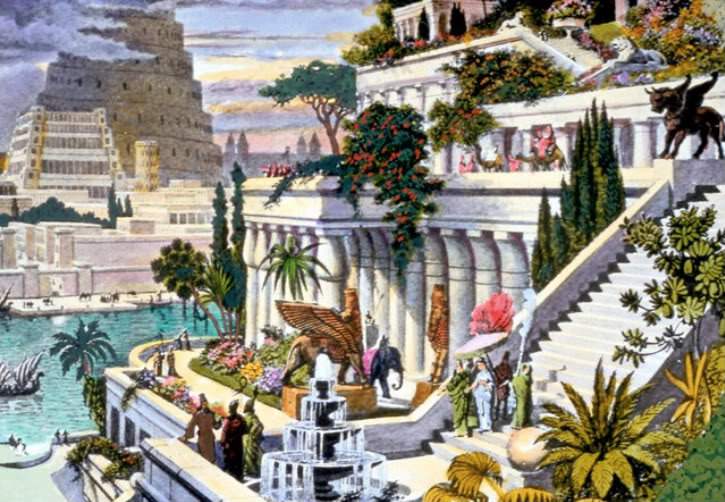 1.3 How Gifts Affect Us
Nowadays, psychology of gifting is a favorite subject matter studied by psychologists, anthropologists and historians. They have found that though a present is considered as a free item, it helps to strengthen relationships by sharing emotions, feelings to receivers. Psychologists proved that givers are the one who gains more positive psychological changes rather than taker.
Offering a person creates happiness for that person then it is certainly influences givers, generates the joy of giving. Moreover, greater connections in both sides between these people increase overall satisfaction and happiness. Besides, a research carried by Margaret Rucker, a consumer psychologist at the University of California, has reveals that men are more price-conscious and practical considering about gifts while women focus more about emotional aspects.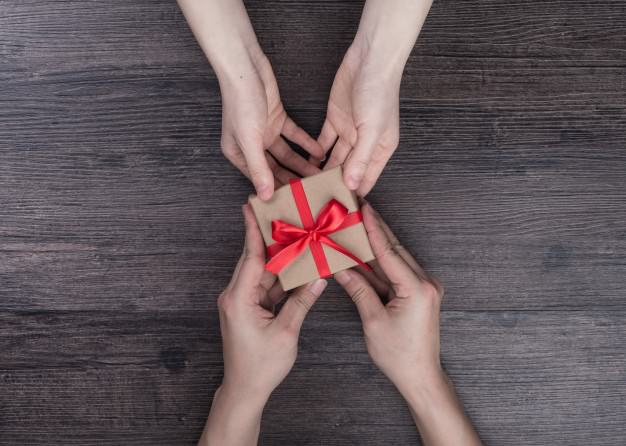 1.4 Gift Cards
Currently, we have many occasions for gifts exchanging including Christmas, Birthday, Wedding, Graduation day, etc. In this modern life with full of technology advances, gifts have changed from physical shape into new forms. The most progressive type of present is gift cards. Gift vouchers with two forms of both physical cards and digital forms can satisfy both givers and recipients because they provide recipients the right to choose whatever they want. In their turn, givers can turn really creative and offer custom dog portraits on canvas, for example, if the receiver is a pet owner.
Digital gift cards or e-gift cards are considered as the most convenient and speedy approach offering the same benefits of traditional gift vouchers. With inferior characteristics of new virtual gift certificates, it can not be denied that they have become more favorable worldwide. This card is presented to takers via convenient approaches such as phone numbers or email addresses without any national borders. Additionally, virtual cards are totally safe because card numbers are stored in management system.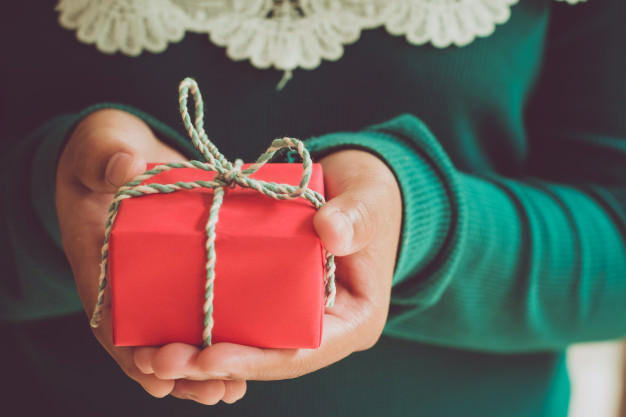 1.5 Gift Card Extensions
Along with the development in technology and e-commerce, the gift card industry has never made that great progress. According to a research, the rate of E-gifting growth is approximately 200% per year and it brings millions dollars annually.
This is why Magento store owners are in a big race of equipping their shops high-quality Gift Card extensions, especially when holiday shopping season is near. Besides, Magento developers are in rush of releasing modules which help online stores take advantage of virtual gift certificates to boost sales and market their products.
A good Magento 2 Gift Card extension is from $149 to over $299 with other outstanding features. This module is really promising to bring great benefits to both merchants and developers. In conclusion, gifts from most simple forms have improved gradually. Whatever they are physical or virtual, they are always beautiful and meaningful in term of human affections.

II. What Will Gifts Be Like In 100 Years?
Gifting has existed in our daily life as a usual activity of human-being for millions years. It is unbelievable for people from 1900s that can imagine virtual gift cards instead of physical gifts.
Predicting future is always fun and hard. What gifts will be like in 100 years is an interesting question which can relate to abnormal answers.
2.1 3D printed gifts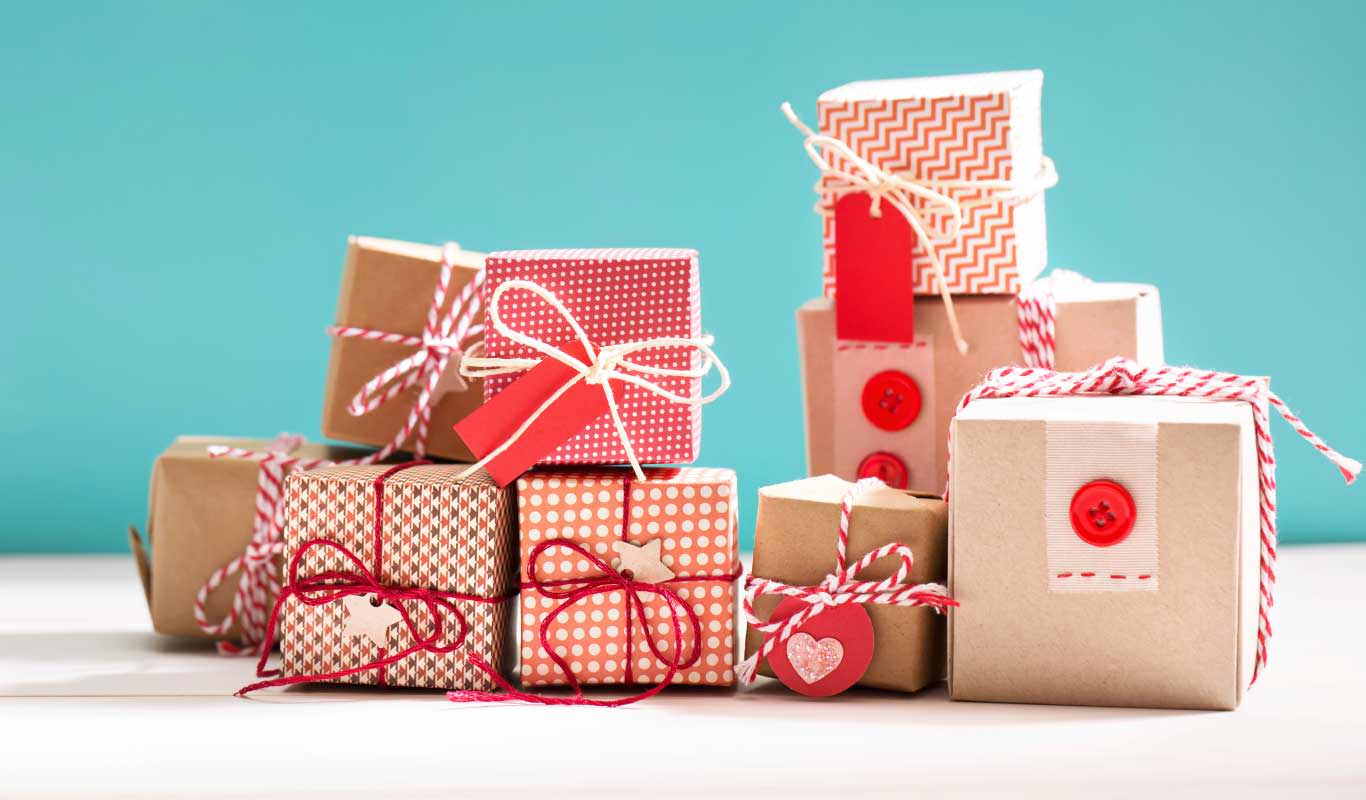 All those most advanced technologies nowadays such as computers, mobile phones, watches will disappear. Instead of that, smart chips with small structure, low cost, convenient carrying capacity will totally replace old stuffs. Hidden computers will interpret the electrical signals directly to our brains.
For example, When we walk into a room, we will be able to mentally control many things around us by our thoughts such as turning on the fan, brewing a cup of coffee. Those chips help you send your gifts to recipients with special messages, songs, videos by your own imaginations. They will also be able to identify people's faces, break languages' barriers by subtitles. After receiving process, your presents will be printed in 3D technology with full of vivid sounds, images.
2.2 Unusual Gifts from other planets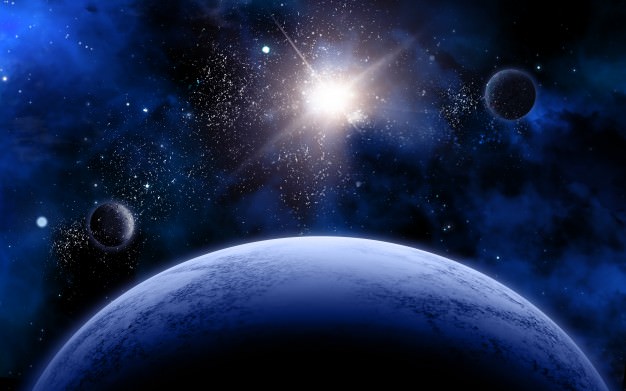 Tourists will no longer discover earth anymore but soaring into outer space via spacecrafts. We will be interested in new planets' journeys. We are partly still the same with prehistory people who first gave others unusual of rocks, animals'tooth. But in the future, we will offer unusual materials from other planets with the helps of robots. The robot industry with lots of advancement will be a necessary part in human-being daily lifes. Robots being emotional can live with people as a friends and artificial intelligence. They will appear everywhere, performing labour tasks. They also carry out tasks of finding new places in dangerous universe.
Life in our earth has changed day by with both technological development and environmental changes. One hundred years is a long journey that we hardly forecast what will actually happen in gifting.
2.3 E-gift cards
What? Digital gift certificates is an increasing trend nowadays. However, will it still in online shopper's wish list in 100 years. No one can give you a precise answer. Though, I personally think that it will not lose its popularity in future.
Virtual gift vouchers can be delivered with VR videos, music or even with scents and flavour. I love gift cards, and if they were redeemed just by using face identification, eyewitness identification technology, nothing could be compared with this kind of present. Gift messages could be left by directly speaking and receivers would listen to it.
Everything we are fantasizing today can become real some time, and it may turn out more adorable beyond our expectation. To sum up, the way future residents present each other will be changed significantly, but the meaning of gifting will be just the same - for friendship and for love.
III. Virtual Gift Cards – Huge Opportunities For Magento Merchants
3.1 An increasing trend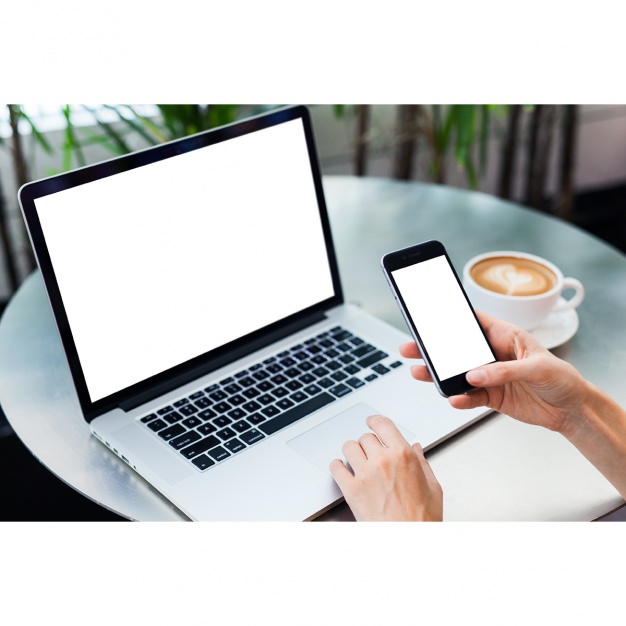 The gift card industry has developed dramatically in recent years at an impressive level since the benefits that a gift card brings to people are undeniable. We all know that purchasing a gift certificate is the fastest and the most convenient way to give someone a present on his/her birthday or any occasion.
It offers recipients chances to choose what they truly desire for. That's the reason why the global gift voucher industry is estimated to double the present value of gift card market of more than US$ 307 billion to more than US$ 690 billion in 2024 (Persistence Market Research, 2017).
Recent years also experienced a switch in how customers buy goods. Thanks to the development of advanced technology people are enabled to access to a large numbers of goods online. Consumers gradually have a tendency to shop online instead of to to the bricks and mortals. E-gift certificate market; consequently, is promising for online stores. A report by Persistence Market Research 2017) anticipated that the global revenues from digital gift voucher purchased will make a progress of 20% whereas, gross sales from gift cards industry in general will increase by 10% on a yearly basis from 2014 to 1024. Needless to say, gift card extension is a wise investment for Magento merchants.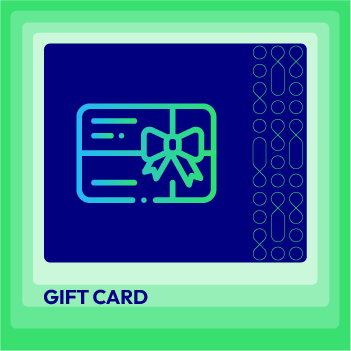 Gift Card Extension for Magento 2
Add an extra special touch to your customer's shopping experience with our solution
Check it out!
3.2 More flexible - More favorable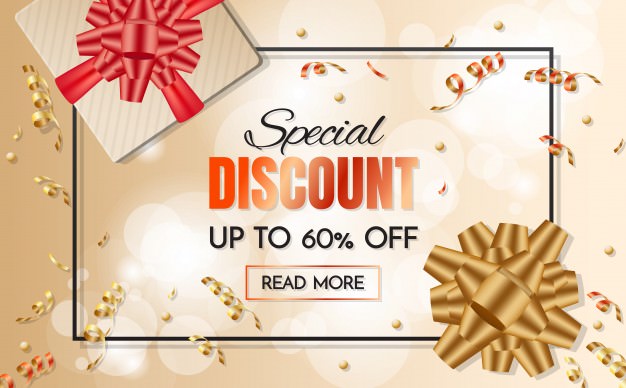 Gift card extension for Magento 2 has several outstanding advantages that a sure to make all customers happy. Firstly, store's administrators can help consumers create their own cards at any price with a great deal of sophisticated templates.
This gift card extension also supports buyers to upload their own images to perfect their gift cards at their greatest satisfaction. Secondly, even though e-gift cards care more preferable, physical gift cards are also available if requested by consumers.
Because customers love the feeling of have the right to choose, various offered options will force them to purchase more with comfort. Last but not least, an e-gift voucher can be easily sent to anyone via email addresses and mobile phone with messages attached.
Therefore, when purchasers want to present their friends, they can have Magento merchants to send their gift with wishes directly to their friends email addresses on the exact date requested. In short, gift card extension is born to customize every consumer's need.
3.3 There are some marketing strategies that can help online stores more appealing consumers

Magento stores can make the best of digital gift certificates by applying some marketing strategies such as loyalty and rewards programs for members who already bought a card.
According to a survey in 2015 (Susanne), among those asked, more than 60 percent accepted that loyalty and rewards points offered are the reason for them to decide to purchase two gift cards in the previous year. Additionally, approximately 75% of respondents decided to make a purchase at a store because of offered incentive even though they had no intention at first. Especially, incentive also forced around 40% buyers to spend more than they planned to shop.
In summary, because of such great benefits listed above, e-gift card industry is a potential market for Megento stores. The technological development is significantly improved every hour and every minute; therefore, an investment on supporting mobile shopping to is never a waste of money. Why don't you let gift card extension to have you attract more consumers?
IV. 14 Common Misconceptions about E-Gift Cards
In modern life, along with technological advances, virtual gift cards appear as the newest trend of e-gifting. Therefore, there are many existing arguments about digital gift voucher's conceptions. Here are fourteen most frequent misunderstandings that lots of people have gotten.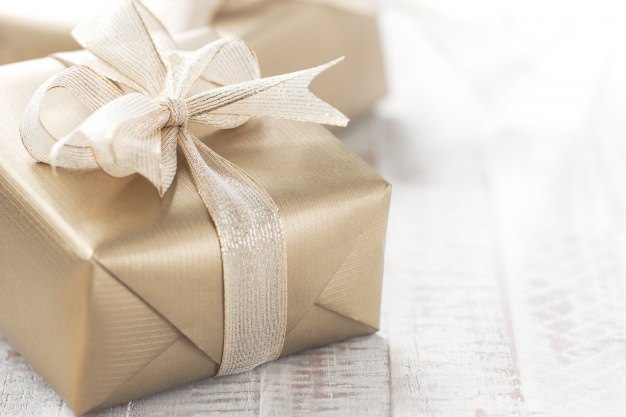 4.1 Only a few shoppers use e-gift cards
Electronic gift vouchers have been introduced in the recent decade, but they have become widespread and favorable because of their superior characteristics compared with traditional gift vouchers.
As revealed by market research, the rate of e-gifting has increased approximately 200% annually and generates millions dollars each year. As research data, below is a chart showing some most popular reasons why people prefer virtual cards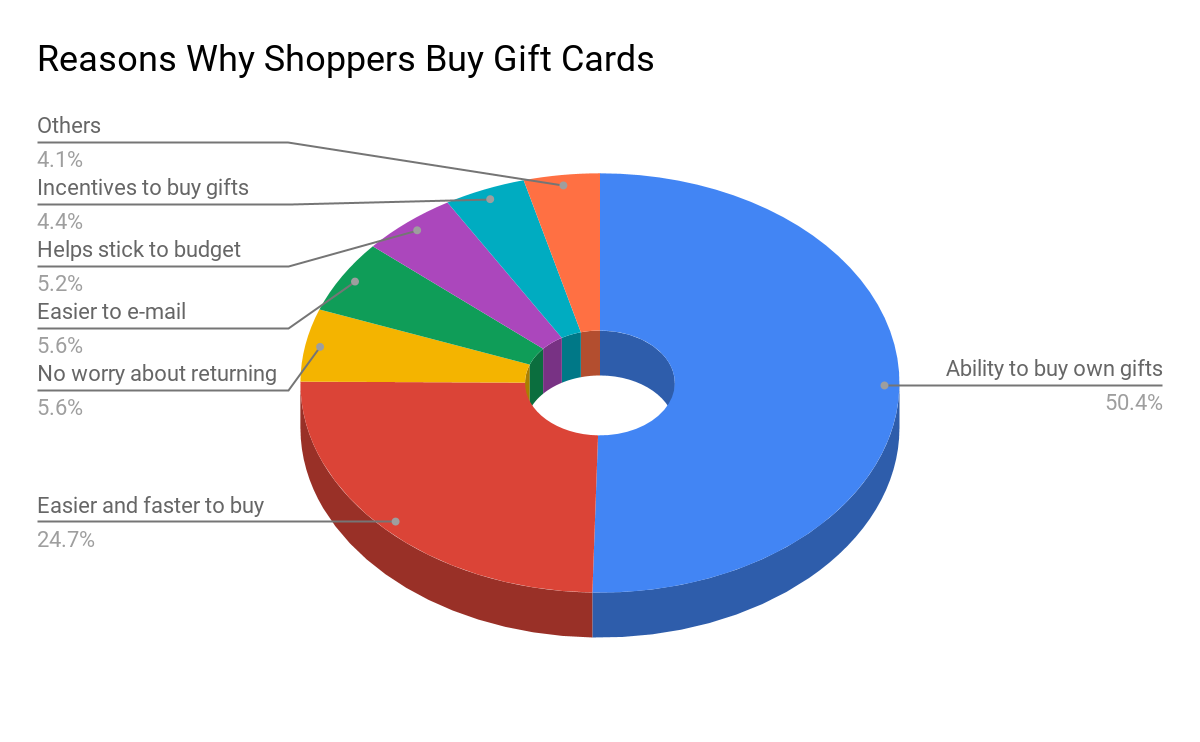 4.2 E-gift cards are dull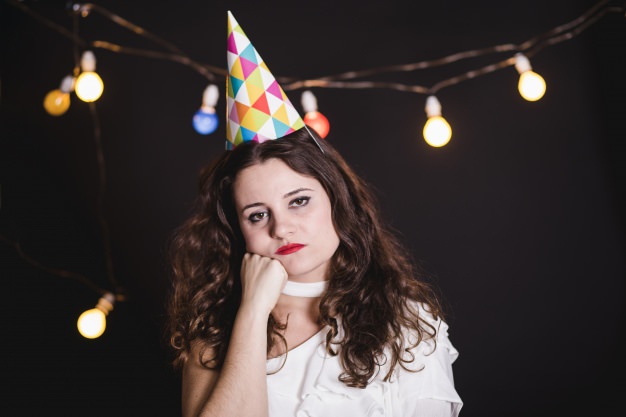 Some people might consider that digital gift vouchers are boring because of the limit in template designs or card materials. However, thanks to Gift Card extensions equipped in online stores, virtual gift certificates now can be designed and customized in all features.
Apart from premade gorgeous card templates, shoppers can even upload favorite images, photos, videos or gif files to create their own gift vouchers. Hence, having unlimited choices of gift card samples, buyers can make it unique and personalized. That's why both senders and receivers are more interested in digital vouchers.
4.3 Your grandma won't prefer gift cards.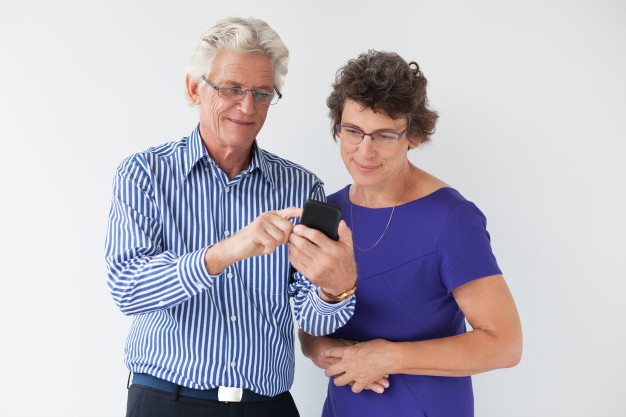 It can not be denied that the elderly have lower rates of technology adoption than others. However, this group is more digitally connected. The research carried by Pew research center (sep 29-nov 6, 2016) has shown that four-in-ten seniors now own smartphones. Additionally, social media using among this group has become an increasing trend.
More strikingly, 45% of seniors who are over 65 were planning on giving digital gift cards within the next 3 months, according to National Retail Federation Gift Card Spending Survey November 13, 2014. Thus, if you want to give your grandparents something this holiday, virtual gift vouchers may be a good idea.
4.4 E-gift cards are used in Western countries only.
Eastern or Asian people might not be considered as pioneers in technology (?) or they might suppose that e-gift cards cannot convey enough emotion and sentiment from senders.
Though Western countries such as the US, the UK, Canada account for huge number of virtual cards' users, Asia Pacific is considered as the fastest growing market thanks to speedy developments in IT infrastructure, growing of electronic banking, improving in banking infrastructure, advancements in usability and affordability of plastic money.
4.5 Virtual vouchers are used only in special occasions
As spirit of gift giving activities, gifts are given simply deriving from givers' heart to show affections. There is no need to count on special occasions to deliver them.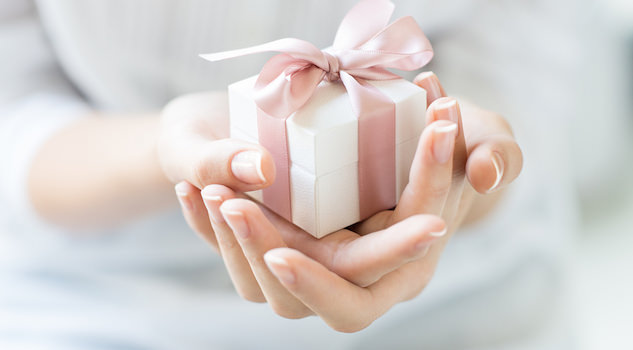 4.6 A person is allowed to hold a gift card only
Purchasing a gift voucher does not require a single name for signing up. Therefore, it allows unlimited number of people sharing the same certificate.
4.7 E-gift cards are purchased by men rather than women
It might because that men are more familiar with mobile devices or high-tech stuff, or it might be because women are considered to less practical than men. However, according to National Retail Federation Gift Card Spending Survey November 13, 2014, 70% of women planned on e-gifting within the next 3 months, compared with 50% of men. Besides, Statistical research figured out that virtual cards are the most-wanted gift by females and the third-most wanted by males.
4.8 E-gift cards are limited in country boundaries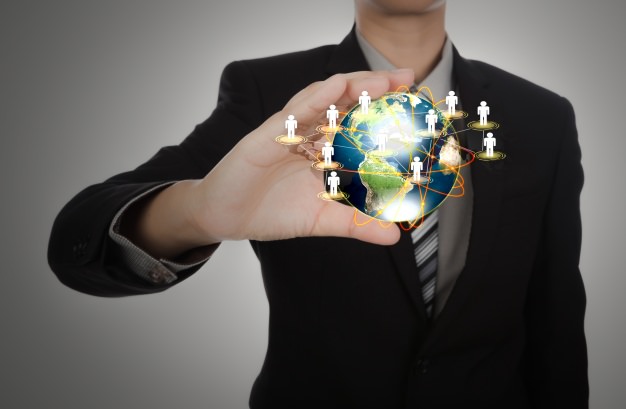 Because of globalization and social network all over the world, e-gift cards are not limited in nation borders but spreading through continents, distributing happiness to any small corners. Thanks to the advancement of e-commerce, multi-national online stores are so abundant that gift certificates are redeemed internationally.
4.9 E-gift cards need fees to be operated
Comparing to physical gift certificates, electronic gift vouchers are speedy and more convenient since they are simply sent via recipient's mobile numbers or email addresses. There are not shipping fees anymore instead of personal confirmations.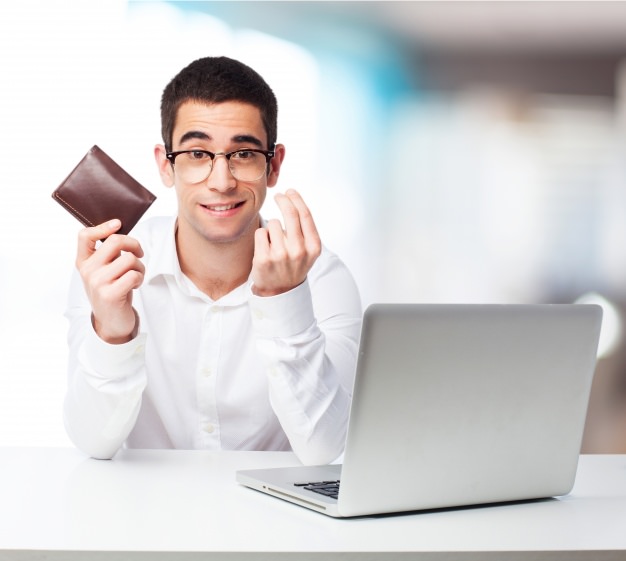 4.10 Fixed and unlimited amount
To help the government avoid funding terrorism and illegal money laundering activities, Federal law requires digital voucher providers limit the maximum gift card amount to not exceed $2,000. Moreover, buyers can have right to decide card amount they want.
4.11 Only online transactions are carried out
Transactions using virtual gift cards are available in both branded stores and online channels. They offer all the same benefits of traditional gift vouchers in general. Electronic gift cards can be printed out to hand recipients or they can be easily sent by post office. These features actually are available in some stores thanks to Gift Card extensions.
4.12 E-gift cards providers accept mastercard only.
Digital gift vouchers can be purchased by not only by mastercard but also by visa card and in cash. Payment methods are varied because gift certificates are considered as normal products.
4.13 Virtual certificates will be delivered right after purchasing
Normally, a digital gift card is distributed within 24 hours while a traditional gift card takes from 6 to 8 days for delivery. This makes an e-gift voucher an ideal choice for last-minute event. Moreover, there is a later delivery term applied in business deal. Buyers can determine delivering schedule at any day of year. Online stores can use Gift Card extensions to have this feature on their gift certificates
4.14 Digital gift cards are not secure
Whenever a virtual card issued by a business, this prepaid money is already stored in database system. Customers do not need any physical certificates to purchase products. Forget about the time that customers always tell themselves to bring their cards numbers and card's ID. If an virtual gift voucher is lost or stolen, by showing purchasing evidences, providers will issue a replacement balance shown on records immediately.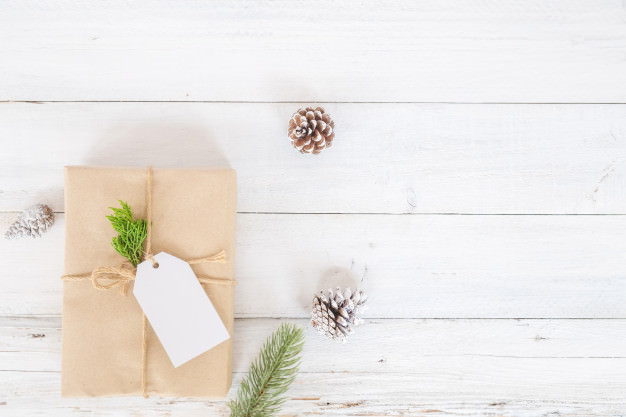 Though new forms of e-gift cards, they have quickly increased in number of users thanks to convenience and meaningful approach. It will continue to grow up with superior advantages. Besides, digital gift certificates, nowadays, are becoming an all-round presents for every individuals and beneficial to both givers and takers thanks to Gift Card extensions. Especially for Magento online stores, this module plays an important role in boosting revenues and marketing their products. To learn more about this extension, please visit here
V. 5 Essential Things Everyone In The Gift Card Industry Should Notice
In modern life, it can not be denied that clients are more interested in gift cards and generate billions of dollars in revenues each year. As statistical research taken by giftcards.com, nearly three-fourths numbers of users consume more than their cards' value. Therefore, if any retail stores have not catched up with this new trends, they shall miss a great opportunity to increase sales and revenues.
Additionally, gift vouchers also play an important role as a motivating factor that encourage customers to return stores again and again. Furthermore, when customers favor of gift cards, they tends to recommend them to their relatives that brings potential clients for stores. To help you gain more competitive advantages in managing gift certificate system, here are some suggested tools you should use no matter how long your stores have been opened.
5.1 A great point-of-sale (POS) system.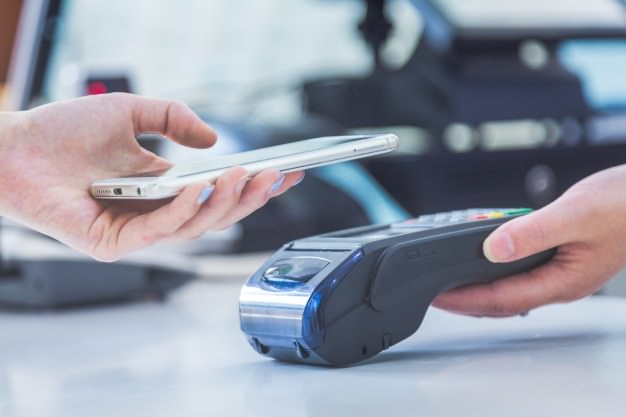 POS system should be the first priority for your business. And gift card management program is a crucial section in overall functions that POS system provides. As a research taken by Mageplaza, one of the top of Magento extension providers, has figured out a shortlist of the best POS for magento 2 including POS by Boostmyshop, Magestore, Smartosc and Wyomind.
Applying to Magento 1, there are some best POS systems such as POS by Boostmyshop, Iwdagency, Magebay, Magestore, Smartosc and Wyomind that can be suitable for your business. If you do already have a POS system , two main options for storing information on gift vouchers should be taken into consideration. In case your cards have barcodes, you normally allocate a different account number to each card's barcode.
You can make a of buyer's information and then link it to the account number. In other side, cards may have magnetic stripes that each unique stripe relates to its own identifier. You only need to import it together with voucher's amount into your system.
5.2 Social media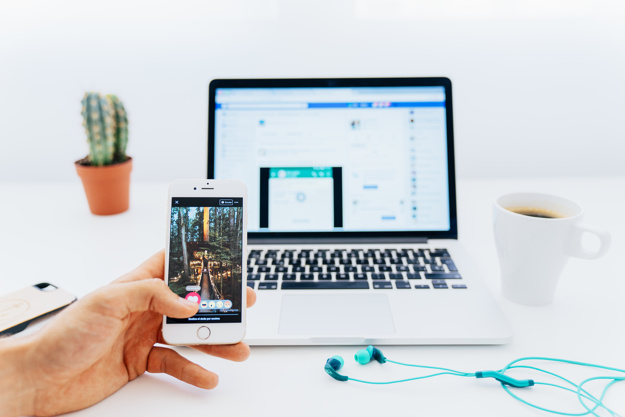 Amongst social media channels, these four flatforms including Facebook, Twitter, Instagram and Pinterest are considered as the most popular worldwide. Hashtags and advertising campaigns are beneficial sources for your business with a numerous of audiences accessed. To receive best results, you should prepare beautiful and eye-catching pictures and let them do the job of attracting customers.
5.3 Personality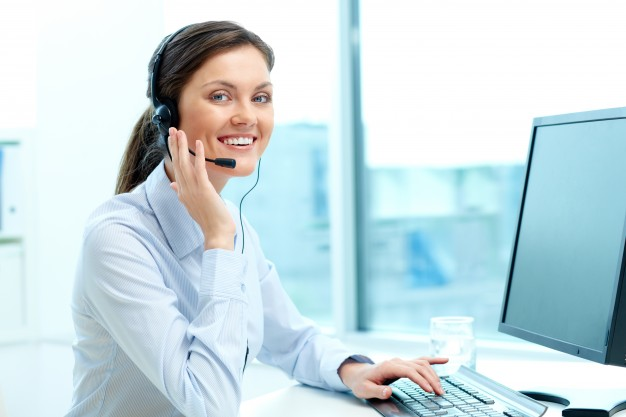 In any business, friendliness is always the biggest asset. Customers do not simply buy your products but most importantly, they buy solutions for their needs and wants. Therefore, if your serving attitude is not acceptable, you will lose all customers. And the most successful providers do not offer the best products they have. However, they listen to their customers and sell what their clients demand. Nowadays, customer care center 24/7 can be the most effective method for businesses because it helps take care of customers at any time and in any circumstances.
5.4 Products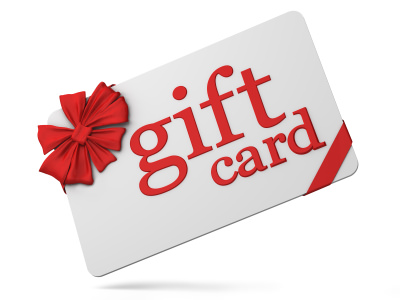 Products are the most crucial assets that represent strongly for your business. To satisfy them, you should not only sell your design cards but also let your customers personalize their gift vouchers by themselves. They will have chances to choose their own templates with unique photos and special messages .
This unique cards can make both givers and receivers happy .Your logo, business name and contact information printed on this physical stuff are useful tools to attract potential clients . When people are ready to purchase your cards, it should be easy ordering from your stores. Purchasers often prefer convenient and time saving orders so that they will keep requesting for them next time.
5.5 Gift Cards to E-Gift Cards
As a result of technology advancement and e-commerce, gift cards has transformed into new form which is electronic cards. This virtual certificate allows customers purchase and receive it through e-mails or mobile numbers. It is easy for buyers to design their own cards with templates and wishes.
According to a research, E-gifting has increased 200% per year and generates millions dollars annually. Therefore Magento store owners are trying to introduce best Gift Card extensions to satisfy most difficult customers. The Gift Card extension market for Magento 2 is really vibrant, but one of the highest quality module is Mageplaza's with a variety of outstanding features which will promisingly help boost sales for merchants.
Having these options will improve both efficiency and effectiveness of your company. They can ultimately allow your company to manage gift cards well in stores and in selling markets
VI. Gift Card Workflow on your store
Statistics in recent year have showed that the consumption of gift vouchers increased dramatically, especially digital certificates.
In 2015, the number of people purchased or received at least a gift card in the US reached approximately 95%. Among them, several users even consumed up to 7 gift vouchers yearly. Also in 2015, gift certificate is voted to be the most favorable present during shopping season.
It can be seen that, the convenience and advantages of owning a gift certificate are setting a new trend in the way people perform shopping behaviors. So why does a gift card work to help creating a sense of satisfaction among consumers like this? Let take a look at the following post to fully understand the workflow of a gift voucher from when it is purchased to when it is used to shop or redeem.
6.1 Identify the voucher's theme
Mageplaza gift voucher extension equips online merchants with various options about theme so that they can easily satisfy customer's demands. Some of the most popular themes can be listed as Black Friday, New Year, Christmas, Halloween, Mother and Father day, and so on.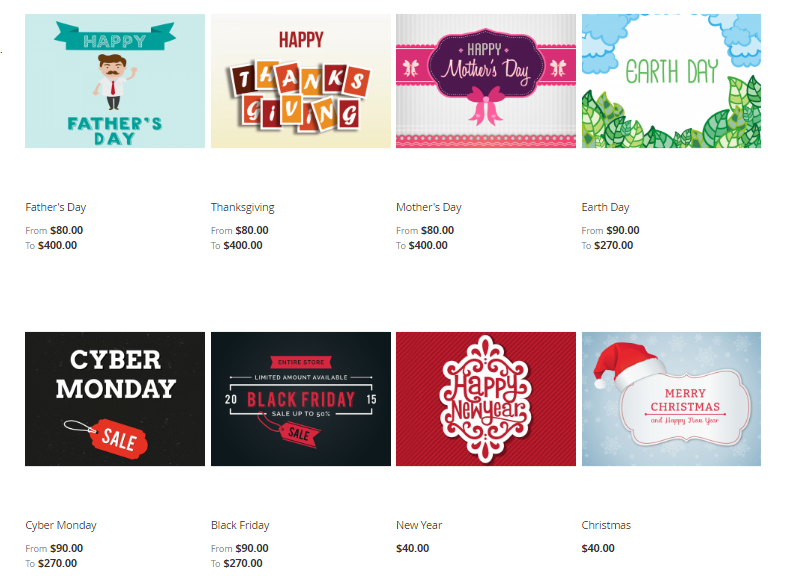 After that, shopping doers are encouraged to select the appropriate picture for their cards based on their tastes and preferences. For each theme, there are a bunch of beautiful-designed images available for buyers.
Additionally, consumers are allowed to upload their own wishing image to personalize their cards. Many customers are really happy with this function as when the card is used to present to another, it will be more special and meaningful.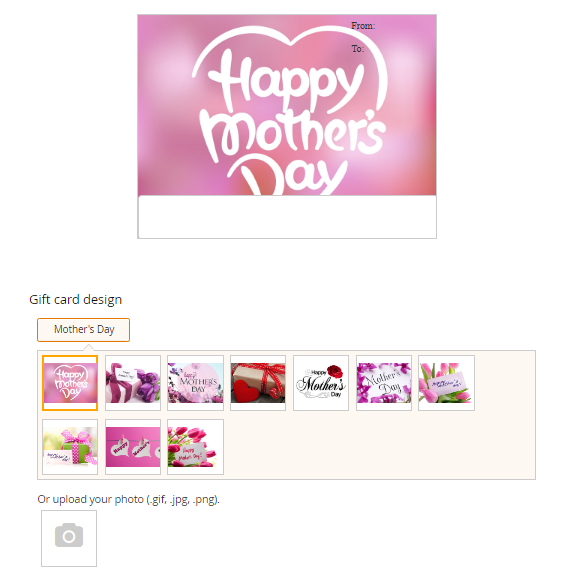 6.2 Determine the gift card value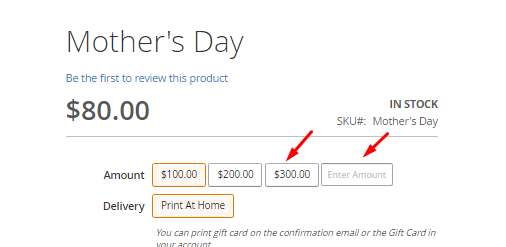 After deciding the main theme for the gift certificate, buyers need to define the value of gift vouchers they want to possess. Normally, there are two options for shopping doers to select, one is a list of fixed prices and the other is customer field box which allows buyers to enter their wishing prices.
However, there are some online merchants which their configurations only accept consumer's selection among fixed prices. Besides, the store is also the one who decides the valued currency for the cards such as US Dollar.
6.3 Provide required information
We all know that gift certificates exist in two different forms: physical and digital. Customers when decide to purchase either a physical or a virtual gift card or a combined one, are also asked to fill in information about sender and receiver.
With Mageplaza gift certificate extension, there are four ways applied to deliver a gift card, namely email, text message, and print at home.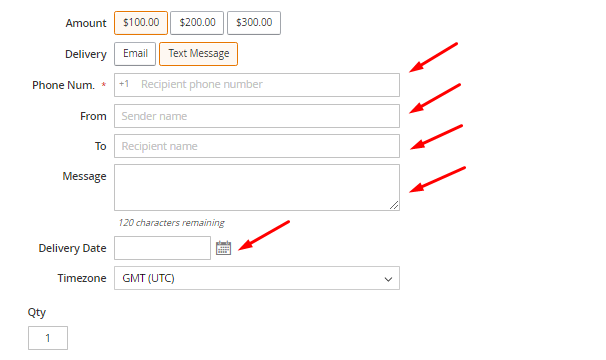 If consumers decide to send the present via email, they have to provide recipient email, both sender and recipient name. Besides, customers are enable to attach message and decide date and time that the gift voucher is sent to their beloveds by filling in Delivery Date and Time zone fields.
6.4 Text message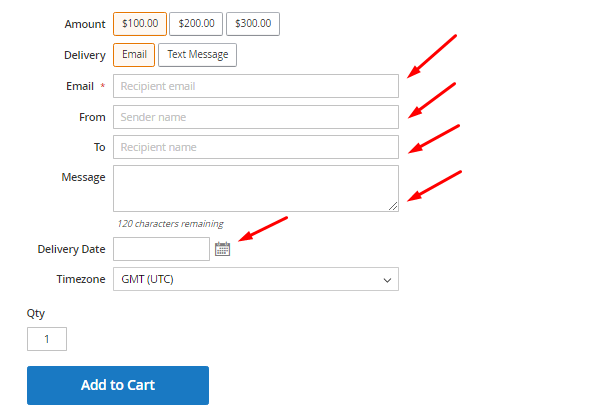 When text message is the method that is chosen by buyers to deliver gift certificate, phone number of recipient is the integral part in requirement fields. Moreover, names of sender and receiver are also required. Like email, this dispatch method allows users to write message to their friends and manage time that gift cards will be sent.
6.5 Post office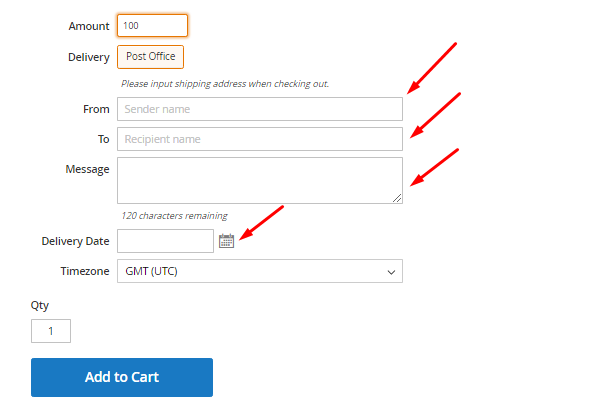 To be able to dispatch gift certificate via post office, the sender has to fill in his name and receiver's name. Message attached and Delivery Date are also personalized by consumers.
6.6 Print at home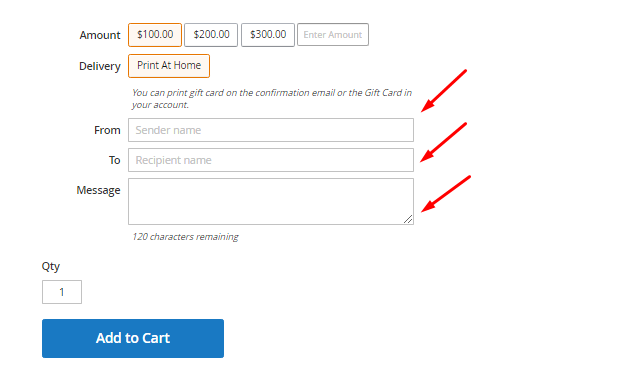 With Print at home, users only need to provide information about sender and recipient name, and type message.
6.7 Decide the quantity of gift cards purchased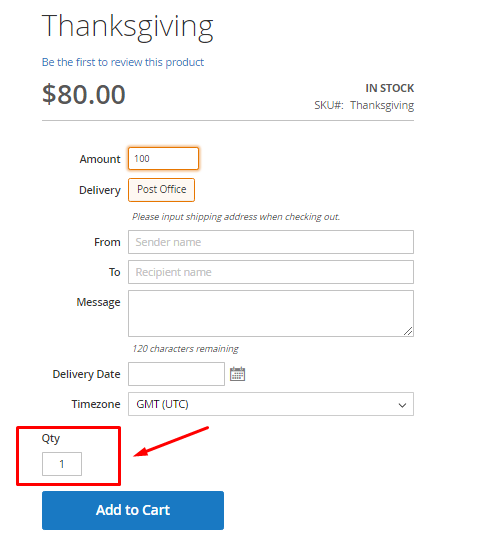 There is one more thing that users need to pay attention to finish shopping card. As Mageplaza gift cards extension has no limitation for the number of gift certificates created by buyers; therefore, they can decide the quantity following their demands.
After finishing all information required, gift vouchers are listed in the card with detail information attached about buyers, receivers, and messages. The value of the card decided by customers will be transferred into the base currency of the online merchant once buyers want to check out. Before finishing this step, purchasers can preview to see how the certificate look like and think twice to change or adjust the card such as the amount of value, the image, or the attached message. After all, do not forget to click on Add to Cart button, then move to checkout page and finish buying session.
6.8 Deliver gift certificate to recipient

Depending on what delivery methods that buyers choose, the gift vouchers will be sent to receivers in different ways. With the physical gift voucher, it can be sent to either buyer or receiver depending on customer's demand. If card purchaser wants to hand the certificate to their beloveds themselves, they can choose to receive the gift card. If not, the store will take the responsibility to dispatch their gift to the recipient.
For virtual or combined gift vouchers, an email with gift card code, name of sender, and message will be sent to receiver simply after a click. Additionally, after dispatching the present to recipient, an SMS notification will be sent to him to remind him of the appearance of the gift voucher.
With Magento 2 Gift Card extension by Mageplaza, users can also set exact date and time that they want their cards to be sent without any difficulty. This useful function is favorable by almost every buyer as they can surprise their friends or family members when they are thousand miles apart from their beloveds.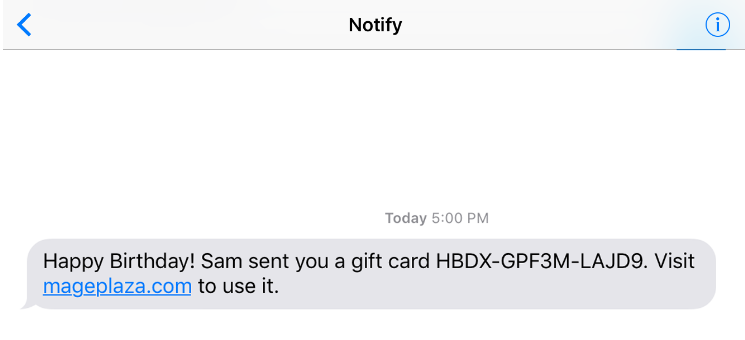 6.9 Use gift cards to purchase
If the recipient receive a physical gift certificate, he can bring the voucher along to the stores that accept the card to shop directly. Otherwise, when a digital voucher is sent to recipient, he has to access to the online system and sign in or create a new account to manage and use his card. After signing in, card owners can manage their gift vouchers by click on My Gift Cards option.
6.9.1 Manage gift certificates
In the product page of this functions, there are three main components that can be adjusted or managed by users. At the top of the page, web browsers can check or redeem their gift codes by filling in the checking box.


In this setting, customers can easily take an overview about all their gift vouchers concerning Code, Balance, Status, and Expired Date. By displaying these information, consumers can select the appropriate vouchers to shop for goods.
The codes are highly confidential as only card owners can see full symbols of these chains of codes. Otherwise, they are presented under the X symbols. Moreover, there are also some actions that can be performed here such as view, redeem, print, and remove. Only active cards that still have valued money have redeem button. With the already used codes or expired codes, customers can choose Remove button to delete the gift codes from table row.

By clicking on View button, more details about each gift code including actions have been done to the code will be showed in time order. Furthermore, print option enables owners to print a paper card to purchase at the bricks and mortals. It means that even though customers receive a virtual certificate, they can treat it as a physical voucher by printing it.

This table provides users with detail information about all their shopping behaviors that using their gift vouchers. It can be said that this function help customers to manage their certificates as well as shopping activities more wisely.
It is necessary for any customer to turn on Gift card update notification and Update balance notification to get the most up-to-date information regarding their gift voucher and balance to shop online.
6.9.2 Apply gift codes to checkout
Regardless of physical gift cards as it is used directly at the stores, with virtual gift vouchers, customers can fill in Apply gift code field to use their certificates. Moreover, card owners can use one gift card to purchase several times as long as the card still has valued money. Every time the card is used for payment, the amount of money needed will be presented and subtracted from the total amount. All the shopping activities will be recorded in the management page as shown above.
Conclusion
In conclusion, the appearance of gift vouchers has positive effects on human life in the way we present a gift to someone. Using a digital or even physical gift certificate is not only time-saving for the buyer but also more convenient for the recipient to purchase his wishing item.
In other words, using a gift voucher can create a sense of satisfaction for both buyer and receiver. That is the reason why purchasing a Gift Card extension is a wise investment for any online merchant, especially when the upcoming shopping season is on the verge to start now. If you are still considering which extension is suitable to your store, let try Mageplaza Gift Card extension.
It is sure to satisfy even the most difficult customers. For more information and details about how this extension functions, please visit our website mageplaza.com
VII. What are unique features in Mageplaza Gift Card extension?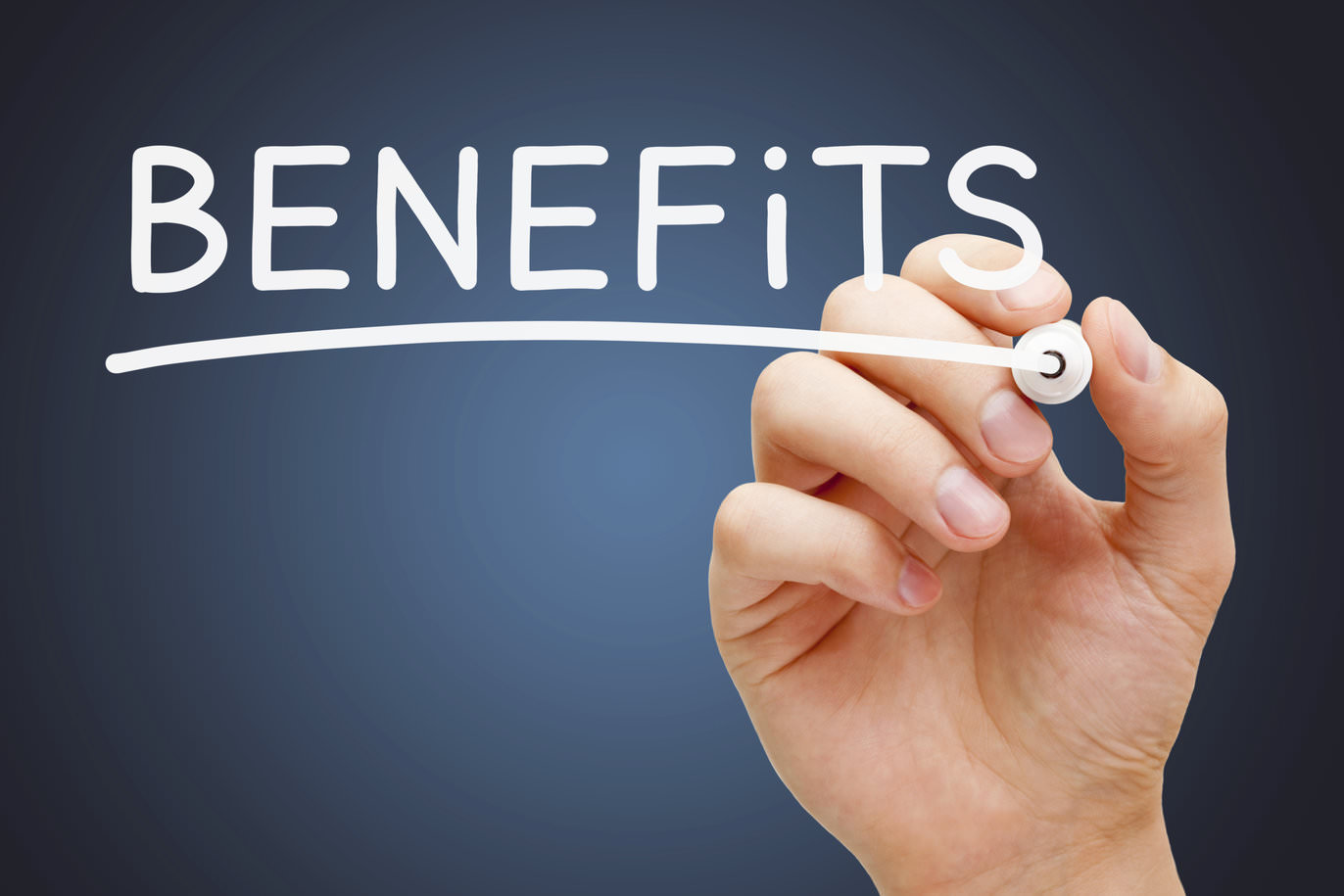 With all the convenience that a gift voucher can offer to card owners, gift certificates have been becoming increasingly popular than ever, especially digital gift cards. Online merchants, as a result, are learning how to take advantage from gift card industry. Knowing about the increasing demands from shop owners as well as customers, Mageplaza Gift Card extension is created to support every Magento online merchant.
With Mageplaza gift card extension, both consumers and store owners are beneficial from shopping activities even online or offline. Following is a list of outstanding features that are provided by this great extension.
7.1 Flexibility in number of vouchers and its values
One more highly appreciated feature that makes Mageplaza Gift Card extension become increasingly popular is its ability to create unlimited number of vouchers.
It means that one person can purchase one or thousands of certificates for themselves or their beloveds. The amount of value for each voucher is also decided by buyers as well. Besides, when they wish to purchase a product by gift cards, they can apply several vouchers at the same time without any difficulty.
7.2 Easy-to-understand and attractive design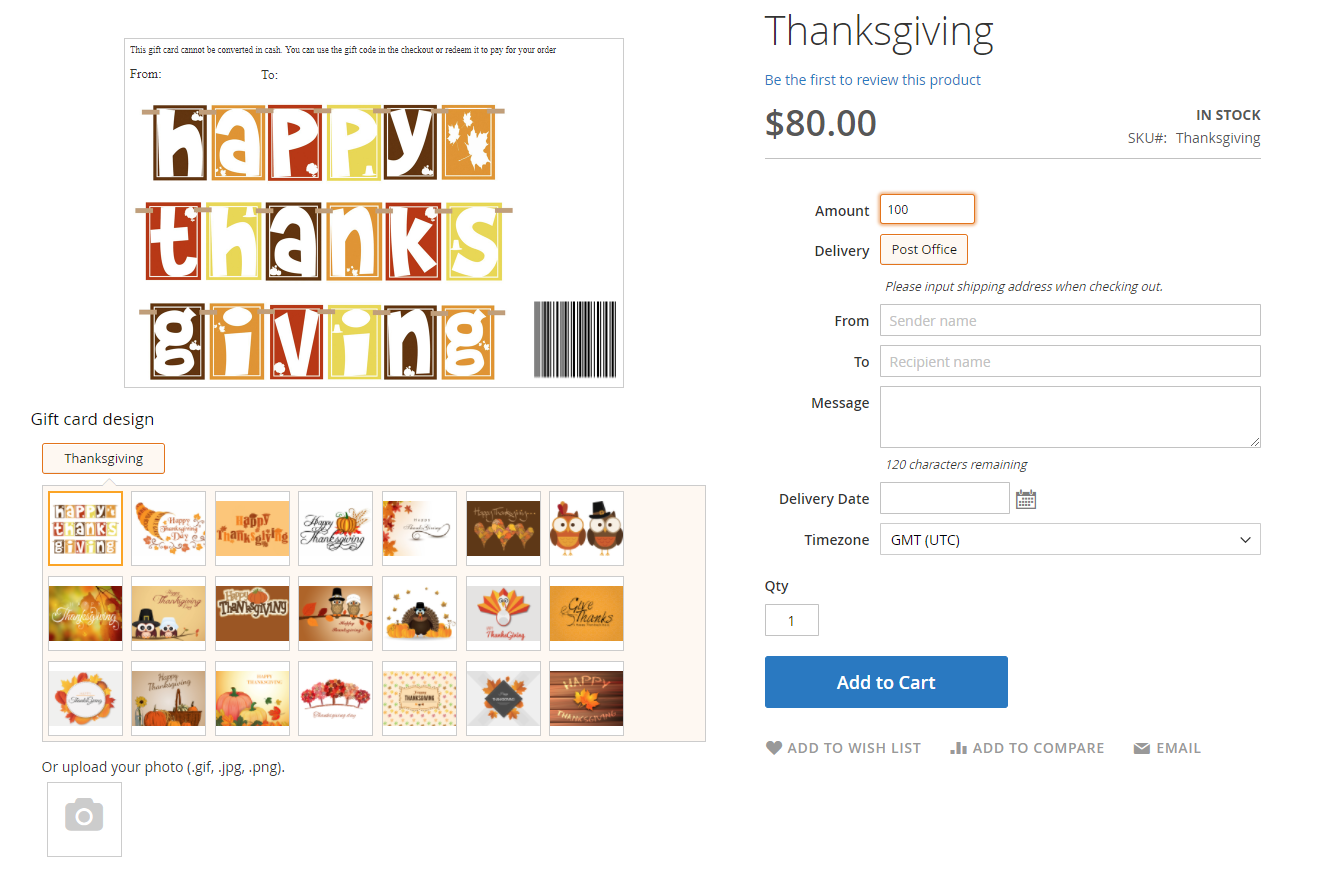 By giving detailed instructions, Mageplaza Gift Card extension allows users easily access to all useful functions to select their favorite gift vouchers. This extension promises to create a sense of satisfaction among customers as they can customize and feature their own gift certificates by choosing templates and images themselves. Only by one click, several beautifully-designed templates will be presented constantly in a blink of an eye. Moreover, with a bunch of beautiful images, consumers are offered more opportunities to figure out the most eye-catching and suitable cards to send to their beloveds.
7.3 Easy to customize and personalize
As mentioned before, customers can easily select their favorite images and templates among a bank of eye-catching ones available. Especially, Mageplaza Gift Card extension also allows users to upload their own pictures or any pictures that they expect to appear on the voucher.
This function is highly appreciated by all consumers since they can design their ideal certificates based on their tastes and preferences. If users would like to treat their gift card as a present, they can also take a look at the certificate before sending by preview function. As a consequence, the card become a more special and meaningful present to card receiver.
7.4 Friendly and easy to perform
People may worry that to perform all useful functions of Gift Card extension is hard and complicated for web browsers, especially who are new to online shopping.
Actually, users do not need to put much effort in these activities as all they need to do is follow the detailed instructions for each step. For example, if they want to set up or upgrade new version of this extension, all they need to do is one click. When consumers expect to insert their own pictures from their computers, customers only need to keep their mice to drag and drop the pictures they want to image box.
Additionally, Mageplaza Gift Card extension is designed to support multiple languages; therefore, both online merchants and online customers do not need to worry about language barriers.
7.5 Possible to deliver via SMS, emails, mail
Knowing that many people purchase a gift card with the intention to present it to their beloved, Mageplaza gift card extension offers web browsers different choices to deliver their gift at ease. They can choose to send it via SMS, emails, mail without any difficulty.
Additionally, another outstanding feature of this extension is Delivery Time. By using this function, buyers are more active in sending their gifts to receivers at any time. In other words, they can set date and time at which the presents are handed to the right people.
7.6 Different ways to store cards
When online merchants apply this extension, their customers can have various choices to keep their vouchers. Buyers once decided to purchase a gift card can choose to use it as an e-gift certificate or receive it via their email addresses. It means that consumers only need a computer or a mobile phone with Internet connected to keep their certificates handy.
Moreover, if they want to spend their vouchers at the bricks and mortals, card owners can print the cards at home and treat them as shopping vouchers as normal. Furthermore, users can also import or export the gift codes with ease to apply for their bills. Additionally, if they can remember a chain of gift codes, they even do not need to bring any physical gift voucher along as well.
7.7 Supportive in Giving Message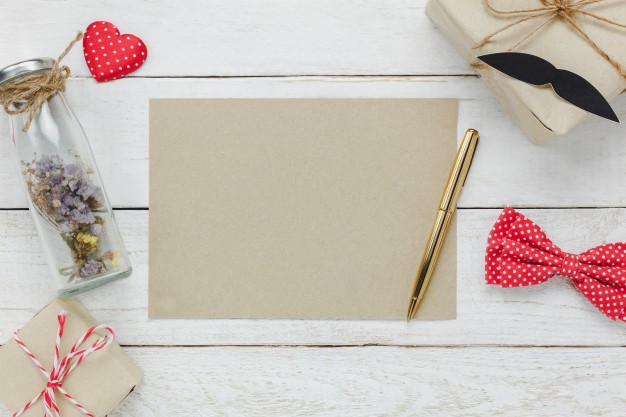 Beside Delivery Time function, Mageplaza Gift Card extension allows shopping doers to attach their messages to the receivers. It means that, if buyers want to buy their beloveds a gift card on their birthday or anniversary or any occasion, they can also send their messages they want to transfer to receivers.
This function is favorable to almost all users, especially to people who are living far from their family and friends. Since it is sure that all receivers will be surprises and happy about the surprising gifts and wishes.
7.8 Convenient to use as card credit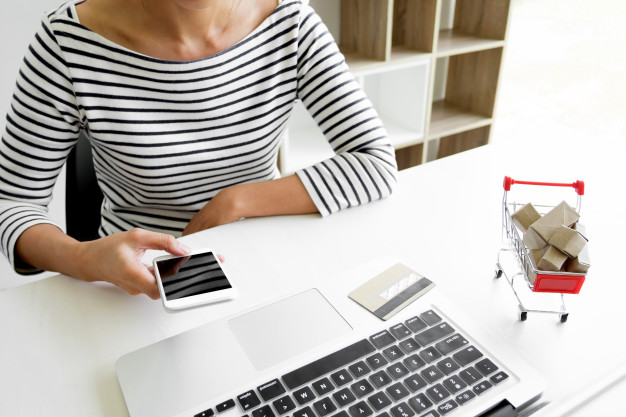 Not only has a variety of ways to keep a gift card, this extension also enables users to treat their cards as a smart payment method. Card owners can track their shopping activities, transactions, and account balance via their mobile devices.
This function is created to prevent the possibility of losing money for consumers. Moreover, with the uncompleted order, users can redeem their used gift voucher, which is very convenient for any shopping doers.
Conclusion
In conclusion, Mageplaza gift card extension is integral to any Magento online merchants. If you're still doubt about how remarkably this extension can bring to your stores, just experience by yourself. Your customers will be sure to be satisfied and happy by every convenient and beneficial function provided by our extension.
If you want to find more information about how Mageplaza Gift Card extension will work on your Magento stores, please visit our website and talk with our consultant team via: Magento 2 Gift Card
Magento Support
& Maintenance Services
Make sure your M2 store is not only in good shape but also thriving with a professional team yet at an affordable price.
Get Started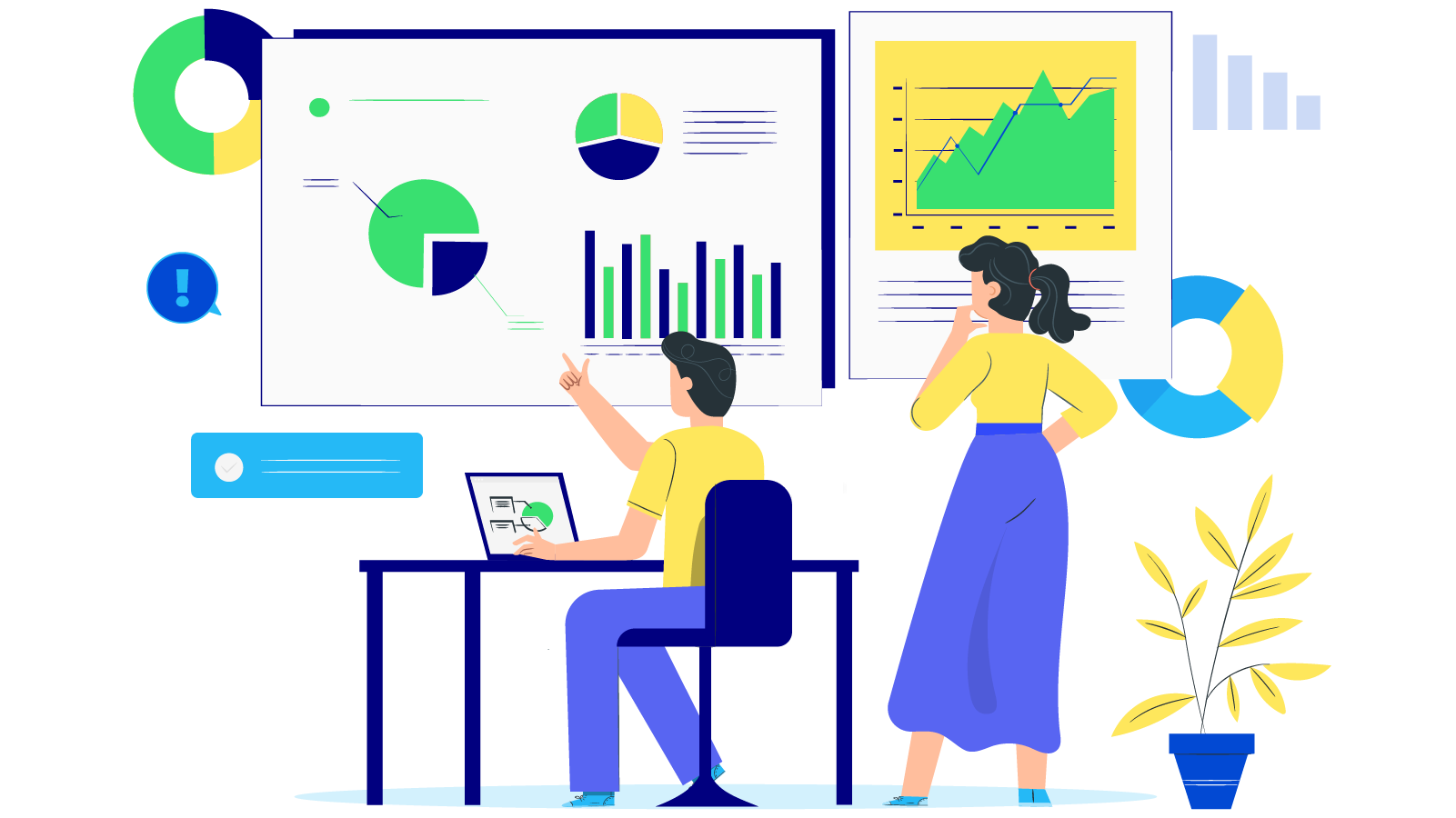 New Posts


Subscribe
Stay in the know
Get special offers on the latest news from Mageplaza.
Earn $10 in reward now!