Magento 2 Reward Points Extensions
Magento 2 Reward Points Extensions in 2022
The Best 11 Magento 2 Reward Points extensions from hundreds of the Reward Points extensions in the market as derived from Mageplaza Ranking which is using Mageplaza scores, rating reviews, search results, social metrics. The bellow extensions were picked manually by Mageplaza experts, if your Reward Points does not include in the list, feel free to contact us. The best Reward Points list is ranked and result in 2022, the price from $49 to $346. Find more Magento 2 extensions here.
Boost your customer loyalty!!!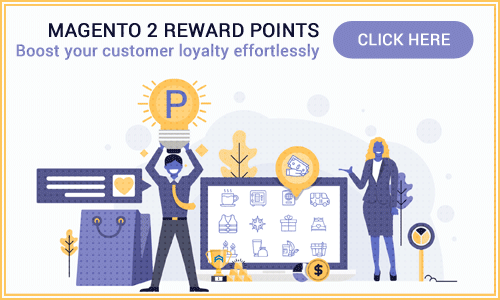 Top Here is a list of Best Reward Points for Magento 2:
Magento Vendor
Name
Highlight features
Description
Price
Actions

mageplaza

Reward Points by Mageplaza

Be able to customize to establish spending and earning rules
Enable becoming a payment method
Able to earn points through the customer shopping activities
Ability to boost the traffic
Allow following loyalty program

The Magento 2 Reward Points by Mageplaza allows customers to earn unlimited points through the actions of customers such as buying products, sharing products through social networks, etc. Besides that, customers can use points as a payment method. This not only helps attract new customers but also retain loyal customers for your online store.

aheadworks

Reward Points by Aheadworks

Allow earning reward points when buyers purchase, review and share products or perform other interactions
With different customer groups, allow earning and spending rate differently
Be able to get reminders when earning points in store
Help modify available balance for admins

Magento 2 Reward Points by Aheadworks is a perfect tool to give customers a great shopping experience from the store as well as to give them exciting promotions. You will no longer worry about the quality of the store's service, this extension will help you remove all other concerns and satisfy the difficult customers.

Reward Points by

Allow rewarding customers when they purchase, register, share, etc
Easy to add or minus points
Help set exchange rate
Easily configure all actions

To thank customers for shopping at your store, the Magento 2 Reward Points extension is a perfect choice for you. With this tool, admins can create promotions by giving them bonus points and points can be claimed as a payment method. This will encourage them to purchase more products from your store.

exto

Reward Points by Exto

Allow managing all your campaigns from dashboard
Include flexible regulations
Inform expiration for additional incentives
Allow refunding by points

It's time to increase sales and attract loyal customers. Magento 2 Reward Point System will give points to customers whenever they buy, share or review products in the store. This Reward Points will be converted as a method of payment when making a purchase. This is a great feature for loyal customers.

landofcoder

Reward Points by Landofcoder

Ability to refund by points and enhanced report
Allow sending notification email when there are any changes
Be able to check the point of balance, transaction in your account
Enable earning reward points from multiple ways like sharing, purchasing, birthday, etc
Able to establish different earning and spending point rate

With Magento 2 Reward extension from Landofcoder, you can easily attract customers to your store. It accumulates when a customer buys, shares a product or reviews about a store. In addition, customers can use reward points to pay as well as participate in attractive promotions. From that, it helps stores improve sales, attract new customers, and retain old customers.

mage-world

Reward Points by Mage-world

Easy to set reward rules
Ability to keep track of and control customer points
Allow controlling spending rules
Enable increasing loyal customers
Able to reward customer behavior such as purchasing, reviewing, sharing, birthday, etc

MageWorld's Reward Points for Magento 2 store is a tool to build a close relationship between customers and stores. Through customer interactions such as shopping, sharing or reviewing the product, admins can boost sales, increase the number of loyal customers for the store. In addition, it also drives the customer to purchase goods to earn more points from store promotions.

magearray

Reward Points by Magearray

Be able to earn and spend reward points
Allow managing reward points according to your needs
Ability to refund by points as well as advanced reports
Allow increasing loyal customers

Magento 2 Loyalty Points offers the promotions for the customer and encourages customers to purchase more products. In addition, it also helps improve sales and increase visitor traffic to the store.

magestore

Reward Point by Magestore

Allow establishing rate properly for earning and spending points
Be able to control reward point balance, customer reward point and modify it as your want
Able to refund by points easily
Enable importing/exporting reward points by CSV file

Reward Point System by Magestore is a great extension for shop owners. It allows admins to create reward programs for their customers. This helps keep customers from your store and increases the interesting shopping experience for customers.

mirasvit

Reward Points by Mirasvit

User-friendly interface
Include social activity rewards
Able to spend and earn Reward Points easily
Allow arranging and controlling sales and promotions
Easy to create spending rules for customers

Magento 2 Reward Points extension by Mirasvit is a perfect marketing tool for your online store. With this tool, customers will enjoy the promotion of the store, which helps increase sales as well as attract customers back to the store.

webkul

Reward Point by Webkul

Able to enable/disable the module by admins
Allow controlling points for customer behaviors
Easy to set cart rules
Let customer track the points easily
Enable rewarding points for the customer when purchasing, posting, reviewing the product or registering on store

With Magento 2 Reward Points extension, customers can accumulate points and will be redeemed points at the checkout. This module will help your customers feel more comfortable purchasing at your store as well as encouraging them to buy more. From there, it helps the store increase conversion rates and boost sales.

magenest

Reward Point by Magenest

Reward customers for signing up
Reward customers for subscribing to newsletter
Reward customers for making a purchase
Reward customers for refering a friend
Set up point exchange rate for activities
Membership system with tiers based on gathered points

Create a comprehensive loyalty suite for your Magento 2 store with Reward Points by Magenest. Reward customers for their purchases and activities on your store to drive them to spend more with you.
More Reviews from Mageplaza
These 11 Reward Points modules are ranked based on following criterias:
Rating review on Magento Connect, Magento Marketplace and vendor's website.
The price, features.
The vendor's reputation and Search Engine Ranking.
Social media metrix such as Facebook, Twiiter, Google+.
Mageplaza team and expert review.
Top 11 Magento 2 Reward Points Vendors
Thank to every vendor that has made this Top 11 Reward Points list! This is the most comprehensive list of best Reward Points on the internet and we are honoured to have you as part of this!
We would like to give the best commendation for all of vendors who have done the number one of Reward Points brief! It is appreciated to be the most awesome and exhaustive result from searching on Google. We are pretty proud of your appearance of this task. Many thanks for your benefaction to our lives!
If you want to add or remove an item in the Reward Points list, feel free to submit your extension at Submit form