Magento 2 Custom Checkout Fields Extensions
Magento 2 Custom Checkout Fields Extensions in 2023
The Best 5 Magento 2 Custom Checkout Fields extensions from hundreds of the Custom Checkout Fields extensions in the market as derived from Mageplaza Ranking, which is using Mageplaza scores, rating reviews, search results, and social metrics. The below extensions were picked manually by Mageplaza experts, if your Custom Checkout Fields does not include in the list, feel free to contact us. The best Custom Checkout Fields list is ranked and evaluated in 2023, the price from $49 to $199. Find more Magento 2 extensions here.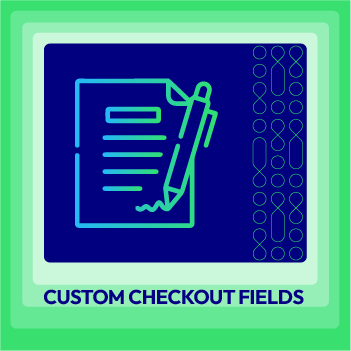 Custom Checkout Fields for Magento 2
Collect extra customer data at the checkout page to improve marketing strategy
Check it out!
Custom Checkout Fields extensions for Magento 2
Magento Vendor
Name
Highlight features
Description
Price
Actions

mageplaza

Custom Checkout Fields by Mageplaza

Collect more customer information at the checkout page
Display various input types for checkout fields
Configure a field depending on others
Display on Sales Order Grid, PDF invoice, and more
Set the priority for displaying checkout attributes
Show & manage custom fields on the order grid
Available API/GraphQL

Magento 2 Custom Checkout Fields by Mageplaza allows store owners to add more custom fields and display them in different positions on the checkout page. With additional attributes, customers' orders are much more individual and specific, which supports store owners to satisfy customers more easily and perfectly.

bsscommerce

Custom Checkout Fields by Bsscommerce

Add any number of Magento 2 custom fields to checkout
Use those fields as order attributes to improve management
Show custom fields in the Order grid & Order Detail page
Add order custom attributes to transaction emails and documents

The extension allows store admins to add as many custom fields as they want to checkout pages. From the result, they can resolve problems regarding their website's shopping experience.

fmeextensions

Custom Checkout Fields by Fmeextensions

Add extra fields to the checkout page
Select from 12 field types
Add dependable checkout custom fields
Display checkout fields in invoice email & PDF
Restrict by store views & customer groups

The extension enables you to add additional checkout fields to your checkout page and collect valuable customer information. By doing so, you can understand their order requirements, behavior, preferences, and more.

magecomp

Custom Checkout Fields by Magecomp

Customize the checkout page by adding extra input fields
Add up to 8 fields at the checkout page
Custom checkout fields are displayed on the order view page
Show/Hide custom fields
Determine the sequence of custom fields at checkout

The extension facilitates store owners to customize checkout pages by adding more custom fields to collect additional information from customers in context to customer choices, order requirements, or comments.

amasty

Custom Checkout Fields by Amasty

Add diverse custom fields to the checkout page
Display custom fields under flexible conditions
Work on custom checkout via the order grid
Include input forms in PDF and printable HTML documents and emails
Hide/display custom fields with regard to a selected shipping method

The extension helps you perform Magento 2 checkout page customization by adding extra fields of various types. You can conveniently collect comprehensive order data. You can also manage customer information in an order grid.
---
More Extension Reviews from Mageplaza
These 5 Custom Checkout Fields are ranked based on following criteria:
Rating review on Magento Connect, Magento Marketplace and vendor's website.
The price and features.
The vendor's reputation and Search Engine Ranking.
Social media metrics such as Facebook, Twiiter, Google+.
Mageplaza team and expert review.
Top 5 Custom Checkout Fields Vendors
Thank to every vendor that has made this Top 5 Custom Checkout Fields list! This is the most comprehensive list of best Custom Checkout Fields on the internet and we are honoured to have you as part of this!
We would like to give the best commendation for all of vendors who have done the number one of Custom Checkout Fields brief! It is appreciated to be the most awesome and exhaustive result from searching on Google. We are pretty proud of your appearance of this task. Many thanks for your benefaction to our lives!