How to prepare your store for Halloween
The Most Popular Extension Builder for

Magento 2
With a big catalog of 224+ extensions for your online store
It is coming! The "scary-good" time of the year, and it is the Halloween day. Some people believe that it is just a minor holiday compared to Christmas and Easter, but they don't know such small holidays as Halloween can bring significant growth in sales to their e-commerce business. Since many people of all ages are going to get into the Halloween spirit, there will be a surge in internet spending in this time period. So, if you don't want to miss an opportunity of boosting your revenue, just spook out your website to join this amazing season trend and engage with as many customers as you can.
But, how should you prepare your online store this Halloween? This article is going to help you find out.
Table of contents
What you need to know about Halloween e-commerce
Halloween e-commerce is getting bigger because many countries in the world are now celebrating it, and it is the perfect time for many entrepreneurs, especially online businesses to grab a chance of increasing sales during this festive period. In recent years, many Asian countries have a huge demand for Halloween costumes whenever the holiday is coming, which leads to a spike in online orders 2-3 weeks before the night of Oct 31st. In the US, 179 million people spend about $86.13 each throughout the holiday in 2017, and 39% of shoppers 45 and under buy online for Halloween.
An example from the Amazon global daily visit data which is provided by SimilarWeb, there is a traffic peak on the website around Halloween time. This can be attributed to the increase in costume purchases and consumers' expectations towards Halloween sales, which indicates that online shop owners shouldn't ignore the power of this holiday when it comes to boosting revenue.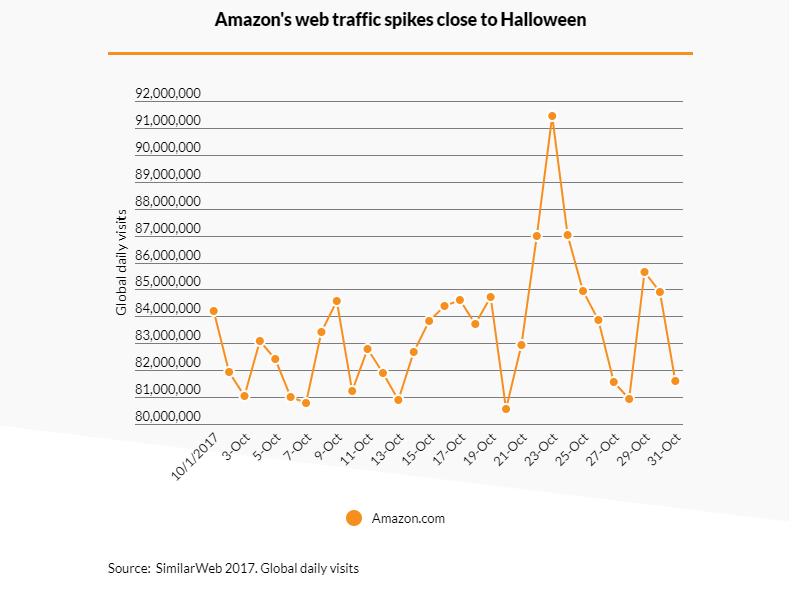 Customers will not just buy Halloween costumes or decorations in this time period. They are going to purchase many other products as well since the next Peak Season like Christmas and Easter are coming after. That's why many online stores already offer special promotions to attract buyers to get great deals in this October season.
Also, online business doers should remember that women tend to get their shopping done earlier than men for Halloween, but male customers spend more on this holiday. So, if you want to get extra "treats" during the season, deciding who is your targeted customers is critically important. After that, having a great marketing strategy with perfect content and launching it in perfect time will help you gain the most sales in the spookiest time of the year.
Explore more: 17 Spooky Halloween Marketing Ideas & Practical Tips(2023)
How to get your online store prepared for the holiday
Now, you may come up with tons of bone-chilling yet exciting ideas for your Halloween-themed website and the marketing campaign. However, you still need to remember not to freak customers out, or else it might be a real nightmare because if it's too scary or sensitive, they could abandon shopping immediately. So, how should you do it?
Ultimate Guide for Holiday Shopping Season
An A-Z guide for your marketing and sale campaigns this shopping season
Download PDF
Give your website a spooky look
The easiest way to show customers that you are having special Halloween sales is by refreshing your web design with a more "Halloween feel". Pumpkins, spiders and webs, skeletons, Jack-o-Lanterns, etc. are iconic elements which you would likely to have them on your website to express the holiday spirit. Some shop owners even change the website color, add more creepy sound effects and imagery to be more attractive.
Tips: you shouldn't change too much, especially the whole website theme since it's just temporary for a few days celebrating Halloween.
Instead, you can put some changes on these small but effective factors:
A spine-tingling coupon pop-up: When customers enter your site, a Halloween-inspired image box offering undeniable coupons, discounts or free shipping pops up right in front of their eyes might be very attractive. You can use a captivating message like "Trick or Treat?", as well, to intrigue the buyers. Customers would also like to add many coupons at the same time (discount plus shipping redeem, for instance), so it is better if you can let them use several coupons for one purchase.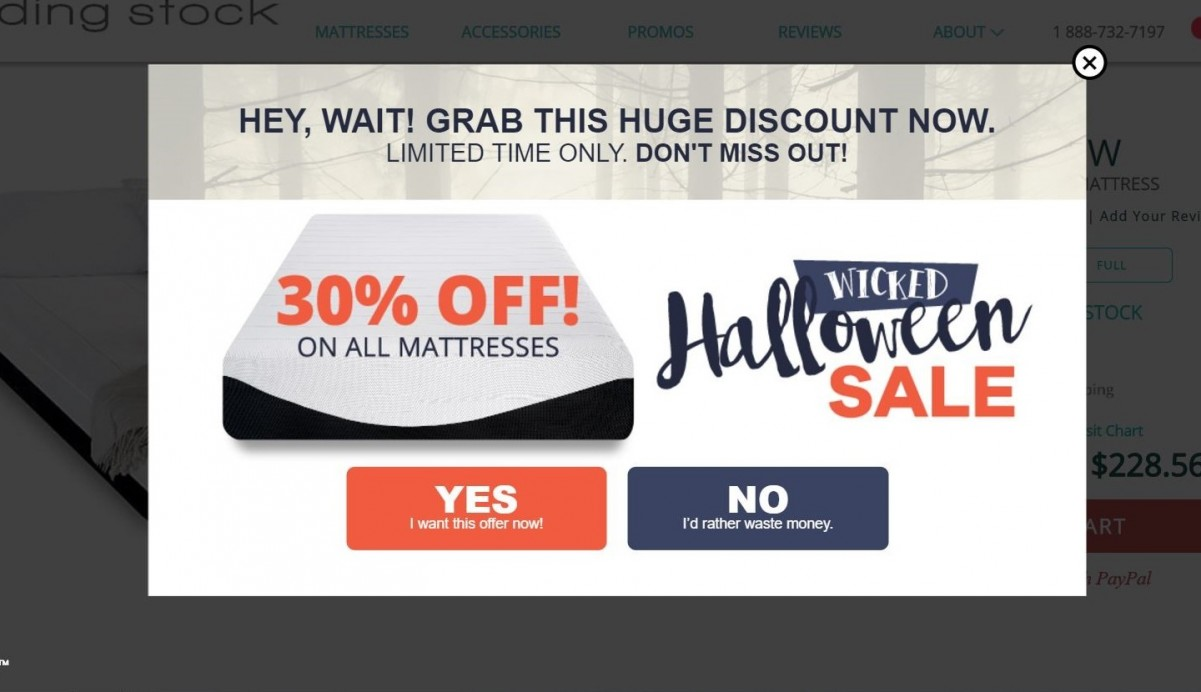 Multiple Coupons for Magento 2
Improve customer experience during shopping by enabling customers to add various discounts on one order
Check it out!
Halloween-themed banners: Obviously, shoppers are going to look at your big banners at homepage slider (if your site has a slider). So, this could be a good way to impress visitors with your Halloween promotions, contests or special giveaway, especially if you want new customers to be aware of these irresistible offerings.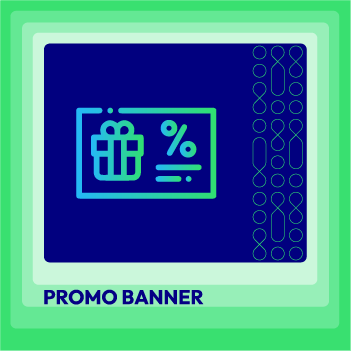 Create promotion and notification banners with various styles, especially slider and pop-up
Check it out!
Write thrilling content
Writing about Halloween-related topics can help you gain an enormous amount of seasonal traffic. Your website should have a blog where you can post many articles or videos about Halloween to make this time period more fun to customers. Some people may ask: "What should I write about? My products are not really related to Halloween". The answer is there are plenty of topics out there for you to blog about Halloween. What you need is a bit of creativity and a sense of humor.
You can definitely write about your Halloween promotions, in which customers will get a lot of benefits such as great discounts if they participate in. Which upcoming Halloween events is also a cool idea to post on your blog. Or, you can make use of your products to create topics. For instance, if you run a furniture store, write about 'how to decorate your house for Halloween'. Or simply, just let people read about the origin of this festive day.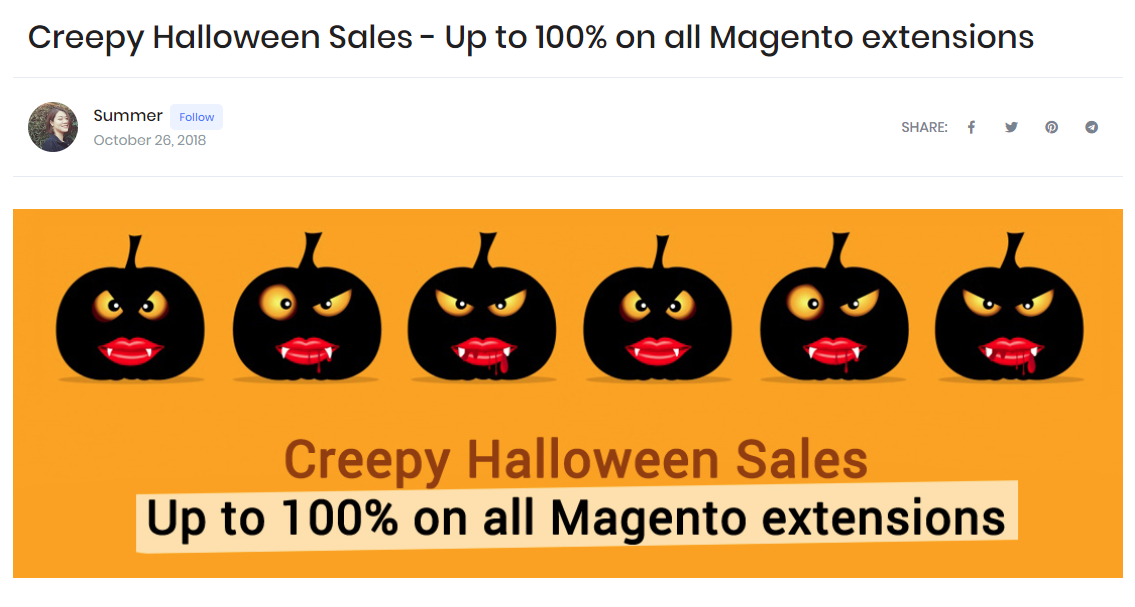 Regardless of your niche, writing and using keywords about Halloween can help your website land on the first page results, which means there will be more traffic to your online store around this holiday time. Also, don't forget to share these articles on your social media to increase engagement with your followers.
It's time to 'halloweenize' your products
If you are selling Halloween costumes, then this is the perfect time to cross-sell other products because buyers are not going to just buy clothes but other relevant items such as shoes, accessories, decorations, etc. But if your products have nothing to do with Halloween, try to make a 'spooky' version of them during this holiday time.
A small Halloween-related image on your T-shirt product can help boost your sales in just a few days or weeks depending on the promotion period. Remember to be creative and don't hesitate to try only because you are not selling Halloween items. If you are selling utensils, for example, you can sell a set of Halloween version with the promotional price if customers buy 1 or 2 original sets.
Another way of selling themed products is that you can let customers design whatever they want for the Halloween topic. After that, they will be excited and willing to spend money on the products which are customized by themselves.
Tips: Remember to offer free shipping as well and stock up your products in case of over-demand.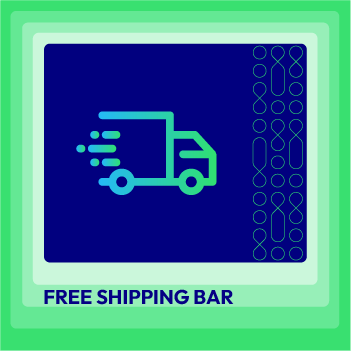 Free Shipping Bar for Magento 2
Expand shopping cart size by offering free delivery for buyers who hit the cart threshold.
Check it out!
Treat customers with awesome promotions
If you want your shoppers to have the best Halloween experience, then offering them large discounts, amazing coupons or free shipping service is the right strategy. As mentioned earlier in this article, a pop-up with a promotional coupon will be very attractive. Perhaps very few people will turn down this opportunity, so a coupon is totally needed at Halloween. Also, many shoppers abandon their shopping carts in the middle even if they have a discount because of the high shipping fee. Thus, you may want customers to have their merch to be free shipped (globally, if possible, is perfect)
Another thing to mention about promotion is that your product doesn't necessarily have to be related to Halloween, yet you still can celebrate the festivity with the whole spirit. And people would love to buy at your store for that.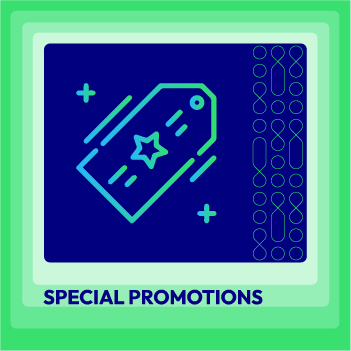 Special Promotions for Magento 2
Add various types of promotions to your cart price rules - Boost sales instantly
Check it out!
Promote your 'Halloween treats' by email marketing
Obviously, you should put email marketing on the list when it comes to the must-have marketing ideas for Halloween. A simple reason for this is sending promotional emails has always been an effective method to gain more customers. Especially at Halloween or Christmas season when people will spend more than half of their annual budget, they will surely be attracted to your promotional emails.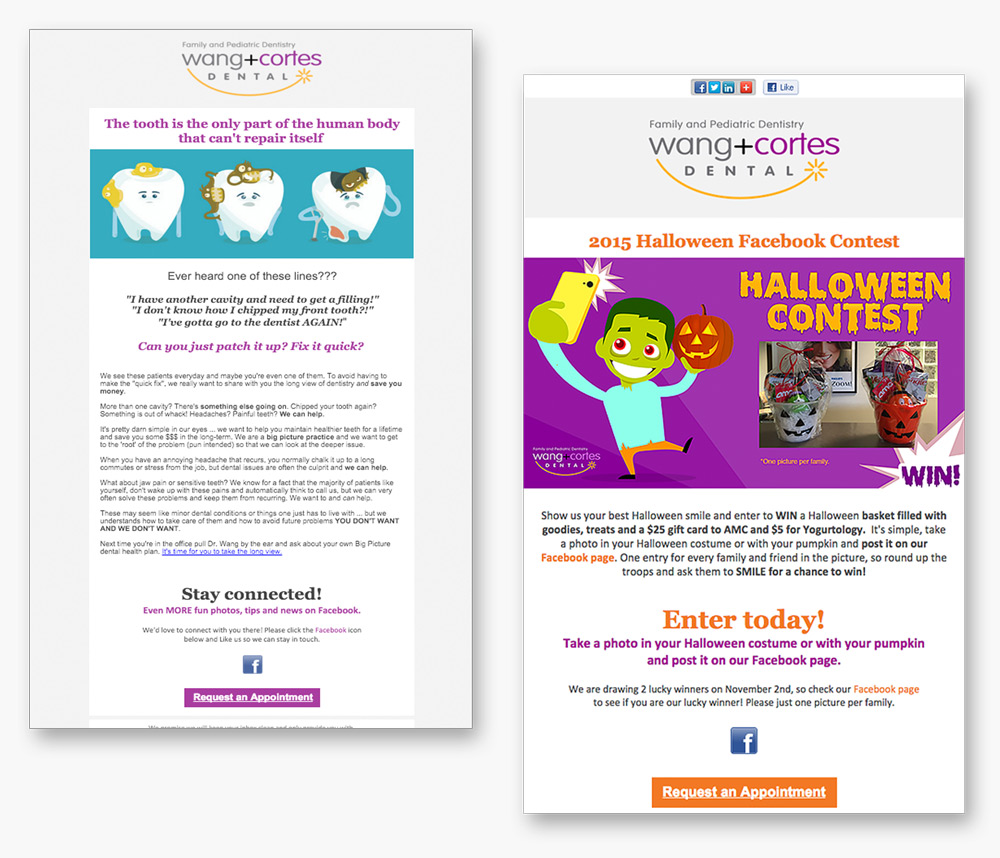 You should constantly send emails to your list around Halloween time with special offerings such as discount information, private coupon for both new and loyal register, free shipping, etc. Particularly, big e-commerce websites like Mango or Uniqlo tend to send a lot of newsletters when the promotion begins, during the promotion period and a day or a couple of hours before the promotion ends.
Tips:
Start the promotion campaign: you should start sending emails to customers 2-3 weeks before the Halloween week with promotion information, promo code and a captivating CTA that redirects to your online store, so customers can start buying immediately.

During the promotion: send the product recommendations email to customers daily with discount details and remind them of the promotion due date. In case any buyer abandons their cart, you can send the cart recover email to get them back and complete their purchase.

Right before the promotion ends: Send reminder emails to customers (add some keywords such as LIMITED STOCK, 1 HOUR LEFT, UNTIL MIDNIGHT). You can consider offering them additional discounts or free shipping if it makes customers want to buy quickly.
Tools suggestion:
MailChimp is a wonderful tool that can help you automatically send promotional emails and an all-in-one solution that connect with CMR tools, social ads and so on.

MailBot can be a great tool if you want to send the cart recovery email to remind customers continuing their buying process.
Don't forget your social media channels
A great way to increase connection with your followers is by taking care of your social medial. You should inform about the Halloween event that shoppers can get great deals when they join in. Some funny photos about Halloween, spooky videos and gifs with interesting captions will be helpful. You can leave the website link on the posts so that customers can directly enter to find their favorite products.
Another great idea to promote Halloween campaign on these channels is to organize a photo contest. By doing so, more and more people will know about the campaign and if many people participate in, the chance of getting more traffic to the site will be higher, which can potentially boost sales during the holiday week.
Tips: There is no need to post everything about Halloween during the promotion. Instead, you should run ads for both regular posts and one or two Halloween-themed posts to get more effective results.
Pay attention to the mobile version for Halloween
For sure, you shouldn't forget the website's mobile version or the mobile app (if you have). Since, there is a growing number of people around the world shopping through their smartphones or tablets in this century, your Halloween campaign will not be complete if you do nothing with the mobile version. You can slightly change the mobile app theme into a more Halloween spirit, or simply just at some pumpkins or bats on the app's icon to show customers that you are celebrating Halloween, and you will treat them with special offerings.
Also, you can offer different types of discounts or coupons to mobile users as well such as giving them QR code to scan for private promo code.
Conclusion
Halloween is still an important event in the whole year for many e-commerce business doers. If you ignore it, there will greatly be a chance that you will miss the opportunity of boosting revenue in the very short term. That is why making a clear plan and have a strategic preparation for your online store for Halloween is crucial to help acquire more customers as well as increase their shopping experience for more transactions in the future.
Jade is a content creator, book lover, and a hodophile. She loves to learn skills and practical knowledge to excel at marketing, especially content marketing.
Website Support
& Maintenance Services
Make sure your store is not only in good shape but also thriving with a professional team yet at an affordable price.
Get Started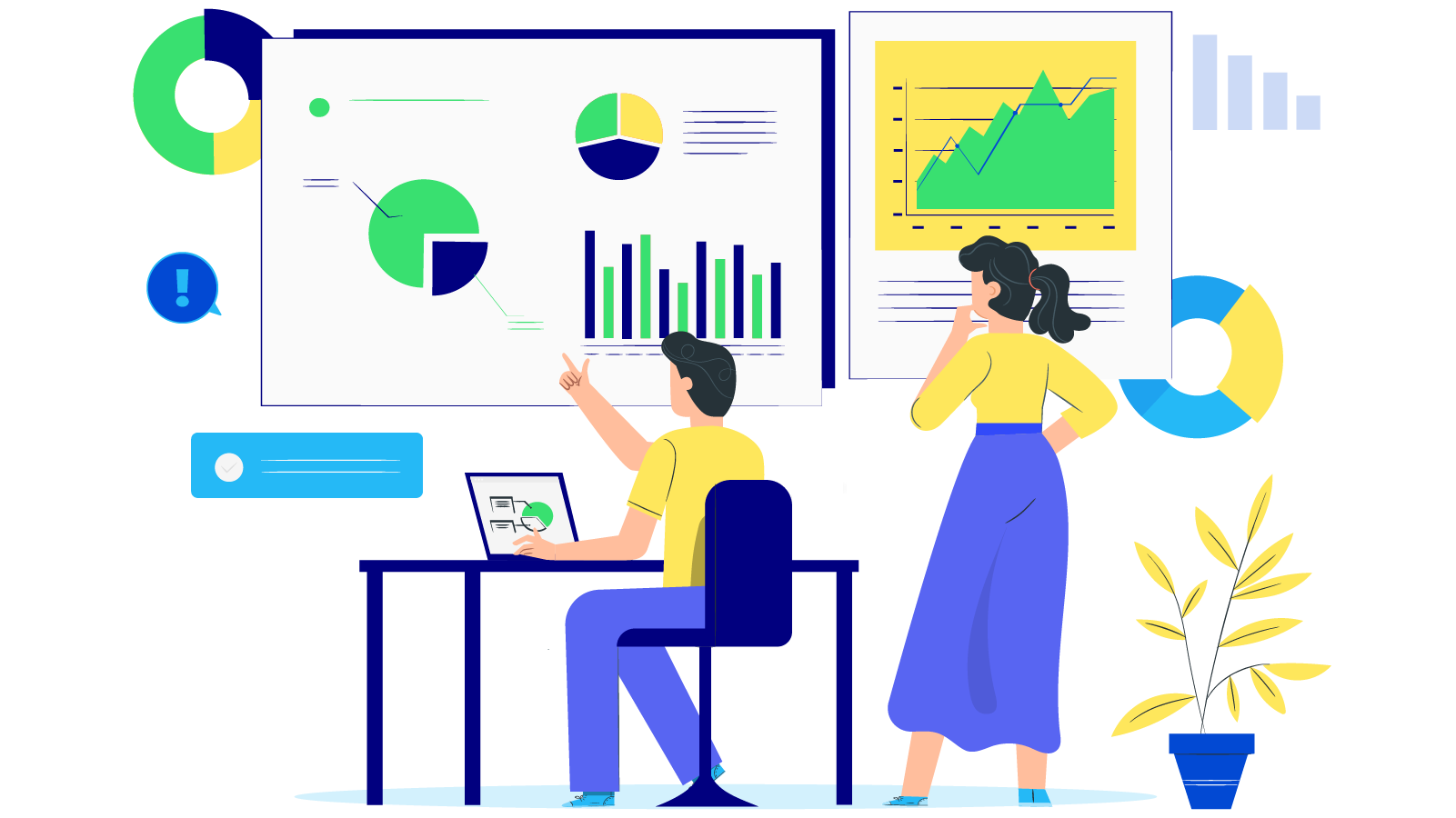 New Posts



Subscribe
Stay in the know
Get special offers on the latest news from Mageplaza.
Earn $10 in reward now!