Magento 2 Product Alerts - Sales Driver for Online stores
The Most Popular Extension Builder for

Magento 2
With a big catalog of 224+ extensions for your online store
Overview
There is a huge benefit that online stores can utilize from visitors who have the interest and demand for your particular products. Sometimes, however, these items are out of stock that customers can not buy immediately or at pretty high prices which make them unwilling to buy. If online stores only let things be, they forgo a potential sales from these customers. Built to solve this problem, Mageplaza Product Alerts helps shopping online of customers become easier and brings online sites significant profitability.
Main Contents
What is Product Alerts?
Product Alerts is a notification tool which allows customers to subscribe for out-of-stock products and price changed products. Besides, whenever the products subscribed are back in stock or have better prices, customers will get the notification emails. By this, customers can get their favored items as soon as possible without having to accessing the stores actively.
How does Product Alerts improve sales and customers experience?
Update product availability promptly to customers
Not many buyers can wait and usually access to an e-stores everyday just to watch for their favored items be in stock or is discounted in price. These days, businesses themselves is the guys who actively brings things to buyers. They increase the supply and the demand follow it. Product Alerts acts base on this strategy.
For individual buyers, he/she can be updated with the coming back of his interested items via his/her email as soon as possible instead of navigating the store many times to track the products' visibility.
With the wholesales, they can be notified quickly the back-in-stock products so that they can be active with their business plan and promotions.
Looking for Sales Booster Tools for Magento 2 stores? Get it here!

Customers get better price without effort
Sometimes, visitors fall in love with one item but its price seem too high that they can afford. Some will wait for sales and discounts. Mageplaza Product Alerts does supports notifying customers about better price items. Because shoppers can be informed right when there is any fluctuation in price, they can get the affordable or better price instantly. Hence, they will be excited to pick their favorite items with satisfaction.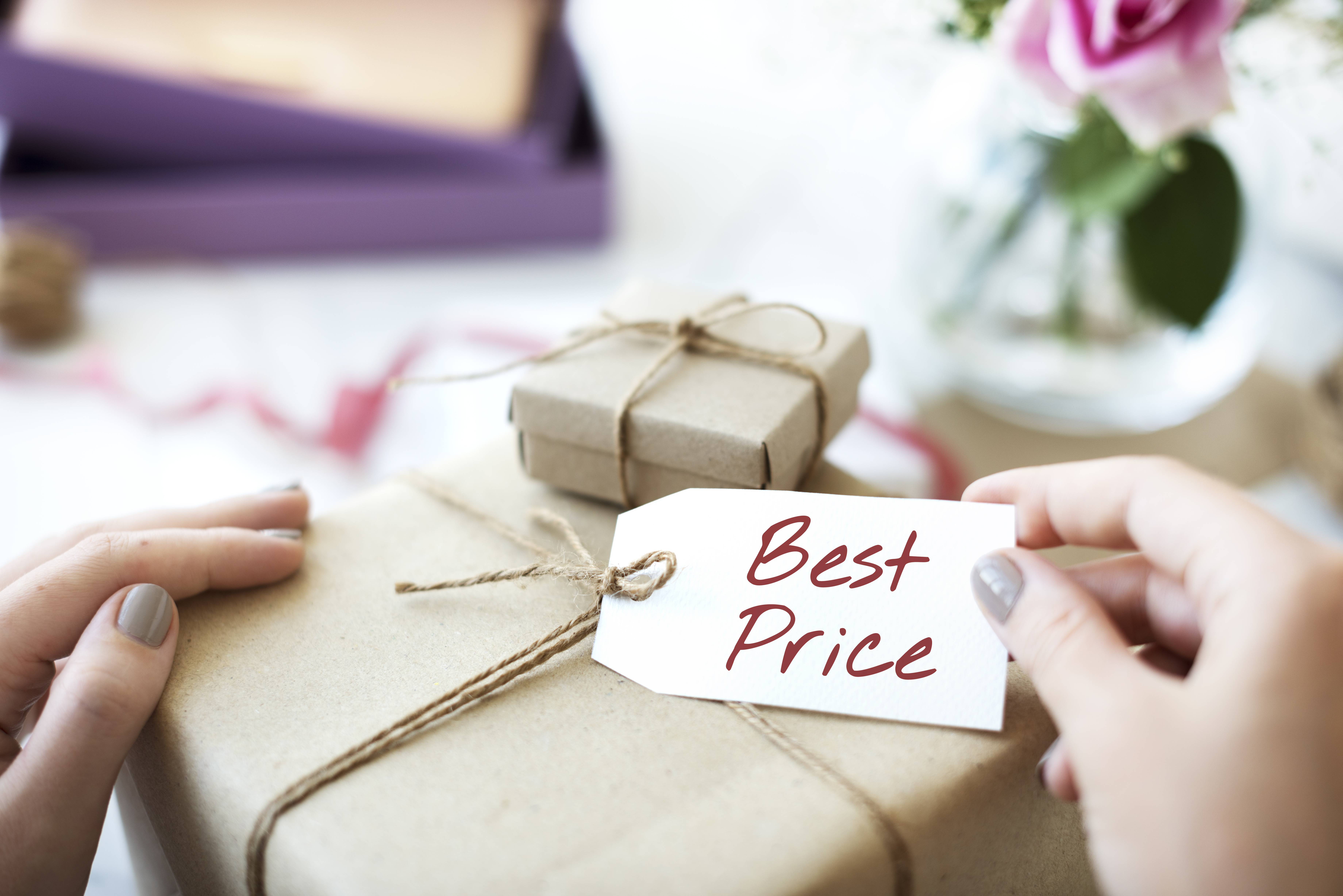 Besides, the lower price is considerable beneficial to the wholesalers as they always order a large quantity of units per item.
Stores get benefits as soon as possible
Not any others but customers who have subscribed for the products in your stores are the most profitable buyers. Why? Because their behaviors show that they extremely carry a torch for that items. It is likely that potential customers receiving notification when products come back in stock will process purchasing right after. As a result, stores will earn money shortly after some minutes their products re-appear in the stores.
Improve customer experience and relationship
Moreover, providing customers the service of notification about the coming back of their preferred items is an excellent way to ease customers' disappointment. Besides, this is the ideal way to keep in touch with potential customers and make them the loyal ones of your services.
The outstanding features of Product Alerts extension
Subscribe for Out-of-stock and Back-in-stock
In order to bring customers the better shopping experience, this extension supports Out-of-stock alerts which is represented by the Notify me! button under the product image. By clicking on that button, a popup will be shown. This is subscription popup of back-in-stock notifications. The popup is not only time-saving to customers (since they just need to leave their emails) but also helps generate customer leads for stores.
After subscription, there is a successful popup, notifies that customers now can get the good news as soon as possible.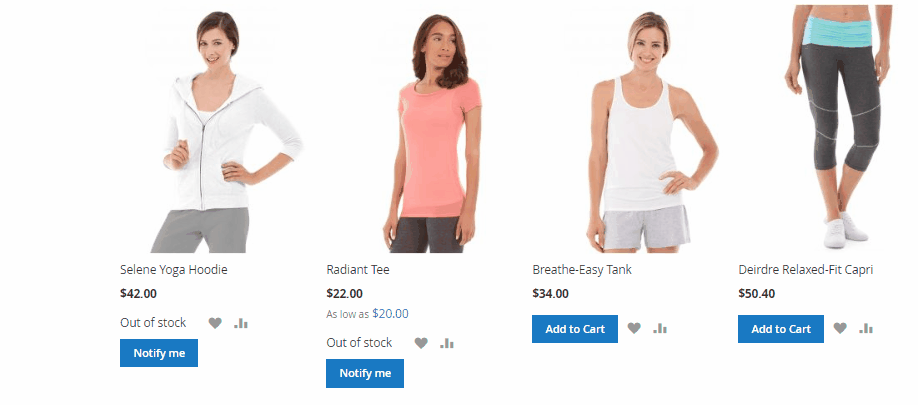 Subscribe for Price change
It is undeniable that price is always a big problem that most customers have to consider when shopping. Some will wait for price decrease or just skip buying their favored items. With Product alert, online stores will never forgo these potential customers by notifying them the better price within their promotion campaign.
Similar to Out-of-stock alerts, price change notifications also support a Notify me! button and popup of subscription as well as successful subscribing.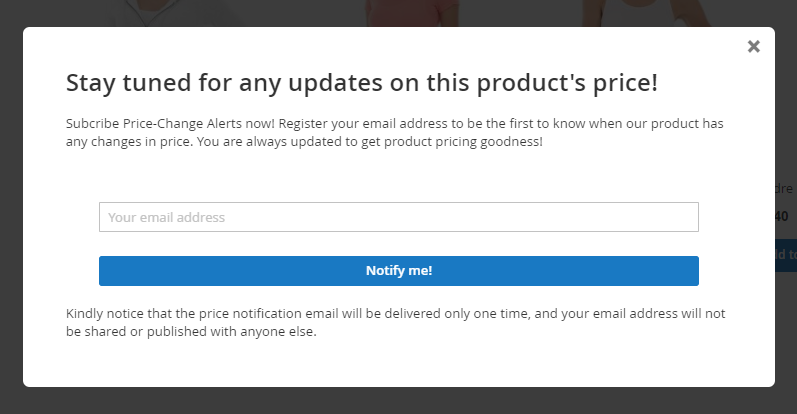 Automatically send notification emails
Store admins do not need to manually send notification emails of restock and better price items manually. The extension supports to do this automatically. It will save time and effort for both customers and store owners but still meet their demand and wishes.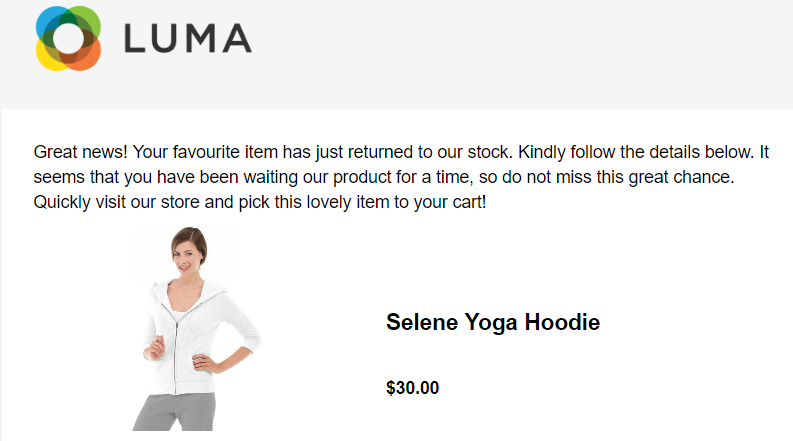 Support various product types
Product Alerts can be flexibly applied to all product types including:
Simple Product
Configurable Product
Group Product
Virtual Product
Bundle Product
Downloadable Product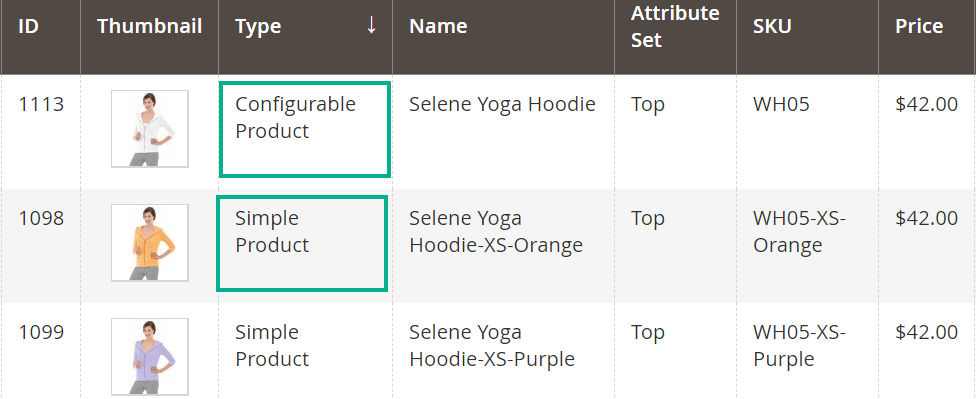 Report on most requested products
One more great feature of this extension is that it is integrated with Mageplaza Report extension. By this, admins can view the most requested products of Back-in-stock notifications and Price change notification. Also, these reports can be displayed on the admin Dashboard which helps to visualize and analyze the data more efficiently and effectively.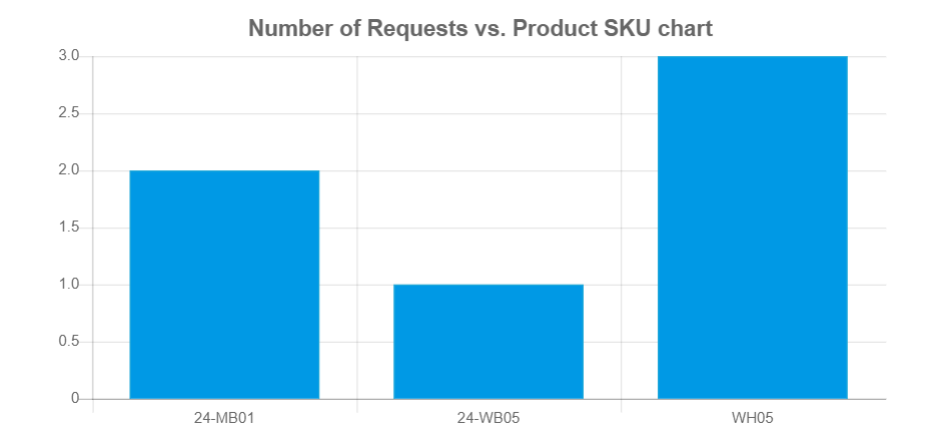 Full features list of Product Alerts
For store admins
General Configuration
Enable/ Disable the module
Flexible design by custom CSS
Enable/Disable alerts for certain products
Alerts for Price change products
Enable/Disable price change alerts
Choose customer groups to be applied
Select email sender to be shown in notification emails
Select email template
Insert message when customers subscribe successfully
Insert heading, description, email placeholder, button text, footer content to pop-up of subscription
Alerts for Out-of-stock items
Enable/ Disable restock alerts
Enable applying to particular customer groups
Select email sender
Select email template
Allow displaying on Product Listing Page
Add button text, message when subscribing successfully
Add heading, description, email placeholder, button text, footer content to pop-up
Product Alerts Run Settings
Set frequency for alerts
Select starting time for alerts
Allow sending emails when errors occur.
Report data
Report on subscribers for Out of Stock products
Report on subscribers for Price Change
Most requested out-of-stock products report
Most requested price-changed products report
Display all records on admin dashboard using Mageplaza Report extension
For customers
Instantly updated about restocked products
Quickly be notified about the better price products
Good chance to gain favored items at a better price
Save time and effort when shopping online
Have better user experience
Final Words
Magento 2 Product Alerts is functioned with two main roles: Alert of out-of-stock items and alert of price change items. With an online shopper, he/she can be updated with the restock of his favorite items via email as soon as possible instead of visiting the store many times to track product visibility. Similarly, if customers are notified right when there is better prices, they will be excited to pick their items with affordable price and hence, satisfaction.
Express care for customers by constantly updating them with every change in product availability and price
Check it out!
Website Support
& Maintenance Services
Make sure your store is not only in good shape but also thriving with a professional team yet at an affordable price.
Get Started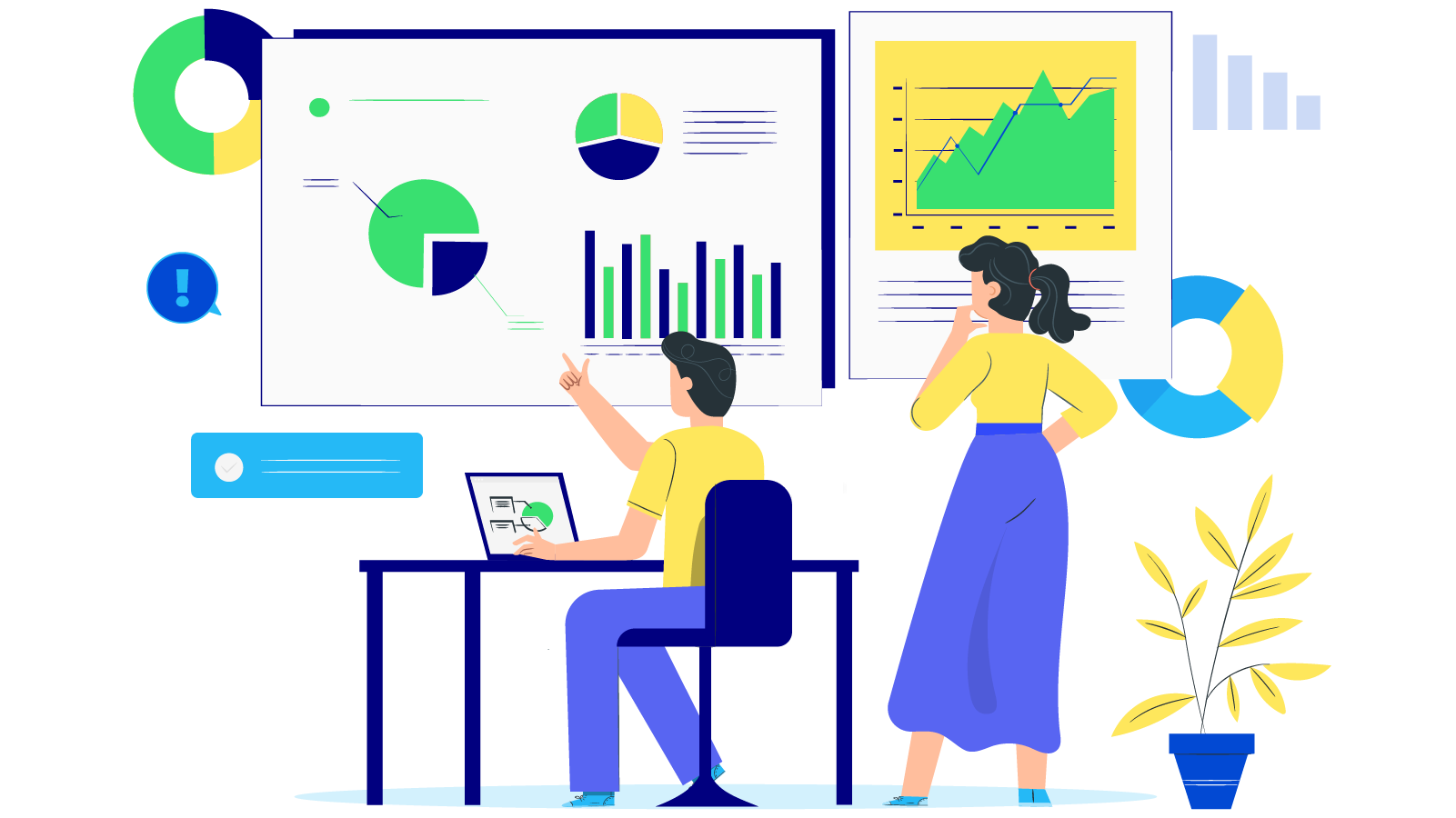 New Posts



People also searched for
magento 2 product alerts

product alerts magento 2

magento 2 product alerts extension
2.2.x, 2.3.x, 2.4.x
Subscribe
Stay in the know
Get special offers on the latest news from Mageplaza.
Earn $10 in reward now!