Short Overview
Magento 2 Reports extension helps online stores track, process and manage their business better with advanced customizable reports. Statistical data collected from customers, orders, sales, and products on a regular basis are highly informative, providing great help to store owners in both business and marketing decision-making.
WHY MAGENTO 2 REPORTS EXTENSION IS A MUST-HAVE?
Highlight features
See what make Magento 2 Advanced Reports stand out!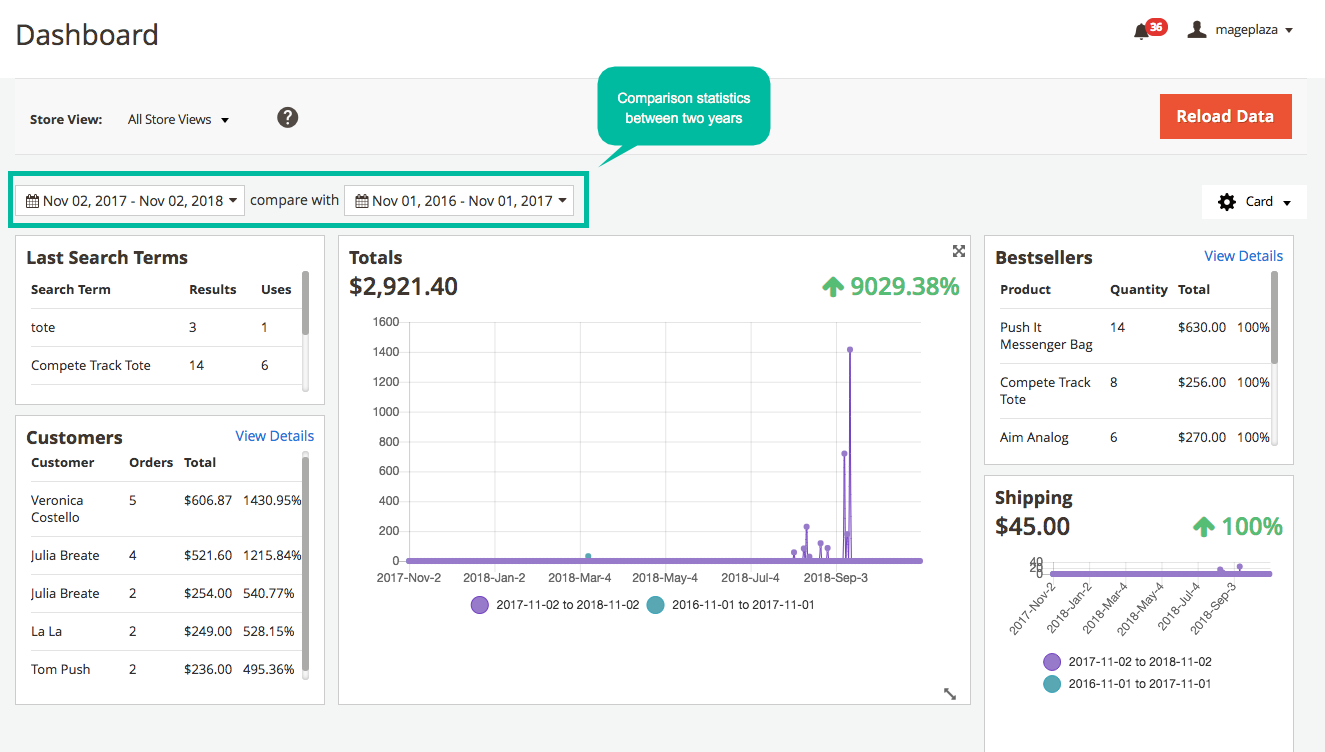 Customize & compare report periods
Mageplaza Better Reports extension allows store admins to customize the period in which the data is collected. The time period can be one day, one week, one month or any period.
Especially, store owners can make comparison easily between two separated period. For example, the sales this month compared to last month. This demonstrates clearly the change to be positive or negative.
New advanced reports
Along with other reports which are already accessible and available in default Magento 2, Mageplaza Advanced Reports provides more advanced reports:
Sales Report By Location: Show the overview of sales by locations
Repeat Customer Rate: Show the percentage of customers come back to stores in a specific time
Conversion Funnel: Show the most typical data related to Product view, Add to Cart, Order Number
Extra card reports: Stock vs Sold, Customer Group, Abandoned Carts (Pro version)
Extra 8 Sale By Reports (Report Ultimate version)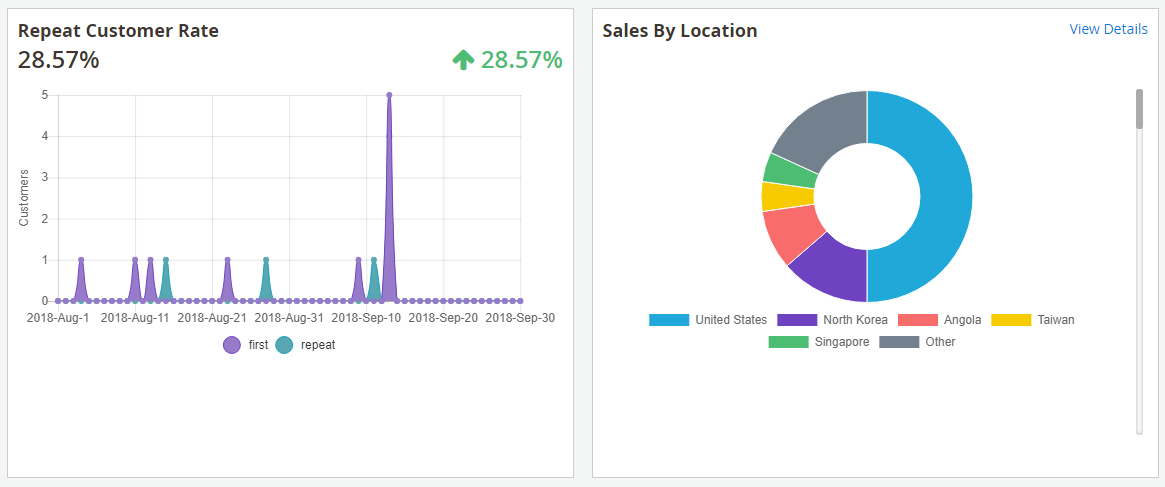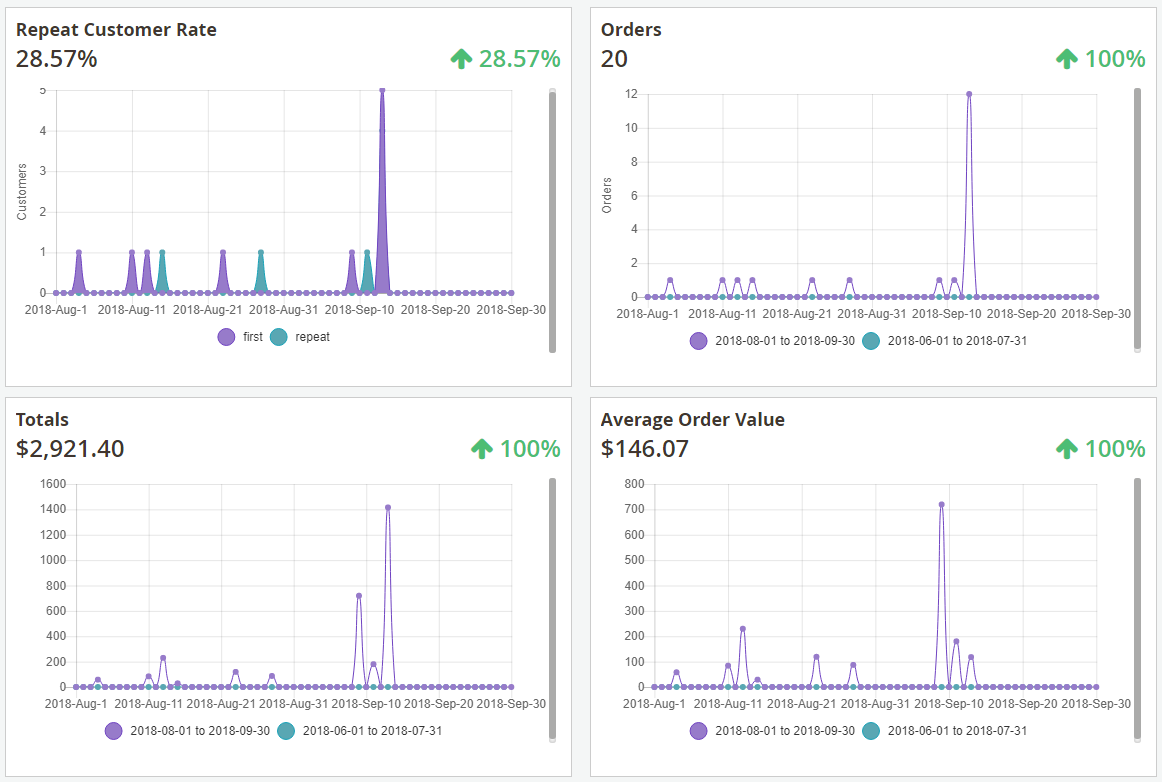 Display Reports data by charts
In the standard version of Mageplaza Advanced Reports extension, reports on repeat customer rate, transactions, total sales, average order value, tax, and shipping will be displayed as line charts.
This helps store owners have a visual look at the statistic data, making it easier to compare, follow and process. In every graph, the rates between numbers will also be shown with red standing for positive statistics and green indicating negative ones.
Filter report elements
In the Pro version of Magento 2 Advanced Report, the admins can select the features of a report to make the filter action.
For example, the Sales Reports By Location can be filtered by order status: completed and processing.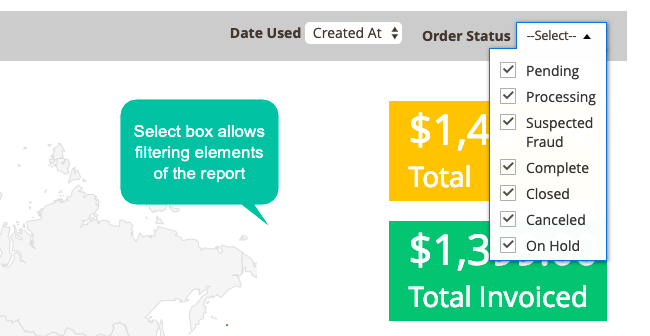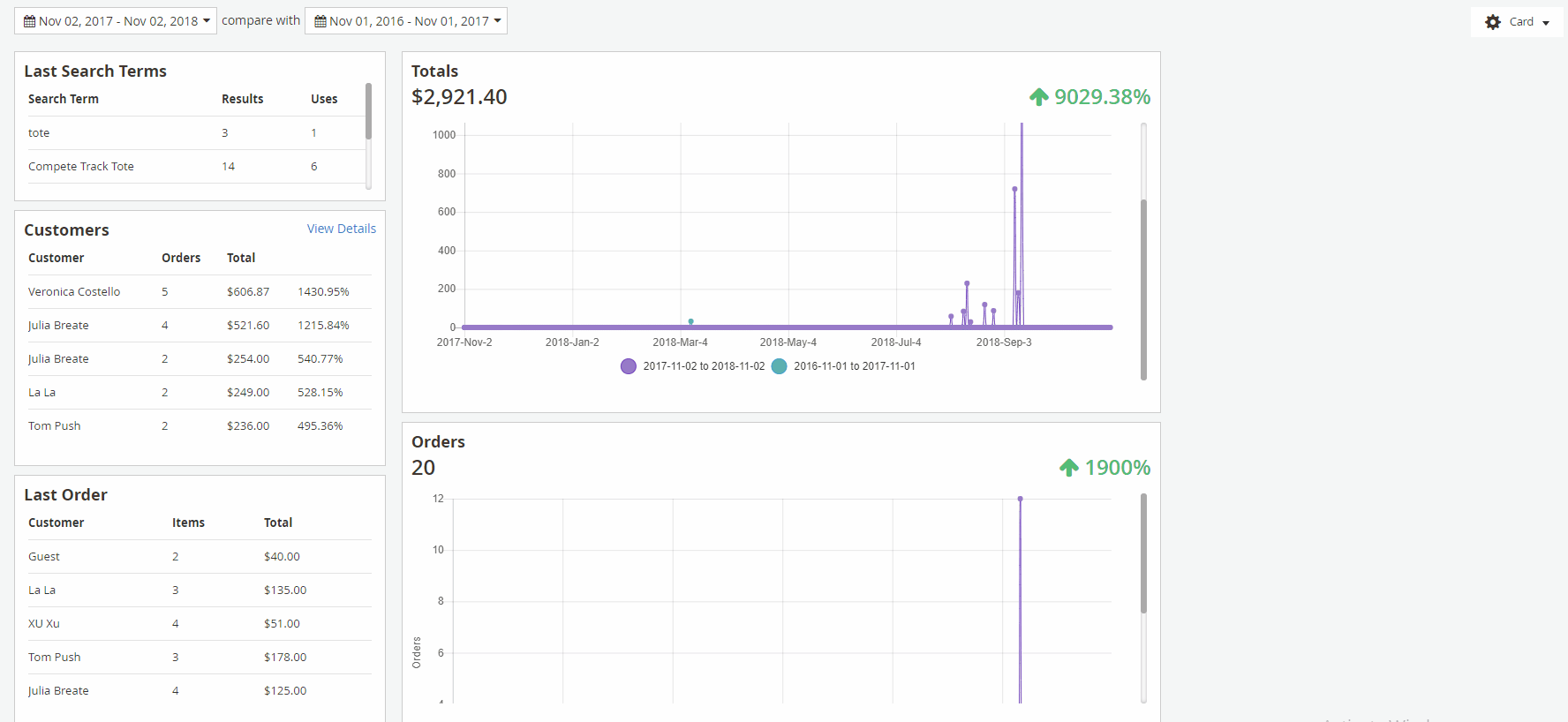 Flexible Dashboard layouts
With Mageplaza Better Reports module, the store admins are allowed to customize the layout of the admin dashboard easily. On the Magento 2 Dashboard, store admins can drag and drop to move report cards around and arrange figure sections with ease.
Moreover, the report board's size can be adjusted by pulling the double arrow. Both of these features are ready to make the dashboard layout neat and well-organized.
Multiple Report dashboards
One interesting feature of the Reports Ultimate version is saving layout view. After the layout has been arranged carefully, the store admin can save the new layout as a saved view for the next time.
It is possible to create multiple saved views and select the preferred one any time.
MORE FEATURES
See more details of Magento 2 Reports extension
Informative presentation
Your store numbers and figures are rendered into reader-friendly line graphs with a nice interface, allowing better comprehension and management.
Rates & Changes Reports analysis
Not only does the extension produces drawn charts, it provides comparisons between time periods as well. The results will be instantly displayed along with the graphs.
Enhanced Advanced Reports
With Better Reports module, the default report that comes with Magento 2 is improved with more in-depth examination of Revenue, Tax, Shipping and Quantity.
High compatibility
As a Mageplaza product, Magento 2 Advanced Reports is designed to be compatible with our other extensions, for example Reward Points Program, Gift card and Affiliate Program. If you have them installed and activated, their results will go into Advanced Reports as well, making gathering all the information you need much faster and easier.
Report Dashboards Mobile-friendly
Mageplaza Better Reports is designed to be displayed properly in mobile devices
Drag & Resize Report Dashboards
Easy to customize the layout of admin dashboard by resizing or dragging each report
Smart Pricing
Choose your suitable edition
Standard
Crafted for a Great Webstore Start
Supports for Magento 2 Community Edition
Mobile Dashboard supported
Extra advanced reports: Sales by Location, Repeat Customer Rate, Conversion Funnel
Add charts for Totals, Orders, Shipping, Tax
Select period time
Hide/ Show Report Cards
60 days refund - no question asked
Ultimate
Great for Enterprise solution
Frequently Bought Together
Includes all Professional features, plus ...
Add 8 report types of Sale By: Category, Product Attribute, Attribute Set, Payment, Coupon Code, Postal Code, Hour, Weekday, Tax Rate
Add User Wishlist report
Add Customer By Location report
List and Chart Display for Sales By Hour/ Weekday
Create and Save multiple dashboard views
60 days refund - no question asked
Professional
Most popular
Frequently Bought Together
Includes all Standard features, plus ...
Extra card reports: Stock vs Sold, Customer Group, Abandoned Carts
Add View Details to more cards
Filter function at View Details grid
60 days refund - no question asked
Free Update
Free lifetime updates
Premium Support
We offer fast response tickets.
60-day Money Back
There is no risk, why not give a try.
One-time payment
One-time payment, no hidden cost.
Frequently Asked Questions
We have answered a wide range of Questions for your Convenience
Q. Can I collect the data from any period I want and make comparison with the last period?
Yes, definitely. With Advanced Report, store admins can select any report (on the calendar) as well as select the comparing report easily. The data will be collected accordingly.
Q. Can I rearrange the layout of dashboard?
Yes, the dashboard layout is totally customized by dragging report cards and resizing them by your wish easily.
Q. What are the new reports compared to Magento default?
There are 3 main extra reports including Sales By Location, Repeated Customer Rate and Conversion Funnel in Advanced Reports
Q. Can I save the dashboard views after I make change?
Yes, this function is available in Reports Ultimate. The store admins can save multiple dashboards and next time they come back and select one from drop-list.
Q. Can I buy this extension for FREE?
Mageplaza Reports extension the standard version is still free on Github. However, the Github version does not include Mageplaza technical support package. If you still consider downloading the Reports module on Github, please visit here.
Q. Are the reports responsive to mobile devices?
Yes. Advanced Reports are displayed well on mobile devices (using access key), which allows store admins to view anytime and anywhere.
Q. Can I filter by specific elements such as sales by order status to get more details?
Yes, in Pro version, you can select the elements to filter at the View Details section of the report.
Q. Do I need to pay for monthly subscription?
No. It is the one-time payment and no hidden cost.
Q. How can I install this module?
Yes, you definitely can! You can install Mageplaza Advanced Reports extension as any other modules. You should follow our instruction here. Otherwise, you can buy our installation service, our experts will help you get the module installed on your website within 24 hours and solve any issues during the installation.
Reviews (17)
What our customers say
Usefull plugins
This plugin shows much better reports with more details than the default Magento report chart we see on the dashboard. I would really recommend this extension. We can also customize easily this plugin, not find any issue,
Useful extension
Useful extension, easy to install and use.
Simple Insights
It gives a resume of the most important data. They are well grouped and you can -- in a glance -- get insight in your business.
Great useful extension
It simplifies the way to see and check the reports, better than the native Magento report, simple and plain to understand with chart and comparison. Also, the mobile dashboard is very useful!
Much better
Much better report with more details than the default Magento report. I would recommend this extension. You can also easily customize the position of the reports graphs.
Great Addition to Admin Panel
Reports is a great way to visualize your sales, orders, etc without running anything external for graphs. Works great on Magento 2.3.1. The only issue I've seen is flickering in the graphs on some browsers.
Feature Comparison Table
| | | | |
| --- | --- | --- | --- |
| | Standard | Professional | Ultimate |
| General configuration | | | |
| Enable/Disable the module | | | |
| Enable Chart | | | |
| Enable Comparison | | | |
| Configure Report cards layout | | | |
| Compare figures between different reports | | | |
| Compare statistics with previous periods | | | |
| Mobile Dashboard | | | |
| Report Types | | | |
| Card Report | | | |
| Lifetime sales | | | |
| Average Order Value | | | |
| Repeat customer rate | | | |
| Sale by location | | | |
| Best sellers | | | |
| Last Orders | | | |
| Last Search Terms | | | |
| Top Search Terms | | | |
| Most view products | | | |
| New customers | | | |
| Conversion Funnel | | | |
| Details Report | | | |
| Sales by product | | | |
| Cart abandonment | | | |
| Sales by location in details | | | |
| Sales by country | | | |
| Sales by state | | | |
| Sales by city | | | |
| Best-sellers report in details | | | |
| Sales by customer groups | | | |
| In-stock and Sold-out products | | | |
| Sales by Category | | | |
| Sales by Product attributes | | | |
| Sales by Product attributes set | | | |
| Sales by Postal code | | | |
| Sales by hour | | | |
| Sales by weekday | | | |
| Sales by tax rates | | | |
| Sales by payment type | | | |
| Sales by coupon code | | | |
| Customers by Location | | | |
| Users Wishlist | | | |
| Support Multiple Dashboard | | | |
| Save Multiple Dashboard View after change | | | |
| Support | | | |
| Auto-fit with every device (Mobile, Tablet, PC) | | | |
| Support multiple stores | | | |
| Support multiple languages | | | |
| Fully compatible with Mageplaza extensions | | | |
| 1-year free support | | | |
| Lifetime updates | | | |
| 60 days money back guarantee | | | |