11+ Best Magento 2 Layered Navigation Extensions
11+ Best Magento 2 Layered Navigation Extensions in 2023
The Best 11 Magento 2 Layered Navigation extensions from hundreds of the Layered Navigation extensions in the market as derived from Mageplaza Ranking, which is using Mageplaza scores, rating reviews, search results, and social metrics. The below extensions were picked manually by Mageplaza experts, if your Layered Navigation does not include in the list, feel free to contact us. The best Layered Navigation list is ranked and evaluated in 2023, the price from $0 to $349. Find more Magento 2 extensions here.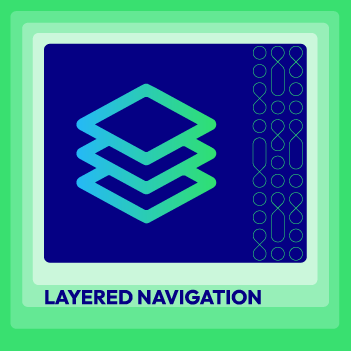 Layered Navigation for Magento 2
Simplify your shopping experience with our advanced search and filter options
Check it out!
Here is a list of Best Layered Navigation for Magento 2:
Magento Vendor
Name
Highlight features
Description
Price
Actions

mageplaza

Layered Navigation by Mageplaza

Findind by different product attributes
Flexible selection on Attributes
Advanced filter choices
Ajax Layered Navigation
Friendly SEO- URL
Multiple stores and languages

Coming to a new place, without a map, it is so difficult for us to approach the expected destinations. The same as online shopping for consumers visiting your stores, they also need a map called the Layered Navigation. Installing Layered Navigation, all the options will appear on the Menu. Customers can shop by searching their interesting products with flexible categories, brands, colors, sizes, etc.

plumrocket

Layered Navigation by Plumrocket

Filter without refreshing page
Fast running for all large and small database
Layered Navigation showed in any location
Automatic refresh filters
Working on any native or third party themes

It will save so much time for customers by installing Layered Navigation. They can filter products by various attributes such as color, price slider, brands. Moreover, without reloading page, Ajax filter makes store works faster with huge databases.

aheadworks

Layered Navigation by Aheadworks

Filters suggestions with new, discounted, and in-stock products
No reloading page immediately
Multiple attributes
Counting the matching items

Installing Magento 2 Layered Navigation extension which will help more effectively manage. It also helps customers by providing them catalogs with multiple products attributes one time and especially no reloading pages.

cmsmart

Layered Navigation by Cmsmart

Finding products by different attributes
Various Attributes
Not reloading page
Multiple options on filter
Filter by price sliders and numbers

Magento 2 Layered Navigation extension will support customers to find out their expected items fast. It is also very comfortable because of saving a lot of time.

mageworx

Layered Navigation by Mageworx

Select multiple attributes one time
Restrict the layered navigation appearance on specific pages
Restrict the visibility of attributes

It is very few people come to online store know exactly where they can buy the expected products. Therefore, Layered Navigation is the solution to help visitors to find out the items they want. To avoid wasting time, Layered Navigation is a helpful application with multiple filters to compare products easily.

manadev

Layered Navigation by Manadev

Besides home page, any CMS pages will have layered navigation
Multiple options in the same filter
Filter with any products attributes
Advanced function

The Magento 2 Layered Navigation bring on customers a comfortable and efficient shopping. By searching and the filters will help them to find out the best product that meets their needs about the category, price range, color, brand, etc.

mconnect

Layered Navigation by Mconnect

Filter by Ajax price slider, Rating, and Stock
Drag and drop attribute feature
Ajax Load without reloading the page
Multiple attributes on the same filter
Best SEO and Product Filer Module

Mconnect Layered Navigation for Magento 2 allows your customers to filter the product by applying various custom attributes and save a lot of time. No page reloading, display filter on category and search page.

magebees

Layered Navigation by Magebees

100% ajax-based layered navigation filters
Display filters in Sidebar and/or Top bar
Search engine friendly
Shop by Brand filter with a separate brand slider option
Custom Rating Filter, Stock Filter, Price Filter with From-To widget options
Filter can be shown as Simple Links/Checkboxes/Radio buttons
You can apply AND logic to multiple selections of attribute filter

The M2 Improved Layered Navigation extension offers multiple features at affordable prices. The Ajax-based module allows customers to select multiple attributes and filter results instantly. There is no need to wait for annoying page reloads. It makes navigation easy with the added benefit of "Shop by Brand" option. Choose the extension for better customization features and layout options.

bsscommerce

Layered Navigation by Bsscommerce

Multi-select attributes in product filters
Display product attributes in different modes: dropdown, checkbox, visual/text swatch
Filter by Rating
Works with Infinite Scroll extension

A mobile-responsive Layered Navigation tool that enables fast-loading product filters displayed in various styles. Shoppers can have more filter options when it comes to filtering products by attributes, including the exclusive Filter by Rating feature.

mirasvit

Layered Navigation by Mirasvit

Include brand new product filters (Sales, New Arrivals, Rating, etc.)
Equip AJAX technology
SEO-friendly URLs
Brand pages & All Products page
Infinite product scrolling
Improve customer experience with convenient sliders and filter search

Upgrade your store navigation with this Layered Navigation extension for Magento 2, which provides new filters to streamline your purchase experiences. The plugin allows stores to build high-performing brand pages along with custom designs, bulk filtering and grouped options.

amasty

Layered Navigation by Amasty

Adapting Ajax Layered Navigation
The filters adapt flexible price sliders
Searching brands easily for shopping
Enhancing SEO to be friendly with URLs and navigation
Selecting Categories is advanced

When customers come to a shop with multiple brands, colors, etc, they become lost. If they have been guided by a map or a navigator, they will go shopping easier, moreover, want to come back again. By improving Magento 2 Layered Navigation, your store will sell better and better.
---
More Extension Reviews from Mageplaza
These 11 Layered Navigation modules are ranked based on following criteria:
Rating review on Magento Connect, Magento Marketplace and vendor's website.
The price and features.
The vendor's reputation and Search Engine Ranking.
Social media metrics such as Facebook, Twitter, Google+.
Mageplaza team and expert review.
Top 11 Magento 2 Layered Navigation Vendors
Thank every vendor that has made this Top 11 Layered Navigation list! This is the most comprehensive list of best Layered Navigation on the internet and we are honoured to have you as part of this!
We would like to give the best commendation to all of the vendors who have done the number one of the Layered Navigation brief! It is appreciated to be the most awesome and exhaustive result from searching on Google. We are pretty proud of your appearance on this list. Many thanks for your benefaction to our lives!