Magento 2 SEO Extensions in 2022
The Best 15 Magento 2 SEO extensions from hundreds of the SEO extensions in the market as derived from Mageplaza Ranking, which is using Mageplaza scores, rating reviews, search results, and social metrics. The below extensions were picked manually by Mageplaza experts, if your SEO does not include in the list, feel free to contact us. The best SEO list is ranked and evaluated in 2022, the price from $0 to $299. Find more Magento 2 extensions here.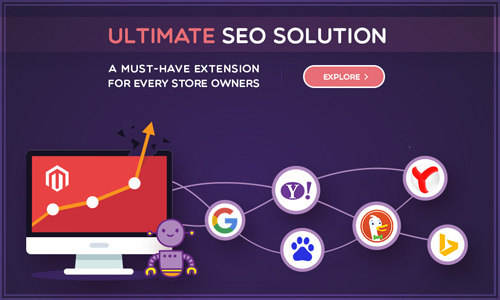 Here is a list of Best SEO for Magento 2:
Magento Vendor
Name
Highlight features
Description
Price
Actions

mageplaza

SEO by Mageplaza

Stop duplicating content issues
Structured data is added automatically
Dynamic and variety metadata template rules
Use Hreflang tags easily
Wonderful SEO report feature
Breadcrumbs is friendly for site
Smart Page Analysis
Improved HTML/XML Sitemaps feature
Support Crosslinks
Assist multi stores and multi languages

Magento 2 SEO extension includes various outstanding features. It helps improve your site's rankings over 32%, increase the traffics for the site over 198%. Especially, this extension helps reduce 100% the duplicate content issues. Besides that, when you install SEO extension, you don't need to do any code modifications. It is also extremely friendly with your store and helps do SEO better.

SEO by

Create completely site maps
Create relevant meta easily
Make short friendly URLs
Product reviews are SEO-friendly
Rapidly export/import product

To bring your Magento 2 store frienfly interface as well as make the search optimization process reach a new level, Magento 2 SEO is a fantastic extension for you. Use SEO Module to increase the traffics and have the high rankings.

creare

SEO by Creare

Avoid duplicate content issues
SEO checklist quickly
Improved structured data
Variety SEO templates
Integrated with Google Service

Magento 2 SEO extension includes many wonderful features for your store. It not only helps prevent the duplicate content problem, but also improves your online store become friendly with both search engines and the users.

mageworx

SEO by Mageworx

Resolve the problems of duplicate content
Advanced crawling and indexing
Cross links
Optimize meta data with variety templates
Expanded Rich Snippets
Hreflang tags support
Optimized page
Redirects
Advanced Breadcrumbs
Support Layered Navigation to do SEO
HTML/XML sitemaps

Magento 2 SEO extension from Mageworx is so wonderful. It solves all duplicate content issues for your site as well as make friendly for search engine and users.

mirasvit

SEO by Mirasvit

Rich Snippets and Open Graph installation is flexible
Relational tags are set up easily
Cross Links is automatic
Sitemap of store can customize
SEO Templates and Interface is friendly
Redirects intelligently
Robots.txt
XML Sitemap is optimzed
Advanced and flexible SEO Rules

SEO extension is so great for every online store. With Magento 2 SEO extension, you don't need to add any code modifications. Interface of your store is still friendly with the shoppers.

fmeextensions

SEO by Fmeextensions

Adds extended Google rich snippet tags
Handle Content Language Duplicates with Hreflang Tags
Add No Index No Follow Tags to Any Page
Add Canonical Tags to Prevent Duplication
Auto-create SEO Meta Title, Description & Keywords
Generate SEO Optimized Alt Tags for Product Images
Build XML & HTML Sitemaps for Store

Magento 2 Ultimate SEO optimizer is an all-in-one SEO toolkit to significantly reduce your optimization workload & cost. It is a combination of 7 powerful SEO extensions that automates the process of creating SEO Meta tags, Image alt tags, canonical tags, Rich snippets, sitemap, NoIndex NoFollow tags, & Multilingual Hreflang tags.

magenest

SEO by Magenest

Prevent duplicate content
Manage crawling and indexation
SEO content quality audit
Product SEO template for products
Create category SEO template
Automatically create image alt tag
Utilize cross links

Magento 2 SEO extension from Magenest improves search optimization and performance for your online store with different features.

scommerce-mage

SEO by Scommerce-mage

Exclude certain Category/Product/CMS/ page links from Sitemap
Solve duplicate content with canonical URL
Rich snippets - add markup tags to help search engines
Build internal, external cross links on Product/Category/CMS pages
Add Hreflang tags for products, categories, CMS pages

Magento 2 Advanced SEO Suite from Scommerce Mage is an effective solution to improve your online store's SEO with greate SEO features.

webkul

SEO by Webkul

Product rich snippets
Category rich snippets
Social sharing options
Email notifications
SEO meter for Magento
CMS rich snippets
Search engine robots
404 error email notifications
HTML sitemap
Sitelinks searchbox
SERP snippet preview
Hreflang tag support
Bing webmaster verification and submit URLs to Bing

Magento 2 SEO extension from Webkul provides you with powerful tools and options to improve SEO of your online store.

magedelight

SEO by Magedelight

Smart toolbar to analyze on-page SEO
Rich snippets in search results
Automated meta tag templates
Facebook pixel to track your users activity
Generate dynamic HTML & Google XML sitemaps with ease

Magento 2 SEO Pro Suite by MageDelight is the one stop solution to enhance website visibility, traffic and rankings. This extension is an all In One SEO Suite to fix the On-Page issues, Create HTML & XML Sitemap, Generate Meta Tags, Resolve broken & Canonical Links, Adding Facebook Pixel and much more automatically.
Best Magento SEO extension:
Magento Vendor
Rating
Highlight features
Description
Price
Actions

aheadworks

SEO by Aheadworks

Prevent crawling more information pages
Divide sitemap into smaller files
Be careful so that search engines can find your pages

With SEO extension, it will help improve your online store better. Besides that, it brings for your customers the interesting user experiences as well as make the shoppers be satisfied when purchasing.

magestore

SEO by Magestore

Prevent crawling more information pages
Divide sitemap into smaller files
Be careful so that search engines can find your pages

With SEO extension, it will help improve your online store better. Besides that, it brings for your customers the interesting user experiences as well as make the shoppers be satisfied when purchasing.

mageworx

SEO by Mageworx

Advoid duplicate content problem
Optimized Meta data
Category pages is improved
Product reviews pages in SEO is better
SEO Layer Navigation pages improves better
Advanced Rich Snippets in Magento
Good Redirects
Improved Breadcrumbs SEO
Multi languages and stores with Hreflang meta
HTML/XML sitemap is expanded

Magento SEO extension from Mageworx is a perfect solution for your e-commerce store. It help the search optimization process be quick and increase the traffics significantly.

magikcommerce

SEO by Magikcommerce

Variety templates for category product & tags
Keep away from Duplicate Content
Advanced sitemap includes HTML/XML
SEO reports feature
Improved Robots.txt editor feature

Magikcommerce provides a perfect extension for your Magento store. It boosts your store in the rankings and increases the traffic for your site. A friendly site will attract many customers visit, from that, your store will be more appreciated by search engines.

mirasvit

SEO by Mirasvit

Optimized keywords
Optimized friendly URL
Canonical meta for each store
Optimized sitemap
Internal Links is automatic
Compatible with many differrent extensions

SEO extension provides your store have frienfly interface for the customers as well as improve the search engine result ranking on Google, Bing, etc.
---
More Reviews from Mageplaza
These 15 SEO modules are ranked based on following criteria:
Rating review on Magento Connect, Magento Marketplace and vendor's website.
The price and features.
The vendor's reputation and Search Engine Ranking.
Social media metrics such as Facebook, Twitter, Google+.
Mageplaza team and expert review.
Top 15 Magento 2 SEO Vendors
Thank every vendor that has made this Top 15 SEO list! This is the most comprehensive list of best SEO on the internet and we are honoured to have you as part of this!
We would like to give the best commendation to all of the vendors who have done the number one of the SEO brief! It is appreciated to be the most awesome and exhaustive result from searching on Google. We are pretty proud of your appearance on this list. Many thanks for your benefaction to our lives!