Magento 2 SEO Extensions in 2023
The Best 13 Magento 2 SEO extensions from hundreds of the SEO extensions in the market as derived from Mageplaza Ranking, which is using Mageplaza scores, rating reviews, search results, and social metrics. The below extensions were picked manually by Mageplaza experts, if your SEO does not include in the list, feel free to contact us. The best SEO list is ranked and evaluated in 2023, the price from $0 to $349. Find more Magento 2 extensions here.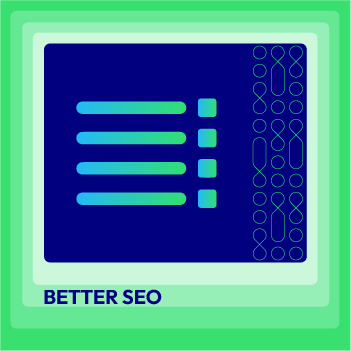 Drive more traffic to your online store and boost your rank on search engines
Check it out!
Here is a list of Best SEO for Magento 2:
Magento Vendor
Name
Highlight features
Description
Price
Actions

mageplaza

SEO by Mageplaza

Resolve basic duplicate content issues by using canonical link meta tag for categories/products
Enable product structured data
Enable business information
Enable site verifications
Basic SEO and search functions
Add canonical URL meta header

This is one of the best Magento 2 SEO extensions on the market. Magento 2 SEO extension by Mageplaza includes various outstanding features. It helps improve your site's rankings by over 32%, and increase the traffics for the site by over 198%. Especially, this extension helps reduce 100% duplicate content issues. Besides, when you install this SEO extension, you don't need to do any code modifications. It is also extremely friendly with your store and helps do SEO better.

mageplaza

SEO by Mageplaza

Include all Standard features
Resolve advanced duplicate content issues
Enable meta tag rules, custom meta tags
Enable SEO layered navigation, SEO redirect

Magento 2 SEO extension (Professional version) by Mageplaza is a great choice if you want to get higher rankings on SERPs. With more advanced features, such as meta tag rules and SEO layered navigation, this version can help you boost your online presence as well as sales.

mageplaza

SEO by Mageplaza

Include all Professional features
Create/edit/delete crosslinks to insert keywords
SEO checklist
SEO report
Page analysis
Hreflang tags
Image optimizer function
Priority support

With the Magento 2 SEO extension (Ultimate version) by Mageplaza, you'll get the best SEO features to promote your rankings and revenue. This version offers in-depth SEO reports, so you'll know which areas to improve. Besides, the image optimization function also helps you a lot in enhancing the user experience.

amasty

SEO by Amasty

Eliminate duplicate content with unique URLs
Show more info in search with rich snippets
Mass-optimize meta values with SEO templates
Auto-replace any targeted keywords with cross-linking
Offer HTML and XML sitemaps

Magento 2 SEO extension by Amasty helps solve multiple optimization problems at once. Like Mageplaza, this extension uses different features to place your online store at the top of Google rankings.

creare

SEO by Creare

Avoid duplicate content issues
Provide SEO checklist quickly
Improve structured data
Offer various SEO templates
Integrate with Google Service

Magento 2 SEO extension by Creare includes many wonderful features for your store. It helps prevent duplicate content and makes your store more friendly to search engines and customers.

mageworx

SEO by Mageworx

SEO templates to mass-optimize any meta values
HTML & XML sitemaps for improved crawling & indexation
Rich snippets to boost site visibility
Built-in reports to detect & solve SEO issues

Magento 2 SEO extension from Mageworx solves all duplicate content issues for your site as well as makes it friendly for search engine and users.

mirasvit

SEO by Mirasvit

Generate meta tags with advanced SEO templates
Show rich snippets in search results
Auto-add crosslinks to pages
Make your product & image URLs SEO-friendly

Magento 2 SEO extension by Mirasvit gives you full control over every SEO-related feature in your store. You can save an incredible amount of time and money, while securing your website's place at the top of search results.

fmeextensions

SEO by Fmeextensions

Auto-create meta titles, descriptions, and keywords
Build HTML & XML sitemaps for your site
Add rich snippet tags
Handle content language duplicate with Hreflang tags

Automate your on-page search engine optimization with SEO Ultimate Pack by Fmeextensions. Including 8 SEO tools, this extension has everything you need to improve your rankings.

magenest

SEO by Magenest

Prevent duplicate content
Manage crawling and indexation
SEO content quality audit
Product SEO template for products
Create category SEO template
Automatically create image alt tag
Utilize cross links

Magento 2 SEO extension from Magenest improves search optimization and performance for your online store with different features.

scommerce-mage

SEO by Scommerce-mage

Exclude certain Category/Product/CMS/ page links from Sitemap
Solve duplicate content with canonical URL
Rich snippets - add markup tags to help search engines
Build internal, external cross links on Product/Category/CMS pages
Add Hreflang tags for products, categories, CMS pages

Magento 2 Advanced SEO Suite from Scommerce Mage is an effective solution to improve your online store's ranking with great SEO features.

webkul

SEO by Webkul

Offer product rich snippets
Support social media Open graph meta tags
Provide automatic multiple XML sitemaps
Generate & optimize robots.txt

Magento 2 SEO extension from Webkul provides you with powerful tools and options to improve SEO of your online store.

magedelight

SEO by Magedelight

Smart toolbar to analyze on-page SEO
Rich snippets in search results
Automated meta tag templates
Facebook pixel to track your user's activity
Generate dynamic HTML & Google XML sitemaps with ease

Magento 2 SEO Pro Suite by MageDelight is the one-stop solution to enhance website visibility, traffic and rankings. This extension is an all-in-one SEO suite to fix one-page issues, create HTML & XML sitemaps, generate meta tags, etc.

bsscommerce

SEO by Bsscommerce

Rich snippets make websites more highlighted on SERPs
HTML & XML sitemaps give users an overview of websites
Avoid duplicate content in multi-store views
Auto generate meta tags

Magento 2 SEO extension by BSS Commerce makes your site SEO-friendly with out-of-box functions.
---
More Reviews from Mageplaza
These 13 SEO modules are ranked based on following criteria:
Rating review on Magento Connect, Magento Marketplace and vendor's website.
The price and features.
The vendor's reputation and Search Engine Ranking.
Social media metrics such as Facebook, Twitter, Google+.
Mageplaza team and expert review.
Top 13 Magento 2 SEO Vendors
Thank every vendor that has made this Top 13 SEO list! This is the most comprehensive list of best SEO on the internet and we are honoured to have you as part of this!
We would like to give the best commendation to all of the vendors who have done the number one of the SEO brief! It is appreciated to be the most awesome and exhaustive result from searching on Google. We are pretty proud of your appearance on this list. Many thanks for your benefaction to our lives!