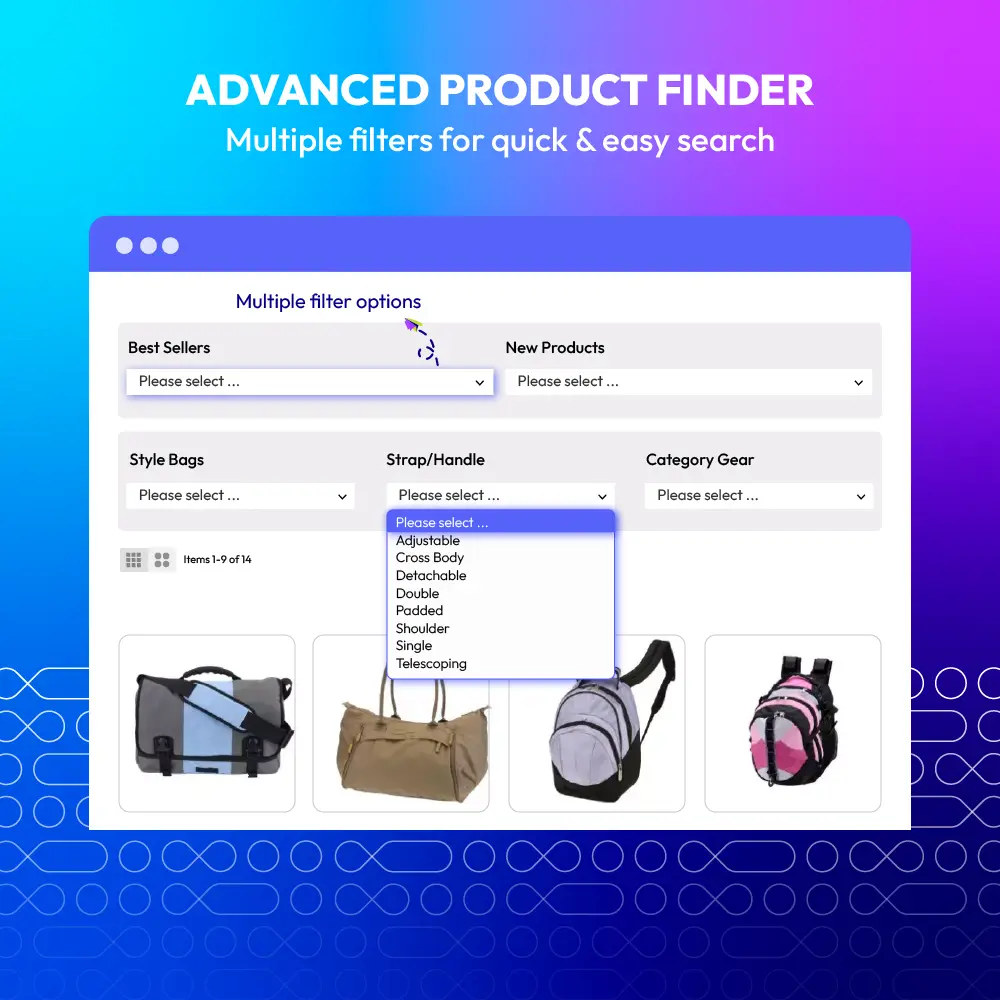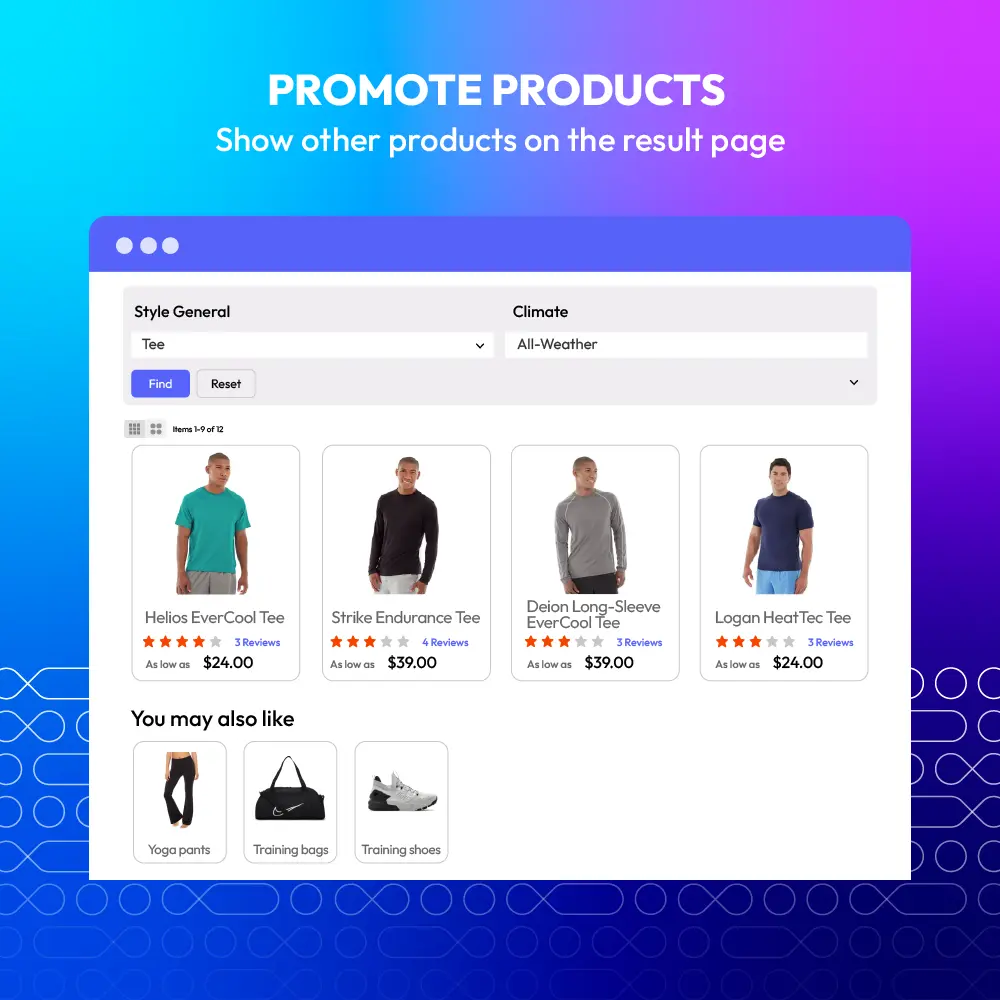 60-day Money Back
Frequent Update
365-day Support
Product Finder for Magento 2
v1.0.4
Magento 2 Product Finder extension is the advanced finder tool for Magento 2 store, which facilitates customers to find out their desired products quickly via multiple product filters. Product Finder saves customers a lot of their shopping time, enhances user experience and increases the conversion rate for online stores.
Need API/GraphQL for Magento 2 Product Finder? Chat now
CE/EE/B2B/Cloud/ Adobe Commerce 2.2.x, 2.3.x, 2.4.x
Chat now
Problems
When it comes to shopping, customers often have in their minds certain general key parameters to identify desired products. Therefore, providing customers with a finder tool with multiple filters will support them to find their preferred items more quickly and exactly.
The patience of customers is limited. The more time they have to spend searching, the more likely they leave the store site. Therefore, with product finder, customers can easily narrow the relevant products, find out their preferred ones in a few minutes and finish with purchase.
Advanced finder tool on the store site will enhance customer experience and impress them better at their first-time visit.
Solutions
A finder includes multiple filters that are created by store admins. Then, each filter contains different selection options. These options can be assigned manually or automatically based on certain attributes.The results of a finder are generated manually by store admins or automatically and displayed on the Finder Result Page.
For example, Car is a finder. The filters are Year (with options as 2019, 2018, 2017), Model (with options A, B, C), Color (with options as black, white, red). Typical results are A1, A2, A3 when the selected options as 2019, A, Black.
Advanced product finder with multi filters
Product Finder is equipped to the store site to facilitate shoppers to find out their desired products quickly and effectively. This is a kind of personalized search to meet the key parameters of customers.
For example, a product finder of cars includes many different filters such as Year, Model, Color, Country, etc will help customers to narrow the relevant products to their demands easily. This tool is essential to the stores whose diversity of products is considerable.
Beautify product filter options' display by images
With Product Finder, there is no limitation to the number of options per filter. Especially, it is easy to make the product options visual and attractive to customers with multiple choices:
Text-based Swatch: display options as buttons with text labels
Image: Show options as images
Image and Text: Images above Text
Dropdown: Simple and usual display type
Depending on the number of options of each filter, the complexity of options, etc, the store admin should select display type suitably and clearly.
Auto or manual product finder mode
Another noticeable feature of Product Finder is that there are different modes which options and filter results will be assigned automatically or manually.
With manual mode, store admins will assign options and results for each filter manually. This mode helps store admins can design the filters and the targeted products as they wish.
With automatic mode, the options and filter results will be collected automatically based on the selected attributes. With each attribute, the corresponding value will be displayed. When the store products have many attributes, auto mode will save a lot of workload for the store admin.
Product Finders on any category pages and anywhere
Finders are mainly effective on the Category Page where customers can go to find their expected products. From the admin backend, store admins can select any category pages to show the corresponding finder.
Besides, there is no limitation with the positions of product finders thanks to the support of widget and snippet. The widget supports store owners to place product finders easily by selecting available positions. Meanwhile, using the generated snippet code helps store admins who are familiar with coding to add the finders anywhere on the store site flexibly.
The flexibility in displaying product finders facilitates customers to reach their preferred items easily and conveniently. As a result, it increases the conversion rate for the store thanks to the efficiency of the advanced search.
Promote products on Product Finder Page
One of the interesting features of Product Finder is cross-selling or up-selling other products right on the result page of each finder. The promoted products will be displayed at the end of the corresponding finder result page. Store admins can add promoted products by entering SKU or importing by CSV file.
The promoting function helps the store promote the related products as suggestions to retain customers, motivate them to discover more and increase sales.
More Features

Check out more details of Product Finder
Popup support
All assigning tasks at the admin backend are supported by popup, without any redirection required.
Import results for a finder
Allow assigning results for a finder via an imported file in the manual mode. The supported format is CSV.
Comparison tab
Allow showing comparison tab on the Product Page when customers click on any product on Finder Result Page
Finder layout
Support two types of layout for a finder. The filters of a finder can be arranged vertically or horizontally.
Positions on page
3 positions can be placed a finder on a page: Top Content, Bottom Content, Main Sidebar
Finder result URL
Set the URL to a certain page to show results after clicking Find button
Condition for Find button
Set the condition to enable Find button: Always enable, All filters are selected, At least one filter is selected
Condition to reset finder
Set the condition to reset finder: Always enable, No, At least a filter is selected
Chosen plugin
Allow using the Chosen Plugin to make the filter more beautiful and user-friendly
Pricing

Choose your suitable edition
Community
Crafted for a great webstore start
$

179

first year
Core functions
Suitable for Startup webstore
Enterprise
Great for an enterprise solution
$

379

first year
Manage billing documents
Cookie restriction
Priority Support
There is no restriction to the places of product finders on the store site. You can place on any category pages and CMS pages. With the support of widget and snippet, you can add finders on any positions you want.
There are two ways: Automatic and Manual. In the manual way, you will create options with name, images. With automatic mode, the options are generated automatically from the selected attributes.
What are the promoted products?
Promoted products are the ones which you set from the admin backend to cross-sell or up-sell on the Finder Page. You can add the promoted products by entering SKU(s) or importing products via a CSV file.
Amazing
Display filter options with images is amazing, and if there's anything else worth mentioning, I'm actually quite impressed with Mageplaza's friendly support!
THE SUPPORT SERVICE RESPONDED VERY FAST
The support service answered very quickly and solved an issue swiftly and without any problem. Thanks a lot!
Huge support
Product filter options can be edited and displayed with images, wonderful feature. This makes my store look stunning and attracts more attention. You deserve huge support from me!
Frank Gibson
-
Verified Purchase
Useful extension
Wonderful extension I must say. Easy to set up and easy to search for products with lots of different attributes to choose from. I can even promote products on the page, very useful.
Janette
-
Verified Purchase
Reasonable price
I have such an amazing experience with this extension. Great features at a great price. Can't believe there is such a module. It really helped!
Don't see the features you are looking for?
Request feature
Submit your feature requests below
Want to do extension customization?
Custom request
Let us know your requirements
v4.0.1

09 July 2021

Compatible with Magento 2.4.2
Fixed minor bugs
v1.0.2

09 April 2021

Improved compatible with Magento v2.3.6
Fixed minor bugs
v4.0.0

23 March 2021

Supported Magento v2.4
v1.0.0

24 October 2019

Initial release
For store admins
General configuration
Enable/ Disable the extension
Select condition to enable the Find button: Always enable, All filters are selected, At least one filter is selected
Set the condition to reset finder: Always enable, No, At least a filter is selected
Select the redirection page after resetting the finder
Allow/ Disallow automatically redirecting to the result page when all filters are selected
Allow/ Disallow resetting the unselected finders when a finder is selected
Allow/ Disallow redirecting to the Product page when the result has only one product
Enable/ Disable the Chosen Plugin to make the filter more beautiful and user-friendly
Allow/ Disallow showing the promoted products at the end of the corresponding Finder Result Page
Allow/ Disallow showing comparison tab on the Product Detail Page.
Compatiple with: Layered Navigation, Ajax Search, Free Layered Navigation, Quick View Product,
General configuration for a product finder
Set the name for the finder
Set status for the finder
Select the layout for the finder: vertical or horizontal
Select finder mode to generate filter options and results
Select the position of finder on a page: Top Content, Bottom Content, Main Sidebar
Set finder result page's URL
Select category page to show the product finder
Set the sort order for the finder
Add/import promoted products to show on the Product Finder Page
Configure finder filters - options and results
Add a new filter for the finder
Set name for each filter of a finder
Set the arrangement by alphabet: descending or ascending
Set the display type of option: Dropdown, Text-based Swatch, Image and Text, Image
Automatic mode: Select attributes to auto-generate filter options and results
Manual mode: Set options manually via popup - name, image.
Manual mode: Add results (products) via popup or Import by CSV file
For customers
Easy to find out relevant products matching specific parameters
View similar products at the Comparison tab on the Product Page
View the promoted products on the Product Finder Page
Why choose us?
Mageplaza provides consistent and customer-centric extensions for your Magento 2 store.
We don't sell products for one time. We provide lifetime solutions which help our customers thrive with their businesses.
60-day Money Back
Extensive 60-day money-back period. You love it or get a full refund no questions asked.
Extensive Support Timeframe
Mageplaza provides support 16 hrs/day, 5.5 days/week to guarantee the seamless operation of our extensions on your store.
Install via Composer
Simple installation via composer helps you save time and eliminates technical issues during future updates.
Frequent Updates
Intensive update roadmaps ensure great performance, bug-free, highly compatible, and innovative extensions.