The Power of Better Product Reviews on E-commerce stores
The Most Popular Extension Builder for

Magento 2
With a big catalog of 224+ extensions for your online store
Overview
The ecommerce landscape is continually changing and evolving. One of the biggest changes in recent years has been the growing of online reviews. According to Spiegel Research Center, 2017, nearly 95% of shoppers read online reviews before making a purchase. In fact, reviews have spread all across the internet and they pop-up regardless of whether you're actively encouraging them or not. However, when used strategically, reviews can become powerful pieces of social proof that persuade people to buy.
In this blog we will look at the important of Better Product Reviews on your stores and how to put reviews to work in your business. Let's explore!
Main contents
The benefit of Better Product Reviews for e-commerce stores
For Customers:
Have an overview about interested items
Seeking out online reviews has become such standard part of the buying process for people these days that every online retailer needs to be thinking about them. Reviews seem to be more and more helpful to shoppers whenever they want to acquire some products from online sites.
Subjective opinions from many buyers
In addition to providing unbiased information people can rely on, people also like reviews because they provide third party insight into the quality and experience your product provides. For example, learning more about the softness, flexibility and durability of a yoga mat and how it performed at the local gym.
Reviews such as those help people imagine themselves using your product in their own lives and also help reduce common questions that would otherwise come to you through customer support inquiries.
Share their experiences on the stores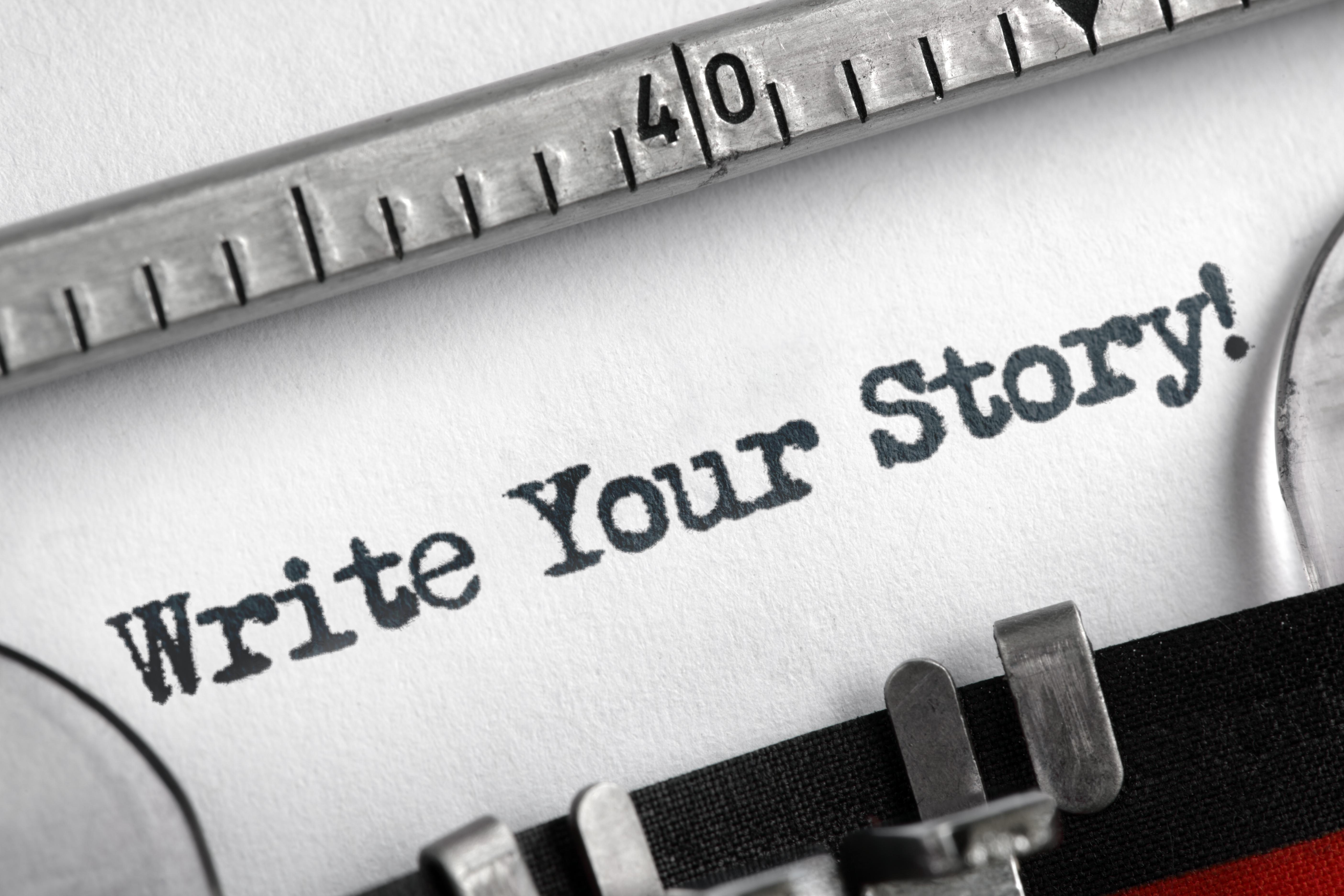 Customers always have the demand to share their life experience. That's why the social network is become impressively popular these days. Sharing the shopping experience is not excepted. After customers purchased products or used the services from online stores now can send feedback to stores as well as everyone accessing the sites. This is a demand of sharing both the great experience and the bad one. Also, it is more preferable if customers can share their reviews to their friends on social channels.
For E-stores
Increase trustworthiness of customers
The biggest obstacle for you as an ecommerce store owner is building trust between your brand and your customer. Nobody wants to have bad reputation. Good quality products, reliability, and helpfulness all add up to the way your customers perceive you and your business.
Genuine, positive reviews will encourage customers to look at you as someone they can trust, someone who cares about their customers, and someone who is willing to go the extra mile for an exceptional customer experience.
Enhance conversion rate
Positive reviews from other purchasers will have great motivation a guest visitor. This seems the good reference when they are concerning about the same products. Therefore, the customers will feel more confident to buy the products.
Improve products and services
The more clear customers' reviews are, the store owners can understand the product quality as well as customers' demand. Therefore, the reviews will support them to improve product quality to meet customers' expectation better.
Better google search ranking
A good star-rating review of your business within Google's search results is one of the largest contributors to improve ranking for location-based search queries. Such a review is often the first impression of a customer on a store's reputation.
Magento SEO Services
by Mageplaza
Let experienced professionals optimize your website's ranking
Learn more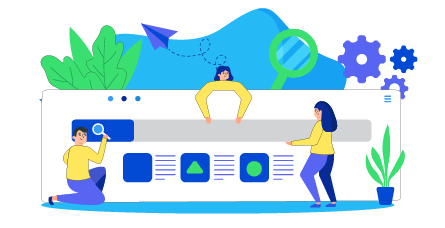 How can online stores encourage customers' reviews?
Now that we've looked at why you should be taking advantage of reviews, let look at how to start generating them. Having a way for customers to leave a review is one thing - and quite important - but getting the customers to actually leave reviews is something else entirely. Many times, your customer will simply forget to review the product she bought, or she won't feel inspired enough to write a review about it.
What can you do to get people motivated?
Send Friendly Emails regularly
Learning to be a good email marketer isn't just for selling more of your products, it's also for encouraging people to become an active part of your community, to share the same passion for that which you love so dearly. You should learn how to build email campaigns that you can send out to customers who've had the product in their hands for a week or two - this will give them enough time to learn about the product, and also to experience it enough to write a review about it. Be gentle, kind, and ask what else you can do to help.
Easy to leave a review
The worst thing you could do is to force your customers to go through a tedious verification process when submitting a review for you. Make leaving reviews accessible, easy and also rewarding; like setting up a coupon for $5 off for the next order! It will surprise your customer, and increase her trust in your business.
Let only registered members who've purchased the product leave a review, but make it as easy as entering some text and pressing the submit button.
Reward for review
Even the smallest of incentives can have a huge impact on how engaging your customer is going to be. Like I mentioned above, giving a special coupon after some submits a review might prove to be very beneficial, at the same time – discount codes, or sneak previews of upcoming products is also a great way to encourage customers to be a part of your community.
How Better Product Reviews offers customers best review functions
Display Review summary
Review summary allows buyers to have a general reference of the previous buyers' experiences who have used the products. In this section, the module support displaying the number of reviews, the average rate, recommendation percentage, star rating chart. By this, customers can easily make the comparison and assessment to give best decision whether they should buy or not buy the products.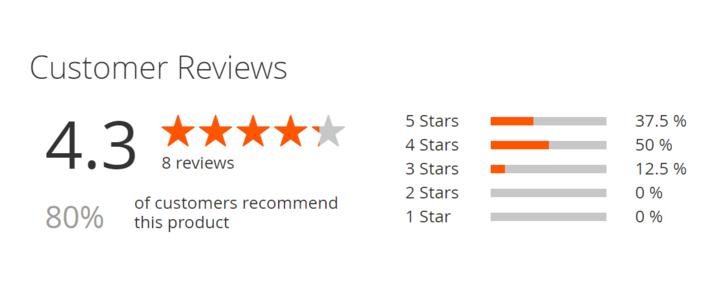 Verified Purchaser mark
Better Product Review helps to build the trust and credibility of new shoppers by integrating a verified buyer badge right besides the customers' nicknames. Therefore, the reviews then become more trustable and real ones. This part is truly important to customers' decision - building the trust.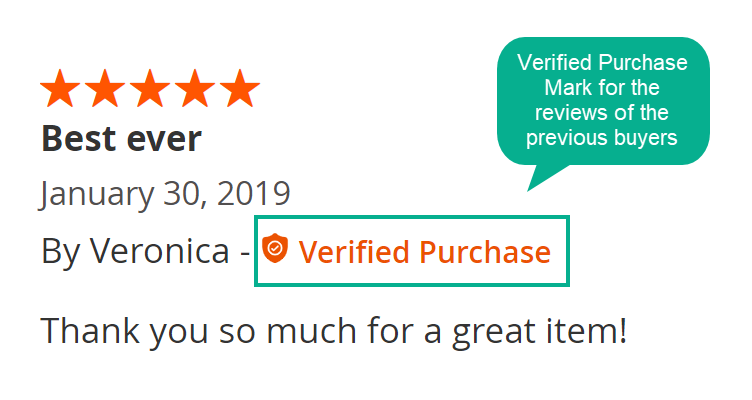 Image Reviews
One of the noticeable features that this extension brings about is that it allows buyers to upload their images from computers or mobiles at the review section. This enables purchasers to describe the products as well as their evaluation exactly and illustratively after acquiring and consuming them.
In addition to star rating and description words, several images from customers are much more reliable and useful to other visitors who are concerning about the same products.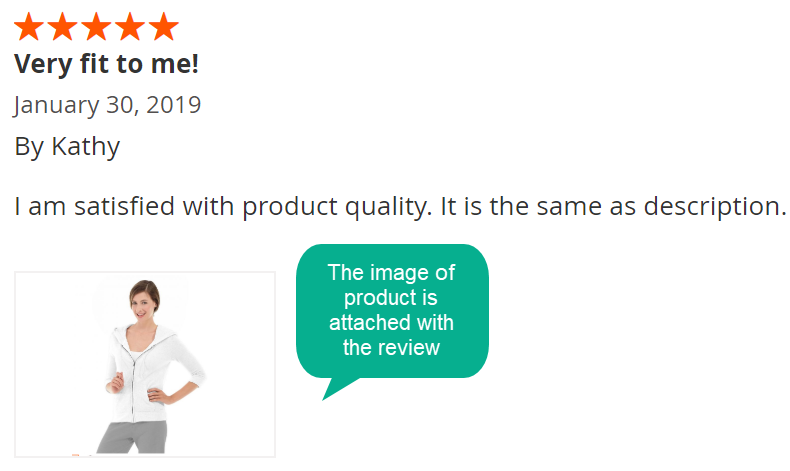 Social interaction with reviews
The module also let visitors interact with the review on e-stores by allows them to:
Rating Helpful: Customers can rate a review to be helpful via one click instantly. The number of "Helpful" votes is clearly display right below the review.

Social Share: Finding the reviews helpful, customers can share them to friends on social networks such as Facebook, Twitter, Google+ and many more. There is a variety of social channels supporting review sharing for customers.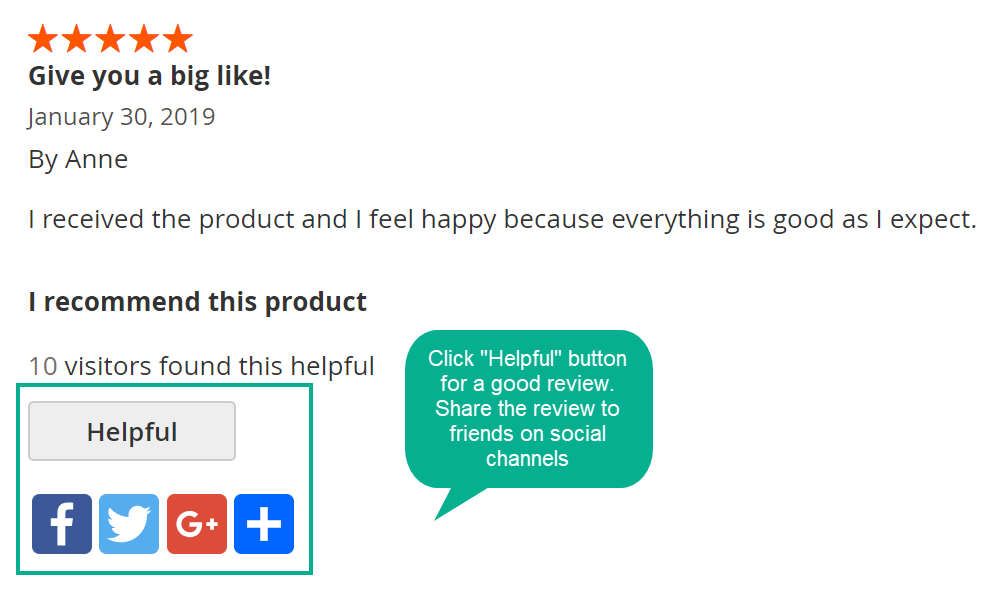 Filter reviews
To give customers better shopping experience, the module allows them to sort the reviews by three categories:
Newest reviews: Display the most recent review, so customers can update newest feedbacks about their preferred items. Thereby, they will give more relevant valuation.

High Rating reviews: Show the reviews having the high ratings of products from customers. By that, potential buyers can know whether products have how many good reviews and ratings.

Helpfulness reviews: Show the number of helpful votes on the reviews. Viewers can know the reviews with the most useful content and can spend more time to read them.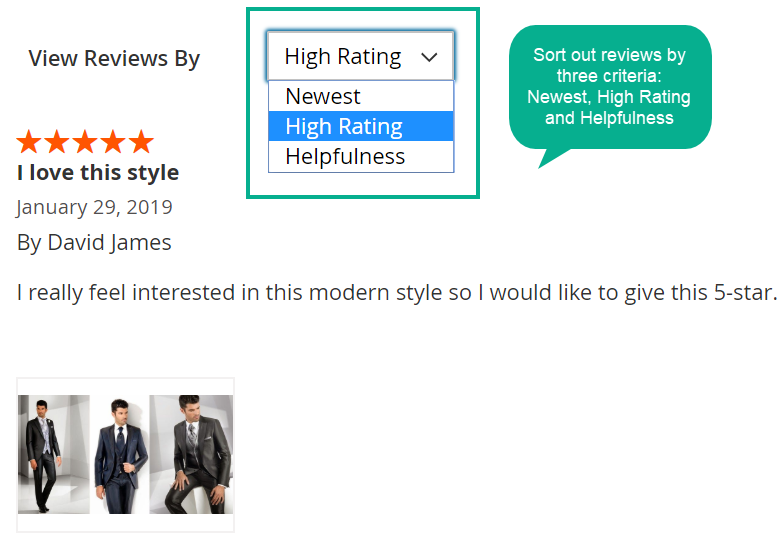 Store reply to customers' reviews
At the backend, store owners can leave replies to a review easily. This function will helps to increase the interaction for the review section between the shops and their customers.
By replying customers reviews, stores can send the thank-you, providing more details of products, explaining some complaints or release customers' anger and so on. Store's reply is a way to show how much your customers are cared.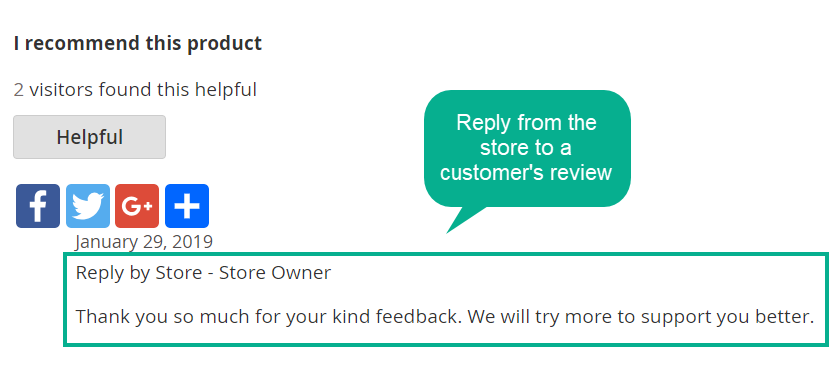 SEO-friendly reviews
Positive attitude towards products can be displayed on Google Search results. With the extension, customers will see the product star rating and the number of reviews right after the title on the Google result page. Reviews will attract customers' attention to click to view more a page. Besides, when customers are shopping at a store, reviews keep customers to stay longer on the page and this would be good for SEO in overall.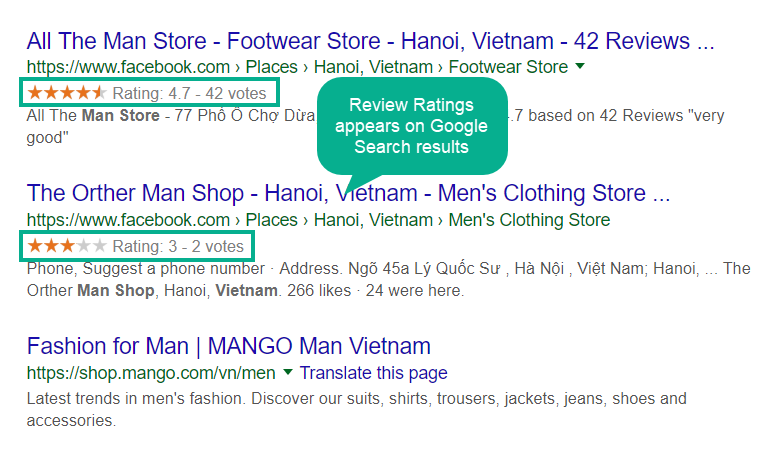 Review reminder on My Account page
To make sure customers not to miss to leave a review on any purchased products, the extension will add a review reminder slider in the customer account dashboard.
The review reminder section will appear after the list of reviewed products. The slider includes all the items which were bought by the customer but there is no review. A customer can easily see and add a review instantly just via a button click.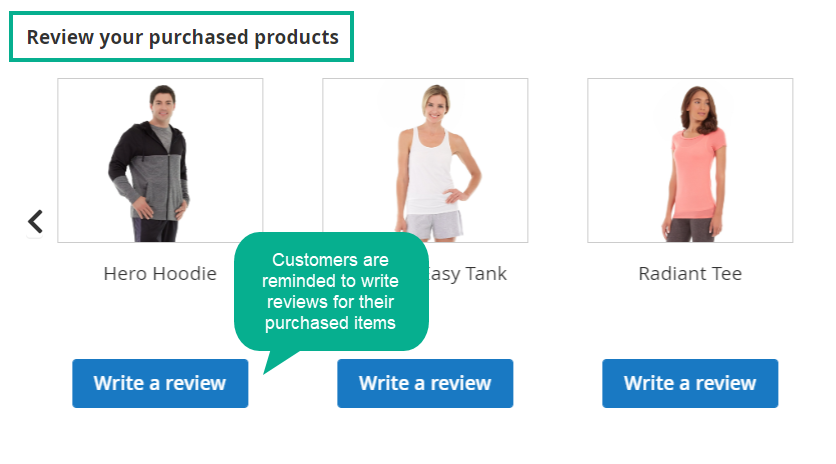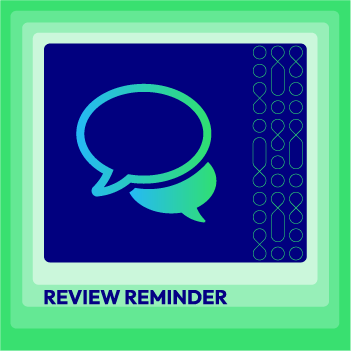 Gain more reviews and feedback from buyers for a better store reputation
Check it out!
Full Features Lists of Better Product Reviews
For store admins
General Configuration
Turn on/off the module
Reminding review on customer dashboard
Support Review Summary
Choose report review status
Write review configuration
Enable/disable writing reviews
Pick up customer group(s) to apply
Support AJAX loading
Allow Reviews for all customers or only purchasers
Allow uploading images on reviews
Restrict the images number
Allow Terms and Conditions checkbox
Set link title, anchor text, anchor URL
Select Check type for Terms and Conditions checkbox
Review listing configuration
Allow customers to rate helpful reviews
Showing store's reply
Enable/ Disable Social Share
Allow verified purchaser mark
Allow showing customers' nickname
Limit reviews quantity per page
Sorting
Enable/ Disable the function
Select Sort type(s)
Choose Default Sort types
Select Default Sort Direction
For customers
View feedbacks from purchasers before making the decision
Compare products easily and quickly
Rate the helpfulness of a review
Upload product images with their review
Share a review to friends on social networks
Receive the reply from the store
Final Words
One very important task for the Ecommerce store is to maintain its reputation in the online market. Quite naturally, it takes a lot of effort to gain that reputation but not much to lose it: Product Reviews are the best ways to maintain their winning streak. Product Reviews and feedbacks have changed the game for online market since internet has become a very household thing. An Ecommerce store which has a good compilation of consumer reviews for the products shows the wide consumer base it incapacitates. The store, thus, anticipates positive reviews to gain more customers in the future.
Explore Better Product Reviews
Website Support
& Maintenance Services
Make sure your store is not only in good shape but also thriving with a professional team yet at an affordable price.
Get Started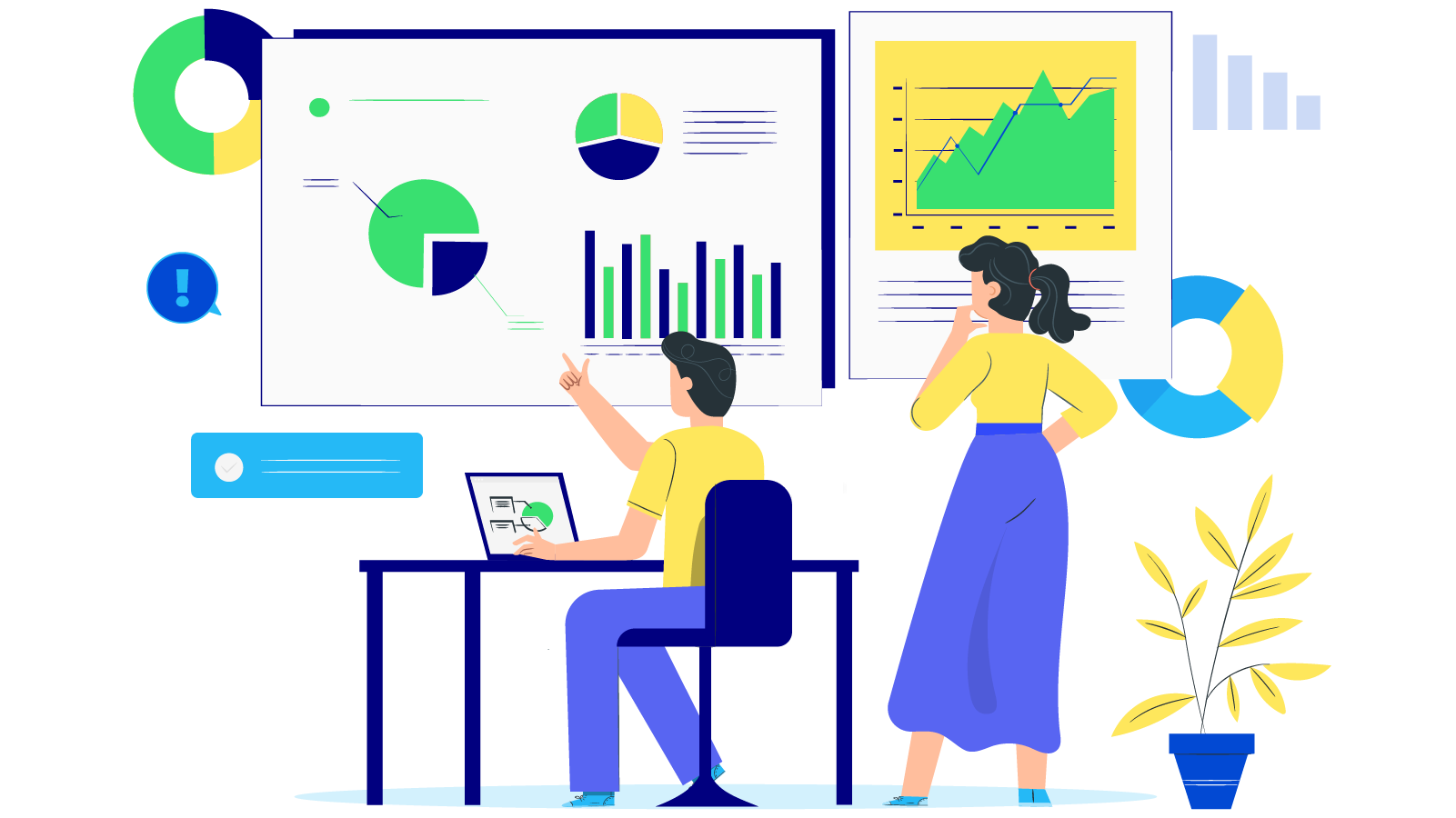 New Posts



Subscribe
Stay in the know
Get special offers on the latest news from Mageplaza.
Earn $10 in reward now!