12+ Best Shopify Abandoned Cart Apps - Abandoned Cart Recovery Email
As an online business owner, perhaps you've come across this situation at least once: you see people show up, browse around, add some items to their shopping cart, and then disappear.
You can check this through your analytics dashboard, which would highlight it as "Abandoned Cart" metrics. Unfortunately, this may happen many times. You should know that, according to Barilliance, three in every four customers might leave your store without purchasing their chosen items.
Frustrating, yes. But you shouldn't panic and give up.
There are multiple apps and tools out there that you can use to rescue abandoned carts and improve your sales. Amazingly, they can be integrated well with your Shopify store!
To help you pick the best choices, we've compiled this list of 12+ Best Shopify Abandoned Cart Apps. Without any further ado, we should begin right now!
Why do people abandon their shopping carts?
Before jumping into the best Shopify abandoned cart apps, let's first discuss why people abandon their shopping carts. This will help us understand how to present this issue.
Below are some of the top reasons people leave E-commerce sites without completing a purchase:
Extra costs (shipping, tax, fees) are too high
The site wants visitors to create an account
The checkout process is too long and/ or complicated
Visitors can't see/ calculate total order cost up-front
Delivery is too slow
They don't trust the site with their credit card information
There are errors in the website or frequent crashes
The return policy isn't satisfactory
There aren't enough payment methods
They can't use their preferred mode of payment
By identifying these issues, you can implement prompt and effective actions to change the situation. For example, instead of using multiple checkout pages that let visitors down, you can condense into one-step checkout only. You can also give them a special discount or promotion, such as free shipping via abandoned cart emails, to encourage them to complete their orders.
Why should you use abandoned cart apps on Shopify?
For Shopify E-commerce businesses, this cart abandonment poses some real challenges. Fortunately, there are many ways that Shopify abandoned cart apps work for your website.
In practice, they work very simply yet efficiently, by promoting the cart again. Nevertheless, how this can be done varies, depending on each app. For example, some might send an email, social media channels, adverts on the side of other websites, or push notifications.
How to choose an appropriate Shopify abandoned cart app heavily depends on your website's needs. If visitors need to sign in to your store to add to a basket, an email should be perfect. However, if a lot of visitors don't want to give their email address to you, you might need to use push notifications or adverts to recoup those lost sales.
So, make sure that you understand what you really need from Shopify abandoned cart apps before adding one to your store. Now, let's see the top apps that we recommend!
Shopify App Development
Let's build your Shopify App in the way you want, for your needs!
Learn more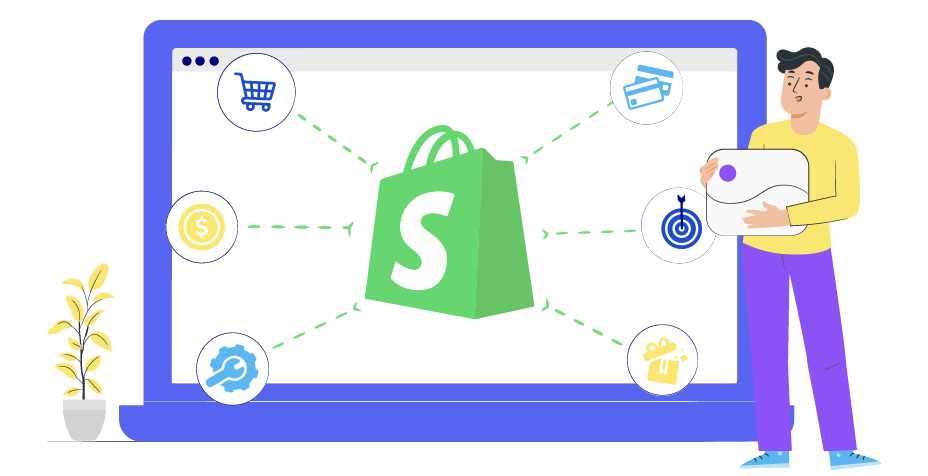 12+ Best Shopify abandoned cart apps
1. Abandoned Cart Recovery by AVADA Commerce
Before showing you why Abandoned Cart Recovery by AVADA Commerce worths every your penny, we want you to read these following statistics:
40% of abandoned cart reminder emails are always opened
21% of opened emails receive click-throughs
50% of users who click on links in abandoned cart emails go on to complete their purchase
So, what do you think about the power of recovering your abandoned cart rates via emails? Quite impressive, right?
Among many Shopify abandoned cart apps, AVADA Abandoned Cart Recovery is the most outstanding and reasonable solution for any merchant aiming to convert their customers and build long-life relationships. Specifically designed to optimize abandoned cart campaigns, the app follows up with your visitors and reminds them to continue their purchase quickly.
With a user-friendly and intuitive interface, AVADA Abandoned Cart Recovery is simple to get started for even non-technical users. And for anyone with limited or no experience in designing, the app does support email templates that can be ready-to-run right away.
Furthermore, you can handle your contacts with automatic data synced from your Shopify shop easily. Segment and target specific audiences for your emails will help you achieve the best possible results. The app offers a TOTALLY FREE plan together with a 14-day free trial for you to experience, so don't hesitate, test it out today!
Key features of Abandoned Cart Recovery by AVADA Commerce:
Quickly recover lost sales with Abandoned Cart Email automation
Send warm welcome emails to new subscribers and convert them into buyers
Follow up when someone unsubscribes your shop and make them come back with appealing offers
Motivate new purchasers to buy more related products or higher-end items with appealing offers and promotions
Send emails to your target audience with segmentation functions. The app can classify your contact list into various groups based on various conditions, such as order status, subscribe/ unsubscribe, product attribute, etc.
Create emails instantly without design or technical skills with drag-and-drop functions
Allow using ready-to-use email templates
Offer Spin to Win/ Newsletter Popup to collect emails with ease
Track your ROI by advanced reports
Auto-sync customers' data
Pricing plans:
Free Plan
Pro Plan: $9/ month
2. UpPromote Affiliate and Referral by Secomapp
UpPromote: Affiliate & Referral is the top recommended affiliate marketing app for Shopify stores. UpPromote is specifically designed to fit the need of any store sizes, helping merchants create and manage successful affiliate marketing campaigns. With UpPromote, it is not just about recovering abandoned carts, but also about building a network of loyal customers.
Regarding dealing with abandoned cart issues, UpPromote can indirectly affect your buyers via recommendations coming from your affiliates who could be their favorite influencers or as close as their friends.
Key features of UpPromote Affiliate & Referral by Secomapp:
Easy-to-use: Quick setting up process with detailed instructions. The quick onboarding process and guideline systems will help you understand basically how things work.
Auto-generated referral affiliate links and coupon codes: Affiliates will automatically receive a unique link and coupon code after registering, which they can use to promote the merchant's shop.
Manage your affiliate campaign: Track all referral orders and manage your affiliate performance through reliable real-time tracking process.
Support to recruit affiliates by free listing on UpPromote Marketplace; or with Multi-level Marketing feature.
Customer referral feature allows your customers to refer your products to their friends and family and earn a small commission. This helps to boost your sales while building a network of loyal customers.
Integrating with PayPal allows you to perform payment processes for your affiliates automatically within a few clicks.
Powerful management: Everything is customizable to match your brand's needs
Pricing plans:
Free Plan
Grow affiliate: $29.99/month
Professional: $89.99/month -Enterprise: $199.99/month
3. Web Push Notification by PushOwl
Web Push Notification by PushOwl is specifically designed to help you with your push marketing, which isn't just about recovering abandoned carts, but also bringing consumers back to your store on a regular basis.
Nevertheless, its abandoned cart aspects can work well for you if you want to increase conversion ratios. It operates by reminding potential customers of their abandoned cart through their web browser. It takes place over 3 automated push notifications.
There are numerous notifications you can push to customers with the exception of the abandoned cart reminders. Some other notification types include shipping reminders, back in stock, price drops, and flash sales. So, with a simple click of button, your consumers can be kept in the know about all the potential news from your website.
Google Analytics can be used to track your clicks and conversions to see how your automated push notifications are working. You can also adjust these automatic workflows.
Key features of Web Push Notification by PushOwl:
Automatically add product images to all your automated push messages to make them more convincing and better converters
Retarget store visitors with push notifications like a price drop, shipping reminders, back in stock, etc.
Automatically sync subscriber data with account data
Allow personalizing push notifications with subscriber details
Integrate with top-rated Shopify apps
Pricing plans:
Free Plan
Business Plan: $19/ month
Enterprise Plan: Custom price
4. Abandoned Cart Messenger by Booster Apps
Instead of using emails to send abandoned cart messages, Abandoned Cart Messenger by Booster Apps uses Facebook to do so. Honestly, there are several advantages to this.
First and foremost, many shoppers are now more likely to use their social media profiles as a way to log into shops. Besides, it's non-invasive. You will also find that the open rates on Facebook are much higher than on other channels. So, you can expect to recover more sales from Facebook Messenger than you would through emails.
Not only does this app allow you to send reminders to customers about their abandoned carts, but it also shows statistics. It can tell you how many subscribers you've got and how many abandoned carts have been recovered and what value that was.
Lastly, the app also encourages people to subscribe to your Facebook business page. Thus, you're able to continue marketing to them, even after they've completed their first purchase.
Key features of Abandoned Cart Messenger by Booster Apps:
Recover abandoned carts via Facebook Messenger
Get set up within 2 minutes with no coding needed
Increase your social proof by subscribing people to your Facebook Business page
Work well on desktop, tablet, and mobile devices
Pricing: $24.99/ month
5. Consistent Cart - Abandon Cart by CartKit
Consistent Cart - Abandon Cart by CartKit is an all-in-one solution that uses multiple communication channels to save abandoned carts. It helps create more revenue for your store by using email, Facebook Messenger, and push notifications to remind your customers about their carts.
Plus, the app can generate nice abandoned cart recovery emails, new account creation emails, and happy birthday emails within several minutes, which would also significantly make your sales increase. Additionally, it can set up a popup that asks visitors for their email address when they add an item to their shopping cart. This allows you to retarget them at a later time, either on your own or using their email sequencer.
Key features of Consistent Cart - Abandon Cart by CartKit:
Save a lot of time with baked-in marketing automation and abandoned cart recovery at scale
Reach customers and grow revenue with 100% automated and customizable email, SMS & push notifications
Build a subscriber list using dozens of growth tools and integrations
Double-verify orders to save consumers from being annoyed by notification emails
Pricing plans:
Free Plan
Pro Plan: $29/ month
6. SMS Cart Recovery by Tone SMS Marketing
SMS Cart Recovery by Tone SMS Marketing takes abandoned cart recovery via SMS messaging to a whole new level. The app allows you to send texts to your customers with AI-enhanced human text message conversations.
Customers can have two-way conversations with your business, which helps improve revenue and trust a lot. While at the same time, you can save your precious time for other business activities.
Using the app also helps you grow your list of SMS subscribers. This is necessary to build an effective marketing campaign to increase revenues from a new product or service. You can also segment and target your audiences based on past actions they have completed with your brand.
Key features of SMS Cart Recovery by Tone SMS Marketing:
Create two-way conversations with your audience through effective SMS marketing
Recover more abandoned checkouts via SMS
Build a list of SMS subscribers
Increase conversions with live text
Segment your customers based on their past actions
Pricing: The free trial lasts for 14 days; after that, it charges $.023 per message.
7. FB Messenger Marketing by Recart
FB Messenger Marketing, designed by Recart, is one of the greatest Facebook Messenger marketing and abandoned cart apps. With Recart FB Messenger Marketing, you're allowed to send Automated Messenger campaigns, including abandoned cart reminders, fulfillment notifications, order receipts, welcome messages, and up-coming purchase follow-up.
Furthermore, the app helps engage your subscribers with high open rates by notifying them about your latest news and increasing interaction with them. Thus, your conversion rates are boosted, and you're able to follow up on them on Messenger and answer all of their questions.
Additionally, the app enables users to send pre-built, automated messages to all cart abandoners to encourage them to buy your product. It also makes it easier to grow your Messenger audience base by providing tools to convert your visitors into subscribers. The process is simple to follow with no email needed; the only thing your customers need to do is approving a checkbox.
All in all, Recart FB Messenger Marketing has excellent features that are simple to get started and easy to use.
Key features of FB Messenger Marketing by Recart:
Facebook Messenger Marketing & Abandoned Cart App
Drive customers back by sending them Automated Messenger campaigns
Grow your Messenger list with Recart, Wheelio, and Optimonk
Recover lost revenues, send receipts, or ask or reviews with Loox Photo Review app
Pricing: $29/ month
8. Abandoned Cart Recovery Email by Care Cart
Abandoned Cart Recovery Email by Care Cart is a simple, reliable, and robust app, which can help convert your store's lost revenue by tracking all the abandoned carts and targeting them.
With this app, you can view all the cart abandoners and the products that have been in their carts in a list. By sending automatic emails with action links, you're able to bring them back to the checkout page. It can also help you collect emails from your customers by asking them to provide their email before adding any products to their cart.
The app will set up abandoned cart recovery emails on your own schedule. With Abandoned Cart Recovery Email by Care Cart, you're able to customize your email schedule as you like.
Key features of Abandoned Cart Recovery Email by Care Cart:
Track and target all carts in minutes
Recover abandoned carts via email marketing and web push notifications
Regular email popup requests customers to provide emails while adding a product to the cart
Offer Spin Wheel feature as abandonment protector & discount code delivery email pop up
Pricing plans:
Free Plan
Pro Package Plan: $12/ month
9. Abandoned Cart Recovery by Marsello
From Facebook Messenger reminders and beautifully-designed abandoned cart emails to simple pop-ups and cross-device carts, Abandoned Cart Recovery by Marsello has everything you need to prevent and save abandoned carts!
With the Standard Plan, you have three channels for recovering a cart. The first one is via email. When a customer abandons a cart, assuming that they were logged in or you've got some way to associate customers with an email in your system, the app will send a follow-up email reminding them that they've left items in their cart.
The second method is exit-intent pop-ups. Whenever a consumer adds an item to their cart and is about to leave your store, a pop-over appears on the screen. This disrupts their action for a while and reminds them that they have items in their cart.
The third way is cross-device memory. If a user browses your store on mobile, adds items to their carts, then leaves, for example, if they come back later on a desktop browser, their cart will still be there.
With the Pro Plan, you'll have a couple of extra features. For instance, it allows you to recover lost sales via Facebook Messenger. Besides, another feature is essentially white-labeling. Emails sent from the Standard Plan come from the Marsello domain, but you can send them from your own domain with the Pro Plan. And of course, the Pro Plan comes with priority support.
Key features of Abandoned Cart Recovery by Marsello:
Recover abandoned carts via emails, exit intent pop-ups, cross-device memory, and Facebook Messenger
Use up to 3 emails to entice customers back to their abandoned carts
Include a discount code to encourage customers to complete their purchase
Allow adding your branding, editing email text, and choosing your send timing
Pricing plans:
Standard Plan: $19/ month
Pro Plan: $29/ month
10. Free Persistent Cart App by Marsello
Another Shopify app by Marsello on this list, so you know they are engaged with the community. Let's explore what this app can do!
Do you remember the Marsello app above that has the feature of cross-device cart consistency? When a customer adds an item to a shopping cart on one device, then they log into your store on another device, their cart is still there. The app does that.
This free app is fully automatic. Just simply install, and it'll automatically work and give you information about how many carts were abandoned. You can test it out yourself by logging into your store as a customer, add items to your shopping cart, then log in on another device.
Key features of Free Persistent Cart App by Marsello:
Keep customers' carts persistent on any devices whenever logging in
Easily and automatically install
Install without any fees
Pricing: Free
11. Abandonment Protector by Chilliapps
If you want a highly minimalistic app, Abandonment Protector by Chilliapps would be your best bet. This robust app comes with a few but smart lead generations and marketing tools that function as cart abandonment tools. It has exit intent pop-ups, which work the same way as the one we've mentioned up at the top.
Aside from that, the app has support for email campaigns, cart reminder email campaigns, and even drip campaigns. Lastly, we're really impressed with the way the app handles newsletter management. In general, it is more of an email marketing platform for Shopify than anything, but the abandoned cart recovery features do exist. That is one of the reasons we have added it to this list.
Key features of Abandonment Protector by Chilliapps:
Email marketing automation & exit intent popups
Create customizable pop ups
Provide newsletter subscription forms
Automated follow-ups/ email sequences
Pricing: $8/ month
12. Abandon Aid by Coolence
Abandon Aid by Coolence is one of the most powerful apps that helps you prevent abandoned carts when visitors are likely to buy your products but then go away for some reasons.
The app is able to email to your customers to remind them of their buying and request them to come back to finish it. All you have to do is to install it, and the app will take care of the rest for you.
Please note that the app might ask you to opt for plans which are based on the number of emails you'd like to send. Additionally, the app requires you to set campaigns to recover the orders, and don't forget that the recovery statistics are available during the last month of customers' orders.
Key features of Abandon Aid by Coolence:
Email customers to remind them of their missed orders
Allow users to set campaigns to recover orders
Provide users with recovery statistics
No complicated configuration or skills
Pricing: $10/ month
13. Persistent Cart by Customer First focus
Emphasizing customer experience, Persistent Cart by Customer First focus is considered a top 5 Forbes-recommended Shopify app. The app will reduce cart abandonment and increase sales by ensuring that customers don't lose their carts.
The app doesn't require any complicated installation, so customers just need to log in once via different devices or any browser. The cart only disappears when the customer logs out. So, it's impossible for customers to lose their shopping cart.
Specifically, the app works in the background and provides an intuitive shopping experience, so customers can enjoy better shopping value with a convenient and professional device that is integrated into your store.
Key features of Persistent Cart by Customer First focus:
Allow customers to shop across multiple devices without losing their carts
Automatically tie shopping carts with accounts
Intuitive for customers
Simple to install and pay
Protect customers' privacy
Pricing: $3.99/ month
14. Abandoned Cart Reminder by SpurIT
Abandoned Cart Reminder by SpurIT was designed to track who is shopping at your store, and then goes to another tab. Your store stab then starts blinking, attracting customers to come back. When they click the blinking tab, and return your store, they can optionally see a custom message, for example:
"Checkout within 10 minutes and apply a discount code XX to save 10%"
"Your cart will expire soon"
"Someone has placed an order on one of the products you have in your cart. We will keep it for you for 10 minutes"
By using the app, you can edit the display of the message background and font, such as size or color. Plus, as the app helps you bring back customers when they haven't left your store, in case they've already left, you can use it together with an abandoned cart recovery email app.
Key features of Abandoned Cart Reminder by SpurIT:
Bring back your customers with abandoned cart reminders
Create a synergy effect when combining with an abandoned cart recovery email app
Allow customizing the background and font of the messages
One-click install and easy setup
Compatible with any theme
Pricing plans:
Basic Plan: $8.95/ month
Priority Support Plan: $17.95/ month
15. Smart Cart Recovery by Gravitate
Last but not least, Smart Cart Recovery by Gravitate is a standard cart recovery app, much like many of the other items on this list. It does email recovery and allows you to message customers via Facebook.
We put the app on the list for two reasons. Firstly, it's simple and easy to get started. You don't need a huge or complicated configuration to do cart recovery, and sometimes all you want is something that utilizes the channels that you use most often. Secondly, the app lets you use both channels simultaneously. You can send emails, and if that doesn't work for you, you can follow up with Facebook Messenger, and back and forth as much as you wish throughout your campaign.
Key features of Smart Cart Recovery by Gravitate:
Queue all of your abandoned orders easily so you can recover them
Leverage the power of Facebook Messenger marketing
Allow adding as many emails to your sequence as you want
Beautifully designed with an intuitive drag and drop interface
Gain access to customer insights, such as customer lifetime value and referral sources
Simple and easy setup
Pricing plans:
General Plan: $8/ month
Plus Plan: $14/ month
16. SMS Marketing & Cart Recovery by Shipway
Use modern-day solutions to notify your customers with SMS Marketing & Cart Recovery App, created by Shipway. The app allows you to send SMS & Whatsapp Notifications for Abandoned Cart Recovery, which has a high opening rate.
The app enables you to send automated reminder notifications to your customers for their abandoned shopping carts alongside follow-ups on the same at different time intervals. Also, the app will with the stats on how many of your customers have recovered their shopping carts with a successful purchase.
You can use the app for marketing via SMS also. This allows you to send custom SMS in order to thanks customers for their successful purchases, promote new products, and offer discounts on your stores. The SMS template is fully customizable according to your requirements.
Key features of SMS Marketing & Cart Recovery by Shipway:
Send SMS notifications to 220 countries.
Custom sender id available.
Automatic add discounts in the abandoned checkout URLs.
Automatic enable Cash On Delivery for customers on abandoned checkout URLs.
Pricing plans:
Free to install.
The plan starts from $30.
17. Growave - Loyalty, Wishlist +3
If you need to reach, engage, and convert visitors in the most efficient way, then Growave is the choice for you. You can get an all-in-one app package to increase customer retention, boost social sharing, and grow your brand.
Additionally, you can use its advanced review features to create personalized automated coupons based on reviews to enhance the store's credibility.
Growave claims to be 4-7 apps in one that includes Loyalty and rewards, Wishlists, Reviews, Social Login, Instagram UGC, Questions & answers, Notifications, and more.
It currently has a 4.9 star rating on the Shopify app store.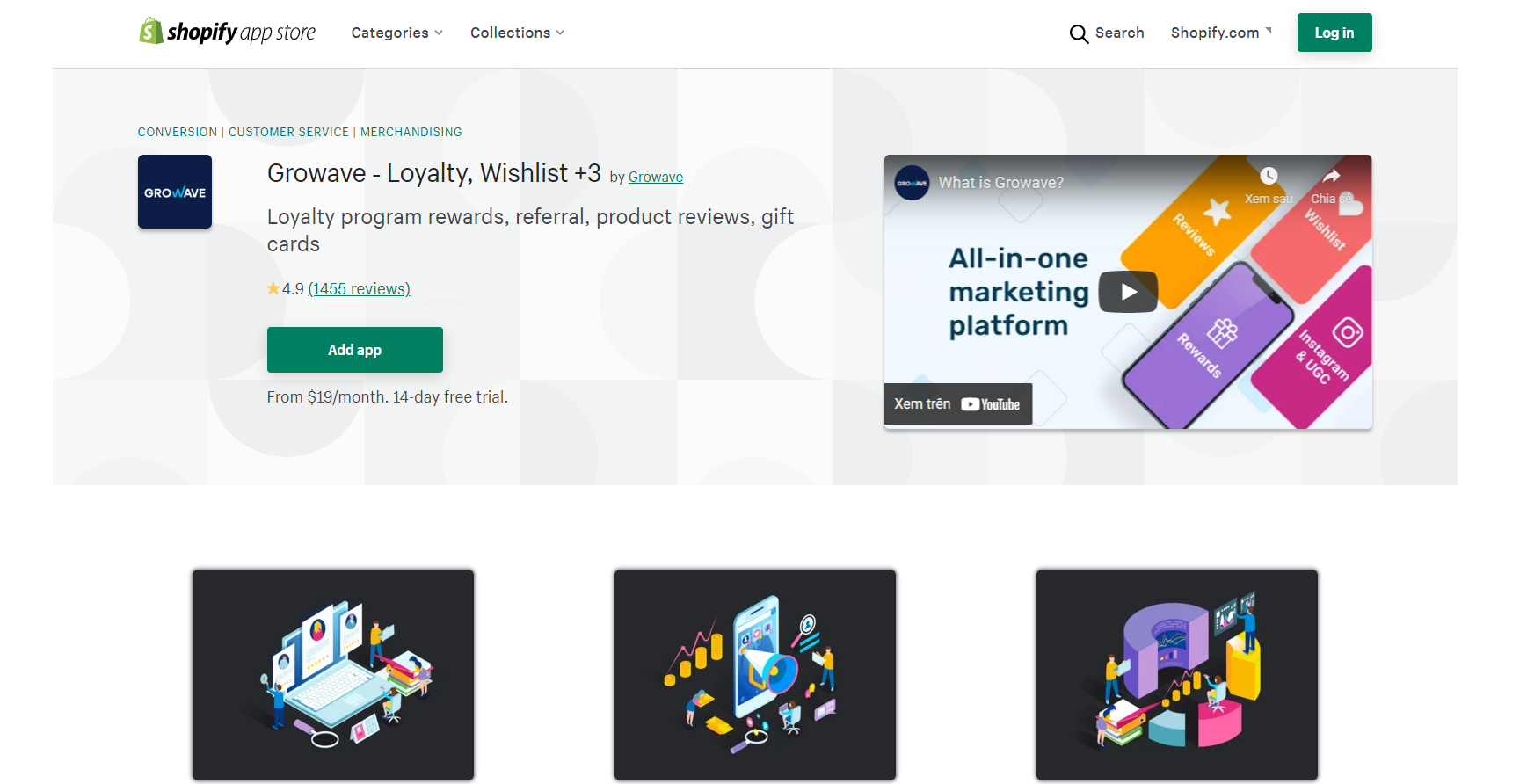 Key features of Growave - Loyalty, Wishlist +3:
Rewards for purchases and other actions.
Collect reviews and Q&A.
Excellent customer service both in technical integration and promotion assistance
Shoppable Instagram Feature
Pricing plans:
Pricing:14-day free trial
Starter plan: $19/month for stores with up to 100 orders/month
Small plan: $29/month for stores with up to 250 orders/month
Medium plan: $49/month for stores with up to 500 orders/month
Growth plan: $99/month for stores with up to 1000 orders/month
Enterprise plan: $299/month for stores with up to 3500 orders/month (30-day free trial)
18. Abandoned Cart Recovery by Retainful
Automate email marketing and grow sales on auto-pilot with Retainful. Recover shopify abandoned carts automatically and convert lost sales to revenue. Retainful is packed with pre-built workflow templates, this can help you launch an Abandoned cart recovery campaign within minutes.
By default, you can send three cart recovery emails via Retainful. But you can add unlimited emails to your campaign. Sometimes, a customer might need more than an email, add dynamic coupon codes to your emails & encourage customers to return & recover their cart.
Send a series of cart recovery emails at timed intervals until the customer recovers his cart, once the cart is recovered the campaign will stop automatically. No manual effort is needed, bring back lost sales with minimal workload.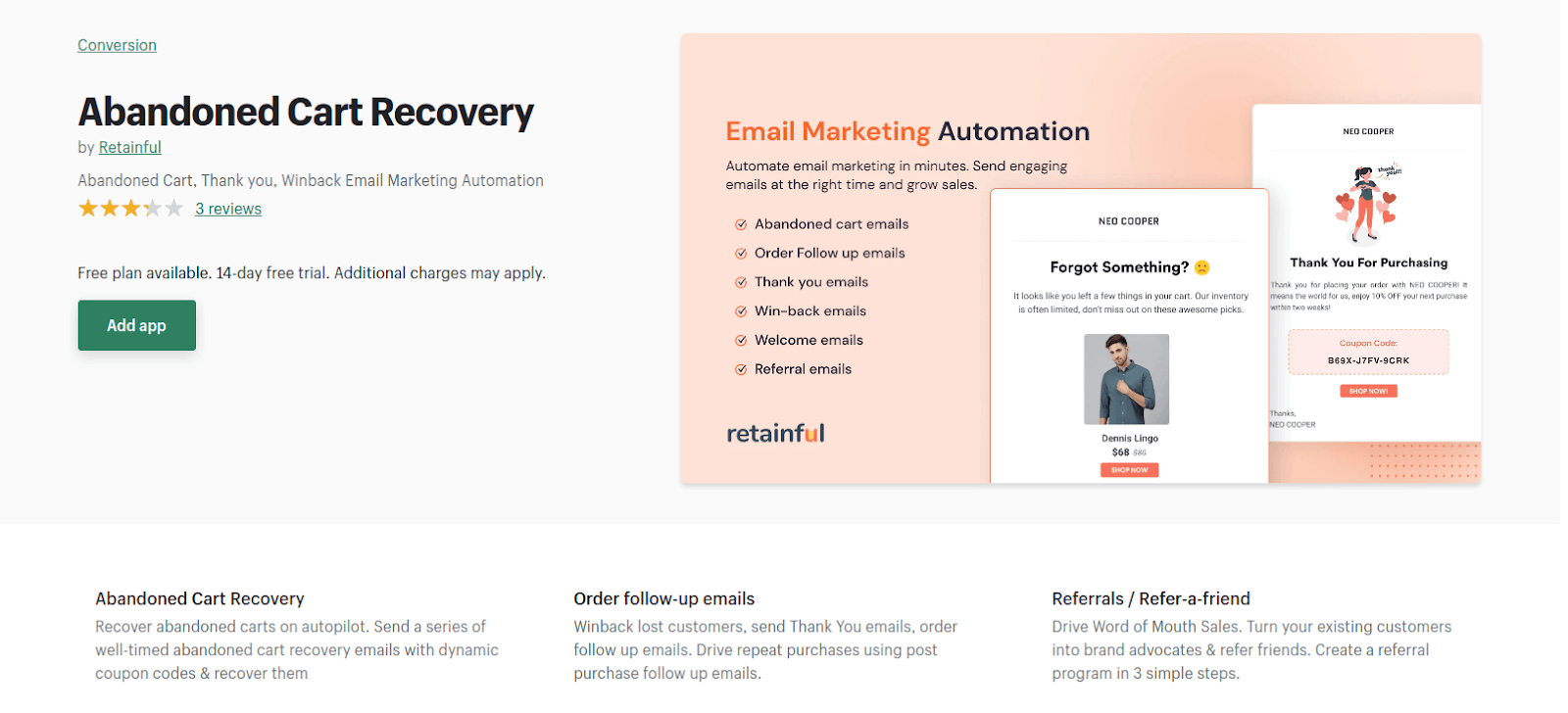 The key to a better email conversion rate is customization. Make use of our Drag & Drop email editor to customize your emails as per your preference. Add logos, text, gifs, change fonts, colors & more.
Shortcodes are available for personalization. Add customer's name, billing address & more to create a personalized experience for your customers. Personalization can increase your email open rates.
Key features of Abandoned Cart Recovery by Retainful:
Single-click recovery
Dynamic coupon codes
Launch a campaign within minutes. No coding is required.
Multi-device compatible
Pre-built automation templates
Pre-built email templates
Fixed discount, Percentage discount & Free shipping discount
Pricing plans:
Free plan
Growth plan - $49/month
The bottom line
Seeing your sales plummet down due to abandoned carts can be a frustrating experience. Nevertheless, you can rectify this issue by using the above trusted and proven Shopify Abandoned Cart Apps.
So, which app will you pick? Will you opt for email, push notifications, or social media as your main driving force? Please share your opinions with us! We're always happy to hear from you!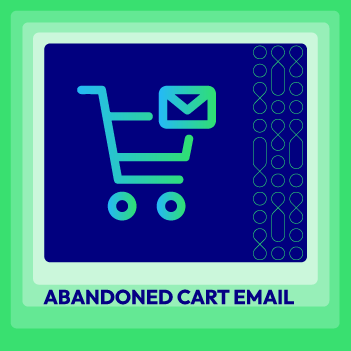 Abandoned Cart Email for Magento 2
Solutions to abandoned carts issue, helping online businesses boost sales and enhance conversion rates
Check it out!
Website Support
& Maintenance Services
Make sure your store is not only in good shape but also thriving with a professional team yet at an affordable price.
Get Started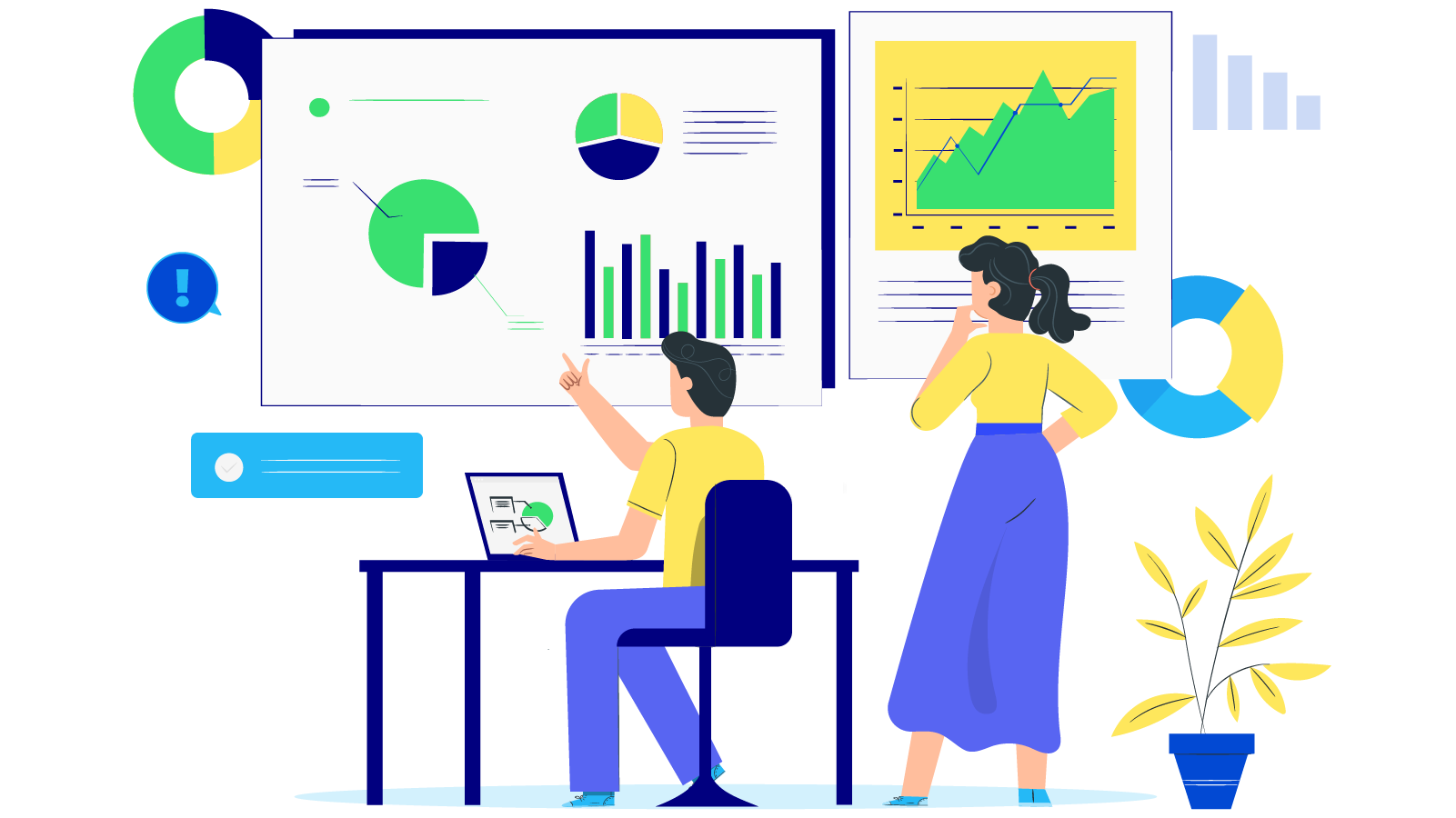 ---
---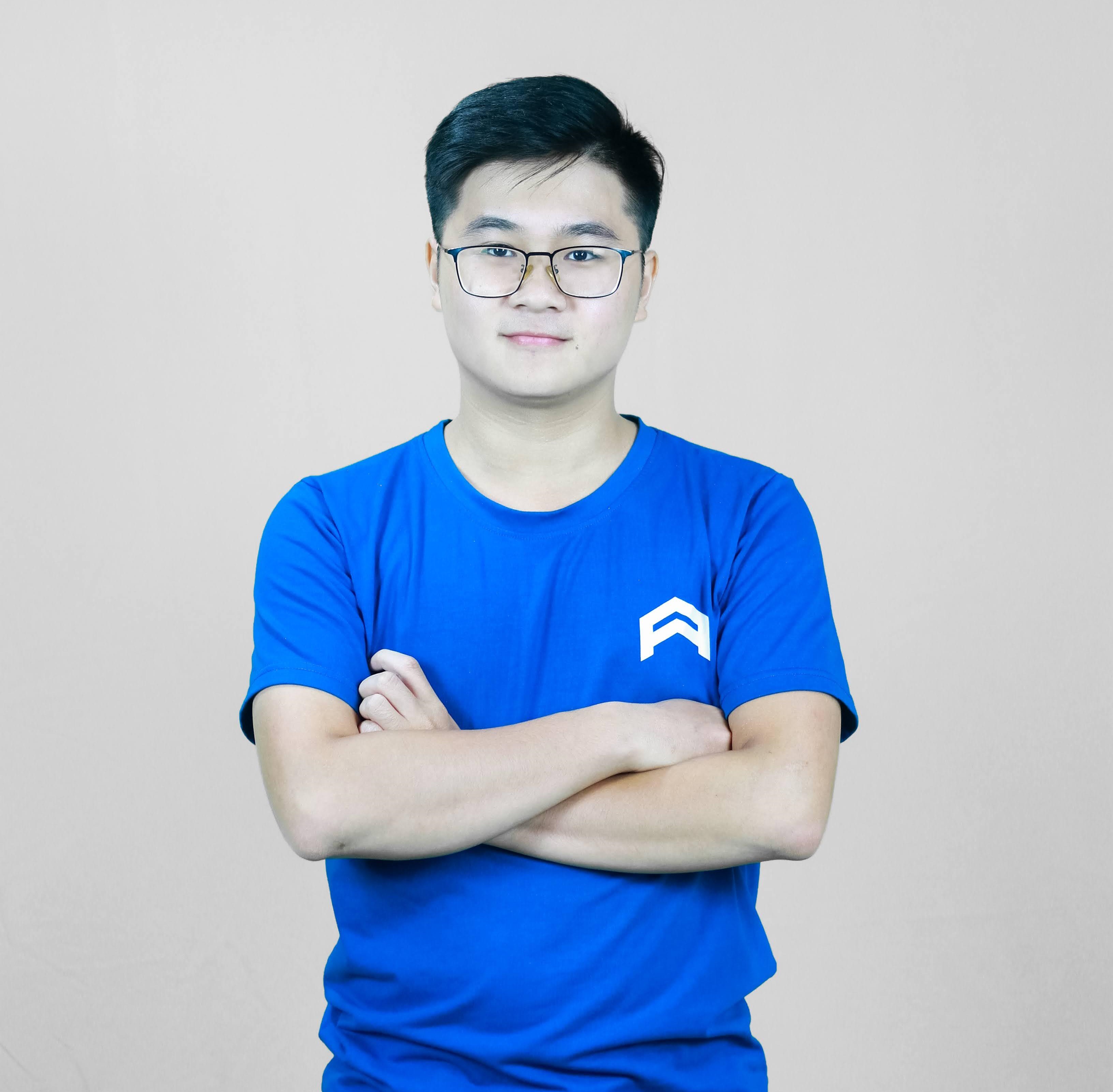 As the CTO of Avada, a company specializing in Marketing Automation Platform, I have over 10 years of experience in software development. I have successfully led Avada's technical team in creating innovative products for our clients.
New Posts



Subscribe
Stay in the know
Get special offers on the latest news from Mageplaza.
Earn $10 in reward now!