10+ Best Store Locator Extensions for Magento 2
10+ Best Store Locator Extensions for Magento 2 in 2023
The Best 13 Magento 2 10 + Best Store Locator Extensions for Magento 2 extensions from hundreds of the 10 + Best Store Locator Extensions for Magento 2 extensions in the market as derived from Mageplaza Ranking, which is using Mageplaza scores, rating reviews, search results, and social metrics. The below extensions were picked manually by Mageplaza experts, if your 10 + Best Store Locator Extensions for Magento 2 does not include in the list, feel free to contact us. The best 10 + Best Store Locator Extensions for Magento 2 list is ranked and evaluated in 2023, the price from $0 to $199. Find more Magento 2 extensions here.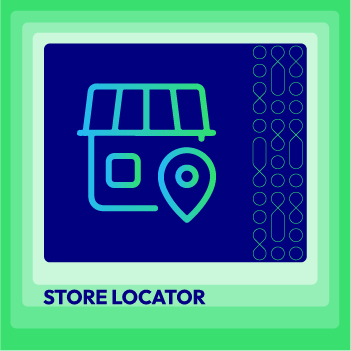 Help customers locate all physical stores by displaying unlimited store locations on a separate page
Check it out!
Here is a list of Best 10 + Best Store Locator Extensions for Magento 2 for Magento 2:
Magento Vendor
Name
Highlight features
Description
Price
Actions

mageplaza

Store Locator by Mageplaza

Allow displaying locations in Google Maps
Easy to find the nearest stores in a blink of an eye
Allow converting addresses to GPS coordinates to display its latitude & longitude
Allow integrating keywords to make your content more SEO-friendly
Display all store information and image slider
Configure working hours and holidays
Customize maps to match your brand
Create extra convenience with Store Pickup extension
Include full responsive layouts
Enable importing from CSV file
Available API/GraphQL

Magento 2 Store Locator from Mageplaza is based on Google Maps and GPS, which gives you automatic suggestions as soon as you type a few characters. From that point, it's so easy to find places and directions to your store locations. Customers will be very excited about this and then it helps increase the customer's shopping experience and boost sales for your store.

aheadworks

Store Locator by Aheadworks

Ability to integrate Google Maps to show interactive locations
Allow listing the store's information for any location
Enable searching the store easily
Able to insert an image to mark on map
Include integrated tests to examine this extension

Store Locator by Aheadworks is integrated with Google Maps, which help customers find your physical stores more easily. In addition, this module also allows inserting photos on a map to help customers easily identify your store.

mageworx

Store Locator, In-Store & Curbside Pickup by Mageworx

In-store and curbside pickup
Integration with Google Maps
SEO-optimization of location pages
MSI, multi-address & API support

Besides the standard store locator with Google Maps and in-store pickup functionality, this tool adds a curbside pickup feature to help meet the shoppers' needs during the pandemic. SEO optimization capabilities of the module will help advance your local rankings. Offline stores, orders, and product availability management will become error-free and intuitive.

cmsmart

Store Locator by Cmsmart

Enable displaying full store list on Google maps
Be able to see all information of the store
Easy to find the store locations
Include Google maps suggestions when you type characters on a pop-up search box
Allow customers to search by state, country, style, etc

You have a strong website and a chain of stores, but customers are so difficult to reach your store to purchase the product. That's why you lose a lot of customers. The Store Locator by Cmsmart can help you solve this problem. It allows you to show all phsycial stores, and detailed directions to your store via Google maps.

iwdagency

Store Locator by Iwdagency

Allow customers to find the store easily
Google maps support
Enable modifying the design
Be able to generate a new store
Able to search the store via a pop-up box

This free Store Locator extension allows you to display all of your store locations on the map to facilitate access to your store by customers. Besides, shop owners can customize designs based on the style of the store.

magebees

Store Locator by Magebees

Display all physical stores with Google Maps
Import/export functionality for store locations and pickup slots
Search By Location and Search by Distance filters available
Show address, contact information, and product availability on the Store Detail page.
Customers can set dates and timings for in-store pickups at the checkout.

Use Mage Bees Store Locator to create multiple store locations with CSV and show them on Google Maps. Customize store detail page with product availability feature. Customers can opt for in-store pickup/curbside pickup at checkout. Manage customer orders and apply mass order actions for quick completion of work!

magedelight

Store Locator by Magedelight

Easy to search stores based on zip code, state, city, etc
Enable inserting/modifying/deleting store details, such as images, addresses, contact information, etc
Allow showing the opening and closing time of the store
Help import/export the data of the store by CSV file

Let customers find your offline store quickly with Google Maps, Store Locator extension by Magedelight allows you to add/edit an image and store information to attract customers into your store.

magesolution

Store Locator by Magesolution

Customers can search stores by country, state, zip code, distance, etc
Customers can see the store list on Google maps
Admins can establish opening and closing hours flexibly
Admins can add all information for the store like address, an image, contact information, etc

Store Locator by Magesolution allows customers to reach their destination quickly and purchase products more easily than ever. Moreover, this tool helps improve sales for stores as well as save time for customers.

fmeextensions

Store Locator by Fmeextensions

Display stores with Map locations & directions
Setup exclusive landing pages for each store
Create timetables for each store
Create general or specific holidays
Allow customers to search stores by radius

Store Locator by FMEextensions allows you to manage store locations. You can add and display stores on a guided Google map and allow customers to easily find your nearest shop. Attach all the relevant details to each store and display them on a dedicated landing page.

magenest

Store Locator by Magenest

Create multiple store locations with rich information
Google Maps integration for map and direction guide
Store finder tool with filters
Set products at individual stores

Let your customers find your stores, filter the closest ones to their location, and get directions to them with Store Locator by Magenest

mageants

Store Locator by Mageants

Customers can search for closet stores by various categories
Add the store location and extra information on a detailed page
Support multiple websites, store and store views
Import and export functionality is supported in form of CSV file
Interactive map functionality to position store on the map

One of the fundamental tools for both, offline and online stores to increase their online visibility by adding store locations and connecting their physical stores with the store website. This helps customers to find nearest stores and obtain store directions through Map using various search criteria.

mconnect

Store Locator by Mconnect

Help users reach your physical store easily with Google Map
Ability to search stores by county, zip code, city
Setup multiple stores by importing CSV file data
Custom icons for stores, Facebook commenting options
Show opening hours, holidays, and special days

Store Locator for Magento 2 by Mconnect allows increasing your store visibility and selling by helping users to find or reach to nearest store on Google Map using multiple search criteria. Enhance user interface with interface and custom icons. Auto-changing store status based on different information. Display image gallery to grab their attention and give direction from the current location.

amasty

Store Locator by Amasty

Easy to import GEO IP data
Allow showing additional information for each store location
Able to specify a product or category to save location
Enable uploading an image for each store location
Help highlight the warehouse with various colors

This Store Locator extension helps customers quickly find the way to your physical store. With a helpful Google map display, it's simple to navigate your customers to the store's closest locations, help customers save time and give them a great shopping experience.
---
More Extension Reviews from Mageplaza
These 13 10 + Best Store Locator Extensions for Magento 2 modules are ranked based on following criteria:
Rating review on Magento Connect, Magento Marketplace and vendor's website.
The price and features.
The vendor's reputation and Search Engine Ranking.
Social media metrics such as Facebook, Twitter, Google+.
Mageplaza team and expert review.
Top 13 Magento 2 10 + Best Store Locator Extensions for Magento 2 Vendors
Thank every vendor that has made this Top 13 10 + Best Store Locator Extensions for Magento 2 list! This is the most comprehensive list of best 10 + Best Store Locator Extensions for Magento 2 on the internet and we are honoured to have you as part of this!
We would like to give the best commendation to all of the vendors who have done the number one of the 10 + Best Store Locator Extensions for Magento 2 brief! It is appreciated to be the most awesome and exhaustive result from searching on Google. We are pretty proud of your appearance on this list. Many thanks for your benefaction to our lives!