Magento 2 Shop by brand in 2022
The Best 11 Magento 2 Shop By Brand extensions from hundreds of the Shop By Brand extensions in the market as derived from Mageplaza Ranking which is using Mageplaza scores, rating reviews, search results, social metrics. The bellow extensions were picked manually by Mageplaza experts, if your Shop By Brand does not include in the list, feel free to contact us. The best Shop By Brand list is ranked and result in 2022, the price from $0 to $179. Find more Magento 2 extensions here.
Magnificent way to perform all your brands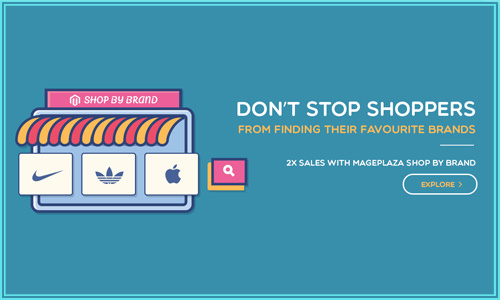 Here is a list of Best Shop By Brand for Magento 2:
Magento Vendor
Name
Highlight features
Description
Price
Actions

mageplaza

Shop By Brand by Mageplaza

Create unlimited brands with names, logos.
Support featured brands.
All brands page and brand's page including all products.
Compatible with Layered Navigation
Instant Search brands
Import brands

Magento 2 Shop by Brand extension brings a wholly new level of looking up products for visitors - Shop by brand! Your visitors will be given a chance to look for the brand they like easily as well as experience unique attractive brand page.

aheadworks

Shop By Brand by Aheadworks

Motivate the sale with brands on products
Introduce features of different brands
Display these features on the Brands page
Promote other sales related products,
Adding a widget with the brand logo and description

It is easy for you to satisfy your customers with brand pages by Shop by Brand Magento 2 extension. The collection of brands including descriptions, logos on the top of the page will promote best-selling products and customer satisfaction.

aitoc

Shop By Brand by Aitoc

Navigate products by brands or service providers
Display logo of brands on pages and the sidebar
Managing brand pages easily
Customers can approach products by sizes, colors, and other attributes products besides brands

The owners of a store can become brand managers who will create their own brand pages. Through it, the buyers easily find out the expected brands among thousands of brands in the stores.

Shop By Brand by

Display different brands on a Sidebar, Menu, and Top links
The List of brands given on Slider and a Search area
Using CSV files can export or import Brands
SEO-Friendly URLs

With Magento 2 Shop by Brand extension, Admin can easily plus a sidebar with names and logos of brands. Moreover, customers can find expected brands just by several clicks as well as be given many suggestions about related or top products brand on the search box.

appjetty

Shop By Brand by Appjetty

Suggested products on the top link and top menu
Enable to find products by features, logos or specific brand page with all the brands in your store.
Supporting more items in the same brands

The Advance Shop by Brand extension have the difference in suggesting brands on the top menu, and finding with other layered navigation on the brand listing page. It also filters products by brands, highlight features, and brands logo. Besides, there are many options to find out brands by searching alphabetical order or displaying suggested products from the same brand.

magebay

Shop By Brand by Magebay

Listing automatically Brands
Drop-down brand options on Main Menu
Building a new page with list of all Brands adding logos, URLs to brands
Showcase Featured Brands on the Brands page
SEO-Friendly Brand
Editing WYSIWYG
Supporting multiple stores

This extension help your buyers to search the brands, manufacturers or any attribute in your store. The managers can create the list of category-like pages for the brands.

magedelight

Shop By Brand by Magedelight

Display brands separately like Main Menu
Promote attribute landing pages
Give suggestions to filter such as first word, name or features
Import-export brand by using .csv files

By Shop By Brand in Magento, shoppers can filter what products which have the brand, carriers, etc they prefer on the menu of your store.

solwininfotech

Shop By Brand by Solwininfotech

Add unlimited products
Upload brand logo/image
SEO friendly URL
Powerful WYSIWYG Editor
Enable top and footer link
Enable brand Slider in home page
Set Custom Header Text

Magento 2 Shop By Brand extension helps the customers to browse their favorite brands without wasting a time. This extension creates a custom brand page that displays a list of brands with a product brand logo.

fmeextensions

Shop By Brand by Fmeextensions

A Dedicated Brands Listings Page
Brand Detail Page Featuring Products
Highlight Top Brands In A Featured Slider
Add Alphabetical Filters to Brand Listing Page
Add Link to Both Header & Foots

Add attractive brands pages to your Magento store with Shop by brand extension by FME. Display featured slider on your brands page and store home page as well. Let shoppers filter products by brands to easily locate their desired product easily. Display brand log on product pages.

magenest

Shop By Brand by Magenest

Add brands along with icons, photos and description
Pre-designed modern template for brand pages
Add products and categories to brands easily
Multiple layout options for the brand listing page
Brand data can be imported using .CSV and .XML files

Create brand pages for your eCommerce store using our modern brand page template that lets you add brand logos, banners, description, and products

magezon

Shop By Brand by Magezon

Display brand listing page
Display brand detailed page
Filter Products By Brand
Display Brand Logo and Related Products on Product Pages
Show Featured Brands Block Flexibly with Brand Widget

Magento 2 Shop By Brand extension lets your customers find products of their favorite brands in the fastest way. A whole new shopping experience.
---
More Reviews from Mageplaza
These 11 Shop By Brand modules are ranked based on following criterias:
Rating review on Magento Connect, Magento Marketplace and vendor's website.
The price, features.
The vendor's reputation and Search Engine Ranking.
Social media metrix such as Facebook, Twiiter, Google+.
Mageplaza team and expert review.
Top 11 Magento 2 Shop By Brand Vendors
Thank to every vendor that has made this Top 11 Shop By Brand list! This is the most comprehensive list of best Shop By Brand on the internet and we are honoured to have you as part of this!
We would like to give the best commendation for all of vendors who have done the number one of Shop By Brand brief! It is appreciated to be the most awesome and exhaustive result from searching on Google. We are pretty proud of your appearance of this task. Many thanks for your benefaction to our lives!
If you want to add or remove an item in the Shop By Brand list, feel free to submit your extension at Submit form