Magento 2 Advanced Permissions Extensions
Magento 2 Advanced Permissions Extensions in 2023
The Best 6 Magento 2 Advanced Permissions extensions from hundreds of the Advanced Permissions extensions in the market as derived from Mageplaza Ranking, which is using Mageplaza scores, rating reviews, search results, and social metrics. The below extensions were picked manually by Mageplaza experts, if your Advanced Permissions does not include in the list, feel free to contact us. The best Advanced Permissions list is ranked and evaluated in 2023, the price from $99 to $229. Find more Magento 2 extensions here.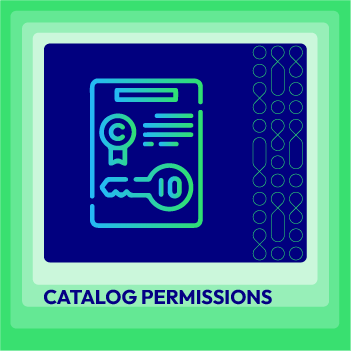 Catalog Permissions for Magento 2
Limit access to specific pages for a better shopping experience and site protection
Check it out!
Here is a list of Best Advanced Permissions for Magento 2:
Magento Vendor
Name
Highlight features
Description
Price
Actions

mageplaza

Advanced Permissions by Mageplaza

Control the visibility of categories to customer groups
Display/hide specific products to certain groups
Restrict access to CMS pages or blocks
Redirect visitors when the access to a page is restricted
Schedule time for page restriction
Disallow searching for catalog
Exclude IPs or IP range from restriction
Hide category page, widgets or the Call for price button

Magento 2 Catalog Permission by Mageplaza is one of the best Magento 2 Advanced Permissions extensions. It allows store admins to strictly control the access or visibility of specific pages, widgets, blocks, categories and content based on customer groups. Easy to use and set up on the backend, this extension is a must-have for any online shop selling sensitive products. This extension can be used to hide some features of stores like the Call for price button

aitoc

Advanced Permissions by Aitoc

Allow showing the available date to the sub-admin in the Dashboard
Stop the sub-admin from deleting any products
Help manage the user roles flexibly
Enable accessing to websites, store views and categories

To assign permissions to sub-admins as well as allow them to edit and manage multiple stores, Magento 2 Advanced Permissions by Aitoc is an ideal solution. Also, this extension helps stop sub-admin users from removing the products.

amasty

Advanced Permissions by Amasty

Limit access to the store view or website
Classify and manage the category/product
Allow admins to limit access to dashboard statistics
Manage access to CMS elements

With Advanced Permissions for Magento 2 by Amasty, the store owners can completely generate admin roles as well as assign permissions to them so that they can access the backend tabs easily. Especially, this module also enables viewing and editing specific products, categories, store views, and websites. It's time to install this extension for your Magento 2 store and experience.

cminds

Advanced Permissions by Cminds

Allow admins to assign an admin user to view and modify information
Enable admins to assign custom scopes, products and categories to specific roles
Control the store management process
Easily set up and configure

Magento Advanced Permissions extension developed by Cminds is a great tool that allows admins to assign custom role permissions to specific sub-admins for multiple stores. Besides that, the sub-admins can also view and modify specific products, categories, store views, and websites.

mageants

Advanced Permissions by Mageants

Enable controlling access to a particular product/category
Allow to restrict or grant access to product attributes
Limit access to invoices, orders and transactions
Allow modifying product owner anytime using the admin panel
Streamlines store management process

Magento 2 Advanced Permissions by MageAnts enables store admins to create multiple sub-admin roles and assign them permission to access, view, edit and manage specific categories, products or particular stores. As a result, store owners can streamline every step of the store management process.

bsscommerce

Advanced Permissions by Bsscommerce

Restrict access to categories/CMS pages by customer groups
Customize error messages for all or per category/CMS page
Redirect non-authorized customers to a custom URL or CMS page

Magento 2 Advanced Permissions by BSS Commerce makes it easy for admins to assign permission to visit specific categories/CMS pages. It's a helpful extension to support your business strategies.
---
More Reviews from Mageplaza
These 6 Advanced Permissions modules are ranked based on following criteria:
Rating review on Magento Connect, Magento Marketplace and vendor's website.
The price and features.
The vendor's reputation and Search Engine Ranking.
Social media metrics such as Facebook, Twitter, Google+.
Mageplaza team and expert review.
Top 6 Magento 2 Advanced Permissions Vendors
Thank every vendor that has made this Top 6 Advanced Permissions list! This is the most comprehensive list of best Advanced Permissions on the internet and we are honoured to have you as part of this!
We would like to give the best commendation to all of the vendors who have done the number one of the Advanced Permissions brief! It is appreciated to be the most awesome and exhaustive result from searching on Google. We are pretty proud of your appearance on this list. Many thanks for your benefaction to our lives!