Magento 2 Affiliate Extensions
Magento 2 Affiliate Extensions in 2023
The Best 13 Magento 2 Affiliate extensions from hundreds of the Affiliate extensions in the market as derived from Mageplaza Ranking, which is using Mageplaza scores, rating reviews, search results, and social metrics. The below extensions were picked manually by Mageplaza experts, if your Affiliate does not include in the list, feel free to contact us. The best Affiliate list is ranked and evaluated in 2023, the price from $67.15 to $299. Find more Magento 2 extensions here.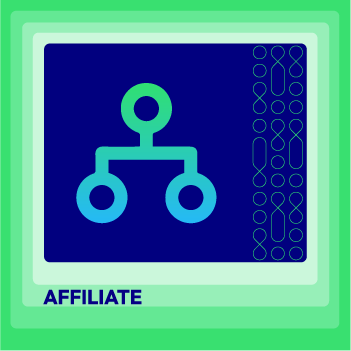 Affiliate Extension for Magento 2
Effective and trending marketing tool to promote stores via a network of affiliate partners
Check it out!
Best Affiliate extensions for Magento 2
Magento Vendor
Name
Highlight features
Description
Price
Actions

mageplaza

Affiliate by Mageplaza

Show affiliate link on the footer or top
Customize affiliate URL style
Refer friends on Categories and Product details page
Allow earning commissions from tax, shipping fee, and discounts
Send emails when each event happens
Withdraw the commissions

Magento 2 Affiliate extension by Mageplaza is one of the best affiliate marketing solutions for your online store. Through affiliate programs, it helps your store attract more visits, and offers the opportunity to make more sales. Also, it helps increase your brand awareness.

mageplaza

Affiliate by Mageplaza

Include all Standard features
Add unlimited affiliate programs
Add multiple tiers per referral program
Set banners for specific campaigns

Magento 2 Affiliate extension (Professional version) by Mageplaza is a more advanced solution for your store. Instead of one campaign, this version allows you to create as many campaigns as you want. In addition, you can upload banner titles, images, content, and redirect links. It's also easy to set banners for specific campaigns.

mageplaza

Affiliate by Mageplaza

Include all Professional features
Advanced reports, including clicks & impressions of banners, affiliate transactions, etc.
Support API
Import & export data
Priority support

Magento 2 Affiliate extension (Ultimate version) by Mageplaza is the most advanced solution for your store. In addition to all features in the Standard & Professional versions, you can use advanced reports to better understand the performance of your affiliate scheme. Besides, this version offers priority support, so you can rest assured when using the extension.

magecomp

Affiliate by Magecomp

Add affiliate products simply by selecting affiliate product type
Create your own external affiliate link with a custom title
Display affiliate products in category & product page

Magecomp Affiliate Extension is a great tool for Magento 2 store, which directs customers to the affiliate product they desire as well as increases the traffic and revenue for the store.

mirasvit

Affiliate by Mirasvit

Display 4 types of promotion programs & various promotional materials
Show affiliate transaction history
Offer analytics
Set automatic tier update for affiliates
Export transactions

Mirasvit Affiliate module for Magento 2 will help you run an advanced referral campaign for your store. Then, you can increase sales from alternative channels and let your affiliates earn extra money.

plumrocket

Affiliate by Plumrocket

Choose from the 20+ leading affiliate networks
Select the most suitable program type to conduct: Pay Per Sale or Pay Per Lead
Enable one or multiple affiliate programs at the same time

Magento 2 Affiliate extension by Plumrocket is developed to create various affiliate programs to attract customers and then gain high revenues for your business.

aheadworks

Affiliate by Aheadworks

Promote products via affiliate links or coupon codes
Flexibly set conditions for affiliate groups
Promote products with a specific commission rate
Simple and comprehensive application form

Magento 2 Affiliate extension by Aheadworks helps you to implement effective affiliate programs to drive more traffic to your website. Customers can easily join activities in your affiliate programs such as using affiliate links or coupon codes.

magenest

Affiliate by Magenest

Easy to manage affiliate accounts and campaigns
Support 4 types of affiliate programs: Pay Per Click, Pay Per Lead, Pay Per Sale, Pay Per Discount
Set rules for each program
Generate a coupon code for each affiliate campaign
Track the transactions and affiliates' behaviors

Magento 2 Affiliate by Magenest allows you to implement attractive affiliate campaigns, encourage customers to join, track all the transactions.

magetop

Affiliate by Magetop

Support unlimited affiliate accounts & campaigns
Promote products via smart referral links, email notifications
Multi-level marketing
Run multiple affiliate programs
Support affiliate groups & refer a friend

Magento 2 Affiliate Extension by Magetop will effectively drive sales to your store through pay-per-sale channels. Affiliates can easily recommend products to others via referral links or emails.

mage-world

Affiliate by Mage-world

Execute multi-level marketing
Run multiple affiliate campaigns at once
Enable affiliates to refer friends via many ways
View affiliate statistics
Easy to set up and customize

Magento 2 Affiliate by MageWorld is an intuitive marketing tool that allows you to promote products through affiliate networks and expand your sales market.

webkul

Affiliate by Webkul

Easily run an affiliate marketing program
Allow affiliates to send referral links to others with a predefined bonus
Enables merchants to easily analyze conversions, sales with statistic graphs, etc
Stimulate customers to refer and earn a bonus to drive more traffic

Magento 2 Affiliate extension by Webkul enables users to register an affiliate account on the store and start promoting products right away.

knowband

Affiliate by Knowband

Allow customers to become affiliates and refer the website to their family, friends, and relatives
Promote multi-level marketing for promoting the website and increasing revenue
Show multiple social media options, such as Facebook, Twitter, and Pinterest for sharing a referral link

Magento 2 Affiliate extension by Knowband is highly customizable and feature-rich. With this module, store owners can increase conversion rates, customer domain, and sales. Meanwhile, customers find it easy to register as affiliates and earn commission by referring stores.

amasty

Affiliate by Amasty

Launch various referral marketing programs in a few clicks
Define the commission type for each affiliate program
Configure discounts & payout requirements
Manage affiliate accounts and transactions

Magento 2 Affiliate extension by Amasty is another wonderful tool for you to create affiliate schemes for your website. It is compatible and responsive with many different devices to boost sales as well as increase revenues for the store.
---
More Reviews from Mageplaza
These 13 Affiliate modules are ranked based on following criteria:
Rating review on Magento Connect, Magento Marketplace and vendor's website.
The price and features.
The vendor's reputation and Search Engine Ranking.
Social media metrics such as Facebook, Twitter, Google+.
Mageplaza team and expert review.
Top 13 Magento 2 Affiliate Vendors
Thank every vendor that has made this Top 13 Affiliate list! This is the most comprehensive list of best Affiliate on the internet and we are honoured to have you as part of this!
We would like to give the best commendation to all of the vendors who have done the number one of the Affiliate brief! It is appreciated to be the most awesome and exhaustive result from searching on Google. We are pretty proud of your appearance on this list. Many thanks for your benefaction to our lives!