Mageplaza Product Attachments - 4+ Case Studies on Actual Magento 2 Stores
Mageplaza Product Attachments - 4+ Case Studies on Actual Magento 2 Stores
Product Attachment is a must-have extension for Magento 2 stores. It helps you to store needed attached files on the product pages and let customers access them easily. Let's see how stores are using it to deliver the best shopping experience and ultimately keep the orders coming in!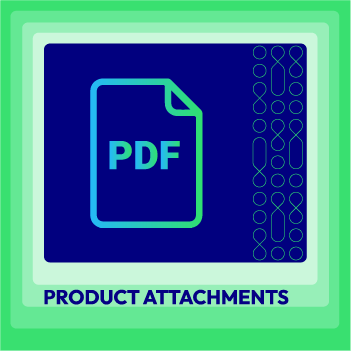 Product Attachments for Magento 2
Enriches your product page with attached single or multiple informative files
Check it out!
Table of contents
Try Product Attachment demo now!
How are real-world stores using informative files to earn sales?
Present valuable files on product pages
Feature overview
With Product Attachment extension, store admins can add multiple files to product pages through which providing valuable information to customers. There are three positions to show the file: under the "Add to cart" button, product tab, and sidebar, and you can multi-select these positions.
On actual stores
In some particular sectors, documents such as product specifications, safety sheets, instructions can be a laser-focused element for customers when considering a product. Providing these kinds of materials along with the products and easy access can help stores to better "communicate" with buyers. You will see in these cases.
Midshires is a UK-based electrical wholesaler and well-known for their high-quality products as well as excellent services. They also bring this spirit to their website, which carefully provides information that facilitates the shopping process of customers.
Technical figures are important to buyers in the technical industry. The work of arranging documents on easy-to-see places on the product page will make compelling points to specification-forced buyers.
The next store is QC Supply, an international supplier for farms, businesses as well as resellers worldwide. Going along with the committed exceptional customer services, the buying journey on their website is attentively designed. Product documents are one of the customer-oriented elements.
Visitors can quickly navigate to the Documents tab and view attached files. This feature helps the brand to provide as much information as possible and allows customers to freely explore the products without having to reach out to the supporters.
Another website using the module wisely is Alternergy, a solar solution distributor based in the UK with a long-standing reputation in the industry. Selling power devices such as Solar Photovoltaic or battery storage, it is important that every information about the technical specification, warranty, or certificate, etc. need to be present clearly to buyers unless it's hard to consider. Alternergy actually has provided the required information in an entirely transparent way.
A large number of product-related files are collected and shown to users under the Attachments tab. The PDF icon letting users know about the file format and the size of each file. Imagine that you are browsing the internet and come across this product page, will you be willing to take a short time to read some of these documents? The answer might probably be Yes, because of their carefulness in the way they are presented to you!
The last example is Supplyapp, an online marketplace providing products from the most popular industrial suppliers to buyers all over the world. On their website, there are over 1 million SKUs with a large number of them needed to be shown with catalogs.
The catalog(s) are shown below the "Add to cart" button and the Product Description section. Store visitors will instantly notice the documents and check them for more information about the products.
Learn to add attachments to product pages now!
Flexibly set attachments as downloadable or viewable
Feature overview
Customers can quickly view the file with a click if you want them to do so. On the other hand, if the document formats are not supported to view online, you can choose to let users download to their local devices and open later.
On actual stores
When clicking on the file, visitors will be quickly redirected to the PDF file and they can directly review the documents on the page. This method can, somehow, motivate users to focus on one thing at a time.
Another example from SupplyApp with the file link opened in a new tab. The store also changes the label of the file to "View Catalog" to make it more user-friendly.
Different from those stores, Midshires seems to prefer customers to download their instructions to their PCs so they can open them offline whenever they need.
Additional important features of Product Attachment extension
Log in to view or download
If you want to control who can view the documents, maybe for better communication or for more effective sales support, you can set it up from the backend in the general configuration. Here is what non-login users will see on the storefront.
Higher control level with order status and verified buyer conditions
You can also manage the attached file access with all users of the store based on their order status and verified buyer confirmation.
Attach files in order emails
The system can automatically attach files of products in the order confirmation emails. Store admins can make sure that important material such as product instructions or guidelines will be received individually by the buyers.
Attachment view/download logs
The statistics of view and download of the product attachments including users, products, files, etc. can bring you a lot of insights about the customer behavior. With this module, you can view this data on a logs page.
Rest API
Mageplaza Product Attachment supports APIs for getting information of products that have attached files. Besides, it also allows customers and guests to download the files without having to visit the product page.
Tips to get more value from product attachments
Add tiered pricing documents
You can add more appealing options to entice customers when they view the documents. By seeing these better options, customers will consider buying more in quantity and bring more sales for your store.
Introduce cross-sell or up-sell items in the catalog
Besides safety sheets, instructions, certificates, etc. you can also present related products in the catalog to catch the attention of your visitors. If they see these recommendations match their demand better, the high chance is that you can sell higher-value items.
Analyze attachments interaction to improve sales
As the extension collects all activities related to product attachments on the Logs page, stores can utilize this data to understand more about their visitors. What they do can give you more information:
Most viewed/ downloaded files
Products that receive more attention than others
Potential buying customers
File formats that are most preferred
It's a good idea to refer to these statistics when optimizing conversion rates because they are collected from real visitors, not predictions.
Surcharge your product page today!
Informative files on products pages are an important part of conversion rate optimization. Useful, valuable, and practical information that is developed based on customer viewpoints will be highly appreciated by your site visitors and eventually turn them into your loyal customers.
If you follow our advices, you will gain more sales and a better reputation soon!
---
---

Marketing Manager of Mageplaza. Summer is attracted by new things. She loves writing, travelling and photography. Perceives herself as a part-time gymmer and a full-time dream chaser.
Subscribe
Stay in the know
Get special offers on the latest news from Mageplaza.
Earn $10 in reward now!