TikTok Shop and Shopify Integration: An Easy-to-Follow Guide
Connecting TikTok Shop with Shopify lets online stores reach a bunch of excited people. Find out how these two systems work together smoothly to make selling stuff online even better.
What is TikTok Shop?
TikTok Shop is a super cool new part of TikTok that makes it possible to make videos and buy things all in one place. Now, when you're watching videos from brands you like, you can buy their stuff without any hassle.
TikTok Shop figures out what you might like to buy by watching what you do on TikTok, which means you're more likely to find things you want to buy. Because TikTok is getting more and more popular and cares about its users, TikTok Shop is an essential tool for online stores that want to get noticed by lots of people.
How to you set up a TikTok Shop with Shopify and sell on it
Setting up a TikTok Shop Shopify integration is straightforward and can be done quickly. Once integrated, you can easily handle products, orders, and shipping from your Shopify dashboard. Additionally, you can oversee any TikTok ad campaigns from Shopify or the TikTok Ads Manager, streamlining the process of attracting new customers.
Setting Up Your Shopify TikTok Shop: A Step-by-Step Guide to Start Selling
Here's how to add TikTok to Shopify to boost your sales and access new customer groups, ultimately improving your conversion rates.
Before You Start
Before setting up TikTok Shop with your Shopify store, make sure to:
How To Set up TikTok Shop on Shopify Store
Once you fulfill the requirements for TikTok Shop, proceed to install the TikTok sales channel and then configure TikTok Shop within your Shopify admin.
Step 1: Create a Tiktok for Business Account
Spend More,
Get More.
Spend $100, Get $100
Spend $500, Get $500
Spend $15K, Get $15K
Advertise on TikTok
For conducting sales on TikTok, creating a TikTok business account is essential, providing access to enhanced features, including comprehensive analytics, advertising tools, and the functionality to establish a TikTok Shop.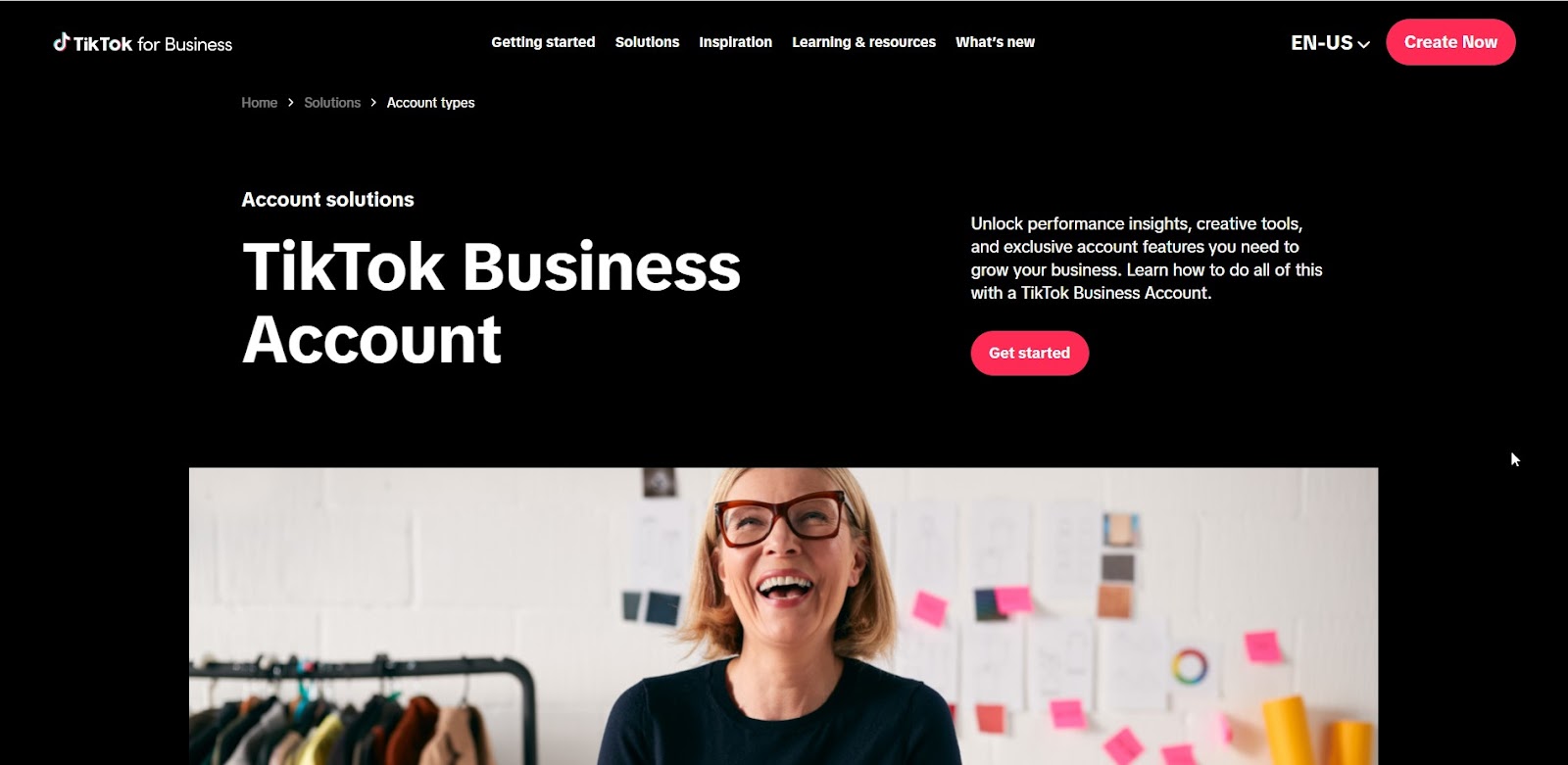 Firstly, start your sign-up. Navigate to the TikTok for Business landing page and select "Get Started" to register for your account, where you can take advantage of numerous limited-time ad credit offers.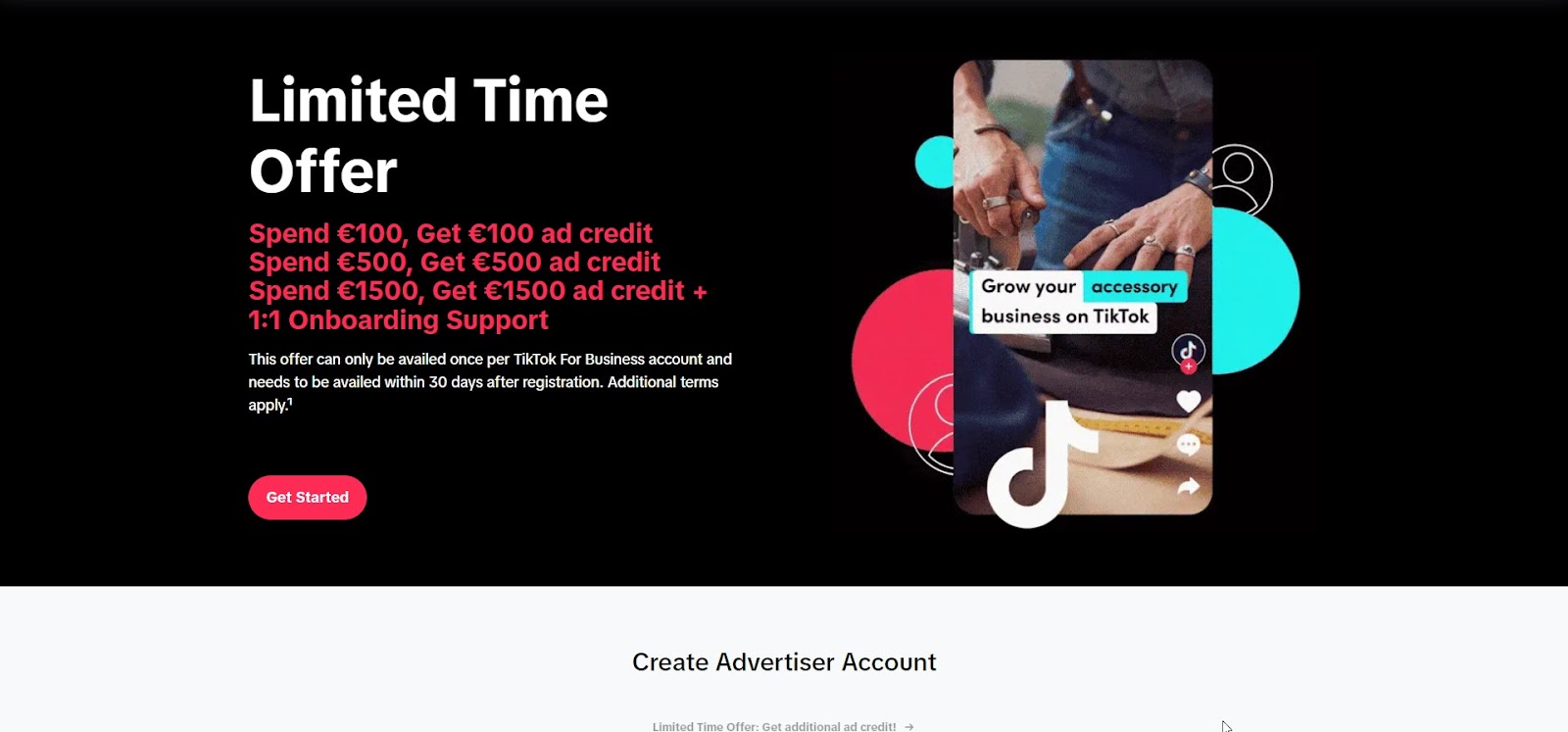 After that, provide your business email or phone number and set up a password, ensuring you accept the terms and conditions. To receive updates from TikTok for Business and TikTok Shop, subscribe to opt-in. Then click "Continue."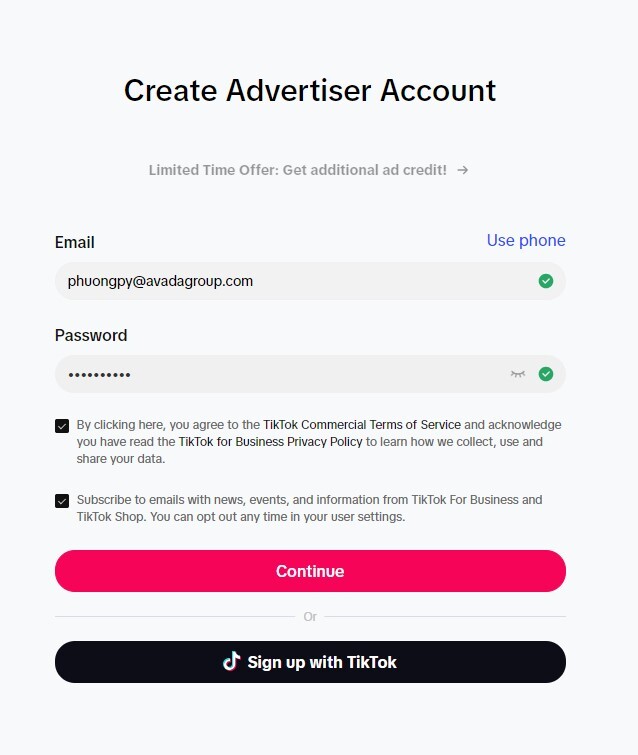 Next, check your email or phone to follow the instructions for verifying your information.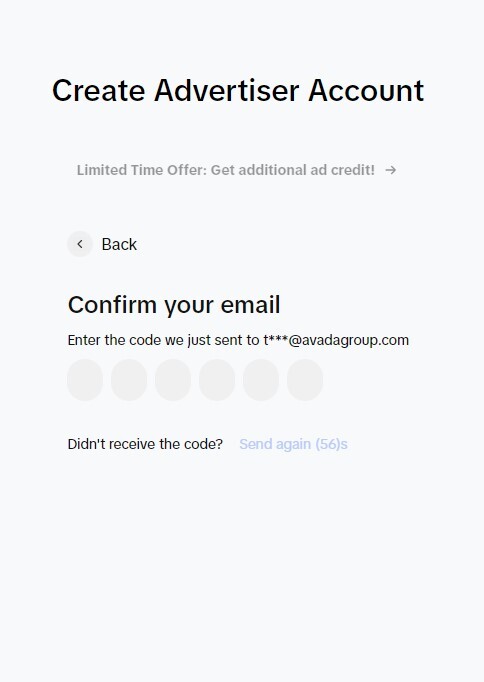 Next, provide your business details. Please proceed to fill out the form with your company's specific information. This should include the industry category, the legal name of your business, the region where your company operates, the applicable time zone, and the preferred currency for transactions. Ensure that all mandatory fields are completed accurately.
Before proceeding, carefully review and agree to TikTok's Commercial Terms of Service, Advertising Terms, and Payment Terms. Once you have consented to all the terms, click on "Get Started" to finalize the creation of your account.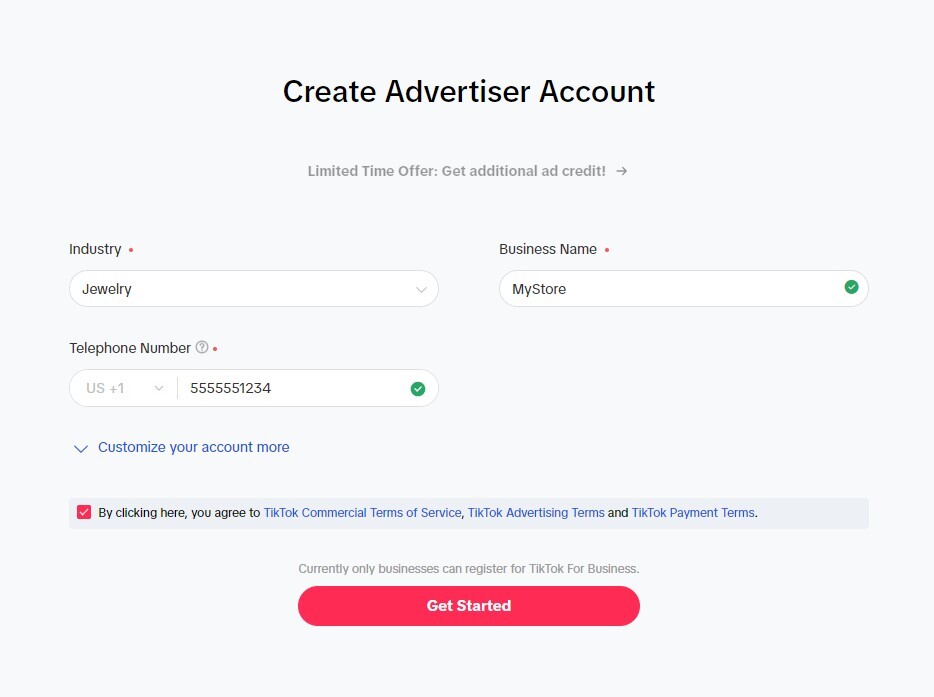 After registration, the next step is to enter your billing information. For those operating in the United States, it's essential to choose the state in which your business is registered.

Once you have finished setting up your billing, you'll land on the Ad Manager dashboard. Here, you can begin crafting and managing all your TikTok advertisements.
Step 2: Install the TikTok channel on your Shopify store
In your Shopify admin, navigate to "Settings," then click "Add Apps."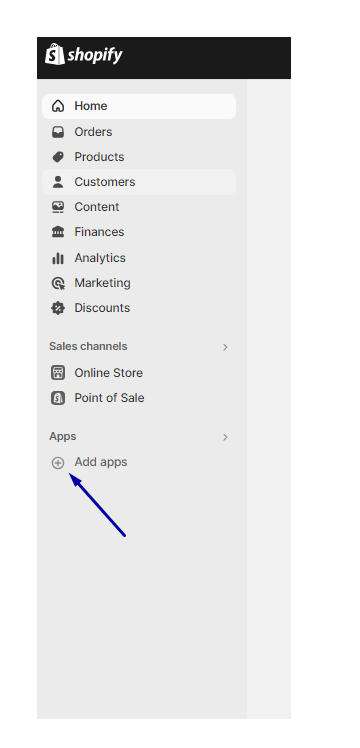 Navigate to the "Apps channels" page and select "Shopify App Store." Look up "TikTok" in the Shopify App Store to find out more about the sales channel. Hit the "Install" button to add it to your store.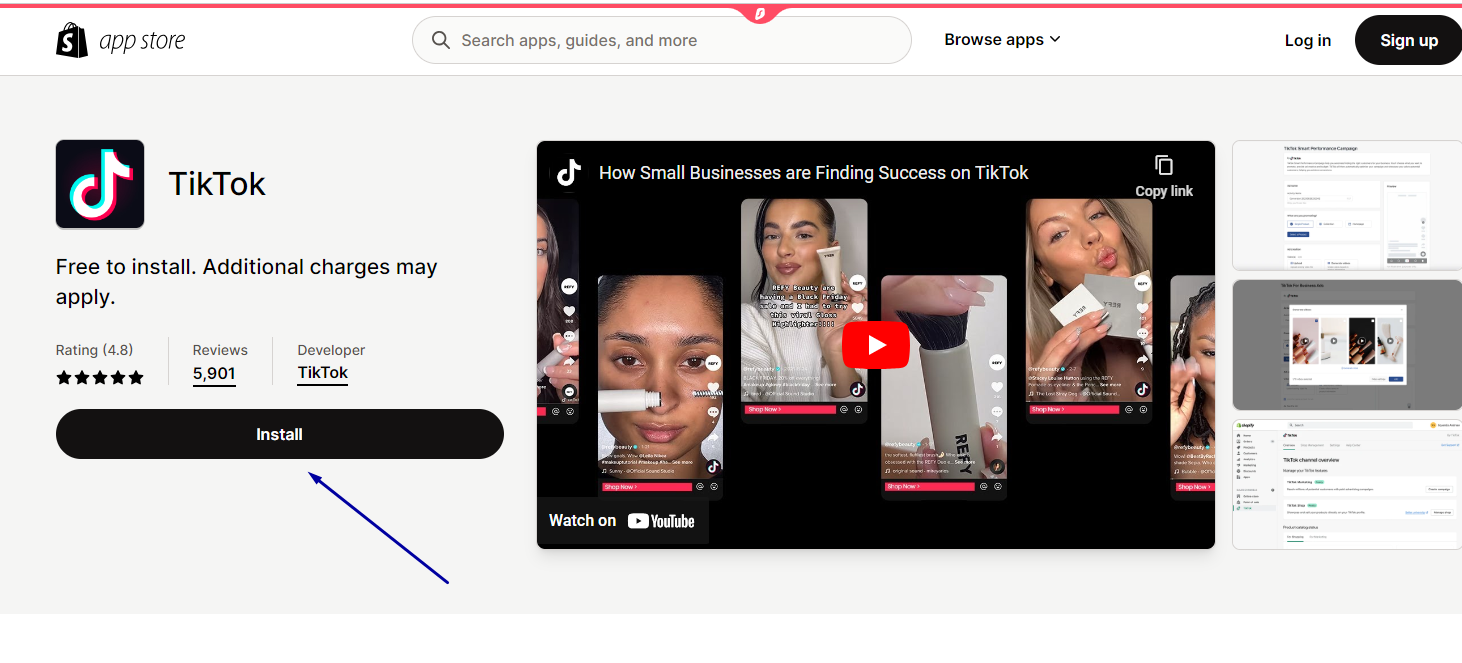 Click on "Add sales channel."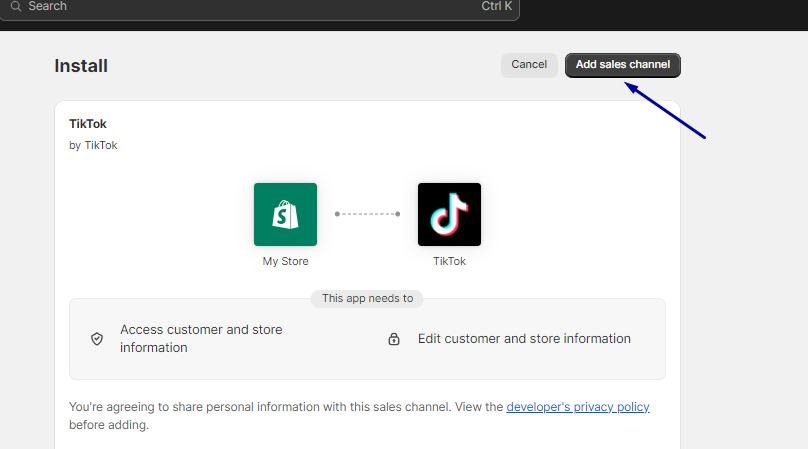 Step 3: Complete install
After linking your TikTok account, you will gain access to the TikTok Business Dashboard, which serves as the control center for managing your TikTok for Business account and finalizing the integration to install the TikTok channel on your storefront.
Within the Sign-Up dialog, select one of two options:

If you have an existing TikTok for Business account, click "Log in." To register as a TikTok merchant, provide your phone number and email, and create a password, then click on "Register as merchant."

On the TikTok Channel Overview page, click "Set up Now" to start with the TikTok Shop.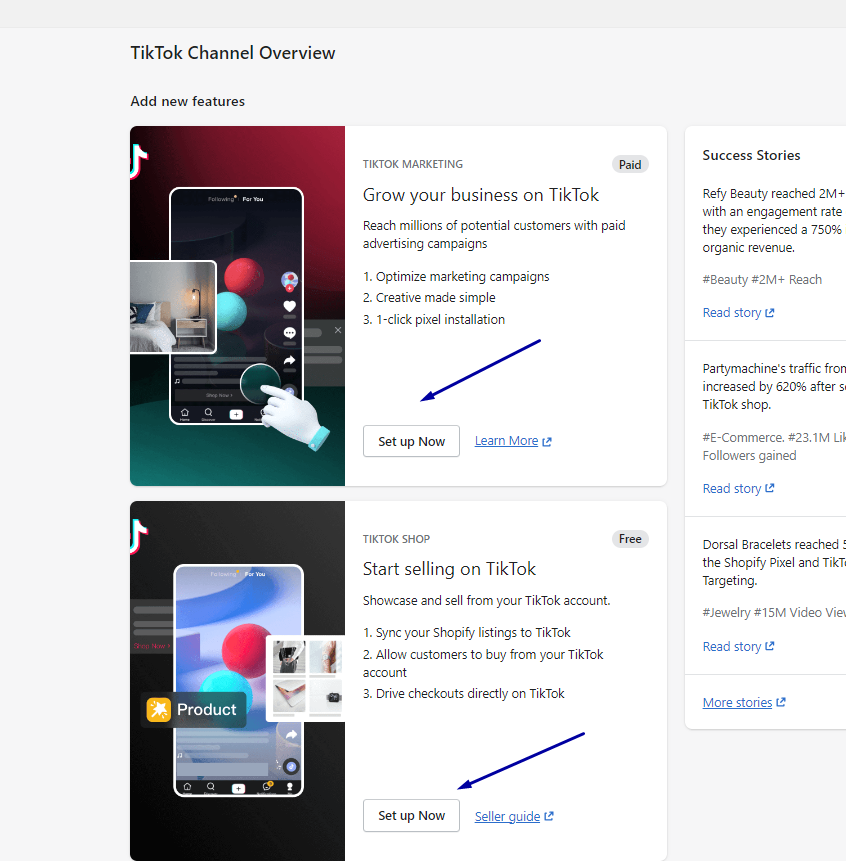 Navigate to the Set up TikTok Shop page and click "Connect" within the TikTok Shop section to proceed.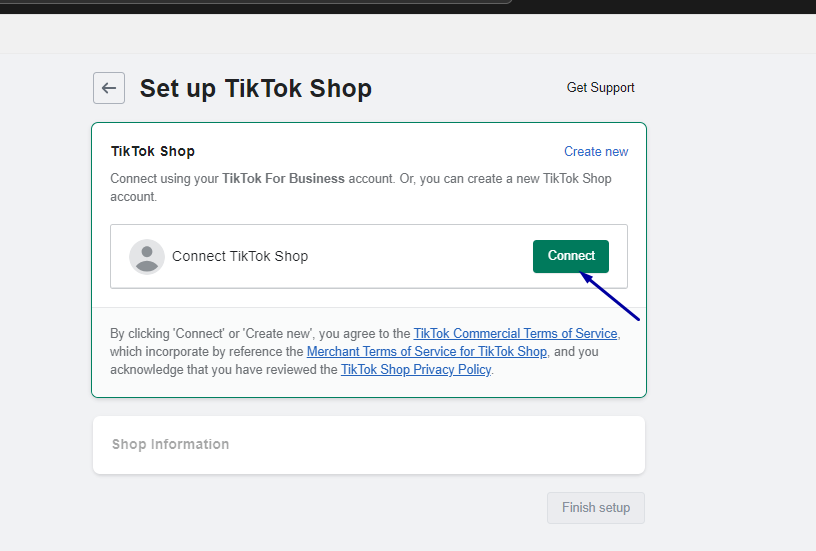 In the "Connect to Shopify?" dialog, review the TikTok Shop Merchant Terms of Service, and then click "Connect" to continue.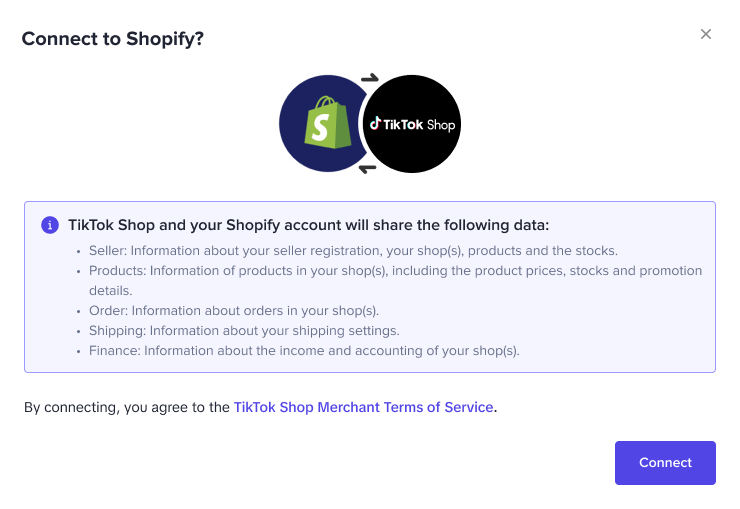 Click "Verify" to access the Seller Verification process, where you will be asked to input your business information.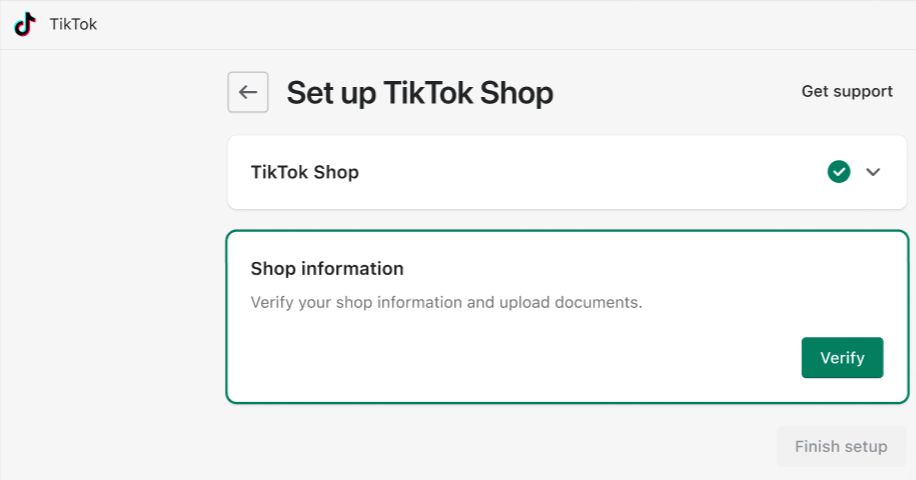 Once you verify your business, your Shopify warehouse information will sync automatically. Then, by selecting "Finish setup," your Shopify product catalog will transfer to TikTok Shop, completing the onboarding for the TikTok for Shopify App.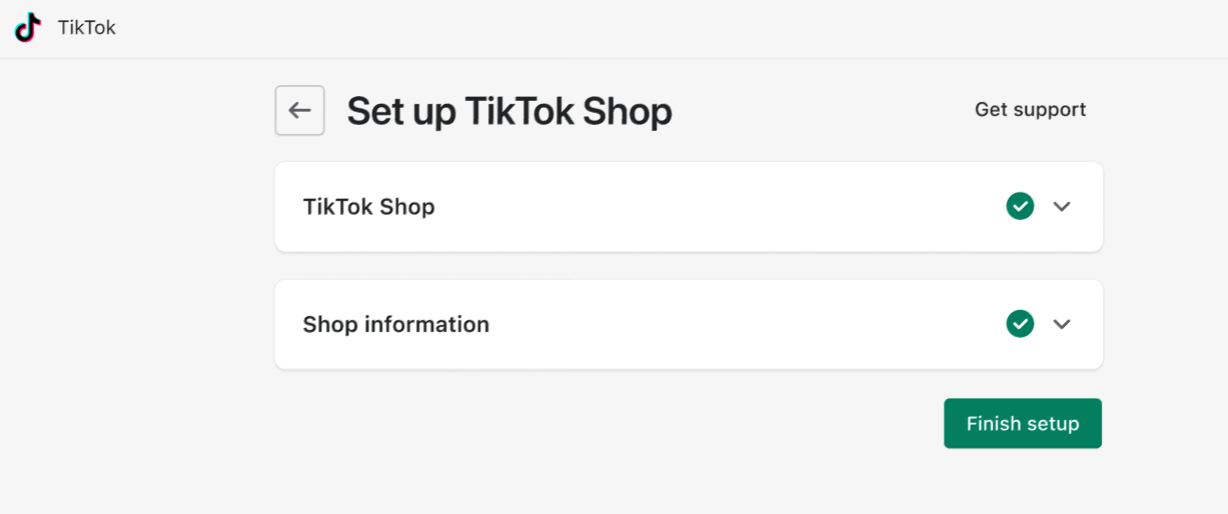 Step 4: Wait for the approval
Getting started with TikTok involves an approval process to ensure that your advertising practices align with global regulations and cultural norms. You can monitor the status of your ad account's approval directly through Shopify, which will display one of three possible statuses:
Not Ready: Your application is under review, or there may be incomplete information. To verify or rectify this, access "Update" within the TikTok Ads Manager and provide any required additional information.
Approved: If your account status is "Approved," this signifies successful clearance, and you are now fully equipped to begin your sales endeavors on TikTok.
Unavailable: It indicates that the account has been either voluntarily canceled or terminated due to other reasons. Consequently, you will be required to set up a new advertising account to continue.
Step 5: Create a TikTok Pixel Shopify
The TikTok Pixel is an analytics utility that enables the monitoring of user interactions, the evaluation of performance metrics, and the refinement of advertising strategies on TikTok. It provides insights into user engagement with product pages, checkout initiation, and the effectiveness of advertisements in driving conversions.
To install TikTok Pixel on Shopify, please follow these steps:
Find the official "TikTok" application within the Shopify app store and select it for further action.
Install the application and connect with your designated TikTok for Business and advertising accounts.
Opt to create a new pixel by selecting the "Create Pixel" option or choose to link an already existing pixel.

Discover the Advantages of Integrating TikTok Shop with Shopify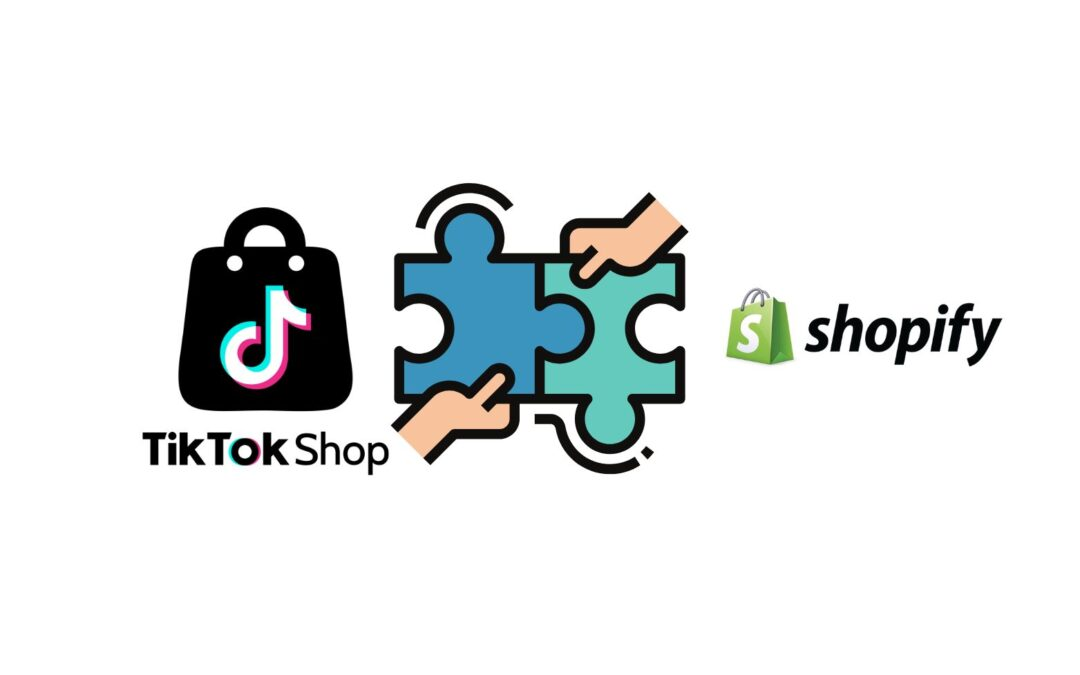 Expanding Your Reach and Enhancing Visibility
TikTok's expansive global audience provides brands with exceptional exposure. By integrating with TikTok Shop, Shopify merchants can reach this broad audience, increasing their brand and product visibility.
For instance, if a cosmetics brand partners with a renowned beauty influencer on TikTok, they can showcase their products to a larger audience, potentially boosting sales.
Actionable Analytics for Strategic Marketing
TikTok Shop provides brands with valuable insights and data to understand user behavior. Shopify merchants can use this data to improve their marketing tactics by analyzing metrics such as views and conversion rates. For example, an electronics store can leverage product performance data to focus promotions on items popular with the TikTok audience.
Engaging Content Creation
TikTok offers a suite of dynamic tools that allow brands to craft engaging videos. Using effects and music, Shopify merchants can produce content tailored to their target audience.
Participation in Viral Challenges
Brands can take advantage of TikTok's popular challenges by creating ones that highlight their own brand. This strategy not only increases visibility but also encourages genuine user endorsements. For instance, a Shopify beauty brand could initiate a makeup challenge to promote its products and engage with users actively.
Boost Conversion Possibilities
Seamless Shopping Experience: TikTok Shop simplifies the purchase process directly within the app, which can lead to higher conversion rates. For example, a home decor brand on Shopify could captivate users with a room transformation video that allows customers to buy the featured items right off TikTok.
Direct-to-Consumer Content: TikTok enables shopping straight from videos and live streams thanks to shoppable ads and product tags, creating a seamless in-app shopping experience. A tech brand, for instance, can present a new gadget in a video, and viewers can instantly click and purchase through product tags.
Personalized Shopping Suggestions: TikTok's algorithm customizes product recommendations to enhance the likelihood of conversions. A Shopify skincare brand, for example, can offer products that are personalized to users' interests and interactions on the platform.
TikTok Shop Shopify Integration: FAQs
Yes, you can integrate Shopify with TikTok Shop. Once combined, you have the convenience of managing your products, orders, and shipping directly through the Shopify dashboard. Additionally, for any TikTok ad campaigns, you have the option to manage them via Shopify or directly through TikTok Ads Manager, offering flexibility and control over your marketing efforts.
To set up a TikTok Shop, you must meet these criteria:
Your business should be located in the United States, with an address verified in the Location settings.
You need to own an online store and a TikTok for Business account.
A return policy must be shown on your online store.
All your products must adhere to the guidelines set by TikTok.
To integrate TikTok Shopping directly, follow these steps:
Step 1: Establish a business account on TikTok.
Step 2: Navigate to the registration page for TikTok Shop.
Step 3: Complete the registration form with the necessary information.
Step 4: Submit the application and await confirmation.
Step 5: After receiving approval, connect your account and upload your products.
TikTok Shop presents an innovative platform for businesses to enhance their online visibility and drive sales through a combination of engaging content and a direct sales approach.
Broad Audience Access: With its vast user base, TikTok allows businesses to reach a diverse and active global audience.
Dynamic Content Creation: Leveraging TikTok's video-driven platform, businesses can create compelling and interactive content to grab viewer attention.
Streamlined Sales Process: TikTok Shop lets viewers purchase products directly through the app, offering a seamless and immediate shopping experience.
Targeted Demographic Reach: TikTok's predominantly young audience provides an ideal marketplace for brands focusing on Gen Z and younger millennials.
Enhanced Brand Visibility: Active participation in TikTok Shop can lead to viral content, swiftly boosting brand awareness.
Cohesive Marketing Efforts: TikTok allows for the smooth integration of marketing campaigns, aligning efforts across online stores and the social platform for amplified impact.
Direct Customer Interaction: The interactive features of TikTok allow businesses to engage with customers directly, gaining valuable feedback and building a sense of community.
Final Thoughts
TikTok Shop and Shopify Integration provide a streamlined platform for businesses to present their products to an expansive and interactive audience. It merges the impact of video marketing with user-friendly e-commerce capabilities. This strategic alliance enhances the possibility of online sales by connecting creative content with a reliable commerce infrastructure.
Website Support
& Maintenance Services
Make sure your store is not only in good shape but also thriving with a professional team yet at an affordable price.
Get Started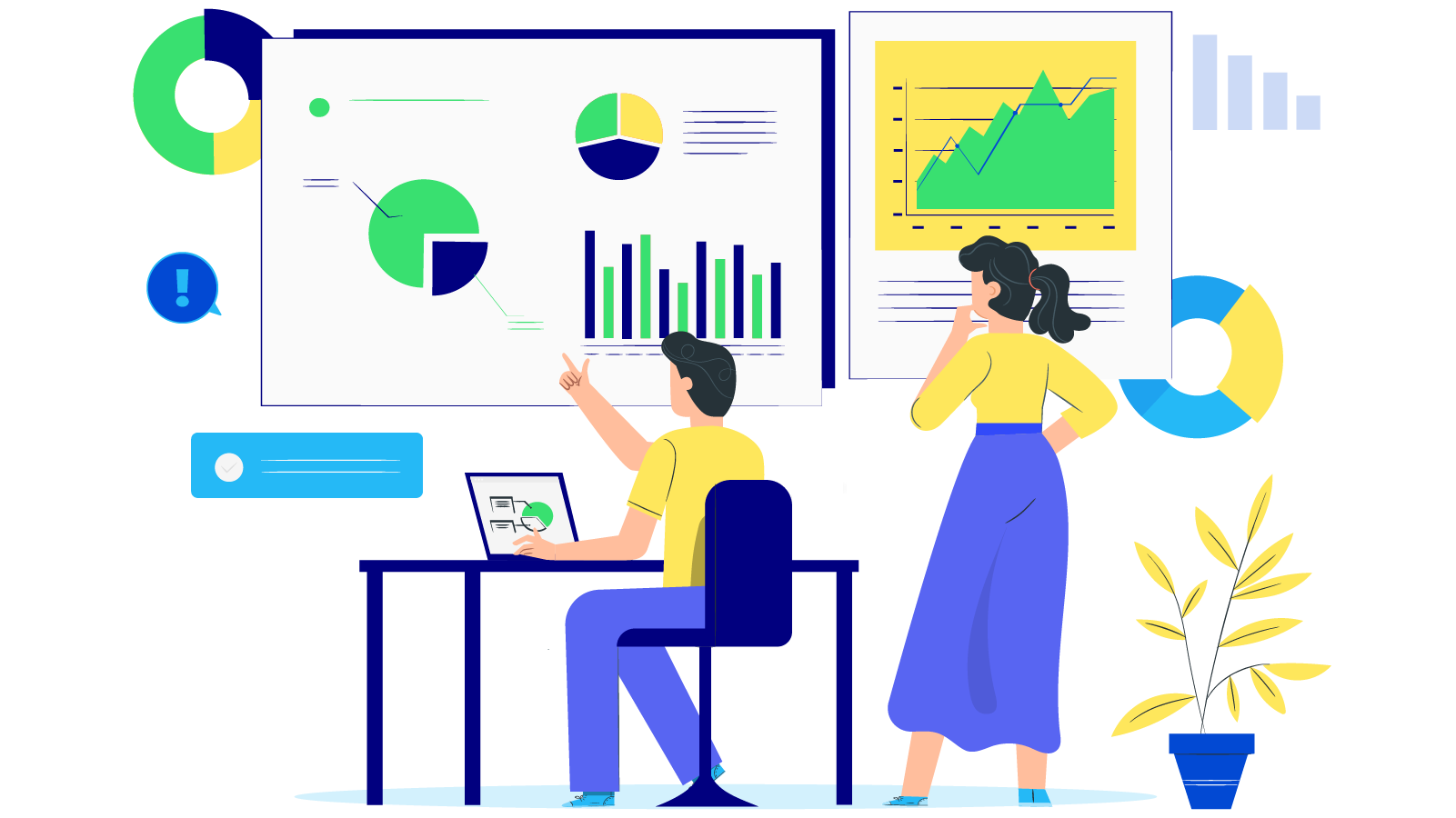 ---
---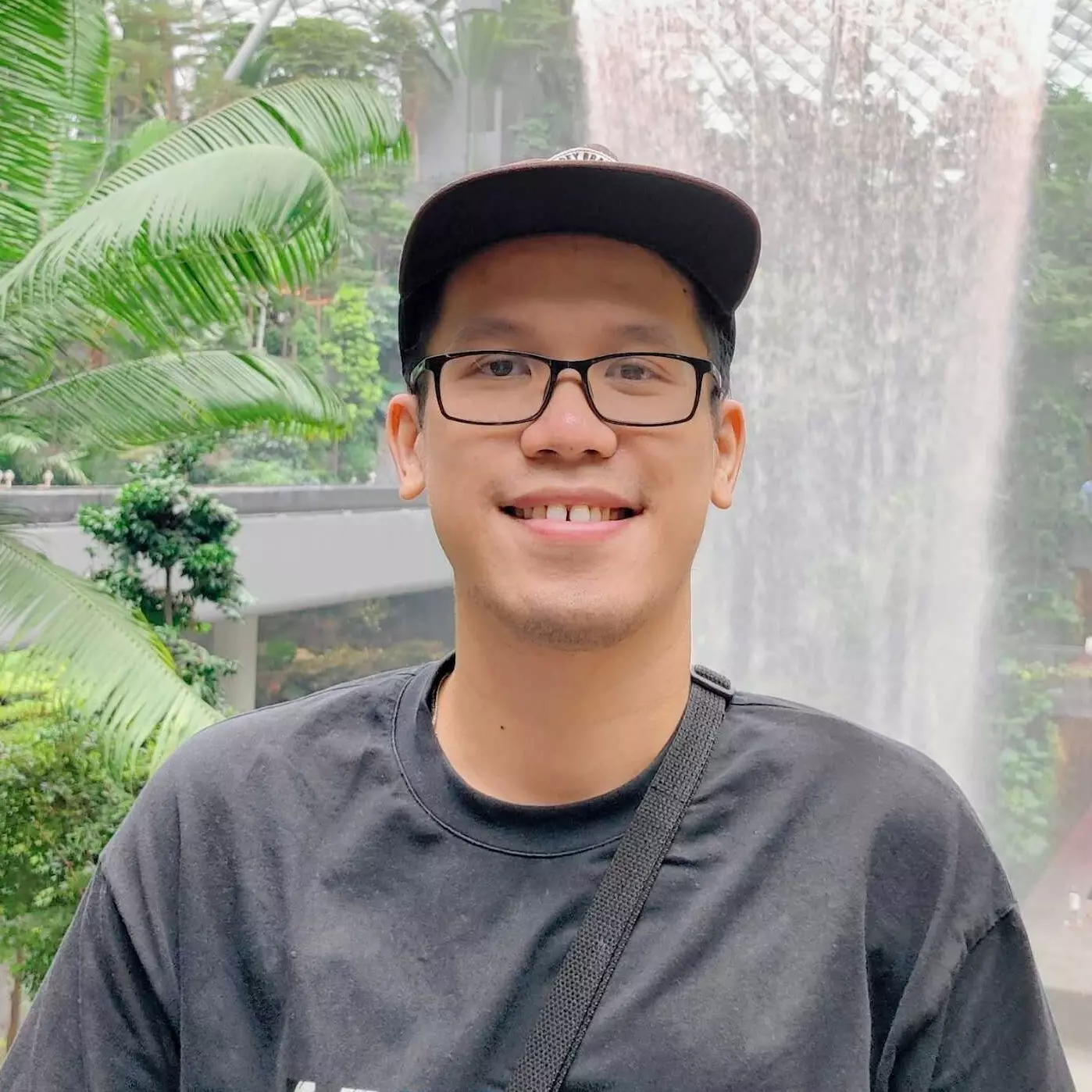 Mike is a content writer at Mageplaza, with a love for video games, gadgets, and software. He has been writing about the industry now for over 7 years. He likes to keep up-to-date with the latest software releases. He's also an avid reader, and he enjoys spending time outdoors with family and friends. When he's not working, you can usually find him playing video games or exploring new outdoor activities.
New Posts



Subscribe
Stay in the know
Get special offers on the latest news from Mageplaza.
Earn $10 in reward now!