Shopify TikTok Ads | Steps To Begin Your TikTok Advertising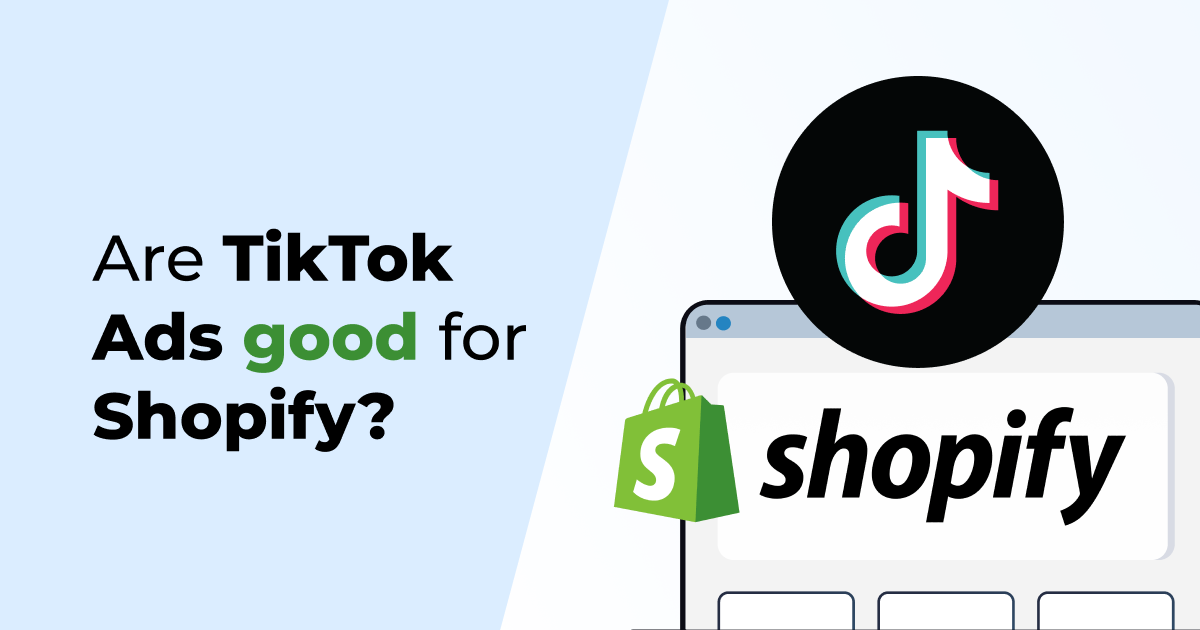 Overview of the collaboration between TikTok and Shopify
In the autumn of 2020, a groundbreaking collaboration was formed between Shopify and TikTok for Business. This initiative supported the #Shopblack Hashtag Challenge to propel black-owned businesses into the spotlight. Through this partnership, Shopify retailers gained access to the TikTok Pixel tool, enhancing their ability to monitor and understand the effectiveness of their advertising efforts on the TikTok platform.
Additionally, TikTok has simplified the art of content creation, providing a suite of user-friendly tools such as short video templates. To further encourage merchants to dive into advertising, TikTok extends trial credits to them, allowing a risk-free opportunity to evaluate the impact of their marketing campaigns before fully committing their resources.
Spend More,
Get More.
Spend $100, Get $100
Spend $500, Get $500
Spend $15K, Get $15K
Advertise on TikTok
Shopify TikTok Ad: Simple steps to create your first ads
Step 1: First things first, set up a business account to use TikTok Ads Manager
To use TikTok's Ads Manager, you'll need to make a business account. Here's how to do it:
Go to this link to start making your TikTok business account.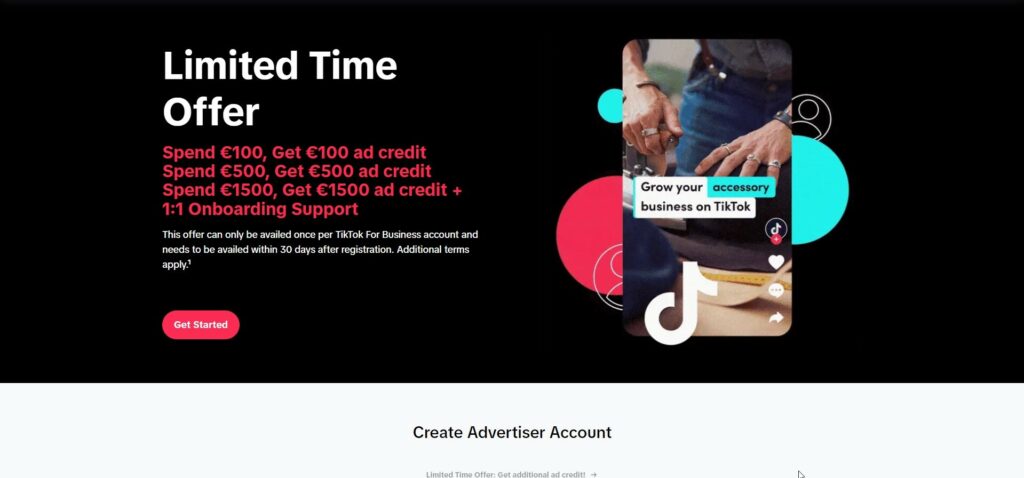 Type in your email and password where it asks.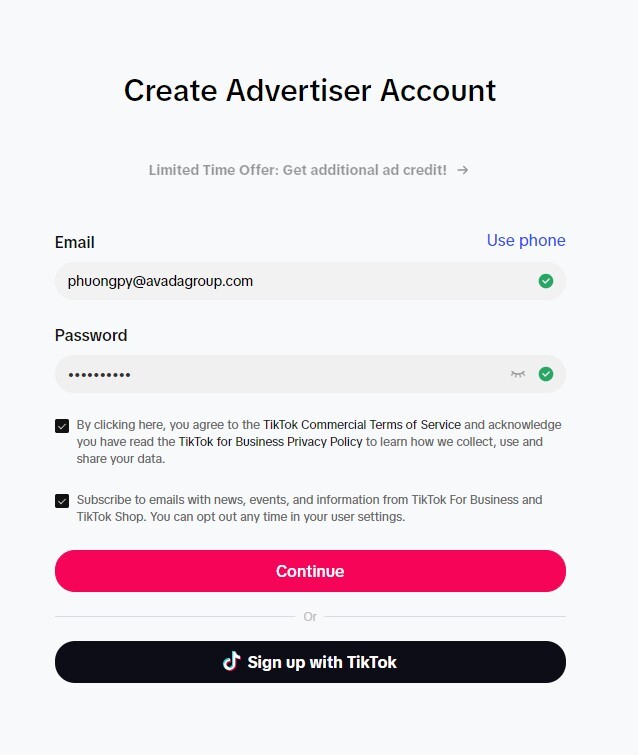 After you sign up, you'll get an email with a code to confirm you signed up. Check your email, get the code, and put it in to finish making your account.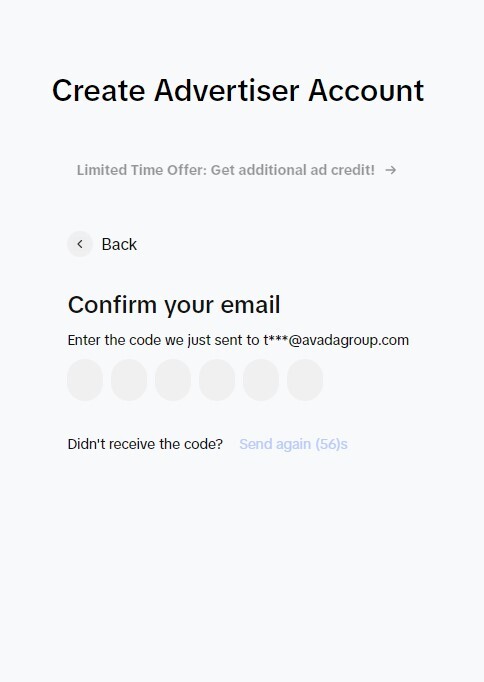 Once your business account is ready, add all the important details about your business.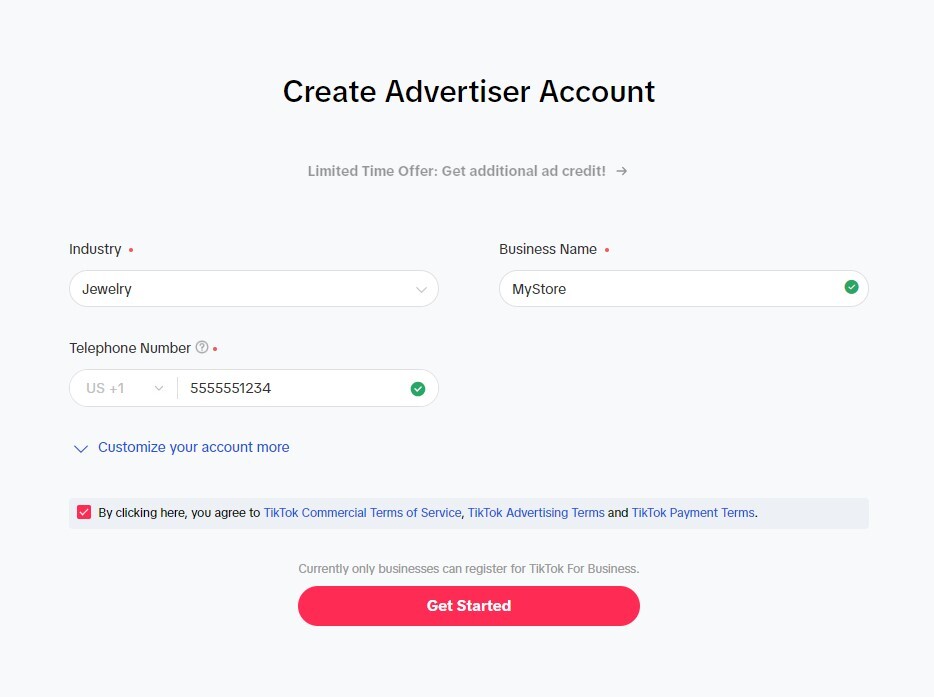 Remember to enter your payment details too. You can pick to pay automatically or by yourself.

Now, with your TikTok business account set up, you're all set to make your first TikTok ads.
«««< HEAD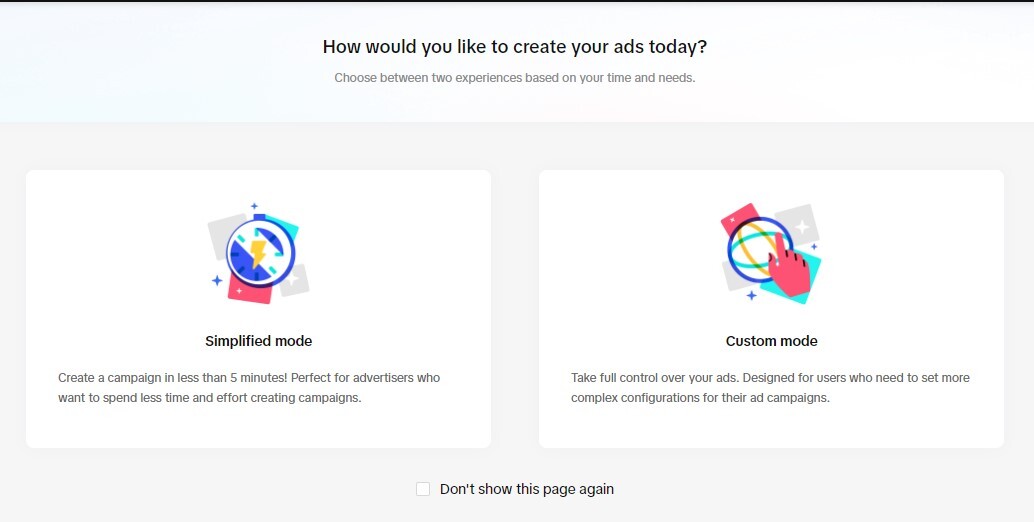 =======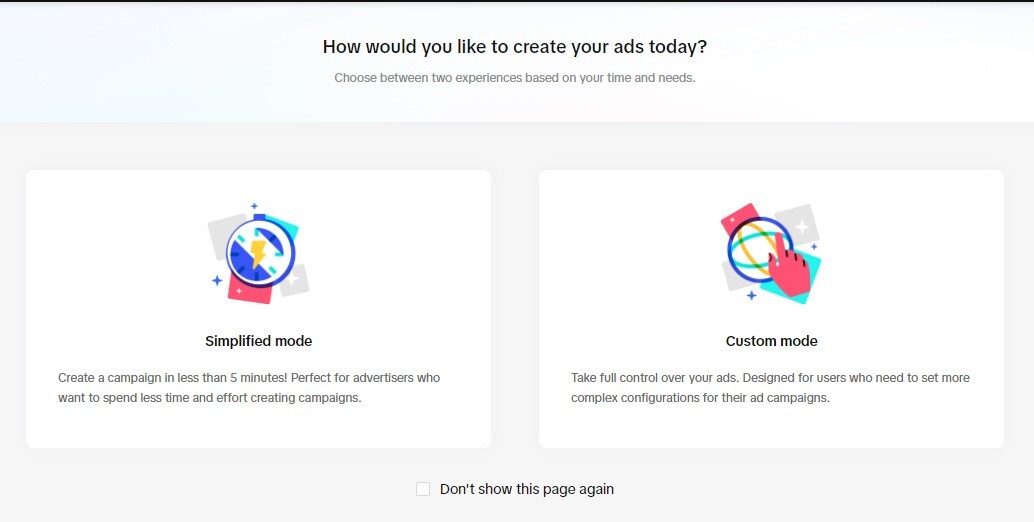 de8d60428d5a0c66874bcd0594ec69cbcdc21941
Step 2: Next, you need to integrate your Shopify store with TikTok Ads
Now, you must connect your Shopify store with the TikTok app.
To add TikTok to your Shopify store, just search for "TikTok" in your Shopify Admin Dashboard. Here's what to do next:

After you install it, you'll see the TikTok channel on the left side of your Shopify Admin Dashboard. Click "Connect" to link your TikTok For Business account to your Shopify store.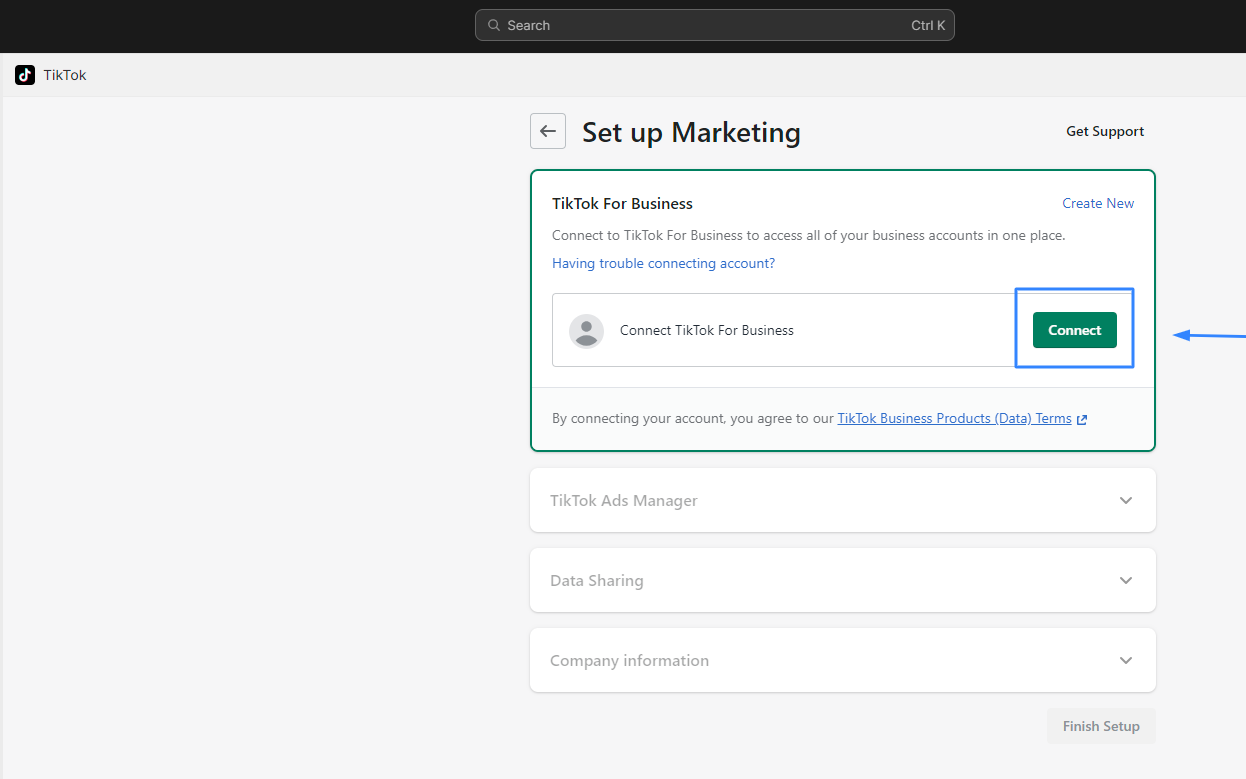 You'll then see a page where you can either stick with your current TikTok account or switch to a different one using the "Switching User" option. Hit "Connect" to tie your Shopify store with the TikTok app.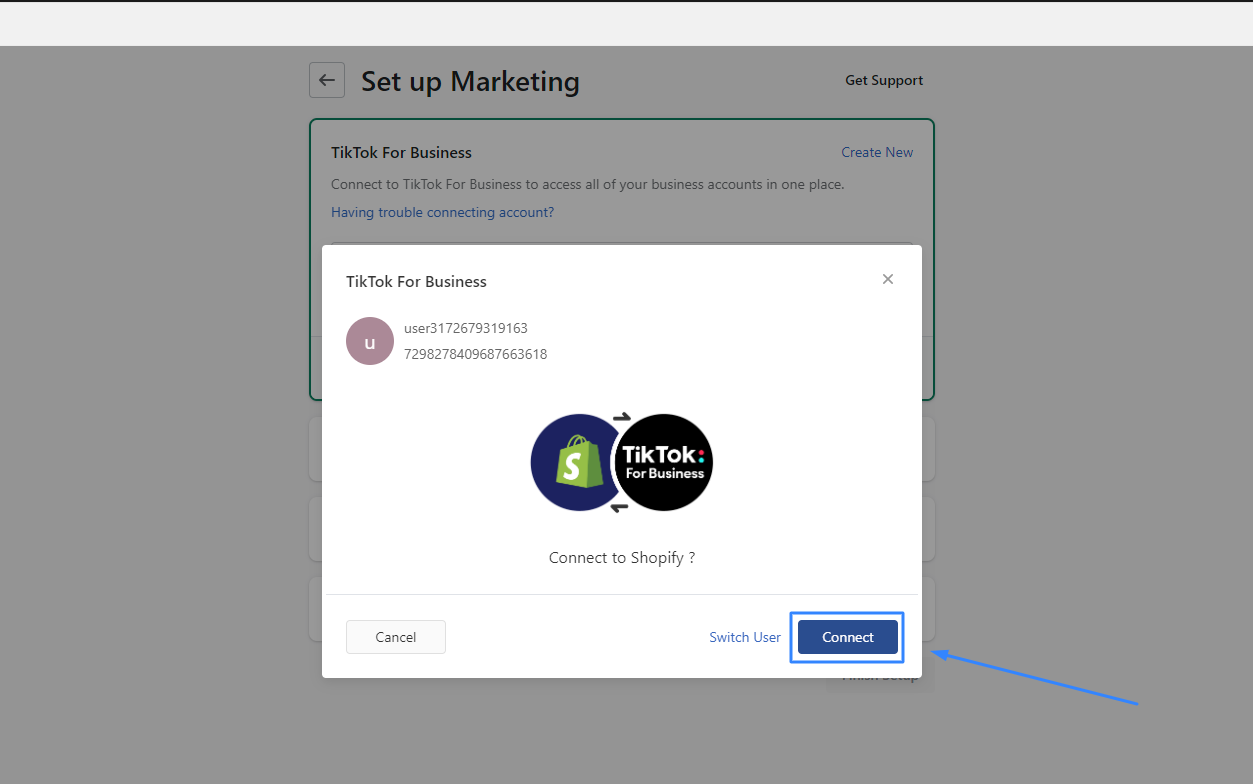 Once you're connected, the TikTok Business Dashboard will come up, giving you the tools to manage your business account on TikTok and finish setting it up with your store.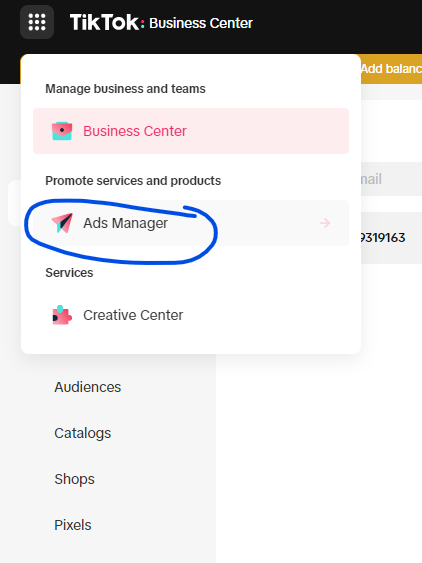 Use TikTok's Ad Manager to decide where and how your ads will show up in the app. This is what they call "placement."
Step 3: Then log into TikTok Ads Manager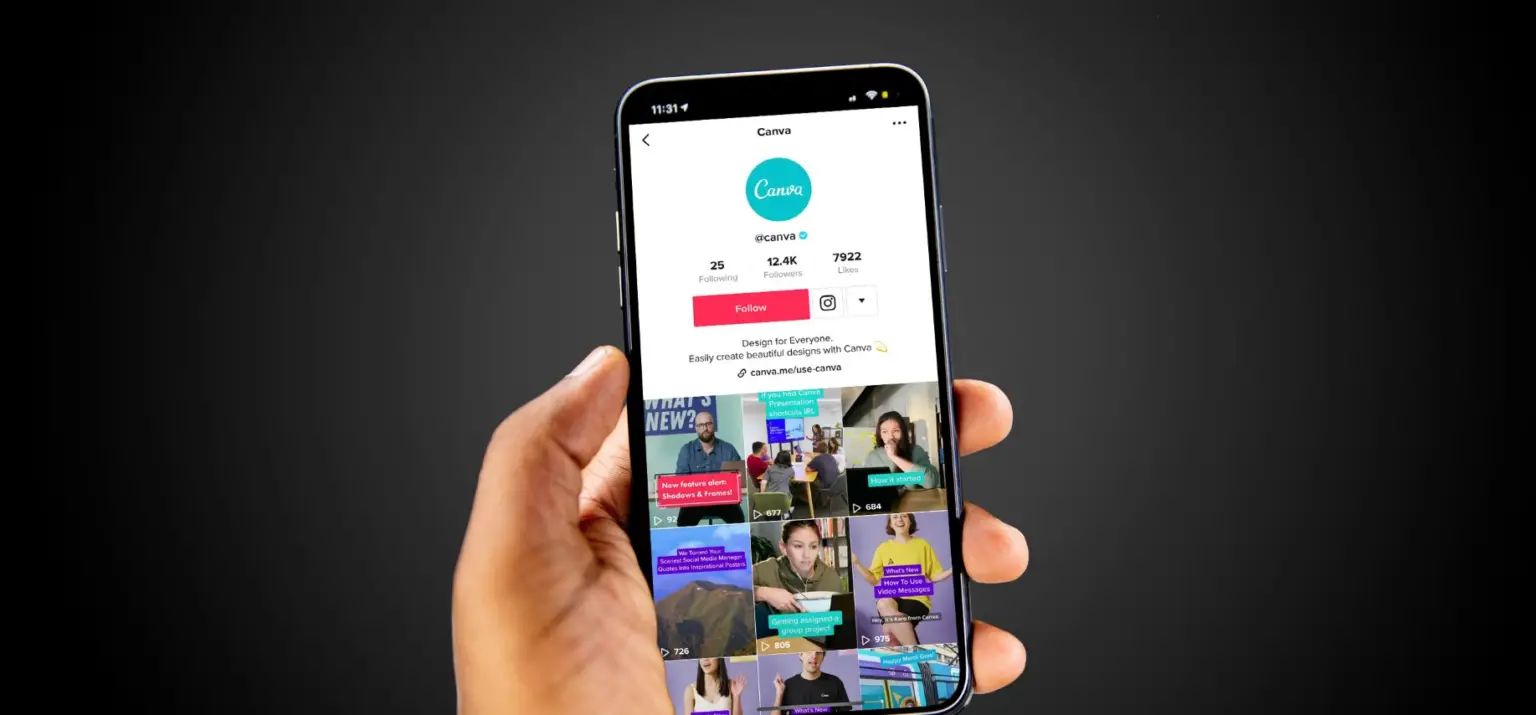 Although TikTok is used mainly on mobile devices, it's better to manage your ads on a desktop. Go to ads.tiktok.com and log in with the new business account you've set up to access the Ads Manager.
Step 4: Decide what you want your ads to achieve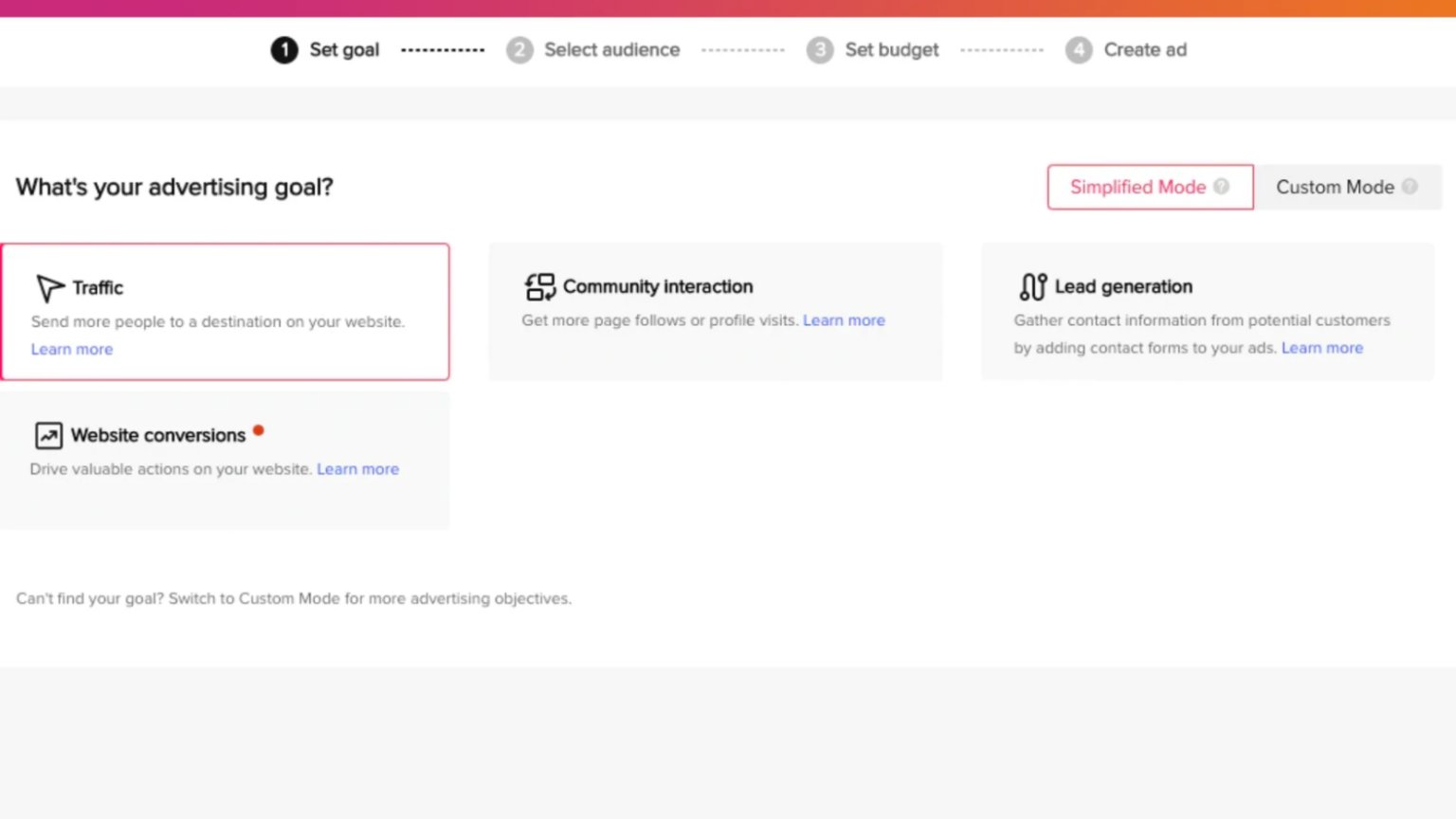 In the Ads Manager, choose Simplified Mode to see four types of campaign goals:
Increase traffic: Good for drawing people to your store or getting soft leads like email sign-ups.
Boost community interaction: Helps grow your TikTok following, great before launching a new product.
Generate leads: This gets you info from interested people for follow-up and engagement.
Drive conversions: This aims to get more actions on your website, like sales or sign-ups.
Step 5: After that, pick the people you want to see your ads
Pick who will see your ads in the TikTok Ads Manager. You can let TikTok decide with "Automatic audience" or pick your own with "Custom audience," targeting users by gender, age, language, and location. A slider will show you how big your audience could be.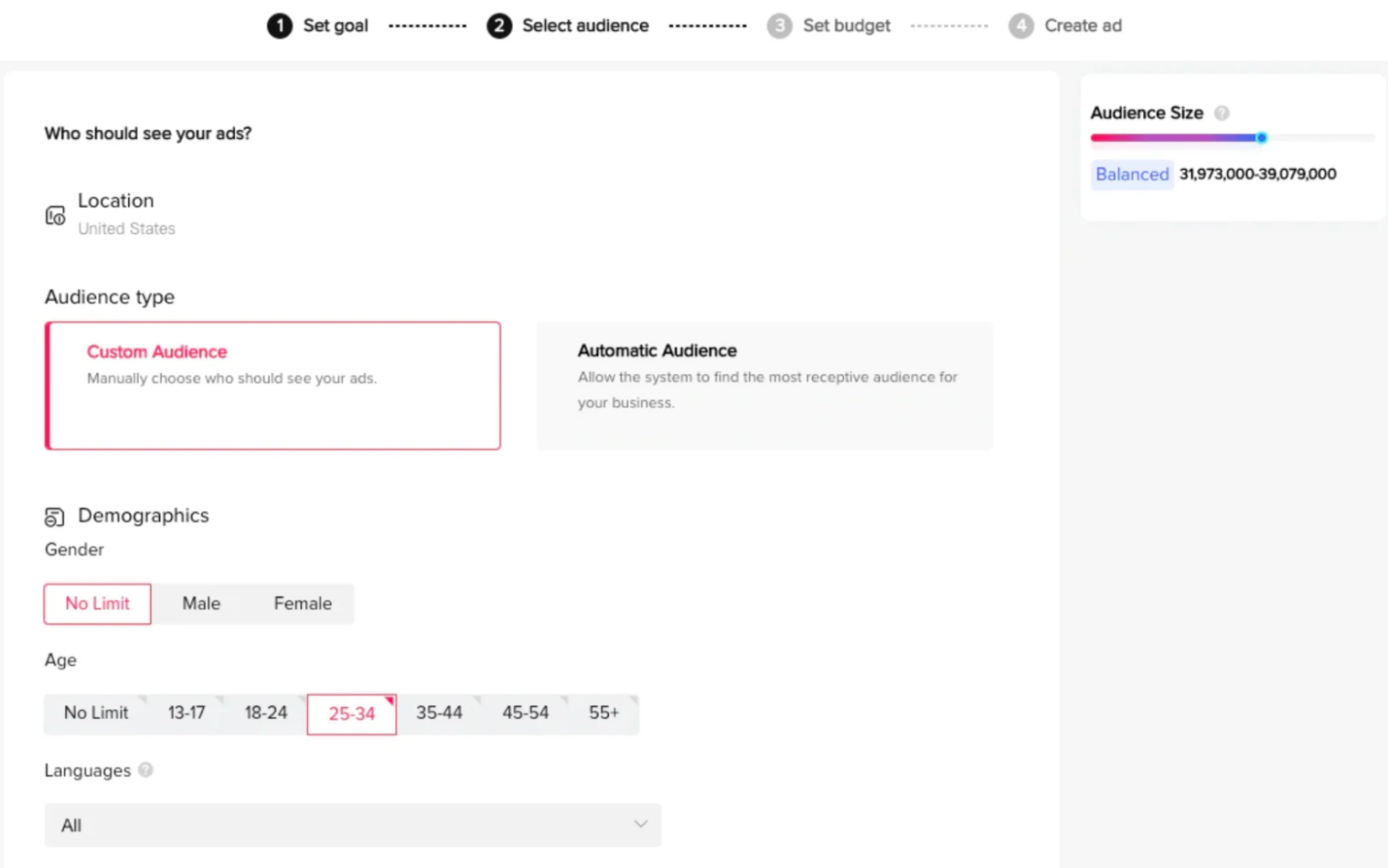 You can also target based on interests. For example, target "coffee" or "beauty" if you sell skincare. This way, your ads reach people interacting with similar content on TikTok.
Then, decide if you want your ads just on TikTok or also on Pangle, which the manager says is a "global premium publisher network."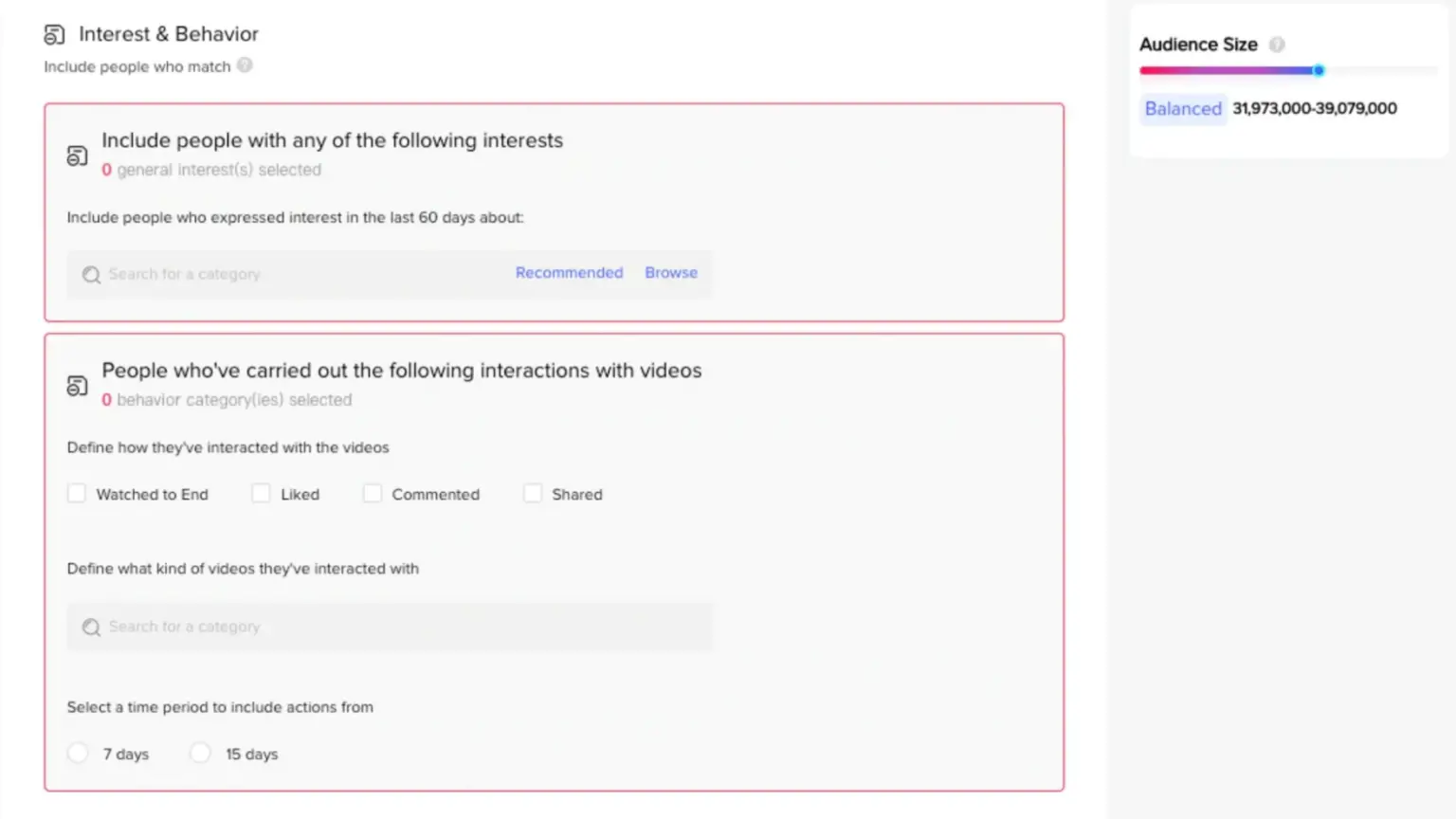 Step 6: Now, figure out how much you want to spend and when your ads should run
Now, set your budget and schedule. The smallest daily budget is $5, and you can spend a minimum of $70 for your entire campaign. Decide how long to run your campaign, or leave it open-ended and stop it when you're ready.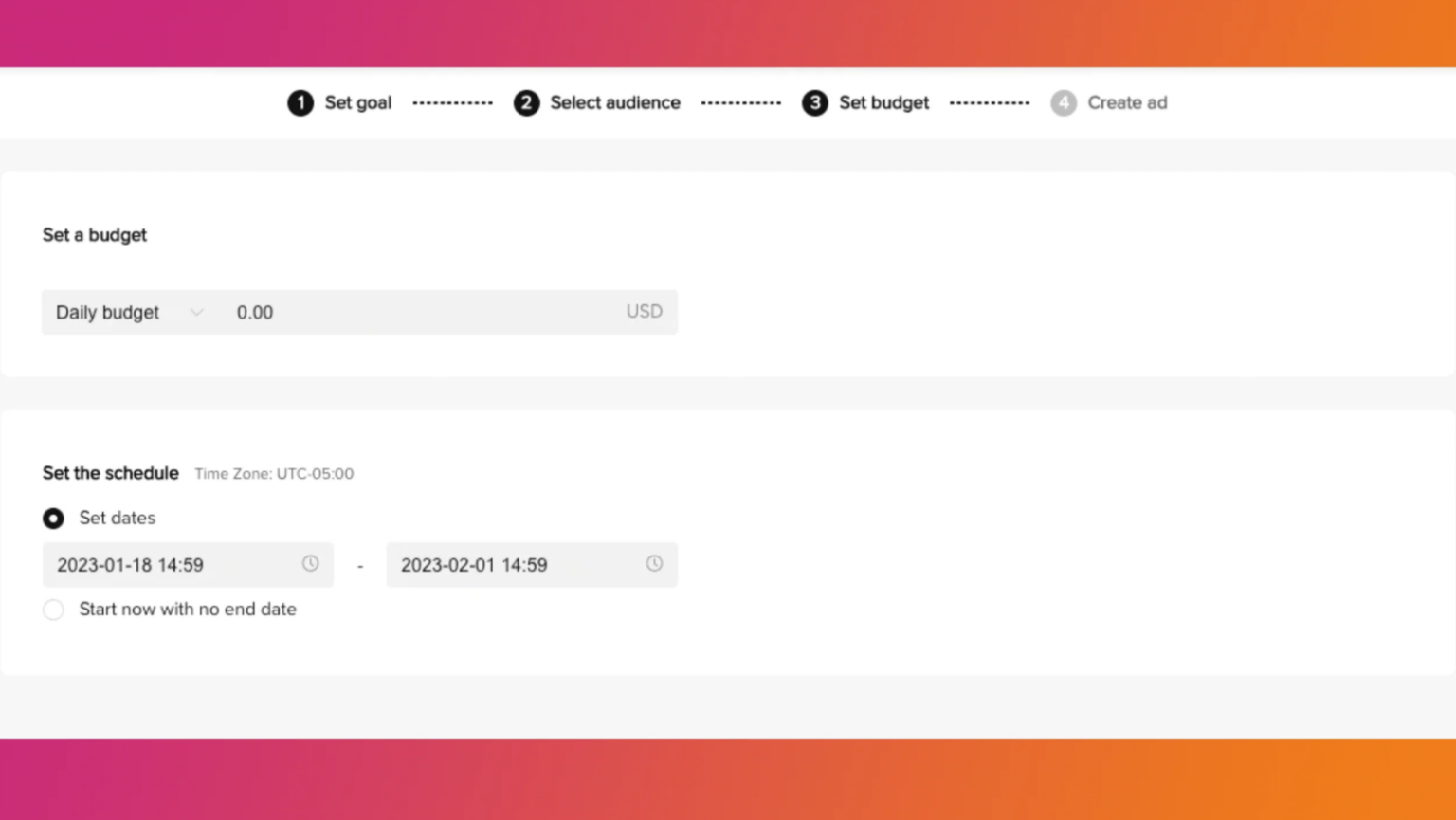 Step 7: It's time to get creative—make your ad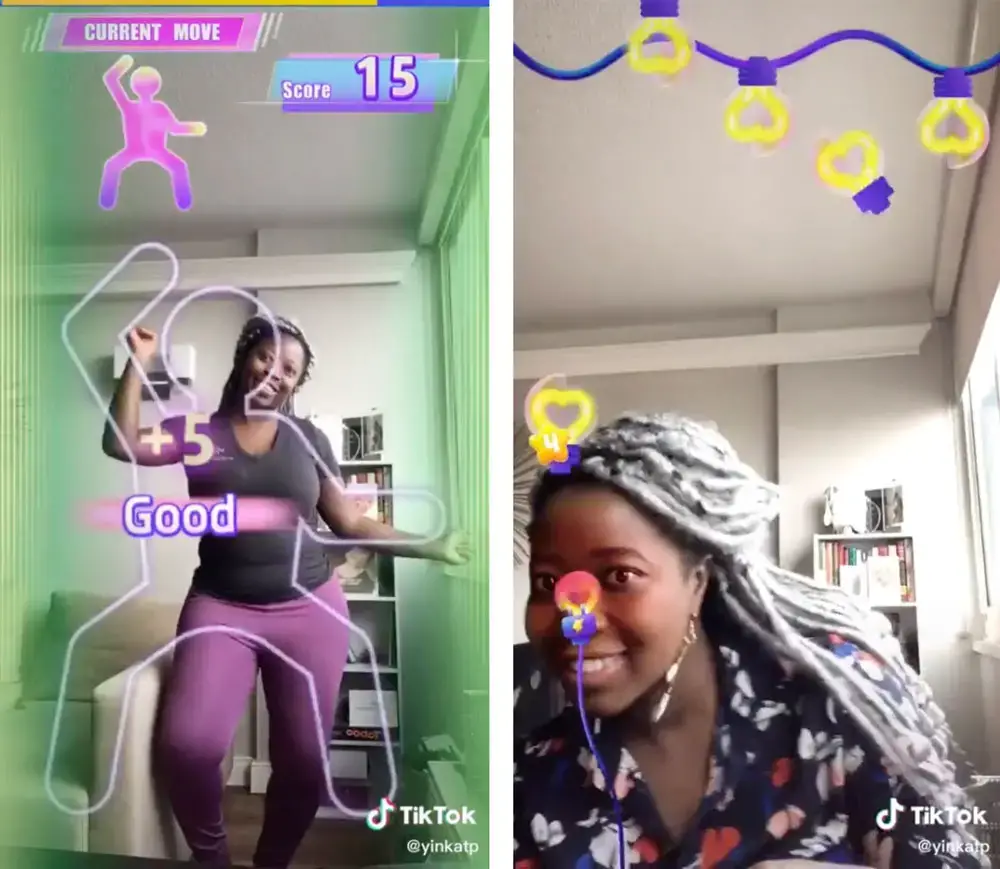 Creating your ad involves choosing or uploading a video, adding a caption, and a call-to-action button like "Shop Now" that links to your site. Keep these tips in mind:
Stick to TikTok's rules for vertical videos.
Make sure the caption doesn't cover text.
Your ad should feel like the natural content on TikTok.
Watching the 'For You' page helps you understand how other brands do their ads.
Step 8: Finally, send off your ad to TikTok
Click "Submit" for your ad to be reviewed. Once it's approved, your ad is live! Keep an eye on how it's doing to see what works and to plan better for the next time.
Ready to try it? Dive into TikTok Ads Manager and launch your campaign!
Cost of running TikTok Ads
TikTok's in-app ads are straightforward, offering the option to start with a daily budget of only $5. This allows you to increase visibility as your budget grows, but it's also adaptable to smaller spending plans.
For those with more experience in marketing, TikTok provides extra features that are more customizable. However, if you're new to this, you can keep things simple. The amount you spend on your ads should align with your overall marketing budget and your goals across different platforms.
In conclusion
Linking Shopify with TikTok gives businesses a simplified way to connect with more people on one of the world's rapidly expanding social media networks. With tools that simplify ad creation, targeting, and tracking, Shopify shop owners can tap into TikTok's huge audience to boost their store visits and sales. This collaboration can significantly increase a business's online visibility and sales opportunities.
Website Support
& Maintenance Services
Make sure your store is not only in good shape but also thriving with a professional team yet at an affordable price.
Get Started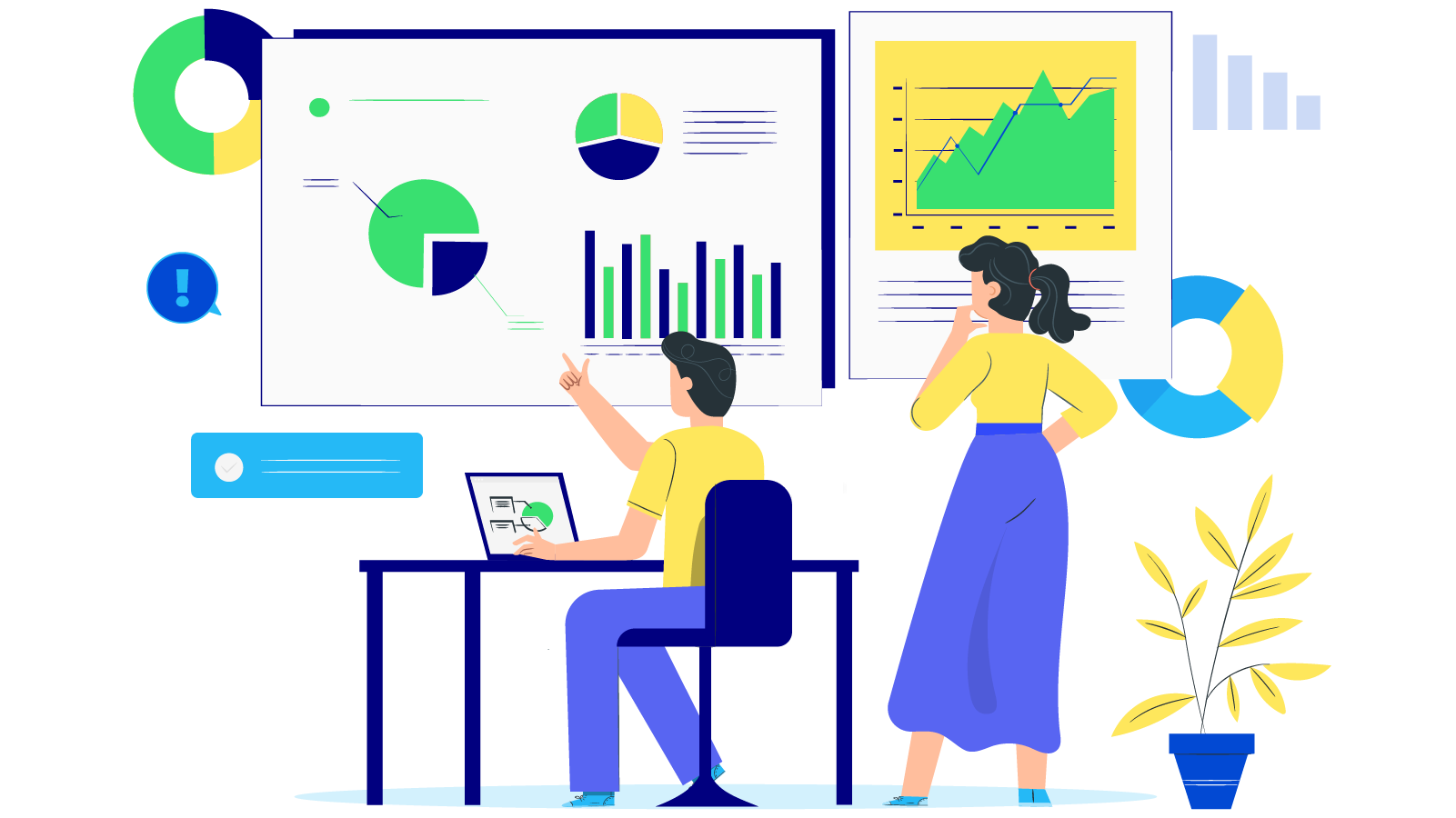 ---
---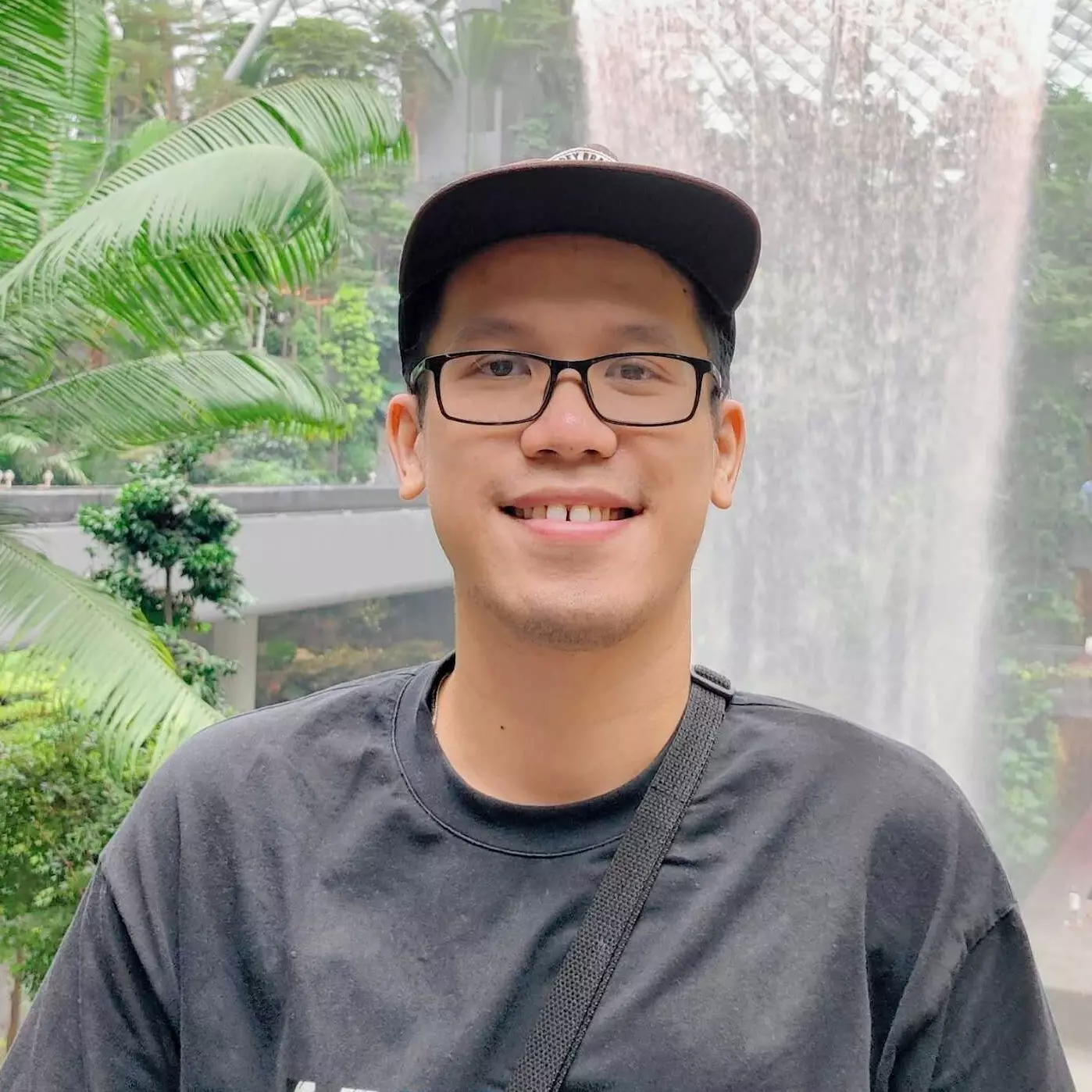 Mike is a content writer at Mageplaza, with a love for video games, gadgets, and software. He has been writing about the industry now for over 7 years. He likes to keep up-to-date with the latest software releases. He's also an avid reader, and he enjoys spending time outdoors with family and friends. When he's not working, you can usually find him playing video games or exploring new outdoor activities.
New Posts



Subscribe
Stay in the know
Get special offers on the latest news from Mageplaza.
Earn $10 in reward now!