Top 15 Shipping Software for Ecommerce Enterprises in 2023
The Most Popular Extension Builder for

Magento 2
With a big catalog of 224+ extensions for your online store
Once your online retail business begins attracting a substantial customer base, the task of managing order fulfillment can quickly evolve into a full-time commitment.
For most brands, handling ecommerce shipping poses a significant cost and time-consuming challenge. According to eFulfillment Service, the average expense of fulfilling an online order amounts to 70% of the order's value.
Simultaneously, customer expectations pertaining to shipping and order fulfillment have grown increasingly demanding. Invesp reports that a staggering 96% of customers now consider "fast delivery" to mean same-day delivery, and the expectation of free shipping has become the new norm, largely thanks to Amazon.
The positive news is that there are numerous excellent shipping software solutions available to enhance your customer experience and streamline the often costly and burdensome process of order fulfillment. In our guide, we will provide an in-depth review of the 15 best shipping software for ecommerce enterprises.
Table of Contents
What is an ecommerce Shipping Platform?
Shipping platforms and logistics companies leverage cutting-edge technology and shipping APIs to streamline numerous shipping procedures. This includes automating tasks such as order generation, order tracking, inventory management, and identifying shipment bottlenecks, among others. These comprehensive services empower ecommerce businesses to expand quickly without the need for excessive staff and storage space investments.
Many online retailers are hesitant to embrace shipping software for ecommerce due to concerns about its impact on their profit margins. Nonetheless, research indicates that handling logistics in-house is more costly than commonly assumed. Furthermore, utilizing a shipping platform not only accelerates deliveries but also leads to more cost-effective shipping rates.
Why does an ecommerce business need a shipping solution?
Whether you operate a large enterprise or a small business, the utilization of ecommerce shipping software is essential for efficient shipping management, reducing customer attrition rates, and enhancing overall convenience for your customers.
Statistics reveal that 76% of customers in the United States consider fast shipping to be the most significant factor influencing their online shopping experience. Meeting these rising customer expectations has become crucial, exemplified by industry giants like Amazon offering next-day or even same-day delivery options. Furthermore, emerging trends indicate that customers abandon their shopping carts due to extended shipping durations or high shipping costs.
In light of these considerations, it is imperative to select shipping software for ecommerce that can contribute to a superior user experience. Such software brings numerous benefits, including:
Accelerated Shipping to Attract a Wider Customer Base.
The ability to sell globally, reaching customers wherever they may be.
Offering diverse delivery options, including cost and shipping duration, to enhance customer convenience.
Providing a choice of carriers such as USPS, UPS, DHL, FedEx, and more.
The capacity to gather customer feedback to continually enhance your services.
Simplified returns processes, ensuring customer satisfaction and fostering repeat business without concerns or complications.
The option to select pickup points for deliveries and returns based on customer preferences, further enhancing their convenience.
Automation of the delivery process within the software, freeing you from repetitive tasks and enabling you to focus on devising strategies to deliver the best possible customer experience.
How to Choose the Best Shipping Software for Your Business
Shipping Volume
If your shipping software doesn't enable you to keep pace with the volume of shipments required each month, it could potentially hinder, rather than enhance, your business operations. It's crucial to thoroughly assess the pricing structure of each ecommerce shipping software option to ensure that you are obtaining the required number of shipments at the most advantageous rate for your specific business needs.
Features
When assessing shipping solutions, it's essential to consider whether the software provides the fundamental features that sellers have a right to expect. These include:
Order Management: The best shipping software for ecommerce should offer the flexibility to batch, filter, sort, combine, and efficiently manage orders.
Rate Comparisons: It should enable you to compare rates and service options from major carriers, allowing you to select the most cost-effective and expedient shipping method.
Rate Discount Options: The software should identify carrier discounts that can be applied, particularly for high aggregate shipping volumes.
Tracking and Communication: Real-time shipping confirmations for customers and the ability to track orders throughout the fulfillment process should be supported.

Automation and Rules: You should have the capability to set rules that automate repetitive tasks, freeing up staff to focus on other important matters.

Pick Management: The software should facilitate the printing of pick lists, shipping labels, and branded slips to ensure error-free order fulfillment.

Reporting: It should capture comprehensive data, providing you with the information needed to analyze results and make well-informed business decisions.

Returns Management: The software should enable the generation of return labels and efficient management of returned products.

International Shipping Support: Features such as pre-populated customs forms should be available to simplify the handling of overseas orders.
In addition to the core features mentioned earlier, here are some advanced features to consider when evaluating shipping solutions:
Dropshipping Features: If your business involves dropshipping, look for software that supports this model. It should enable seamless communication with your suppliers, automate order placement, and provide real-time tracking for dropshipped products.

Inventory Management: Robust inventory management capabilities are crucial for businesses with a wide range of products. The software should allow you to monitor stock levels, track product movements, set reorder points, and offer insights into demand forecasting.

Freight Shipments: If your business deals with large and heavy shipments, make sure the shipping software for ecommerce can handle freight shipments. It should provide tools for booking, tracking, and managing freight shipments efficiently.

Less-Than-Truckload (LTL) Shipments: For shipments that are larger than a parcel but not enough to fill an entire truck, LTL shipping support is vital. Look for software that can calculate LTL rates, book LTL shipments, and manage LTL shipments with ease.
Integrations
When selecting shipping software for ecommerce business, it's essential to confirm its smooth compatibility with both your particular ecommerce platform and the online marketplaces where you conduct your product sales. This seamless integration is crucial to ensure that the ordering process runs smoothly and prevents you from being stuck with the manual input of orders from your ecommerce platform to your shipping software.
Support
Another crucial aspect to weigh when selecting the ideal shipping software for an ecommerce venture is the level of customer support offered. At a minimum, you should seek a shipping solution that offers a user-friendly knowledge base for self-help and access to real-time assistance through phone, email, or live chat.
Best Shipping Software for ecommerce
1. Magento Shipping Software
Magento merchants employ shipping extensions to streamline their product delivery procedures. These extensions offer a range of functionalities, including real-time calculation of shipping rates, label generation, package tracking, flexible delivery time options, seamless integration with multiple Magento shipping services or carriers, and compatibility with renowned shipping providers like USPS, FedEx, UPS and DHL. The utilization of shipping extensions contributes to enhancing the overall customer experience while ensuring precise and expedited order fulfillment.
Three basic shipping methods in Magento:
This option enables you to provide complimentary shipping to your customers, contingent on specific conditions being met. These conditions may include reaching a minimum order value or purchasing a designated quantity of items.
Under this approach, you can establish a fixed shipping fee that applies uniformly to all orders, regardless of their weight or destination. Additionally, you have the flexibility to set distinct rates for various shipping methods available in Magento 2, such as ground or express shipping.
Table rates empower you to determine shipping costs based on a combination of factors, including order weight, destination, and chosen shipping method. You have the ability to create multiple shipping rate tables and customize them to align with your specific business requirements.
2. ShippingEasy
ShippingEasy is a versatile shipping software for ecommerce suitable for both domestic and international shipping needs. It offers a range of features to streamline your shipping processes, including automation of shipments, access to discounted carrier rates, the ability to print picklists, packing slips, and shipping labels, order and return tracking, and comprehensive reporting capabilities. Additionally, you have the option to tailor shipments based on customer preferences and add insurance to specific types of shipments.
Pricing: ShippingEasy offers two plans:
Starter: Free.
Growth: $19.99 per month.
3. 2Ship
2is a versatile shipping software for ecommerce designed to cater to both small and enterprise-level businesses. It offers integration capabilities with numerous marketplaces and carriers on a global scale. With 1Ship, you can select carriers, access real-time rates across various carriers, track packages in real-time, and maintain a consistent brand experience through customized tracking pages, labels, and address validation.
Pricing: 2Ship offers various tiers and plans to accommodate different business needs. For small businesses with low shipping volumes, the pricing begins at $10 per month and can vary based on the specific plan and features selected.
3. Shippo
Shippo stands as a leading shipping software tailored for ecommerce businesses. It empowers users to access real-time carrier rates, enabling them to make informed choices for their shipping needs. Shippo also offers integrations that streamline order and tracking synchronization, boasts features like address validation and partial order fulfillment, and simplifies the process of handling returns. For international shipments, Shippo provides pre-filled customs forms, simplifying the complexity of global shipping.
Pricing: Shippo's pricing structure consists of three tiers:
Starter: Free.
Professional: $10 per month.
Premier: Custom pricing, tailored to specific business requirements.
4. Veeqo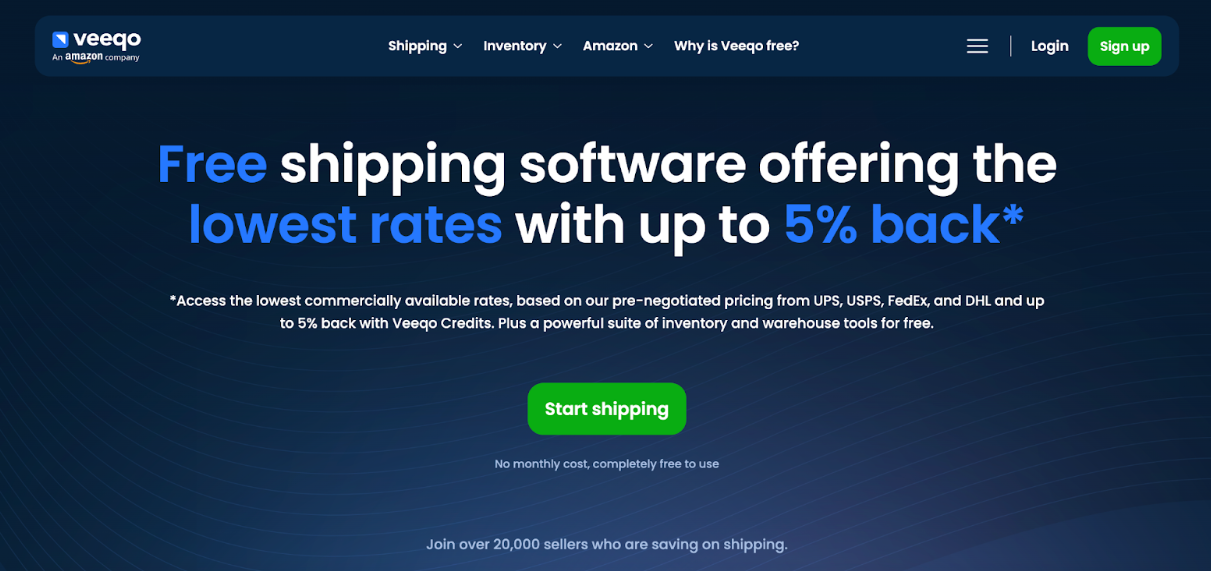 For ecommerce businesses operating through Shopify and seeking a smooth integration, Veeqo is worth considering, thanks to its seamless compatibility with this widely-used ecommerce platform. Additionally, Veeqo offers integration with other major ecommerce platforms and marketplaces, including Amazon, eBay, and Walmart. Veeqo is equipped with a comprehensive set of features essential for managing ecommerce operations, such as bulk label printing, workflow automations, return labels, and more. Some plans even offer advanced inventory and warehouse functionality for those with specific requirements.
Pricing: Free
5. Ordoro
Ordoro is a cloud-based shipping software for ecommerce designed to enhance operations across various sales channels. It offers advanced reporting and analytics tools to streamline processes effectively. Some of its features include access to discounted carrier rates, shipping presets, automation rules, and barcode scanning. The base plan also includes the advantage of no seller-fulfilled Prime fees.
For businesses with more extensive requirements, Ordoro offers higher-level plans that provide additional functionalities such as customized workflows, integrations, vendor portals, supplier management, dedicated customer service representatives, and more.
Pricing: Ordoro's pricing structure consists of three plans:
Express: $59 per month.
Pro: $499 per month.
Enterprise: $999 per month.
6. OrderCup
OrderCup is a user-friendly shipping software for ecommerce that provides several advantages, including discounted shipping rates and support for multiple carriers. It simplifies the setup process by allowing you to integrate your shopping cart or ecommerce platform directly with the shipping dashboard, enabling seamless order transfers. OrderCup also offers automation features for shipping processes, the ability to print return labels, and access to responsive customer support when needed.
Pricing: OrderCup offers a variety of pricing plans to cater to different business needs:
Free Plan: Ideal for businesses with fewer than 50 shipments per month.
Short: $25 per month.
Tall: $45 per month.
Grande: $65 per month.
Venti: $95 per month.
Trenta: $180 per month.
The range of plans allows businesses to select the one that aligns with their shipping volume and requirements, making it a flexible option for various ecommerce setups.
7. DesktopShipper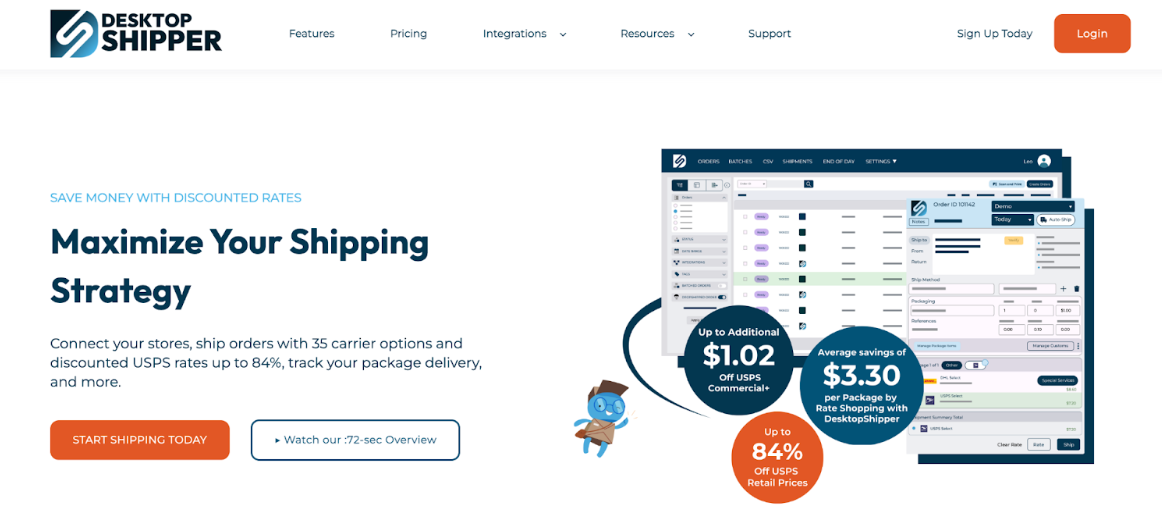 DesktopShipper is a versatile shipping software for ecommerce designed to streamline shipping workflows for businesses of all sizes. It offers a range of features, including support for bulk printing of shipping labels, order management, carrier routing, customization of shipping requirement profiles, and integration with multiple sales channels. The platform also provides the capability to import and bulk-update order details directly from your ecommerce software.
Pricing: DesktopShipper's pricing includes three distinct plans, allowing businesses to choose the one that best fits their shipping needs:
Starter: $25 per month for 500 shipments.
Plus: $75 per month for 1,500 shipments.
Pro: $150 per month for 3,000 shipments.
8. ShipEngine
ShipEngine is a versatile shipping solution catering to ecommerce platforms, third-party logistics providers, and brands. It provides users with the flexibility to select carriers, access real-time discounted rates across multiple carriers, validate addresses, and track packages and deliveries in real-time, among other features.
Pricing: One distinctive aspect of ShipEngine's pricing is its pay-as-you-go payment model, which is typically based on approximately $0.05 per package. This pricing structure allows businesses to pay for the services they use, making it a cost-effective option, especially for those with varying shipping volumes. This flexibility can be advantageous for businesses looking to control their shipping costs while accessing essential shipping functionalities.
9. ShipStation
ShipStation stands out as a widely recognized shipping software for ecommerce businesses. It empowers users to efficiently print labels, automate shipping workflows, and effectively manage tracking numbers. ShipStation boasts integration capabilities with various sales channels and shipping carriers, offering access to discounted rates. The platform is user-friendly and even offers a mobile app for added convenience.
Pricing: ShipStation offers a range of pricing plans to cater to different business needs:
Starter: $9.99 per month for 50 shipments.
Bronze: $29.99 per month for 500 shipments.
Silver: $59.99 per month for 1,000 shipments.
Gold: $99.99 per month for 2,000 shipments.
Platinum: $149.99 per month for 5,000 shipments.
Enterprise: $229.99 per month for 7,500 shipments.
10. Shopify
It's not surprising that Shopify, a major player in ecommerce, offers its own shipping software. If you've chosen Shopify as your ecommerce platform, you automatically gain access to Shopify Shipping. This tool provides a range of features for Basic Shopify stores, including label printing, automated shipping cost calculations, and substantial discounts (reaching up to 64%) for shipping services like DHL Express, USPS, and UPS.
For those with a Shopify plan, additional benefits include access to USPS Priority Mail Cubic pricing and even more significant rate reductions (up to 72%). Opting for the Advanced Shopify plan grants you all the previously mentioned features, along with the ability to calculate shipping rates through third-party providers and seamlessly integrate with your existing shipping accounts. Furthermore, carrier discounts can go as high as 74%.
Pricing: Shopify offers three pricing tiers that encompass these shipping features:
Basic: $39 per month.
Shopify: $105 per month.
Advanced: $399 per month.
11. EasyShip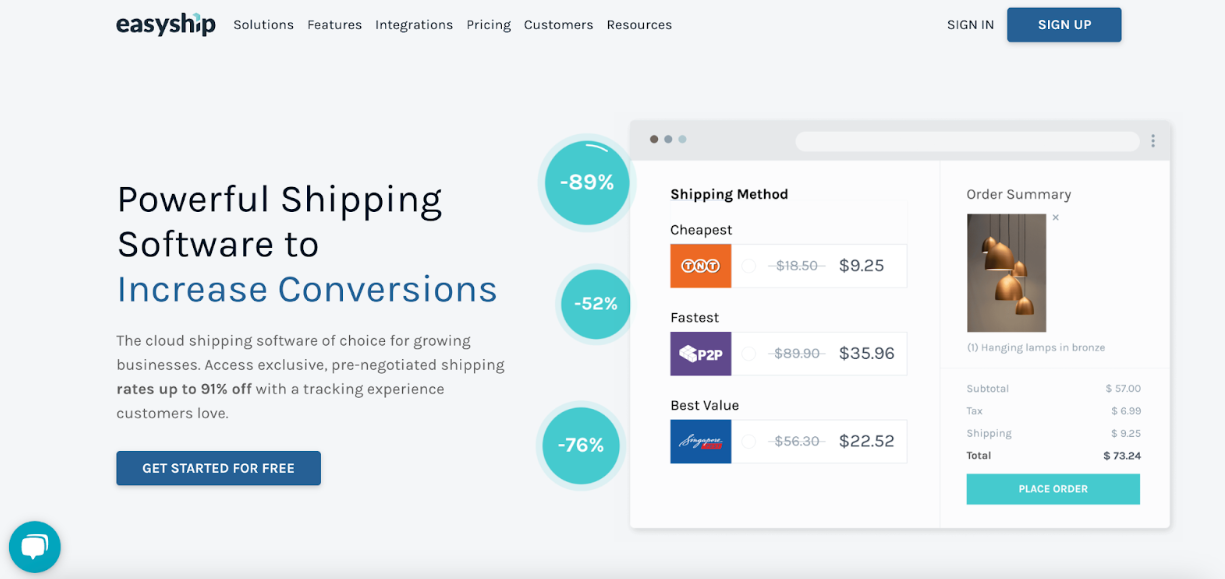 EasyShip is an ecommerce shipping software that provides the capability to print labels from various carriers, establish workflows, and effectively manage package tracking. While it may be considered somewhat more complex compared to other tools, EasyShip has earned a solid reputation, particularly in the realm of international shipping. This is thanks to its live checkout feature, which displays relevant taxes, enhancing the international shipping experience.
Pricing: EasyShip offers a range of pricing options to cater to different business needs:
Free Plan: Ideal for those with fewer shipping needs, accommodating up to 100 shipments per month.
Plus: Priced at $29 per month, which includes 500 shipments.
Premier: Priced at $69 per month, offering 1,500 shipments.
Enterprise: Custom pricing, tailored to specific requirements for larger enterprises.
12. Kuebix TMS
Kuebix TMS is a transportation management system known for its modular, scalable, and user-friendly design. It offers a comprehensive range of features, including label printing, booking, freight tracking, shipping cost quoting, customer alerts, and detailed shipment reporting, among others. With Kuebix TMS, users can easily view and compare rates side by side, allowing them to select the most suitable rate and service level for each shipment.
The platform also facilitates the request of spot quotes for volume freight, direct booking of shipments with carriers, real-time visibility into critical information, and the generation of actionable reports and dashboards for a comprehensive understanding of freight spend.
Pricing: Kuebix TMS offers a free plan, but for information on their paid plans, you would need to contact them directly.
13. ShipperHQ
ShipperHQ is a robust shipping software for ecommerce that offers valuable features to streamline your business. It simplifies shipping by providing customized shipping rates, flexible shipping group configurations, dimensional packing options, support for multi-origin shipping, backup carrier rate options, and handling LTL freight and address validation.
One standout feature of ShipperHQ is its shipping rules, which allow you to easily apply discounts or surcharges to your shipping rates, implement promotional pricing, and establish customized rate rules based on various factors. Additionally, if you have brick-and-mortar stores or warehouses, ShipperHQ enables you to offer convenient in-store pickup options.
Pricing: ShipperHQ offers pricing plans starting at $75.
14. ShipBob
ShipBob operates as a technology-driven third-party logistics (3PL) provider, utilizing its proprietary software throughout its fulfillment network. The platform offers an automated process where orders are seamlessly transmitted to ShipBob's warehouses, and from there, inventory is efficiently picked, packed, and shipped directly to your customers. ShipBob's technology is designed to assist businesses in optimizing shipping for both time and cost, ultimately enhancing the overall customer experience.
ShipBob's onboarding process is straightforward, and it provides integrations with a range of ecommerce platforms, including Shopify, Amazon, BigCommerce, Magento, and more, to ensure seamless connectivity with your existing ecommerce setup.
Pricing: ShipBob tailors its pricing to align with the unique needs of your business, ensuring that you get a pricing structure that suits your specific fulfillment and shipping requirements.
15. Stamps.com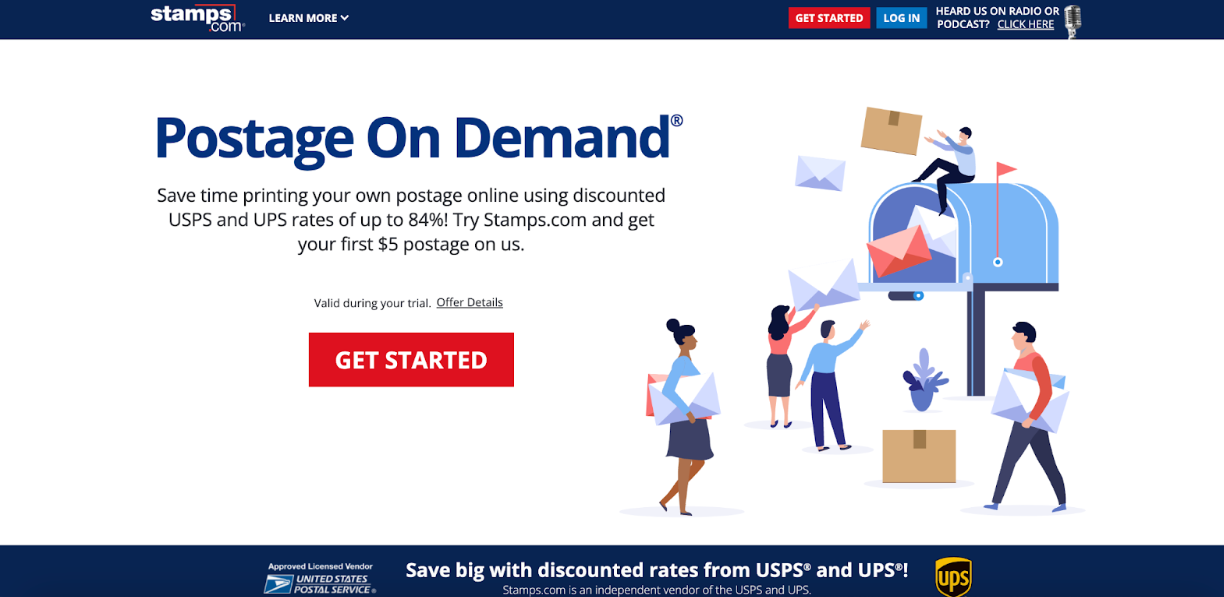 Stamps.com offers more than just stamps; it provides shipping software for ecommerce designed to help you discover the most favorable rates through discounted USPS and UPS shipping options. With Stamps.com, you can seamlessly import your orders from your preferred ecommerce platform, provide real-time tracking updates to your customers, and enhance order processing efficiency through workflow automation tools.
Pricing: Stamps.com provides a flexible pricing structure, beginning with a 4-week free trial that includes a USB shipping scale and $5 in free postage. After the trial, you can choose from three distinct pricing tiers for its shipping plans:
Pro: Priced at $17.99 per month.
Pro Plus: Priced at $34.99 per month.
High-Volume Warehouse Shipper: Custom pricing is available; you can contact Stamps.com for details.
Conclusion
Enhancing customer satisfaction is a paramount goal for every business. One effective means of achieving this is by employing ecommerce shipping software to efficiently manage shipping processes and provide customers with speedy deliveries that exceed their expectations.
Each of these services has the potential to suit a broad range of businesses and users. What holds the greatest significance is selecting the features that align with your business requirements, both in the present and as your business expands. The least desirable scenario would involve having to switch shipping platforms every six months due to outgrowing them or requiring different carrier support.
Therefore, it's crucial to select the best shipping software for ecommerce that aligns with your specific business needs and budget, as this decision can significantly contribute to your ability to provide exceptional service and leave customers delighted with their overall experience.
Website Support
& Maintenance Services
Make sure your store is not only in good shape but also thriving with a professional team yet at an affordable price.
Get Started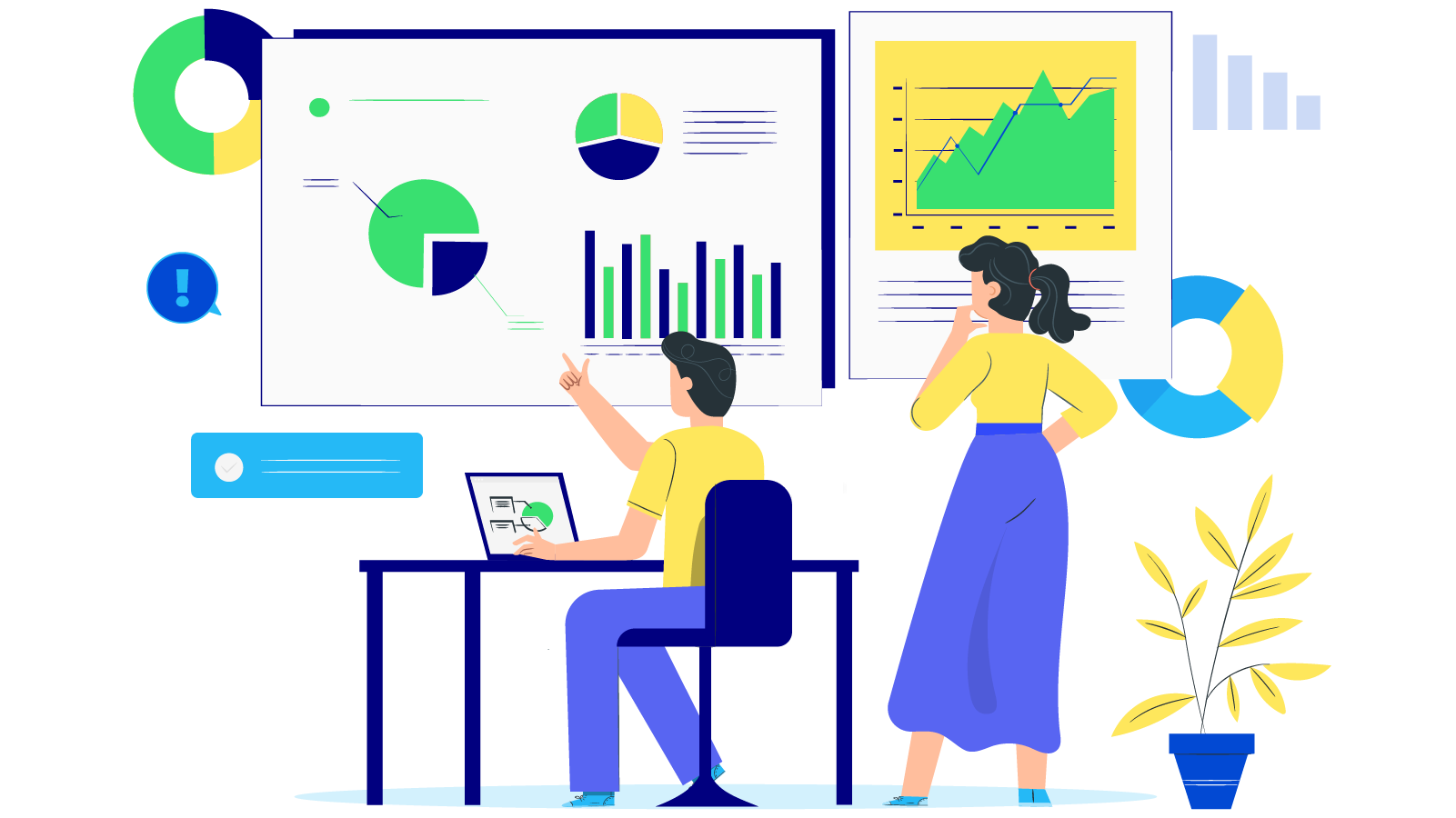 New Posts



Subscribe
Stay in the know
Get special offers on the latest news from Mageplaza.
Earn $10 in reward now!