Mageplaza Who Viewed This Also Viewed - How to cross-sell effectively
The Most Popular Extension Builder for

Magento 2
With a big catalog of 224+ extensions for your online store
Overview
Amazon reported that over 35 percent of its sales is from cross-selling through its frequently bought together and also-viewed products blocks on every product page. That approach allows online retailers to prompt a shopper to purchase compliment – or necessary – products. In this Blog, we would like to make a detailed introduction of the pretty new tools that any online stores should consider to own it: Who Viewed This Also Viewed extension. How this feature enhances users' experience and helps Magento 2 stores boost sales? Let's figure it out!
Main Contents
What is Who Viewed This Also Viewed Tool?
Magento 2 extension Who Viewed This Also Viewed for online websites shows mostly viewed products on the product page to customers. It will help them to make purchase decision more easily by displaying who viewed this product, also viewed these products.
"If it is good enough for them, then it may be good enough for me". This is a compelling way of increasing conversion rates and averages dollar per sale. Cross-selling function is used by many of the top e-commerce sites, and shoppers will be more informed and more confident in their purchase, thus immediately increasing sales. In fact, Manual Cross-selling is generally ineffective but with Also-viewed tool, cross-selling is based on actual customer behavior so it is more than just randomly recommendation. Hence, more than just randomly sales.
Why Who Viewed This Also Viewed is an optimal solution for Cross-selling?
Reliable suggestions coming from other customers
Referral marketing is essentially people purchasing products based on someone else's opinion or influence and is commonly known as word-of-mouth marketing. As a small business owner, this strategy is an effective way to get existing customers and friends to promote your business for you.
Who Viewed This Also Viewed tool works base on the referral principal. Viewers of current products can see other products viewed mostly by different people in stores. This suggestion is reliable and more trustful rather than stores introduce by themselves. The more trustful and concerned a product recommended, the more likely viewers buy it, or just click to see it. Undeniably, this marketing strategy is much more popular and win the hearts of plenty of stores in the e-commerce industry.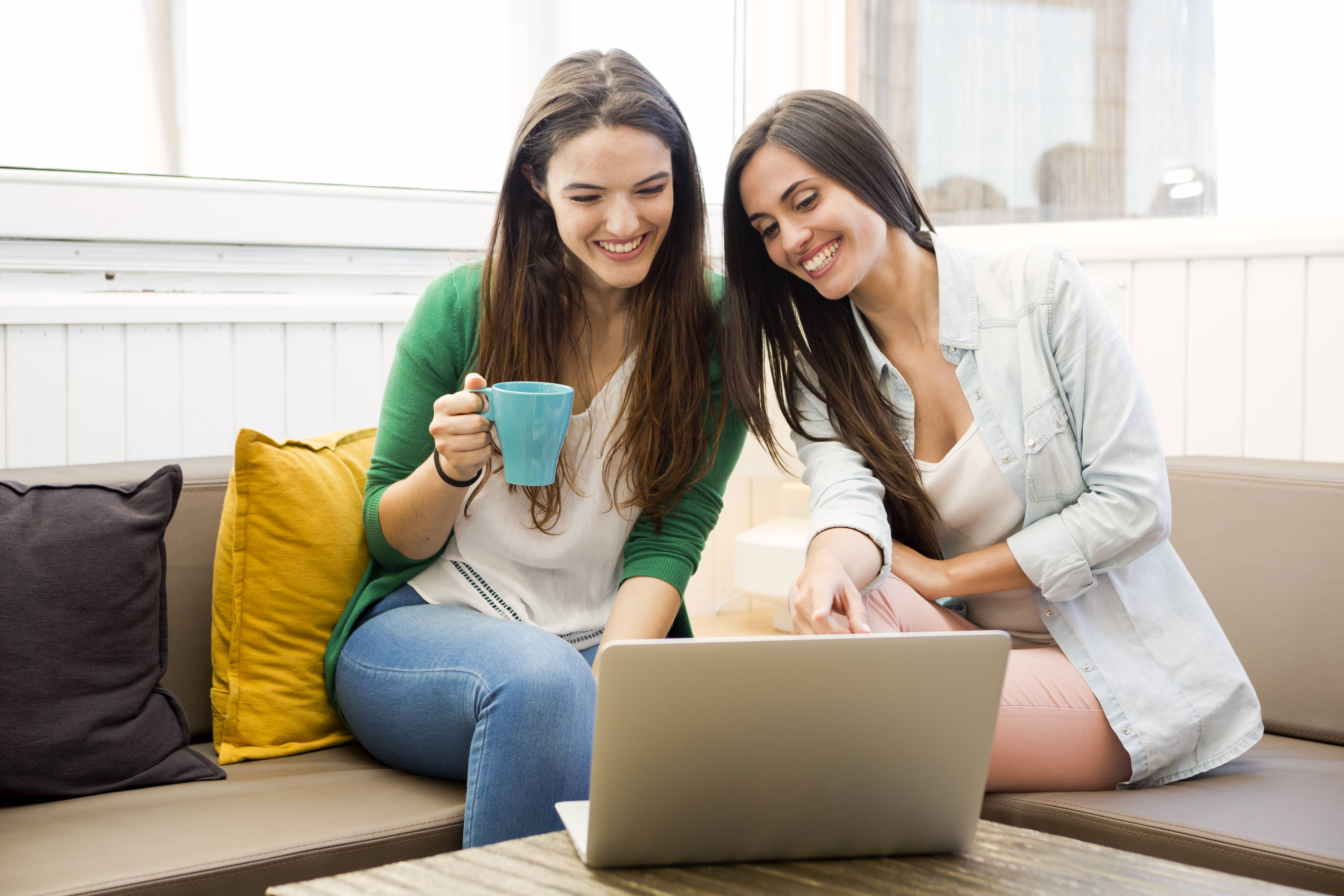 Purposefully suggest also-viewed products
In term of the strategy and marketing target, admin can utilize the tool for specific purposes. They can not only choose to show the most viewed products that customers may concern, but they also can select the products that need to boost sales or the new products introduction. In this case, Who Viewed Also Viewed will become a helpful tool for stores in the way to achieve their target.
Let take an accessory shop as an example. This store sells different clothing category including clothes, hat, shoes, and bags. If the bag items are reported to be at the lowest revenue and the inventory is high, the store owner can set bag category in Who Viewed This Also Viewed Block. Those bags which have been viewed by other visitors will be suggested to current viewers. Even it can be configured to show with other items in different categories but are related such as clothes with the same color and style. It cannot be over said that Also-viewed products can be the most natural suggestion to customers yet strategic to online shops.
Enhance customers shopping experience
As a new customer coming to a website, the thing they can trust most is other customers' review and behavior. Most viewed products will not be granted since it raises a question: Why so many people watch it? Customers will not hesitate to click to see these items and who knows, they may find their beloved one.
This tool helps online buyers save time and effort to navigate their products because sometimes they even do not shop for a purpose. Hence, giving them the stuff that others have concerned may be a great serve. It can be seen that this tool contribute significantly to customers' satisfaction and engagement with e-stores.
Highlight Features of Magento 2 extension Who Viewed This Also Viewed
Support all product types and categories
This module allows displaying recommended products with multiple product types. Hence, there is no restriction for online stores to show suggested also-viewed products to their potential customers.
Here are the product types supported:
Simple products
Configurable products
Bundle products
Virtual products
Group products
Downloadable products Moreover, admins can choose to show Also-viewed products by categories. It supports all the categories available in your stores.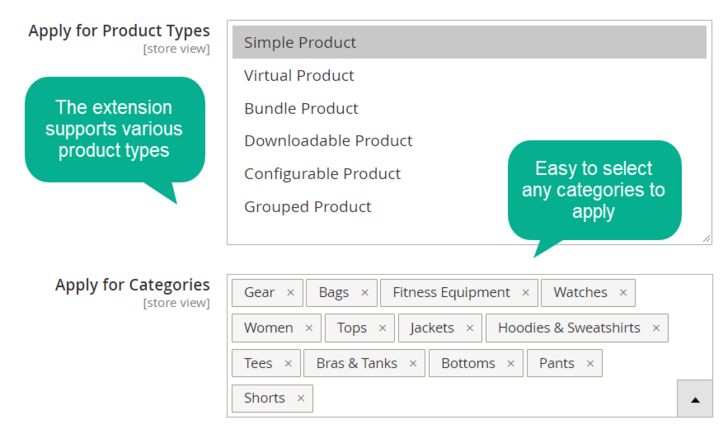 Can be displayed at various positions
In order to provide the best visibility of related products, this extension also allows admins to put the Also-viewed blocks at many places within a page. For more details, they can be displayed in following targeted positions:
Top of Content
Bottom of Content
Replace Related Products
Before Related Products
After Related Products
Replace Up-sell Products
Before Up-sell Products
After Up-sell Products
The choice of positions can be purposely depended on the individual stores' campaigns.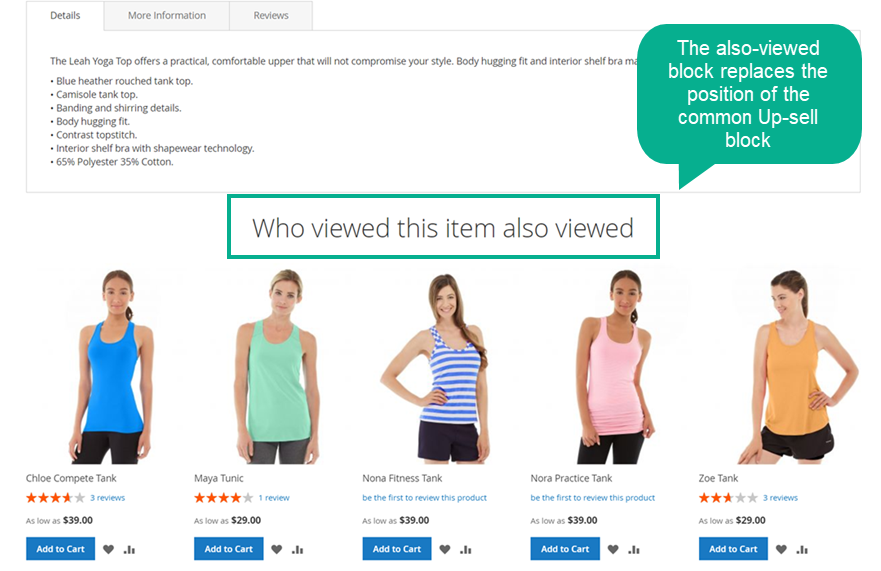 Display in Multi-rows or Slider
Besides supporting the various displaying positions, Who Viewed This Also Viewed offers the two showing formats including Multi-lines and Slider.
Multi-lines style allows suggested products to be displayed in static rows. This style is more suitable to the block with not many products, and customers can take a look quickly for all items.
Whereas, Slider style helps stores show also-viewed products in a moving slider, which makes the appearance more vivid and eye-catching by moving effect. This showing style will work effectively when there are so many products displayed and stores would like to attract customers' notice.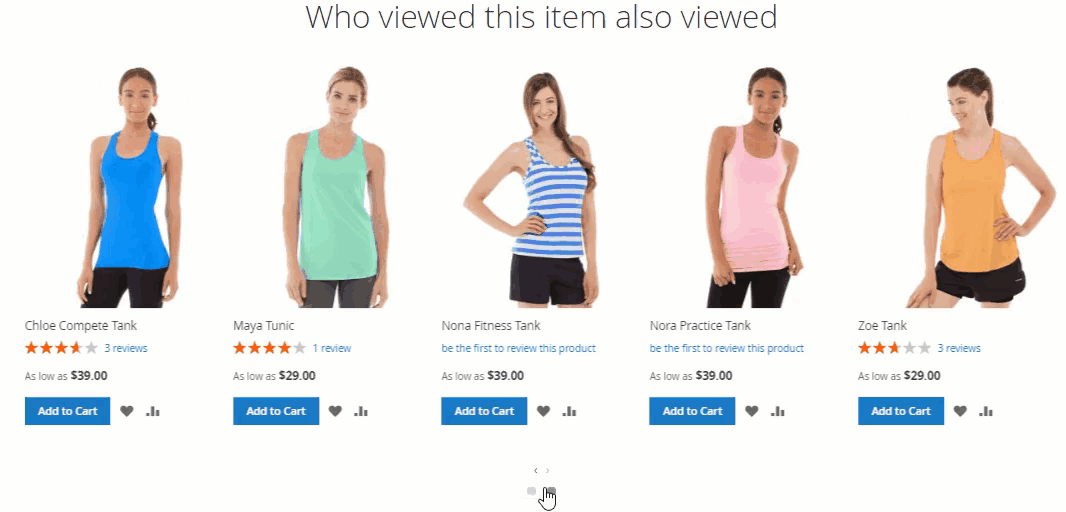 Set the Rule to show products
One of the most helpful features of Who Viewed This Also Viewed is that it allows admin to filter the products by rule at the backend. These products share one or several similarities, which will be set as also-viewed products. The products' rules can be:
Products with a higher price: Only show also-viewed products at a higher price than the currently-viewed product.
In stock products: Only display also-viewed products which are available in stock.
In the same category: Only show also-viewed products which are in the same category with the currently-viewed product.
With these features, admin can purposely set the visibility for the products that they want to boost cross-sales.; hence, bringing them closer to target customers.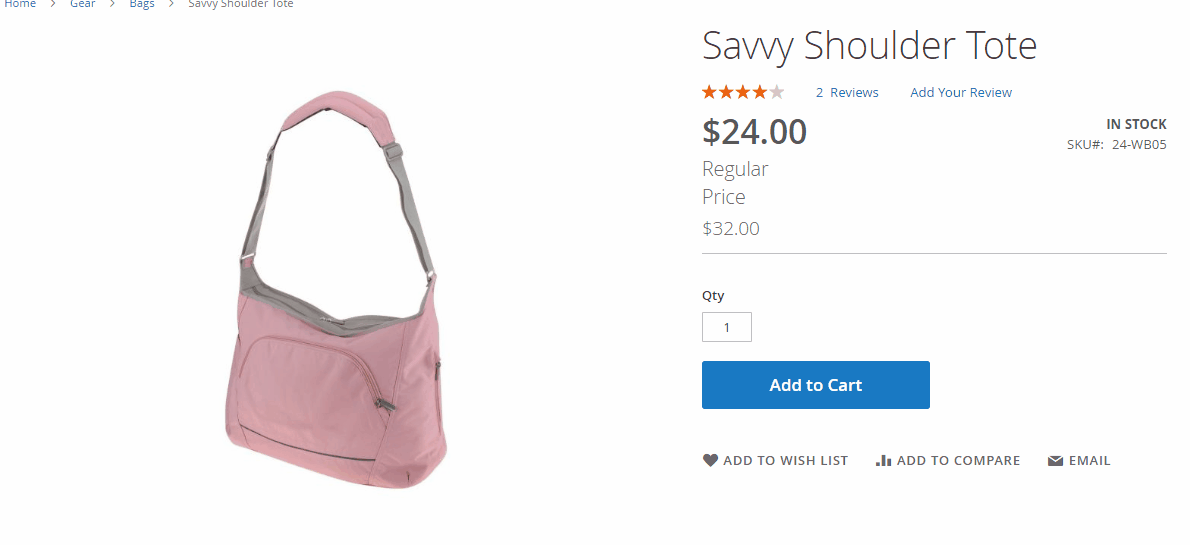 Full Features Lists of Who Viewed This Also Viewed extension
For store admins
Enable/disable the module
Add the Also-viewed block title
Allow applying various product types
Select multiple categories to apply
Choose to show as Ajax or Block
Select position to díplay the block
Choose display types of block: Slider or Multi-lines
Limit the also-viewed product number
Filter the products by rules at the backend
Choose the rules to show products at the frontend
Choose the schedule to collect product data
Select actions to show on suggested product block
For customers
Can see the most also-viewed products by other customers
Save time and effort in searching products
Have better shopping experience
Final Words
Who Viewed This Also Viewed is a new function that brings the most natural and trustful suggestion of products to potential customers of online stores. By providing them the most viewed and related items with the currently seen products, sellers can boost cross-sell or up-sell products effectively.
Magento 2 Customers Also Viewed

Marketing Manager of Mageplaza. Summer is attracted by new things. She loves writing, travelling and photography. Perceives herself as a part-time gymmer and a full-time dream chaser.
Website Support
& Maintenance Services
Make sure your store is not only in good shape but also thriving with a professional team yet at an affordable price.
Get Started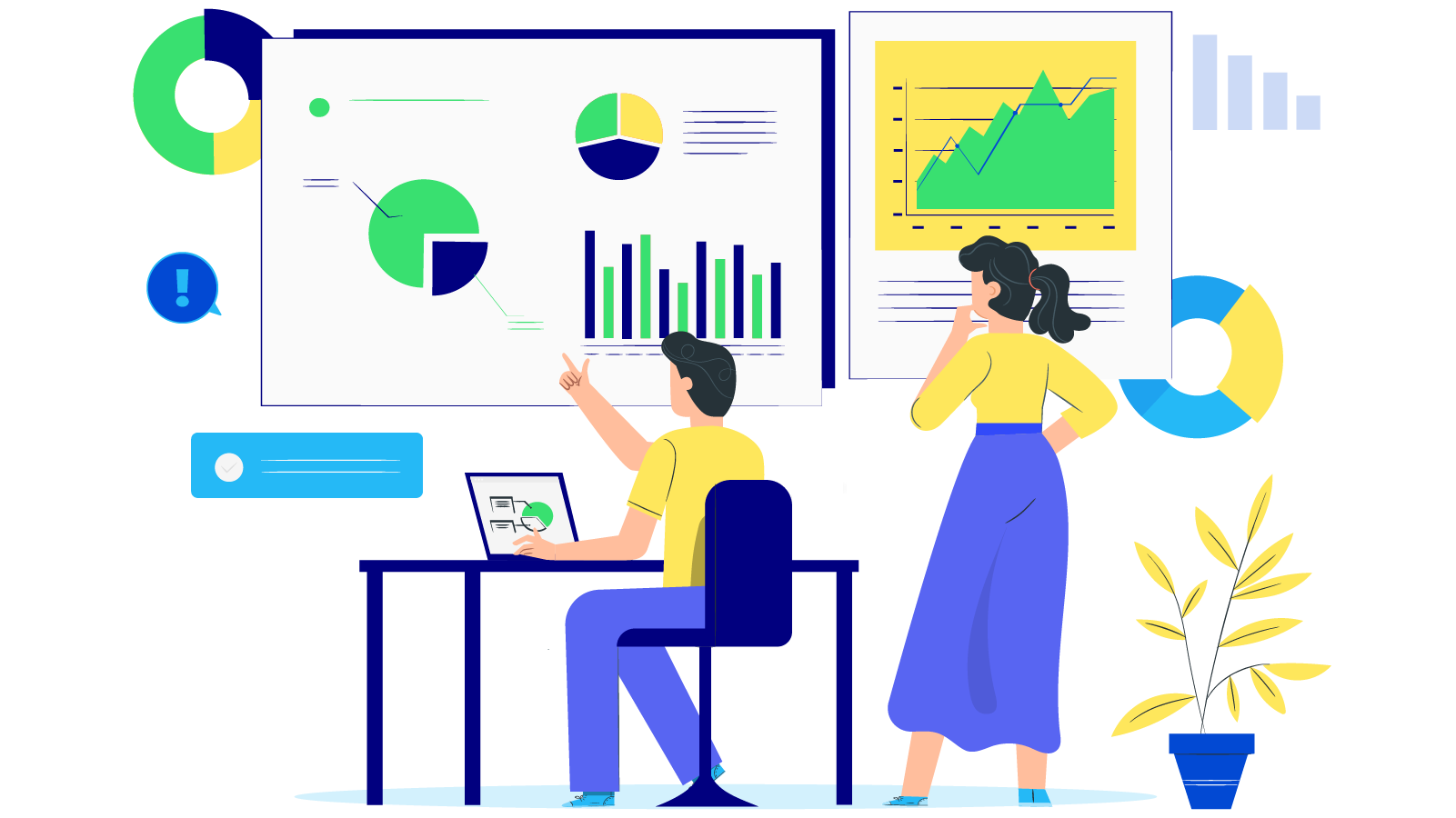 New Posts



Subscribe
Stay in the know
Get special offers on the latest news from Mageplaza.
Earn $10 in reward now!