Five rules to build easy return policies that customers will not fear
The Most Popular Extension Builder for

Magento 2
With a big catalog of 224+ extensions for your online store
E-commerce shopping platform is gaining its advantage over the traditional brick-and-mortar retail, especially when busy holiday shopping season is coming closer to thrive. Despite having offered remarkable convenience supported by fast-paced technology, online retailers still face concerns about the inconvenient return process that may hold customers back from making online purchases. The more demands this upcoming holiday season heats up, the more possibility in the increasing number of product returns it gets.
The majority of holiday shoppers are reported to make at least one return every holiday shopping season. A clear official announcement of return policies would not cause most customers any difficulties, but those who had experienced problems in processing return often claimed to be unlikely to consider making a purchase with that retailer again. The importance of a clear and easy return policy, for the reason, should be emphasized in any marketing strategies.
Ultimate Guide for Holiday Shopping Season
An A-Z guide for your marketing and sale campaigns this shopping season
Download PDF
Main content
Product Return Inside Out
The Process of Product Return
Product return is a process where customers give their purchased products back to retailers and may get a refund in the original paying method or exchange of items. A customer's return is generally accepted if the returned merchandise meets certain requirements depending on each retailer's policies.
A qualified return merchandise may include conditions such as the product not being defective with intact tags, meeting the return deadline and being given with a proof of purchase (receipt, email, etc.). Briefly stating, the product returned to retailers should be re-tradable in the market.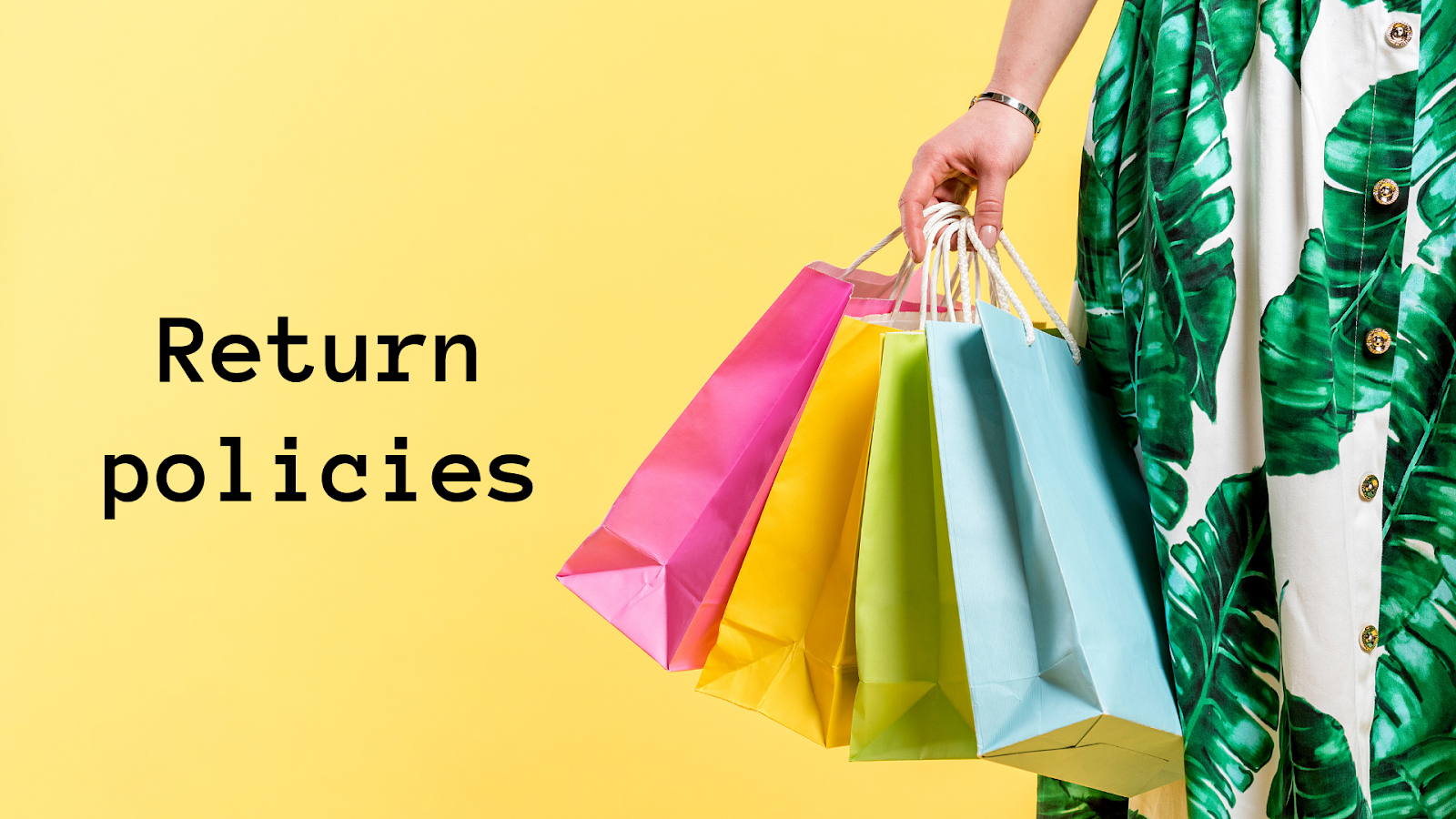 Reasons Behind A Product Return
"Why do customers return their purchased products?". This question remains answered or not depending on how retailers' perception differs from each other's. A product return will not always be driven by how merchants want it to. There are various reasons why customers wish to return their merchandise - in which merchants can have a more in-depth understanding of customer behavior to later establish appropriate policies.
Incorrect Size
The biggest inconvenience of using eCommerce shopping is that no physical trials are available. Since customers are not able to try the products on directly, especially clothes and shoes, they cannot determine the exact size that fits their measurements or imagines how the products will look like on them, which will eventually result in making the wrong purchase.
In this case, customers have an absolute reliance on product descriptions. Therefore, all products should be provided with precise product information and descriptions. One way to eliminate the inaccuracy and inconvenience in defining oneself's size is to provide an adequate sizing system. Also, try using creative methods to illustrate the details. Model size table or 3D photos can be great suggestions.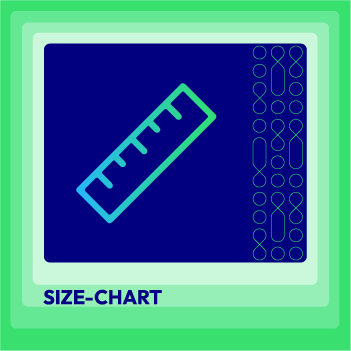 Unlimited size chart templates for all kinds of your products store
Check it out!
Products No Longer Demanded
This type of product return usually happens due to personal reasons. Customers may have made the purchase on the spur of the moment, or they may not see the value brought by the product.
Preventing this product return is relatively out of merchants' control, but one can still persuade customers into keeping the product by showcasing the features and benefits that keep the product outstood from others which may add unexpected value to owners.
Product Did Not Match Descriptions
The "Expectation - Reality" meme did not make itself on social media platforms. It represented the defect in business practices of providing unmatched-description products. Reaching a certain level of frustration, customers will not be bothered to draw out a dispute that may ruin the brand's reputation.
Merchants should be in control of promoting the product's functions and uses. Marketing strategies can be applied to outshine the product, but make sure to genuinely reflect its qualities and practices.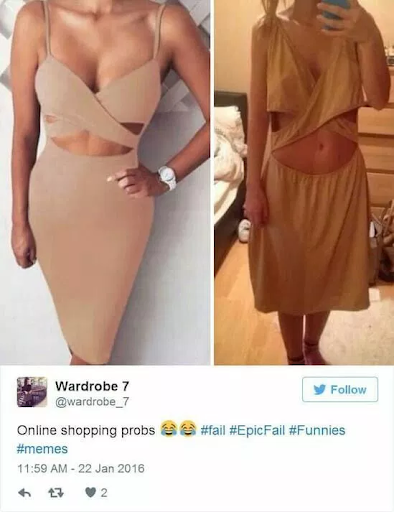 Shipping Wrong Products
Companies are all to blame for this mistake and customers have the right to be upset and make complaints about it. This is the scenario all retailers want to avoid at all costs since it may motivate customers to stir up an argument on social media networks depending on how retailers' customer service responds.
The error occurs in the order fulfillment process, so in order to minimize returns caused by this problem, make sure every item packed in the shipping department is double-checked properly to correct any arising mistakes.
Damaged Product During Arrival
Accidents are unavoidable, but no one can deny the frustration when receiving the desired product with damages and defects. Obviously, customers will certainly return those items.
Companies can decrease a large number of returns by strengthening improvisation during the packaging and shipping process.
The Importance Of An Easy Return Policy
Companies often see product return as damage to business profitability. However, the process unexpectedly turns out as a win-win situation for both merchants and customers with an easy return policy guaranteed. A temporary product return loss will later bring about a beneficial profit rise and customer loyalty enhancement.
Increase Sales
A liberal return policy incentivizes sales. Product return is typically stereotyped and witnessed as a marginal loss and a cost sump while in fact, companies can earn profitable benefit from this process.
Initially, merchants need to tell the relationship between customers' product return behavior and purchase. Customers tend to accelerate their purchases when guaranteed a concise return policy rather than a stricter one. Stringent return policies (including shipping fee, return deadline, and many other rules) will discourage customers' willingness to buy since they may fear of the inability to make a product return if not follow the rules.
Through an easy return policy, customers can see the retailers' credibility in each unit of the product since it reflects the consideration retailers have on customers' long term value. Customers will take this as an incentive to make more purchases, in which may increase retailers' profits.

Gain Trust
Product return, in the short run, is somewhat claimed to be referred to the failure not meeting customers' expectations. However, the process actually has a reverse impact on customers in the long run with the support of easy return policies.
Such policies can also appear inviting for customers who were initially hesitant to make a purchase. With these policies, merchants can build trust and loyalty with consumers through effective communications, which may attract positive mutuality and later result in an increase in long-run purchases.
By not offering easy return policies, retailers are giving away their opportunities to acquire customers' credence to other retailers with better and more appealing return policies.
5 Rules For An Easy Return Policy
Holiday shopping seasons offer a variety of items to send customers a wider range of recommendations that will simplify their shopping process. This occasional opportunity attracts much more customers' buying power, but the diversity in buying choices will probably bring about customers' purchase behavior of temporary desire, which may lead to an increase in product returns.
Customer satisfaction in holiday shopping seasons partly depends on their experience with the return process. Clear and easy return policy will certainly keep customers' feet with retailers and make them enjoy their shopping experience.
The rules below will suggest overall guidance for retailers to abide in creating a fair and attractive return policy to customers.
Offer free returns
No matter what reason is, offer customers a free return policy.
33 percent of customers desire free returns. Buyers tend to achieve a sense of satisfaction of knowing that their purchase can be returned hassle-free. Product return itself is blocking customers' way to a comfortable shopping experience, so retailers should make your to minimize this return friction to get away with customers' frustration resulted from paying for the return shipping fee.
A free return policy is, additionally, a sales optimization strategy under proper implementation. While online shopping, customers tend to search for financial security in making a purchase. A free return, in this case, appears as a reassurance to a wrong purchase decision. This scenario seems to witness a possible increase in return rates, but in fact, it drives loyalty up as well, resulting in higher sales rates.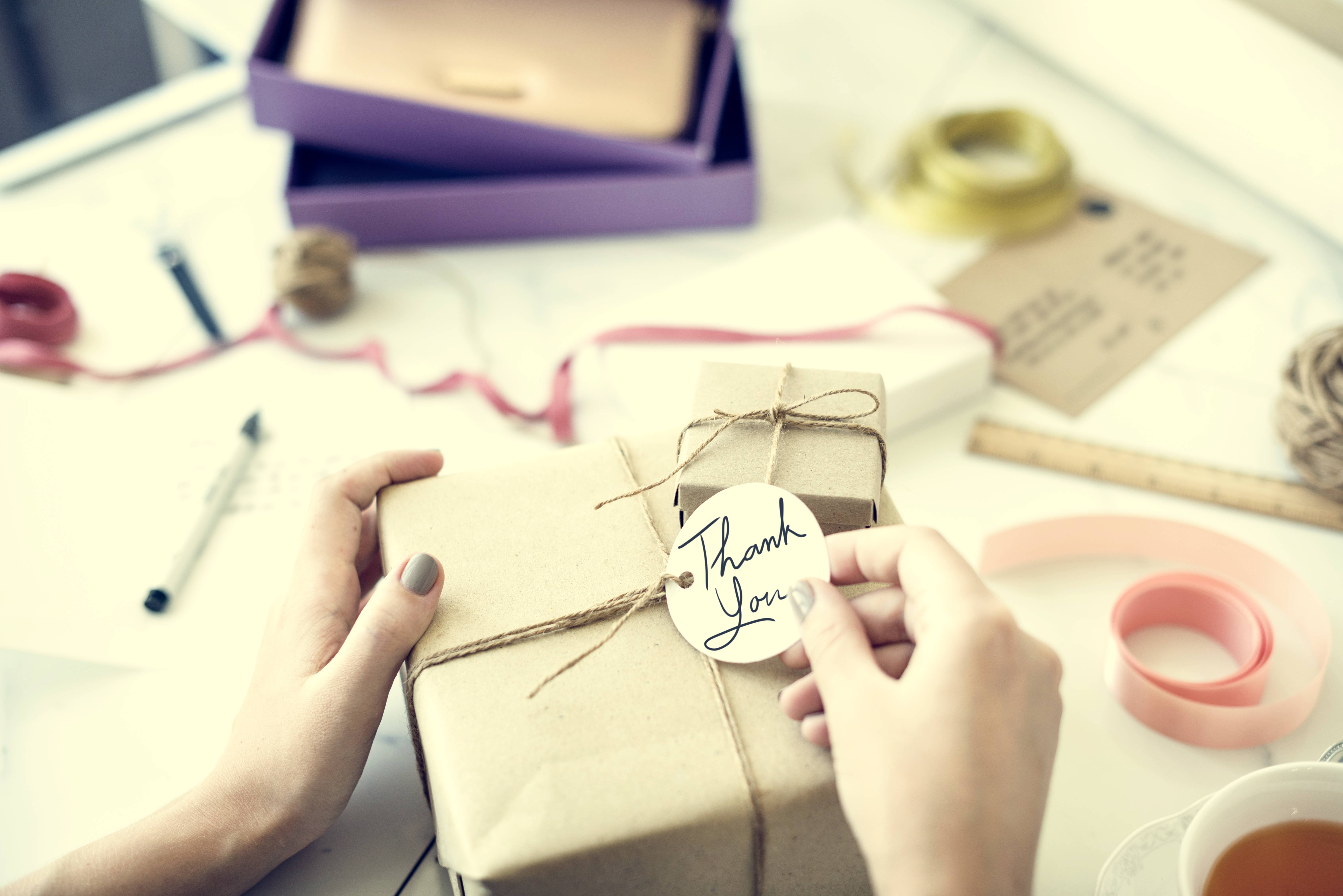 Include return label
Send customers a return label enclosed to the original package or the invoice so that they can easily return the product.
This idea helps optimize customers' shopping convenience. With return label, customers won't have to read a wall text of a return policy page nor seek out for the Customer Service Department to make a query. In the concrete provision of summarized return guidance and contacts, they won't have to spend time waiting for a response of refund either.
Provide simple procedures
Customers rely on thorough descriptions when shopping online. A user-friendly return policy should outline clear sections with detailed information of everything about the product (from shipping costs to refund or exchange policies) to avoid the most of confusion in return.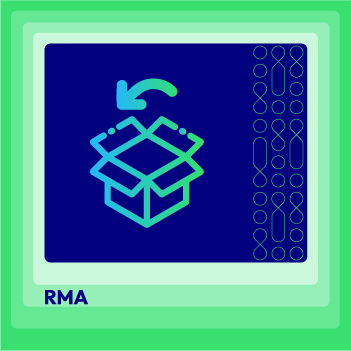 Make return procedure becomes transparent, simple and satisfacting for both customers and store owners
Check it out!
Supply resealable packaging
Resealable packaging makes it a lot easier for the returning process.
Normally, an unsealed product cannot be accepted as a return. With resealable packaging, when a return is processed, retailers can easily put the product on display again without re-wrapping the product. This unexpectedly useful tool has also simplified the process of manual tagging, minimizing the number of unsuccessful product return causing by accidental tag removal.
Offer excellent customer service
Customer Service is usually in high demand. Customers will contact the customer service department for any arising problems with the products.
When customers desire a product return, even if they have thoroughly read and understood a long page of the return policy, they still have the tendency to seek advice and guidance from customer service to make sure they are doing it right. Therefore, an in-depth understanding of return policy is urgently in need of acquiring. Companies should train their customer officers to have friendly, patient and responsive behavior with appropriate manners towards customers to help them resolve product return problems.
Final Words
In trading, factors resulting in raised product return can be considered as obstacles preventing customers from experiencing a smooth shopping process. Businesses with stringent return policies may irritate customers to the extent they are not hesitant to leave the store. The mentioned worst-case scenarios suggest businesses should place emphasis on the importance of an easy return policy and acquire equitable methods to effectively implement it.

Marketing Manager of Mageplaza. Summer is attracted by new things. She loves writing, travelling and photography. Perceives herself as a part-time gymmer and a full-time dream chaser.
Website Support
& Maintenance Services
Make sure your store is not only in good shape but also thriving with a professional team yet at an affordable price.
Get Started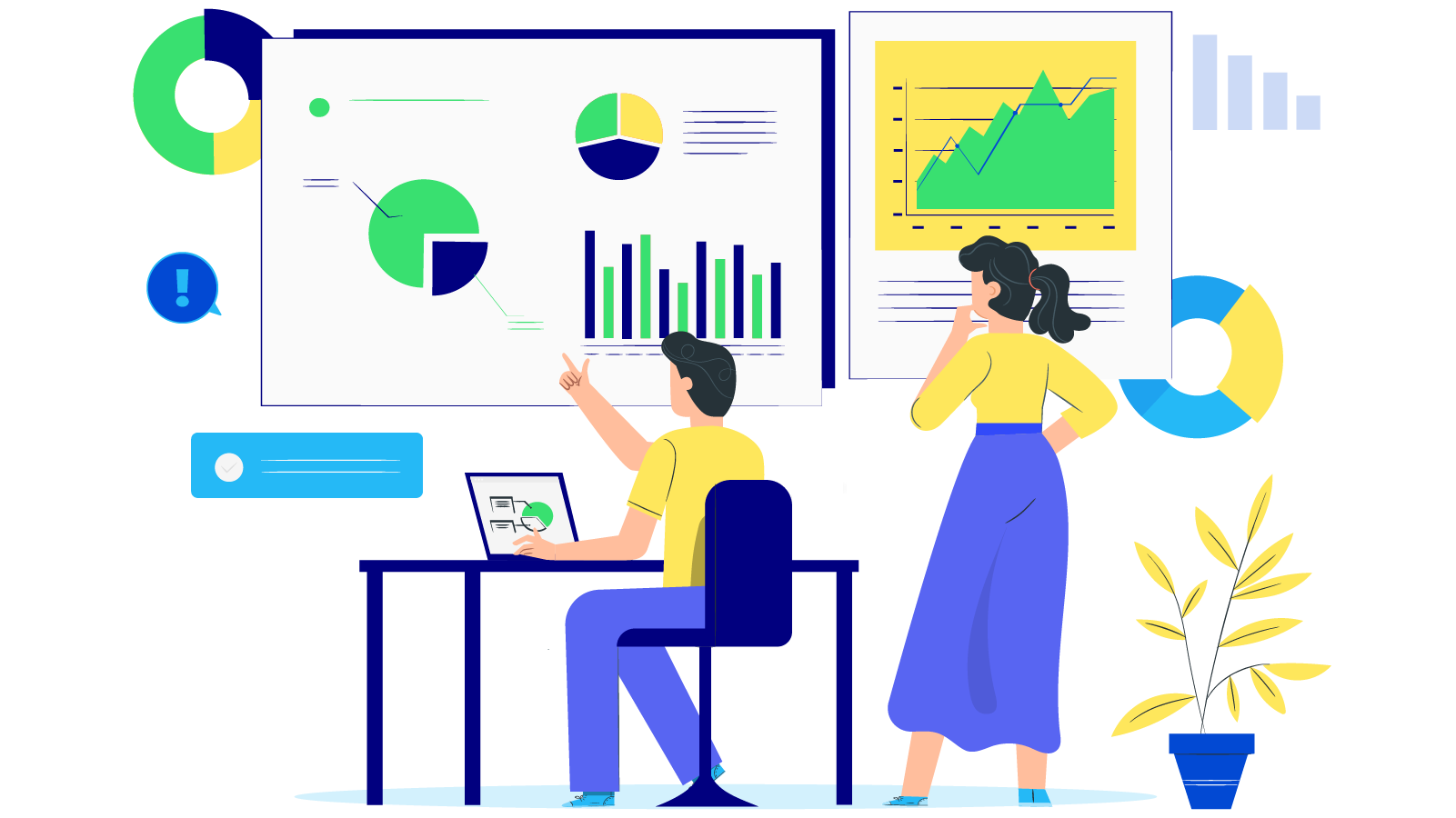 New Posts



Subscribe
Stay in the know
Get special offers on the latest news from Mageplaza.
Earn $10 in reward now!